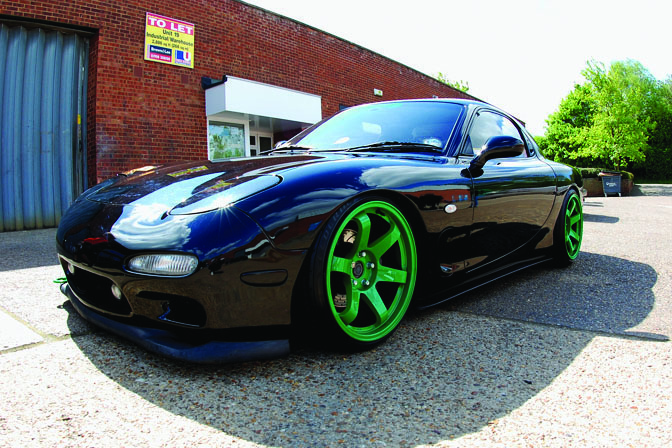 Like 99% of car fans, I grew up with motors all around me – my old man loved his cars, often bringing classics back from Italy including a Lamborghini Espada, 1976 Porsche 911 and even began building his own Jaguar E-type until the unfortunate birth of the brother put a stop to things…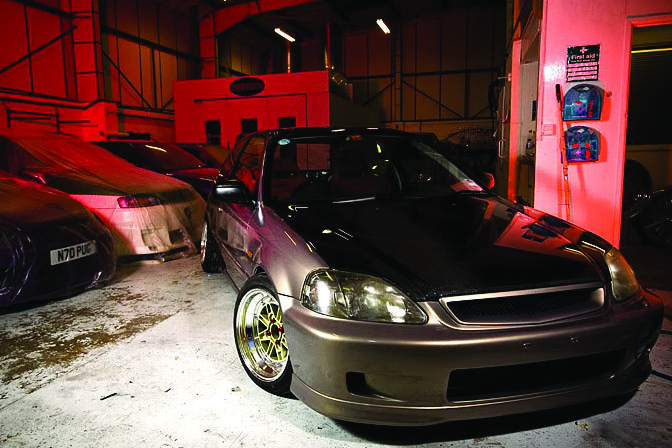 Anyways, since 2004 I've been a 'motoring journalist' over on the UK title Max Power which, when you're 16 at the time of starting work, it opens your eyes to the entire car industry pretty quickly. I grew up addicted to photoshop, further justified working on such a title before you can even drive let alone own and modify a car. Needless to say as soon as I turned 17 I got my hands on an EJ9 Civic – it went through some serious changes in the two and a half years I owned it. Its first 'guise' was a Buddy Club kit, Advan RG wheels, carbon bonnet/spoiler and Polar White bodywork, inspired by the great Top Fuel Civics of Japan. In its final stage, it'd received EK9 facelift bodywork, low-offset SSR Mk3 wheels, BMW paintwork and a LOT of camber. For those interested, there's a pic here.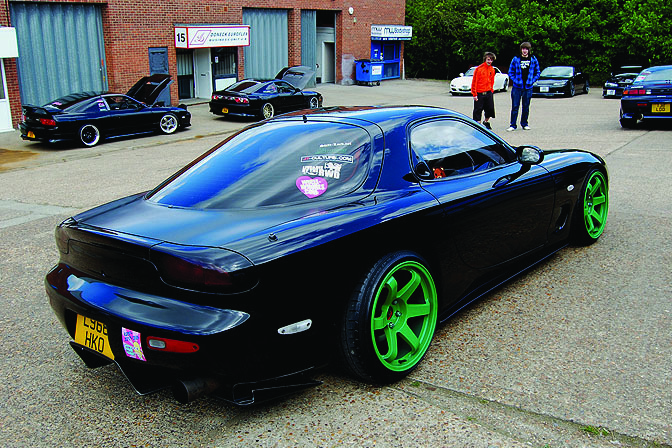 Onto the main focus of this article though, my (now previous) RX7. I bought this car aged 20, wanting something faster and more unique than the Civic. It was exactly the opposite – rear wheel drive, turbocharged and not to mention the ol' rotary reliability people throw into the equation. A 200SX seemed too obvious and the prospect of a Skyline made insurance possible, so 3 weeks after I sold my Civic I bought the following RX7, a 1994 Type R (twin oil coolers) model with 50,000 on the engine and relatively standard.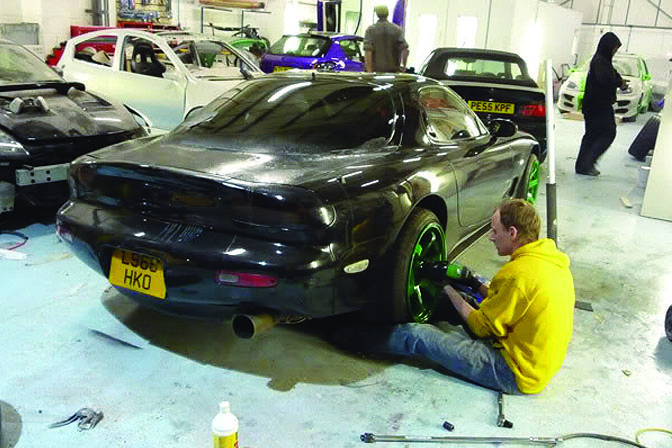 I used this daily for near 4 months, racking over 10,000 miles in that time (not good at around 19mpg economy). Needless to say fuel bills and servicing killed me, sure the intervals were every 7000 miles but plugs, oil and coolant change coming in at £240 a pop it's still very much a rich man's car despite it's £4000 initial price tag. Fast forward to March 2009 and with a month until the UK 'show' season kicking off, I figured I'd need to do something drastic much for my own self satisfaction not to mention working on a mag like Max. With my potatoe-shop virtual skills I came up with an idea I wanted, so the transformation began.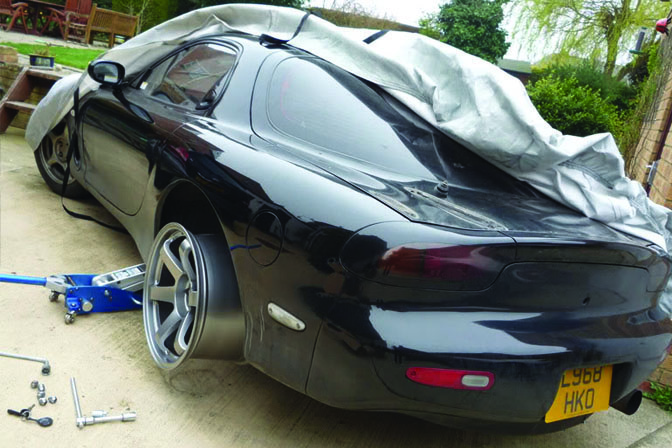 Having met ex-Speedhunter Antonio Alvendia in 2008 we shared similar views on fitment, stance and generally getting a car to sit right. The RX7, despite its age, has awesome bodylines as standard so I wanted to utilise this instead of work against it. My idea was simple, stance it, add a few details to the standard bodywork and job's a good'un. O start things off, I had Julain @ Rare Rims send me one of the first sets of his low-offset (at the time) Rota Grids, measuring in at 18×9.5in et30 (front) but more importantly 18x10in ET15 on the rear. RX7s aren't the easiest to get good fitment on, they're ET35 as standard and the arches don't leave much room. But before I could even fit the wheels, they needed painting.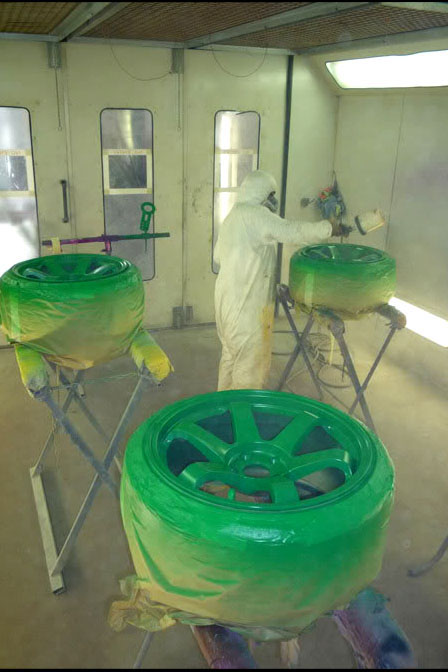 I remember seeing Dsalni's S14 over on the Farm of Minds blog and the black/green combo absolutely killed it. That's exactly what I wanted, so after flicking through a few colour charts I found a Kia green very similar to that of Takata. A trip down to Croydon-based Xquisite Automotive and the wheels were painted. Rather than just leave it at the wheels, I found an old Benen tow hook I bought from my Civic days, so Takata green that went before being bolted through the bumper.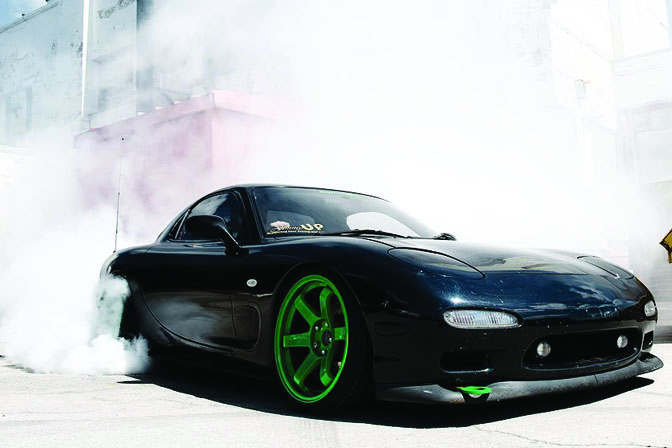 Essentially, that was 'stage 1' of the build. I had a set of Feed-style side steps fitted that literally look 15 minutes to do both sides, and a few days later I had an RE: Amemiya style rear diffusor too.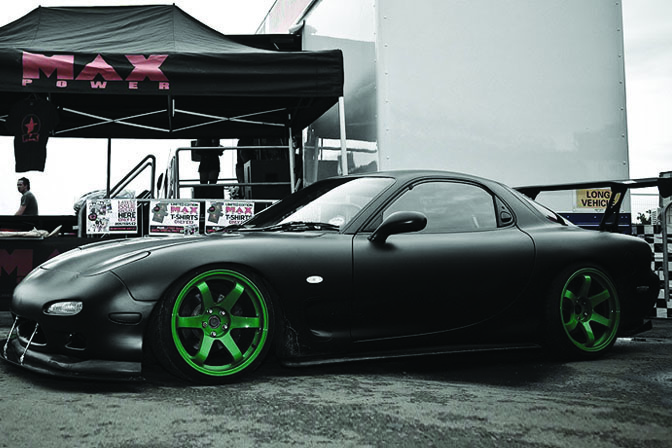 Main reason behind this was to bring the whole car lower; the front splitter was only a few centimetres off the floor, and seeing as the wheels were as tucked in the arches as possible (without further archwork) the diffusor/side step brought the whole profile of the car to the same height… Well, low-ness.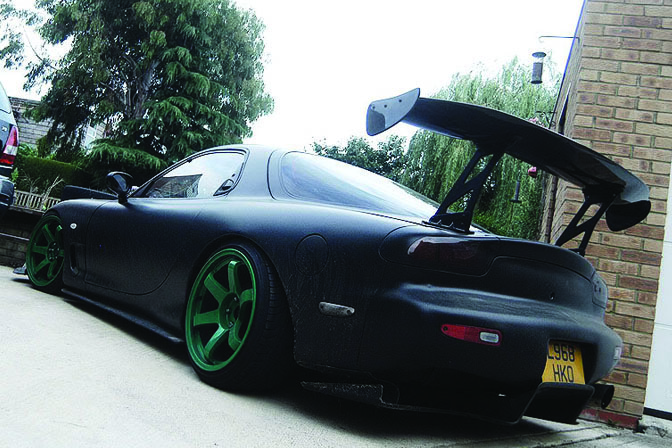 And that was the RX7 – owned for just over a year, I'd racked up 17,000 miles, performed all the 'mods' in around 3 weeks total and generally drove myself into poverty haha. At the start, I mentioned it used to be my RX7, and as that suggests I'm no longer the owner. Like progressing from the Civic to the RX7, I'd grown used to it, wanted something a bit faster and a new project to get my teeth into. So, in December 2009 I took control of the latest project, a 1990 Skyline R32 GT-R.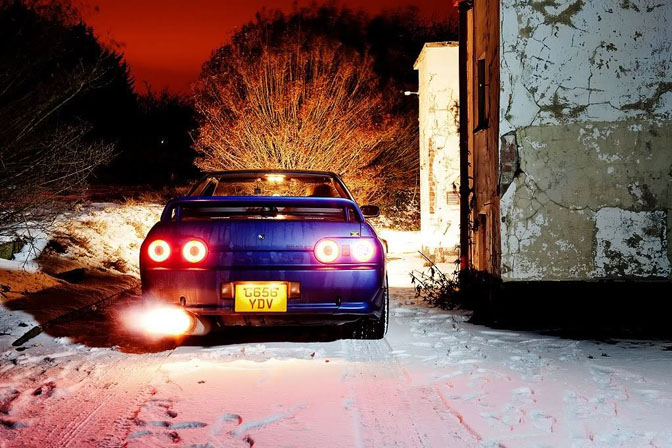 Imported from Japan in November, it's a bit silly really. Ex-drag car running 700bhp, OS 3-plate clutch, Nismo 2-way diffs, OS gearset, N1 pistons, 720cc injectors, Bosch 044 pumps etc. It scares me every single time I (try) and drive it.
Expect to see a similar sort of build to the RX7 very soon!
-Mark Riccioni