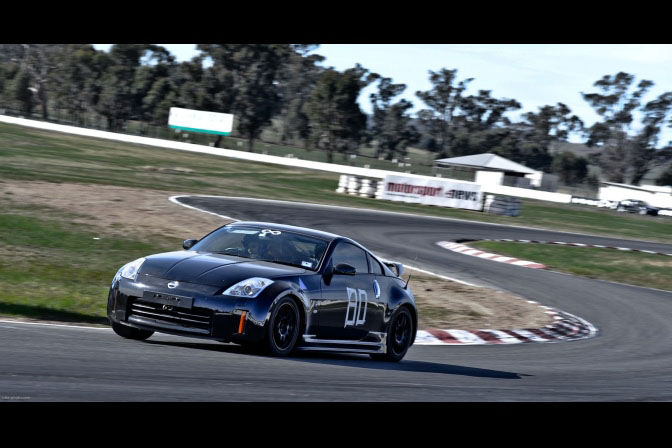 Hello world!  My name is Kenny Lam and I live in Melbourne, Australia.  This is the story of my journey into the world of track days and club sprints accompanied by my 2006 Nissan 350Z, affectionately known as GorillaZ.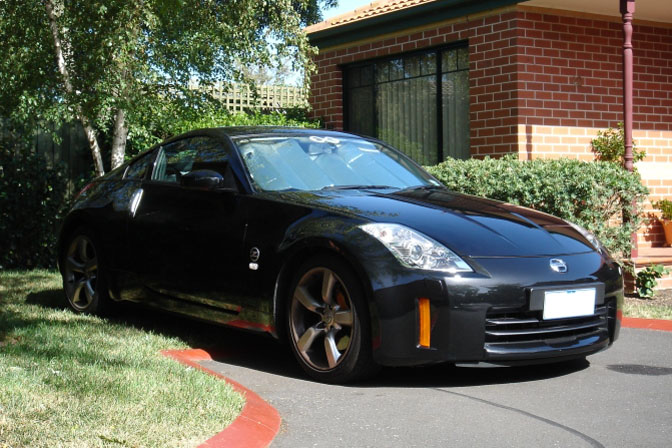 In October 2006, I took delivery of this black 350Z.  I had always wanted a 350Z ever since I saw the concept version way back in the year 2001.  Over the years, I came to learn more about the car and how it was already so track focused from the factory.  Journalists here in Australia even complained that the suspension setup was too hard for everyday road driving.  When I first drove a 350Z, I thought to myself, "what are these journalists talking about?!  I can live with this!"  So I purchased my Z and so began the journey.  Back then, my knowledge of cars and circuit driving was quite limited, with driving games being my only teacher.  Credit for my taking to the track must go to my friend Silas, who encouraged and inspired me to try my hand at the circuit.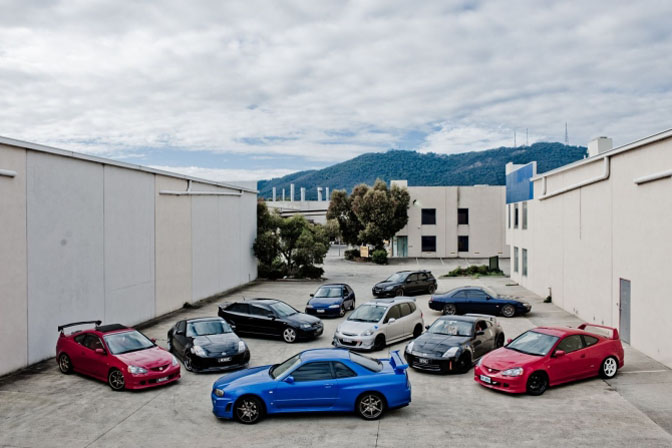 At this point, I must digress and mention that Silas also started a group called Exe Crew (www.exe-crew.com) back in 2004, who are a group of friends who share a common interest in cars.  I am also proud to be a part of Exe Crew.  The "Exe" stands for "Execute" and our ethos is that actions speak louder than words.  We want to encourage people to get out there and take part in motorsport rather than just talk as if they do.  Above is just a subset of the cars belonging to the members of Exe Crew, who number more than 50.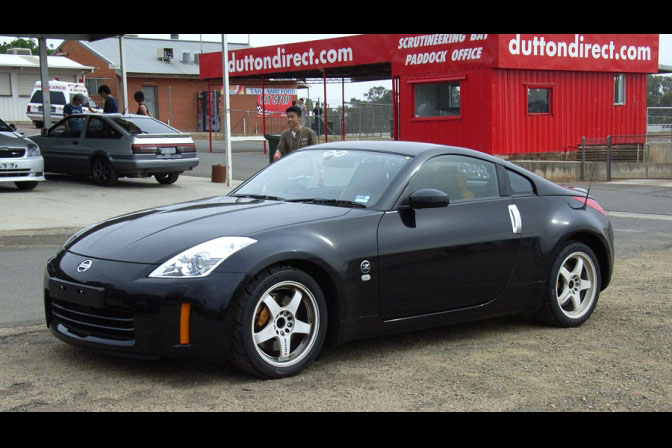 So, within two months of getting the Z, I joined a track day organized by Exe Crew.  Here it is on the day with my first addition – a set of 17" Nismo LM-GT4 wheels with Bridgestone RE55S semi slick tyres.  These would serve as my track rims and tyres for quite a few track days.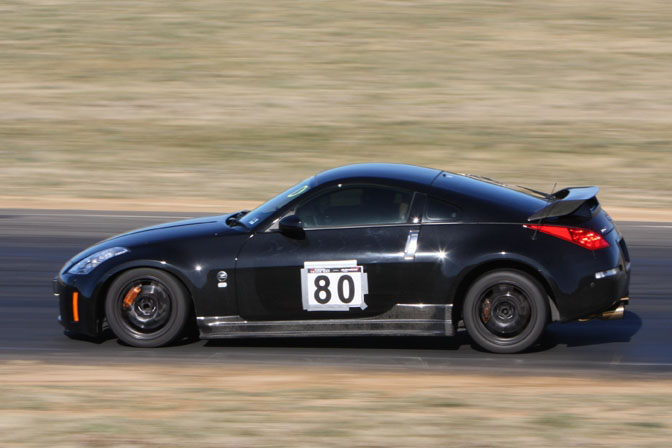 I have had the opportunity to visit various circuits over the past 3 years and my racing line, braking, heel & toe and throttle control have all improved.  Slowly but surely, my lap times have fallen and I plan on continuing to learn new things about the Z and myself as a driver.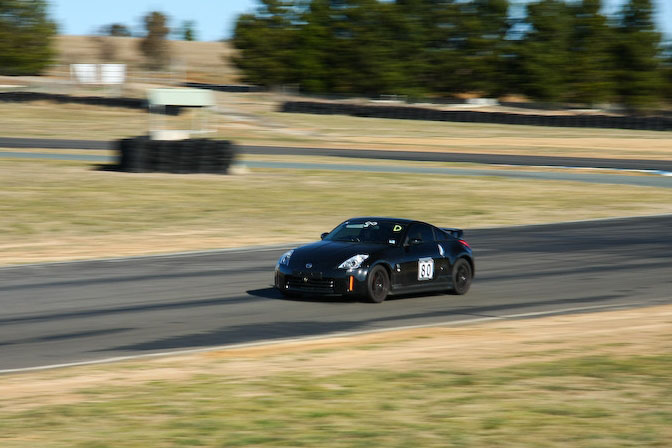 If you would like to follow my progress, you can see it all by visiting my blog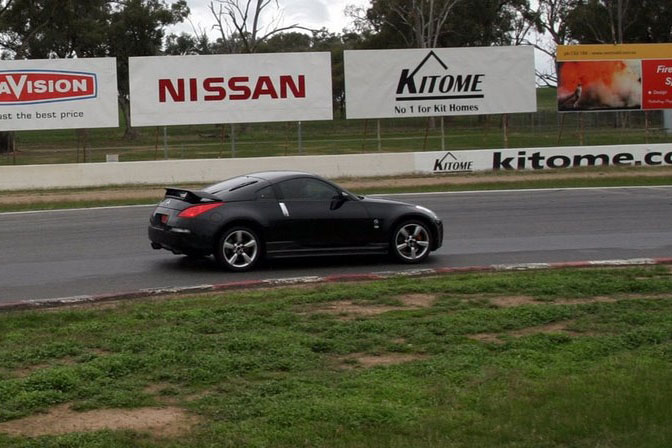 This is one of my favourite photos of the Z, with the Nissan billboard on the side lines.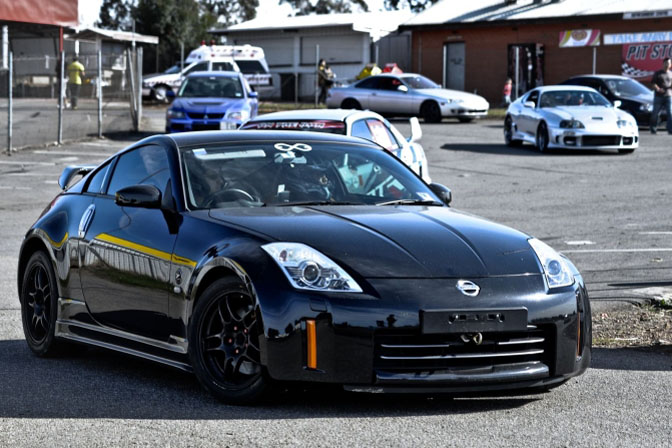 In terms of modifications, I have taken a largely functional approach.  In the beginning, I kept modifications to minimum so I could gauge how well I could handle the car in stock form.  I have since added:
-    Cusco front upper A-arms for adjustable camber.
-    Whiteline front and rear adjustable anti-sway bars.
-    An Accelerator pedal from the Nismo 350Z for improved heel & toe ability.
-    A Bride Stradia race seat.
-    A Motordyne 5/16" plenum spacer.
-    A Fujisubo Legalis-R exhaust.
-    Trust engine oil cooler and Defi oil temperature gauge.
Above you can see the Z with my current track wheels – a set of factory wheels from the R33 Skyline GT-R, 9 inches wide allowing me to use 255/40R17 Dunlop D02 and D03 semi slicks.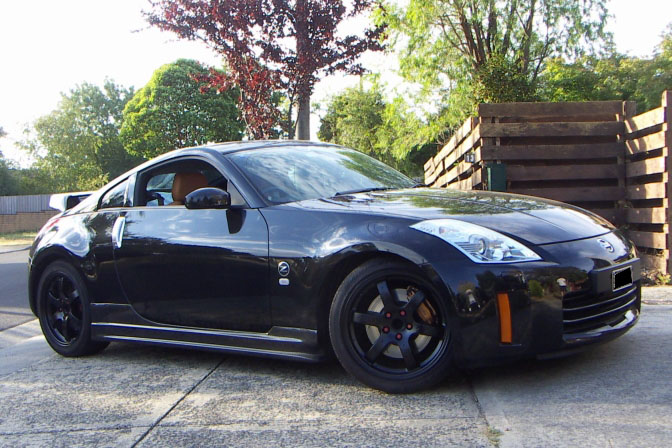 Here you can see my current street rims – a set of 18" factory option Rays Engineering forged wheels painted black by myself.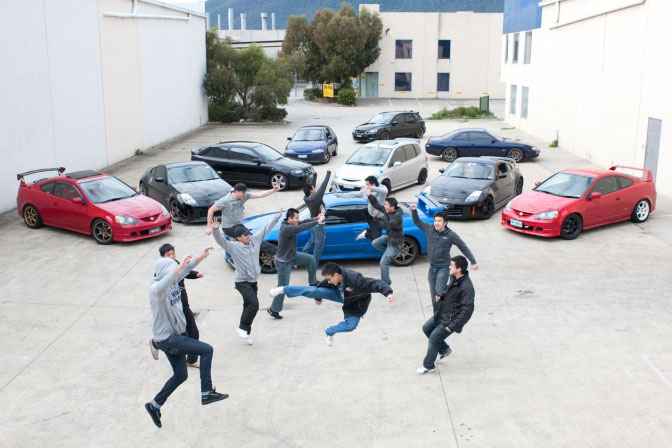 Finally, I will leave you all with a silly photo of some of the Exe Crew.  That's me being an ass doing the flying kick.  Photo credits must go to my friends – Silas Andrianto (www.silas-photo.com), Shaun Chiew and Kam Aghtan.  I hope you enjoyed my little story and if it helps you to get out there and get involved in motorsport, even better!
- Kenny Lam