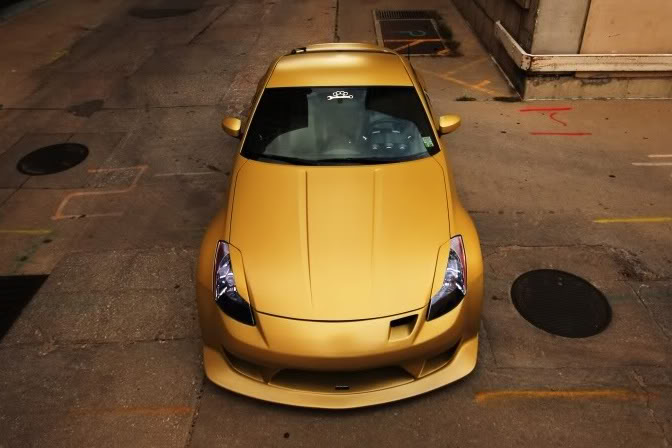 My name is Jeremy and I'm writing this from Wichita, Kansas.
This is my 2003 Nissan 350Z and I've had her for just over 2 years now. Signed the Bill of Sale on January 26, 2008 and haven't looked back since.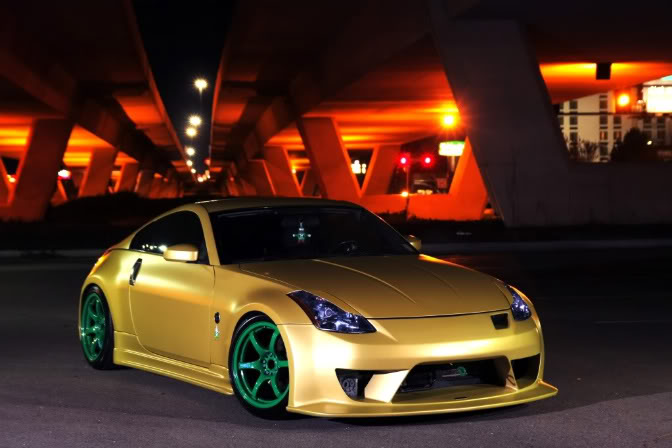 Ever since I was 4-5 years old I have always been fascinated and engrossed with cars. It all started with my uncles who owned them, they had the RX7s (FC and FD), MR2s (MK2), E30s and E36s all "tricked out" haha. Grew up in Kuala Lumpur, Malaysia where imported cars are subjected to crazy taxes so seeing these cars on the streets wasn't a norm. That's how I fell in love with these beautiful machines. I will always remember spotting these beauties on the roads, watching Jackie Chan movies with the nice Mitsubishi cars, "Legend of Speed," "Initial D" and many movies/series alike.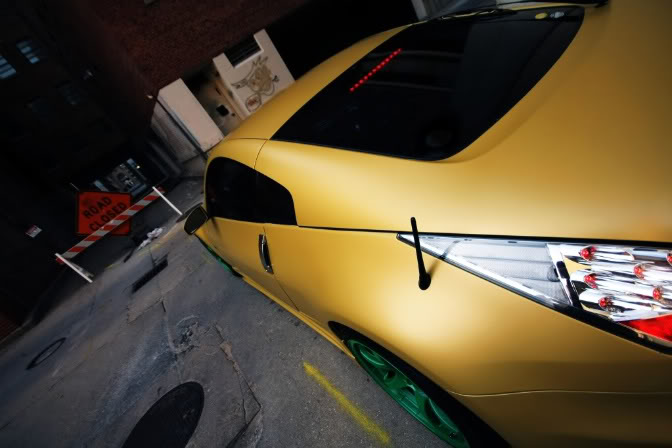 Fast forward 16-17 years today I'm here in the States pursuing a degree in Communication, I need a car to get to school and work, I have a budget, I have a list of different cars. I find this beautiful bone stock Super Black 2003 Touring 350Z, I pick her up in less than 24 hours after the "For Sale" ads go up (includes a 6 hour drive to Texas and a 6 hour drive back with no sleep or rest the day/night before). Prior to this I've never taken a keen interest in Zs. It was back in the Summer of 2007 while I was back home (Malaysia) on vacation, my friend took me a on a ride in his Fairlady Z (Z33) and although it was an automatic, I enjoyed the torque of the VQ. That's when I started to fall for the Z and ever since owning one I've been consumed by the history and heritage of the Z car.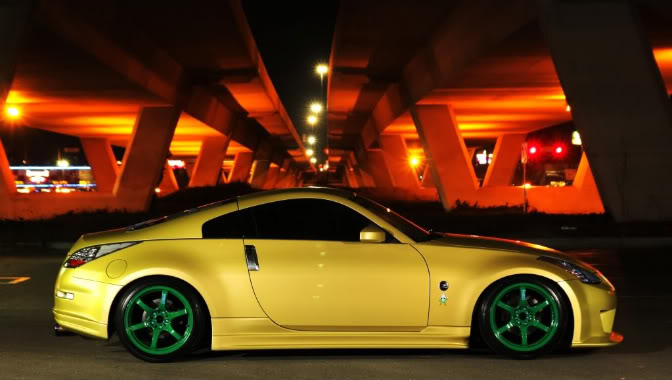 Couldn't have been more happy driving, autocrossing and tracking my 350Z. I would have loved acquire more seat time back home in Malaysia at the Sepang International F1 Circuit like many of my friends did; unfortunately I did not have a decent car to bring to the track. My initial plans for my Z were a full rebuild and twin turbos. Unfortunately while I was saving up for that I had a little incident at the track in Oklahoma where I spun out into a tire wall. The entire driver's side was dented up and I also had thoughts about selling the car if she was structurally damaged.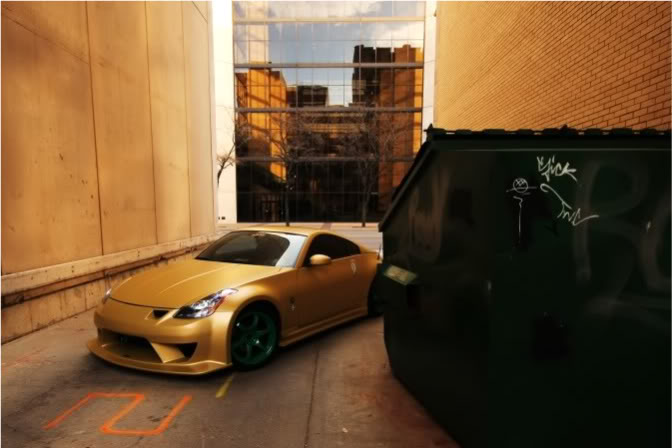 Thankfully it was all just cosmetic and that's when the exterior transformation started. The car was in the bodyshop for 3 months because of problems with parts, choice of color (getting the perfect mix) etc etc. It was a 3 month wait during the summer and I could not have been more upset not being to enjoy a Z in the summer. After looking at how she turned out, I guess I can say it was worth the wait
It's been more than a year since she got out of the bodyshop and there have been updates here and there.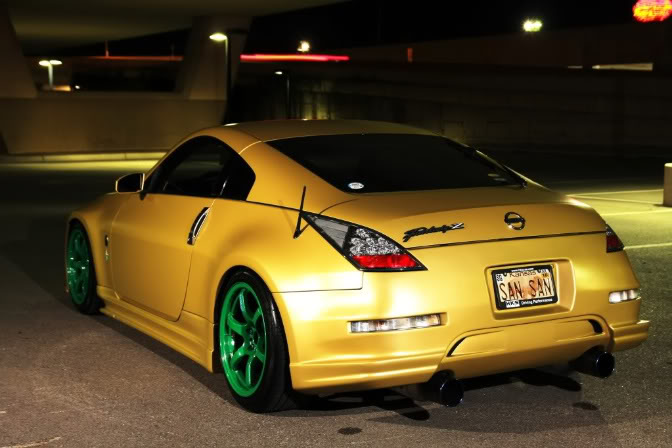 I am still saving for a build and twin turbos so that might take a little more time. Although I might a "late boomer" as far as modifying and building a 350Z goes… I'm cool with that and am looking forward to every bit of transforming my Z into the Z I'd want her to be. Also in my mind I'm sure the 350Z will be a timeless classic when we look back 20-30 years from now or more.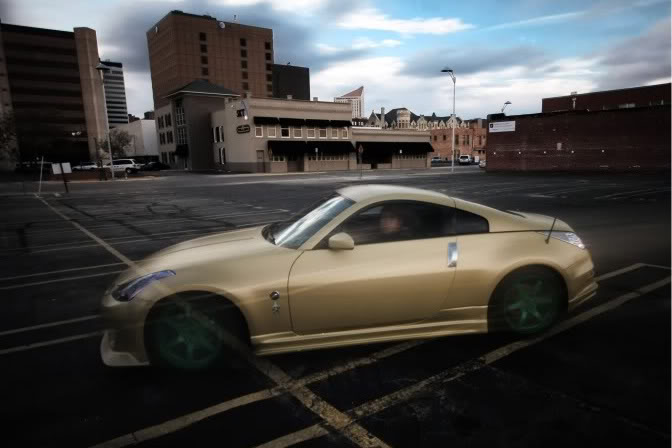 My Z is my daily driver. I drive her to work and school, I take her on road trips, I take her out to the club, I drive her to meets, shows, to the track (about 3 hours away) and practice my drifts in the wee hours of the AM. My concept is simple, be able to drive her anywhere and to put her to good use (the track), I'd also like to look good while doing it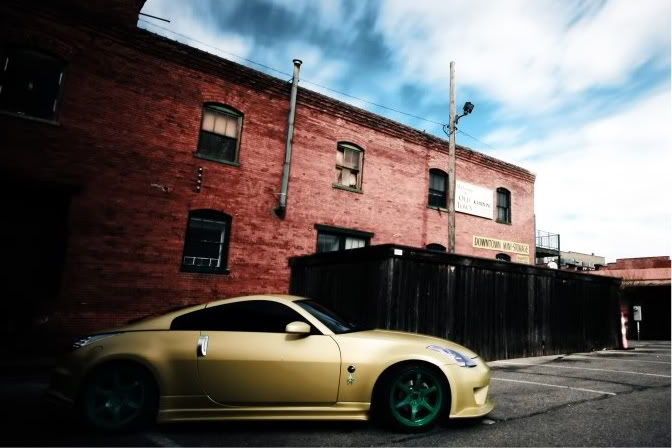 As far as mods go I have suspension mods, some power mods on the car and still collecting the components needed for my build, a decent amount of "rice" mods on the exterior as you can see lol…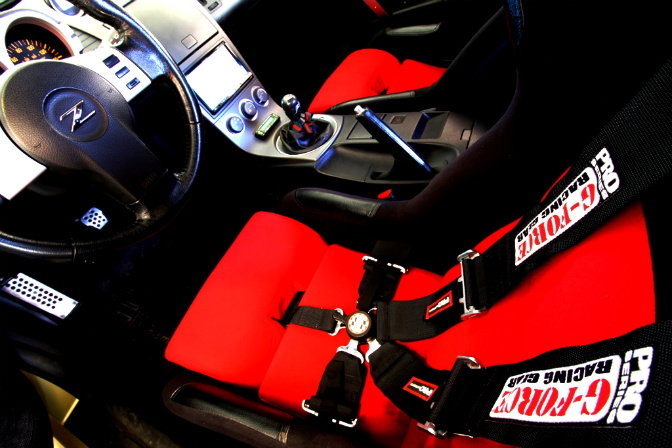 …and a big imprint of my ass on the driver's seat from seat time at the track and driving her as much as I can. I try to use the best parts I can with her, that's my main concern as far as aftermarket parts go, no ebay parts or parts which were not tested for quality or function.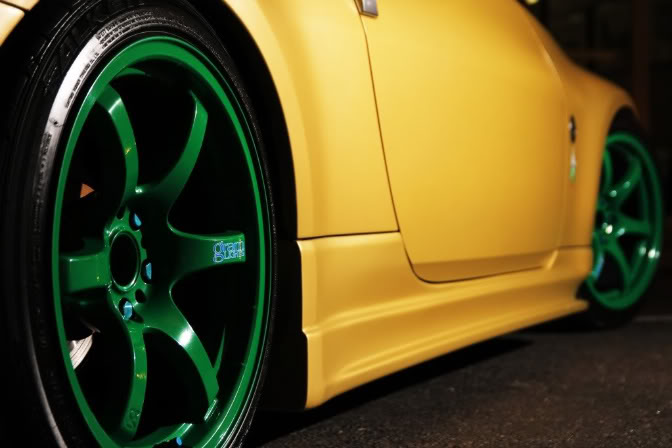 Don't get me wrong although I'm a fan of a flush wheel setup my car isn't slammed to the ground (no gap between tire and fender is good enough for me hehe). I love working on my Z, prepping her during the week all the way up to the night before "raceday" at the track, no sleep, driving 3 hours to the track, smoking some decent cars there and driving home with big eye bags and a smile on my face.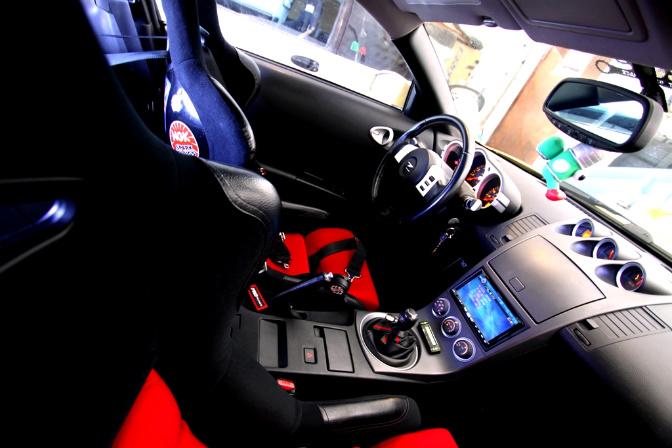 The theme and styling of my Z comes is time attack/drift inspired. Some people might think I'm just going for looks based on how my car looks, given the past encounters I've had there's a reason as I explained earlier. I put her through her paces on the track and don't make detours during my daily commutes because my car is too low. I don't trailer, I drive.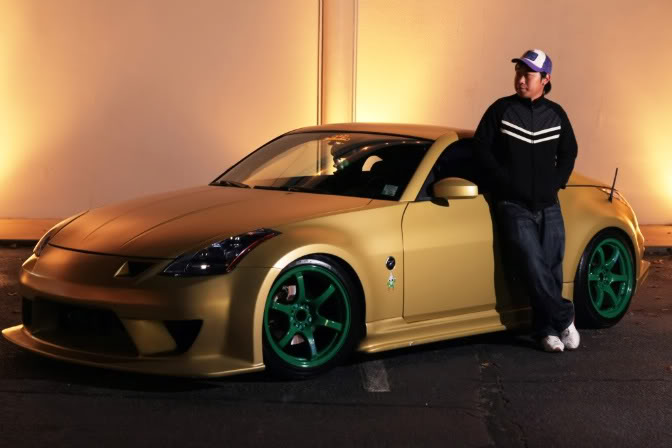 I am a fan of any form of motorsports as long as it involves turning the steering wheel (except Nascar), especially the Japan GT series as well as D1 and Formula D. Used to be a crazy F1 fan but I haven't been following lately.
So far things on the car have been destroyed, things have been replaced and things have been updated. I'm continually pushing the limits of my dedication and pocket
using the parts that I choose and getting (or at least trying my very best) her to where I want.
Thank you Speedhunters for featuring my story!
- Jeremy Lee