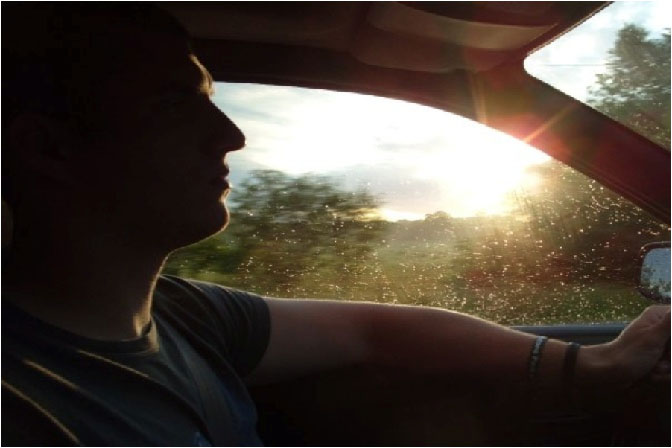 This article is dedicated in memory of Tyler Slak, a great member of our community who passed away at the far too young age of 22. Diagnosed with terminal stomach cancer but a month ago, Tyler demonstrated a degree of courageousness and fortitude that made us all proud to have had him as a member of our community. Please visit the group Slakstrong on Facebook to share your condolences with his bereaved family and find out how you can help lessen the financial burden that they must struggle with in the wake of his unfortunate passing.
In a sense, Tyler's determination was representative on a far higher level of the effort that those in our community go through to bring out the best in our cars. Wiring harness merges, engine swaps, dash teardowns; getting a 1st generation Impreza to perform like its overseas brethren is not a task for the light hearted. The WRX and STI never made it to our shores in the GC form, with the dearth of stateside factory and aftermarket support making it just that much harder to make the dream a reality.
Yet, I feel it is impossible to convey the spirit that has gone into these cars without hearing it in the owner's own words.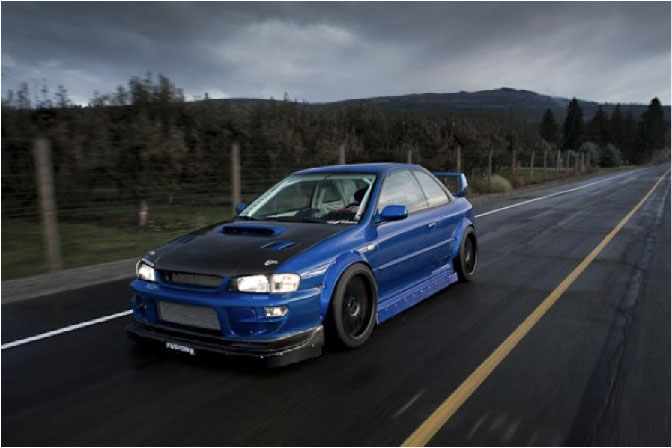 "My name is Dave Mann and I am from Kelowna, BC, Canada. The car is completely self-built with a complete JDM version 7 WRX STI swap. It is powered by a Gt35r and controlled by an Autronic sm4 Standalone tuned by Patrick Richard. All photo credit goes to Amee Reehal."
-David M. Kelowna, BC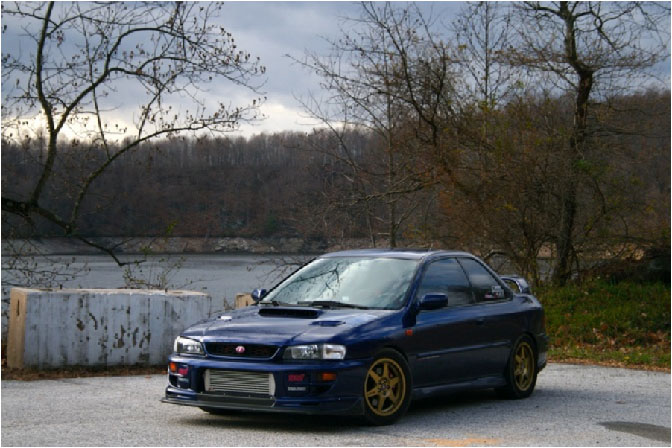 "With the introduction of the 2.5RS to the Subaru line up in '98, I immediately was hooked. When I was finally 18 in late '05, I purchased my '01 Subaru and became obsessed! Everything that was available was purchased, a home brew turbo kit was built and the car continually advanced from there. Through out the 4 years of ownership the car brought joy, friends and vast amounts of knowledge for which I am forever grateful."
-01RS25 Bel Air, CA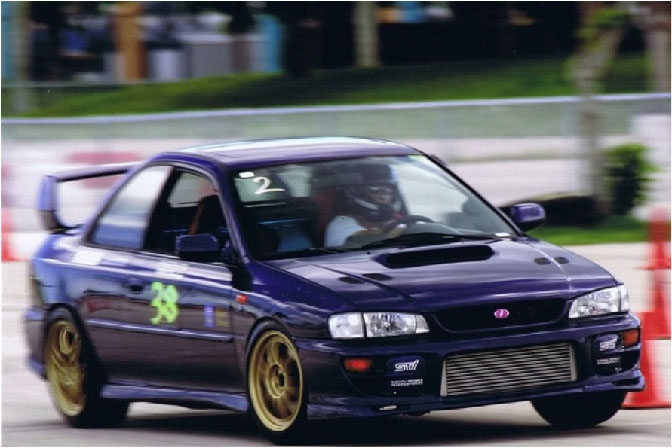 "This is my RS. What started out as my daily driver has now become my weekend track car. Either at the local autocross course or track event, it has always brought me many memories. I am very proud to own a classic piece of Subaru, or for that matter, automobile history."
-Vic M. Miami, FL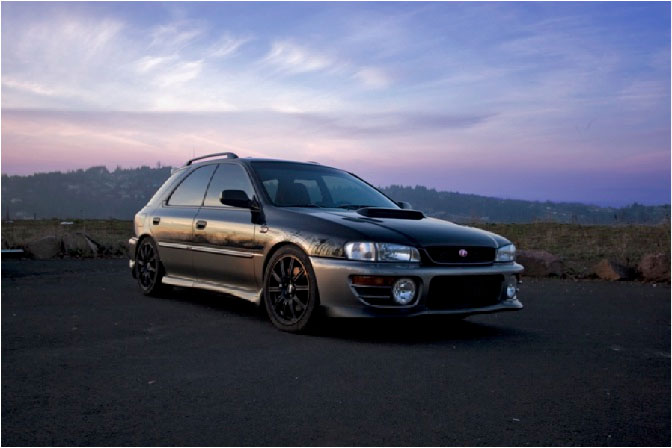 "This wagon is my fourth Impreza and tenth Subaru. It started life as a 98 Outback Sport, but has gone through quite the transformation in the last 2 years. Currently it has a Version 5 WRX-RA EJ207 Powertrain and a Version 4 GF8 exterior."
-Dylan R. Portland, OR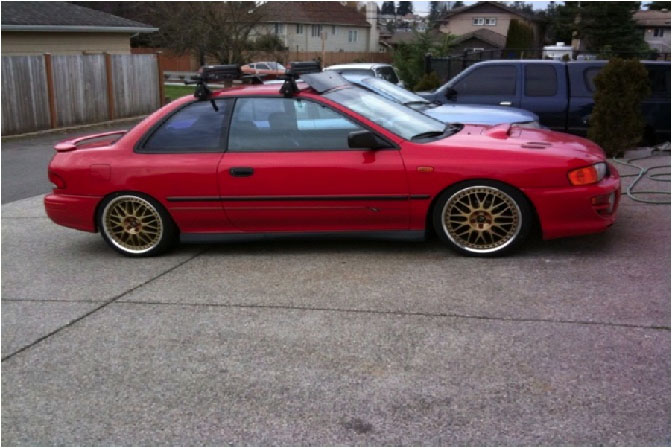 "I bought the car when I had just turned 20. It's powered by the stock 1.8L, but I am looking at getting a full 04+ STI swap with DCCD within a year and a half. It is dropped on Stance GR+ Coilovers with 18" Works VS-XX. A lot of hard labor has been put into my baby."
-Whatsthis Seattle, WA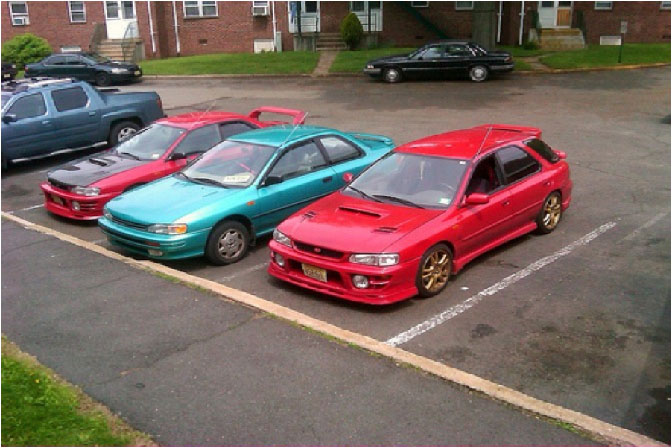 "Out of the 3 GC's I own, the wagon is my favorite hands down. Sedan might have the JDM look, but despite all that, the wagon wins hands down because she's really practical and has so much room."
-Wesley NJ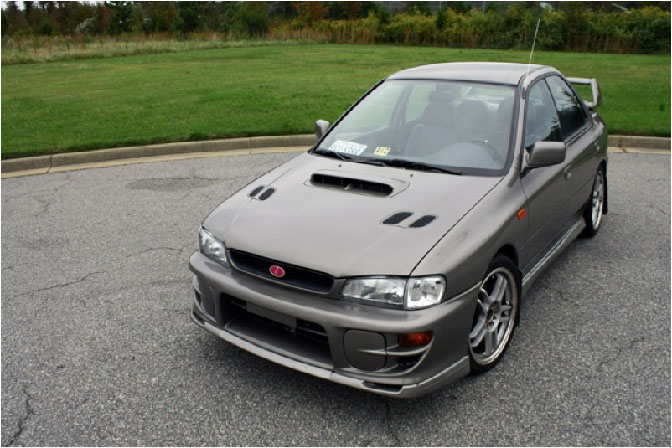 "I bought this 1993 L when I was 15 from the original owner. I've done a turbo build on the stock 1.8 liter and made 200whp/210wtq. I've also converted the exterior to mimic a Version 6 STI."
-Rob Virginia Beach, VA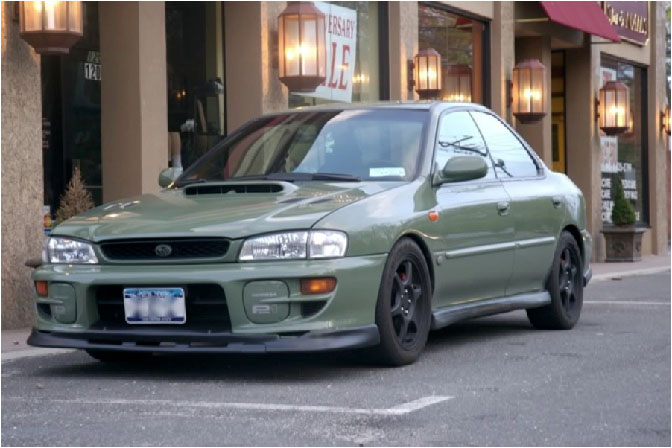 "I wanted an STI but didn't want the headache of a 600 dollar premium for insurance alone every month. I came across this car in May of 09 at Broken Motorsports. I swapped in a full 06 WRX Powertrain for easier parts acquisition, reliability, and compliance with emissions standards after spinning a bearing in the original Version 5 STI RA motor."
-BMWidmer Long Island, NY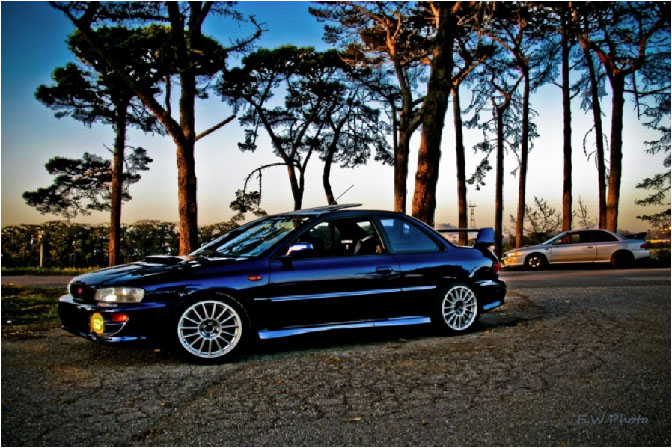 "With the help of Gran Turismo and Initial D, the dream of owning such a beautiful car began. I chose to swap in a 06 WRX motor because of its slight of compression ratio bump vs. the STI's ej257. The goal of this car was to make a Prodrive inspired 2.5RS capable of hitting track days!"
-Eric K. San Francisco, CA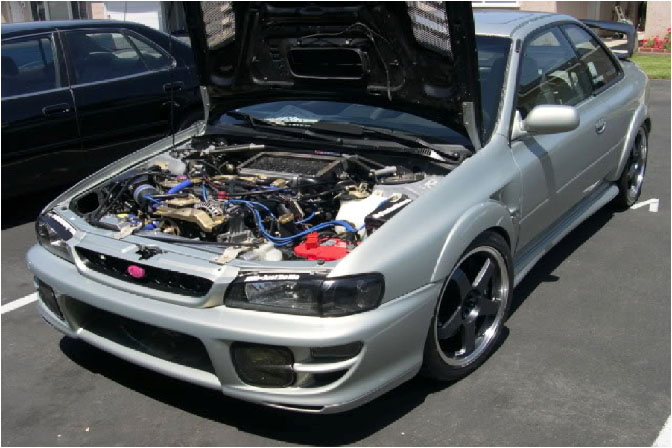 "I first bought my 2000 Impreza RS Coupe in Nov. of 06. I fell in love at first site and even after several mishaps, I've decided that I will probably keep this car forever. After grenading the stock 2.5 motor, I turned to Kevin at Garage Tuning and I treated the car to a boosted EJ20K from a JDM V4 STI and mated it to an already existing 04 STi 6spd"
-Craig Oceanside, CA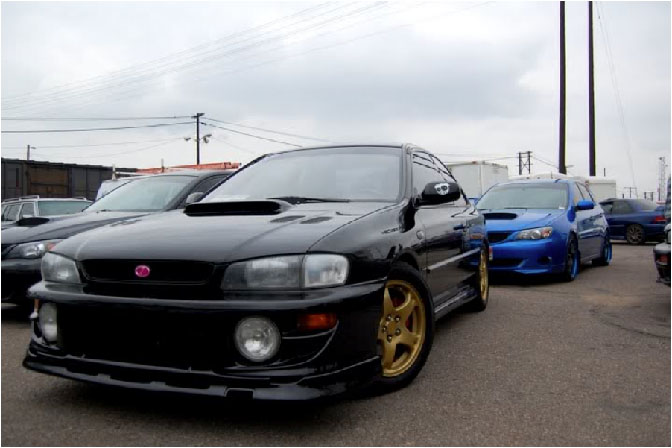 "I picked up my 1998 RS in June of 2008. The motor is stock, but I am saving for a 2006-2007 WRX Drivetrain. Along with the swap I would like to see 300+whp."
-Brenton, K. Golden, CO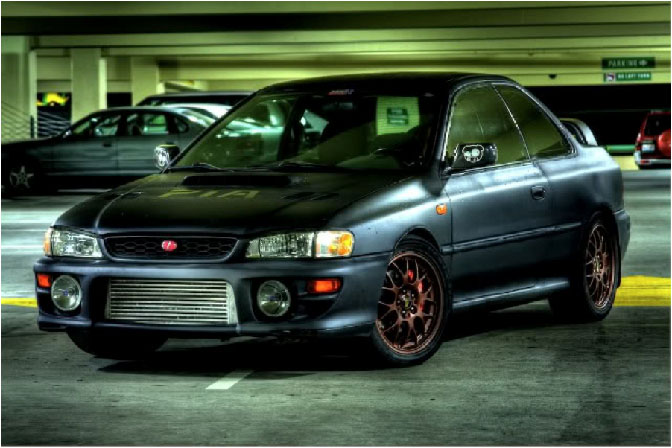 "This car first started out as a plain 1.8L green Brighton. This car now has a 2007 WRX TR Powertrain swap with extra goodies!"
-Eric D. Olympia, WA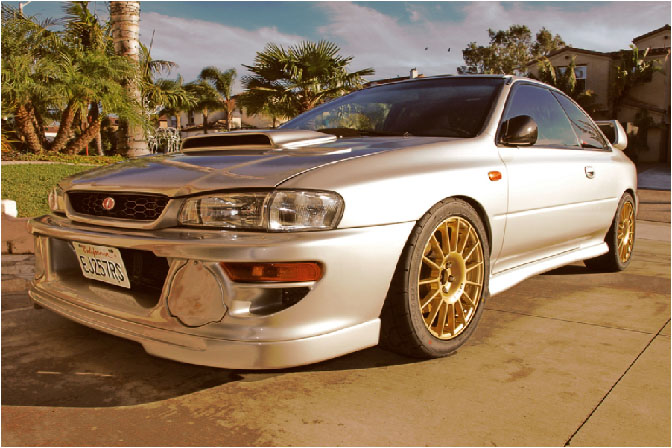 "I Bought the car new in 2000. Every modification has crossed the Pacific Ocean or been Buddha-blessed by STI Japan prior to installation. I even took a bullet for the car"
-James W. Carlsbad, CA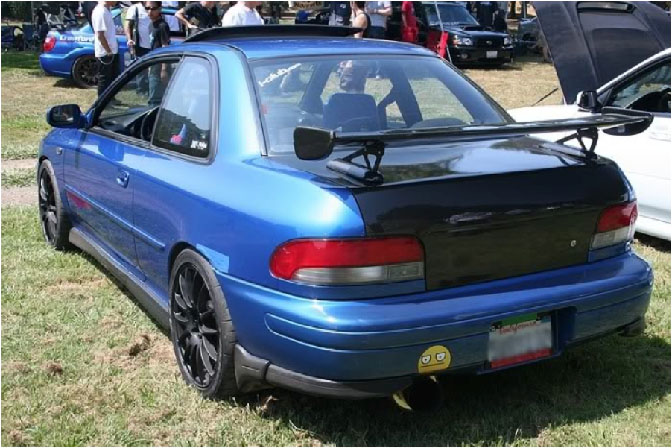 "I found my Subaru at the age of 16 in '06 on eBay. The car stayed stock for about 2 years until I bought a wrecked 2006 WRX with 35k miles and swapped everything from that car into my '98 Impreza."
-Salvatore R. Santa Rosa, CA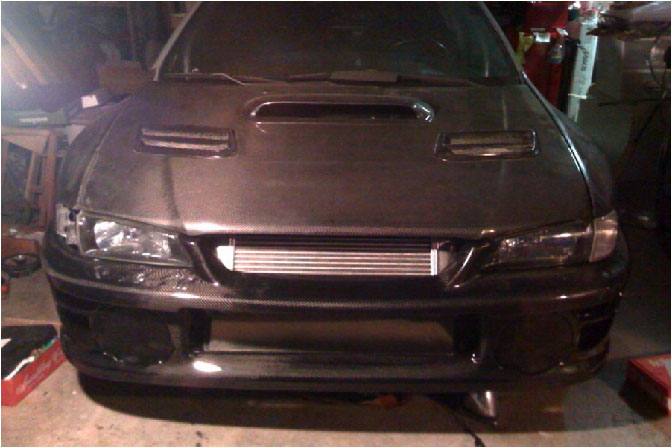 "Self Made Carbon Fiber 22b Exterior with V-Mounted Swap…Nuff Said"
-Trey Torrance, CA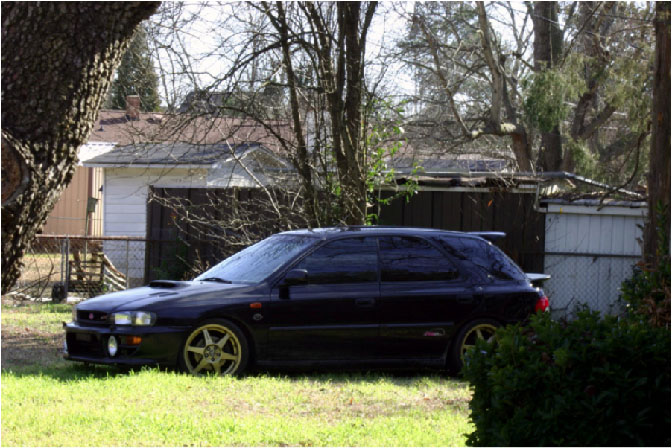 "I bought my 98 L wagon in 2004 and swapped everything that would fit from my non-working 98RS. Thus far I'm running a complete RS Drivetrain swap and many JDM parts that weren't offered on the USDM wagons."
-George Columbia, S.C.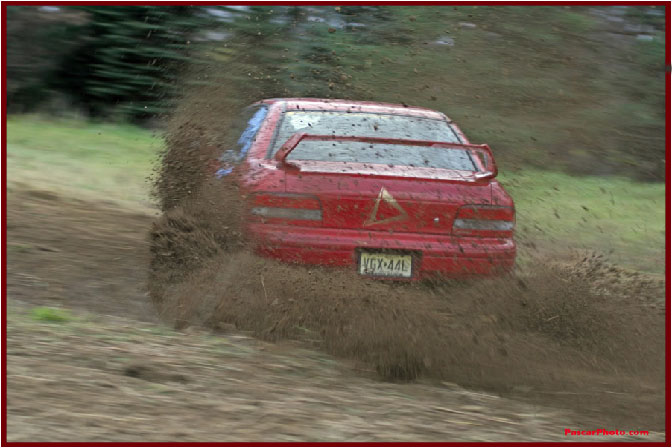 "The Car is a work in progress. Never ending project of fun."
-Tramix NJ
To sum it all up, people often ask, "Why bother?" "Why build a GC when the WRX has been stateside since 2002, the STI since 2004." I think my fellow "GCer's" will agree with me that the following basically embodies the determination that goes into our treasured cars.
"7 years of busting knuckles, 4 motors, 3 transmissions, countless sets of wheels, teala is STILL ballin' outta control."
-Xtian Chicago, IL