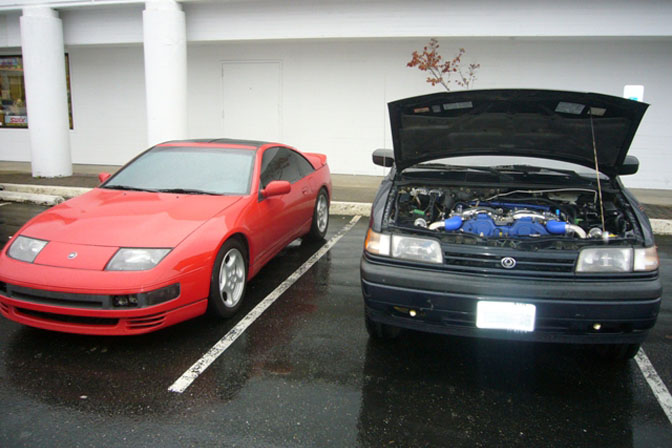 How many of us were taken through the streets of childhood in a minivan?  I was, and I hated it, I couldn't dare be seen in it.  At the tender age of six my family bought a 1993 Mazda MPV and used it for everything from towing the boat to shuttling our stuff across the border during our move from Canada to the States.  Ten years later when I got my driver's license, there was no doubt in anyone's mind that I would inherit the dreaded minivan…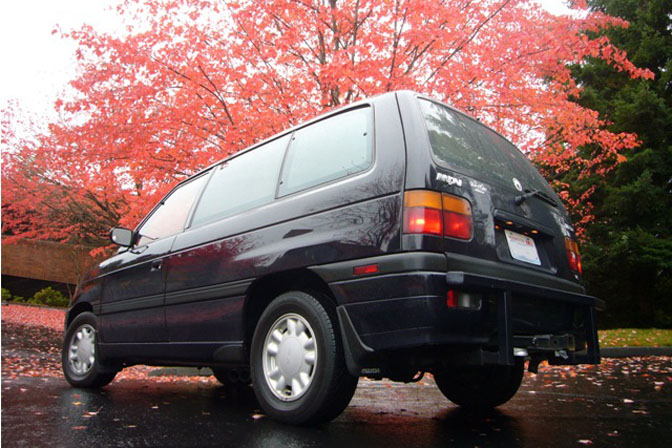 So the first thing I did to get rid of the horrible memories of the hours wasted hating this vehicle was to install a windshield shattering sound system with a 12" Resonant Engineering XXX competition woofer to make it bump, and some custom performance parts on the stock JE V6 including a cold air intake and an electric cut out exhaust to make it go.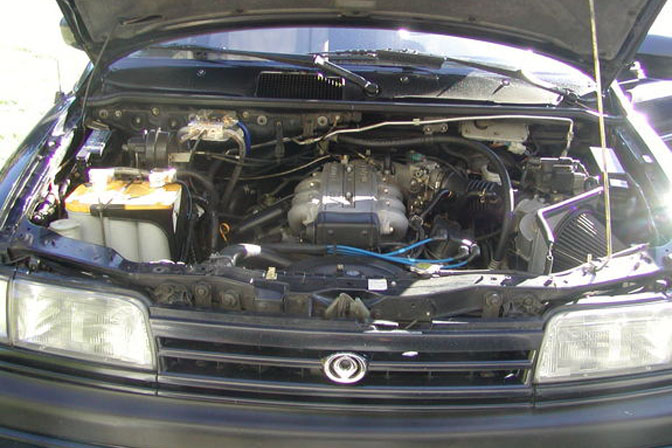 This was all fine and dandy till I reached the tender age of 18.  At this point all I wanted to do was go faster.  But how was this possible in a minivan?  I looked into other cars, but realized that I had fallen into a love affair with the minivan and could never get rid of it.  I researched options for turbocharging and supercharging, but nothing came up.  I realized that whatever I did would be a total custom one-off job.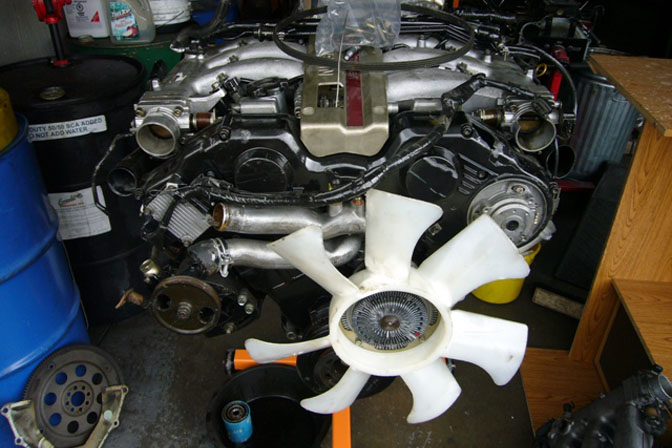 During the summer before College, my dad discovered a local JDM motor shop.  Looking around feeling like a kid in a candy store, and armed with our hands as tape measures, we thought about keeping it Mazda, but didn't like the options.  Looked at the inline six's, but they would require too much fabrication.  We settled on a VG30DETT which seemed like it would fit and had turbos with no shaft play.  So we bought it, and started stockpiling other parts to make the swap possible.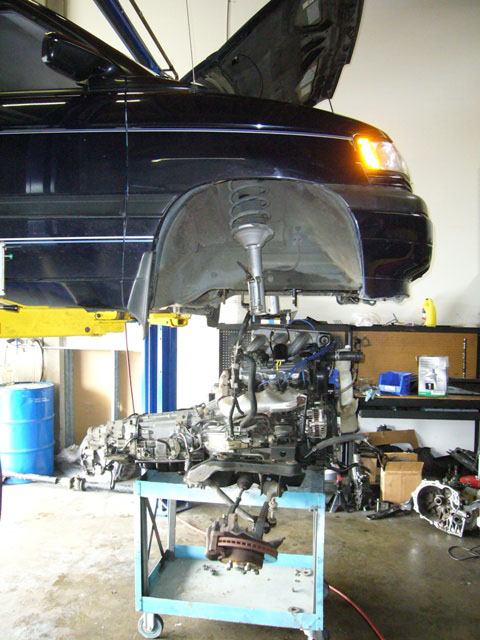 After cutting the MPV's wiring harness with a bolt cutter, I knew there was no turning back.  The VG took up so much room that conventional methods of installation were not going to cut it.  I even had to swap out the column shifter for a floor shifter from the 300ZX since there was interference between the linkage and the motor.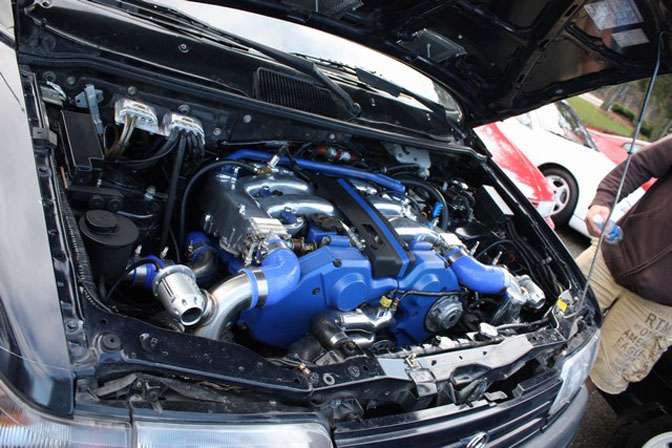 But before I knew it everything was torn out and the VG fit like a glove even using the same engine mounting points as the stock JE.
Working all summer I successfully completed the swap with so much customization that I can truly say there is no bolt or screw which I have not touched and no wires I haven't soldered or replaced.  When all was said in done, the horsepower of the MPV jumped from 103 to 388!!
From this point on, my love affair with the MPV has flourished into a need for speed, and sent me on a mission to make a name for minivan's everywhere.  I have never owned a performance car, but in creating my own it has given me a true appreciation for automobiles.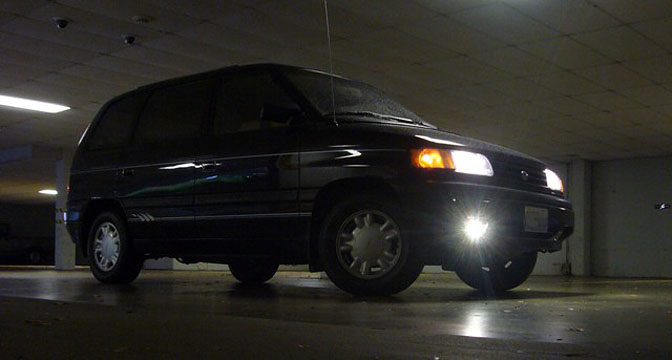 Keeping the body stock has allowed my van to achieve a nickname among fellow enthusiasts as "The Ultimate Sleeper" pissing off Viper owners at the strip, and Skyline owners at local car shows here in the Northwest.  Since this project appears to have no end in sight, I continue to stockpile parts to add to my crazy creation.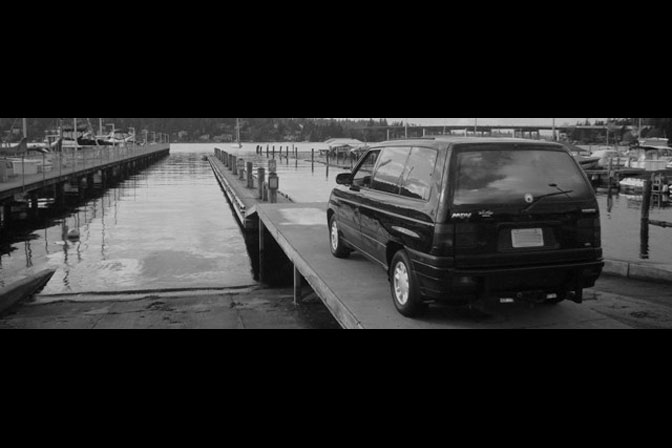 Some future mods include:
Custom Ford 9in air bagged 4-link suspension courtesy of a Torino
Mike Smith manifolds
Mazda RX7 4-piston calipers on the front widened to fit onto Z32 rotors
Nistune
- David Swenson