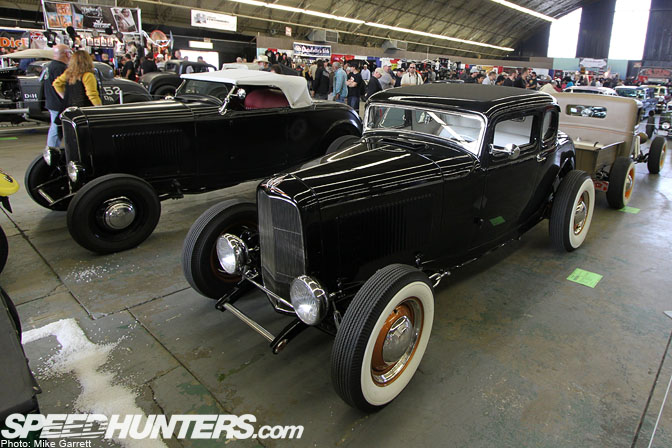 In the history of hot rodding and American car culture in general, Pomona is one of those places right up there with the likes of Bonneville, Daytona, or Detroit's Woodward Avenue. Not only is Pomona home to one of the world's most famous drag strips and the NHRA museum, but it's been the location of the Grand National Roadster Show for several years now. The GNRS is one of those must-see events, and one that's been on my to-do list for some time. Yesterday I headed up to Pomona's Fairplex to have a look…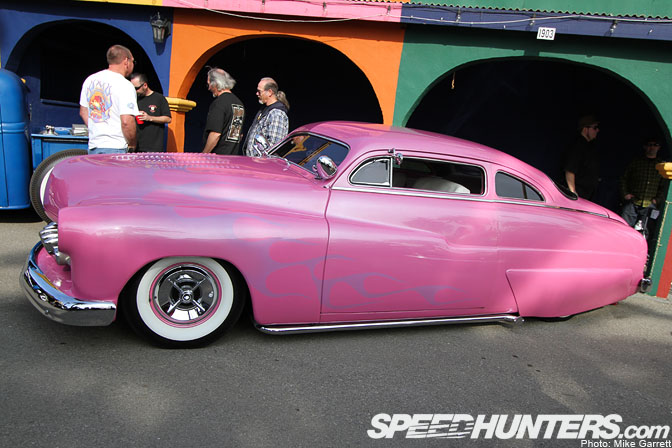 The GNRS is certainly one of the biggest shows of its type. It includes ten separate indoor halls packed full of custom machines, as well as acres of outdoor car displays. Again, this is Southern California, where you can do this sort of thing year round! It'll take me several posts to go through the whole show, but I'll start this one as a quick overview.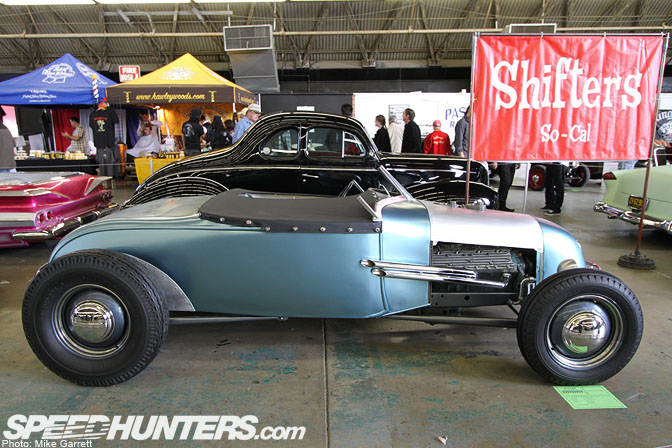 While the name might suggest the show is open only to traditional hot rods or "roadsters", the GNRS includes everything from original 1940's era hot rods…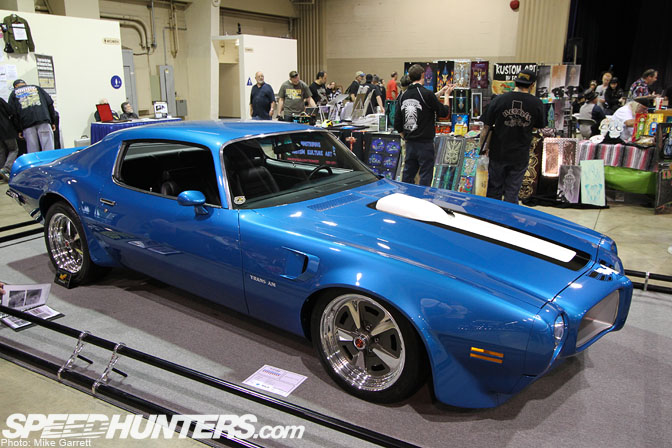 …right up to 1970's muscle cars like this Trans Am. An awesome car, but just a little too much rake don't you think?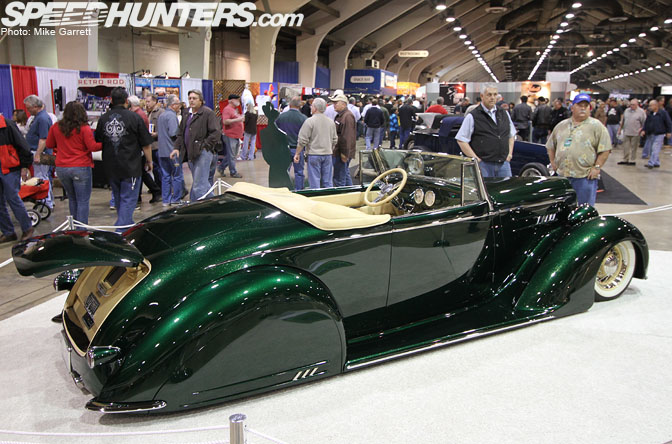 A big part of the GNRS is the show cars. Incredibly detailed machines with extravagant displays, and untold amounts of money invested. It's also the place where the famed "America's Most Beautiful Roadster" award is given.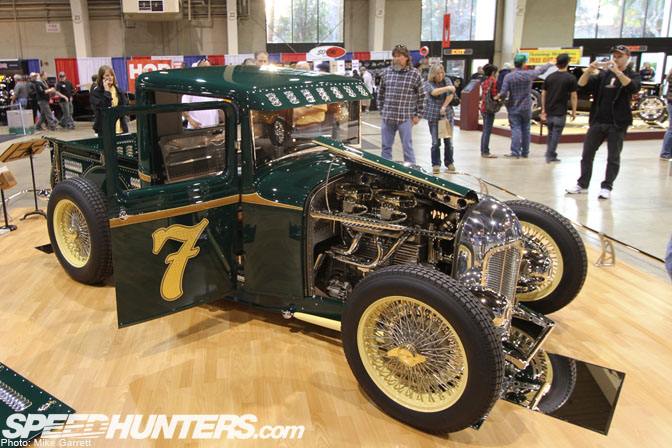 While I can appreciate the work in them, a lot of the high dollar show machines don't excite me a whole lot. A few of them were rather cool though, like this pickup.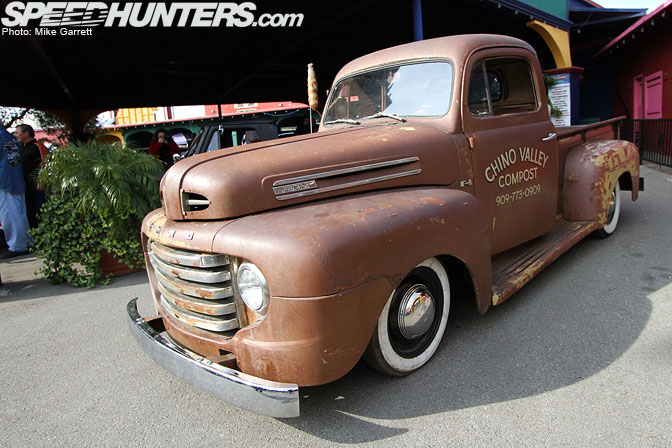 If the mirrored show cars aren't your thing, then you'll probably feel more at home in the area around the "Suede Palace".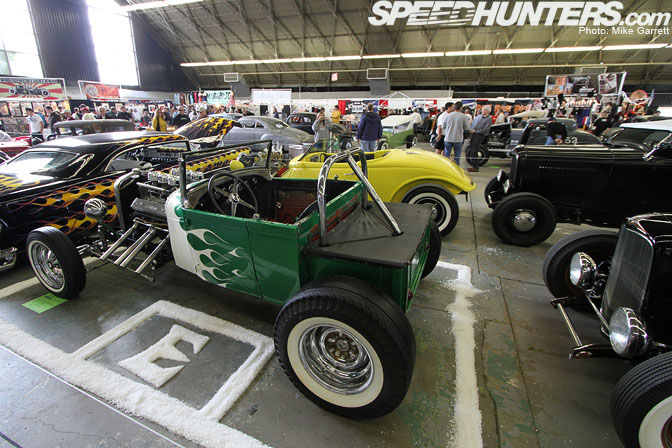 This where you'll find the types of cars and people that populate events like the Mooneyes X-Mas Party, the Primer Nationals, and Billetproof. A younger, edgier crowd.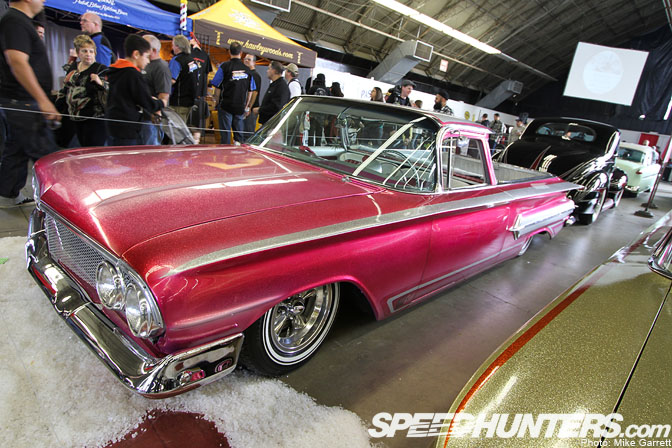 This building had everything from original hot rods of the 1940's to more modern customs – like this laid out '60 El Camino.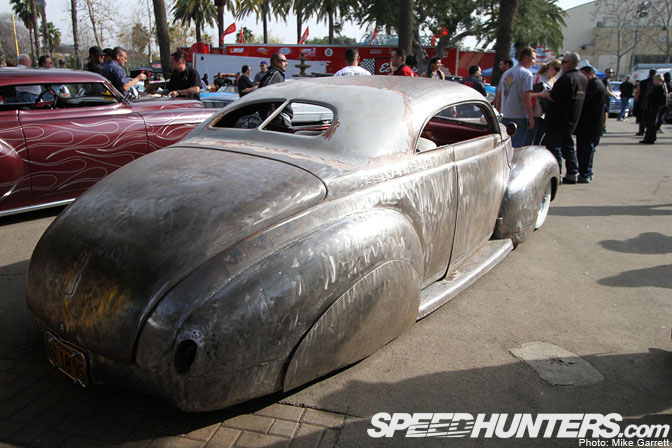 As I walked around, I noticed many cars from other events I've covered in the past.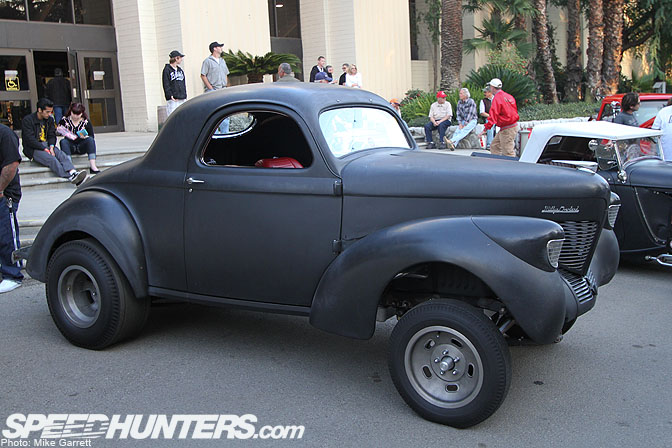 But there were also a lots that I haven't seen before. "Coming out of the woodwork" I guess. Bitchin' Willys gasser here.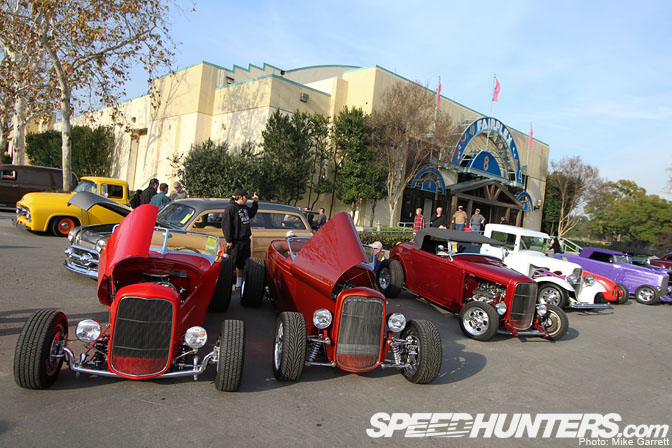 Here's a group of cars done in the typical, modern street rod style. These are the types of rods you'll find at cruise-ins and car shows all over the country. What do you think?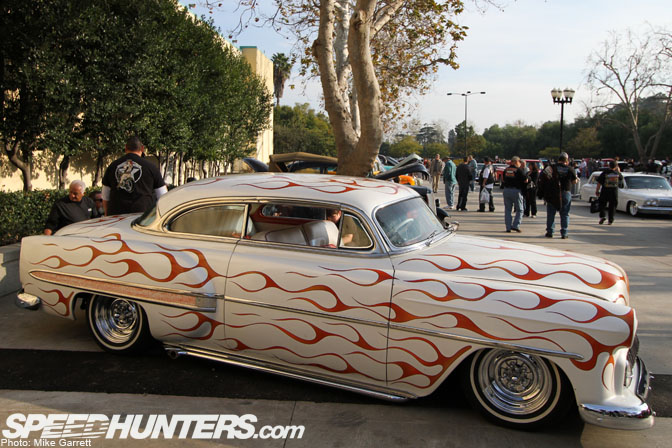 Personally, I still find myself attracted to the more traditional, or "retro" style vehicles. This flamed Chevy on chrome reverse rims is spot-on.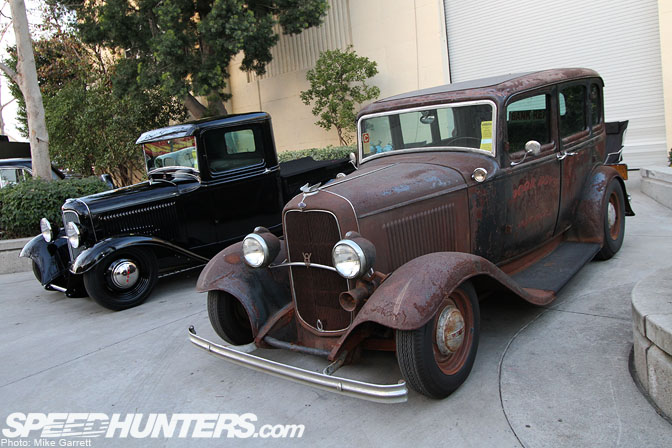 The cool thing about the GNRS though, is that you have all of these subcultures coming together in one place.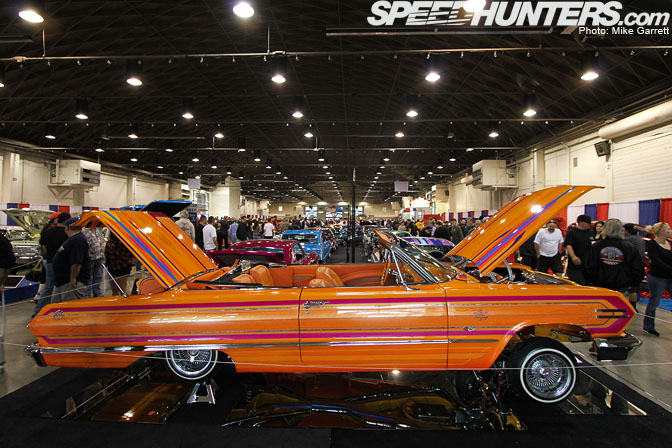 There was even a decent showing of lowriders.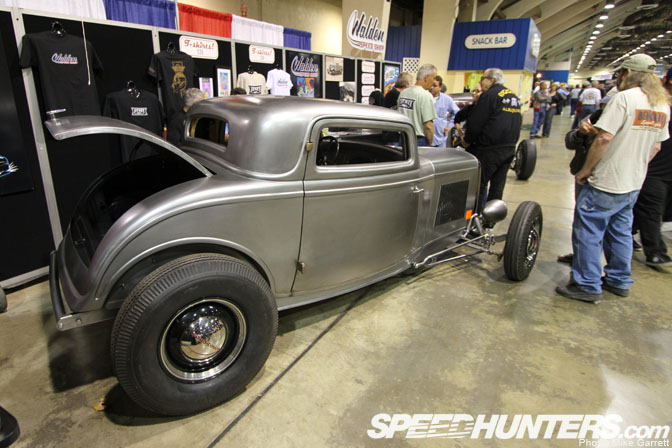 The nearby Walden Speed Shop had a booth in one of the halls, complete with a couple of their project cars.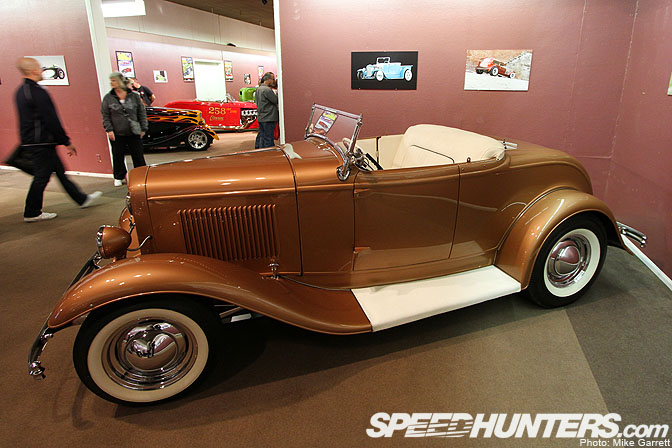 This year's special exhibits included a building full of Street Rodder and Rod & Custom cover cars – spanning all the way back to 1953.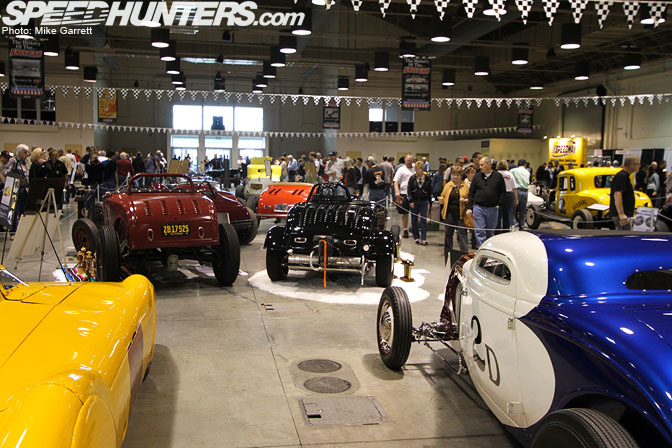 My favorite display was the "History of the Race Car", a massive collection of race cars from 1914 to the present. It's displays like this that make the GNRS such a draw.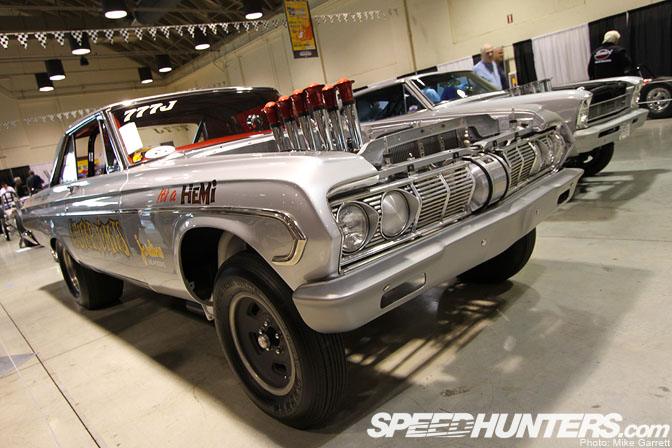 This altered wheel-base Plymouth was just one of the historic machines to be found in here. Expect much more from this incredible display.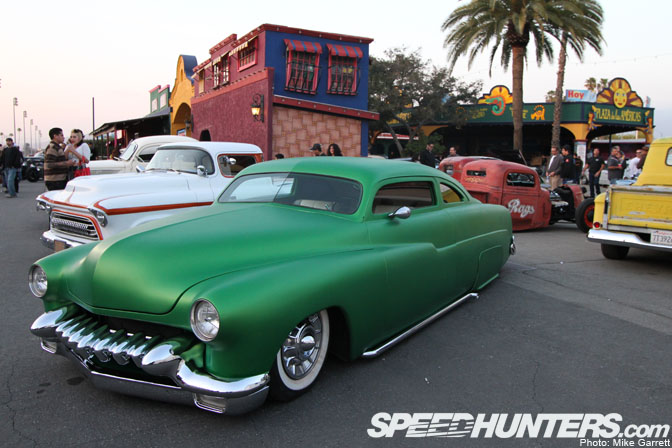 T-shirts, palm trees, and kick-ass cars under sunny skies. I love SoCal.
Stay tuned for lots more coverage from the 2010 GNRS.
-Mike Garrett