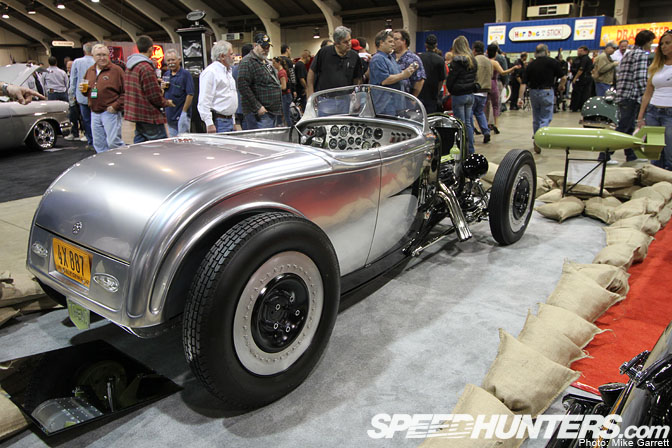 I remember when I was a kid I would go to the local hobby shop looking for plastic model kits to blow my allowance on. Although I loved cars, I also had a thing for airplanes and it was a hard choice to pick between say, a P51 Mustang kit or a 1/24 scale hot rod. When I saw this car at the Grand National Roadster Show, it brought back fond memories of both plastic airplanes and the hot rods.
Say hello to the Platinum Bomb.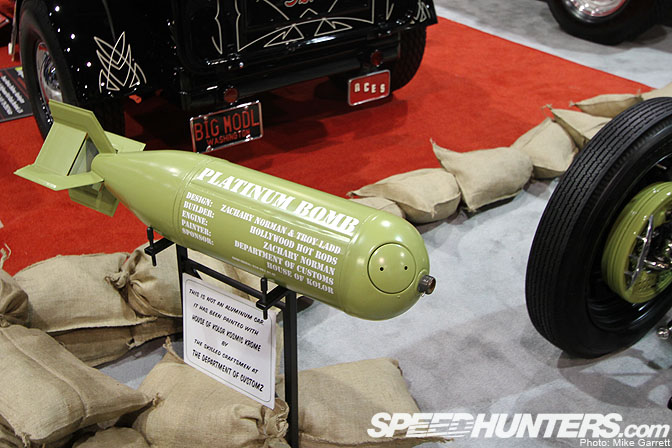 Of course the Platinum Bomb isn't a scale model, but a full size '32 Ford Roadster designed by Zack Norman and Troy Ladd and built at Hollywood Hot Rods in Burbank.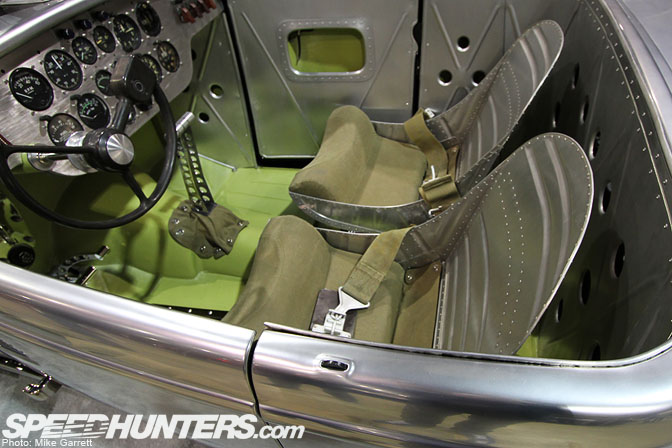 These days it's not uncommon to see aviation parts on hot rods, but I've never seen anything quite like this.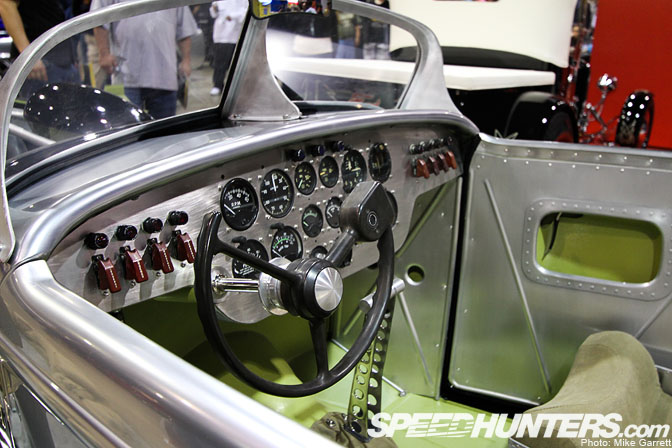 The dashboard, or should I say instrument panel looks straight out of a 1940's era aircraft, as does the steering wheel (make that yoke), and the shifter, which resembles an airplane's throttle lever. You can also see the aviation-inspired door panels.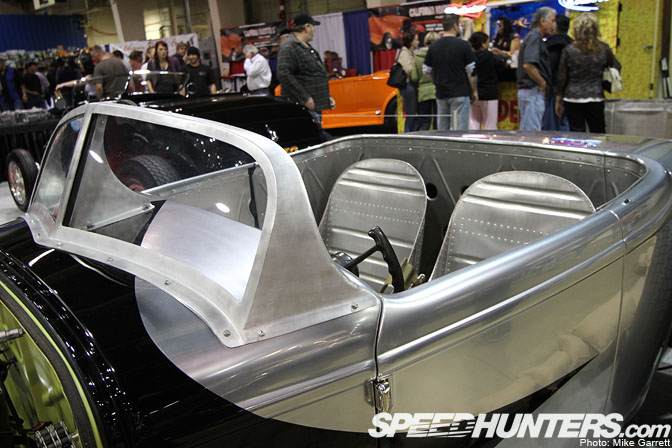 And then there's the incredible scratch-built windshield frame with split windows.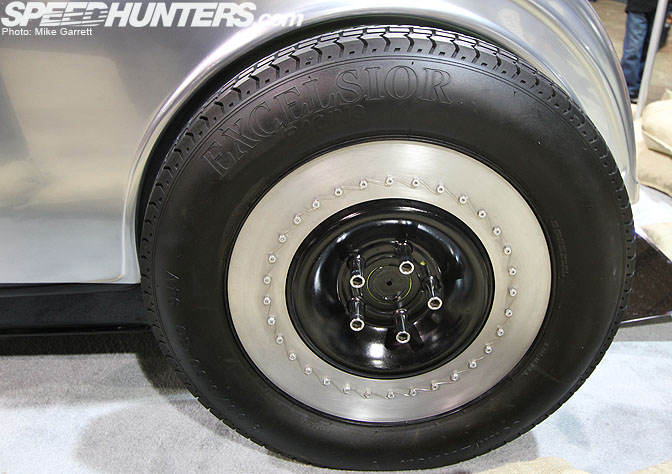 Even the wheels and tires have a landing gear vibe to them.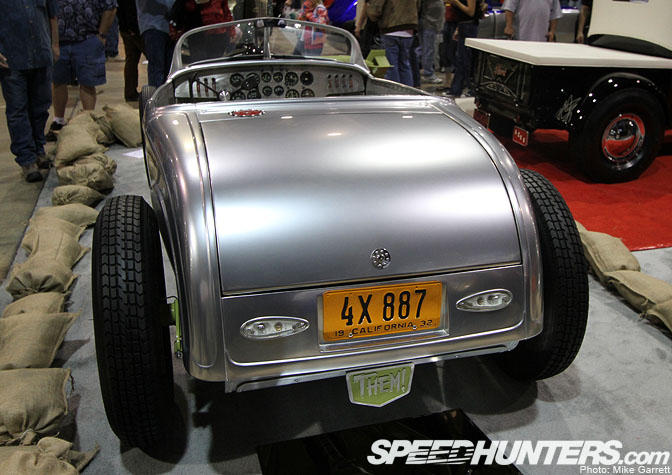 At a first glance the body looks like unpainted bare metal, but it's actually coated in "Kosmic Krome" from the House of Kolor. Paintwork on the car was done by the aptly-named "Department of Customz".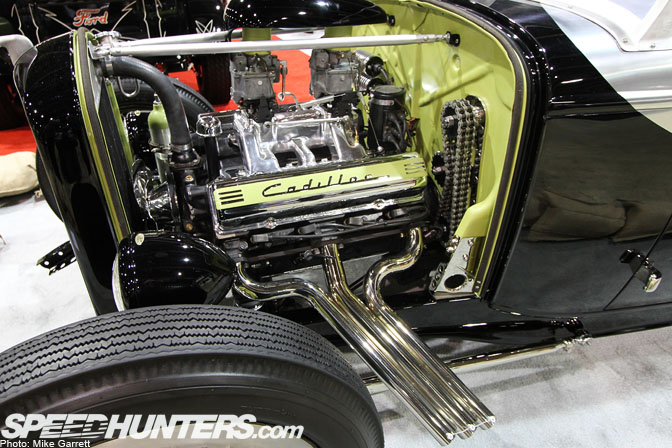 The engine compartment is immaculate. Check out the trick chain-driven steering system.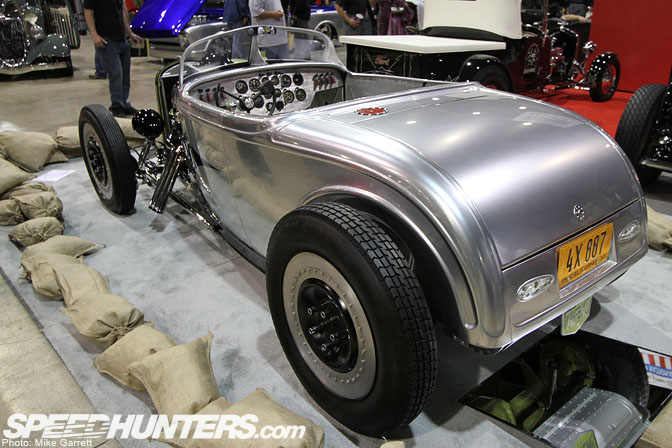 The car had a display to match its military theme, complete with sandbag protection.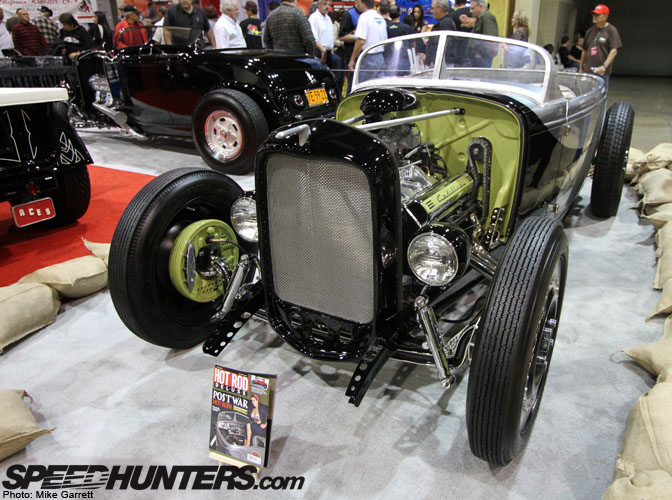 While I can appreciate the work that goes into the cars that battle for the "America's Most Beautiful Roadster" award, it was this car that left the biggest smile on my face.
When the sight of a car can take you back to those old days building models, spilling paint and glue all over mom's table cloth, you know you're looking at something special.
-Mike Garrett