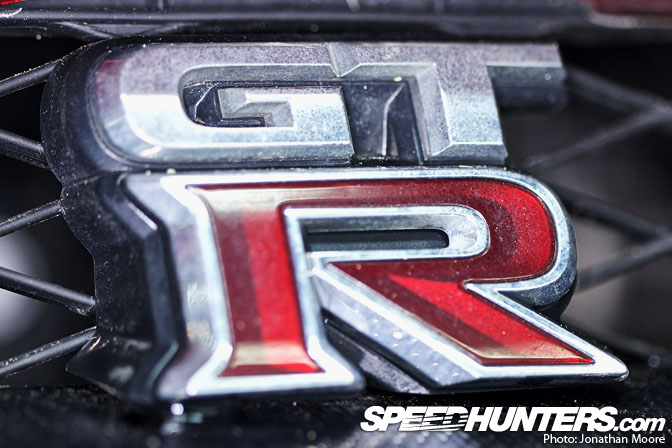 It's funny how things come around. Last November I spent a rainy couple of days down in Rye on the South coast of England. Rye is a lovely town: quintessentially English with cobbled streets and fortified walls (and an unexpected American car show scheduled that weekend), but with movies on the laptop all watched, Medieval tower climbed and coffee shops exhausted I thought I'd take a drive out in the gale to the coastline, across the marshes, as the show looked rained off.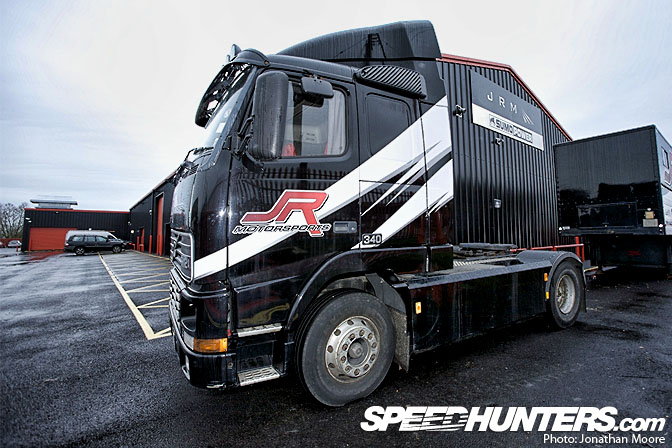 Driving out through the flat, featureless landscape past the odd incongruous Cadillac cruising around I sailed past an industrial estate… and slammed the brakes on. Next to an impressive looking warehouse building was parked a big Mitsubishi Ralliart support truck and a JRM race trailer – JR Motorsport? Sumo Power? This I wasn't expecting here… Fast forward to January, and post-Dubai Rod and I have arranged a trip down to the JRM facility to check out just what's going on outside sleepy Rye.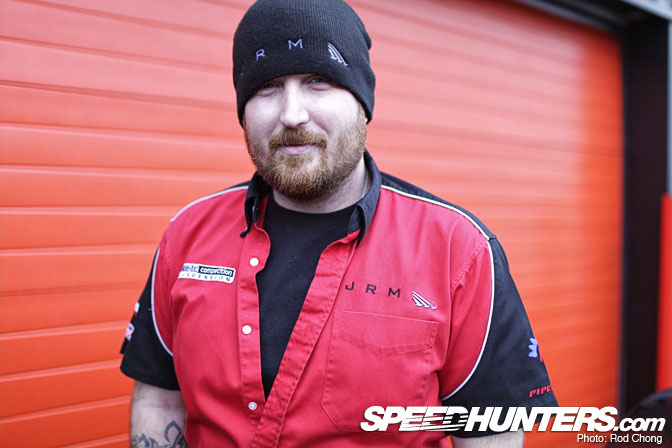 Sumo Power are well known on the UK tuning scene. Started in 2002 by Andy Barnes, the company made its name spicing up Japanese cars with HKS kits and quickly became one of the primary suppliers for importing and fitting tuning parts. Andy branched out into drag racing and runs the EDC and UK Time Attack series, but recently things have stepped up a gear. Last Summer Sumo Power joined up with James Rumsey's (above) JR Motorsport group in Rye, based out of a 50,000 square-foot factory built in 2008 which now houses both operations.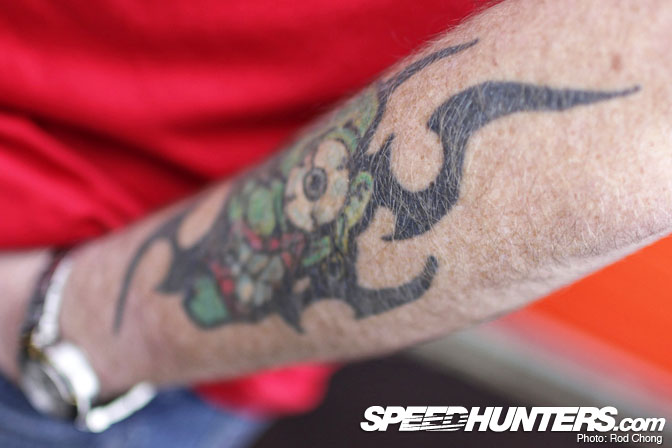 Of course, the big news has been that Sumo Power have scored the deal to run a pair of Nissan GTR GT1 cars in the new World FIA GT1 series. How do a bunch of tattooed Brit back-street car tuners get to run a factory race effort in a world series? Obviously Nissan's management have been on the Sake? I'm sure there are a lot of people (predominantly race teams who didn't get the gig) who are thinking that…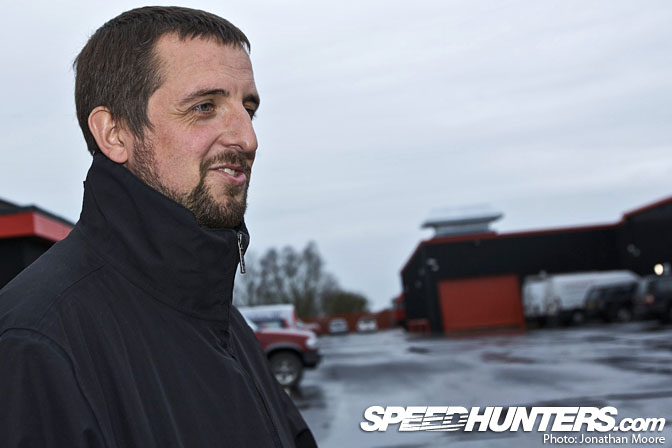 They need to come to this factory. I like surprises as much as the next person. but the trip to Sumo Power/JRM was almost a little bit too much. Both Rod and me had spinning heads by the end of our afternoon being shown round by Andy. It's branded as the most advanced facility that exists in the aftermarket industry and I can well believe it: the place is truly state of the art, with facilities that would rival any big manufacturer team.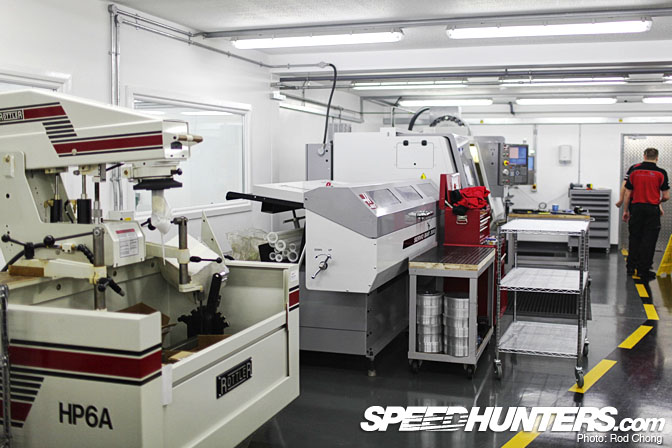 The first area we see is the manufacturing floor. It's like a high-tech car hospital: full CNC/CAD/CMM facilities; in-house design using a Catia system and multi-axis lathes and milling machines with live tooling.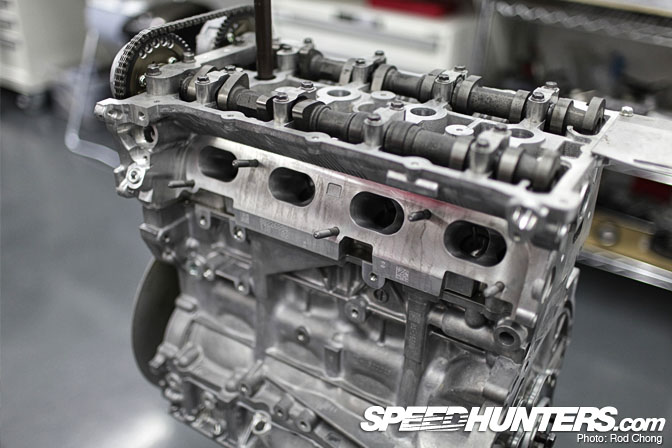 Andy Barnes: "Sumo is moving from being a box mover of kits to manufacturing bespoke parts. With the new facilities we don't have to wait for someone else to make a part: if we need to re-engineer something, like a new suspension part, we can draw it and manufacture the same week. It's also protection for the firm and reassurance for our customers. The more we make in the UK the less prone we are to exchange-rate fluctuations or people copying things. It means we're more self reliant."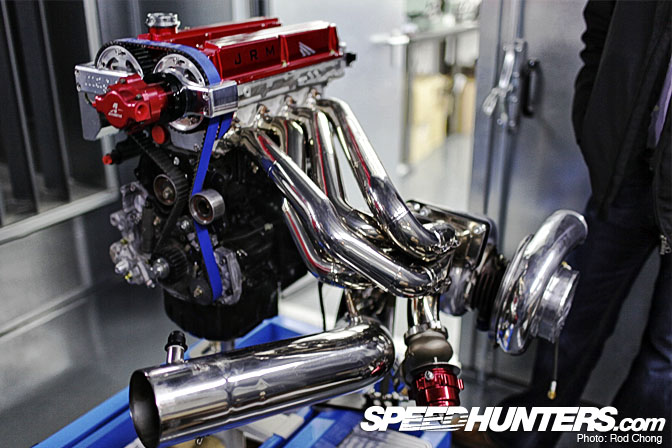 In the clean room for engine and transmission assembly various blocks await attention from the technicians. In the separate dyno room a 1000hp JRM drag engine is about to be rigged up for testing.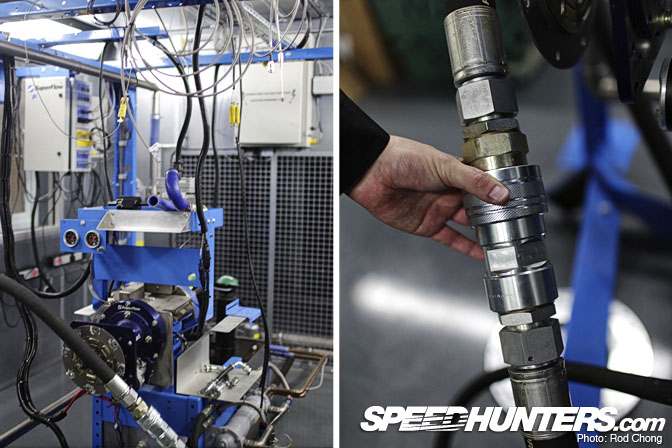 The dyno is an Superflow NSCR: the big water brake dyno pipe is rated up to 2,500hp.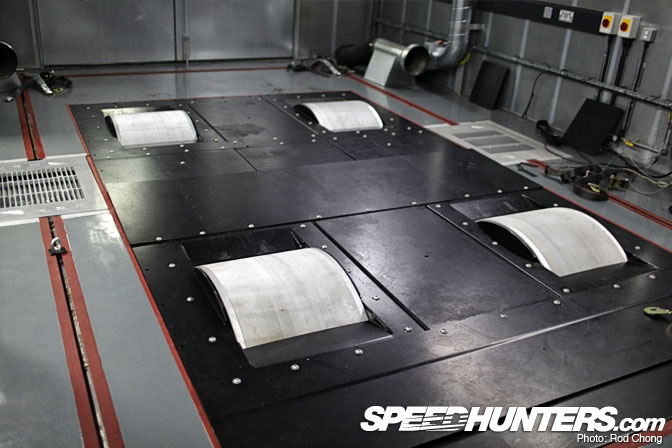 The chassis dyno is completely sound-proofed off, and needs to be. It's an AutoDyn 880 all-wheel drive rolling road which can handle 1500hp equivalent at the wheels. The dyno fan can simulate 200mph air speed, with a signal taking from the roller speed. James: "It's so it can work with radiators, intercoolers and any ram-air effects on normally aspirated motors. You need 200mph frontal air force if you want to replicate 200mph on the road." Andy: "The fan is powered by same motor used to lift containers off ships: it's a 600-amp unit."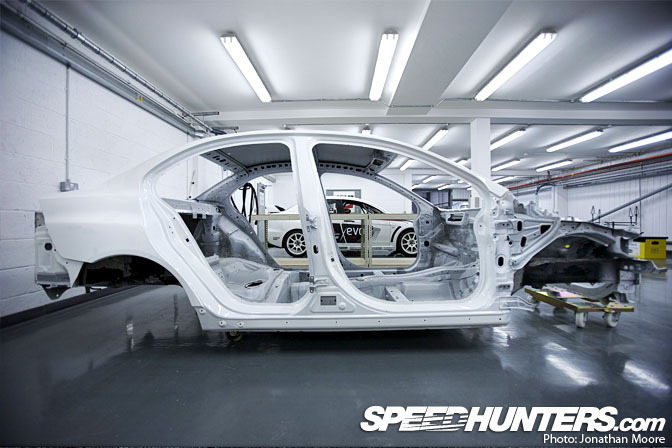 In the rear of the ground floor is the bodyshop, with a spray booth and low-bake oven. Here a line of Evo X shells are being prepped, plus there's an Impreza undergoing a full rebuild.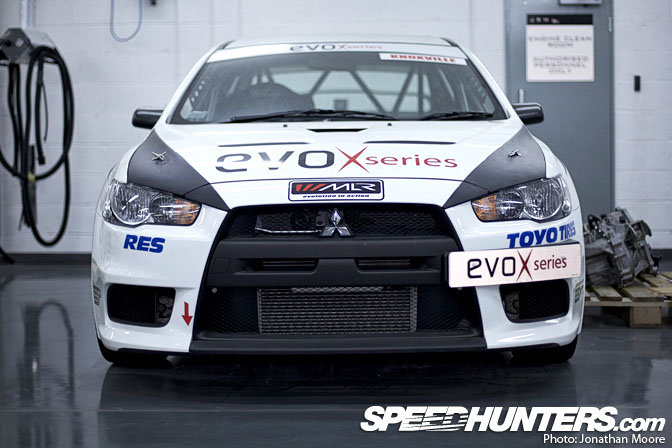 This Evo X is from a one-make circuit-based series originally planned by JRM and Mitsubishi for 2009 – right car, wrong recession. The series has been mothballed, and somewhere around here are another 50-odd of these cars…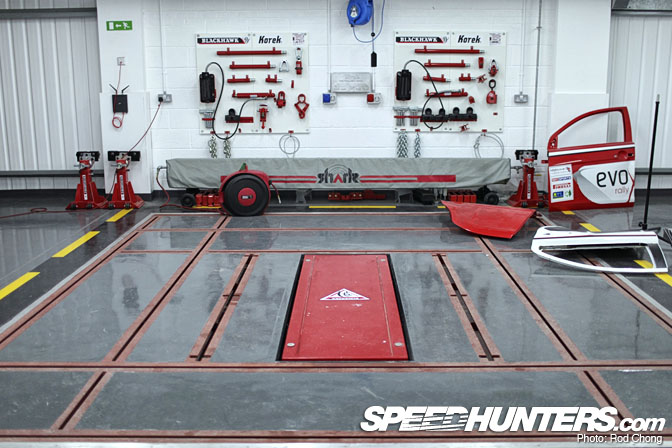 The Korek jig alignment equipment is also pretty impressive: a little more high tech than a lot of chassis realignment I've seen at race tracks, which normally involves sledgehammers, tow hooks and trucks…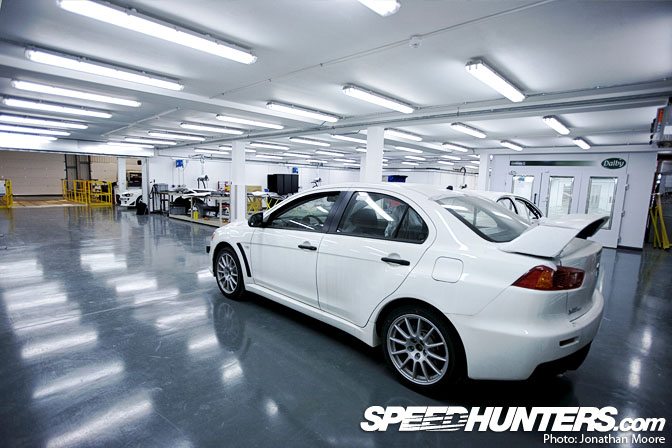 As fit and finish is complete, another Evo X comes off the JRM production line.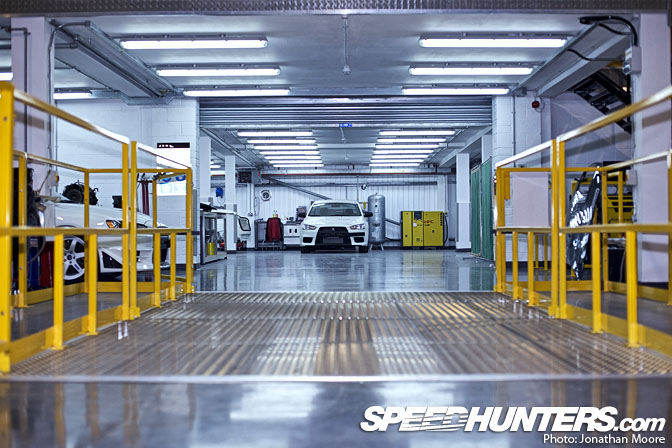 Then they're rolled out to the prep bays to be set up.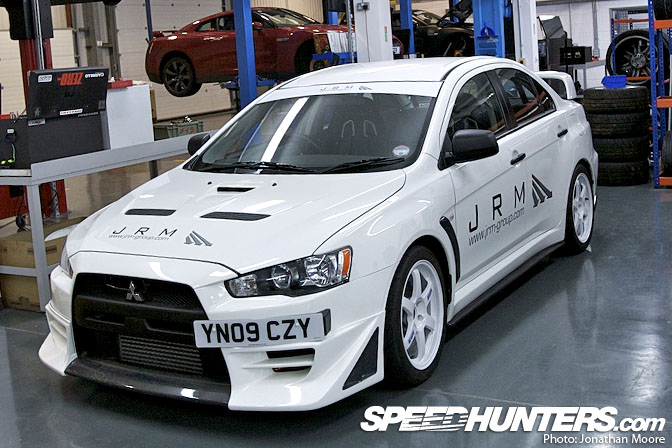 JRM have been developing a trackday Evo X, the 400RS. And if you make something good, you can make something better – they're already working on a 500hp upgrade kit.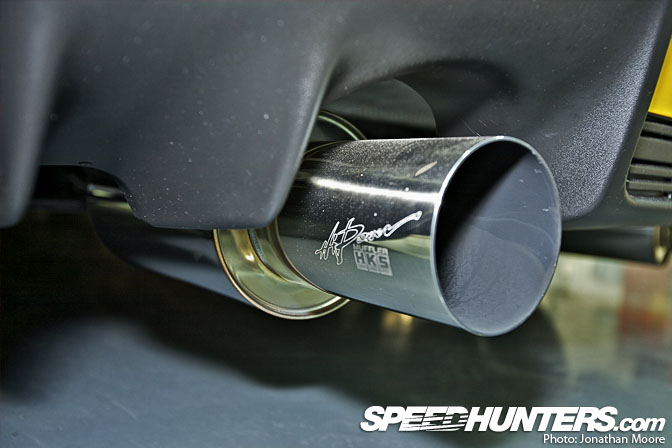 Naturally, at the rear is an HKS Hi-Power Muffler so the NIMBY's don't get upset.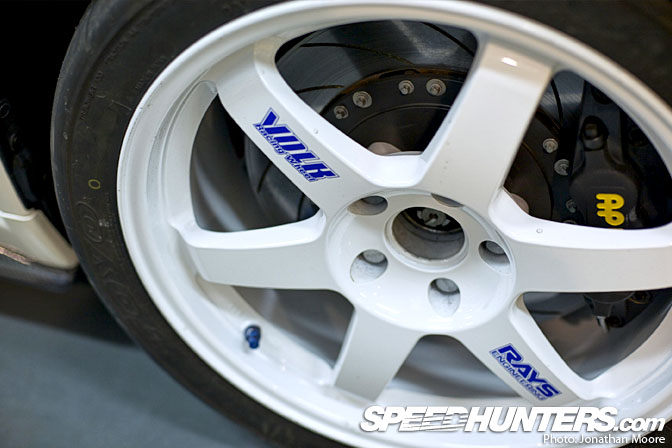 It's sits on low-profile Toyo tyres, Ray's Volk Racing Wheel rims and AP calipers.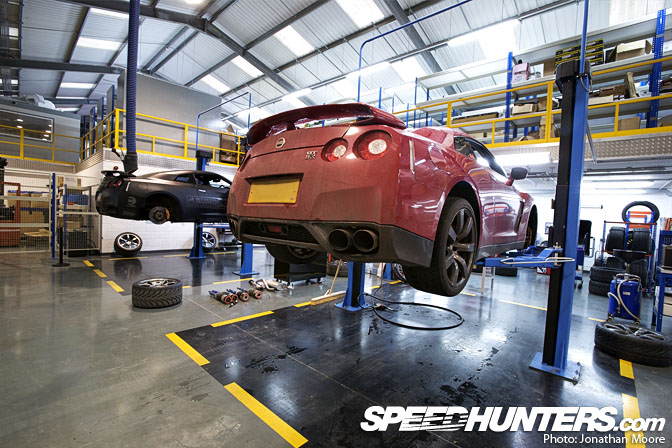 Out front is a six-bay car preparation area where the majority of customer work takes place: everything from straight MOTs through servicing to full upgrades. Two R35s are up on lifts, including James' Sumo Power GT600 development car: their skunkworks baby. In total there are 14 hydraulic vehicle lifts around the factory.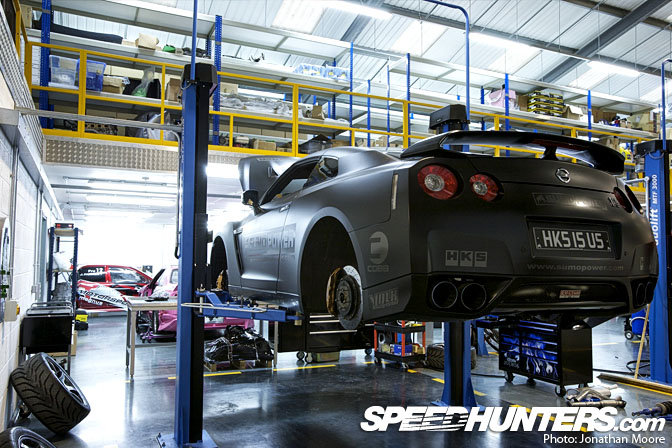 Andy: "We've actually driven the cars and got insight into what's needed. James has done 8,000 miles in his, I've done 10,000, and now we know how the cars actually drive: what the result is when you do something specific."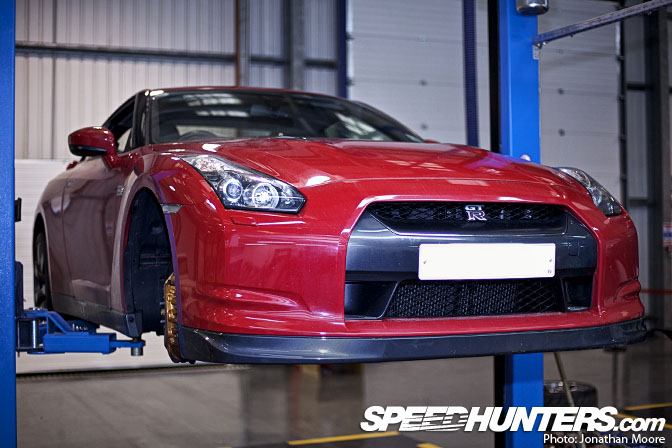 "We have personal experience of using the cars on the road and have come up with ideas that could improve them a little bit using a combination of HKS and bespoke Sumo Power kits."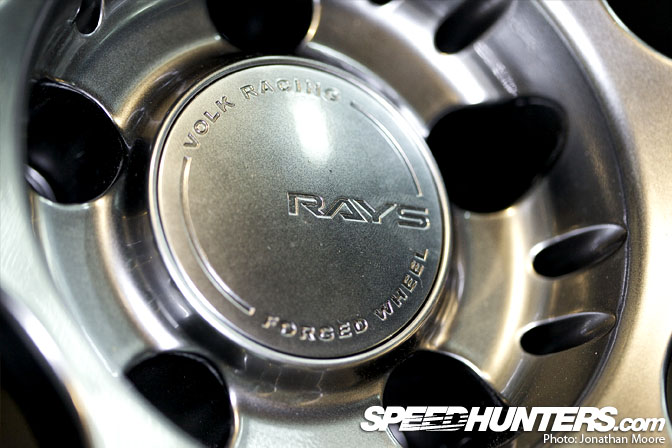 "We're not talking about carbon fibre inserts for the bonnets, forget that – it's about what makes a difference to a normal person when they're driving it. James' R35 is now up to 650hp and Sumo Power upgrades and development parts are well under way."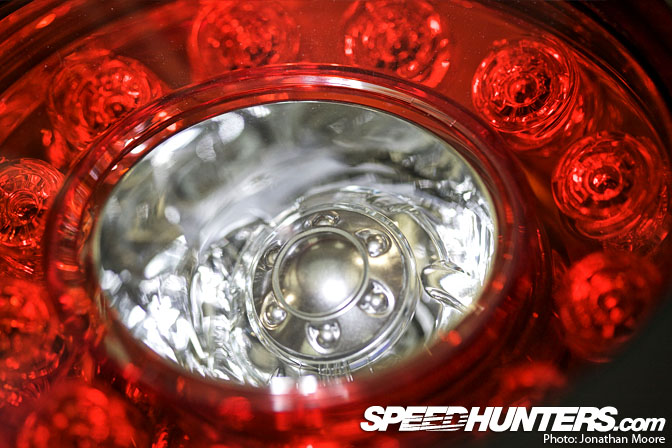 I think the R35 has been given a very different personality by Nissan: very much in the supercar, Top Gear-friendly league. I asked Andy if he thought the perception of the GTR had changed.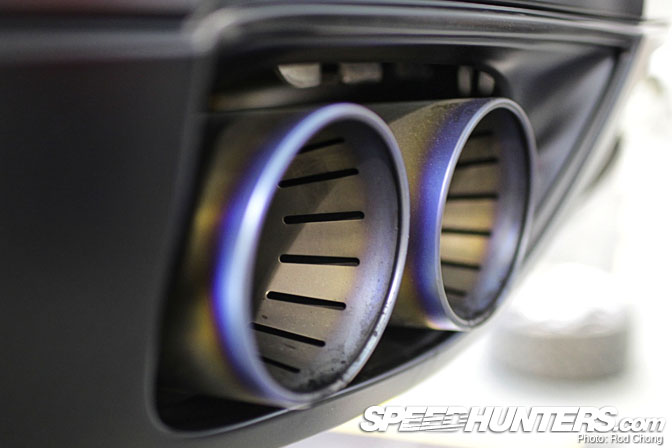 "Obviously it's a lot more high tech but the price tag is still the same. People bought £50K R34s before – these are in the same ballpark. Admittedly Nissan sell them to a completely different audience – at the moment we're not seeing that many people who bought a Skyline before."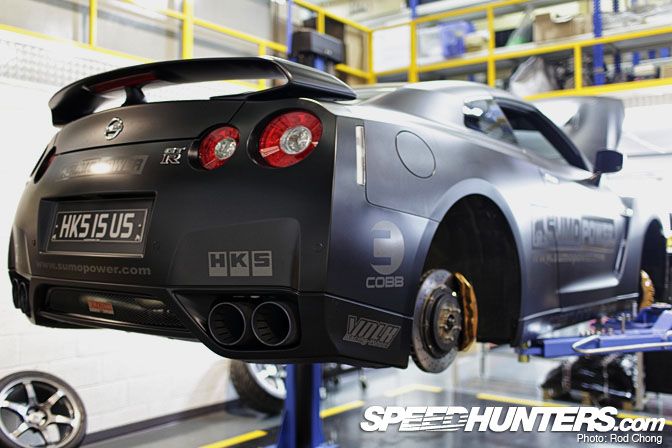 "New R35 customers haven't been exposed to the aftermarket scene, but there's still a clear connection in our minds between the R35 and existing customers."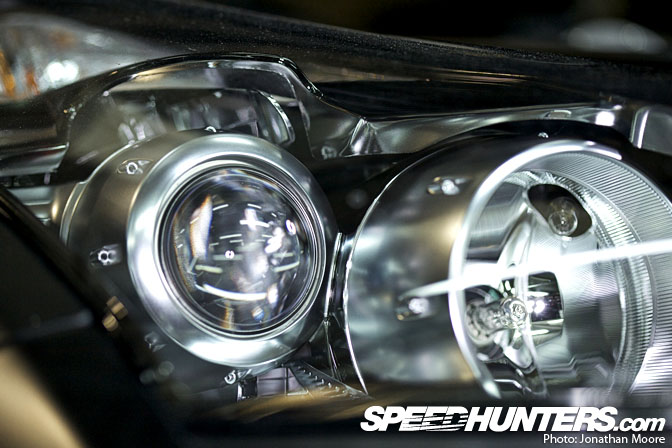 "Everyone is terrified about modding R35s. Other than putting petrol in your car, if you change anything basically you warranty is immediately invalid."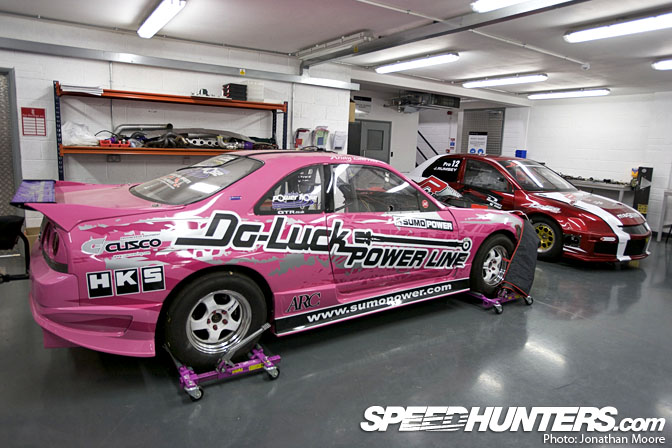 Tyre-changing, balancing and tracking kit sits next to two HKS series drag cars: Andy's 4WD 1000hp Fuujin R33 and James' turbo Evo VIII. The Evo weighs in with a 2.0L 4G63 using a GT47R Garrett Turbo, Methanol and Nitrous running to 11,000 rpm. The transmission is a bespoke JRM Evo 9 sequential unit and the 1029kg chassis has SFI 25.1e certification (6.5 sec ¼ mile legal).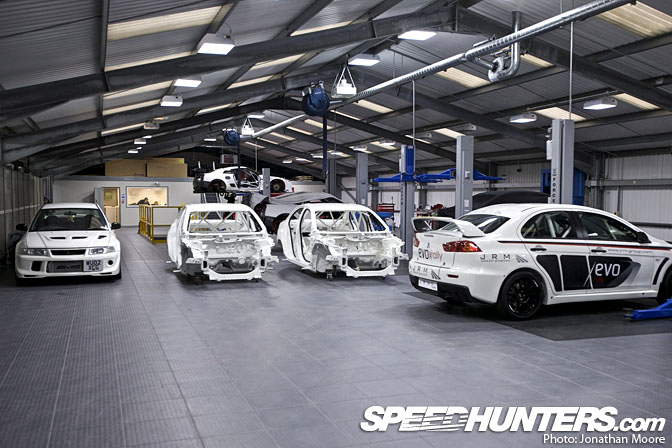 Up on the mezzanine is a big open floor with yet more Evo shells, a parts storage cage and offices. And more surprises.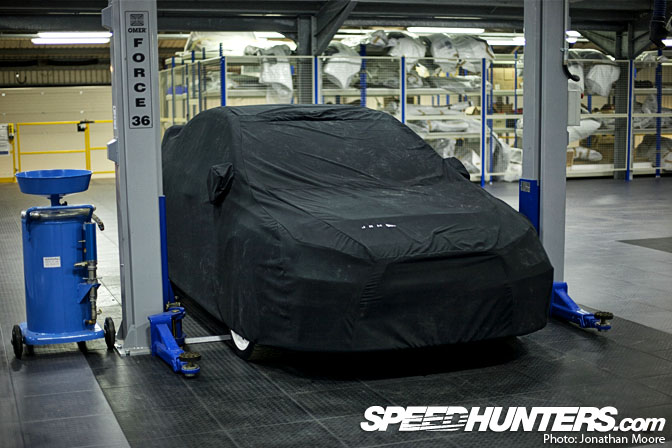 As dust sheets are pulled back, so more sparkling Group N cars are uncovered – but also the top prizes: the Nissan GTR GT1s and an original R30 Skyline.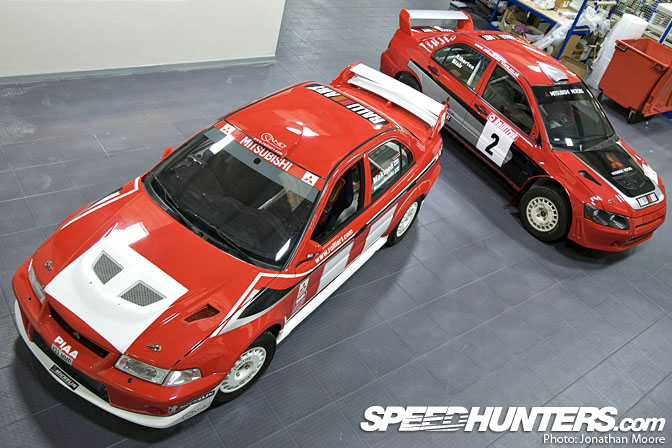 Round the corner by the Sumo Power admin offices comes the final automotive hit: two Mitsubishi Ralliart cars: a 2001 WRC Evo 6 and 2002 Step 2 Evo VII.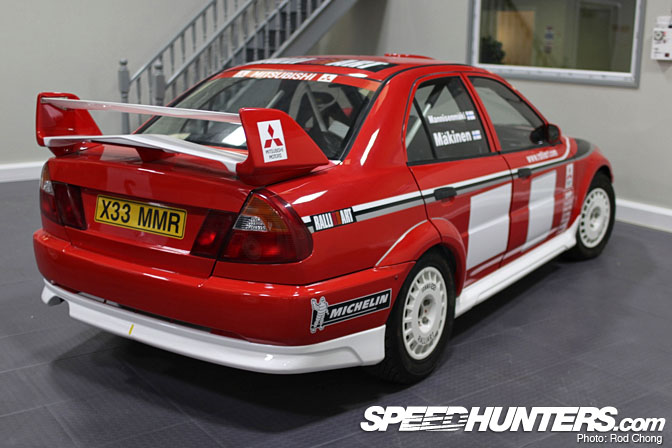 The prize is Tommi Mäkinen's World Rally Championship-winning Evo VI.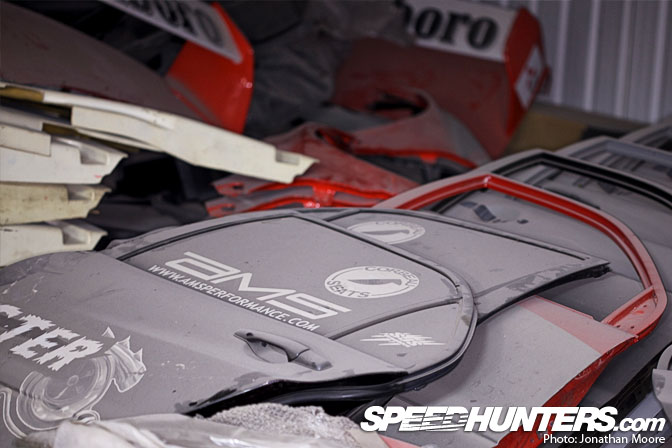 Above the offices, covered in a layer of dust, is evidence of JRM's past rallying activities: doors, panels, wings and screens lay in rows, including a stack of old Ralliart spares. Along with the palettes of Emkei wheels downstairs in the loading bay, this gave a second hint to something else we'd be shown later in the day… I'll cover that in another story, along with the R30 and Sumo Power's GT1 preparations. 
JONATHAN MOORE