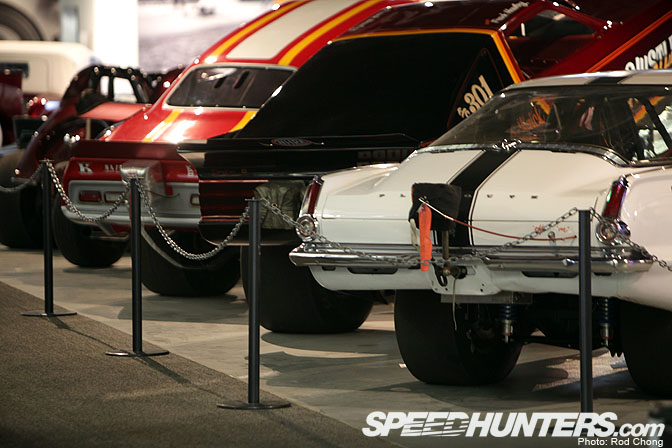 I'm currently sitting in the airport waiting for my flight to Dubai, so I thought I'd quickly write up this set of photos from a recent outing to the NHRA Museum in Pomona, California.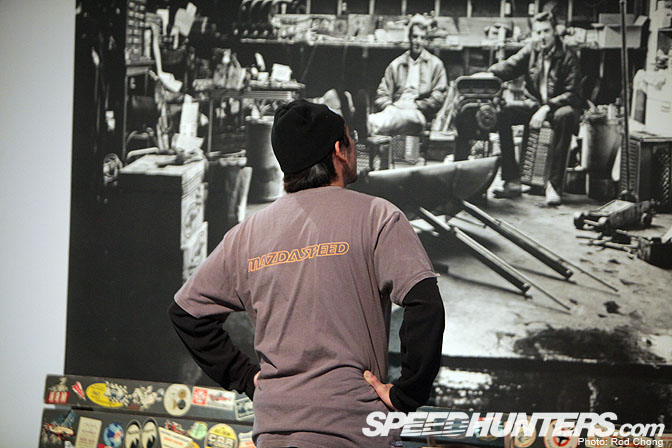 While in LA last month for the Mooneyes Xmas Party, I arranged to visit the museum with legendary car builder Ron Bergenholtz.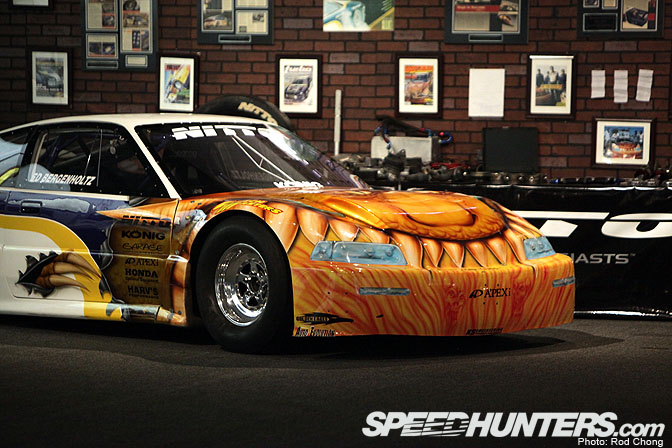 Legendary car builder you say? Yes. Although to younger audience, Ron and his brother are now more known for their efforts in Formula D, up until recently their main calling card were their achievements in sport compact drag racing.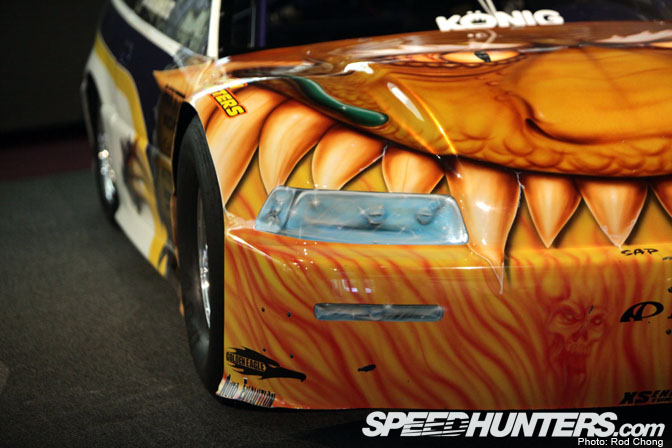 Like fellow builders Stephan Papadakis, Chris Rado and the late Shaun Carlson, the Bergenholtz crew honed their craft on the quarter mile.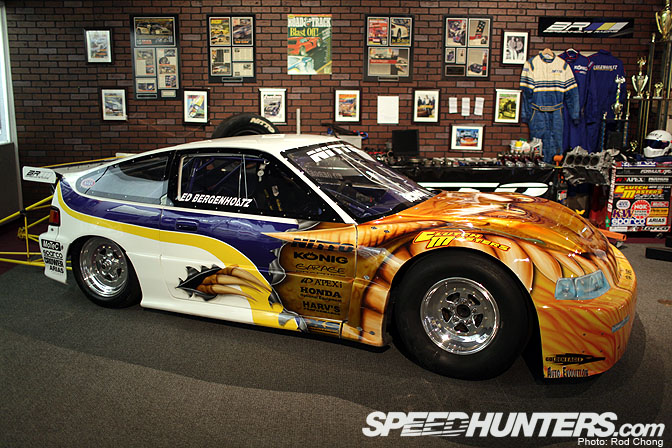 And it's this ground breaking Bergenholtz racing drag machine which the NHRA museum have chosen to honor in a feature display.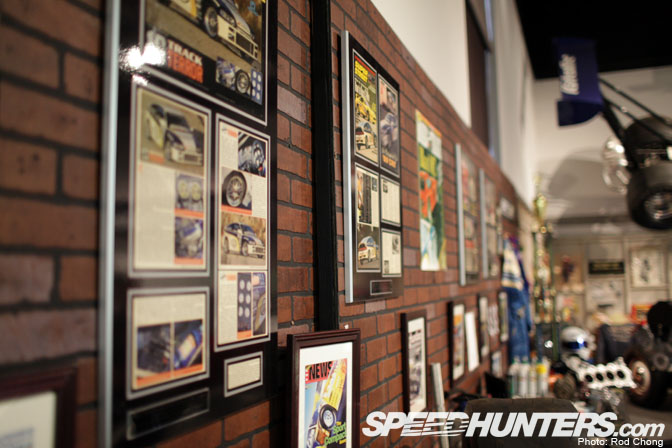 It's shown with all manner of memorabilia from the era, including numerous magazine features.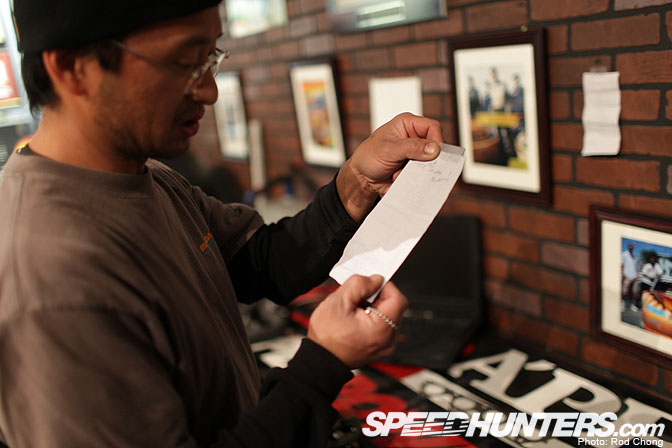 Here Ron looks at a copy of the original time slip which recorded the first front wheel drive drag car breaking into the nines.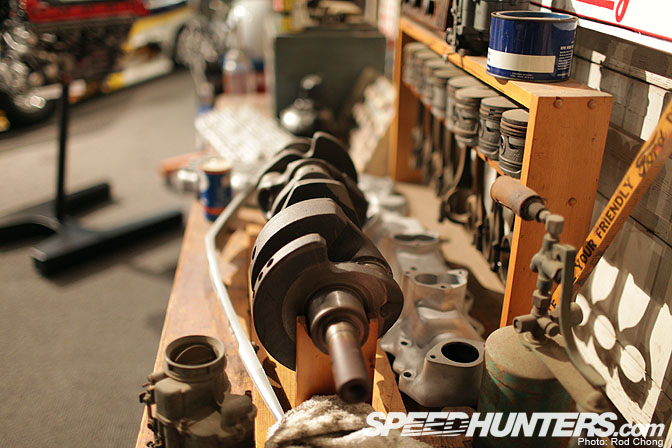 The car is shown in diorama style with another machine from two other brothers….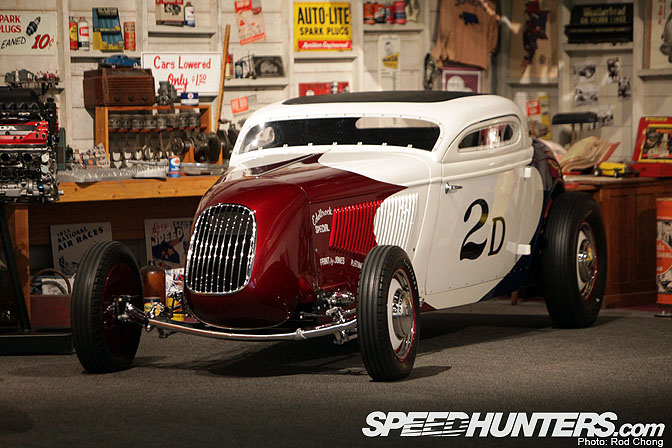 The famous Pierson Bros. Coupe. This is a ground breaking machine which ran at the lakes, the drags and at Bonneville consistently from the late forties all the way through to the seventies. It's a stunning coupe!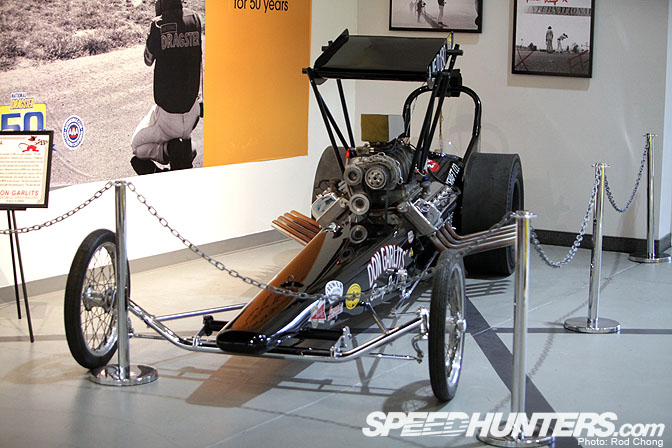 Of course the museum itself is full of ground breaking machines from the pioneer era of the sport. This is a recreation of Don Garlit's Swamp Rat 5A from 1963. This first drag car to EVER sport a wing. That's well before Formula 1 adopted this new, radical-for-the-time design innovation.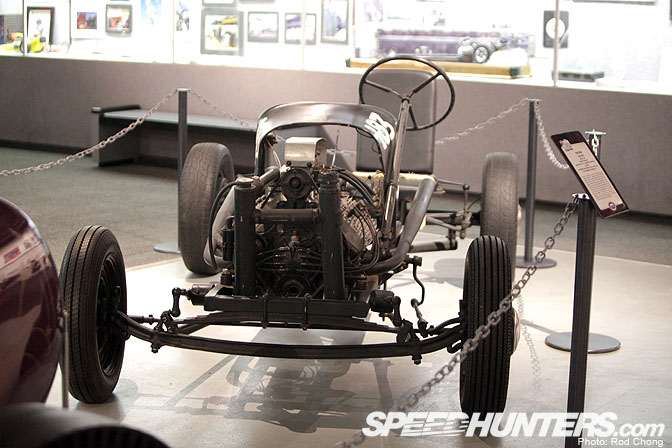 This odd looking contraption is known as "The Bug" and was originally built in 1950 by veteran dry lakes and street racer Kraft for the then-new sport of drag racing. He started to strip out all unnecessary parts off of his Model T, figuring that the lighter it was, the faster it would go down the quarter mile.
Eventually the car was referred to not as a Hot Rod, but as a rail job. It's this type of stripped out machine that eventually evolved into the Top Fuel rails that terrorize drag strips across the planet, all because of some innovative thinking from one person. It's a bit of a butterfly effect huh… :>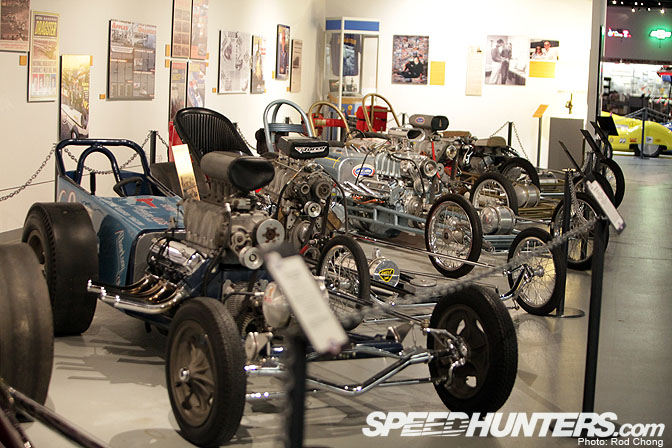 As you wander the halls of the NHRA museum you can see how the "Rail" evolved from the the Bug. Chassis get longer and more narrow from year to year as builders continued to press against the quarter mile record.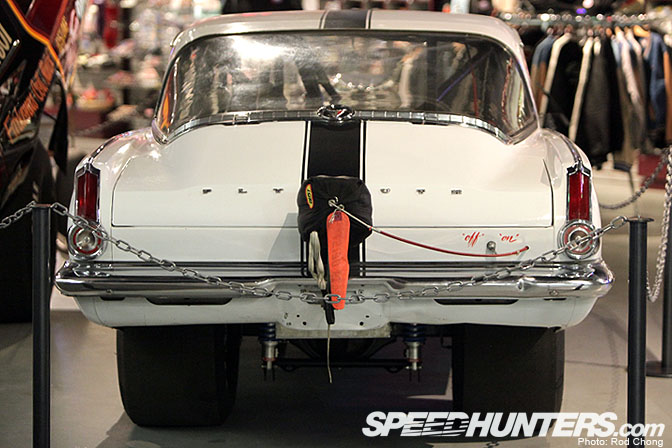 I do prefer Funny Cars to Top Fuel cars mind you, especially 1960s machines.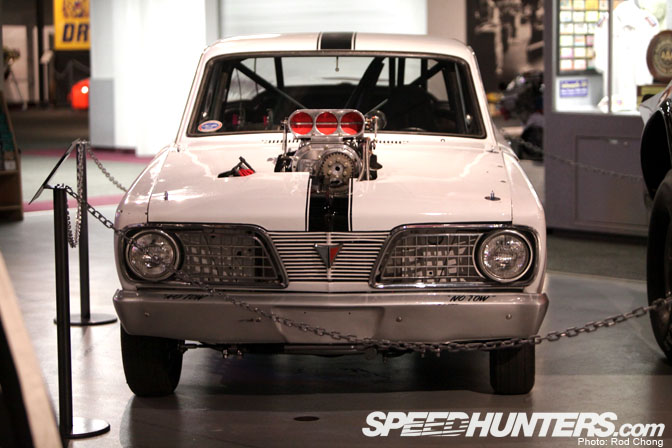 There was a magic point between 1965 and 1967 when Funny Cars were half production machines, and half stretched out fiberglass silhouettes.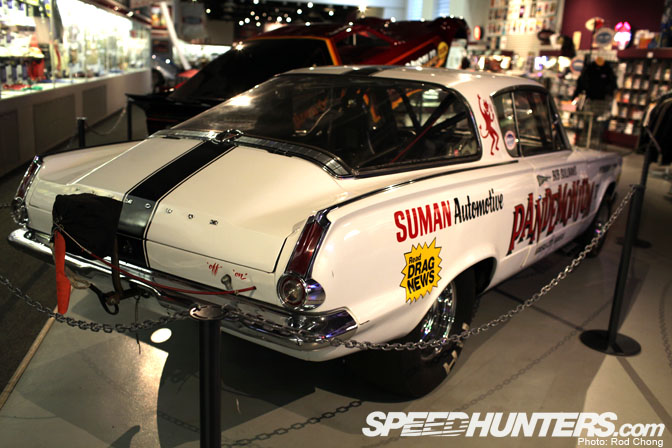 This '1965 Barracuda is one such half-and-half machine. It still contains some production parts.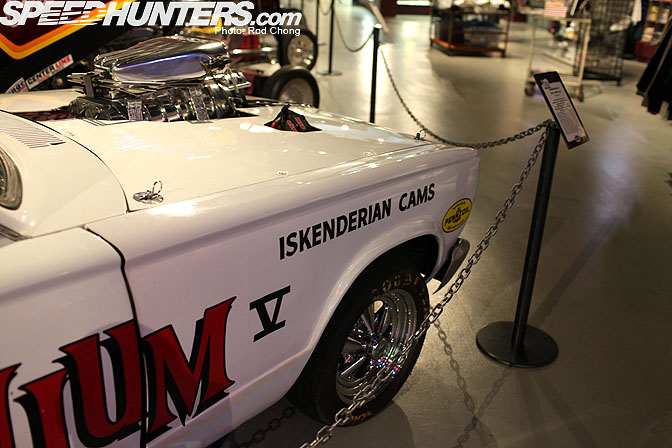 But sports a stretched nose and a direct drive blown Chrysler engine. The best recorded ET was a 9.43 @ 177 mph.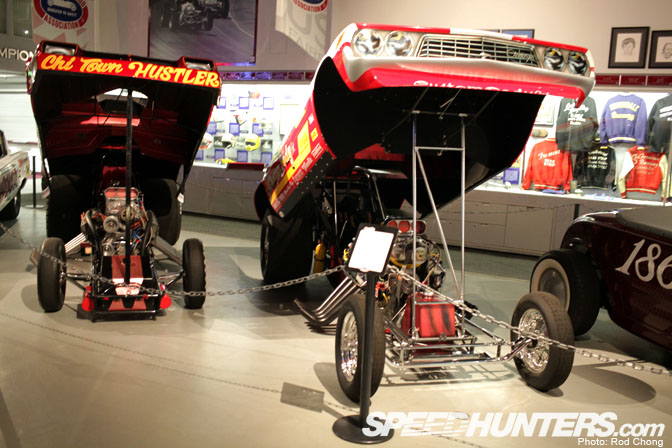 A few years later and the Funny Car had morphed into the typical flopper setup that's still in use today. I just wish modern Funny Cars looked more like production machines, like these cars of yesteryear.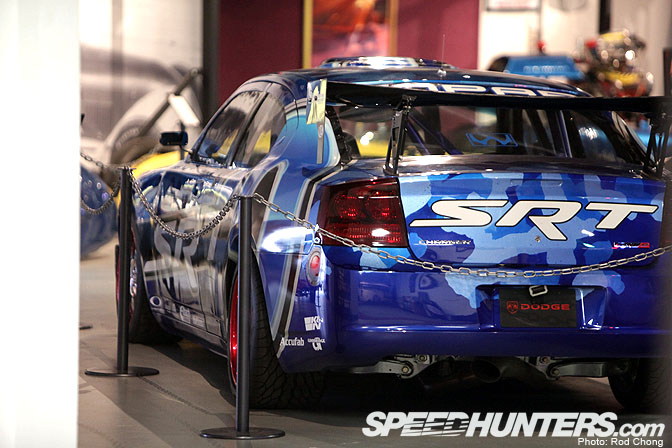 The NuFormz Racing Charger is now on display at the museum. It wasn't that long ago that the drift barge was seeing active duty at the hands of Samuel "Drift ya Later" Hubinette, but but I doubt it will ever drift in anger again. 
Not that that's a problem. It's nice that Shaun Carlson's legacy is getting some attention.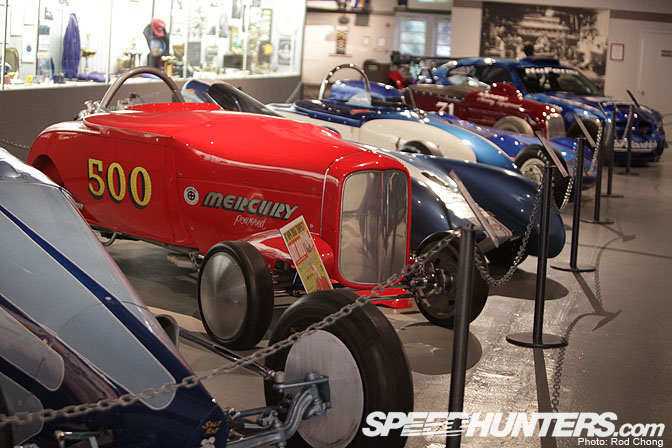 Beside the Charger sit row upon row of historic and priceless Land Speed Record cars. Now that I've been to Bonneville, I took some more time in this area.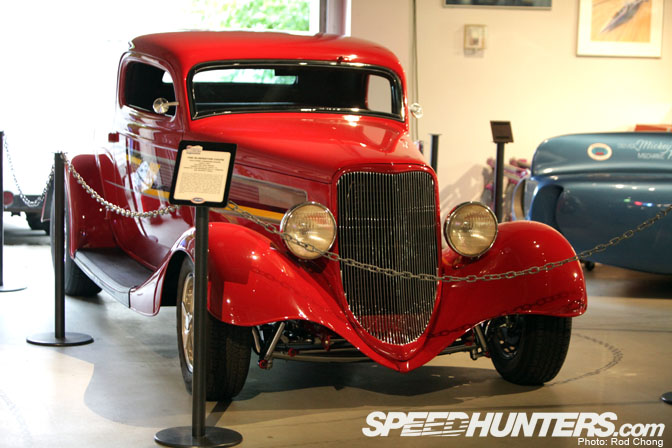 Here's a famous machine… the Eliminator.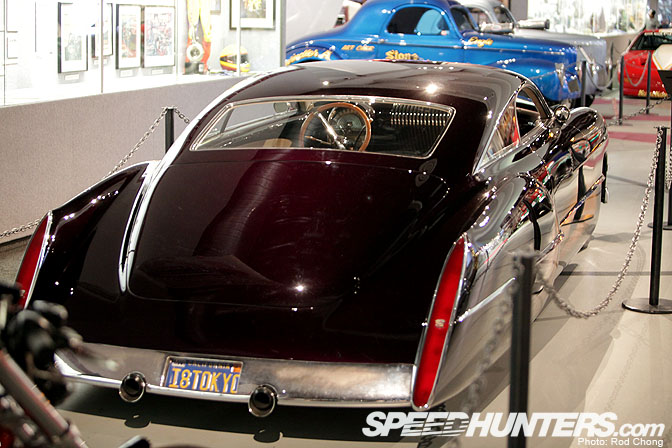 It seems like Billy Gibbons casts a long shadow, as we keep seeing him at events around the world….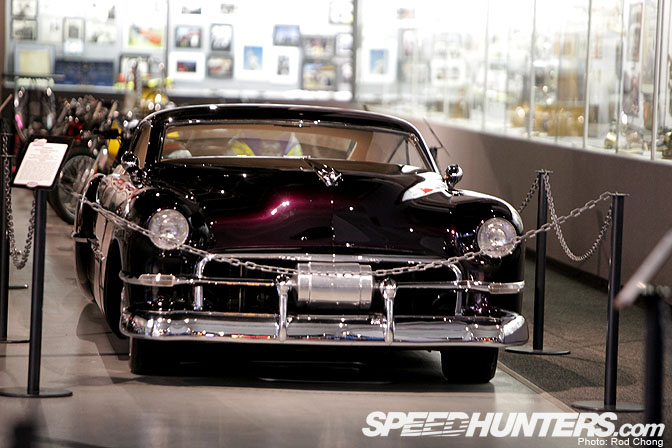 … and his cars continue to show up on the pages of Speedhunters. This is the world famous CadZZilla, a machine touted as the world's ultimate custom car.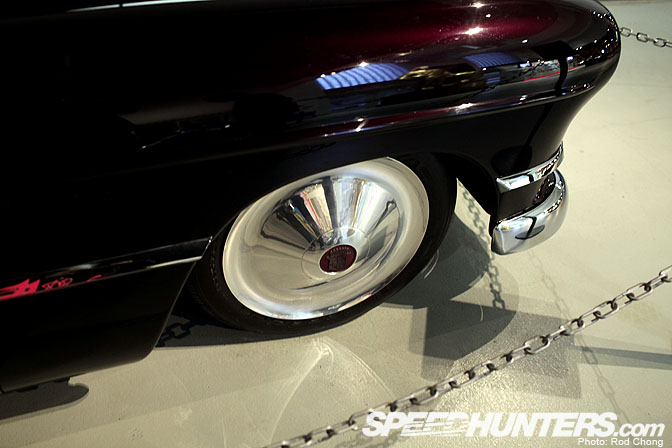 The heavily reworked 1948 Cadillac was designed for Gibbons by then GM design chief Larry Erickson and built by Hot Rods by Boyd.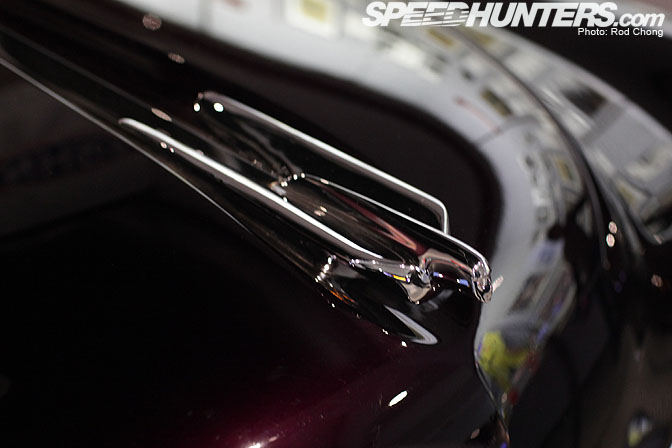 It's a car you can study some quite some time. There are many details to appreciate like this art deco styled hood ornament.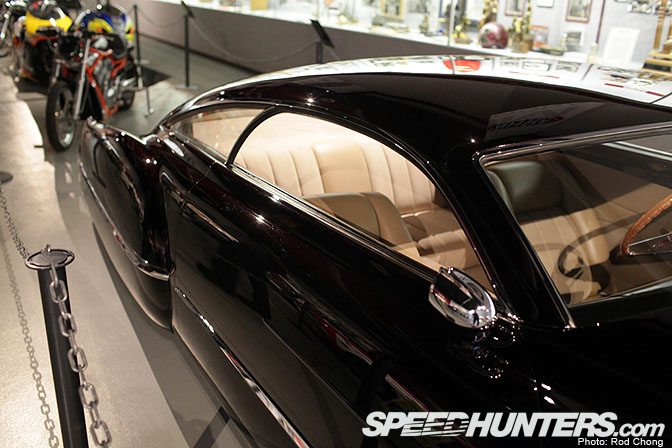 CadZZilla is ad close to perfection that a custom car can get. All design elements are in perfect harmony.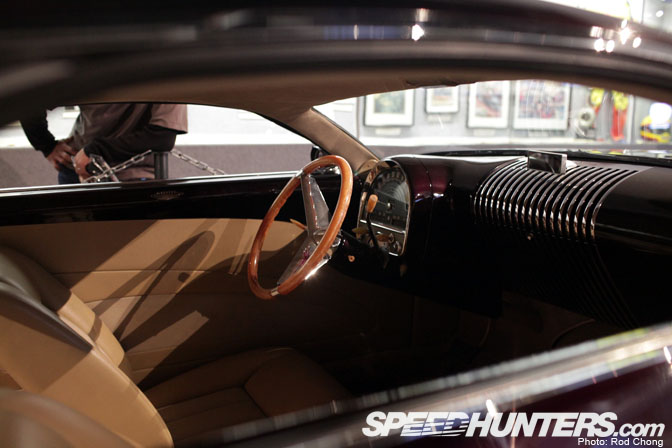 Check out that interior… wow…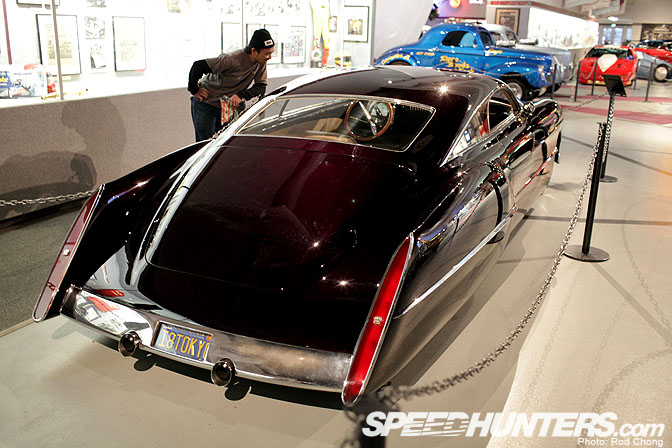 Ron Bergenholtz and I stood in this spot for a while to take in the art of this car. It's best viewed from behind IMO.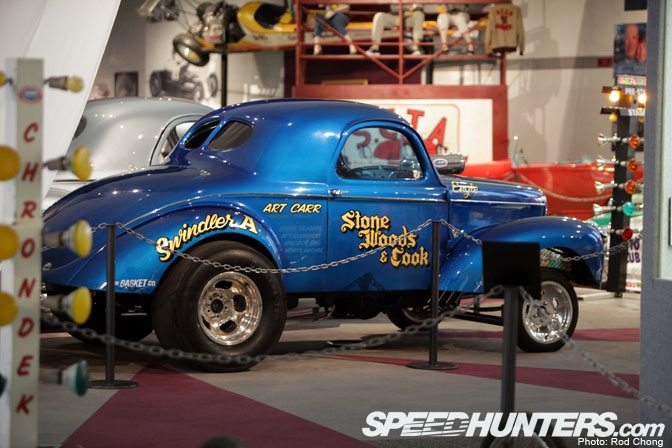 Ahhh a machine I can never get enough of… the Stone Woods & Cook "Swindler A" Willys Gasser. It's a machine I've seen before at the museum.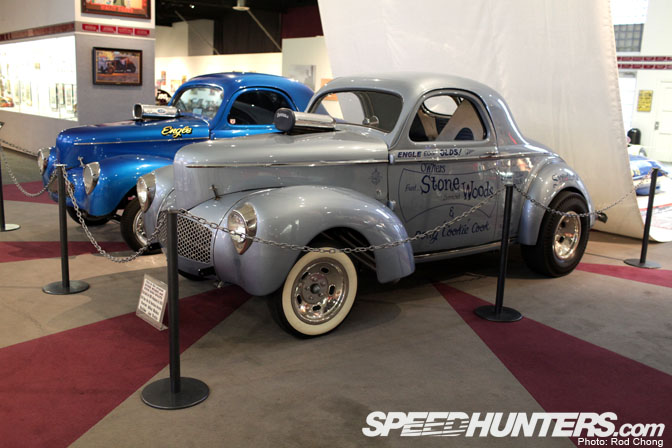 But it's currently on display with the Swindler II, an earlier version of the car. Some of you may remember this machine was on display at SEMA this year.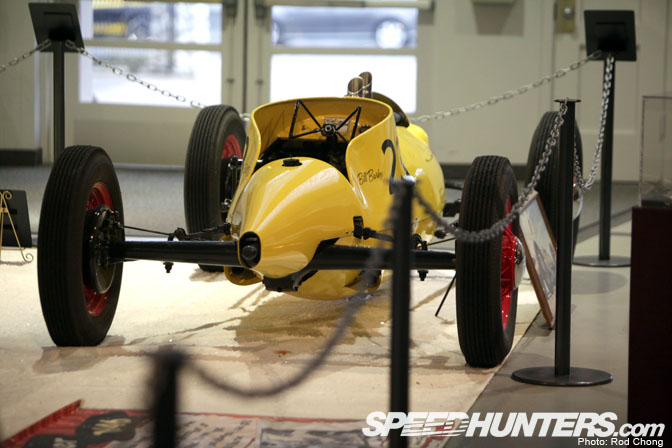 We'll leave things with this shot of the freshly recreated Bill Burke vintage Bonneville Belly tanker. It's amazing to see how basic and crude this car is compared to a model machine. It's hard to imagine that someone actually got into this former airplane gas tank, now stuffed with a flathead V8 engine. I tell you people were wired differently back in the day.
Ok flight is boarding in few minutes.. talk to you from Dubai!
:Rod