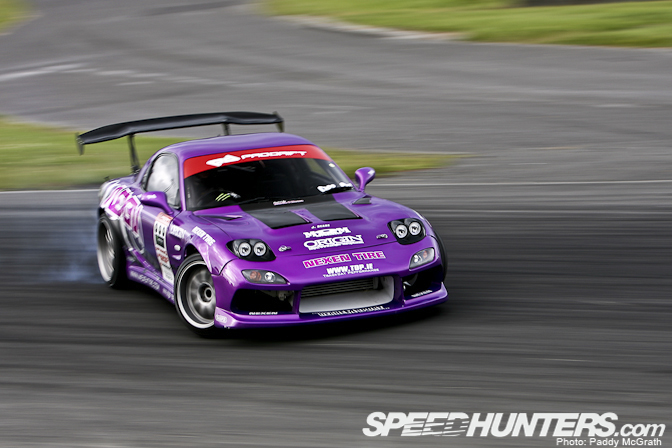 The Prodrift Series grid has seen some really innovative swaps over the last few years. Some swaps are done as the easiest route to more power, others are done for reliability and others are done to conform to a tight budget. Here is what I think to be the ten best swaps to grace the Prodrift grid since the series was founded.
(above) #10 – James Deane's SR20 Mazda RX7 FD3S – It's one of the bravest conversions that I can remember, swapping out the much loved 13B rotary for the reknowned Nissan SR20 DET four cylinder turbo unit. It's a logical swap, there isn't much support for the Wankel engines in Ireland so James has secured himself a reliable 400+ horsepower SR20 which is the most popular engine on the Prodrift grid. Cheap parts and a they're a well known engine makes this a swap from the head, not from the heart.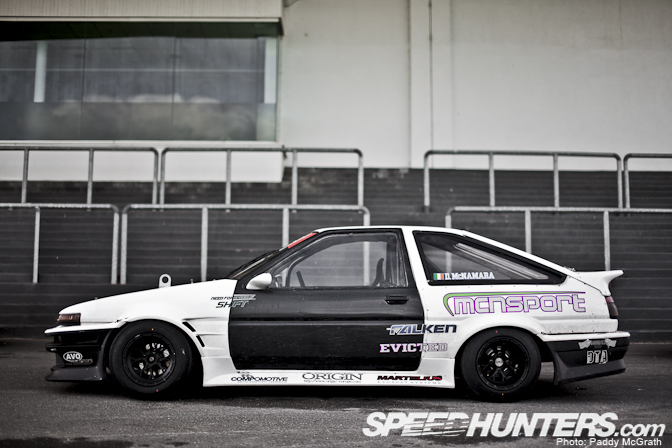 #9 – Darren McNamara's MCNSPORT 13B Rotary Toyota Trueno AE86 – For the opposite reason that James removed the 13B, Darren replaced the 4-AGE for the lightweight, twin-rotor because of it's unique sound, it's power and because it is just that little bit different.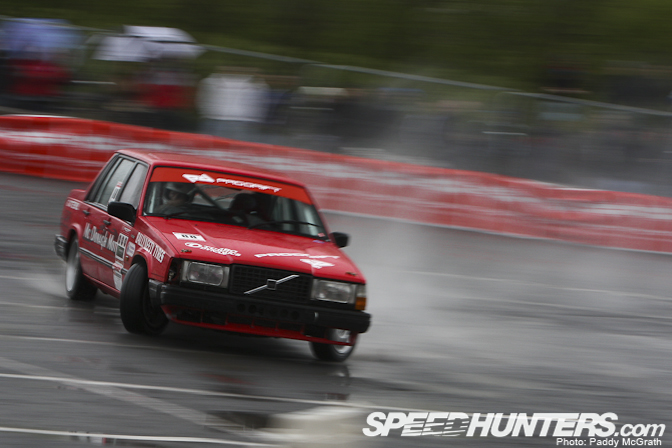 #8 – Tommy McDonagh's YB Cosworth Volvo – To the unknowing, watching this Volvo roll up to the start line may signal that it's time for a toilet break. But that ever familiar scream of the YB Cosworth unit as it comes on boost is sure to leave you in disbelief as this unlikely car smokes the entire course out. It was good enough to give Tommy a highly coveted second place finish at the second round of the Super Series in 2009.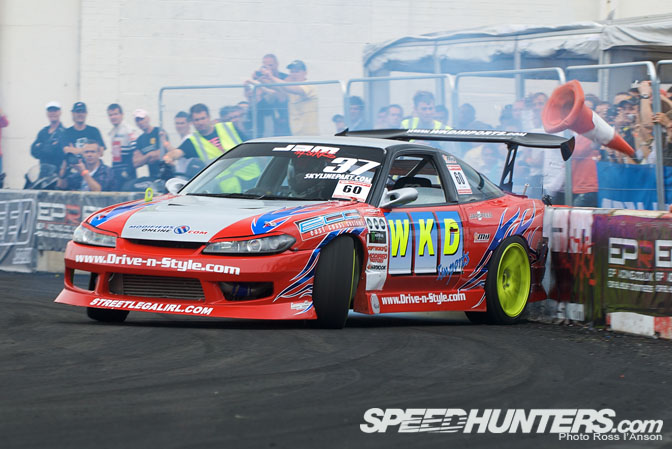 #7 – Nigel Colfer's WKD Imports 1JZ Nissan 180SX – Helping Nigel to re-inforce the message of his rapidly developing skill levels, is Toyota's 1JZ GTE. Although Nigel has suffered some unfortunate reliability problems in 2009, everyone will remember that when it worked, it worked very, very well.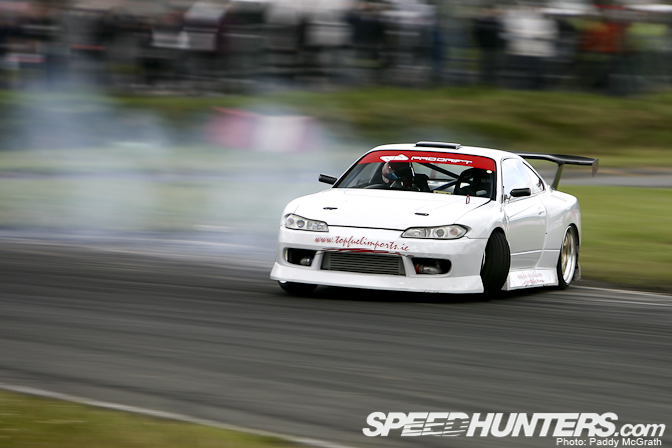 #6 – Christy Carpenter's Top Fuel Imports RB26 Nissan Silvia S15 – With the help of the legendary Julian Smith at Garage-D, Christy has created a monster in this BN sports kitted, Works wheel wearing S15. This car is an all out, purpose built drift weapon, reportedly running over 600 horsepower. I'm looking forward to seeing how Christy tames this in 2010.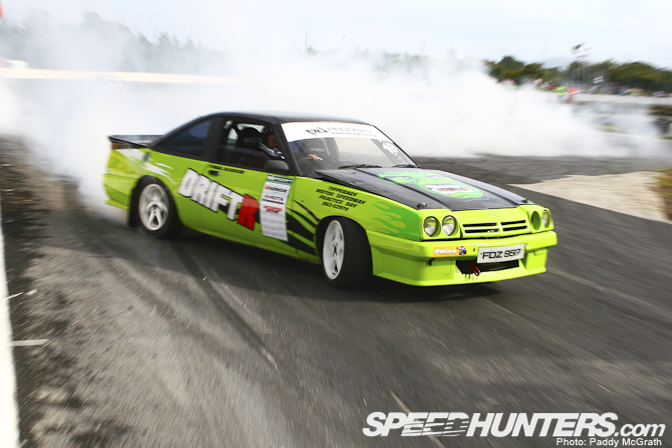 #5 – Fergal McGovern's S54 Opel Manta
– Replacing the Vauxhall unit in this Manta, is the hugely potent 3.2 litre S54 BMW engine, sourced from the E46 M3. Fergal caused some serious upsets in this Manta, but has been absent from the grid for a while now.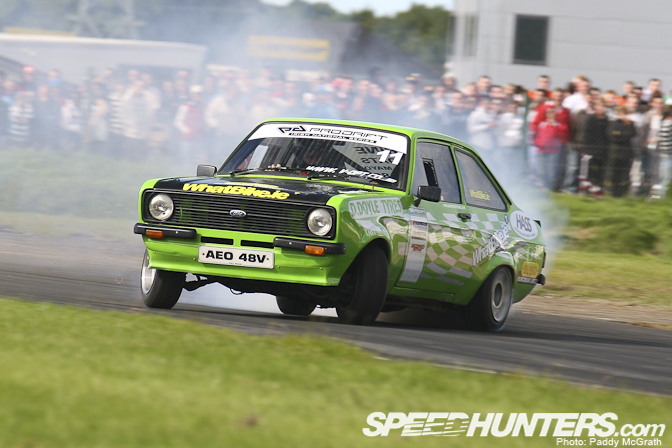 #4 – Declan Munnelly's XE Ford Escort MKII
– Continuing the green and retro theme, in number four is Declan Munnelly's superb Vauxhall two litre XE 'redtop' powered Escort. The car has been a regular at Classic Ford demonstrations around Ireland and the UK as well as a top competitor in the Prodrift and JDM Allstars series.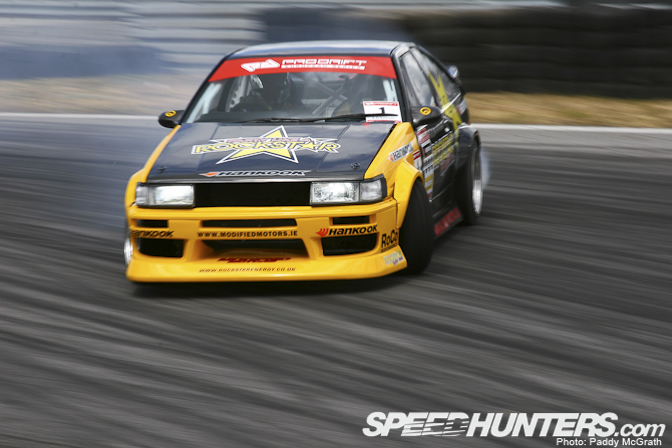 #3 – Eric O'Sullivan's Rockstar Energy / Hankook F20C Toyota Corolla AE86
– I'm sure all of you will be familiar with Eric at this stage but it's because of this car that you know of him. He dominated the Irish series in 2007 and the JDM Allstars series in 2008 in this very car. The Honda S2000 power plant provided this car with the necessary power whilst retaining all the character and noise of a screaming NA four cylinder.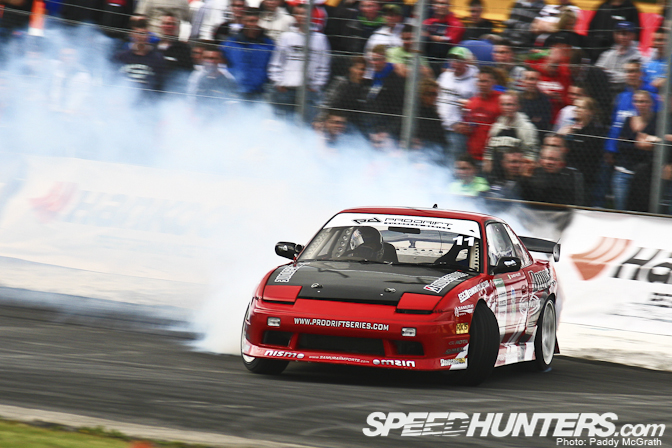 #2 – Damien Mulvey's Bridgestone RB26 Nissan Onevia
– This is personally my favourite Prodrift car ever. It, for me anyways, reminds me of the best season Prodrift had back in 2007. It was the first year that drifting broke into the main stream in Ireland, with regular TV shows and coverage in the national papers. The first time I seen this car, it was parked beside the 2007 Ferrari F1 car. Although the two can't be compared on any level except that they both had four wheels and somewhere for a driver to sit and steer, there was something about this car that allowed it to sit proudly beside Maranello's finest. I urge you to search on YouTube for videos of this car, just so you can hear that awesome, fully built, Trackday Performance prepared RB26 at full tilt. Sublime.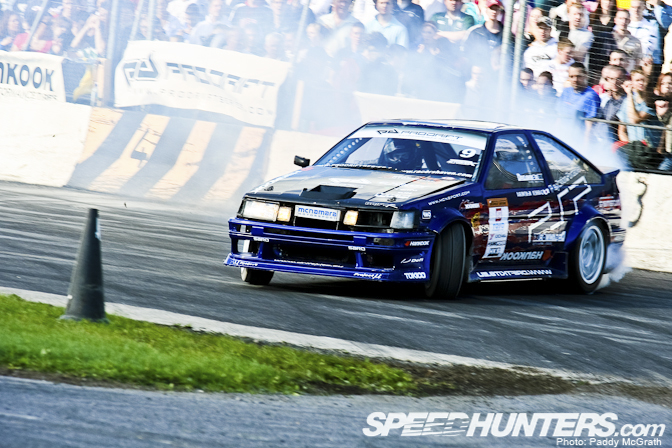 #1 – Darren McNamara's MCNSPORT SR20 Toyota AE86
– One '86 to rule them all. Darren's SR86 inspired a plethora of rivals to couple the potent SR20 with the legendary AE86 chassis. The first purpose built Irish drift car still lives on in fond memories to all his fans. This was the car that terrified and hounded Kazama and Nomura, this is the car that humiliated Hubinette, Fukuda and many others. Quite simply it's arguably the greatest AE86 ever built and easily the most recognised Irish drift car on the planet.. It wouldn't be fair to place this in first place though and not mention the other great SR86s it has inspired; those of Alan Sinnott, Glen Maher and Billy Nolan to name but a few.
There have been so many awesome conversions over the years and I know I've left out some for one reason or another but I don't think you can argue with the variety that we have been given by these competitors.
What order would you have placed them in and is there any omissions you felt should of been included ?
- Paddy