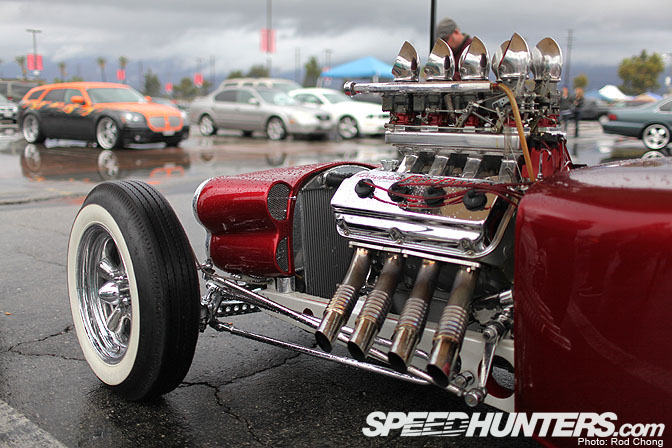 Most of the cars associated with traditional rodding or customs tend to focus on replicating and remixing different aspects of the 1940s and 1950s. The earlier part of the '50s is especially popular to for the custom car crowd as it was during this time that the cars were simple and pure. The closer you got to the 1960s, the more outlandish and wild the cars became, to the point that they were little more than crazy undrivable sculptures.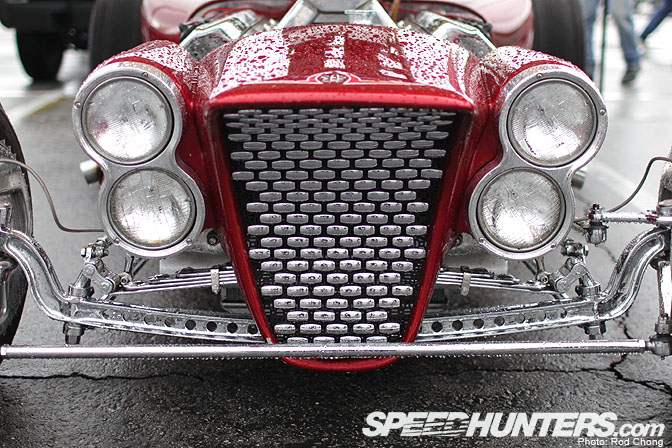 During this period brief period of time in the early '60s, builders like Ed Roth, Darryl Starbird and Ron Aguirre were doing their best to express their futuristic visions of the 21st century in their show cars. Surely we would all be flying though the air in our Jetson style bubble cars by now!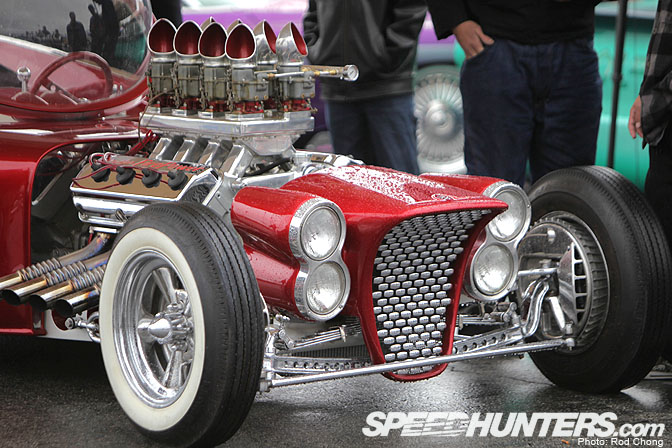 Now if you're a fan of these cars like Aaron Grote is, and want one for yourself, there really aren't very many options available.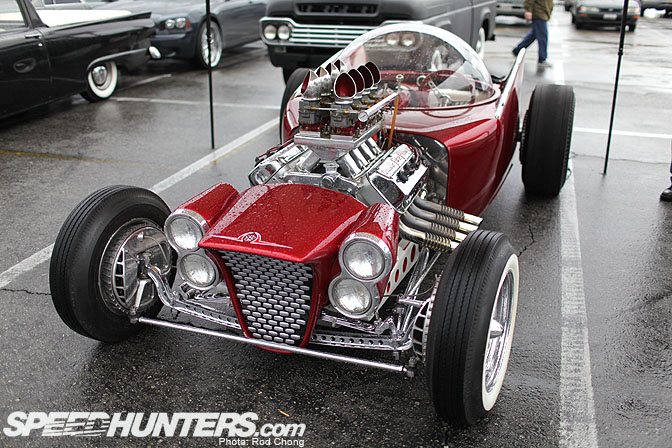 All of the original hand built show cars from this era are priceless gems
destined to collect dust in various car collections around the USA. The
only thing Aaron could do was to scratch build his own 1960s style bubble top, dream
rod.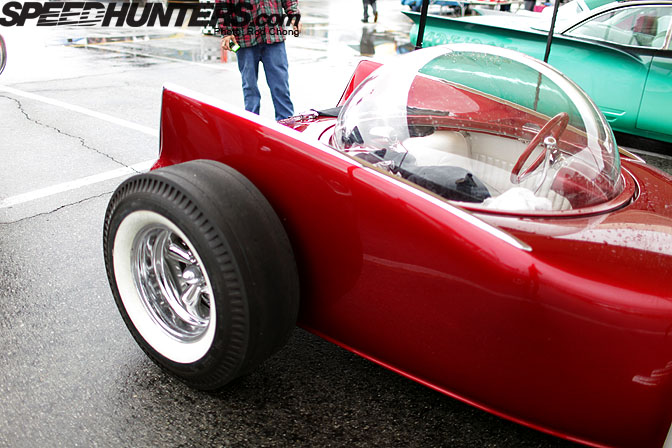 He started out by cutting the rear fins off a decrepit '59 Plymouth Savoy and welded them together with some hand formed metal, the cut up roof from a '54 Oldsmobile and pieces from a '59 Chevy truck bonnet/hood. Together with the bubble top, the effect is nothing short of shocking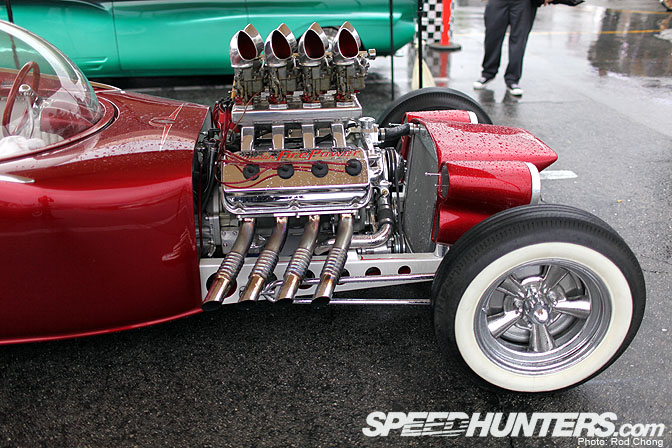 In keeping with true Roth style, the 1959 392ci Hemi engine features gobs of chrome plating.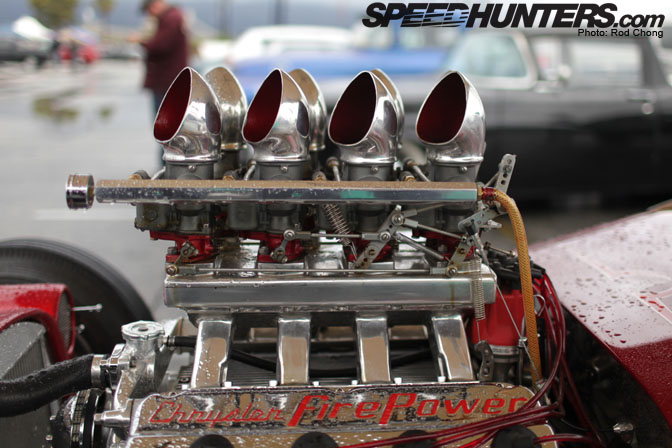 It's topped out by "count-em!" eight Holley carbs.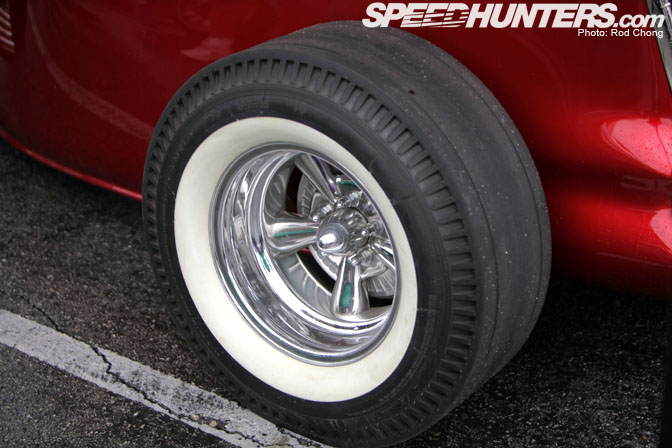 Period correct white wall cheater slicks adorn a fine set of Astro Supremes.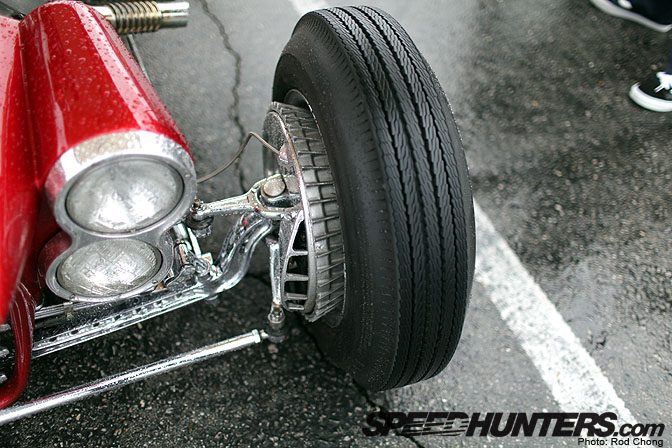 Up front, some Buick-style drums cover up Ford sourced brakes. The bias ply construction BF Goodrich skinnies almost have a stretch tire look to them!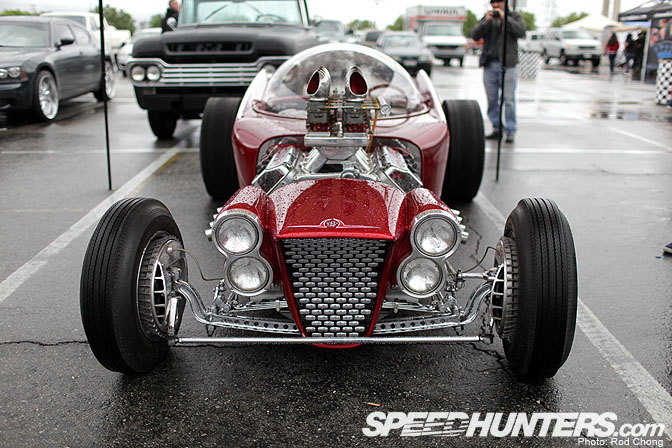 Interestingly the headlights are the only other bits that Aaron chose to keep from the '59 Plymouth Savoy donor car. He also hand formed the entire front grill by hand, from metal.
For a closer look check out at the feature Rod & Custom did on the car recently.
This is one of the most original visions for what a Hot Rod can be… Having hand created this fantastic piece of retro-futurism over the course of one year, Aaron Grote truly deserves to be called a Maverick unto himself!
:R