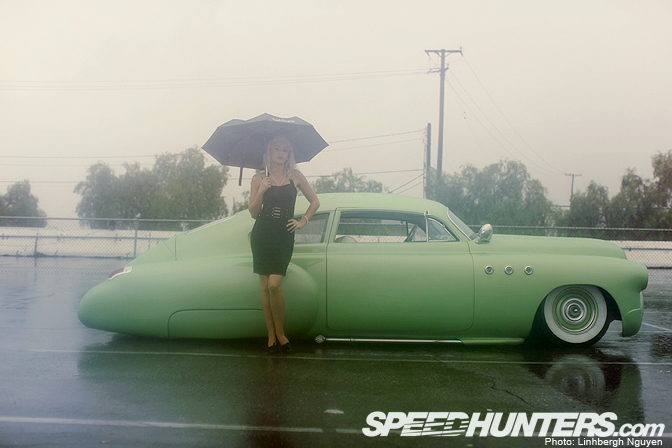 On Saturday, December 12th 2009, Linhbergh and I arrived at a rather soggy Irwindale Speedway on a real mission.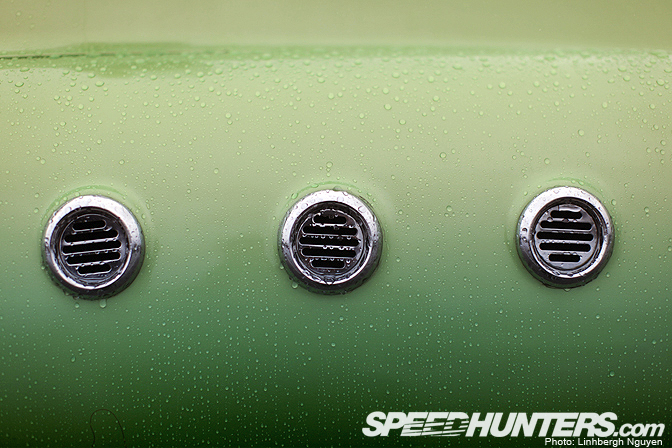 Among the rows of customs and hot rods attending the Mooneyes Xmas Party event, we needed to find a feature-ready custom to shoot for Speedhunters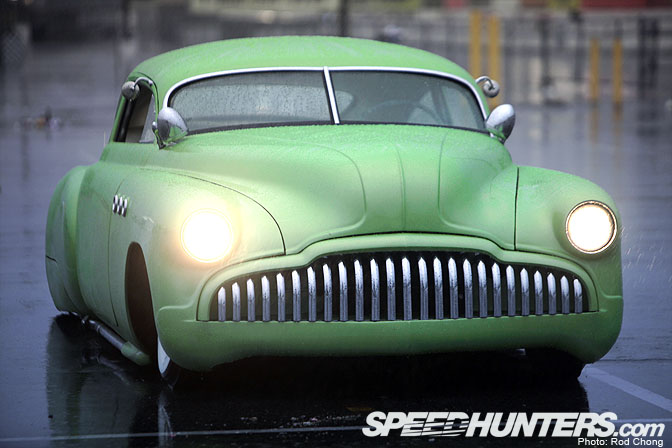 I had arranged for two pin-up models to attend the Xmas Party event, so we had no option but to find a machine for them to pose with.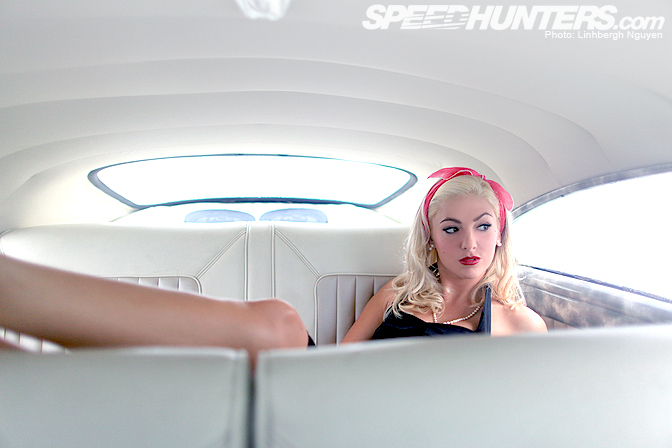 The weather was pretty horrible that weekend, so we thought a nice big interior would be a great way to shoot the girls and make some cool content for Speedhunters.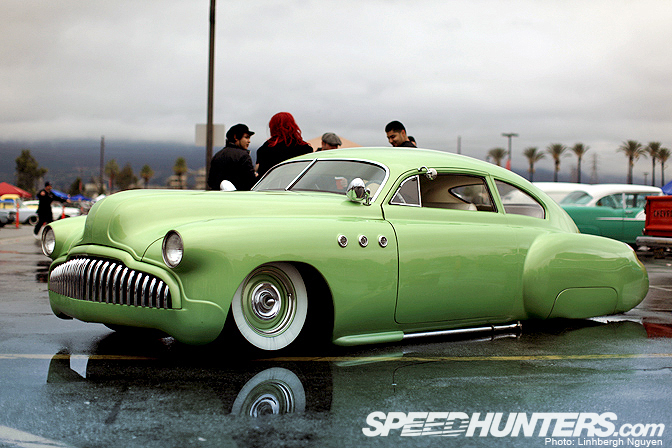 So when I laid eyes on this amazing 1949 Buick I knew we had found our car!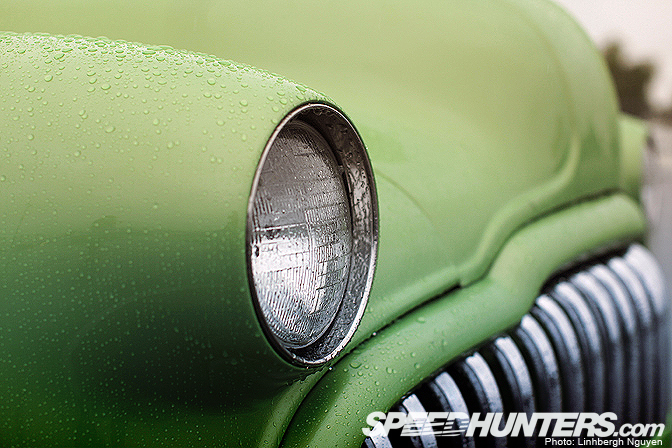 The lime green paint was going to set off nicely against the moody grey backdrop, and it also helped that the owner, Sonny Vasquez, was standing right next to the car.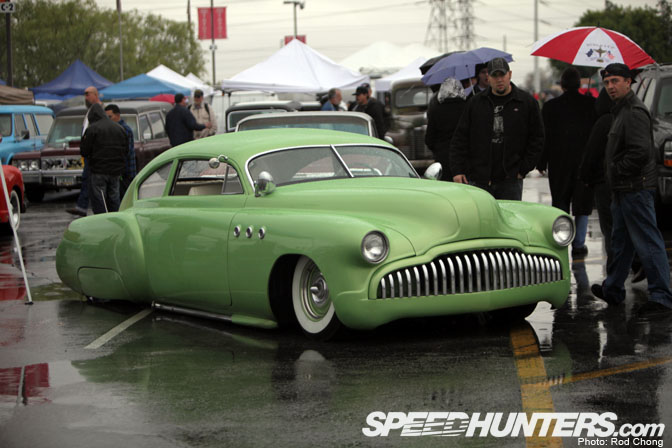 A quick word and he agreed to let us shoot the Buick….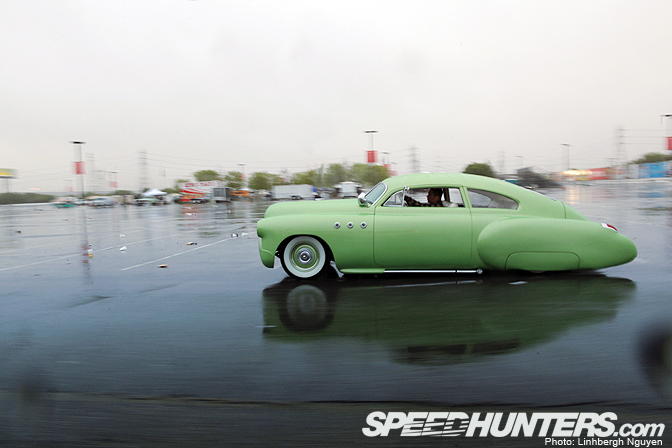 Linhbergh had him move the car into a new position next to Irwindale's drag strip and the shoot was ready to begin.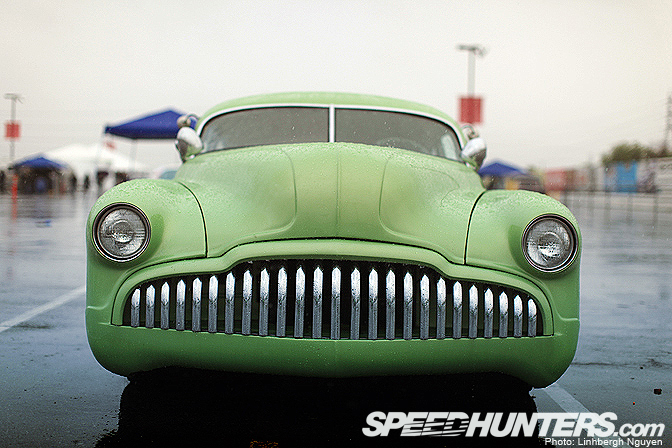 As Linhbergh got busy shooting the Buick I started to interview Sonny to find out more about the car…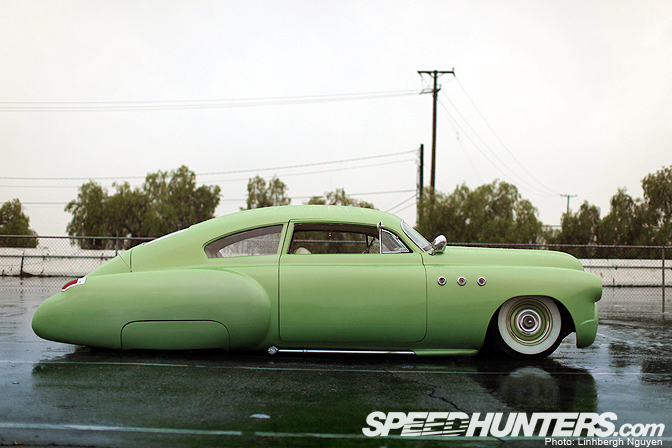 Sonny lives in Oxnard California, a bit north of Los Angeles. Although still a relatively young guy, he's been submerged in custom culture for at least 20 years.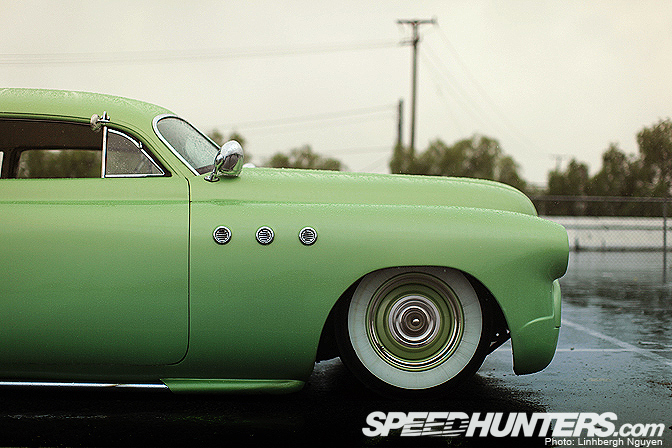 His father was one of the OG rodders of the 1950s so a love of rod and custom culture has been his blood since birth really.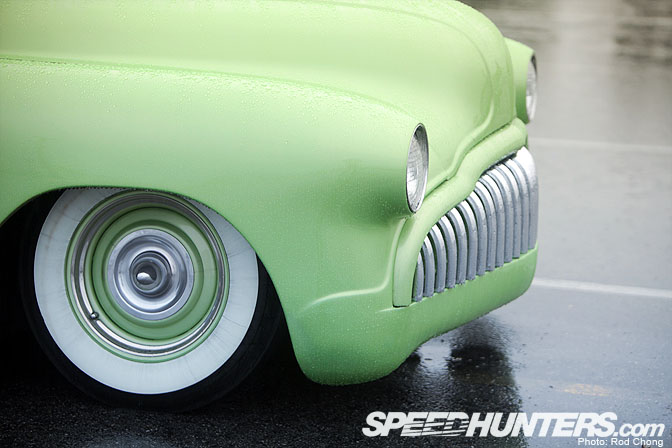 He bought the Buick eleven years ago and quickly built it up as a custom car over a period of six months. The car wasn't on the road for long, though, as it caught fire during a freeway drive and burned to the ground.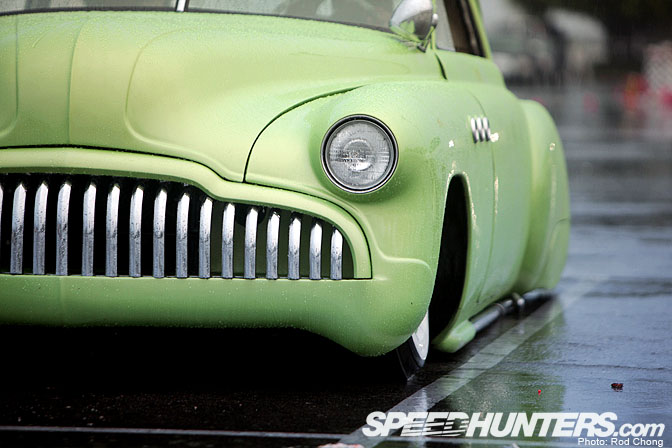 Undeterred, Sonny decided to start over with a more in-depth build and proceeded to sandblast the car down to bare metal. This time, the car was constructed over a period of three years, with Sonny doing all the work himself.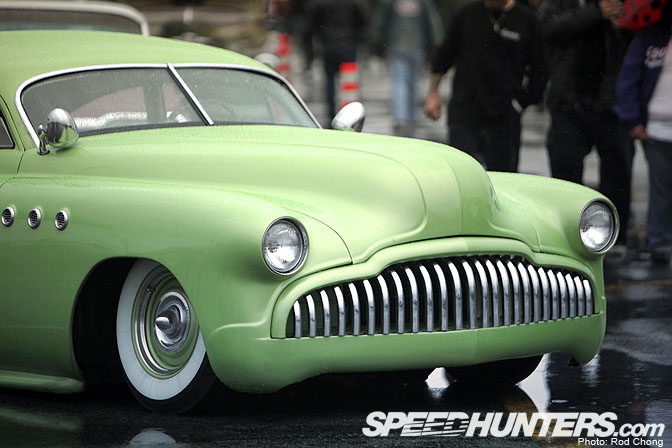 I would classify this custom as being more on the wild side of traditional style. It's heavily dechromed and shaved… in this photo you can also see the frenched headlights, appleton spotlights and the peaked hood.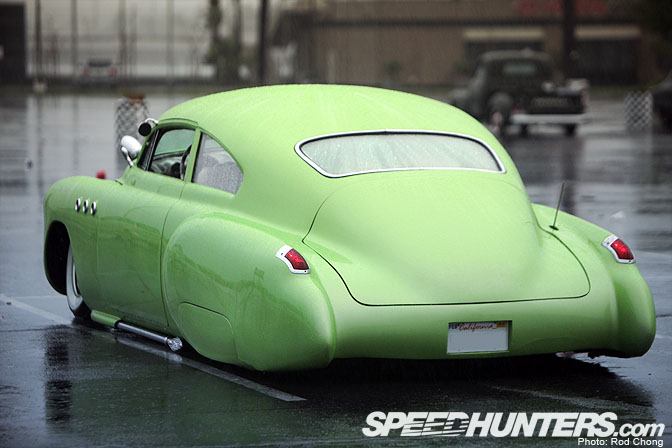 Chopping a fastback coupe is probably one of the most difficult operations of this type…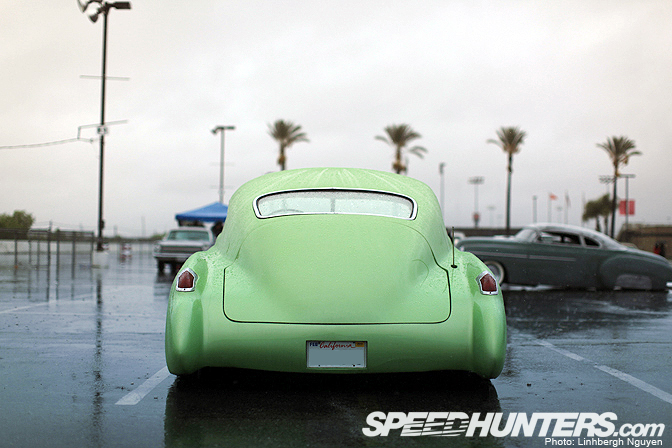 … as the whole line of the fastback has to be sunken down into the car. It's no joke.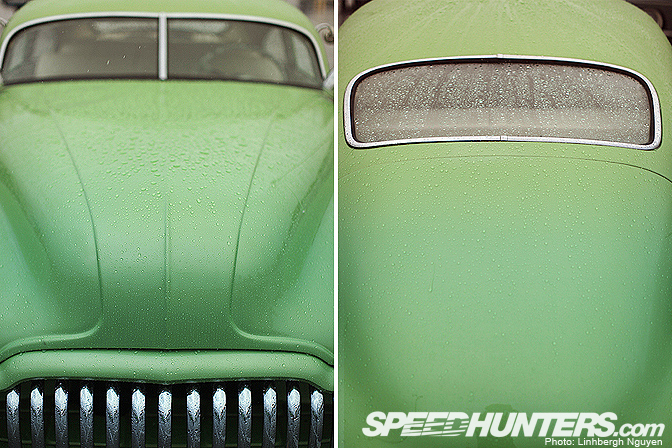 In the end, the top has been chopped a full 4 inches. You can also see how an extra layer of metal has been added to the hood to create a secondary panel line.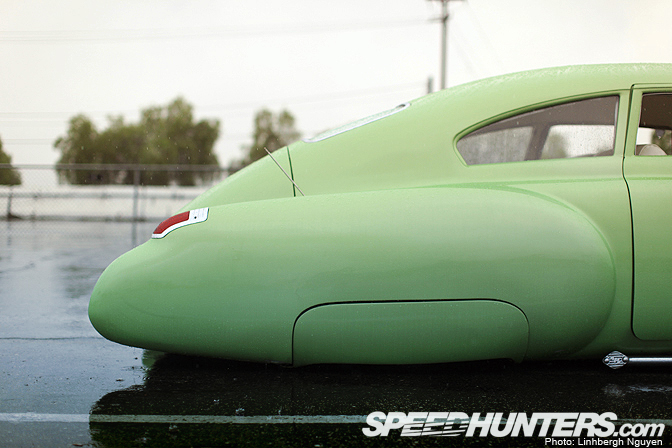 The rear fenders have been widened and extended to complete the tail-dragger look.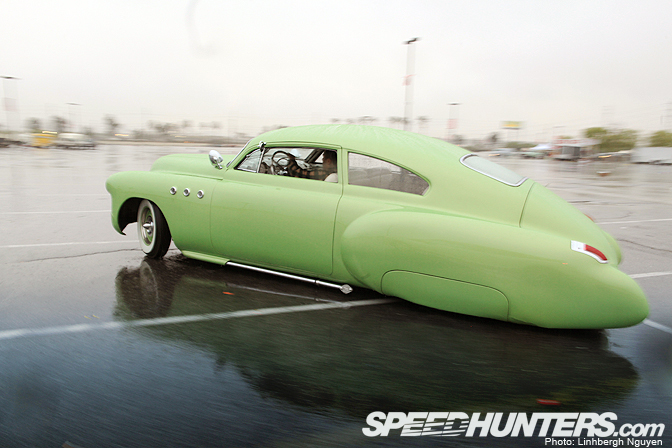 Like a lot of modern street customs, Sonny's has a full air ride system, along with custom suspension, "Z"ed rear frame kickups and a raised drivetrain to help keep the car riding low in comfort.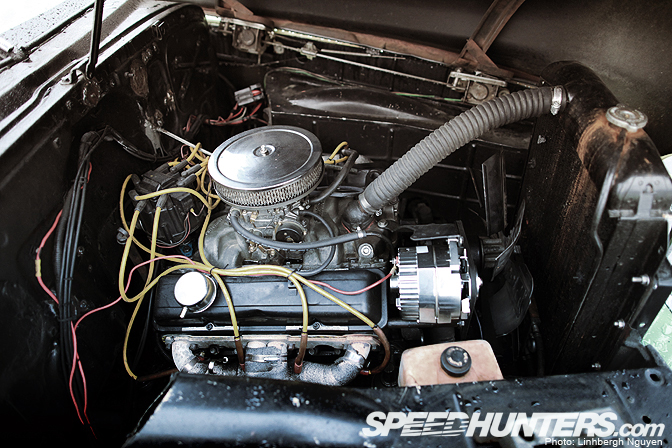 Sonny was a little hesitant to show us the engine bay as it's not really that aesthetic, but we wanted to show you what the drive train of a REAL street custom looks like.
A couple of years ago, he took the decision to put a modern crate motor and drive train into the Buick. Sonny wanted the Buick to run more reliably and remove the question of "will it run" each time he went to drive the car.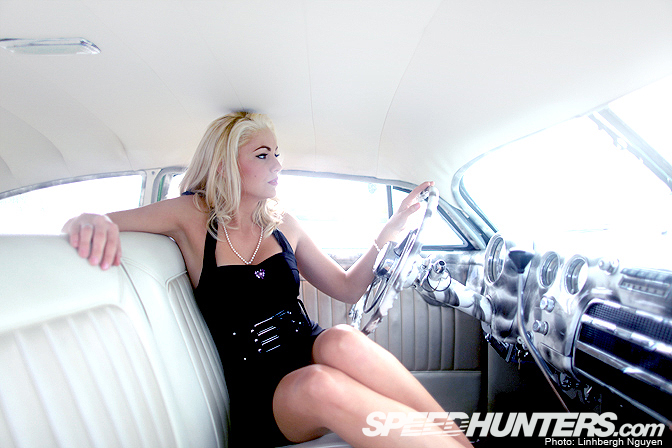 Here are a couple shots of Courtney Day… She's a former Falken Girl who is now moving in the direction of pin-up girl.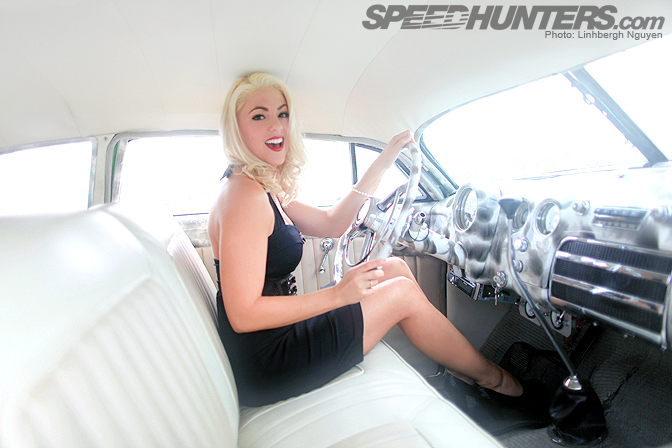 She has fantastic classic looks… perfect for a photoshoot inside a custom machine!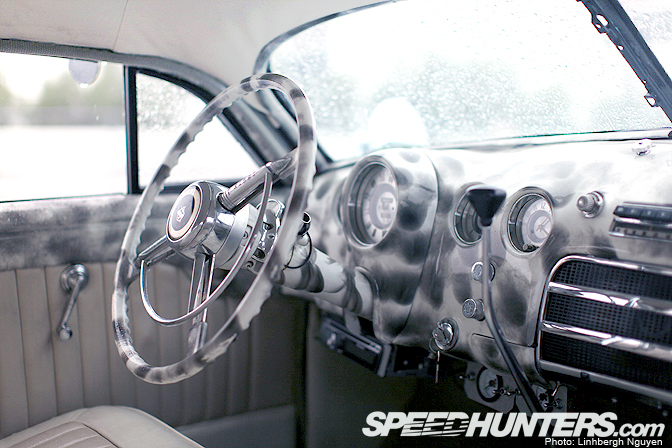 Here's a shot of the dashboard…. I didn't get a chance to ask Sonny what he was thinking here…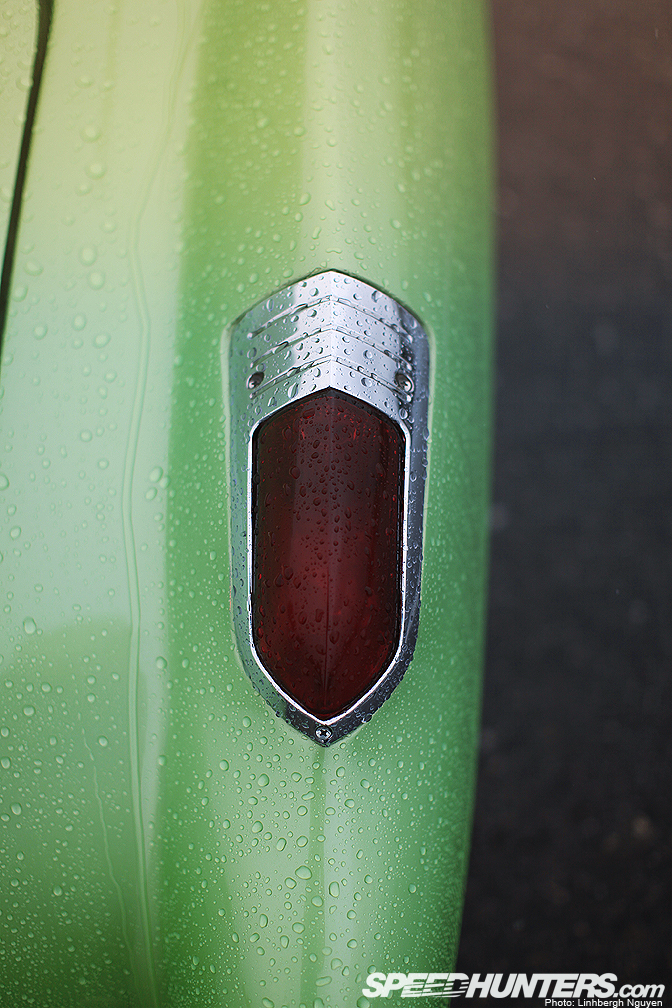 So that's it for my write up on this super styled 1949 Buick.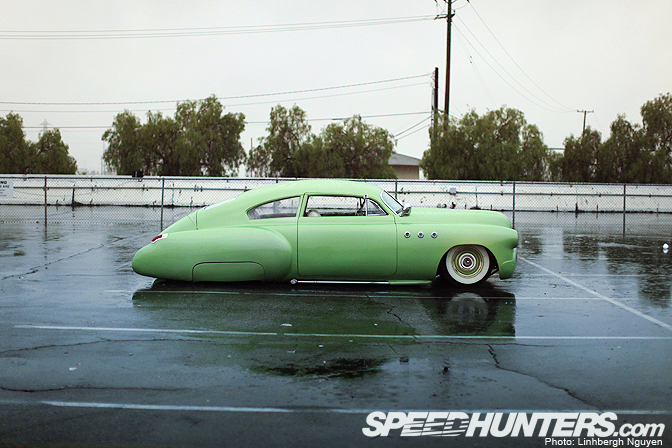 Personally speaking, I'd absolutely love to be in possession of such a vehicle.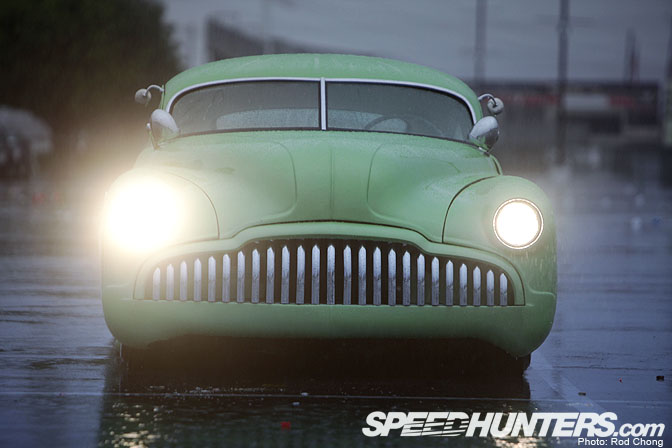 But even if I owned this car, I would never have the same relationship with it as Sonny Vazquez. Each time he looks at or drives this car, he knows inside that he has created this machine on his own, by himself.
And, unfortunately for me, I seriously doubt I'll ever know that feeling. I'm too busy shooting cars, developing automotive media projects and working on racing video games to consider my own ground-up automotive project. Perhaps one day that will change, but for now all I can do is tip my hat to people like Sonny who have the skills and vision to create their own moving sculptures.
:R