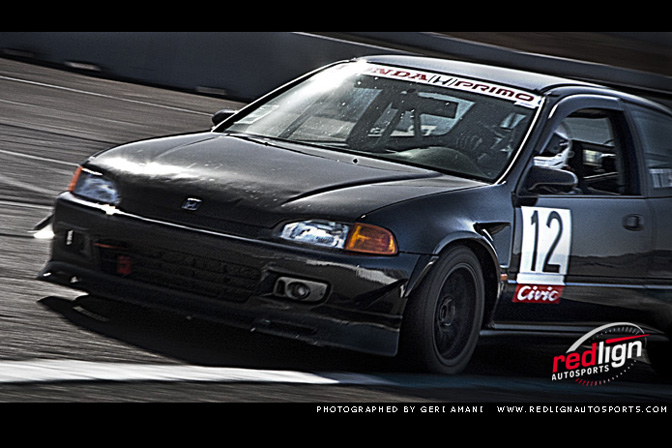 My friend Derrick down in Pheonix wrote to me a couple months ago and said I had to feature this car here on SpeedHunters, and I have to admit, at first I was a bit skeptical, I'm not a huge FF fan, but I am a big fan of hardcore track biased cars, especially ones with a good personal story attached to them, and this is definitely one of those.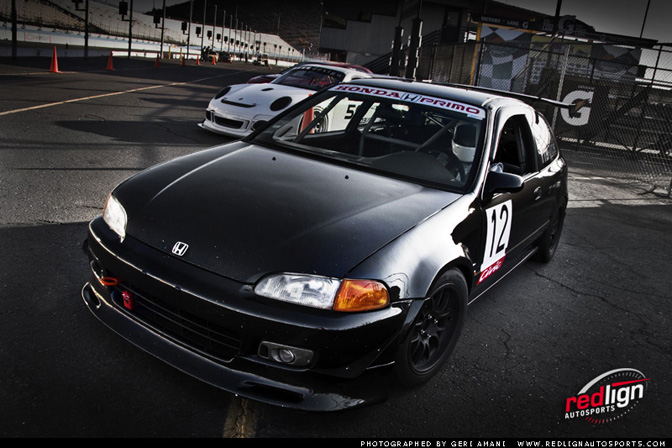 The car started out as a JDM street car, a CX model, which had what, 70hp stock? Phil Robles, the owner of the car had been a race fan for a long time, spending a lot of time spectating and photographing lots of racing in the region. He was convinced by some of his son's friends who were instructors with NASA to join in the fun, and it sounds like it didn't take long for Phil to catch the bug, something I can attest to (it took me only one track day).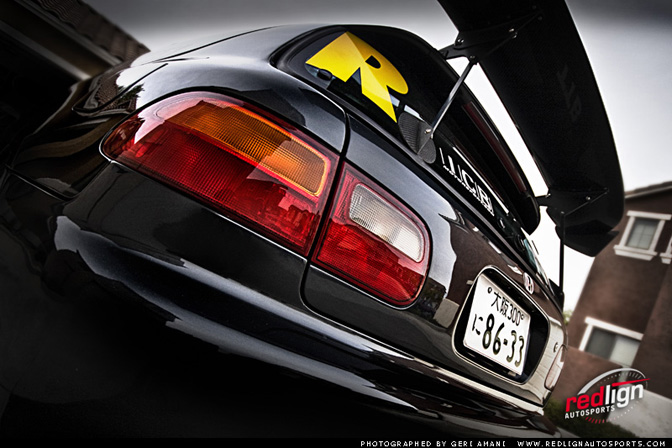 As the car stands now it doesn't see the street much, except for commuting to various events around Arizona and New Mexico. Running Tein RE coilovers with 14k/10k springs I can understand why. The car is also running JDM ITR swaybars front and rear, Skunk2 Pro front UCA's, Vision rear camber adjusters, a Spoon front strut bar, Miracle X-Bar in the back, and an Autopower 6 point cage to keep things stiff.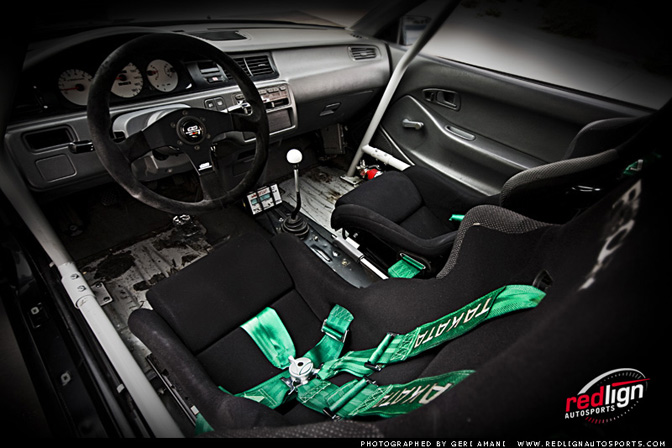 Interior went through a mild weight loss diet, and the stock seats were replaced with Recaro SPG's mounted on some Buddy Club seat rails to keep Phil nice and low to the ground. Takata harnesses keep him in, and a Mugen 350mm wheel with a Works Bell QR hub take the steering inputs. You'll also notice the shifter has been raised up with a Circuit Hero extender which is a really nice addition for super quick shifts.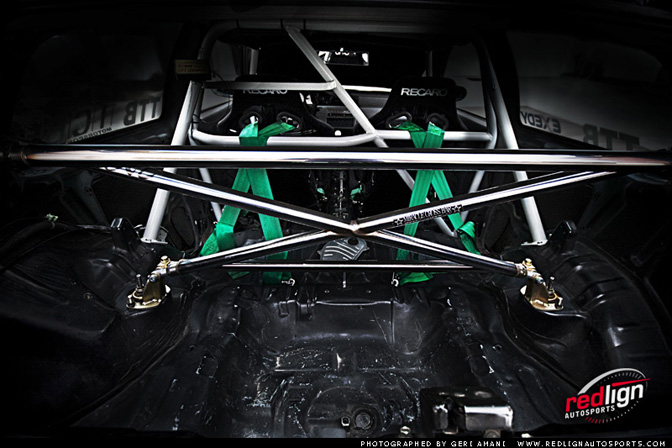 I love how the Miracle X-Brace looks in the back of the hatch, would be cool to see a full welded-in cage at some point.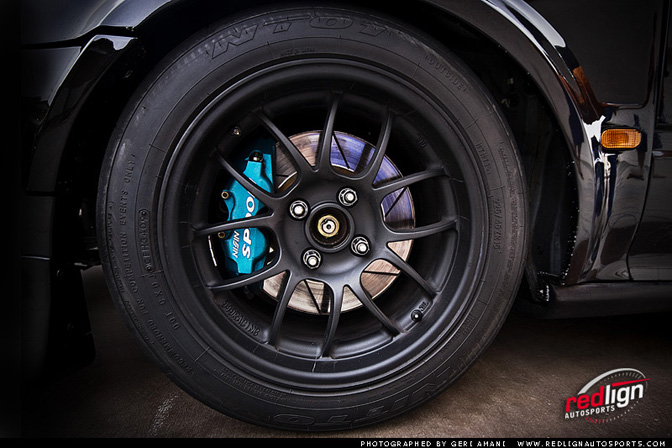 Stopping duty uses an Integra MC with a Cusco MC brace to push all that fluid to the purdy Spoon calipers through stainless braided lines by Goodridge. To keep rotating mass low there are some Fastbrakes 2 pc front rotors being grabbed by Carbotech XP-10 pads.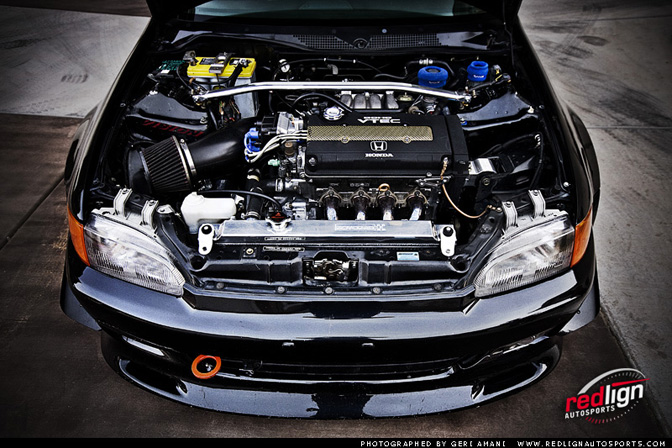 Propelling this small japanese creature is a JDM Integra GS-R longblock, with a Top Fuel intake duct sucking in air, with a Vision 4-1 header helping it exhale through the Spoon N1 muffler. The GS-R engine is mated to a GS-R tranny with a swapped 5th gear from the ITR. JDM ITR 4.785 gears help keep those ratios nice and close and keep the car spinning through its rev-happy powerband. A Spoon 1.5 way LSD helps get the power to the ground to the Nitto NT-01's mounted on lightweight 15″ 949 wheels, 9″ in the front, 8″ out back.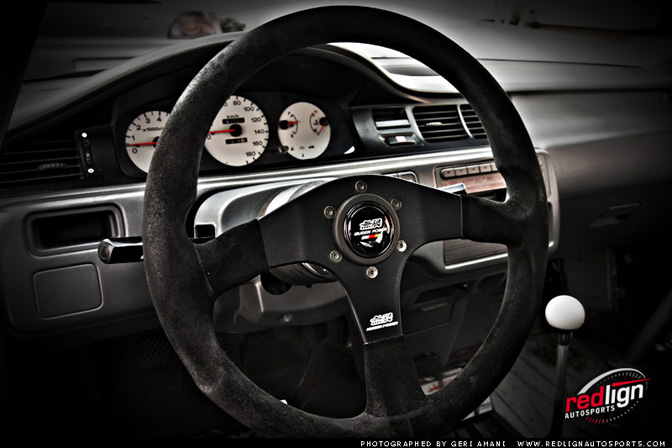 Phil's office away from his office.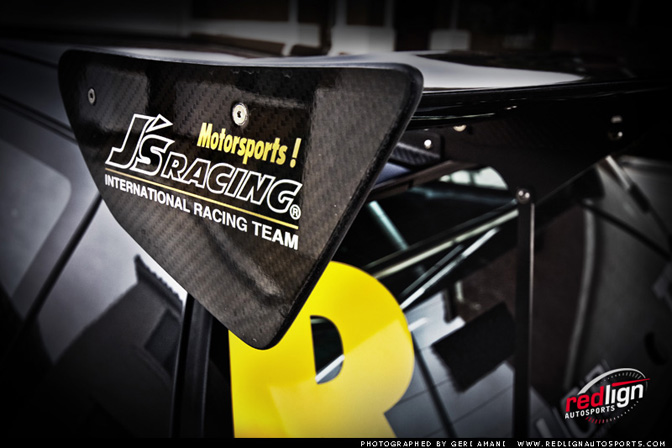 Aero is taken care of with a slough of J's racing parts, including the front lip spoiler, canards, and rear wing. Some Vision side mirrors help clean up the airflow on the sides of the car as well.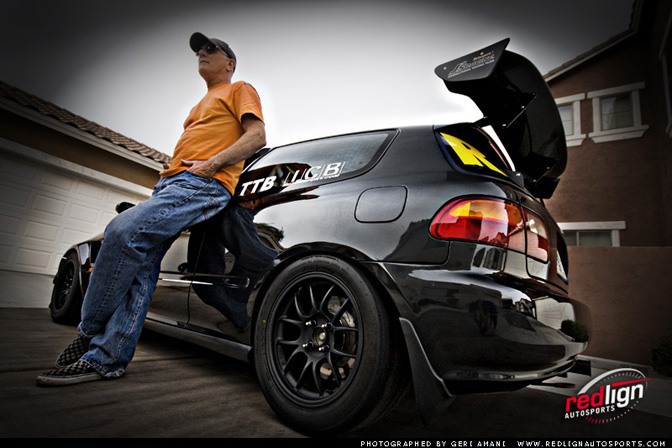 I'd like to congratulate Phil on his first place in TT B class and overall class winder of the UMS Time Attack series with this car. Sounds like he has some big plans for the car for the future which include swapping in a K-20R engine which will put him into the Unlimited class with a lot of competition!
Watch for Phil in the South West Time Attack competitions this year.
Thanks to Geri Amani with Redlign Autosports for the pictures and information.
– Carl Jarrett