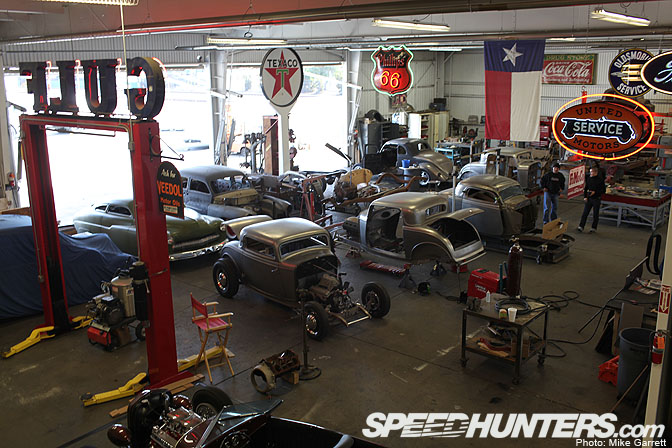 Last month I took a quick trip to Los Angeles in order to attend the Mooneyes Xmas Party. I knew this was a chance to see the burgeoning traditional rod and custom scene up close and personal for the first time.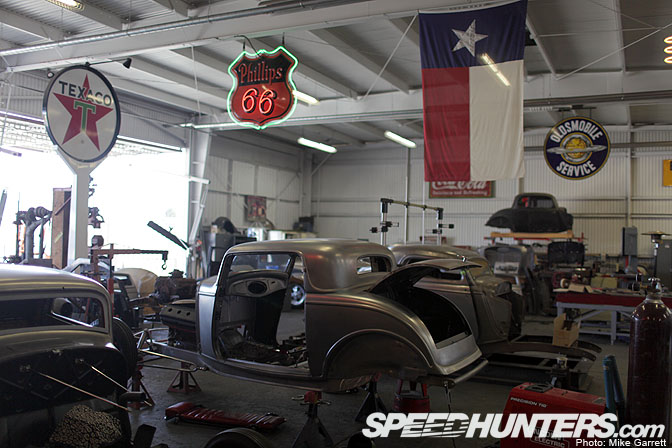 I also wanted to try to find a LA based hot rod shop to shoot, so dropped an email to the director of the NHRA museum, Tony Thacker.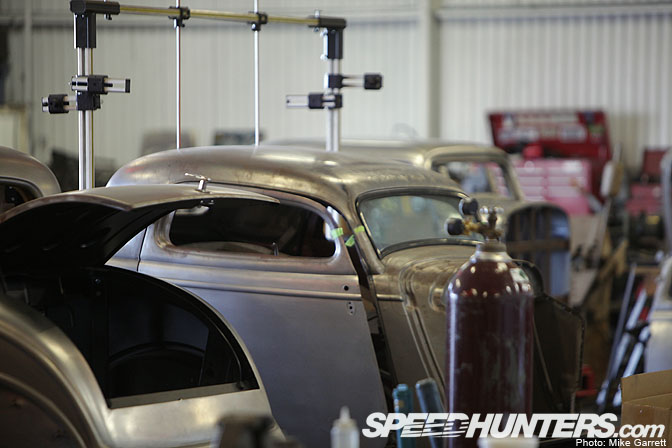 He recommended that I visit the Walden Speed Shop in Pomona; an outfit known for their expert metalwork and traditional styles.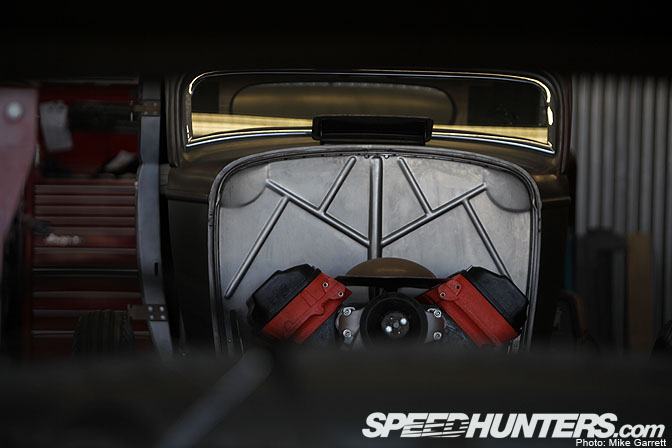 So a couple emails later and we had an appointment to photograph the shop.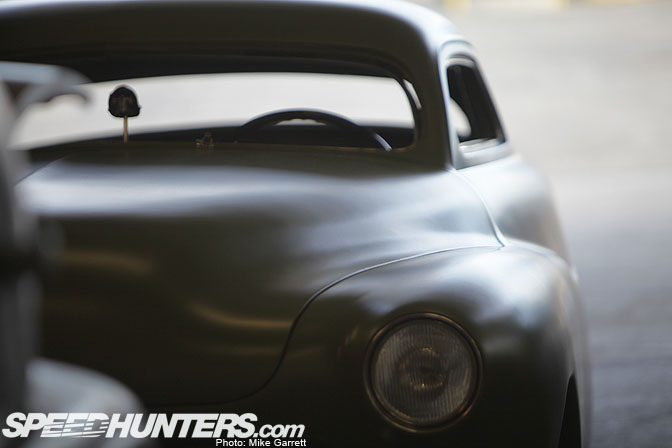 I thought it would be fun to have Mike Garrett tag along to shoot photos, and lent him my 5D MarkII camera to see what kind of photographic style he could muster up with some better equipment.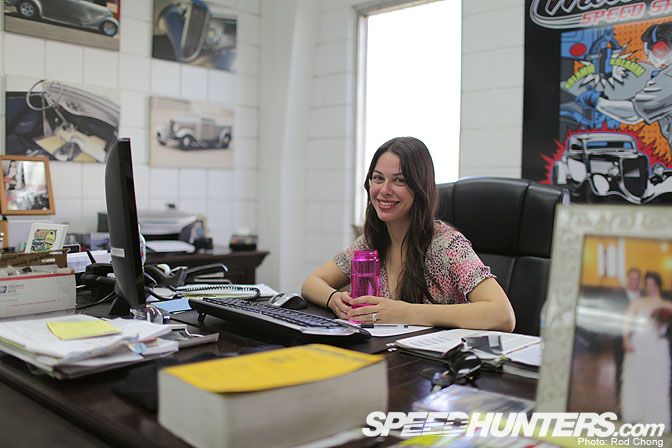 Arriving at the shop, we were greeted by the manager of the operation: Melinda Walden.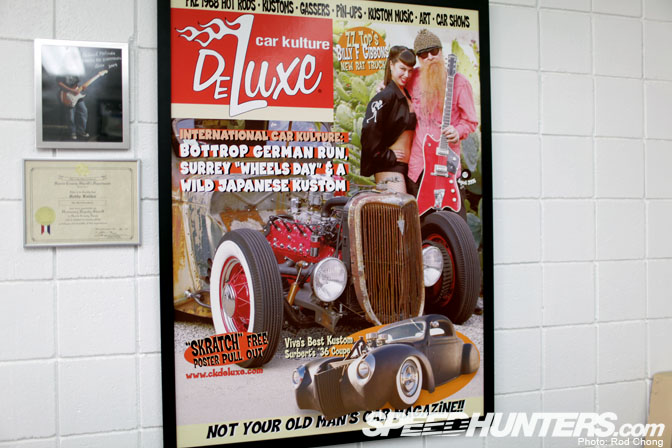 I recognized Melinda as a former pinup girl in the custom culture scene. She also used to write for rodding magazines like Car Kulture Deluxe.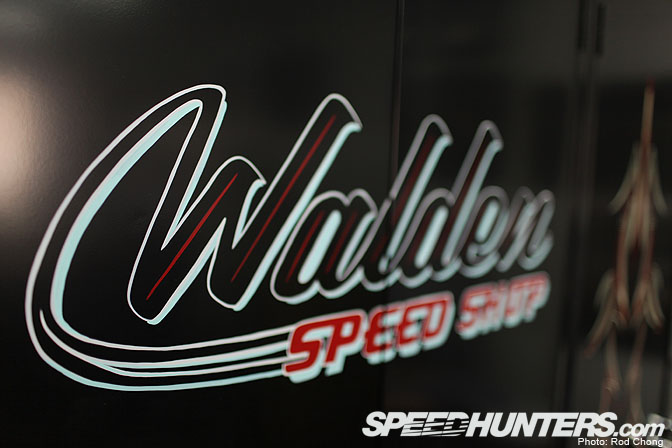 These days Melina keeps the business and marketing side of the shop going while Bobby oversees the automotive projects.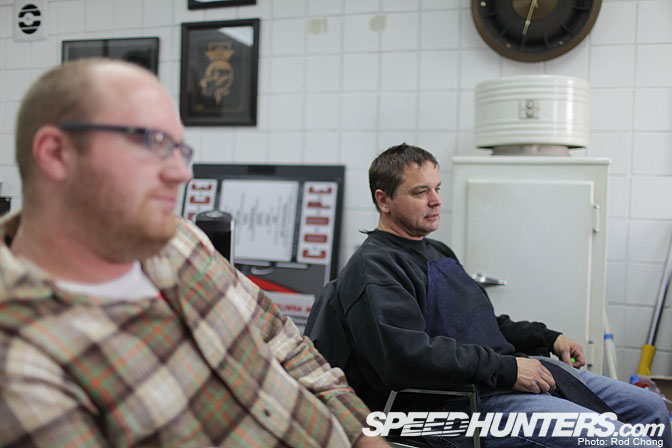 Eventually Bobby Walden joined us to talk shop about Hot Rodding, Custom Culture and everything in-between.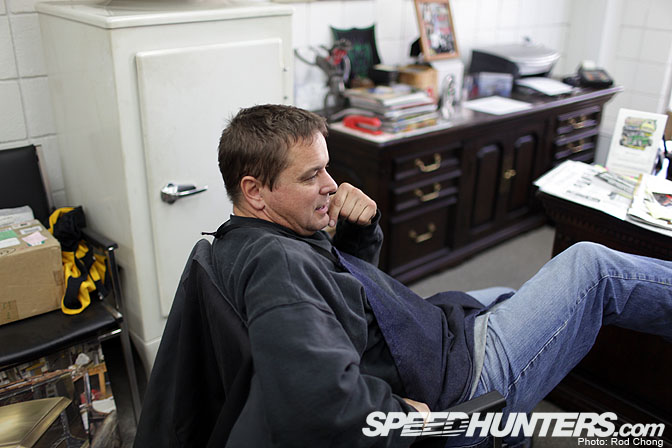 I'd characterize Bobby as being the strong silent type. He's a man of few words, but with obvious depth and vision.
In chatting with Bobby I got the sense of a very determines character, with a deep commitment to the art of metal work and car building.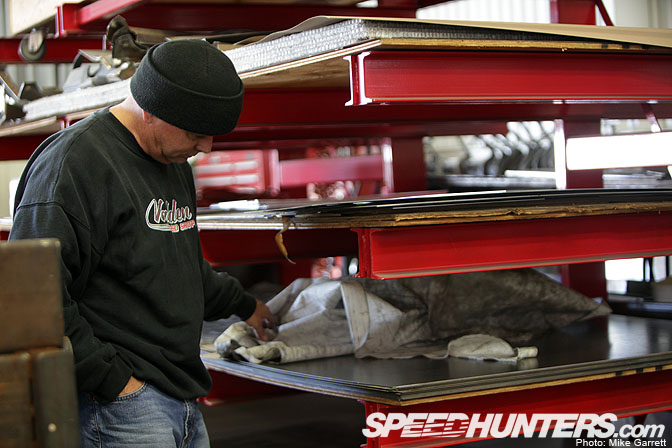 His story is quite an inspirational one.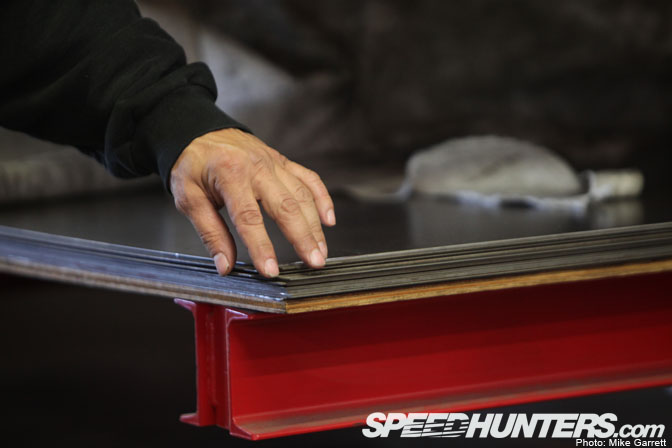 I find it amazing to think that he worked for 13 years doing hard labor in an oil refinery, all the while saving his money to buy metal shaping equipment. That's pure tenacity and determination.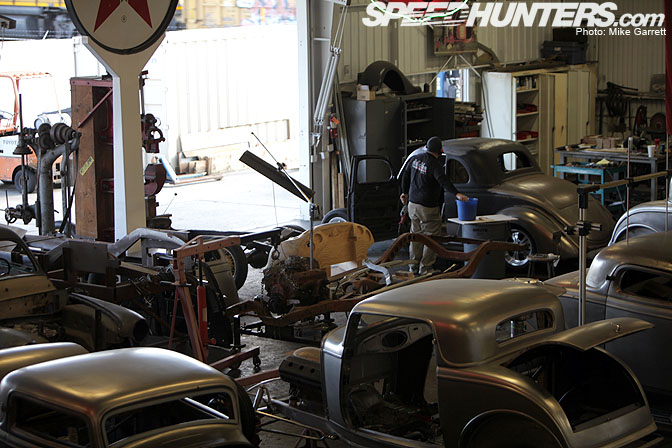 He opened his first hot rod shop in his native Texas in '93 before heading out to the west coast in '03 to work for the SoCal Speedshop for a few years.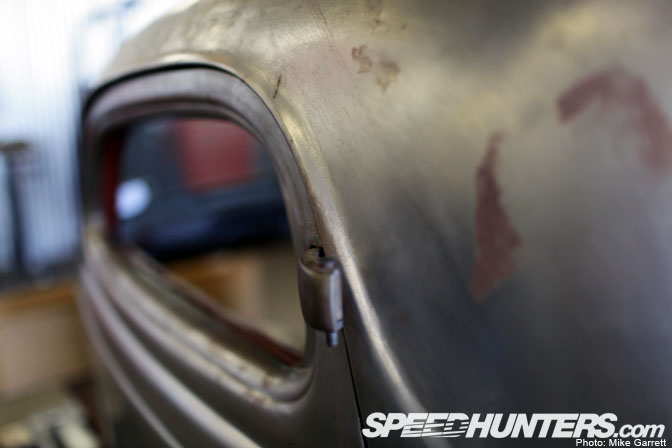 These days Bobby's main focus as a car builder is metal work.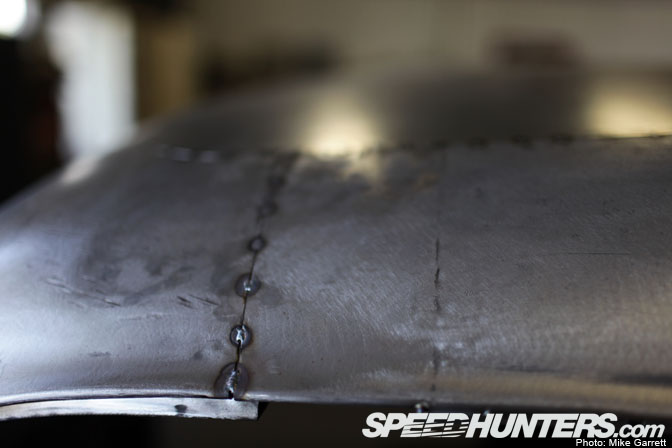 Some shops are happy to put bondo onto their builds, but for the Walden Speed Shop, this is unacceptable. All cars are fully finished in metal, before any paint work is even considered. Their motto is "Bare Metal, Not Bondo".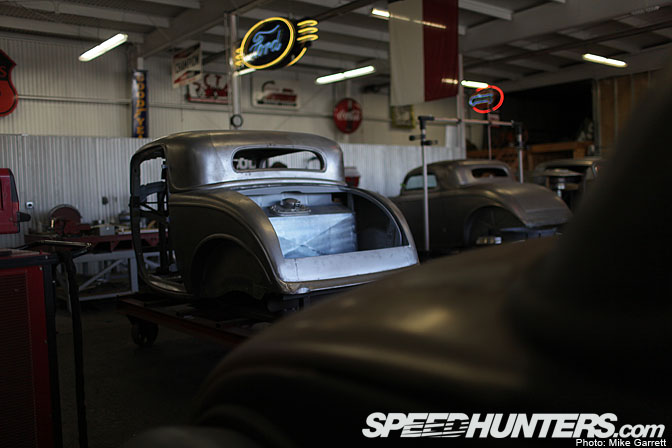 Bobby's reputation as a metal worker is stretches far across the hot rodding world…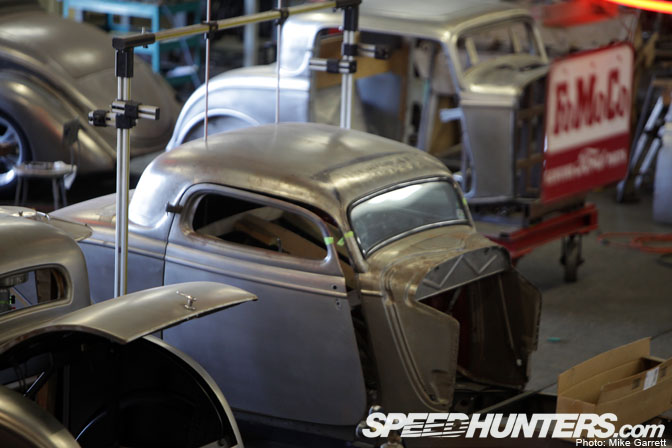 Some of the work he does is for other people's projects, while other cars are built in-house.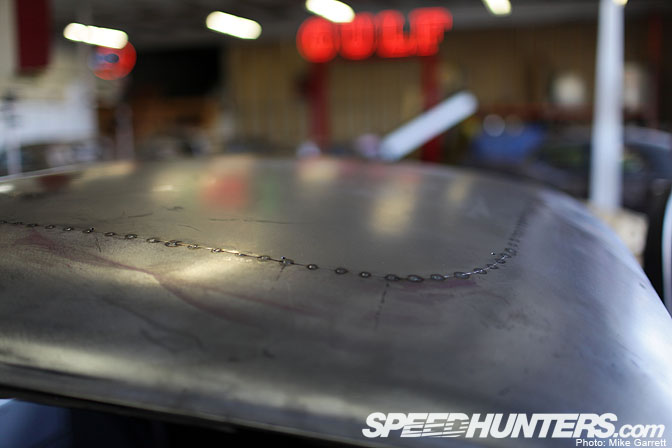 The Walden Speed Shop also has a range of off-the-shelf Hot Rod products. This hand formed steel roof section is a popular item. Bobby recons he's made around 1600 of these panels in the past ten years.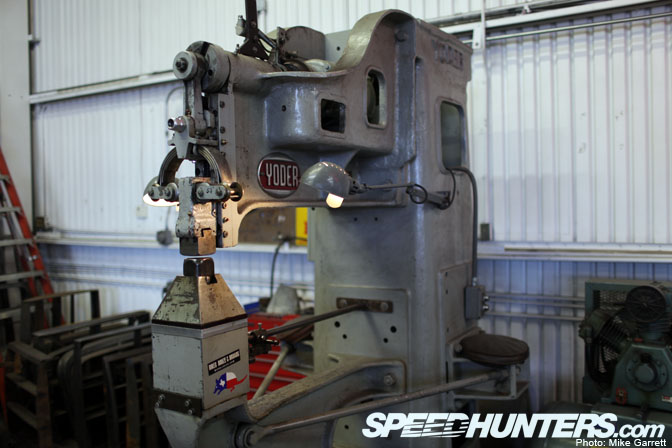 This Yoder power hammer is one of Bobby's main tools for metal shaping.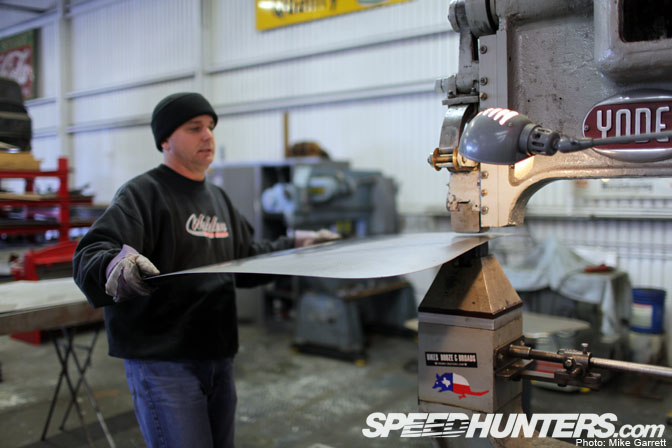 Here he demonstrates how the hammer is used to shape a roof panel.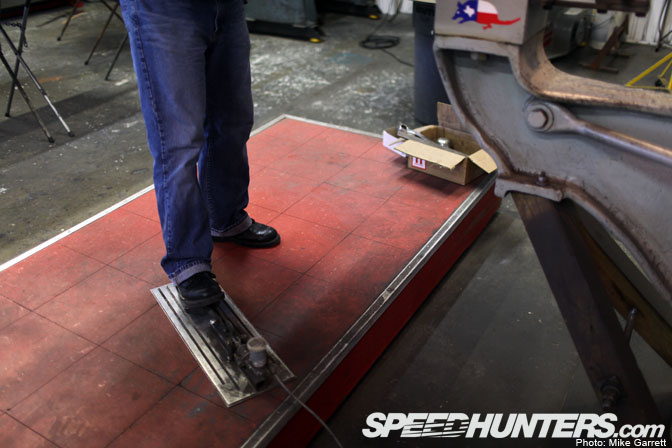 This foot pedal controls the force of the hammer's blows to the metal.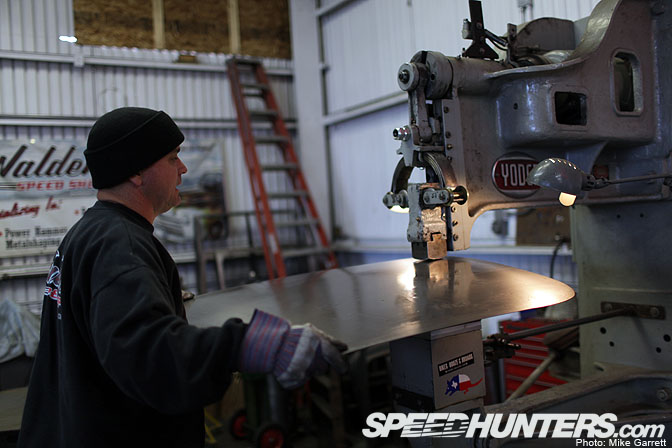 In watching Bobby handle the metal in the power hammer I could see there was a sense of peace about him. This was an artist in his element.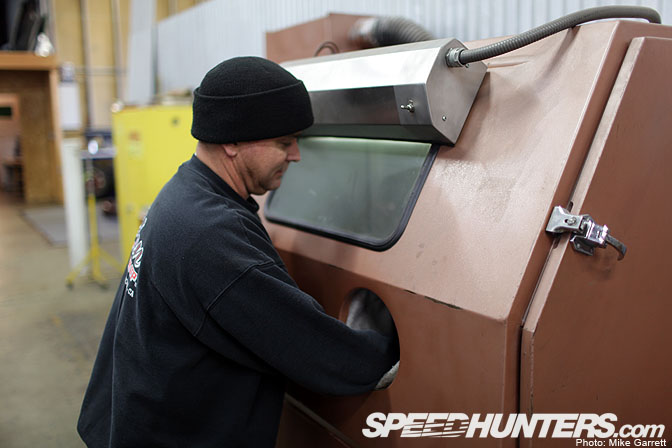 Check out this cool piece of kit.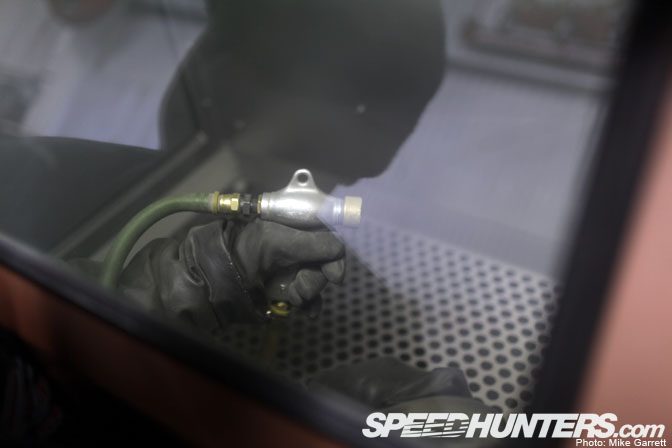 It's a sealed environment that can be used to sandblast components. Pretty trick.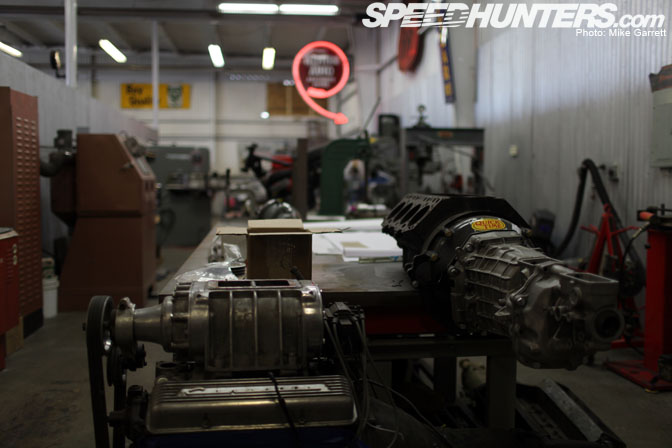 Meanwhile on the other side of the work area a few engines awaited their projects to come online.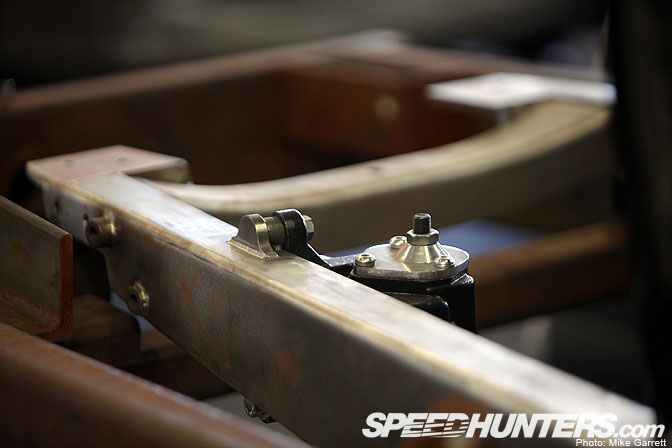 Walden are also gearing up to manufacture their own bespoke Hot Rod chassis in collaboration with famed hot rod builder Jim Jacobs.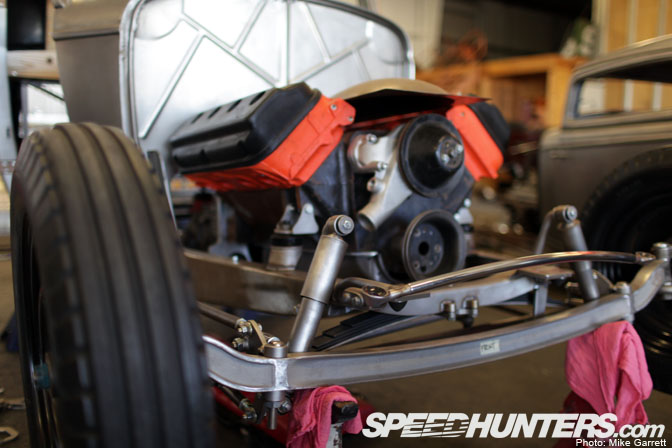 The main feature of this new chassis is a tapered front chassis which hides the rails behind the radiator. This results in a clean look to the front of the car.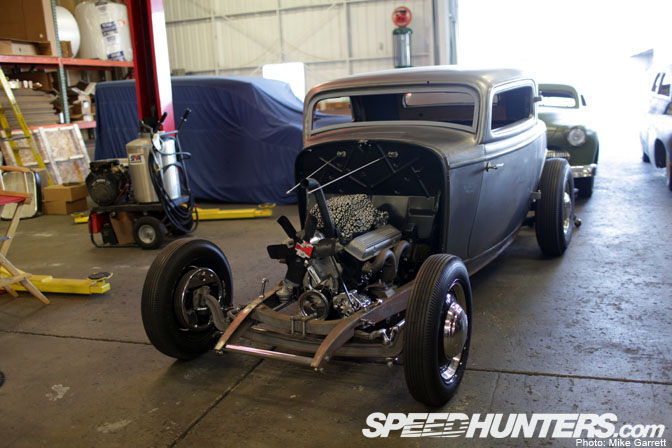 The Walden Speed Shop also sell pre-chopped Brookville reproduction 32 Coupe bodies.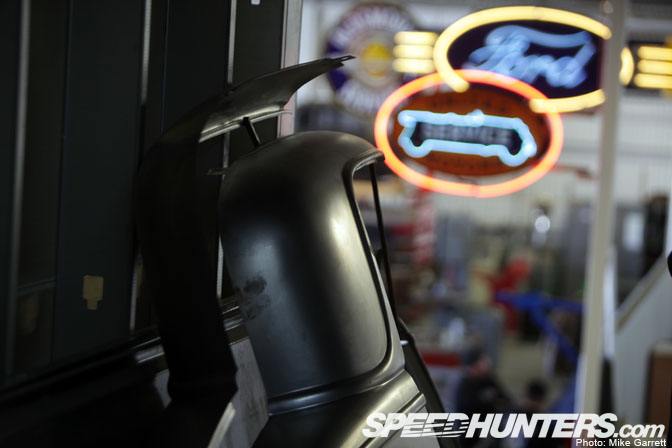 Here are some raw Brookville 32 Ford stampings in Bobby's loft storage area.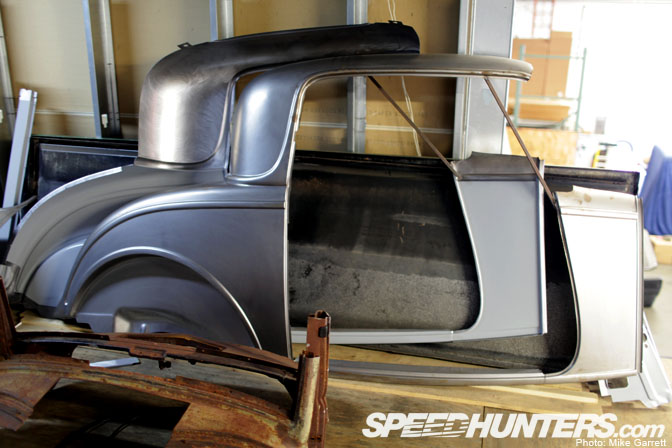 This is how he gets the bodies from Brookville…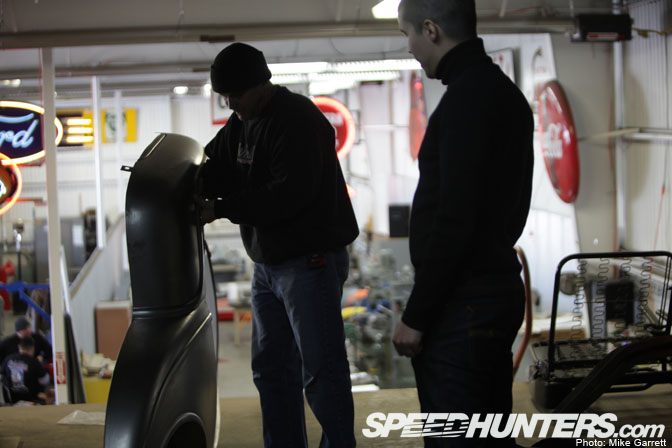 … before the metal gets chopped and welded up in to a hot rod creation.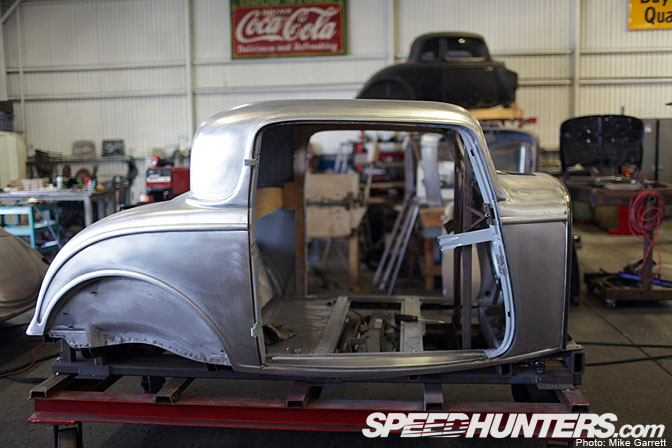 The bodies in the Walden shop were so perfect…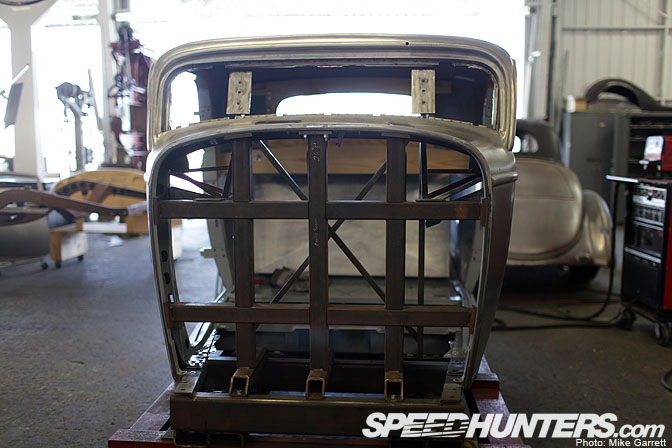 … it was hard to know if they were new or old.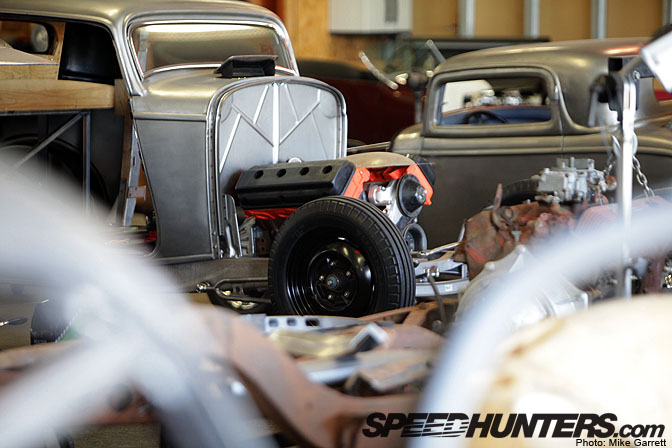 It's this attention to meticulous detail that has earned Bobby his place as a hot rod builder.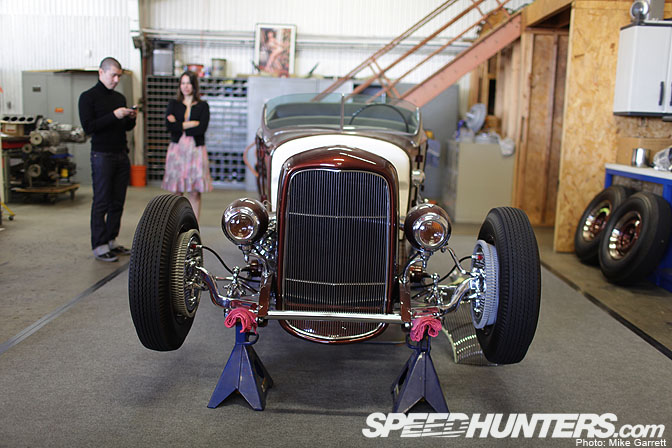 People also send him cars to sort out.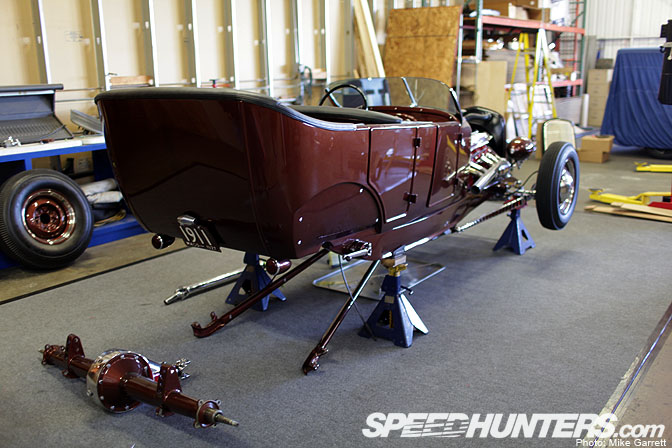 This '27 Ford touring was in the shop to have its handling sorted out.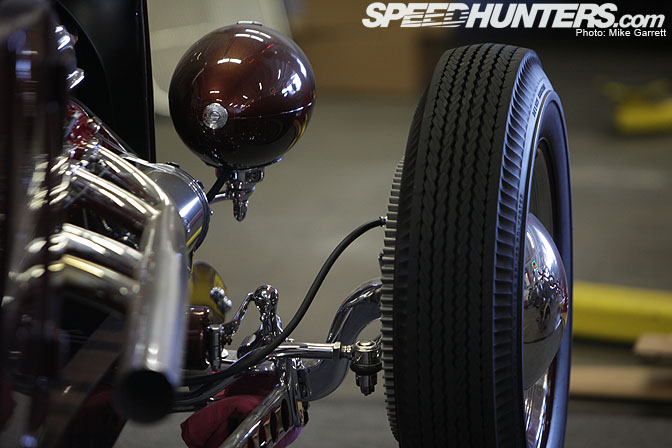 While it's a good looking car, the drivability left something to be desired.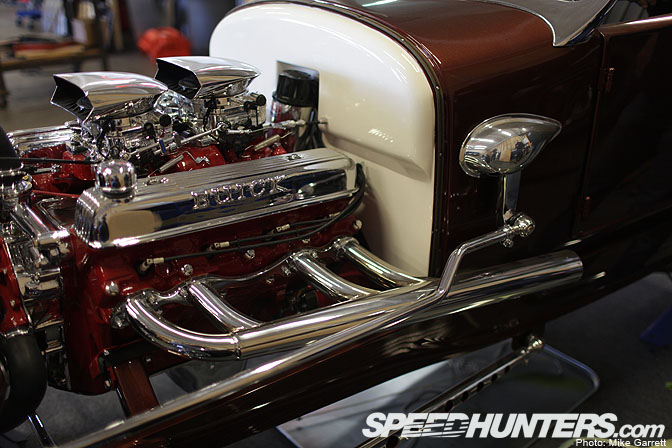 So Bobby was going to refine the car's handling…
Love the Nailhead engine BTW!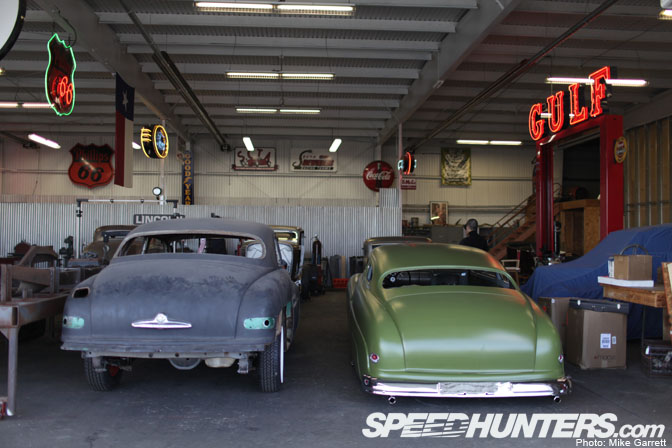 I was drooling over these two '49 Mercury chassis.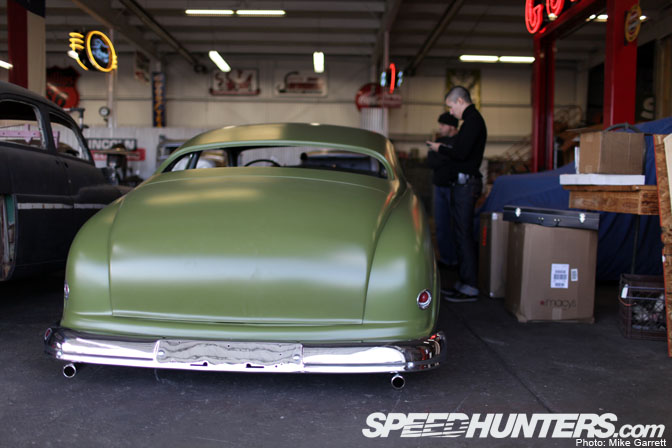 The green car was about to go into a glass shop. It's not really a Walden Speed Shop project, but cool to photograph none-the-less.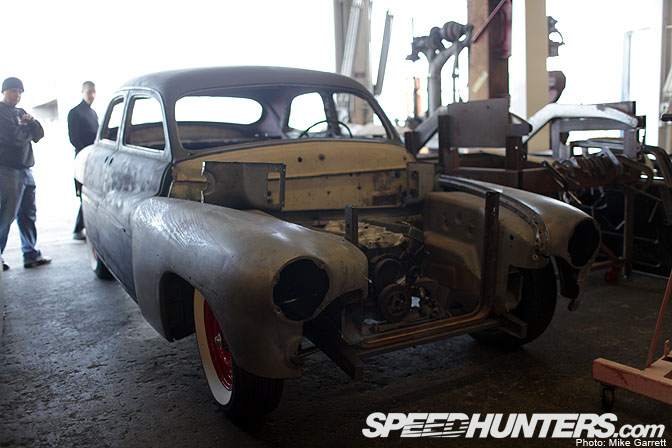 The four door is Melinda's personal car. It's a build that has been going for many years.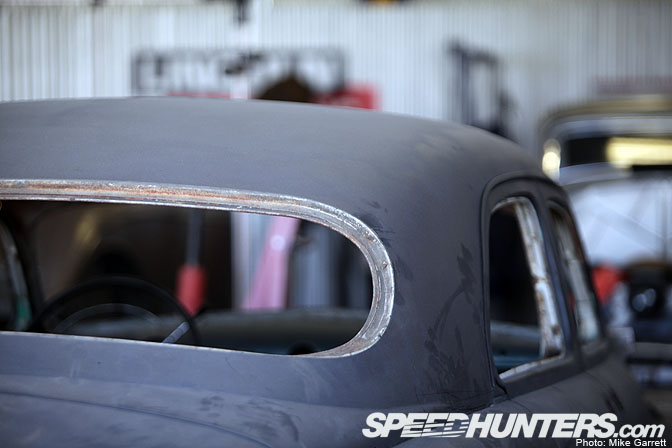 The car will remain unchopped when complete.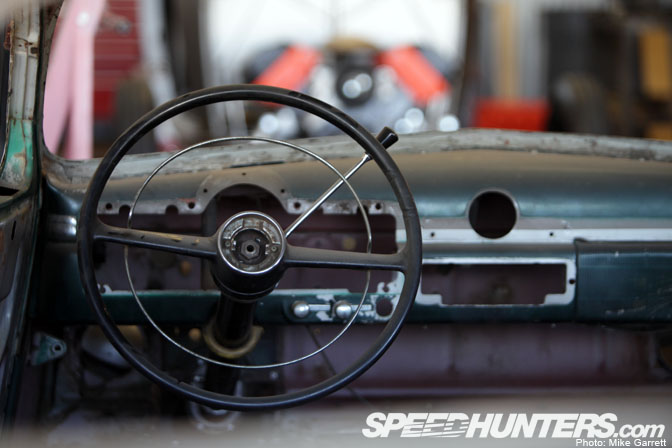 But it has a long way to go before being road worthy. It's a cool car to have waiting in the wings though!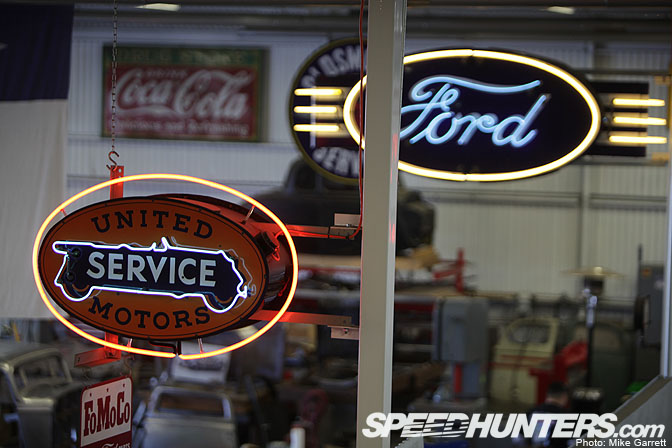 You like the vintage neon signs?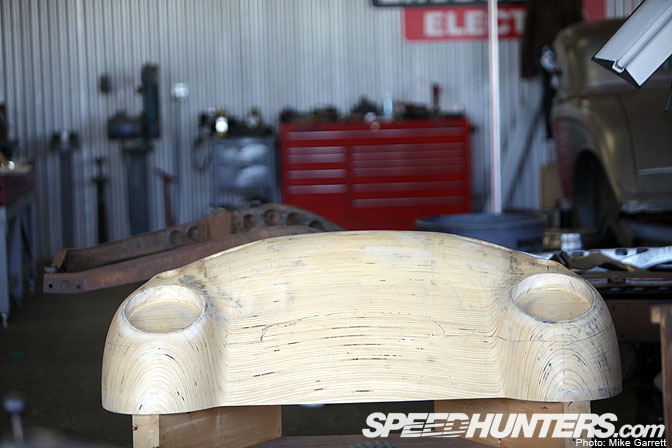 Bobby has been known to shape the odd panel for euro restorations from time to time. This focus on traditional coach building is where Bobby would like to take the shop.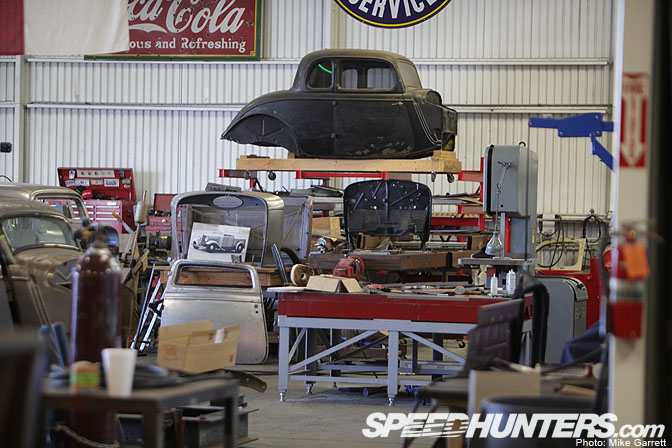 You can see several other projects in the raw in this photo.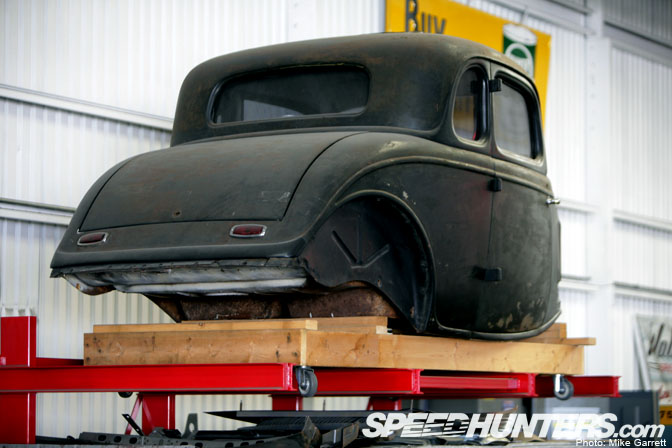 This '34 five window is a survivor car, which has made it down through the decades relatively unscathed.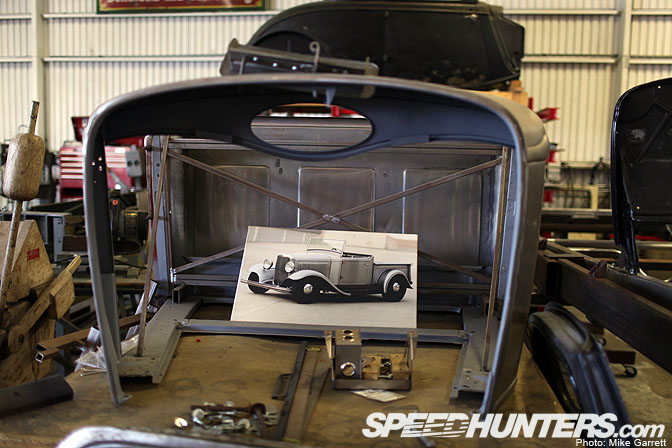 This body is from a the rarest of '32 Fords: a roadster pickup. Only 500 of this body type were ever manufactured. It will eventually end up on a brand new aftermarket chassis.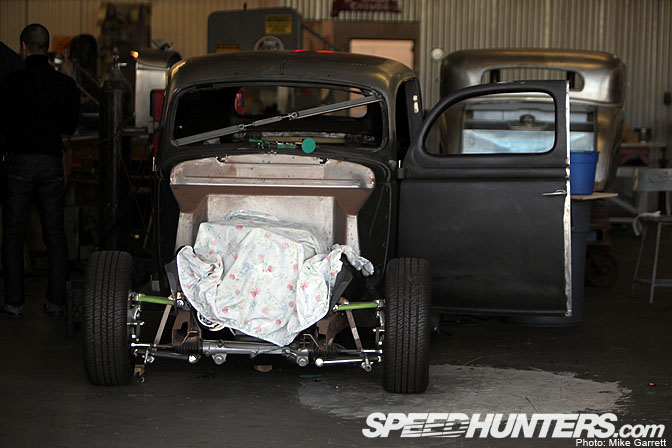 Thanks to Bobby and Melinda for taking the time to show us around their shop. I hope you enjoyed the tour of their facility!
:R