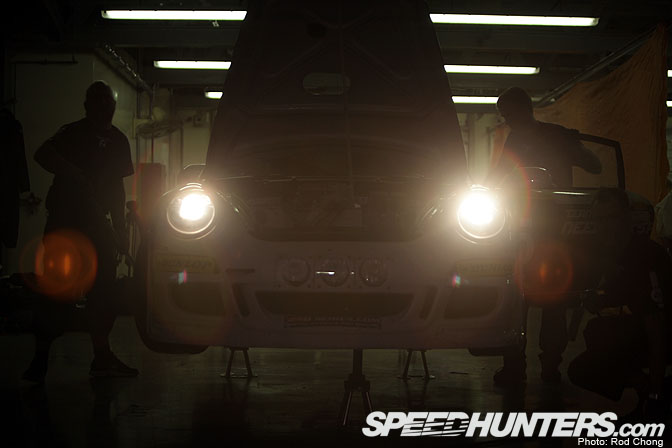 I'm currently sitting in a tiny hotel room in London, UK trying to stay awake long enough to type up this blog post.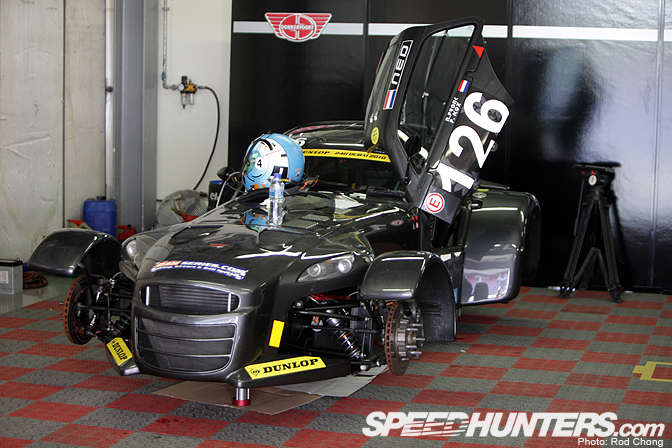 It was only yesterday that I left Dubai, but already the experience of London-town is moving front and center in my mind. So I'd better get this post done while the memories of Dubai are still relatively fresh.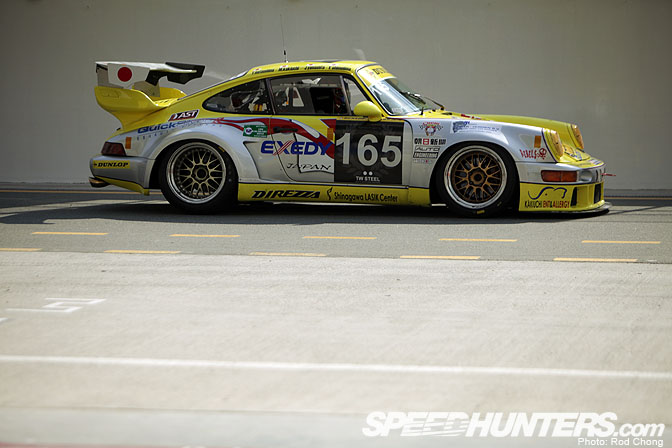 Here's another shot of the Japanese Porsche, one of the best sounding cars in the event.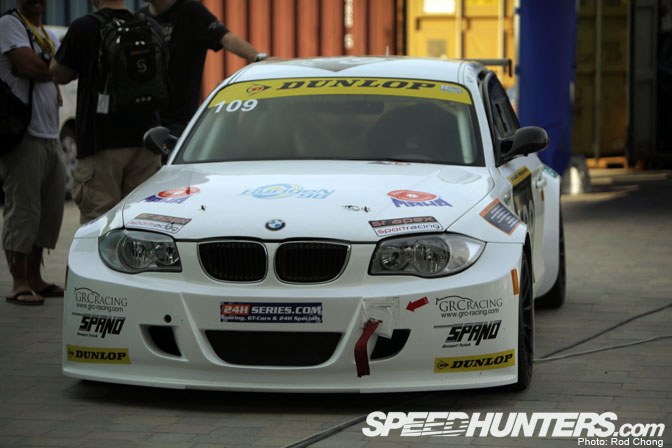 This 1 series race car was one of my favorite machines at the Dubai 24H.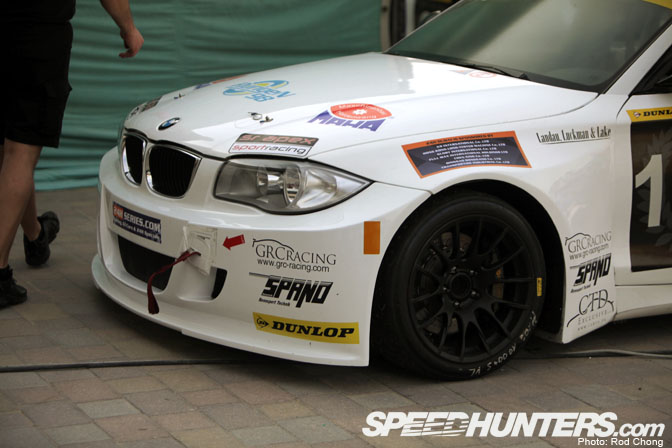 The wide body is nice and meaty.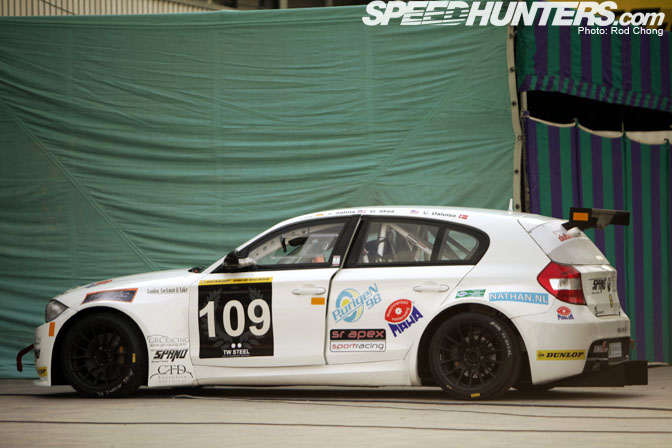 The hatchback body looks nice and balanced too… The car looks long and elegant which compares well against the sometimes stubby looks of the 1 series coupe.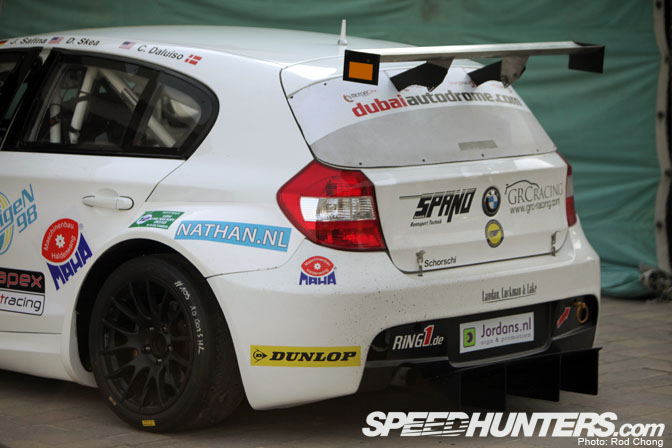 Perhaps it's not as spectacular a car as the bigger 3 series racing machines, but this little monster still packs some presence.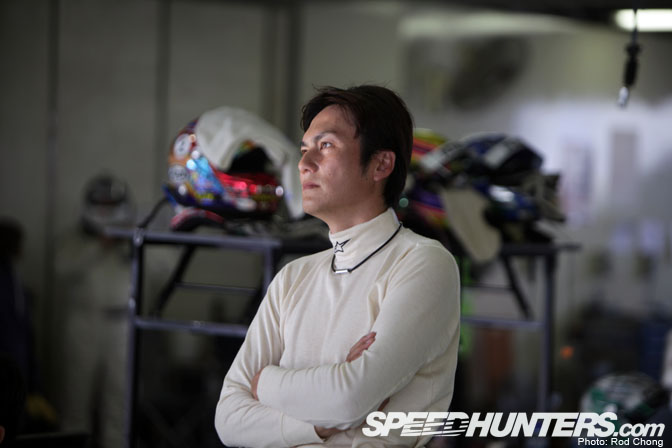 Ahhh…. I see a diety here.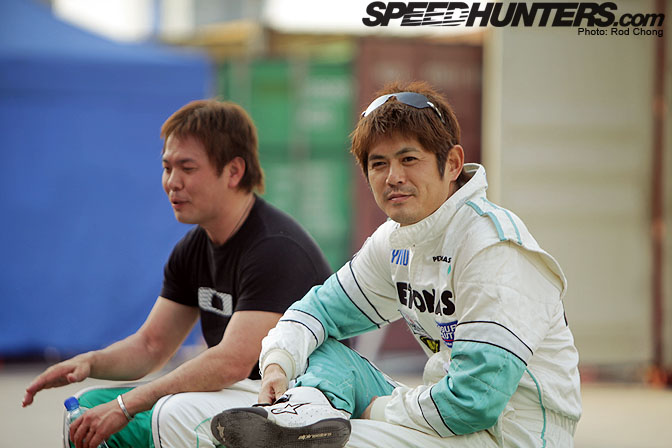 … and his team-mate. :>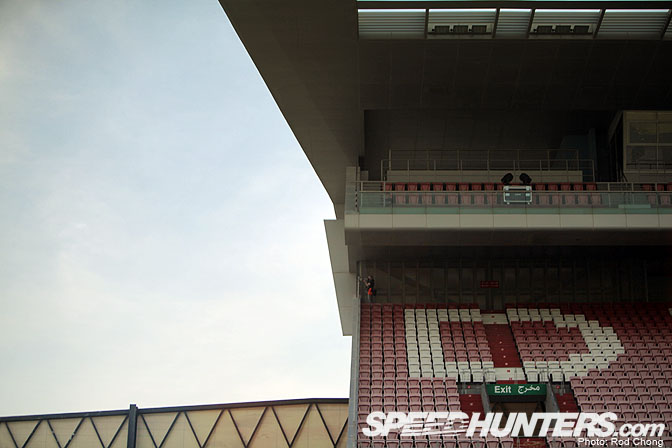 Let's play spot the photographer.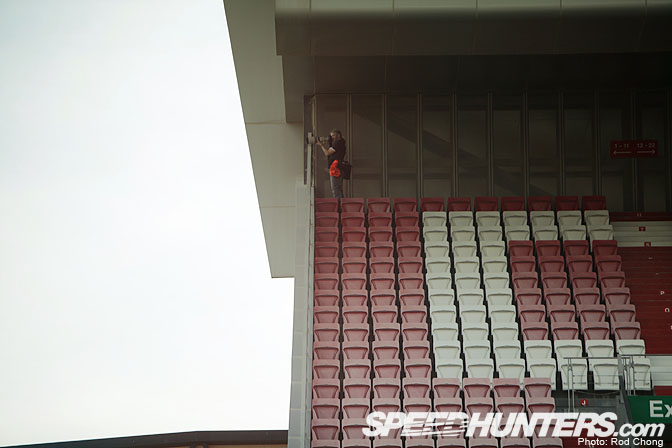 Yes that's Speedhunter Jonathan Moore shooting the on-track action in what appears to be a rather empty grand stand.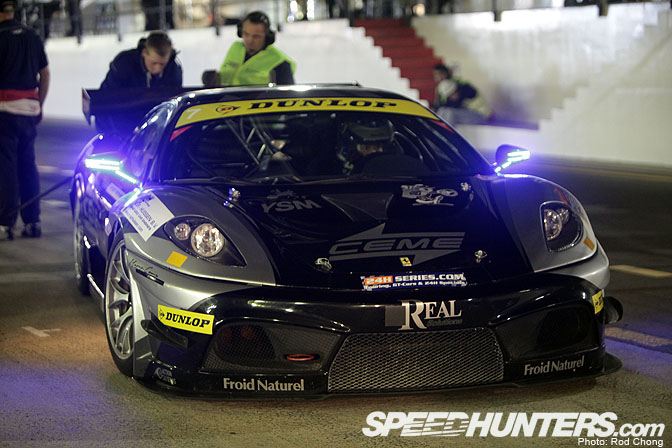 Shades of spo-com style attached to a Ferrari…. herm… Please readers don't get any ideas here for your street cars!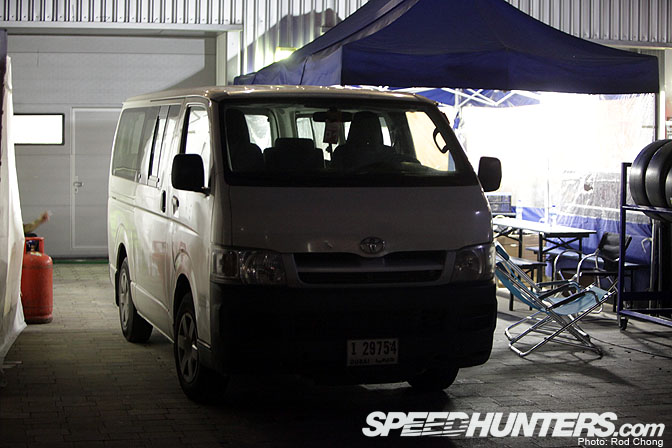 I kept pointing out the various Toyota Hiace vans in the paddock to the other Speedhunters. Not sure they understood what I was going on about though… NASCAR style what?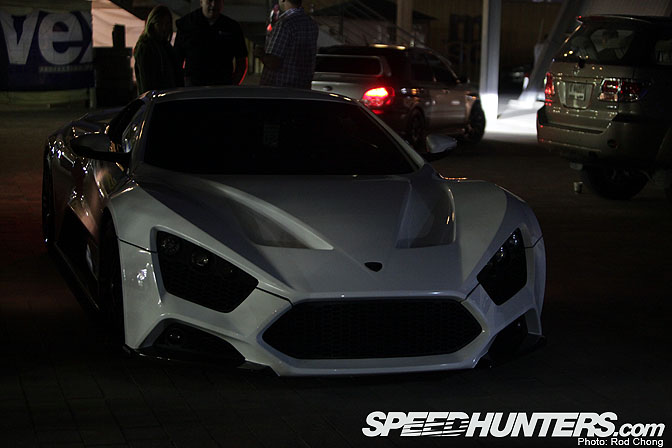 wow….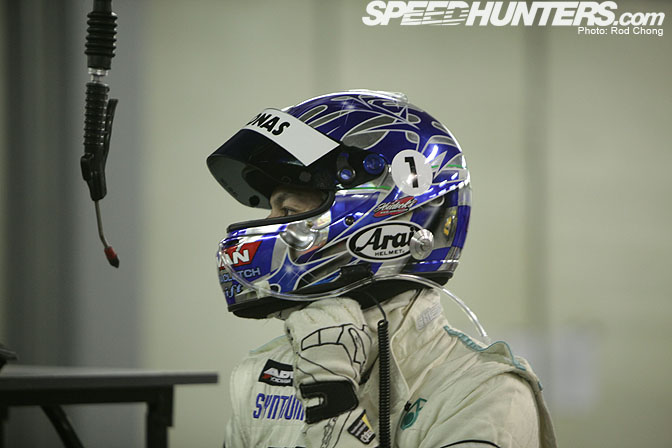 I think Taniguchi must have thought I was stalking him…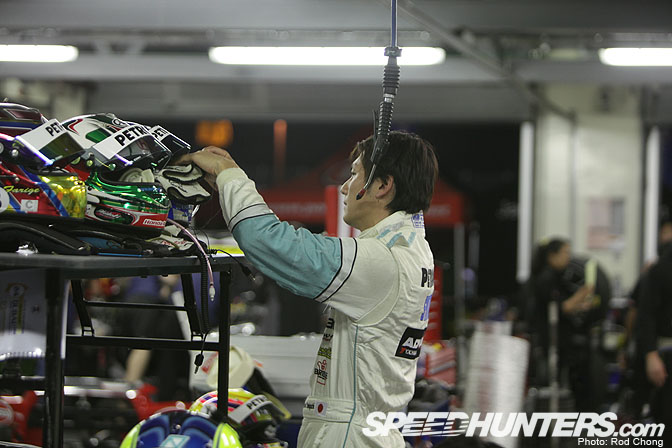 Here he's putting his helmet away after the night practice session.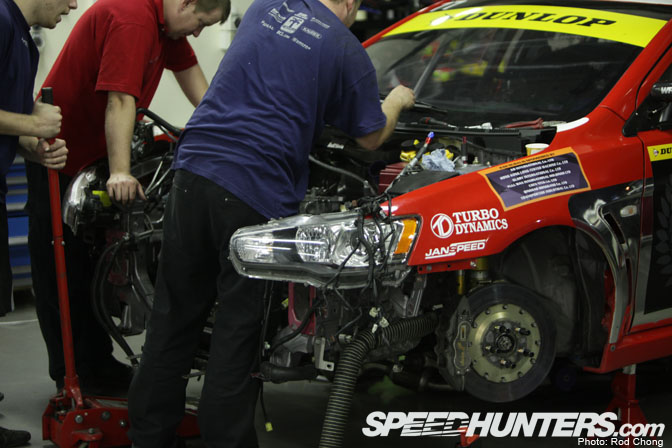 It seemed like every time I went over to the EvoX, it was in bits… The team must hate Dubai!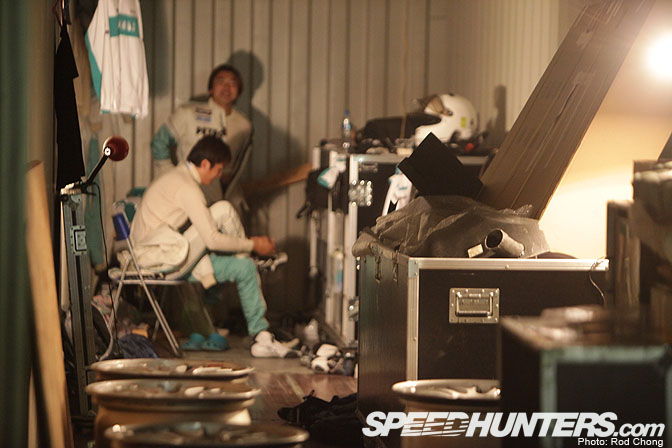 More Taniguchi stalking… this is the driver lounge areas his team had set up inside their shipping container.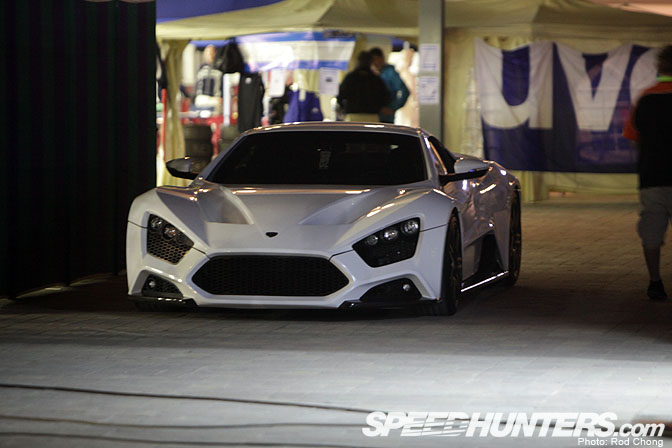 Ever seen this exotic car before?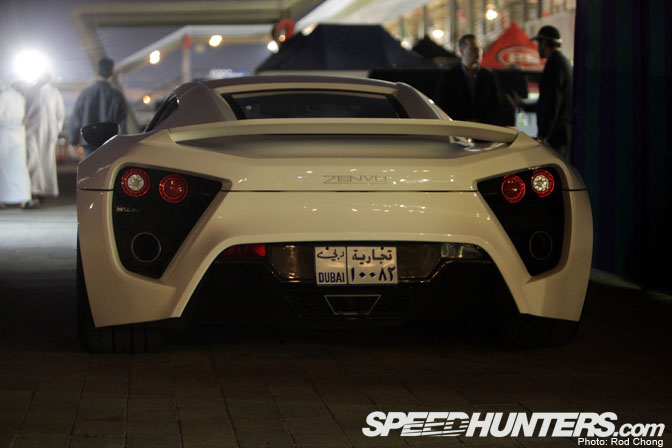 It's called a Zenvo: a thousand horsepower, 1 million dollar Danish super car… Stunning.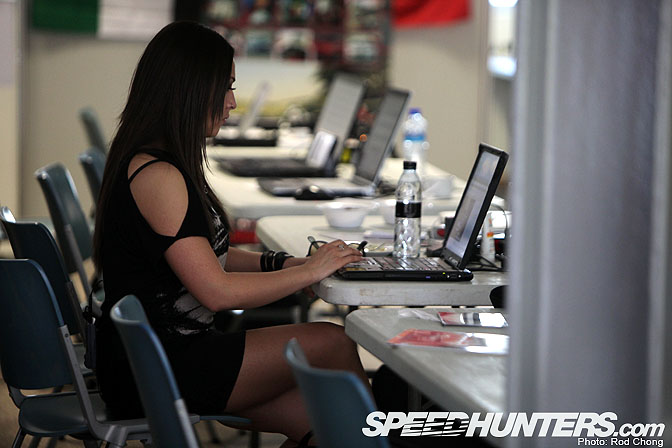 Miki Taka came with the Speedhunters crew to Dubai to appear in one of three different Will Roegge films he's shooting here for us.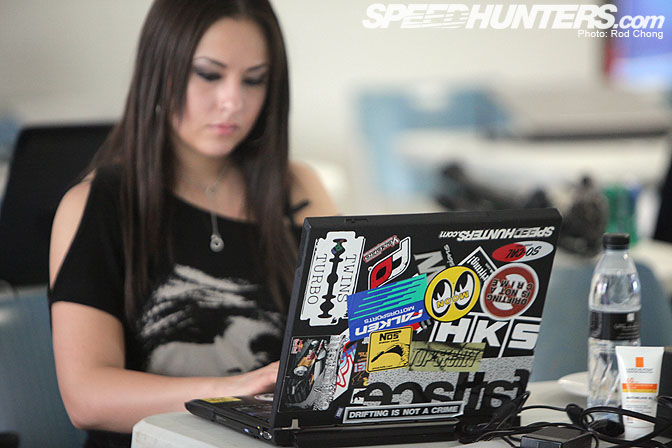 But she was also kind enough to proof-read one of my earlier Speedhunters posts too!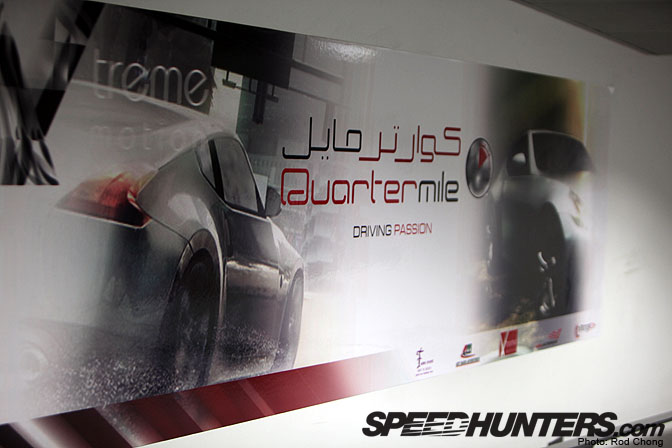 I found this poster most amusing… it was shot in the access tunnel which leads to the start-line grandstands. The tunnel was lined with ads all featuring ripped off Need for Speed screen grabs. Someone at this design agency is a fan of NFS!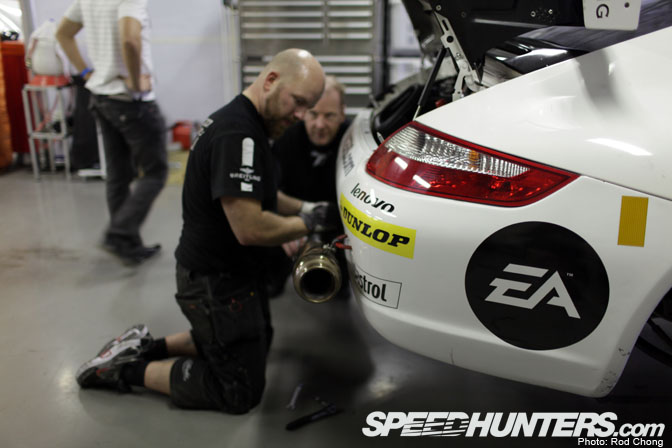 Speaking of NFS, our Porsche got dinged by the decibel police.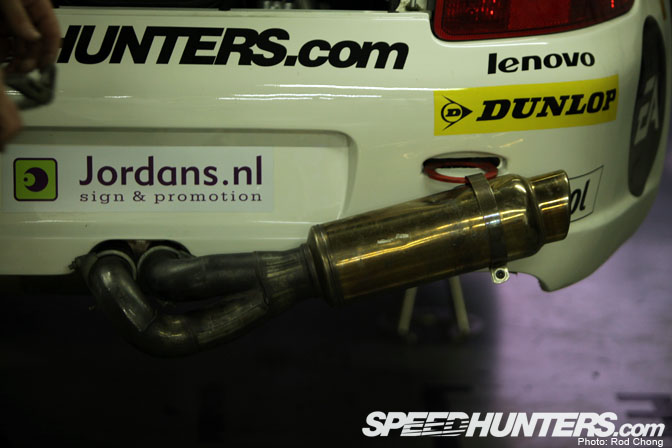 So they had to fix this Bosozoku exhaust. Not sure the racing team understood when I mentioned Bosozoku hahaha….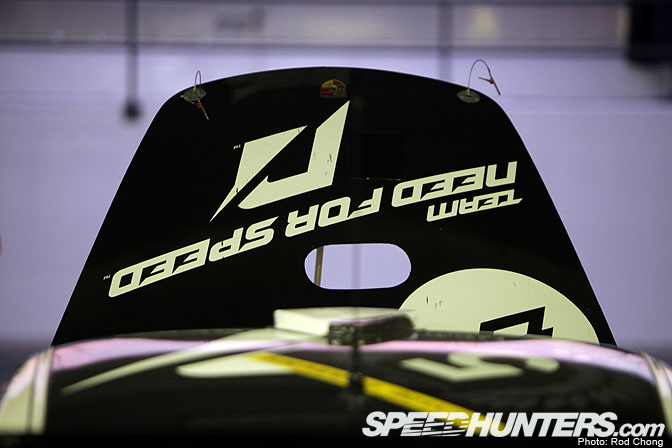 BTW the Porsche is now sold, but we have big plans for "Team Need for Speed" in 2010… all will be revealed soon.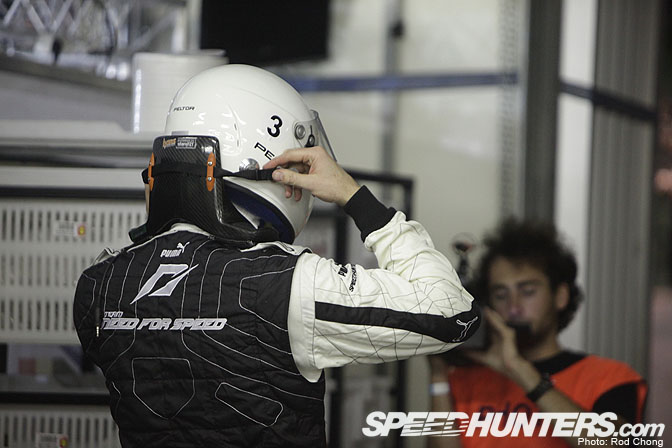 Here we see Will Roegge filming Patrick Soderlund getting suited up for his first practice session.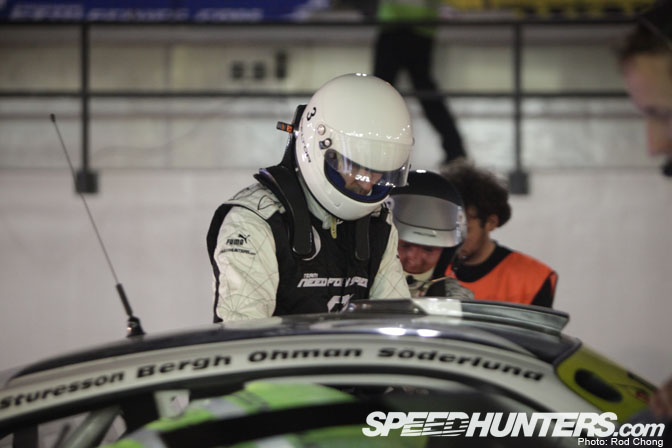 His first session in the Porsche ended up being at night…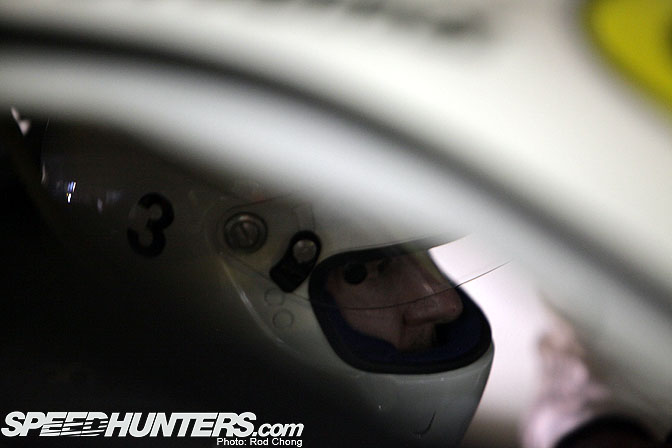 … which made it quite hard for him to get re-acquainted with the track. He did better with the following day's pre-race warm up session though.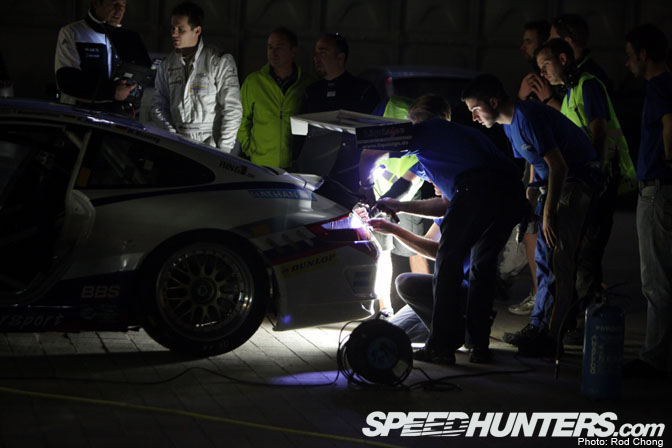 I thought this was a good photo: a group of mechanics work on a Porsche late into the night…
The two Japanese superstars.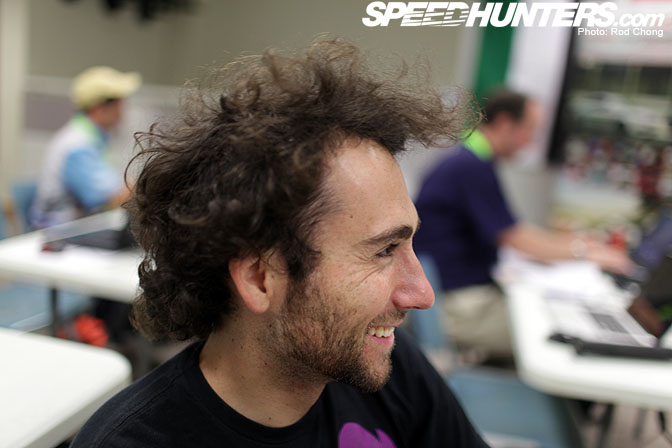 You liking Will Roegge's 1970s hairstyle?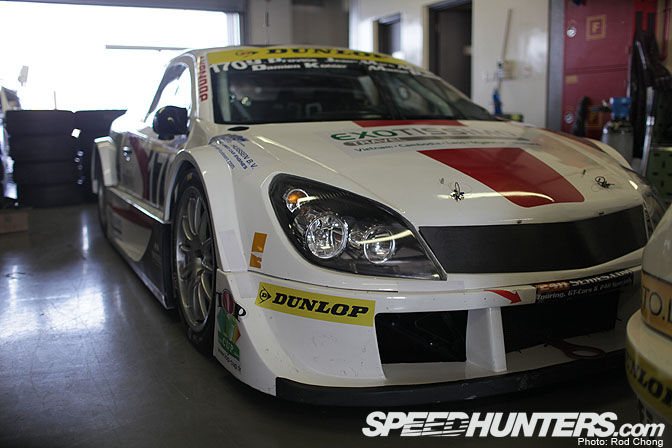 I thought the low slung Solution F Astras where some of the coolest looking cars at the event. But they looked surprisingly slow and unspectacular on track.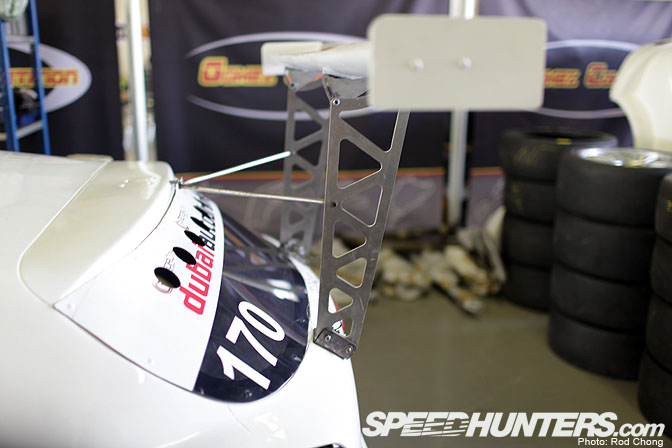 Oh well… the wing mount setup was interesting though. It gets the wing up into clean air for maximum effectiveness.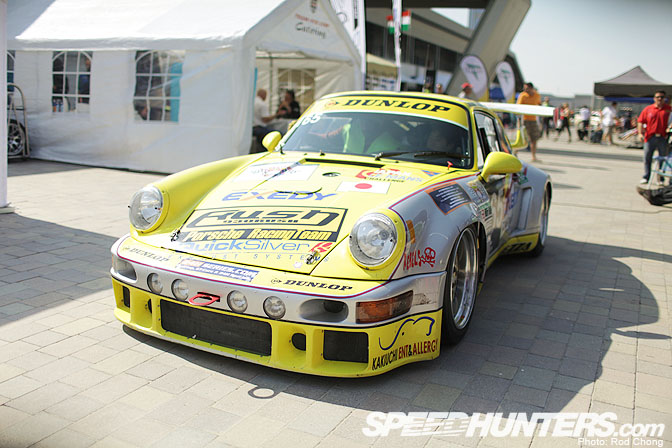 The Japanese Porsche was driving past me in the paddock area so I grabbed a few more shots.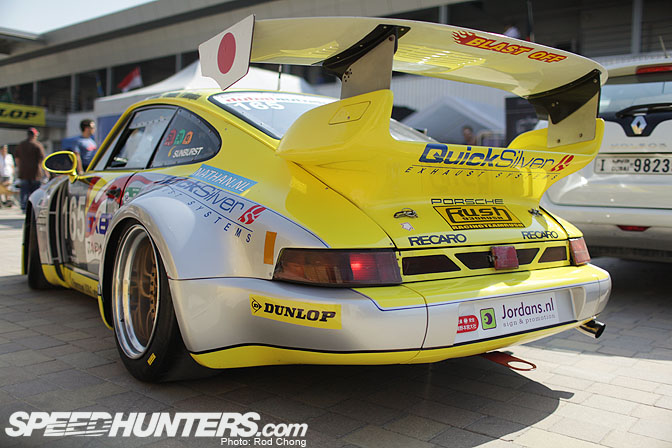 It's not a RAUH Welt car, but it's still a very cool machine…
Man I'm tired… must sleep now… talk soon!
:R