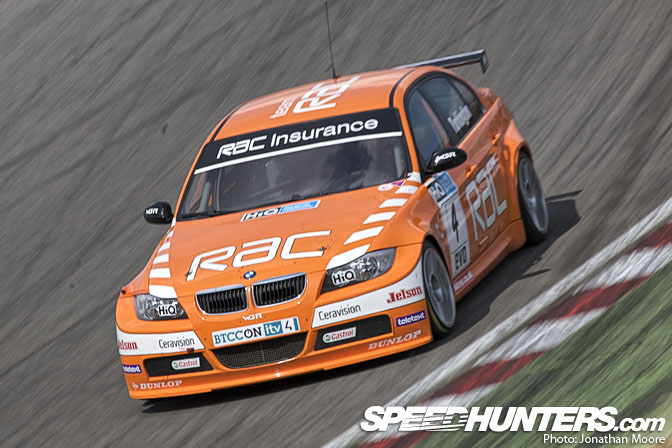 The BTCC gave us a preview of what the World series could look like next year and it's not a bad vision: few manufacturer teams following a couple of drop-outs at the end of 2008 (notably SEAT), but a strong grid of well-sorted ex-works or self-prepared independent professional teams. And most importantly, great racing. Eight drivers in four different cars won during the year, 13 drivers led a race at some stage and there was even a record period of seven different winners in a row.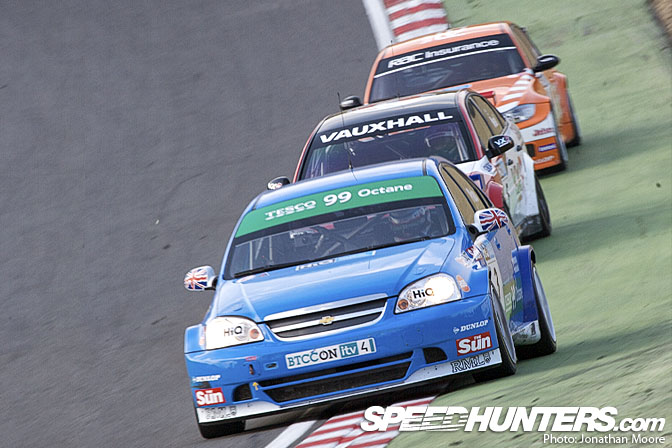 Although only three drivers were in with a shot at the title at the close, it was still a titanic struggle right to the end of the 10-round, 30-race season. As with the WTCC, the title wasn't decided until the final race at the final round – Northern Irishman Colin Turkington putting in an aggressive drive at Brands Hatch in Kent to secure second place in the race and the overall championship by just five points.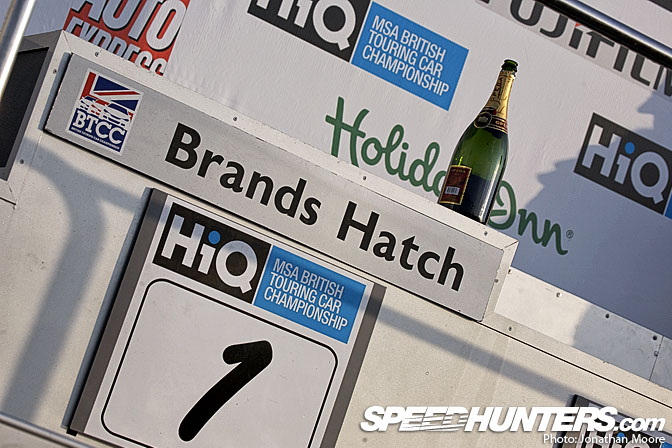 Turkington was also presented with the BMW Sports Trophy at the end-of-season BMW Motorsports Awards in Munich for his achievement, beating 197 other BMW drivers on scoring aggregated from series all over the world. The British title also meant the first BTCC win for BMW since 1993. It was no easy ride, and a decent points lead at the mid-season point was under more and more pressure as the RML, works Vauxhall and Motorbase teams all came on strong.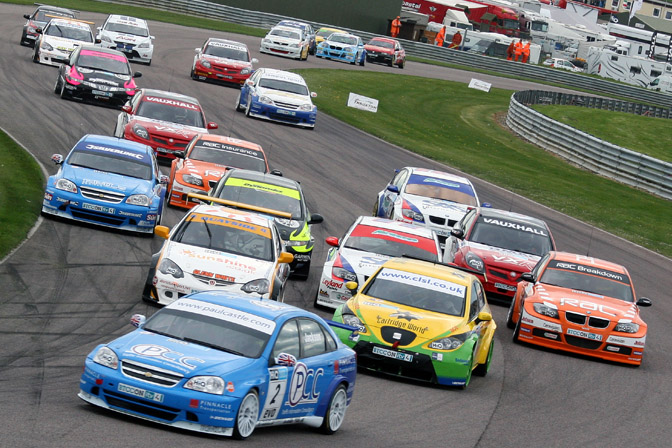 Biased as I am, I would suggest the British series is also that much more entertaining than the WTCC, with a bigger field of potential winners – mostly because of the number of independent teams and lack of team orders. Every race had to be fought for; nothing was handed on a plate to a nominated driver. It's always been a breeding ground for touring car talent because of the strength of the series and the great variety of tracks it visits.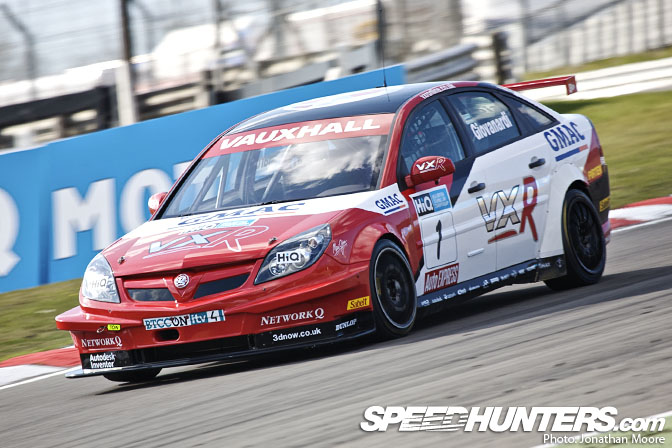 Italian touring car legend Fabrizio Giovanardi was driving for his career, as Vauxhall had announced that it would pulling out of the BTCC at the end of 2009 after over two decades in the series and ten championship title victories. He delivered all through the year, fighting back with some incredible drives after first-lap contact (rarely his fault); he's quickly become as popular a champion with the fans as the home-grown talent, just like Tarquini, Muller and Menu before him.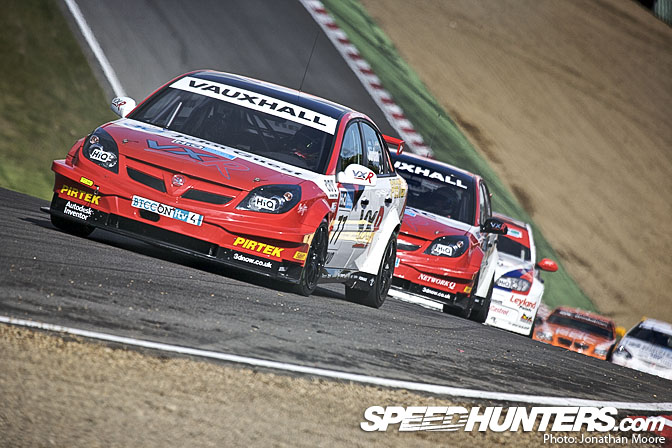 Giovanardi had previously won an amazing nine touring car titles, so despite disappointment at coming so close to three BTCC wins in a row he seemed genuinely pleased for Turkington. He also had to contend with his team-mates, Matt Neal and Andrew Jordan, both of whom had days when they could keep pace with the multiple champion.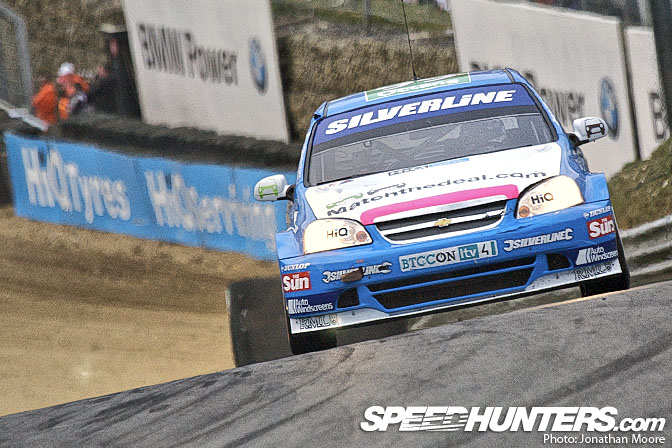 Jason Plato was seemingly out of work at the beginning of the 2009 season, after the works SEAT squad had pulled the plug at the end of 2008. But the 2001 BTCC champion pulled together a last-minute deal with the RML Chevrolet team in a Lacetti, and was right in contention from the start.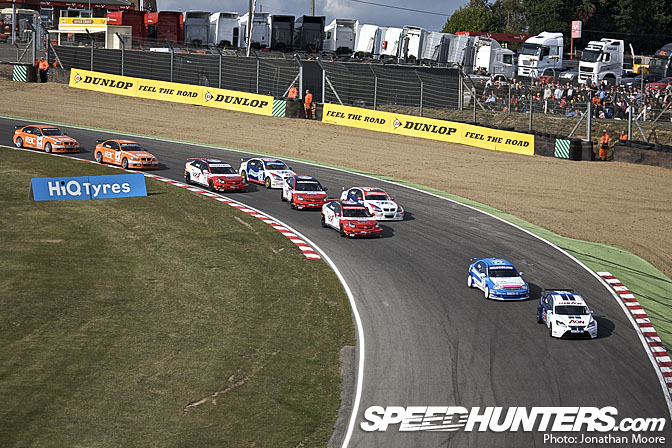 Plato's unapologetic no-compromise style didn't win him any friends – and certainly didn't change his enemy's minds – but brought home the results. He clawed his way onto the tail of the Turkington/Giovanardi battle by mid-season, and only lost out of the title by five points – making it through to second overall with a trio of wins at the final race.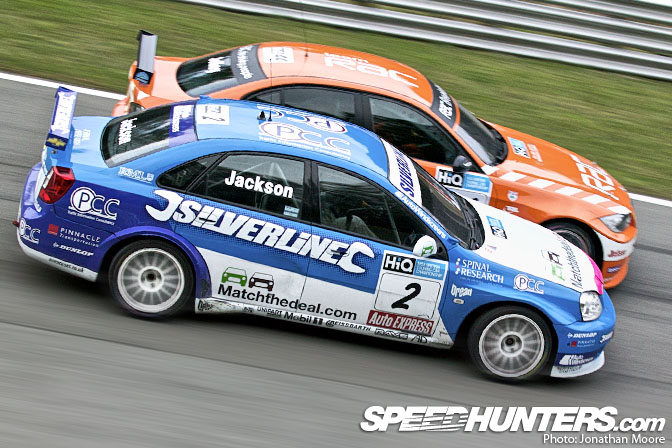 Another driver on the sidelines on the eve of the season also managed to get back into the fray. Independent BMW driver Mat Jackson's family-run team had performed incredibly well in 2008 but ran out of money and time for 2009. However, Jackson also struck a deal with RML and ran in a Lacetti alongside Plato – often literally. As expected, he was immediately on the pace, but the races he missed meant he couldn't go for the overall title. A run of eight podiums and fifth position in the championship was still a fine result.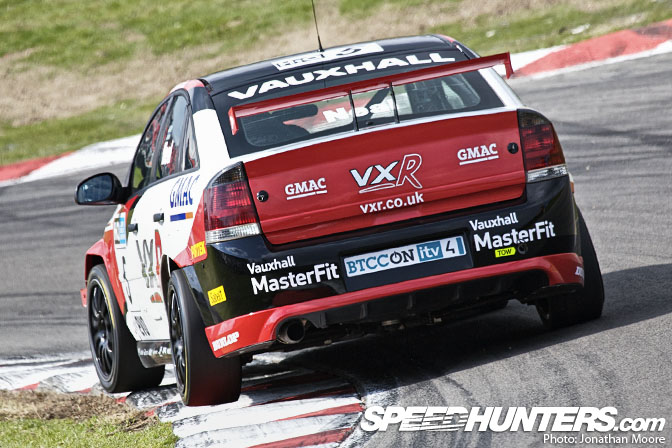 Matt Neal is, like Giovanardi, a double BTCC champion (2005-6, with Giovanardi winning 2007-8) but suffered a tough year in the works Vectra. Any sign of his nemesis Plato seemed to send him slightly loopy, and too often ended up with his car in pieces. Pole and a win in the opening round was as good as it got: he's still a fine driver though and is bound to bounce back next year.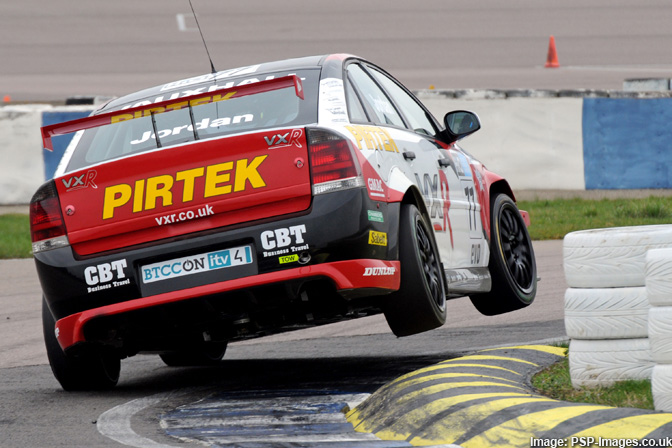 Jordan has come up through rallycross, which is quite a useful discipline to prepare for touring cars: drivers seem to think the track extends across the grass as far as the barriers anyway. Next year he'll be running in an independent Vectra and looking for that breakthrough win.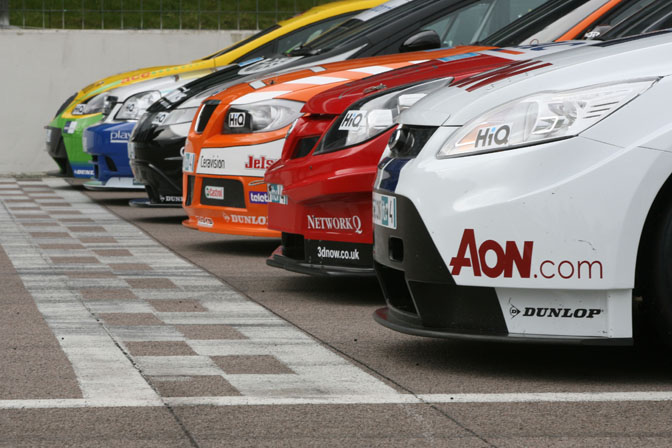 One of the best things about the BTCC is the variety of cars: six manufacturers (Vauxhall, Ford, BMW, Honda, SEAT, Chevrolet) and nine car models make things interesting on track.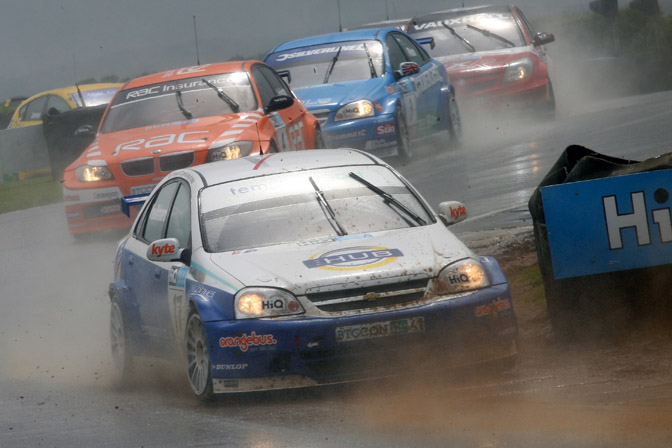 British weather may not always be the most predicable thing, but it always spices up the racing and helps make the BTCC the challenge it is. Britain's lucky to have a large number of quality circuits, with the well-known Silverstone, Donington and Brands Hatch GP circuits backed up by tracks like the roval at Rockingham, the tight and twisty Scottish Knockhill and the flat-out Thruxton. This is round three at Donington in May. Roll on the summer?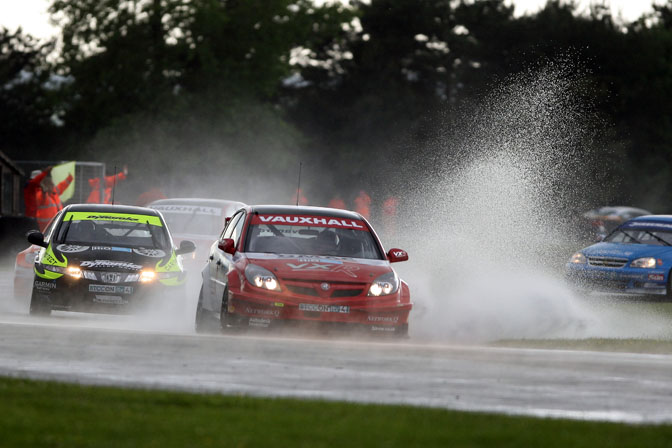 The summer? In England? Ah. At Croft in June it was a bit silly: more like a swimming competition than a race. I was quite happy that I watched this from my sofa rather than behind a lens and under a waterproof.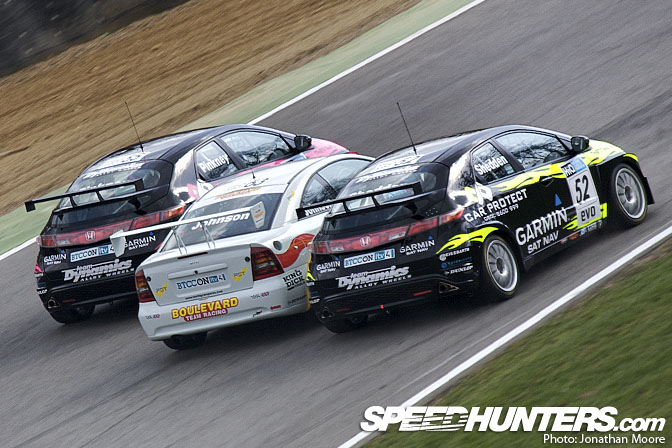 Like WSR, Team Dynamics have been stalwarts of the BTCC for some time, but Dynamics have been designing and building their own Hondas since 2005. Starting with the Integra (variants of which still run in the series now), the current Civic model has been developed into an effective touring car weapon, particularly when put in the hands of drivers of the calibre of James Thompson.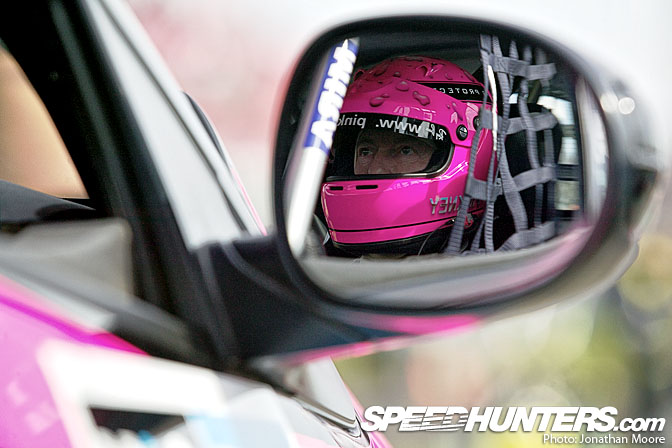 The team started the season with Scotsman Gordon Shedden and gentleman driver Dave Pinkney, who manages a football team as a day job. Pinkney has improved massively over the last couple of years, and was often able to keep in touch with the lead driver.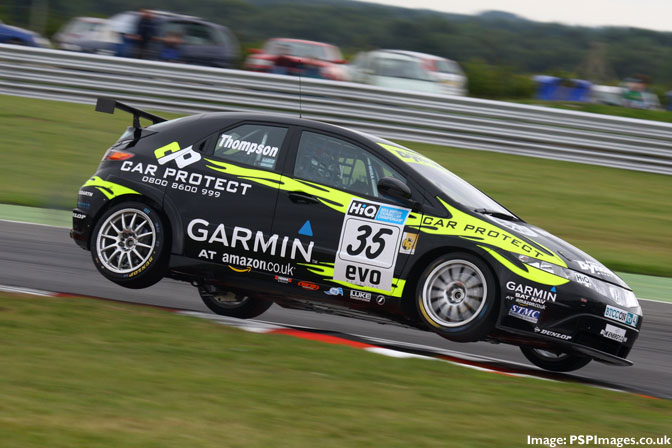 With Shedden not able to raise the budget, he lost his drive after the opening round and was replaced by James Thompson. Thommo was only running a part campaign due to clashing commitments in the Danish TC, WTCC and Australian V8 series, but still put in some stellar races to show the car's potential: two wins in terrible conditions at Donington and then another at Oulton Park.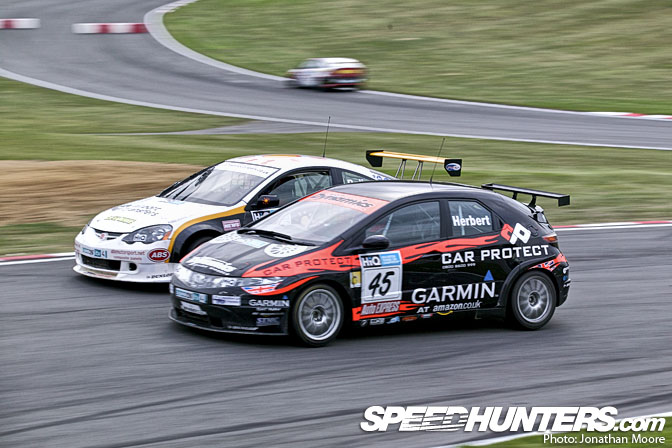 With Thommo returning to race in Europe in the Autumn, Dynamics announced a scoop: ex-Formula 1 driver Johnny Herbert joined the team for the final couple of rounds. Although he found it difficult to adapt to the little front-wheel drive hot hatch, he certainly seemed to enjoy himself and put everything in, not afraid to give as good as he got.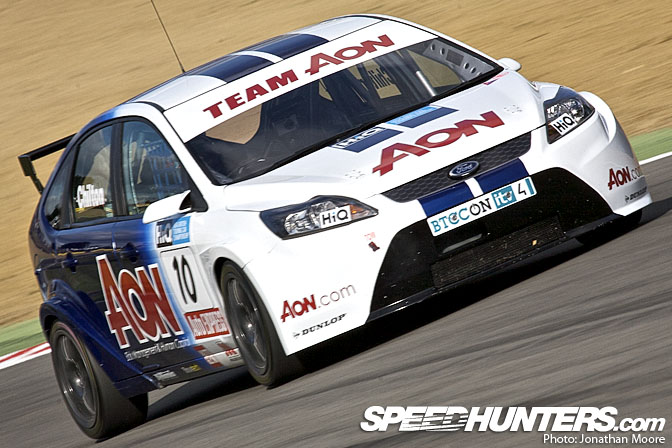 Ford were back on the grid in 2009 for the first time since Super Touring rules were dropped 10 years ago. Tom Chilton headed up a brace of Focus STs: they suffered badly with poor straight-line speed at the beginning of the series before changing engine tuners and applying some major upgrades turned the year around: they ended the season with two podiums at Brands Hatch.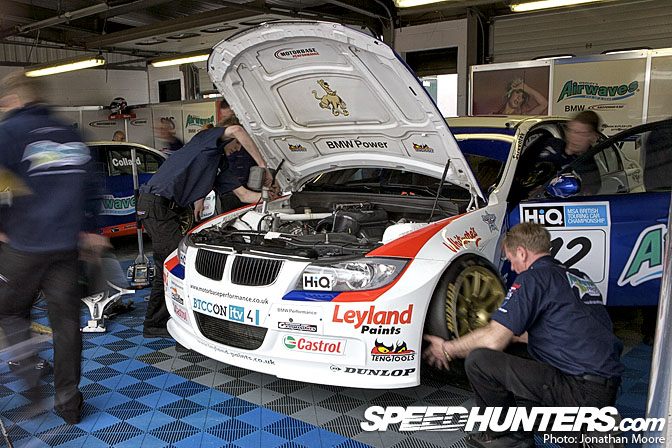 Motorbase ran a pair of BMW 320s for Rob Collard and Jonathan Adam and had easily their best season: regular podiums and even wins put them in a strong position for next year.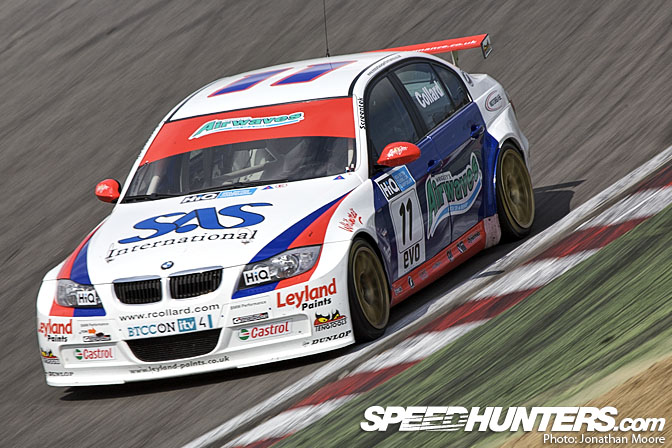 Collard has been trying to shake off his reputation of causing too many incidents and put in a great run during 2009. Perhaps benefitting from having a well-prepared car he calmed his style and didn't over-drive – Collard managed two wins early in the season and ended up sixth in the points.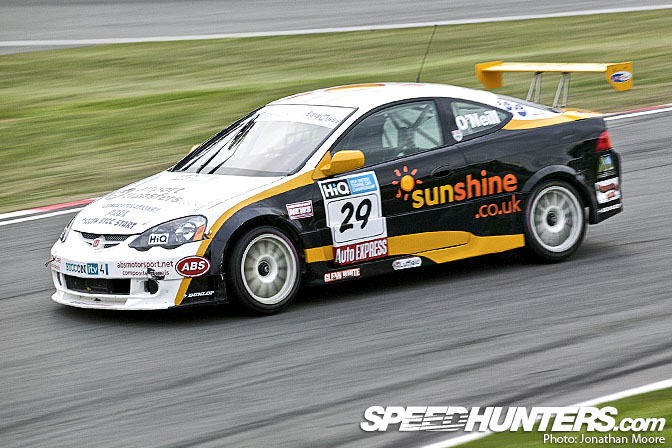 Paul O'Neill, brother of Spice Girl Mel C, made a popular return to the BTCC, since being forced to pull out in 2004 after being diagnosed with diabetes. He performed miracles in an old ex-Dynamics Integra with a podium at Snetterton and a chance of victory at Croft before the car's electrics failed.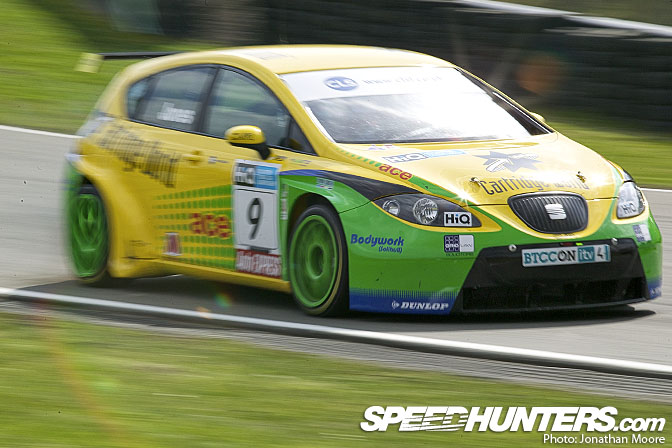 Following the withdrawal of the works diesel SEAT Leons, a pair of petrol-powered cars were out under the Clyde Valley Racing banner, initially running Dan Eaves alongside Adam Jones. Eaves, a BTCC winner, suffered appalling luck in the opening rounds, with the car more often in the barriers than anywhere near the points.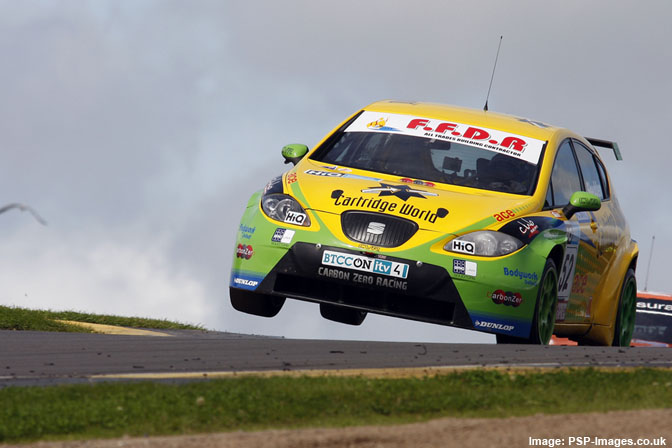 Results picked up when Dynamics refugee Gordon Shedden replaced Eaves, but unfortunately the team folded midway through the season. Shedden managed to get back out in a car run by ex-CVR personnel, and continued to deliver strong results against the much better funded opposition.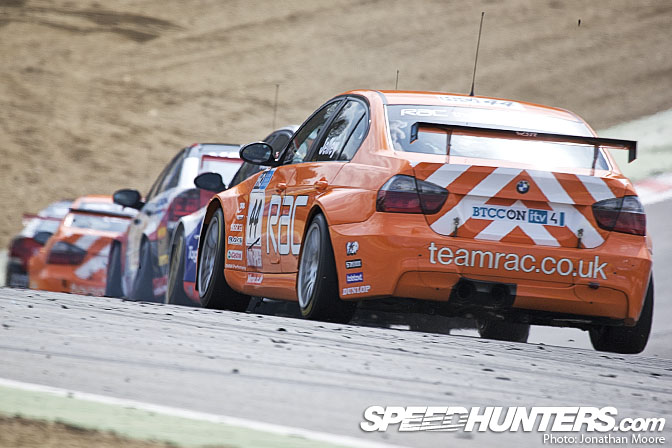 The BTCC will once again go its own way in 2010 as it is planning to break away from the new rules set proposed on the world stage of 1.6L turbo-charged units. With the teams' support, a BTCC 2-litre 'Next Generation Touring Cars' engine has been prepared, along with stock sub-frames, gearboxes and brakes which aim to cut costs by up to 50%. The idea is to stick with larger family-sized cars, rather than the smaller hatches touring cars having been moving towards.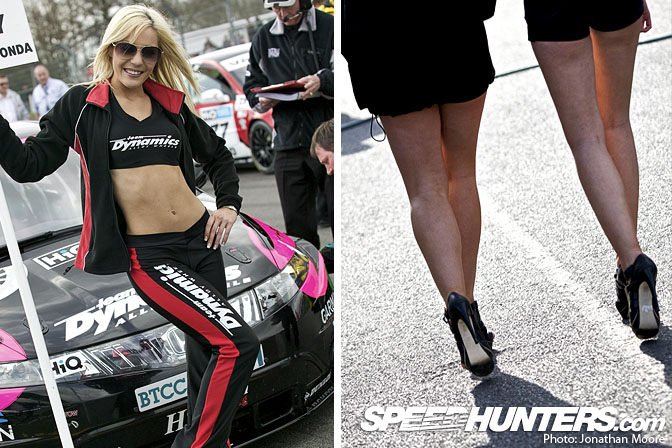 Existing BTCC and S2000 machinery will continue to be eligible, meaning the grids are likely to be as strong as ever. The series understands what the fans want – great racing based on easily recognisable cars that you could be driving on the street, plenty of entertainment and glamour and something to keep the whole family interested. Touring cars is still racing for the people.  
Additional images courtesy of BTCC.net/PSP Images. 
Jonathan Moore