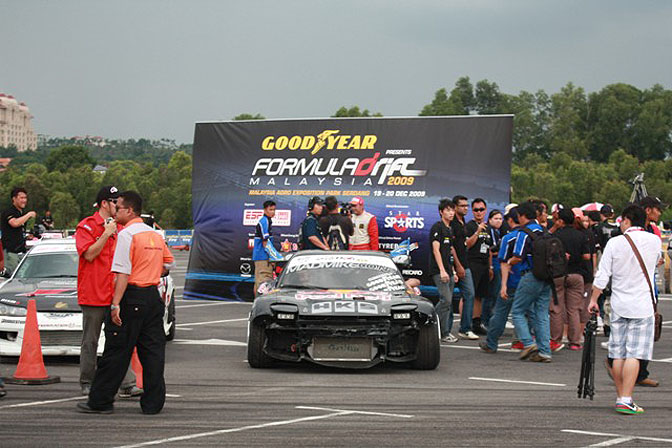 Formula Drift Malaysia is the grand finale of Formula Drift's 2010 Asian tour, which begins with Singapore and Thailand events.  The Malaysia Agro Exposition Park Serdang sets the battleground for 53 drifters from Malaysia, Singapore, the Philippines, Hong Kong, Thailand and Japan, representing the largest drift event ever in Southeast Asia.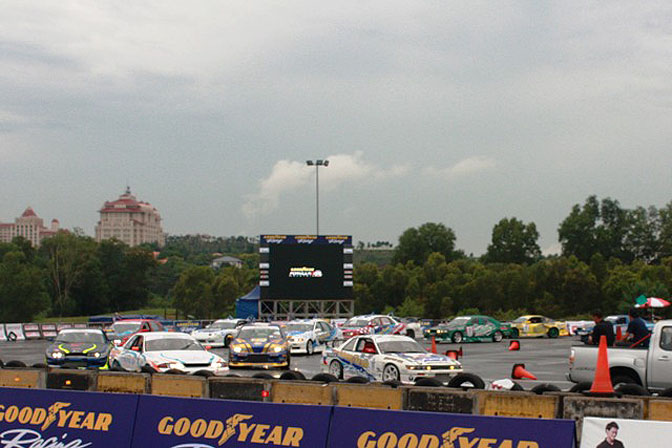 The crowded field was whittled down to 32 drifters during the first day of qualifiers, shown during the Top 32 Drivers' Parade above, with the usual favourites such Tengku Djan, Ryuji Miki and "Mad" Mike getting through.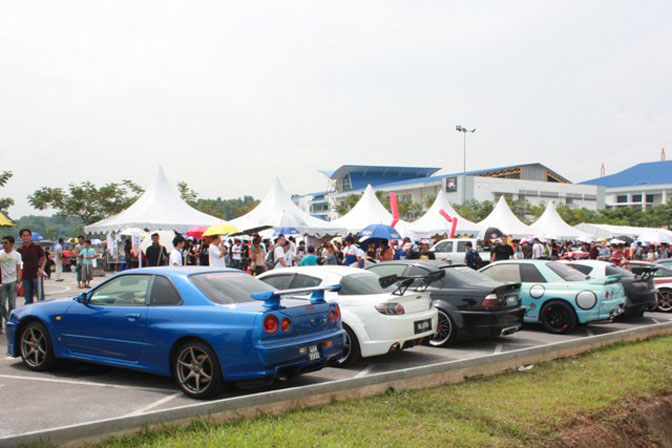 As with all motorsports events, there was a sizeable turn out of the local tuning community.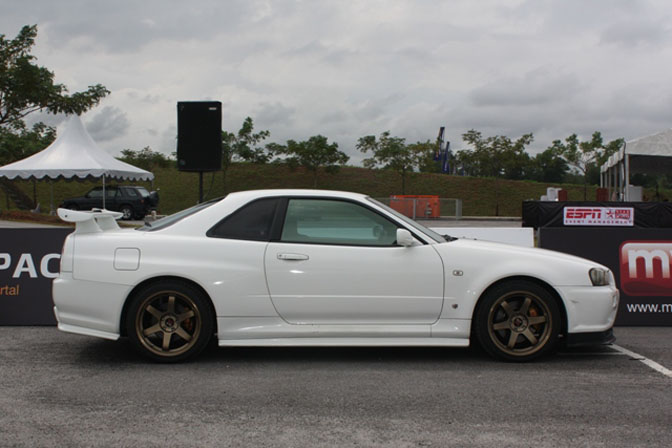 4 – From the mild…
(On a side note, this R34 GTR is the daily driver of Goodyear Malaysia's boss! Goodyear is the title sponsor of the event and they are pretty much all car enthusiasts)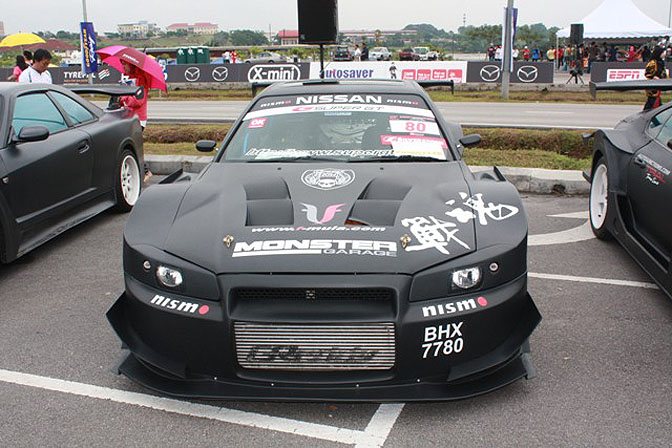 To the wild! Note the street plates on this GT500 homage by local tuner Monster Garage. Let's just say that Malaysian modification rules are rather liberal…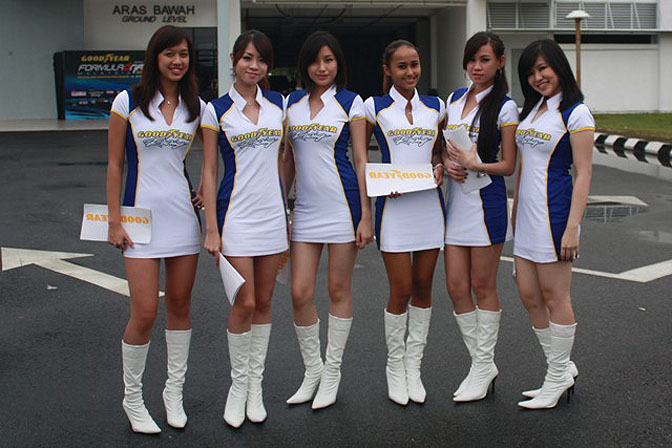 One final shot of some Goodyear eye candy before we go off to the races.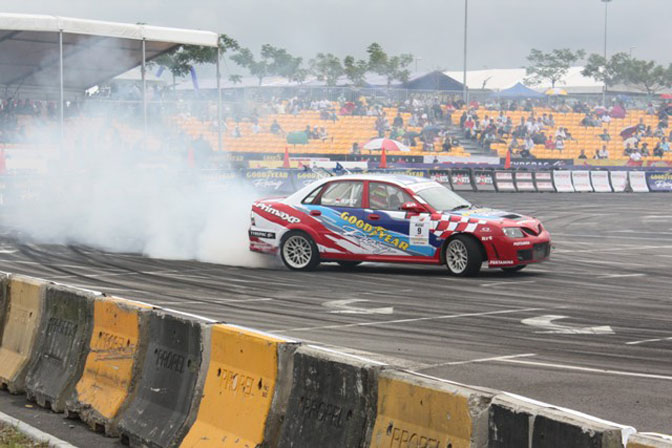 A crowd favourite was this rear wheel drive-converted Proton Waja. Owned by Tengku Djan and on loan to Indonesia's Rifat Sungkar, Rifat did well by qualifying for the round of 32 despite testing the car out for only two days before the actual competition.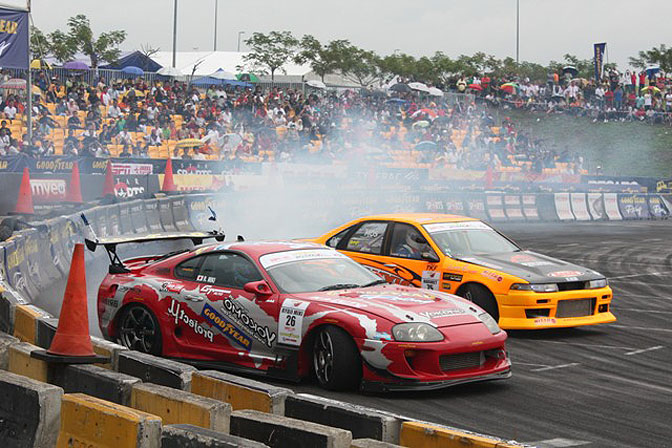 Ryuji Miki, the 2004 D1 GP champ, didn't come with his signature A'PEXI RX7 but brought along a red Supra instead. The heavyweight Toyota was almost nimble in his hands and he easily took out Thailand's Narubet in the round of 32.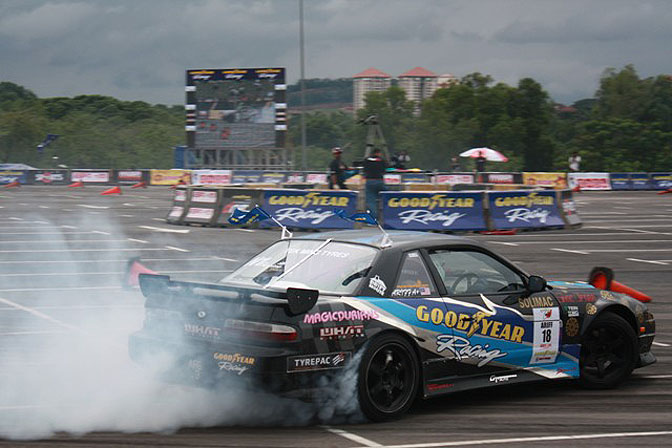 One unexpected elimination in the round of 32 was Ariff Johanis, who placed third in FD Singapore in July. His Onevia's steering rack unfortunately broke in the heat of battle.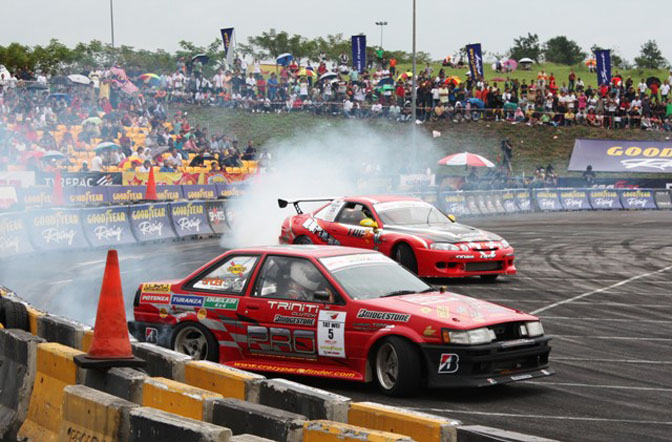 Due to the wide field, all makes were well represented. Popular local drifter Tan Tat Wei make it into the top 16 by pitting his diminutive AE86 sedan against Raymond Mak's Toyota Soarer from Hong Kong.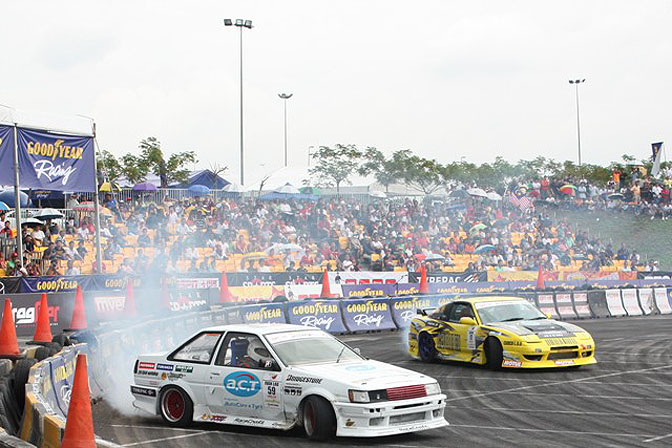 Another AE86 sedan driven by another local boy Ivan Lau, who went on to the top 8. The AE86s were extremely nimble and took on the S-shaped course well, which has 3 clipping points alternating between outside, inside and outside.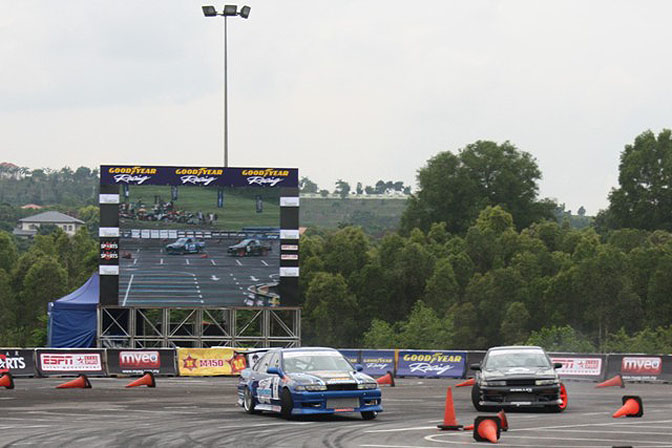 Nissan A31 Cefiros were also very popular, with most of them sporting SR and RB engine conversions. Local boy Nazrul Afifi's blue A31 took out Thailand's Auttapon to go onto the top 16.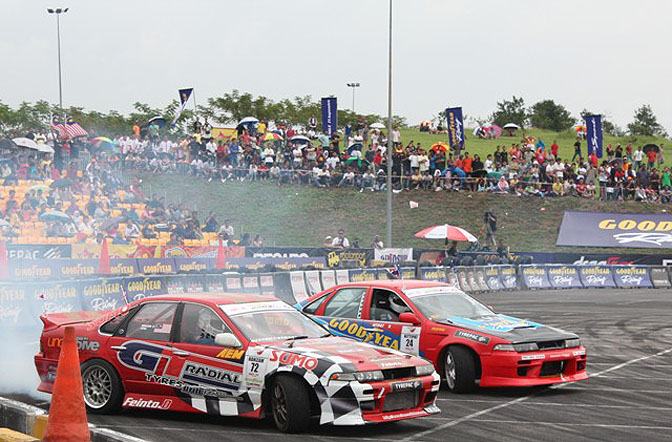 In another battle of the A31s in the round of 32, Malaysia's Hanizam in his #72 A31 put on an aggressive display to overcome Thailand's Nittapal in his #24 A31.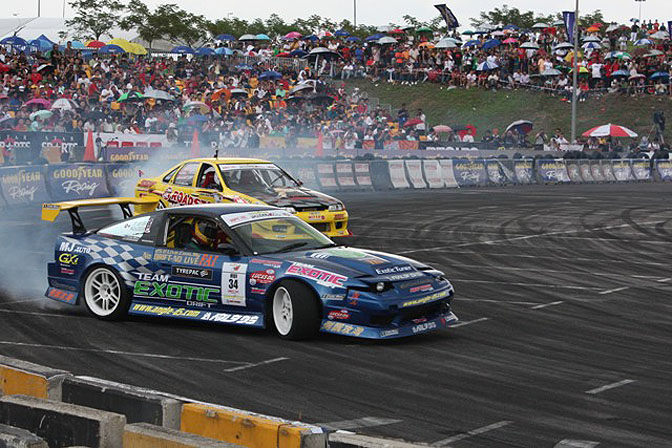 Ser Ming , "Ah Fai" to his friends, is seen here pulling his blue 180SX away from Thailand's Chaiyos in the round of 32. Ah Fai is a familiar face in the Malaysian scene and finished in the Elite 8 for FD Malaysia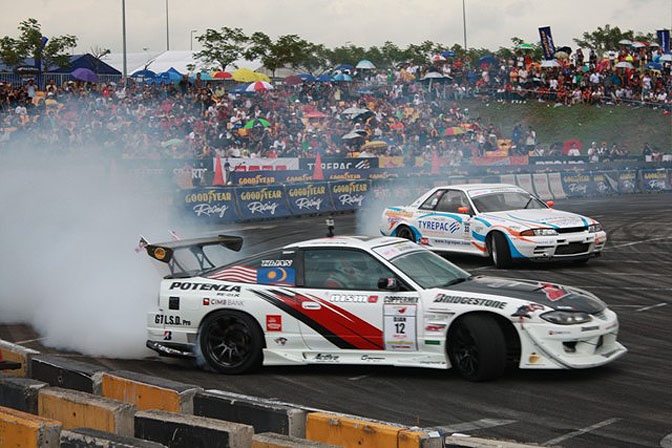 Tengku Djan, Malaysia's Prince of Drift, in his S13.5 (180SX with S15 front conversion) was unstoppable the whole weekend with his precise lines and smooth transitions. He's pictured here taking out Ee Yoong Chern's R32 Skyline on his way to enter the top 8.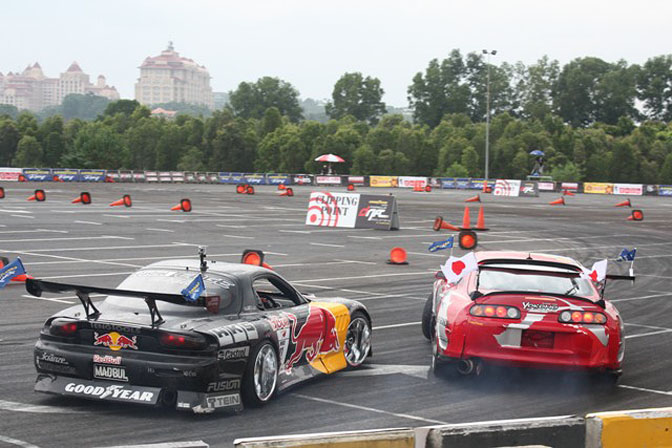 The most anticipated Top 16 battle was between "Mad" Mike in his quad rotor Madbull RX7 and Ryuji Miki's red Supra. After the two runs were over, cries of "One More Time!" erupted, with the judges obliging. Mad Mike's typically balls-out driving prevailed this time round.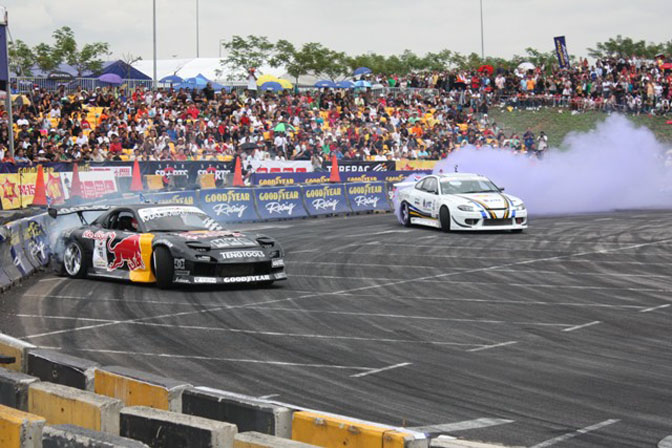 This shot shows how close Mike gets to the wall. Behind is Sak Nana Kiki, or simply "Kiki", initiating his Team PTT S15 in the Final 4 battle. Mike was eliminated when he accidentally t-boned Kiki, due to poor visibility caused by the tremendous amount of smoke threw out by Kiki's S15.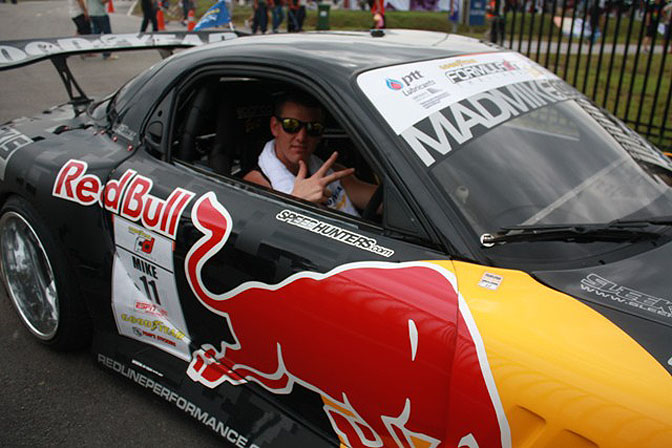 Mike eventually ended up in third place in FD Malaysia, proudly representing Speedhunters.com.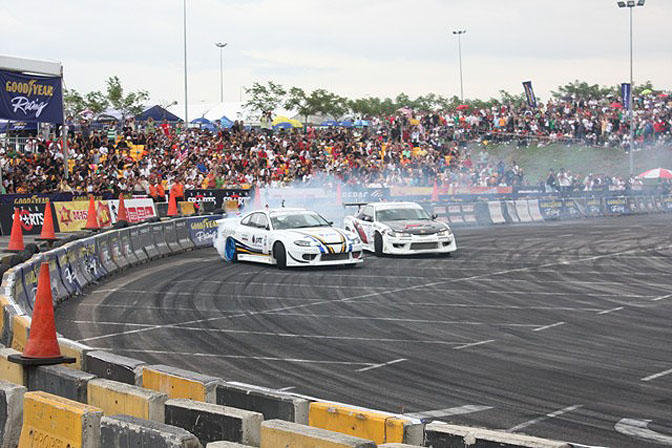 Tengku Djan demonstrated why his nickname was the "Tandem Assassin" when he practically glued his S13.5 to Kiki's S15 in during the final showdown. The home crowd goes wild when Djan was announced as champion of Formula Drift Malaysia!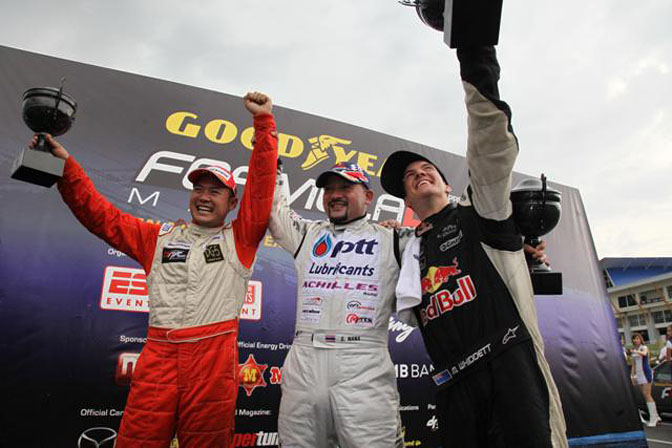 The Drift Kings celebrates after their well-deserved victory! From left to right: Tengku Djan (Malaysia), Kiki (Thailand) and "Mad" Mike (New Zealand).
All three are the best drifters in their own countries and the geographically diverse podium finish showcase how far Formula Drift has come in Asia.
(Sidenote: Kiki is relatively unknown in Malaysia but he is one of the top drifters back home in Thailand and when he was in UK in 2004, he founded the UK D1 Championship. Check it out a write-up by UK newspaper The Independent on him here.)
Tengku Djan, who finished all three Formula Drift Asia events on the podium and 2 first places, threw a final challenge to the rest of the field:
"I'll see you guys back here next year!" 
-Gabriel Tan