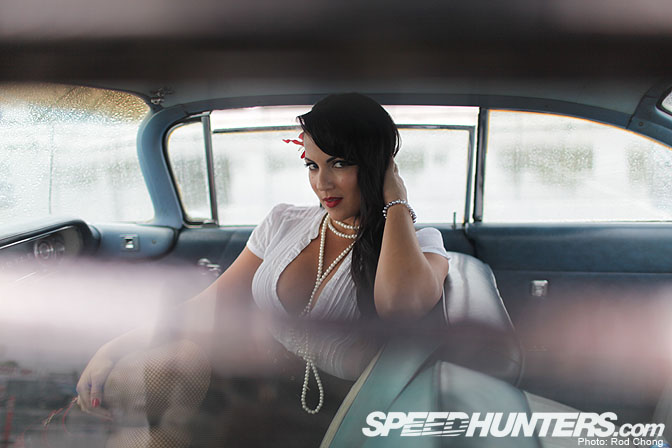 Let's continue to look at the Speedhunters coverage from the Mooneyes Xmas Party 2009. I'll start things off with a few shots of Tania Simon, who accompanied us as a pinup model for the day. Linhbergh was planning to do a big shoot with her and Courtney Day at the show but unfortunately the weather hampered our plans.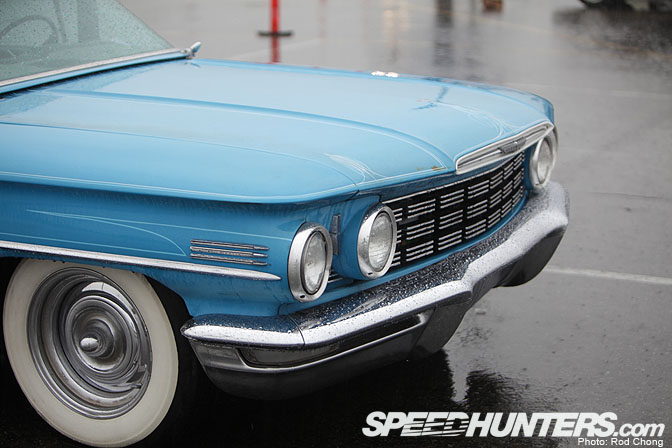 I ended up having to quickly photograph Tania inside this 1960 Oldsmobile.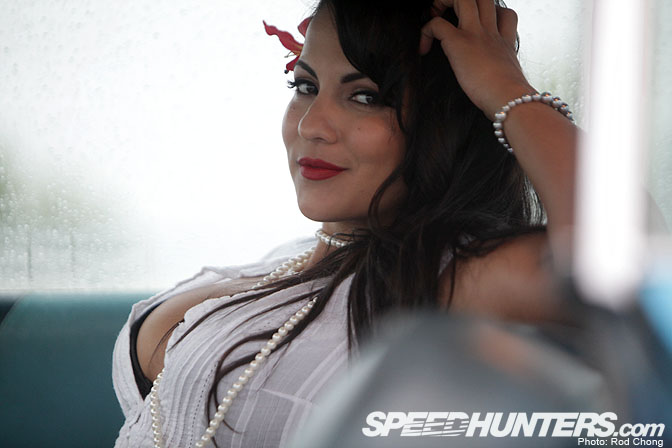 We didn't have much time to get into a groove, but still ended up with some sexy looking photos to work with. BTW If you guys are interested we can arrange more of these pinup shoots when the Speedhunters attend Hot Rod/Custom events or shoot more Rod/Custom car features.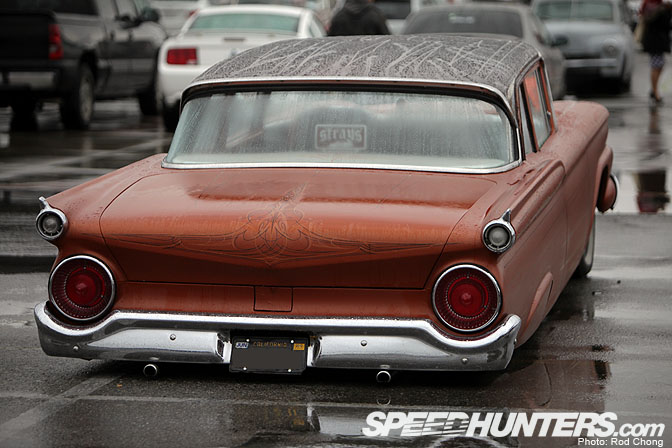 Pinup style girls and associated fashions are of course a big part of custom culture, along with many other elements including rockabilly music, vintage collectables, period specific interior design and tattoos.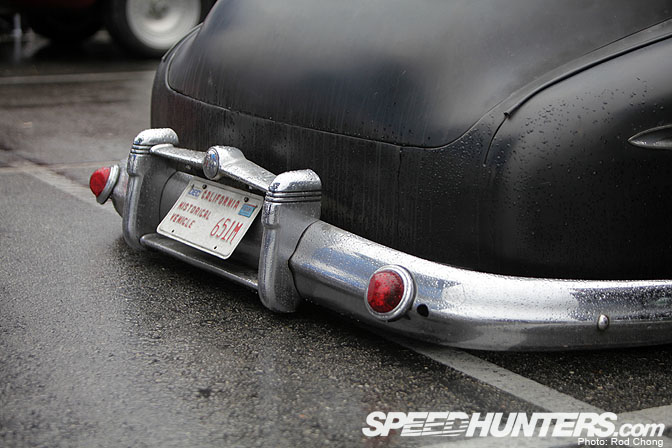 Depending on how hardcore you are, it's possible to lead a completely retroactive lifestyle.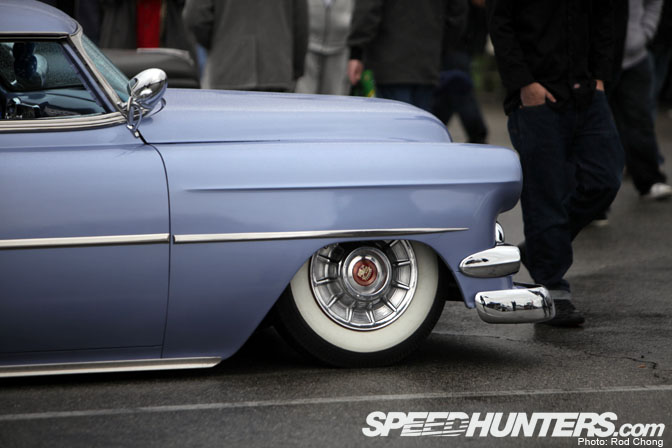 Others prefer just to focus on the cars and let their machines do the talking.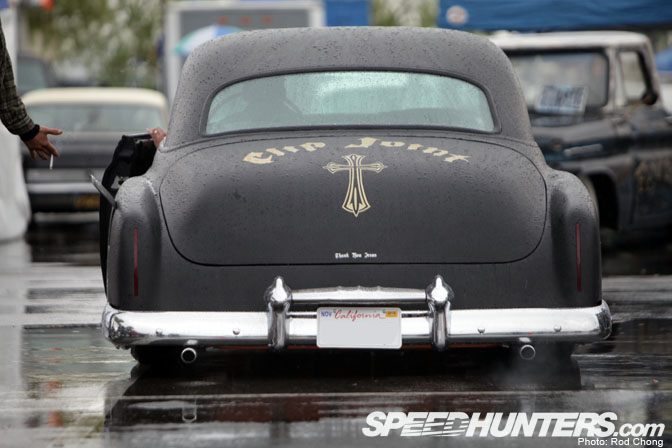 Personally I love it when an owner's personal style is as visually striking as their car!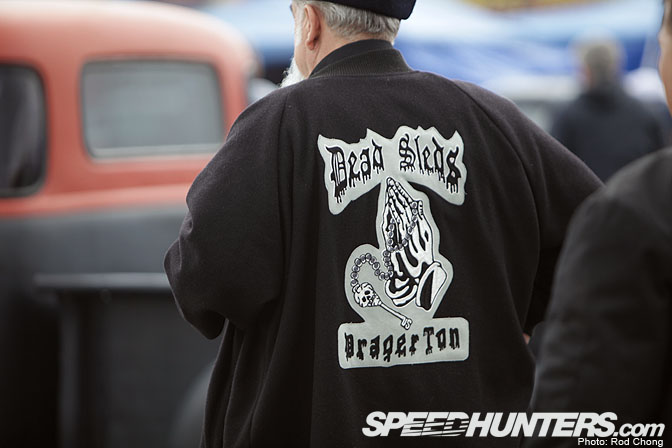 One thing you'll see at shows like Billetproof, Mooneyes, Viva Las Vegas are the car club members proudly wearing their team jackets.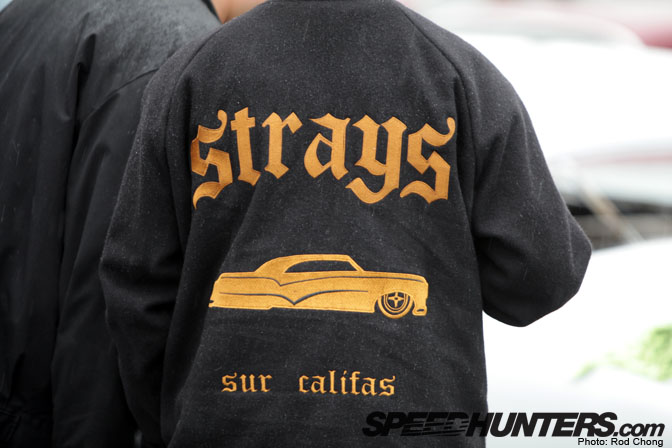 This gives a strong visual presence to any of the car owners. Many of them have a bit of a tough guy image that could make them a bit intimidating to approach.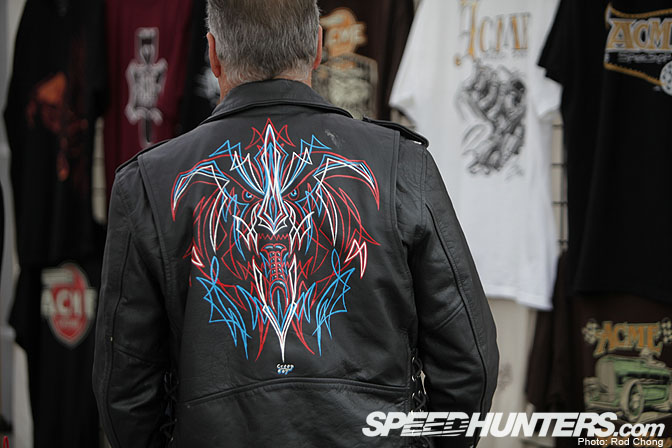 But most are some of the nicest people you could ever hope to meet.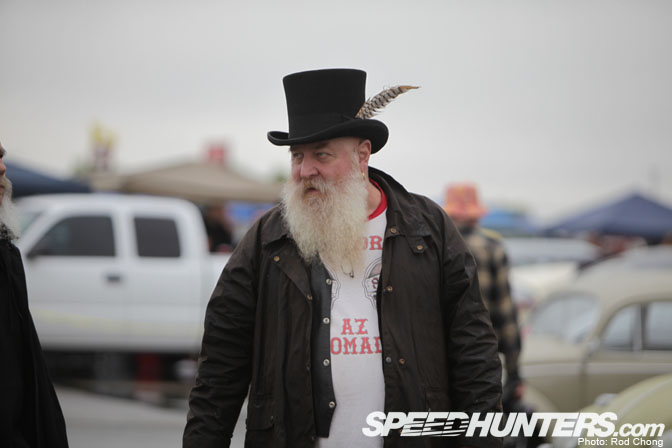 I suppose, once you get past the maverick looks, they are at heart car-people…. And from my perspective, these are some of the best type of folks to meet and chat with!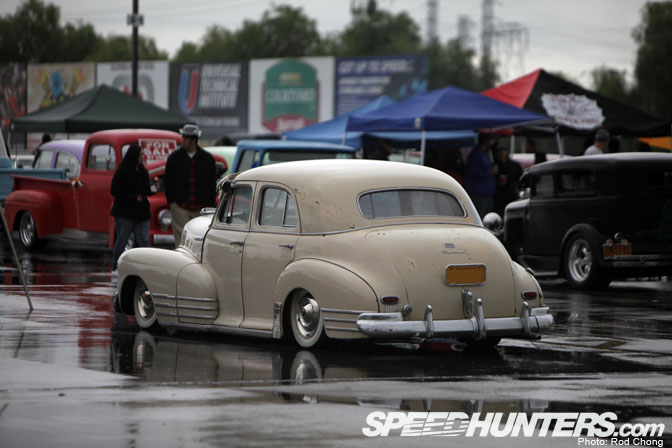 In the lowrider world, this late 1940s Chevy Sedan would be considered to be a "Bomb". This style of car is the earliest form of the classic lowrider.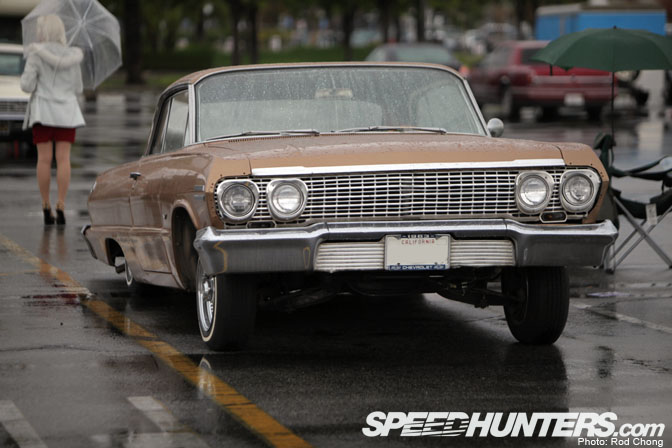 This '63 lowrider was almost looking out of place surrounded by row upon row of customs. (Note the pinup girl in the BG)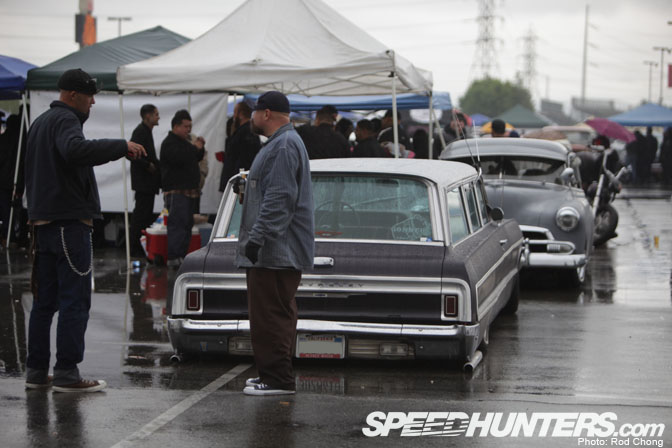 Mind you some of the cars were halfway between custom and lowrider.
BTW We've been researching this phenomenon since last week's show and it appears this blurring of cultures has been happening for a few years now and is taking pace.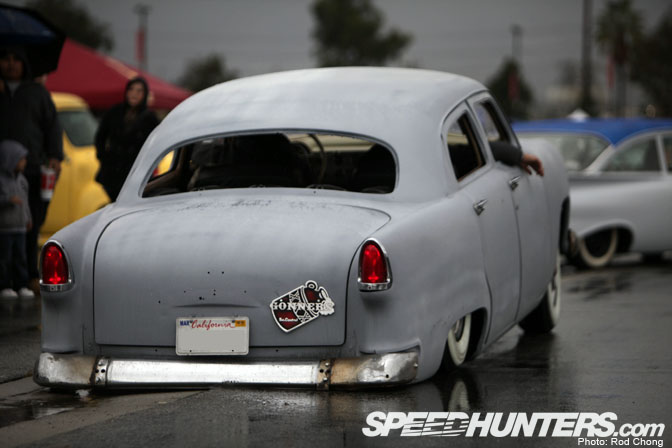 This windowless, ground scraping Ford shoebox sporting '55 Chevy rear tailights is a good example of this merging of scenes. The two hispanic kids driving it were blasting out hiphop music as they attempted to grind away the car's rear bumper.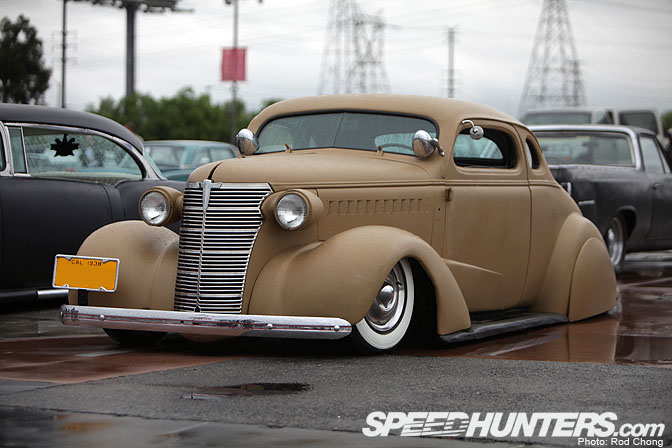 If you look back on the history of customs over the past few decades, there haven't been many people who have bothered to build early style machines in the spirit of custom pioneer Harry Westergard.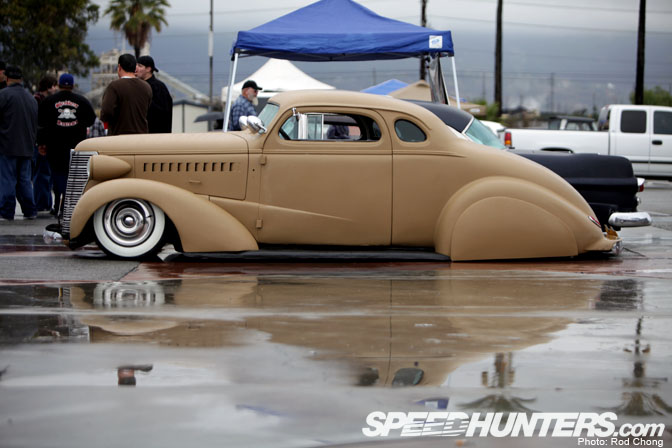 It's only more recently that cars which previously would have received a hot rod treatment are being built up as customs instead.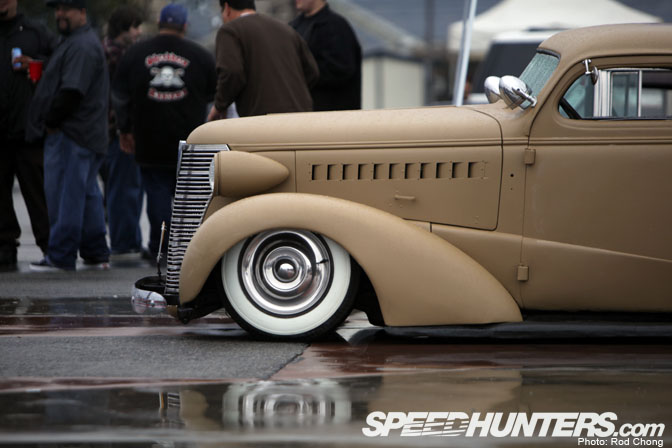 This '38 Chevy from the Shredders crew is a perfect example of a modern take on an early style custom.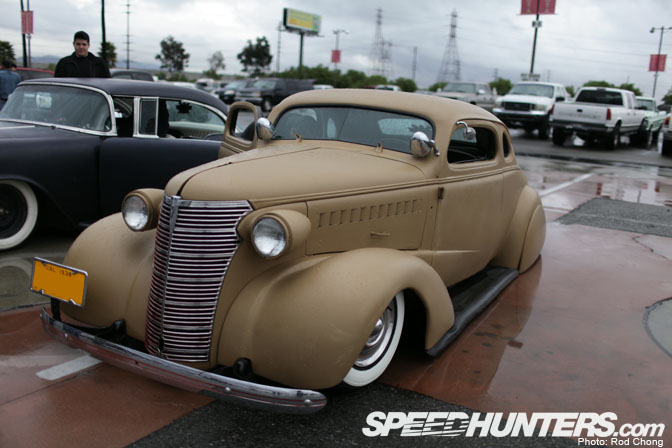 It's also a fantastic convergence of Art Deco style and the automobile.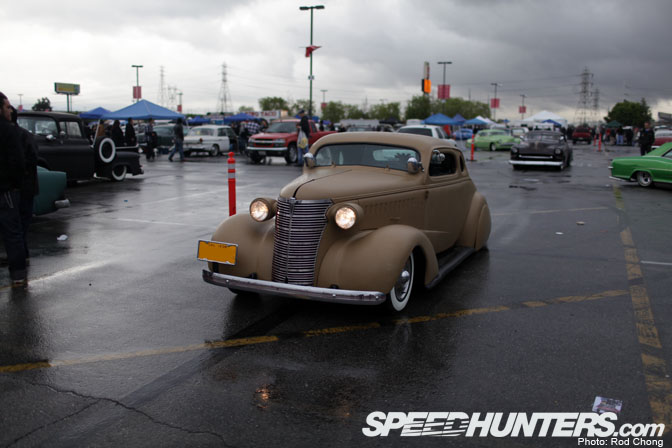 I hope that Linhbergh is able to arrange a proper full feature shoot with this car and its owner soon!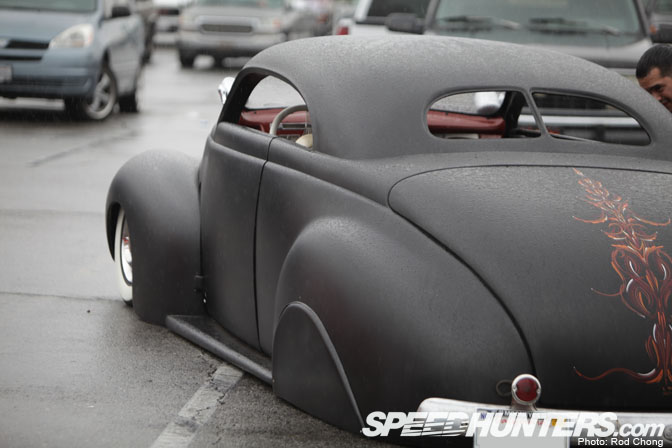 Here's another shot of the 39-41 Ford Custom I showcased earlier this week. There isn't much you can criticize about this car!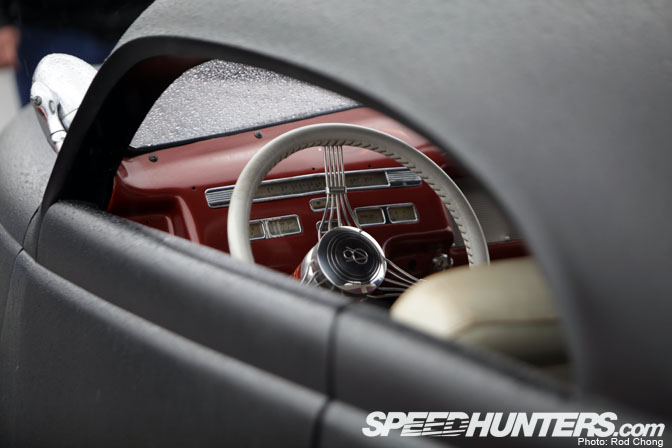 Cockpit as art…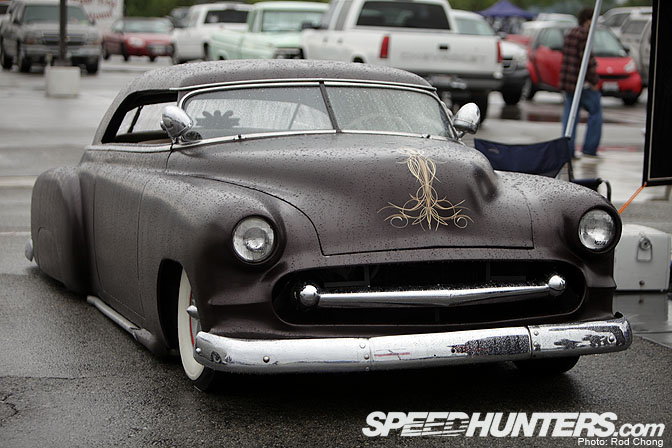 Personally speaking, I find the 49-54 Chevrolet to be the type of custom I hope to own one day.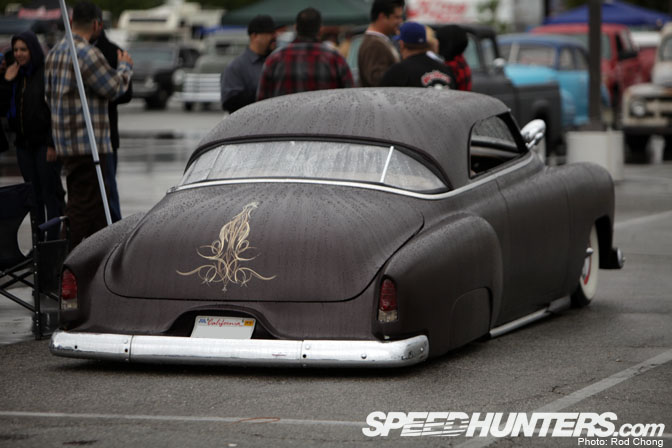 It's one of the best platforms to build a traditional period accurate (minus the air ride) look.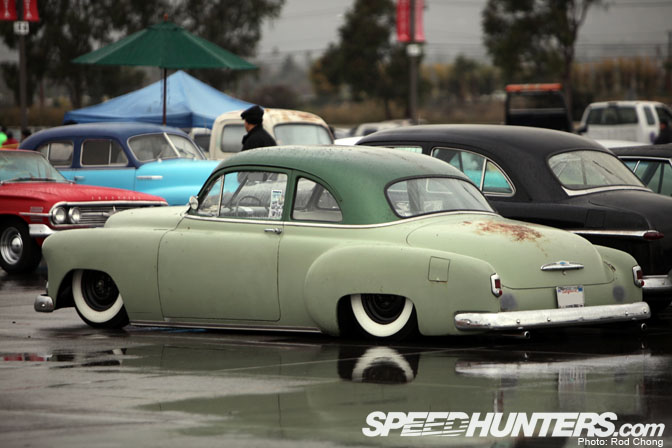 Here's another example -unchopped but super slammed.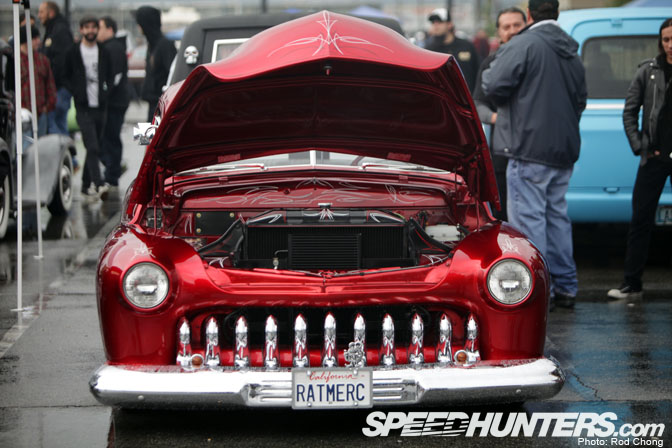 This Mercury is anything BUT a Rat! Perhaps it used to be primered…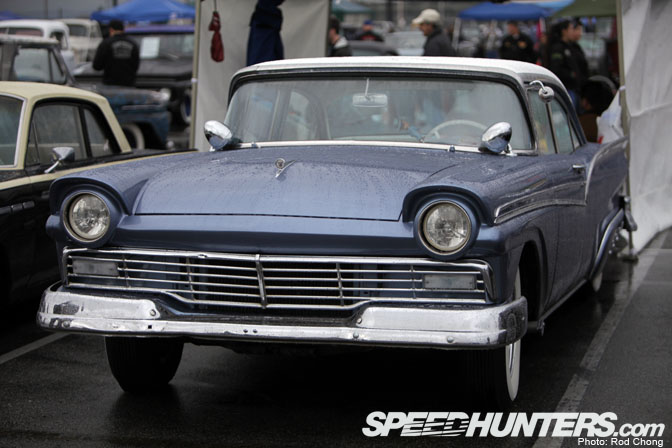 Here's a car you don't see at custom shows very often: a '57 Ford. Interestingly this car was more popular than the '57 Chevy in its time and actually sold more numbers that year. It's ironic how this car is now considered to be a less desirable a machine to the Chevy.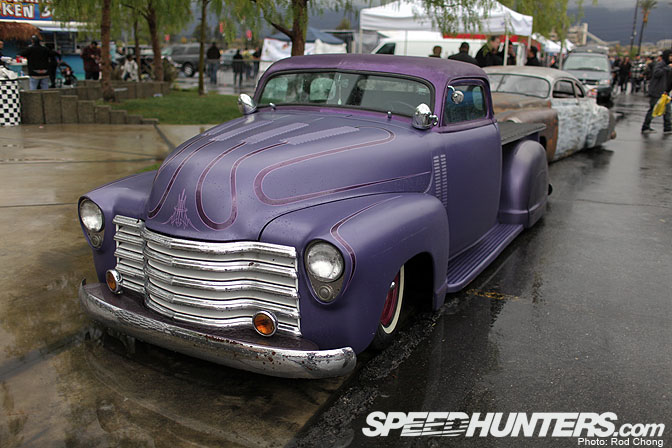 Yet another custom pickup…. This time in satin purple. One reason that pickups are becoming so popular to build as customs, is because they're far cheaper to purchase than the more sifted through models like 49-51 Mercury Coupes.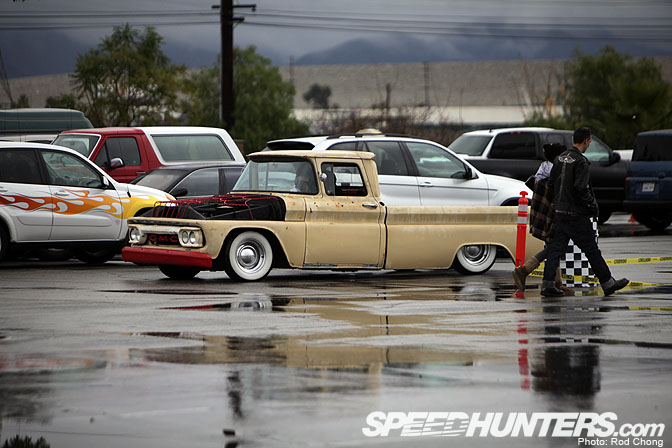 Check out the red spider web covering the engine bay on this GMC pickup!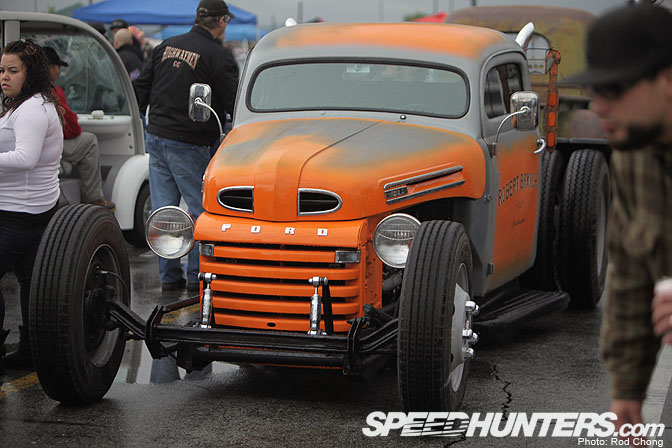 … for a different take on the definition of "Hot Rod" here is a crazy extended wheelbase, fenderless "Truck Rod". That's pretty imaginative!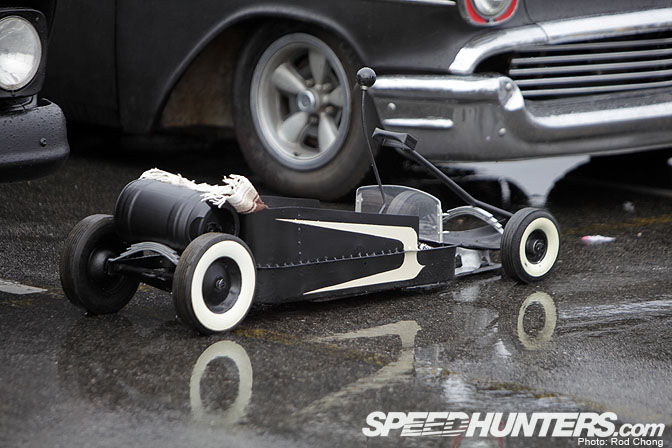 A few people had some low slung Hot Rod baby carriages on display. Gotta get 'em started early huh?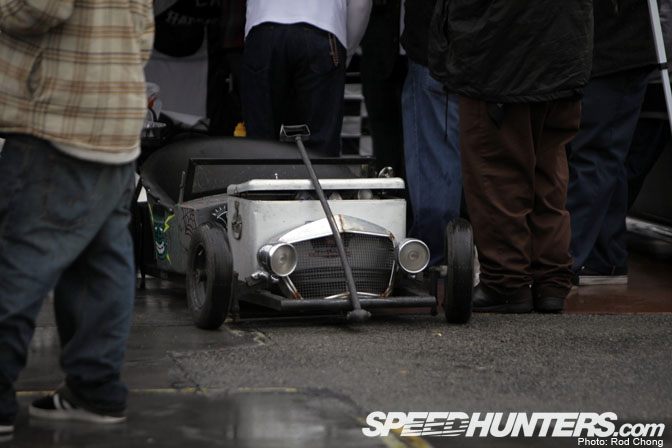 This is the Shredders crew's take on the baby carriage. So cool!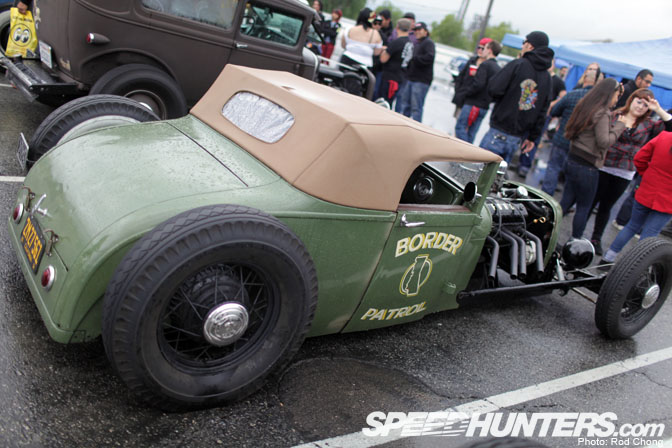 A few more shots of the Border Patrol Roadster…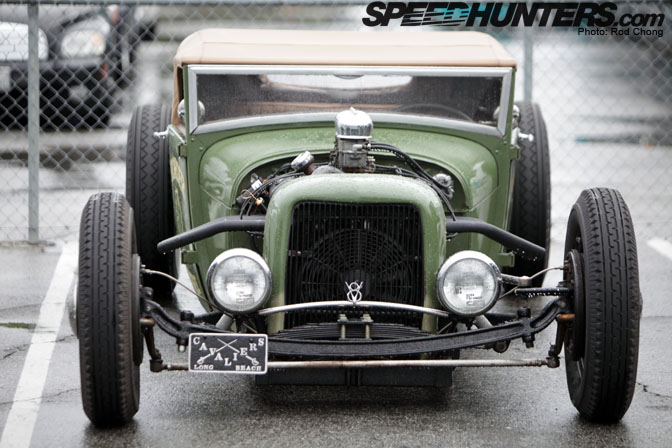 This is a fantastic example of a new school Traditional Rod. Tidy.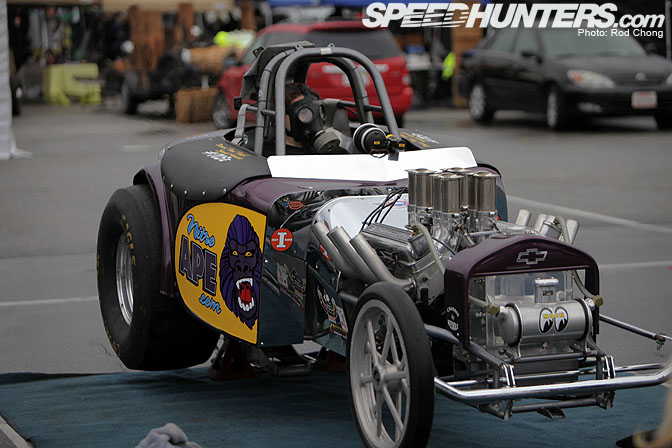 There was supposed to be a big cacklefest display at Mooneyes, but only one old school dragster showed up. The rain kept the rest of the museum pieces away.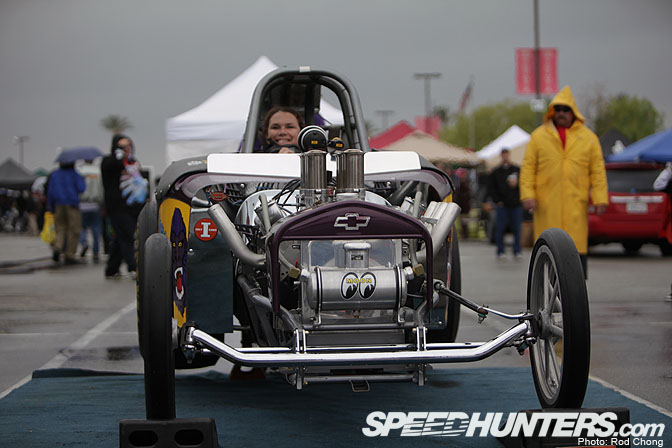 The basic idea with a Cacklefest is to start up a line of old school nitro burning machines and rev the hell out of the engines. The effect is further pronounced if the cacklefest is done at night as you'll see huge flames shooting out of the zoomie exhausts.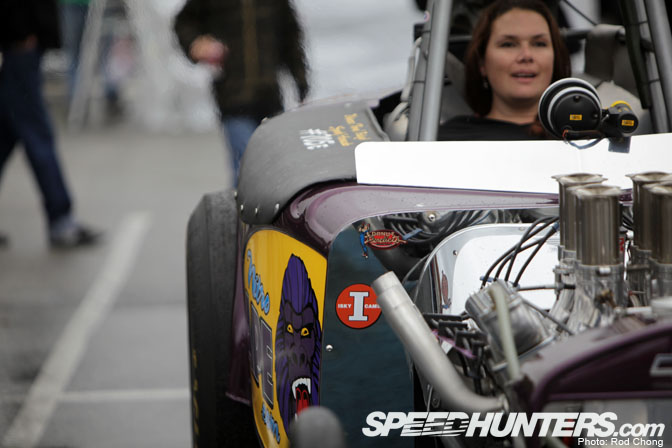 This old Bantam Altered was emitting a pretty fearsome roar… I can only imagine what a line of 20 revving dragsters would sound like!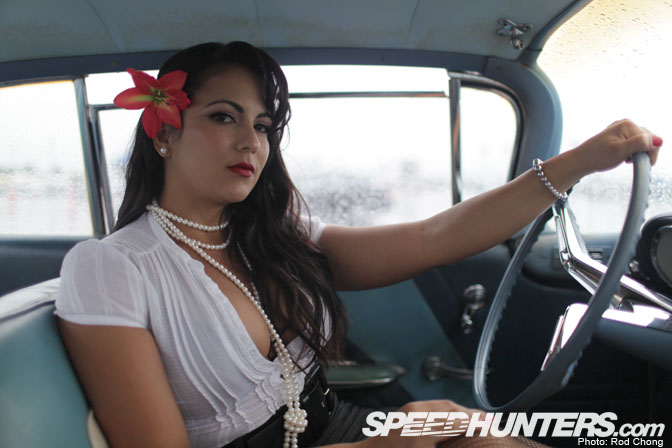 I'll leave you with another shot of Tania Simon… enjoy and I'll be back soon with some car spotlights from the event.
:R