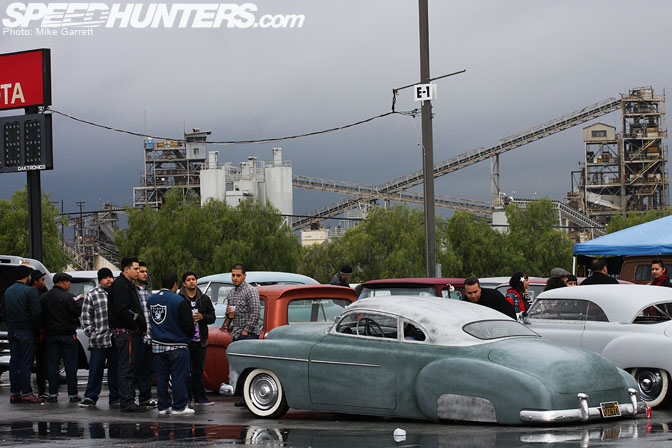 I just got home a few minutes ago from a day of Speedhunting with Rod at the Walden Speed Shop in Pomona – concluding what's been an eventful a few days of California hot rod and custom culture. It all kicked off on Saturday with the Mooneyes X-Mas Party at Irwindale Speedway, and even though the rain kept some people away, there was still plenty to see in the flooded parking lots of the speedway.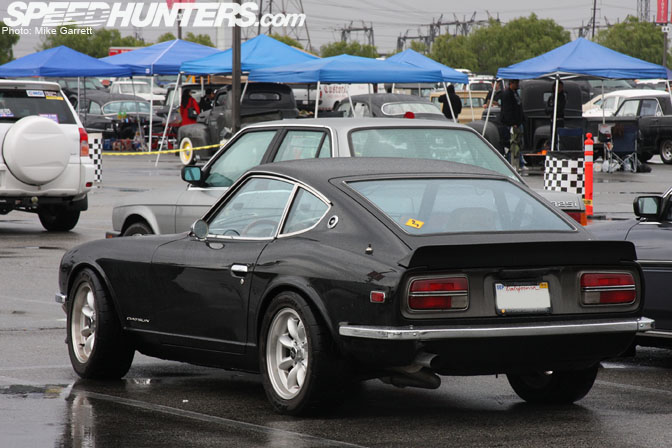 Now coming from Japan, I'm a bit used to Mooneyes events having a wide mix of cars – but the X-Mas party is all about pre -'65 American hot rods and customs. So when I spotted this beautiful 240Z in the parking lot it made me wonder how well a "Street Car Nationals" type event would go over here in California? In Japan the "domestic" guys seem to get along with the hot rodders quite well, but that isn't always the case here.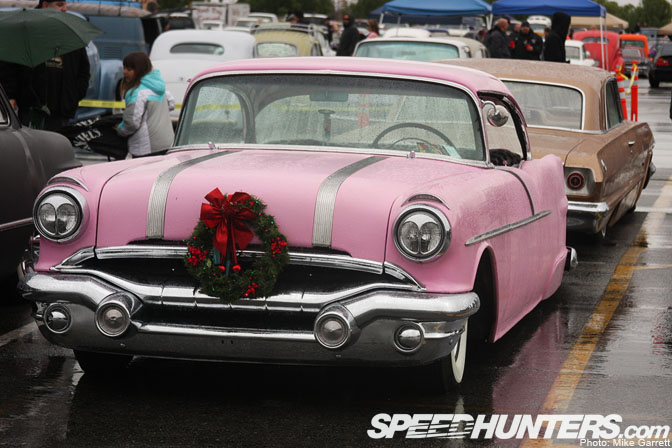 This is the Mooneyes X-Mas Party after all, so there were plenty of cars decorated for the holiday – including this smoothed out Pontiac. It's really at about the mid '50s where my knowledge of cars gets better, but I'm making an effort to familiarize myself with the older models now. Then again some of these cars have so many body modifications that it's tough to identify what model they started out as. Time to break out that Car Spotter's Guide…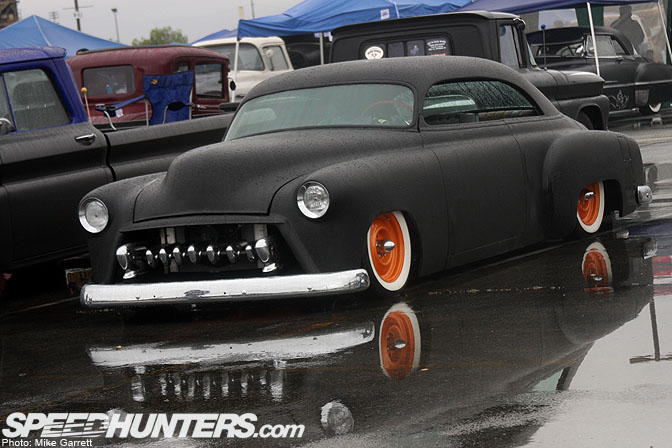 But as Rod said earlier, early '50s GM's, especially Chevys are becoming the car of the choice among the crowd. Relatively speaking, these cars can still be found on the cheap compared to more traditional models like the '49-'51 Merc.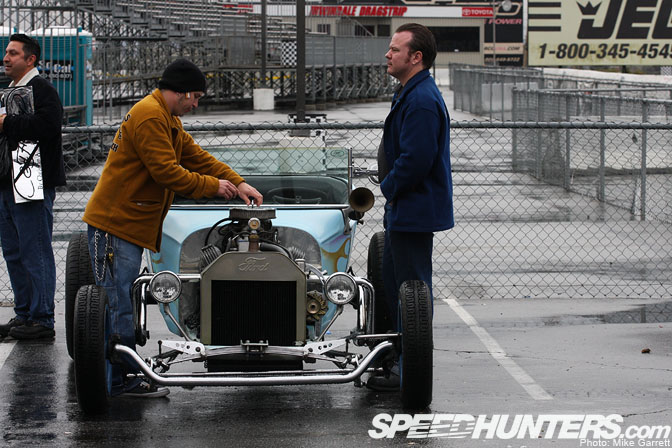 While the weather didn't seem to bother the cruisers too much, the wet stuff forced the cancellation of the 1/8 mile drags and cacklefest. Cheater slicks and puddles of water have never been a good a pair…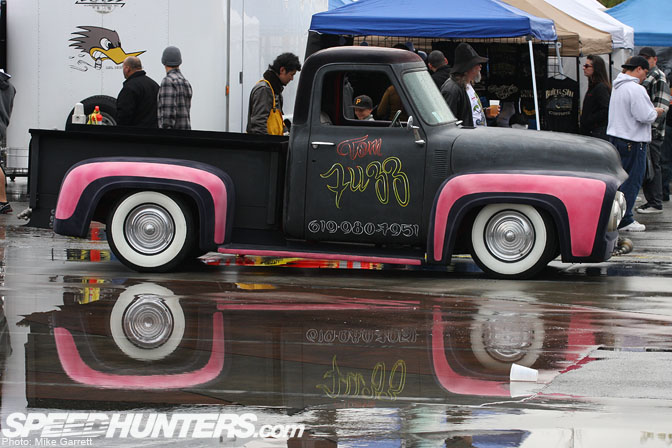 But the clouds and rain did add a unique element to the show, and a big change from the bright sun we get 99.9% of the time here in LA.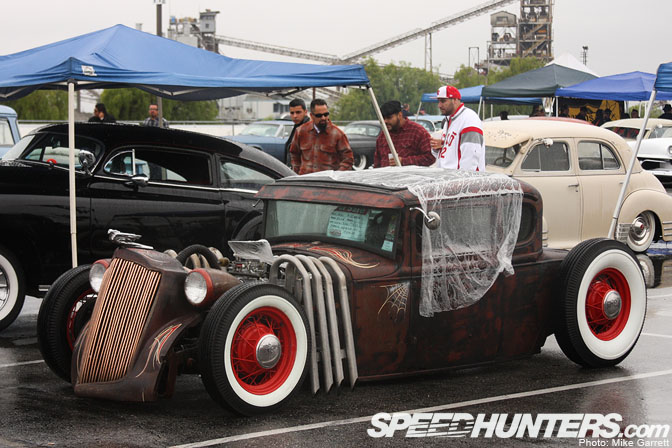 Now some people consider these home-built rods to be a handful to drive even on perfect roads, so imagine what it's like driving one through standing water on the freeway. Amplify the danger by about 300% for LA, where motorists freak out when the sky starts to drop that mysterious liquid.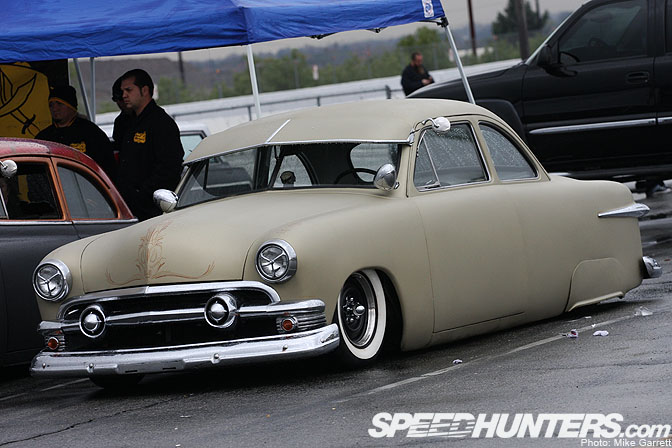 Like many of the cars that made it out, this Shoebox has had its windshield wipers removed in the name of that smooth, cool look. Again, not a problem except for the five or six days a year it rains in Southern California…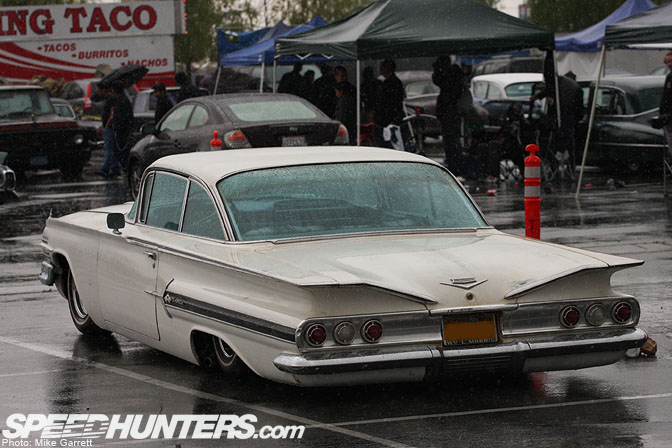 The raked, "low in the rear, high in the front" look seemed to be pretty big this year. Whether it was a mild example like this '60 Chevy coupe…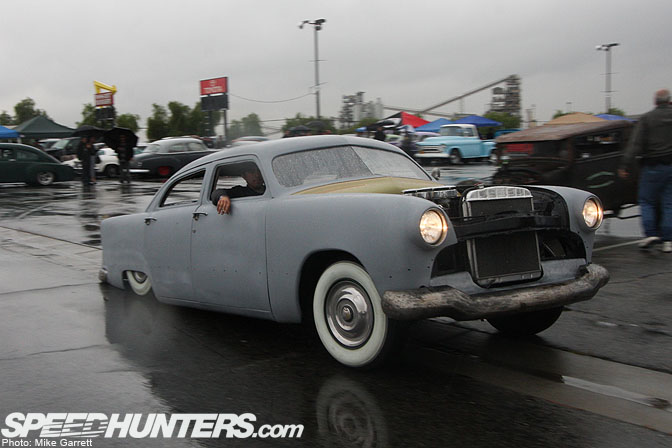 …or the tail-scraping antics of this this primered four-door sled.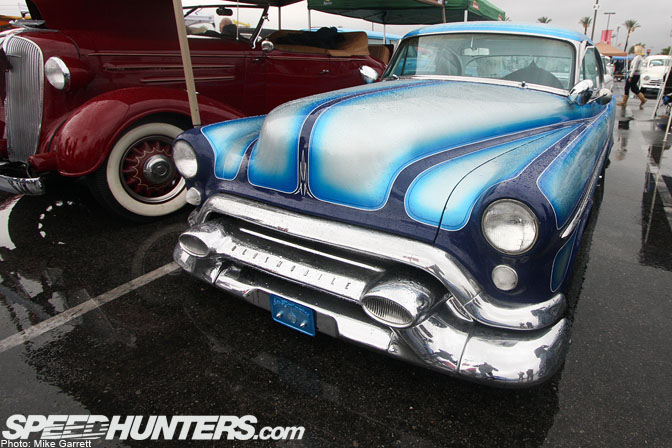 Other cars had much more serious paintjobs, like this Olds decked out in period graphics. The boldly-colored cars really stood out against the backdrop of dark skies.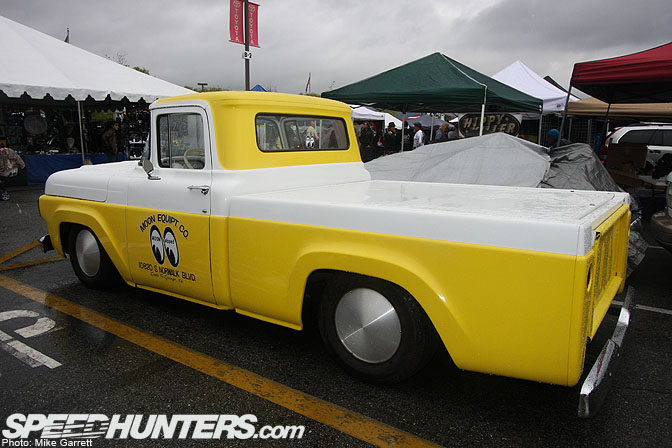 Every hot rod shop needs a parts hauler, and the Moon Equipped Ford gets the job done in style.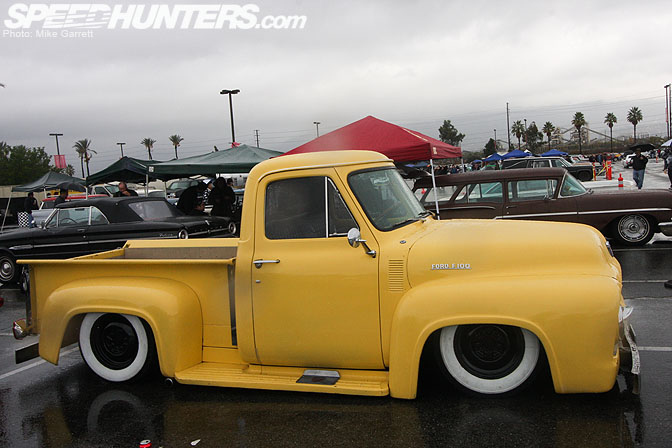 Pickups in general are a huge part of the scene these days, and this bagged F100 on wide whites and steelies is a prime example of this.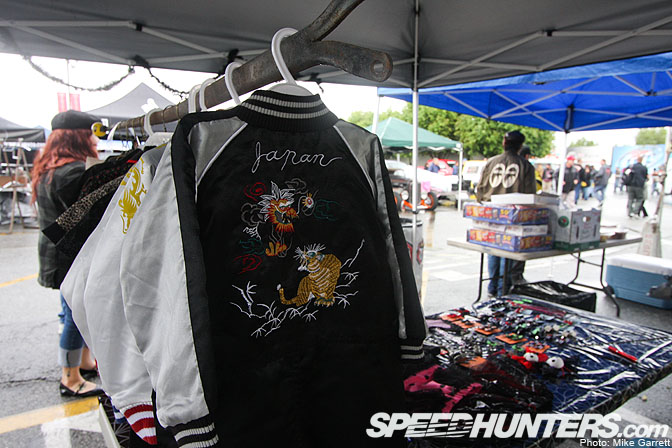 I didn't have much time to browse through the vendor booths (my bank account thanks me), but I did get a kick out of these authentic sukajan jackets from Japan.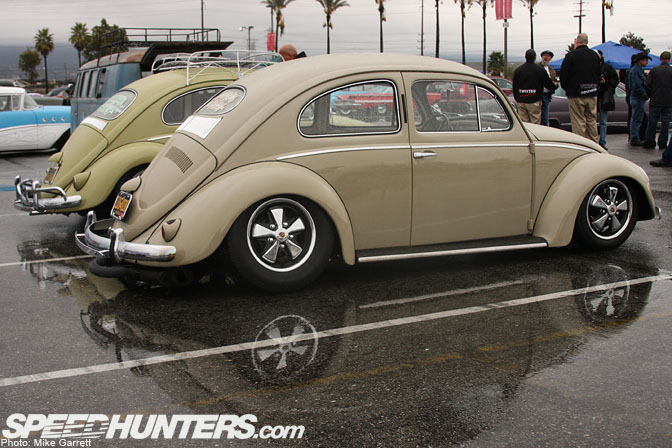 This small group of Volkswagens made the up pretty much the entire import representation at the show. In Japan customized VW's are a big part of Mooneyes events, seeing their California roots.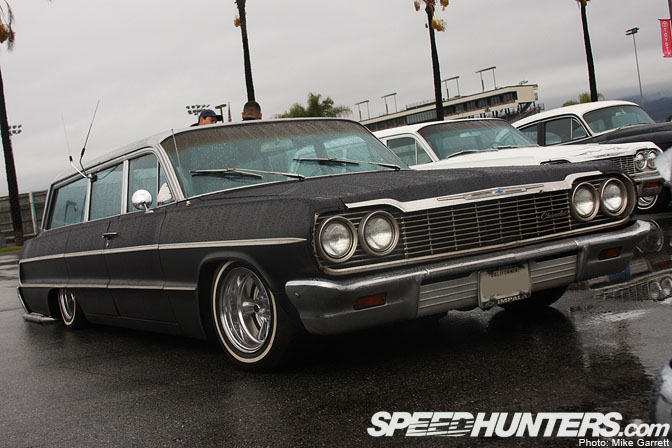 This slammed '63 Chevy Wagon is another example of the mixing of the lowrider and custom scenes that's been happening over the past couple years or so.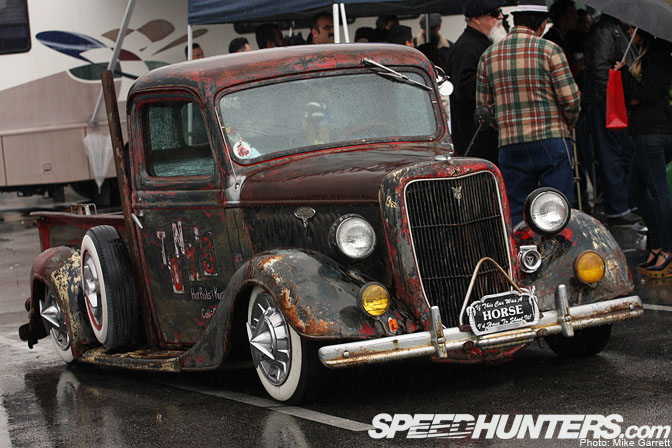 The emblem on the bumper really says it all – "If this car were a horse, I'd shoot it."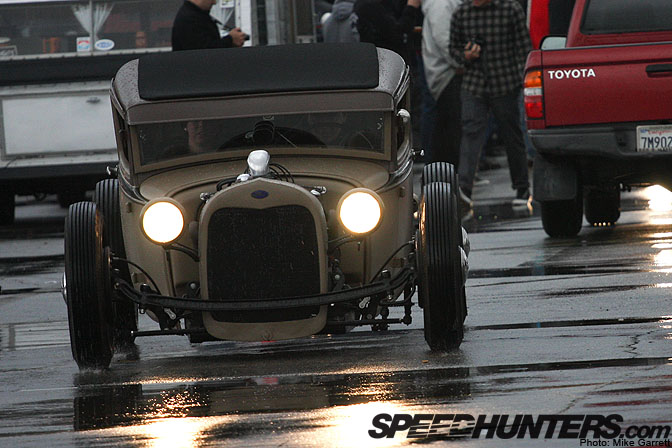 The reactions any well done hot rod gets (whether its a modern suicide machine, or a more traditional piece) get when it drives down the road are incredible. Now if we can just work on getting a hold of one for a Driving Impressions story…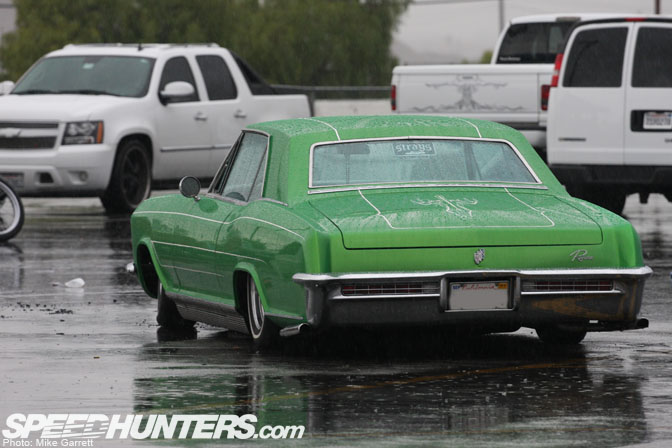 Being born in the 1980's, I'll never be able to see a car like this Buick Riviera as being "too new", but that's just how a lot of the traditionalists see these '60s machines.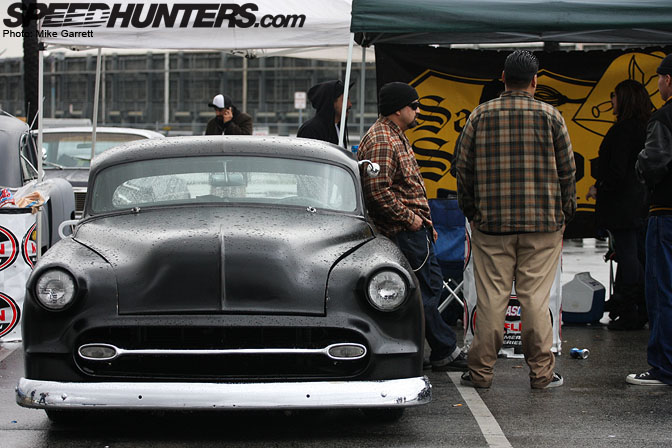 Alright, time to run and grab some dinner now. We have much more from the Mooneyes X-Mas Party coming this week…
-Mike Garrett