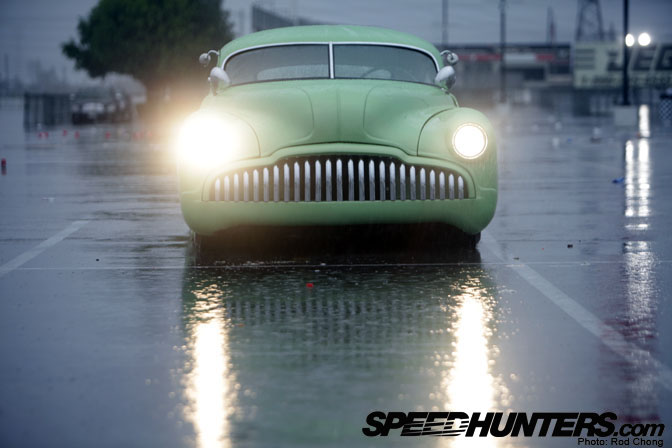 "Everything you know about motorsport is wrong"… this is a thought that kept flashing through my head the first time I saw drifting at Irwindale Speedway. It was a wet and cold evening in December 2006 and I was witnessing full blown D1GP drifting for the first time. This was an experience which was to change the course of my life in many respects as it was the first time I came in touch with the relatively new motorsport and it challenged everything I held to be dear and true about car racing.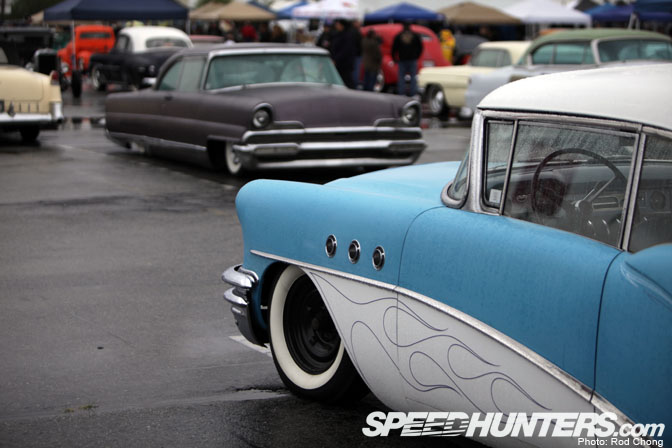 Yesterday, it seemed like Irwindale had yet more lessons to teach me, but this time about traditional Rod & Kustom culture. Now I've been an observer and follower of Hot Rodding since I was a kid building Custom, Hot Rod, Funny Car, Altered and Gasser model kits in the 1970s. I've pretty well been an avid reader of Hot Rod magazine for over 3 decades.
But in attending the Mooneyes Xmas Party at Irwindale yesterday, I
got the sense that my relationship to Hot Rodding and Custom Culture is
about to go through a bit of a metamorphosis. It's one thing after all
to have book knowledge of something, but quite another to
participate directly in a scene.
I've been aware of the new "traditional" lifestyle for a while now. It was first brought to my attention when I started reading Old Skool Rods and Car Kulture Deluxe
in the mid 2000s. But I had yet to see it in the flesh…. until now
that is!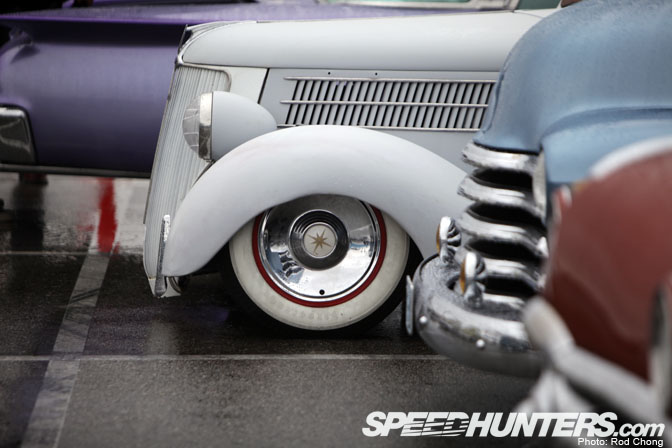 We've been planning out our 2009 Mooneye's extravaganza on Speedhunters for a while now. Dino was to attend the Yokohama show, while Stateside, Mike and I would provide event coverage at the Mooneyes Xmas Party. In addition to this, we also collaborated with Joyce "Mama-san" Lex to style two pinup girls for Linhbergh to shoot at the show.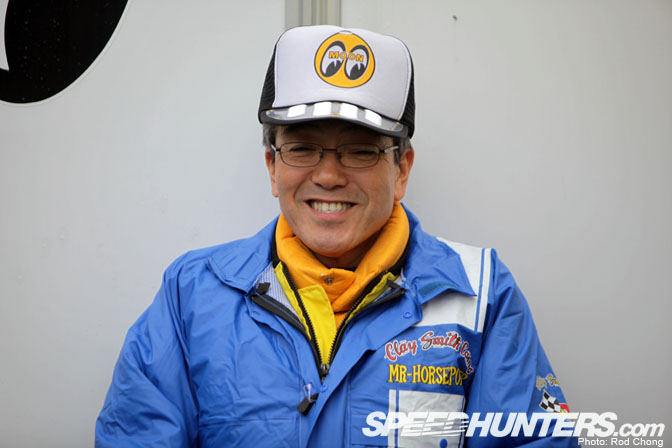 Some of you may recall that we met the owner of Mooneyes, Mr Suganuma-san at Bonneville this year. So we got in contact with him and made all the necessary arrangements. Everything was planned out beautifully!… that is, until we checked the weather forecast… Rain, rain and more rain was expected and this threw some question marks into the air. Was the show going to be cancelled?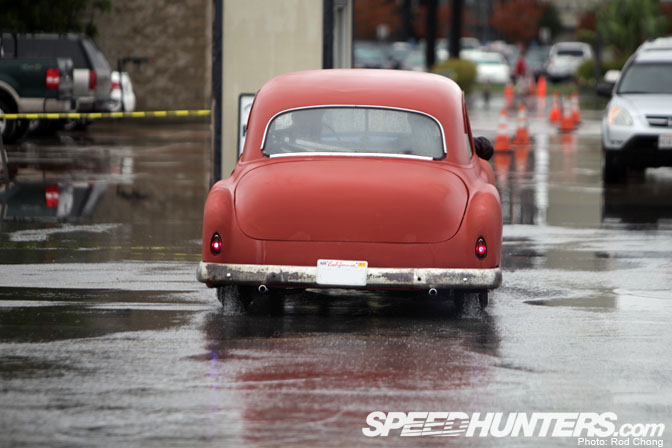 Thankfully some portions of the show went ahead, but it was pretty a pretty soggy affair and likely kept many cars and people away. This was the scene when I first arrived at the show: a flooded parking lot.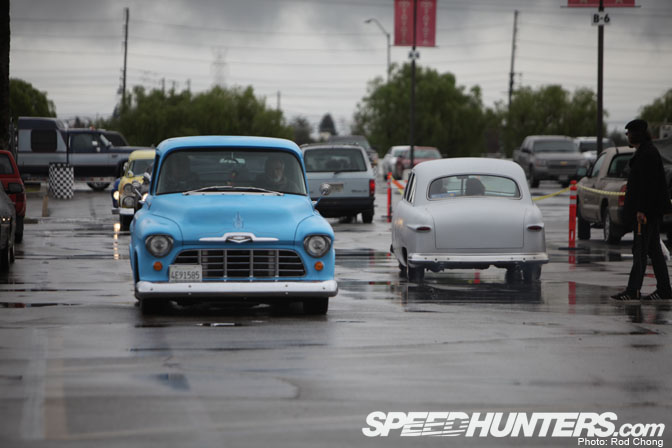 There seemed to be a steady stream of classic cars both leaving and entering the soaked event.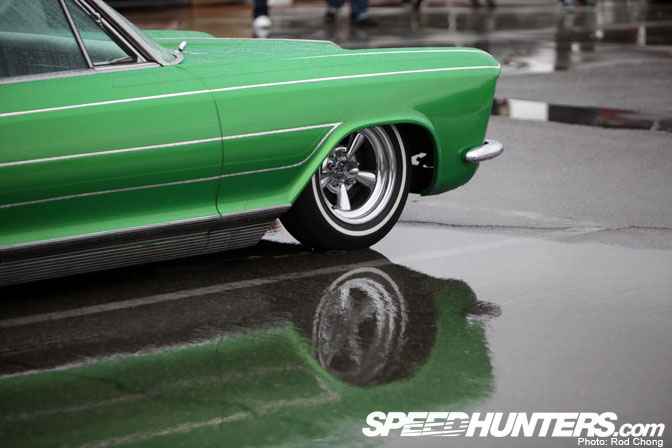 It did lead to an amazing visual atmosphere though…. Many photographic opportunities there were.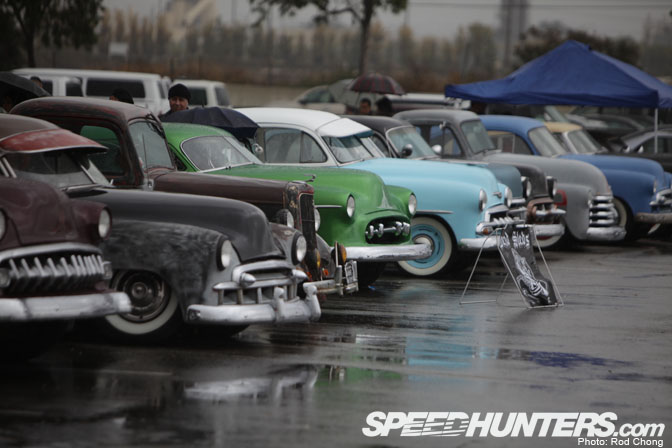 "Everything you know about Customs and Hot Rods is wrong"… As I entered the show it became pretty clear this is a very different type of scene from the style of Rodding which has dominated this universe for the past few decades.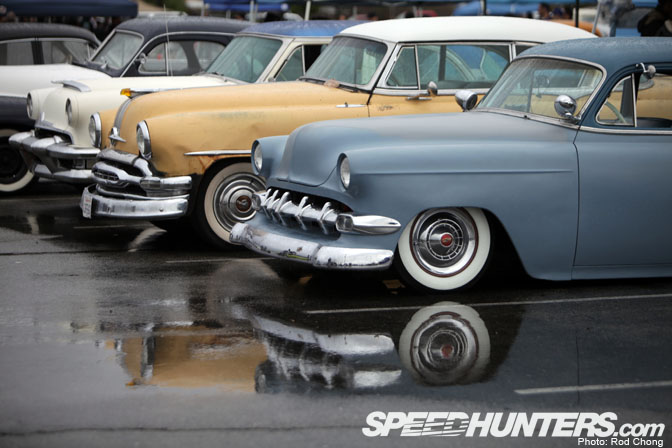 I felt like I had been transported back to a parking lot scene from the 1950s and the original Rod & Custom movement.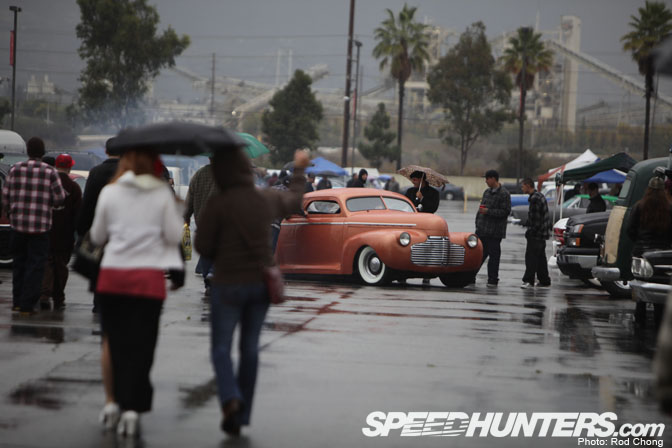 As I gathered my thoughts, a '40s style Custom fired up and pulled out from its parking sport.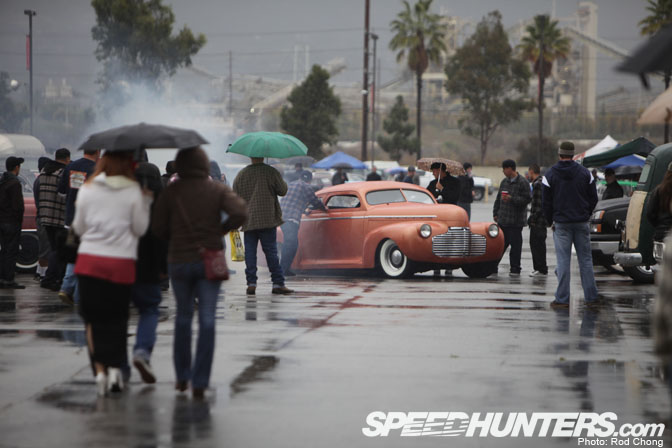 A crowd of young guys gathered around, and the car started to rev its engine.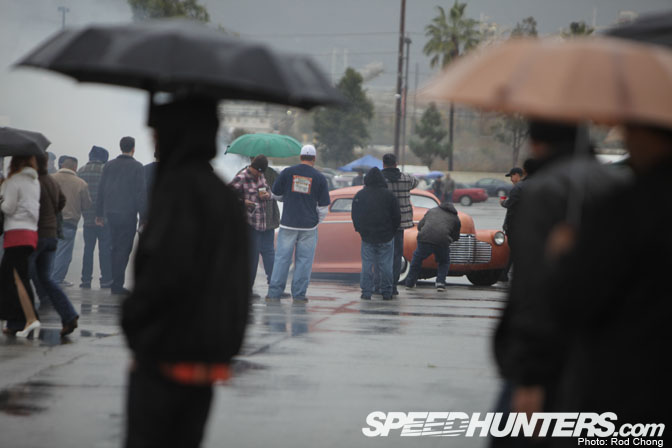 Smoke started to bellow from its rear tires and a larger crowd started to gather. I seriously doubt such rowdy activity would occur at a proper old man's hot rod event now would it?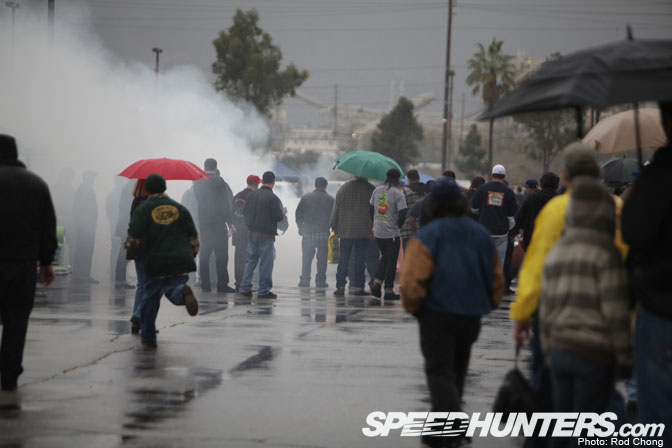 Take note of something here: The crowd of people is mostly young men in their 20s, 30s and 40s. Ahhh that explains the behavior.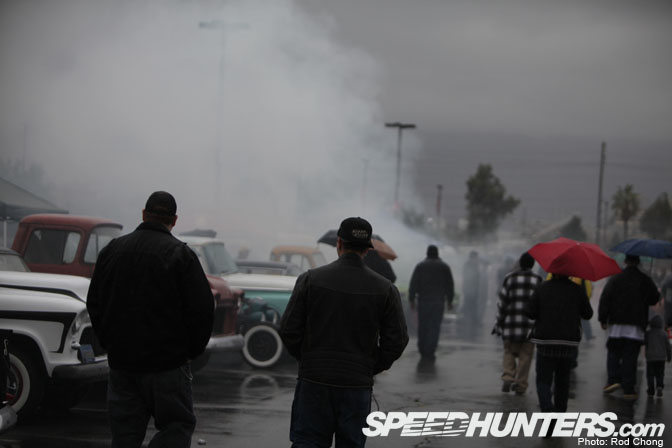 As the familiar smell of burning rubber filled the air, I observed that this was definitely a change of the guard.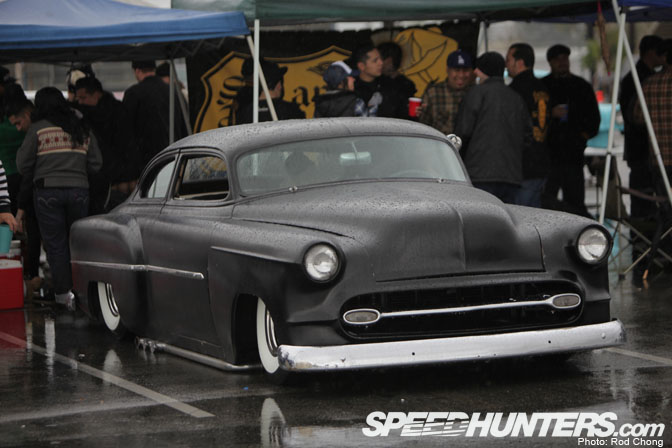 Case-in-point: look at the crew standing behind this dropped 53-54 Chevy.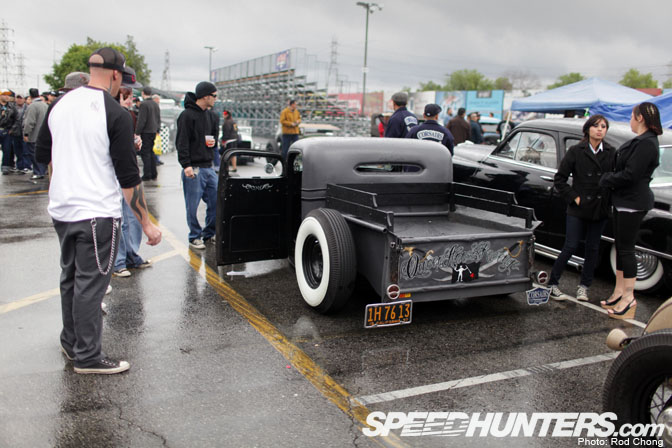 Same goes for the group of young people around this chopped and dropped pickup.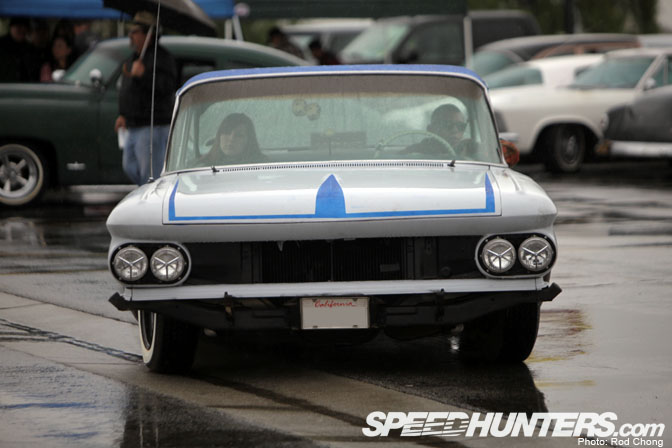 Check out the couple in this dechromed '59 Chevy… They're definitely part of a wider pattern here.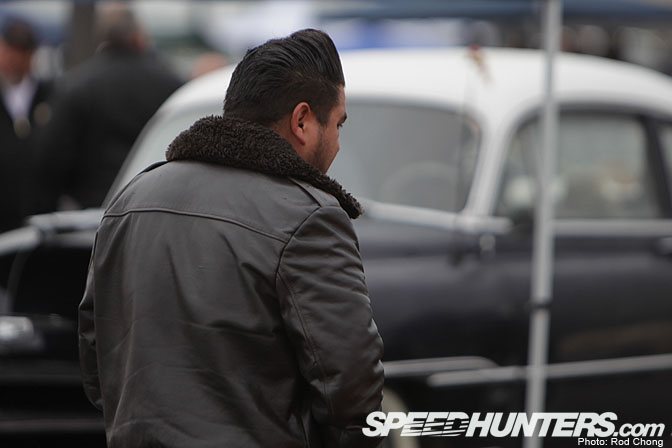 Not only do people in this world create period specific machines, but their also fashion their own personal style after a 1950s greaser look.
Ducktails, leather jackers, rolled up jeans and big black boots were the order of the day.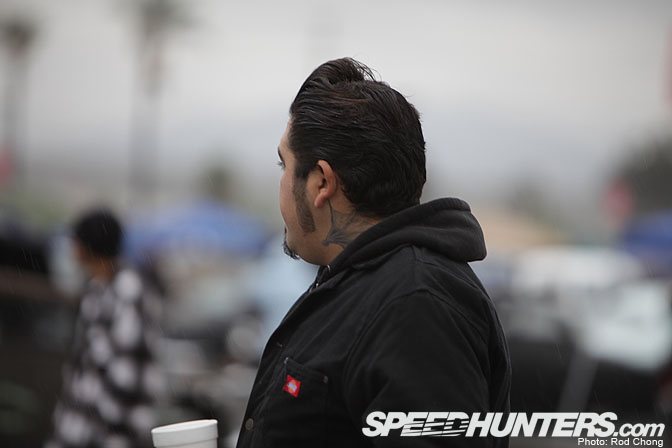 Of course there were some modern updates, like proliferations of tattoos. It made a lot of the guys look pretty tough and intimidating!…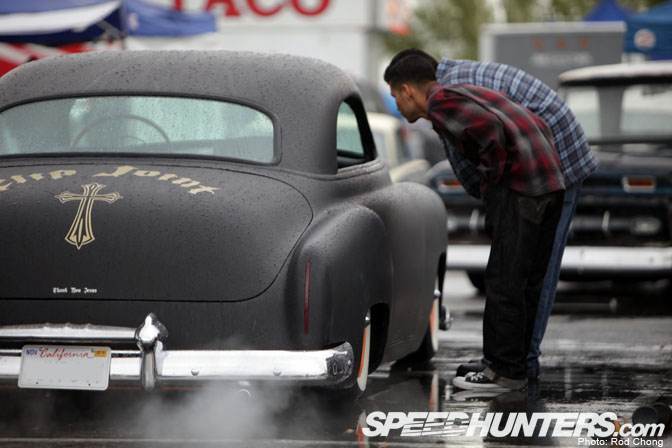 Converse Allstars and these checkered work shirts (flannels) also made an appearance too.
So for those who think that old cars are only for old men, think again. This is an injection of new blood into the world of American car culture…. Hmmm I wonder if they all like the tv series "Mad Men" as much as I do?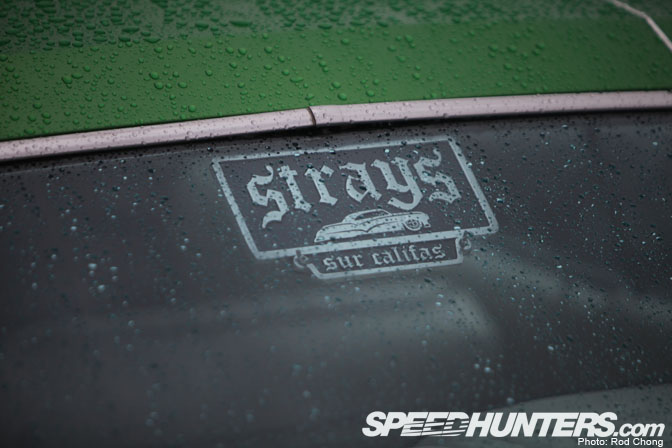 Most of the cars are part of car clubs and proudly display their membership plaques.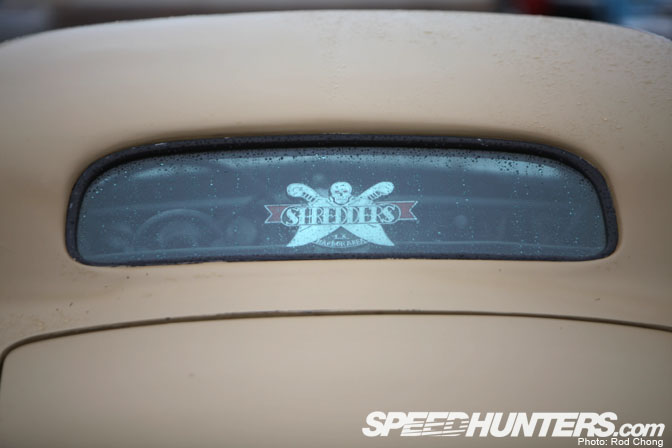 I was particularly impressed with the car style of the Shredders crew.
It was around this time that Linhbergh arrived to the show… looking a bit too Metro for his own good perhaps hahaha…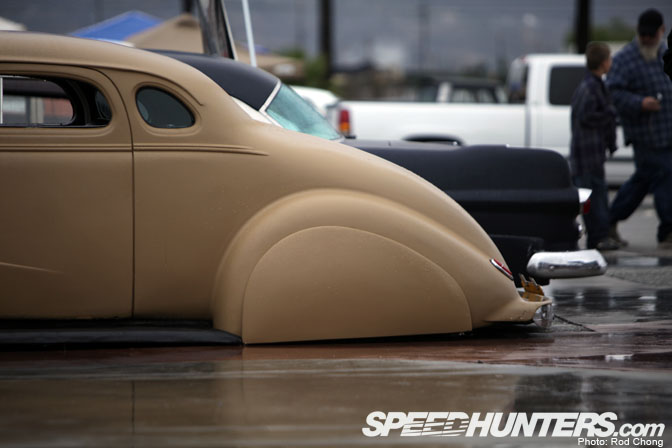 He's now arranged to meet up with the Shredders to shoot them and their cars. Look out for that feature in the new year.
Here's a little teaser of one of their customs… A proper tail-dragger!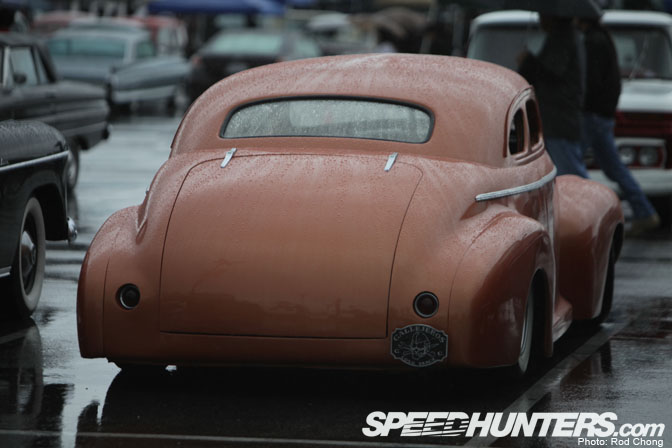 In fact there were a few 1940s style customs kicking around the show sporting their smoothed in fenders.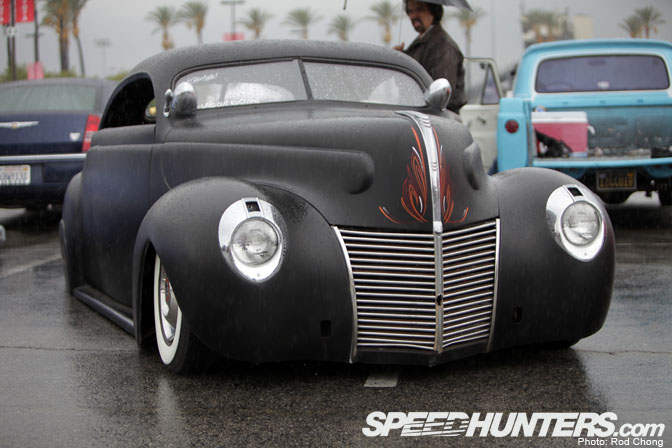 These are body styles which are normally taken direction street rod. 39-41 Fords like this are not normally given the custom treatment. Looks great though!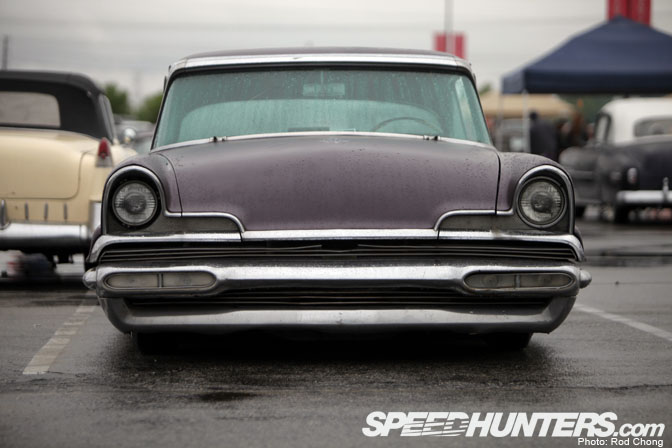 It's worth remembering that all of these traditional Rod & Custom cars have modern updates here and there… the most obvious one is air ride.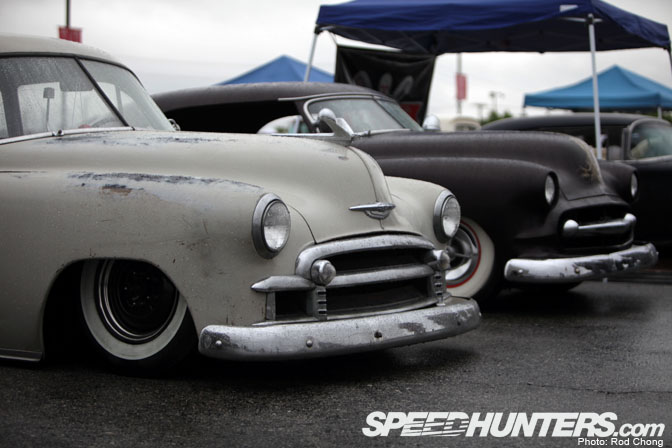 The Chevy on the left shows the modern taste for laying frame, while the chopped one on the right is rocking a more traditional stance.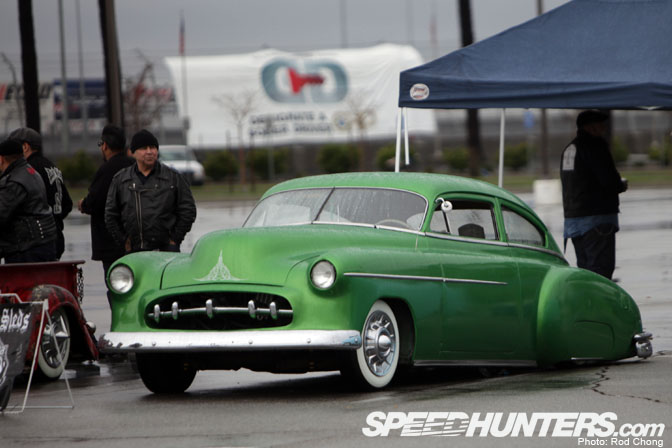 A lot of the cars were parked up with an ass down tail-dragger stance.
It's also worth nothing there were also a LOT of 49-54 Chevys kicking about. I'd say there were more of these cars at the shown than any other type of machine.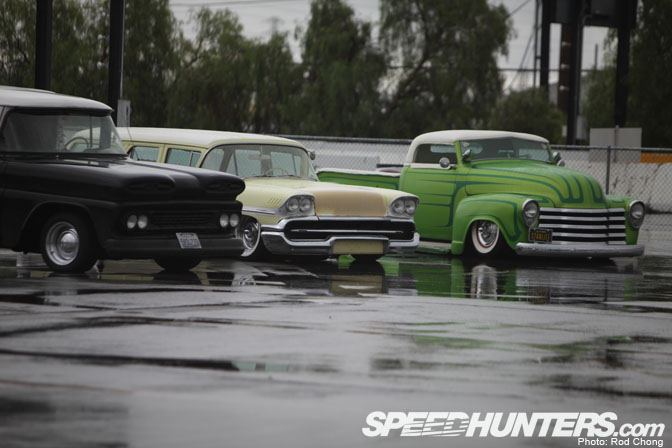 The custom pickup trend was also well represented at the Mooneyes Xmas Party. Mike and I quite liked the scalloped green Carson topped pickup on the right. Expect a spotlight on it soon, care of Mr. Garrett.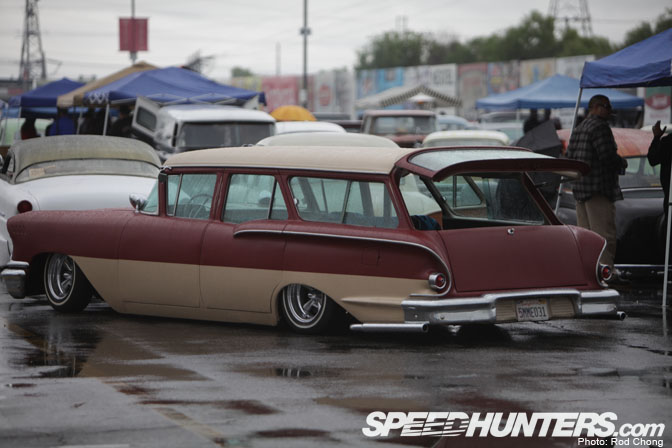 I also noted plenty of cars which blended together the definition of lowrider and custom. We saw many sets of Astro Supremes bolted to what would otherwise been considered a Custom machine.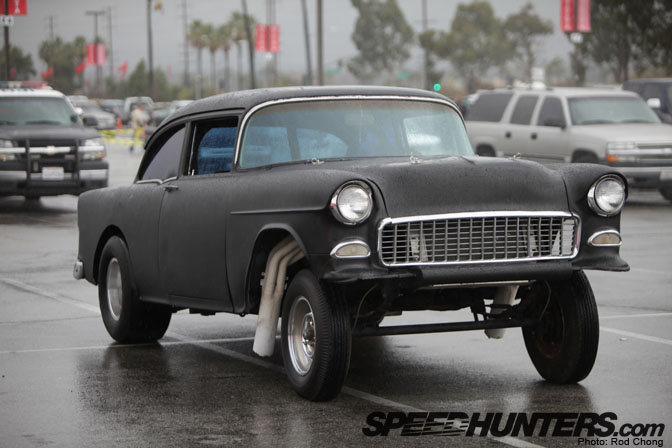 Looking like it had just stepped from a local mid 60s match race, this '55 was the only Gasser we saw at Mooneyes,. Personally speaking I think Tri-Fives are better suited to this style than a custom look.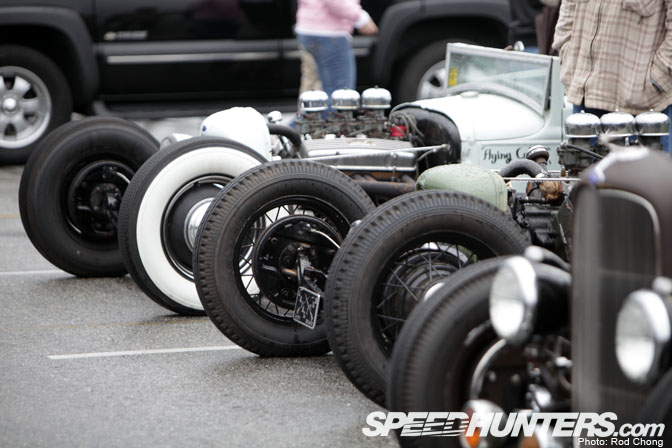 The Hot Rods were well outnumbered by the Customs. I'm not sure it if was the rain that kept them away or what but were didn't see very many yesterday.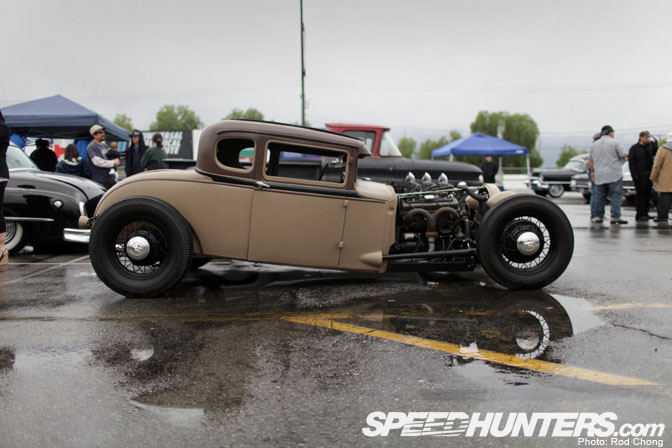 This one was worth a second look though.  Look at the extreme rake!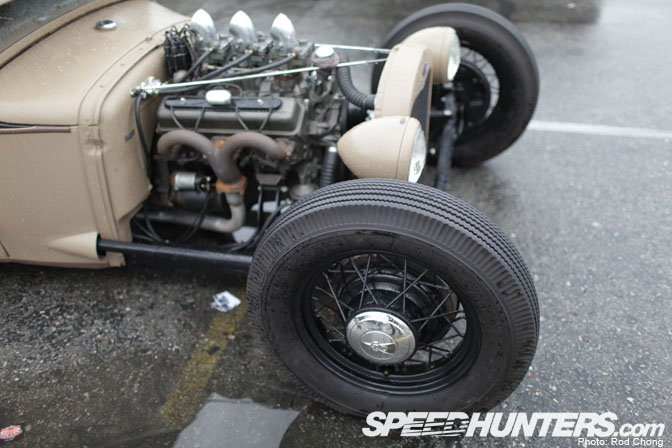 This is traditional as it gets for a new-old style Rod.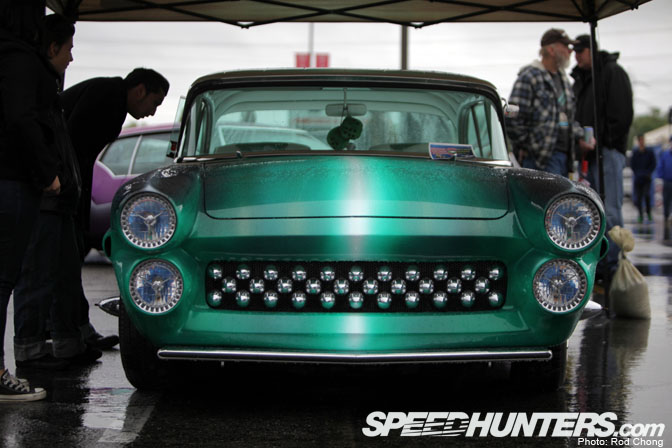 This is the Jade Idol II… something of a homage to the Gene Winfield original showcar, but also built by the man himself.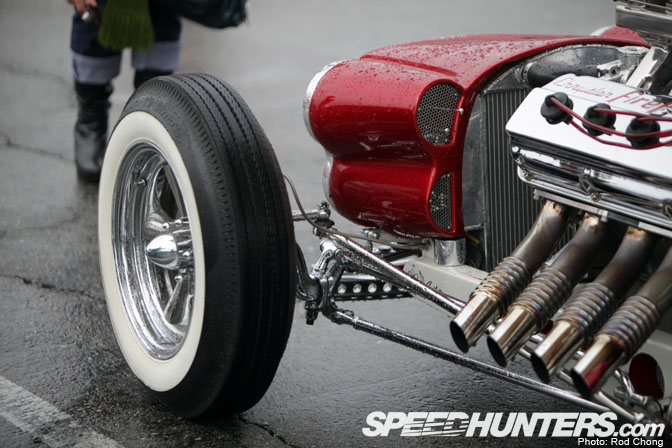 Here's a little sneak peak of an amazing Roth style show rod we'll be showing in more detail later in the week.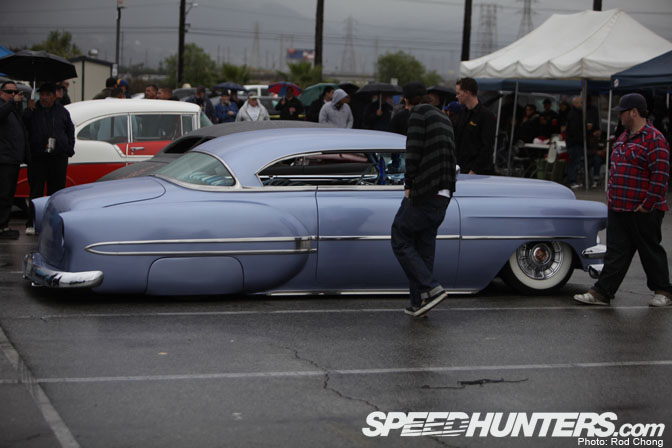 Not all the cars are the show were textured jalopies. This 53-54 Chevy coupe is an absolute vision of perfection!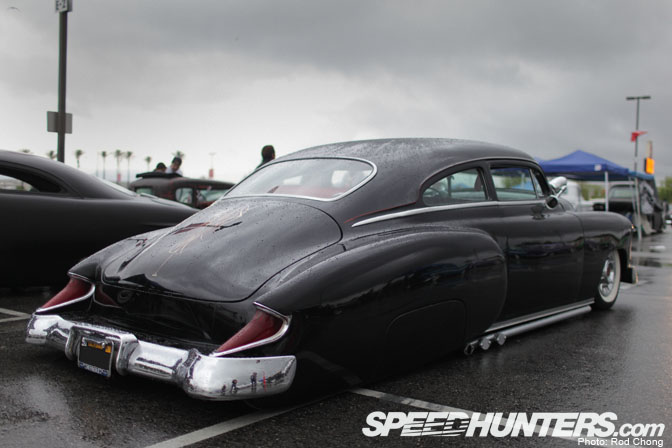 … As is this Chevy fast-back. It was easily one of the nicest customs cars at the show…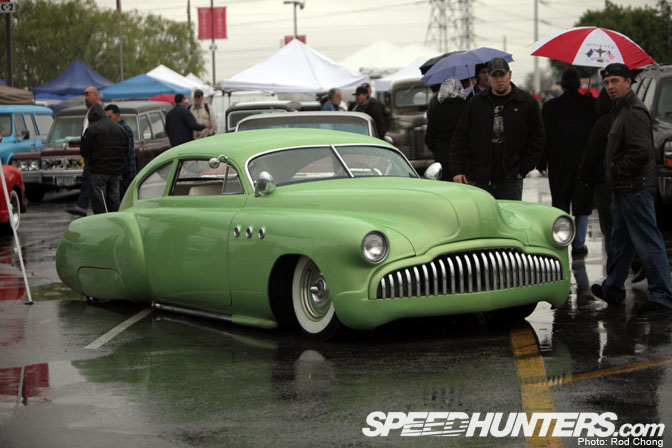 By this time, Linhbergh and I were looking for a car to shoot a feature with our two pinup models…. We settled on this amazing '49 Buick.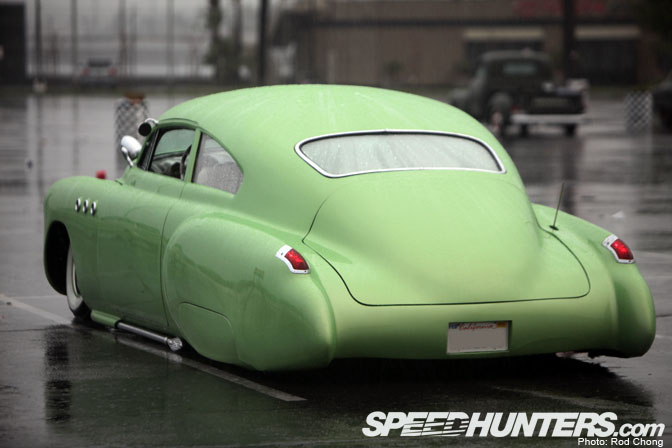 The rain was coming down hard and light levels were falling fast as the owner Sonny Vasquez moved the car into position for the shoot.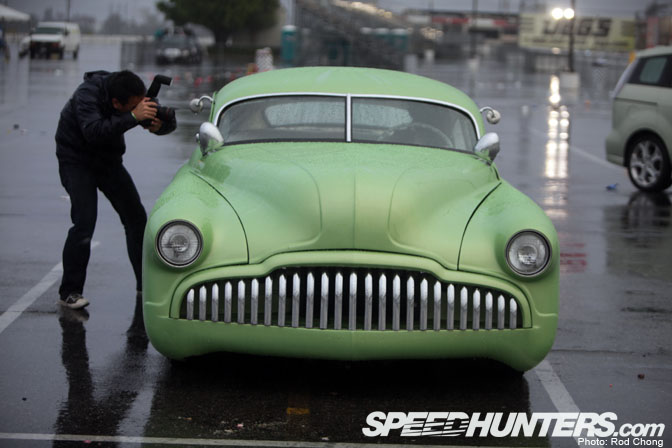 Then our resident artiste-photographer got to work shooting the car… and the pinup model inside.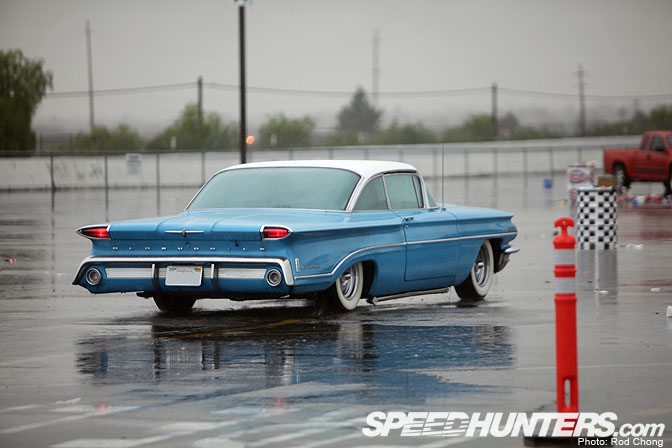 I wasn't planning to shoot very much of the girls myself, but with light levels dropping fast, we flagged down a second custom, this beautiful '60 Olds. I needed to conduct my own pinup photoshoot and this car was an excellent little studio to work in!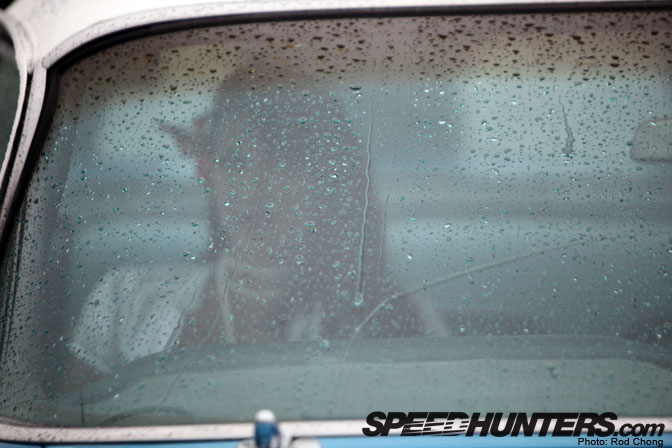 So with our pinup model in place inside the Olds it was time to start shooting!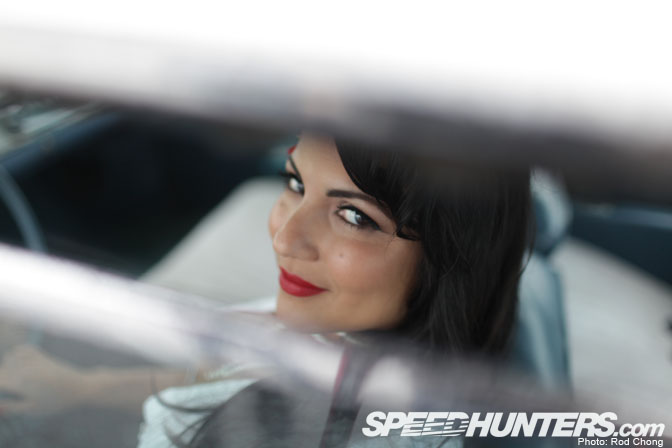 But I'll need to get back to you with those photos hahaha… time for some sleep here…
Talk soon,
:Rod