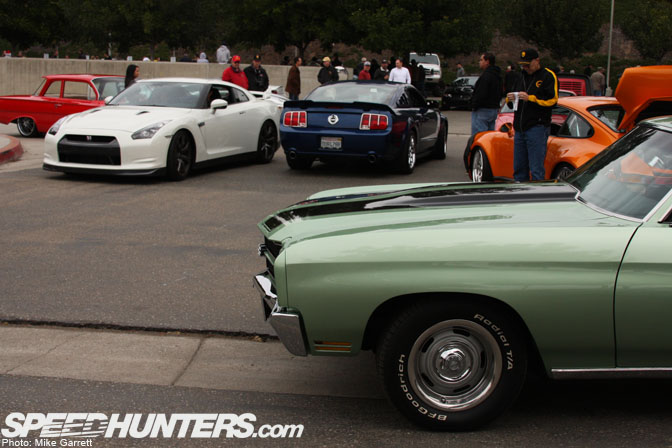 It was a cold weekend here in Southern California.
So cold.
Cold as in you'd probably want to thrown on a light sweater before going out for a cruise in your convertible.
Being blessed with what's probably the most car-friendly climate in the world, the auto events never really stop here in LA. It's been a few months since I moved to SoCal, but it wasn't until this weekend that I finally was able to get down to Irvine for Cars and Coffee. If for some reason you aren't familiar with Cars and Coffee, it's an informal car gathering held at Mazda's American HQ every Saturday morning, and following its success there are now similar gatherings held all around the country. I know that waking up before dawn on a Saturday morning can be tough for a lot of us, but trust me, it's worth it.
I'm not sure if there's a more diverse car gathering on the planet – and to think this happens every Saturday.
Now I know why I put up with LA's high rent and ridiculous traffic.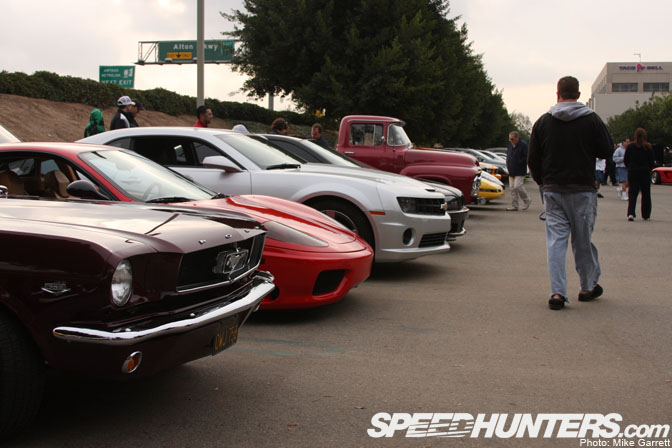 At Cars and Coffee it's not at all unusual to see a late model Ferrari sandwiched between American pony cars of opposite generations.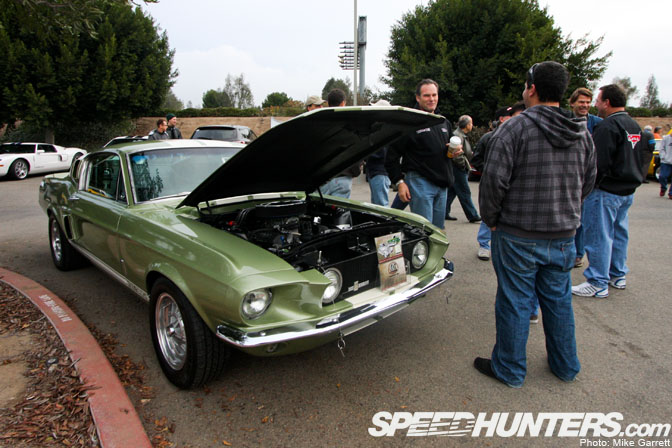 There are no rules here. You simply cruise in, find a spot, have cup of coffee and enjoy life.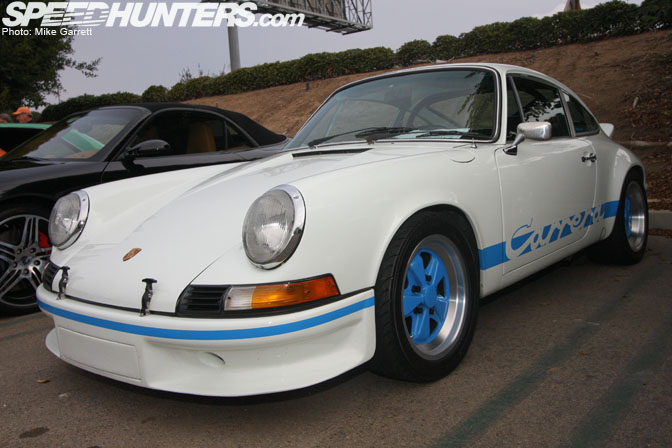 You'll quit literally find everything on wheels. Whether it's an ultra-desirable classic like this 911 Carrera RS…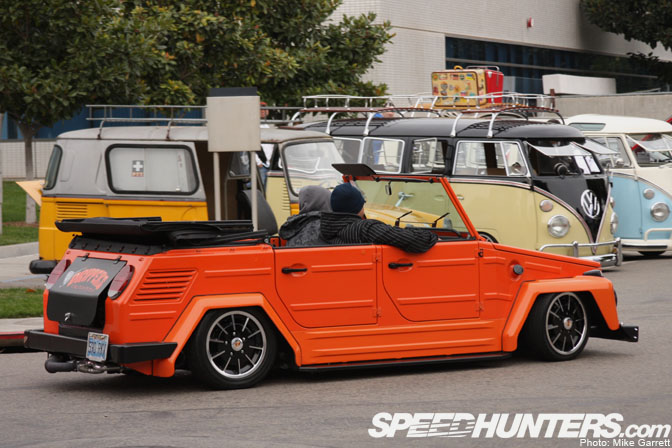 …or something a bit more odd like an airbagged Volkswagen Thing. Slammed month might be over, but our love for the low never stops!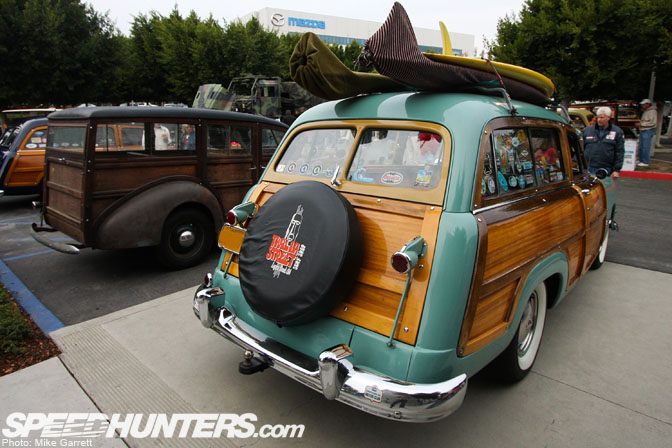 This weekend's event featured a large number of classic woodies – an important vehicle in California's beach culture.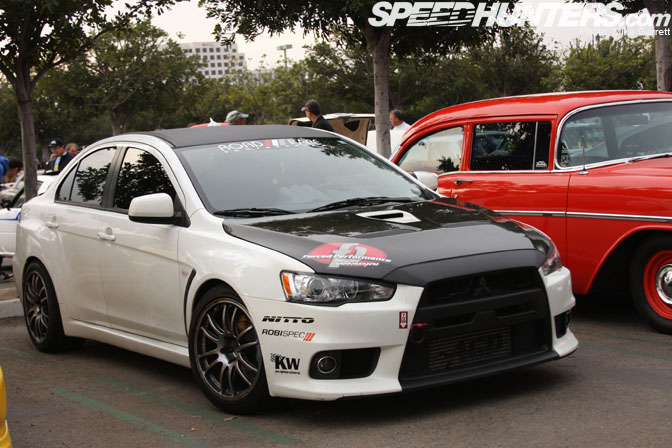 And just across the parking lot, a tuned up Evo X. Those enthusiasts with an open mind will find a lot to like at Cars and Coffee.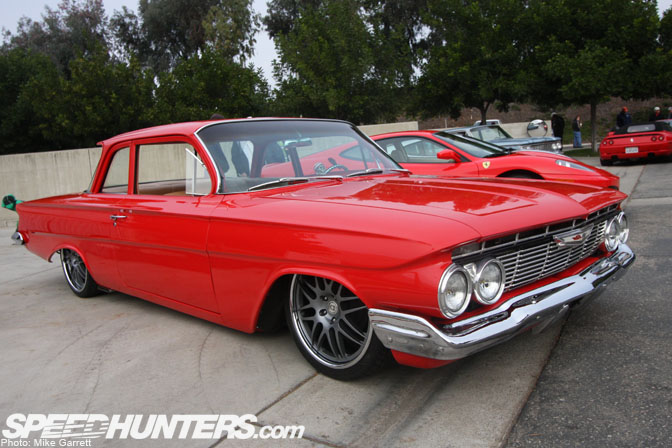 A bagged '61 Chevy two door sedan on HRE's. Cool.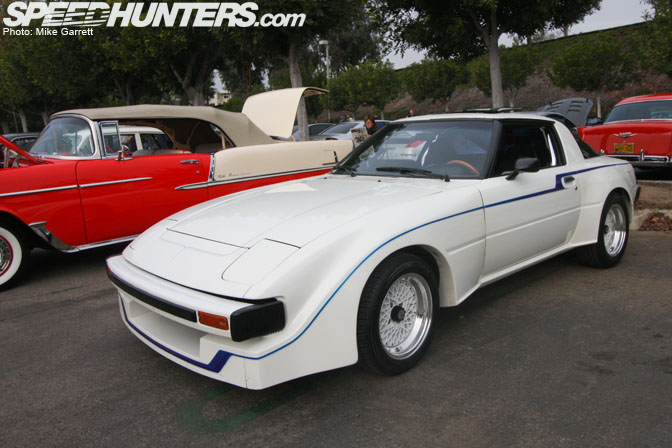 In the mood for some pure '80s nostalgia? How about this wide-body first generation RX7?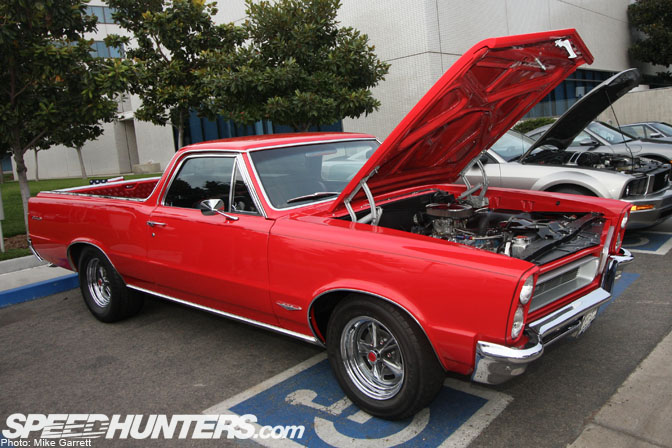 A '65 Pontiac GTO converted into an El Camino…or is that an El Camino converted into a '65 GTO?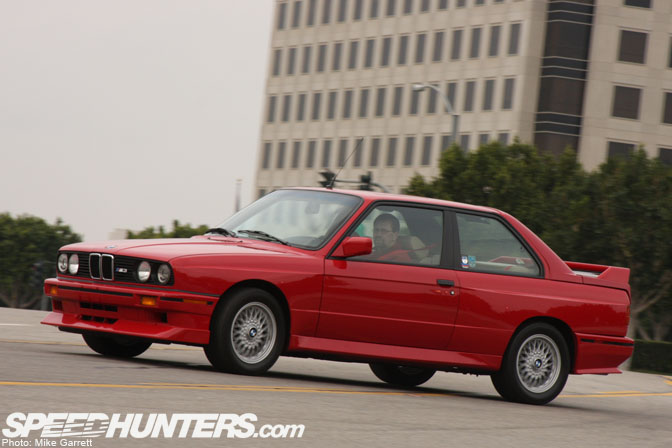 The E30 M3 is one of those cars that's just beautiful, even when bone stock.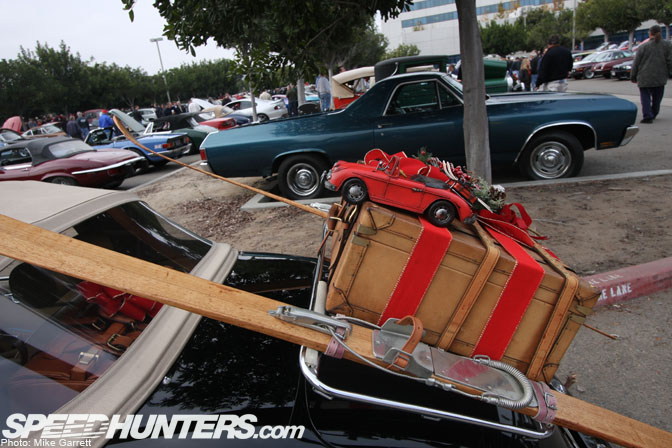 With Christmas just a couple weeks away, the Holiday spirit wasn't hard to find at this edition of Cars and Coffee.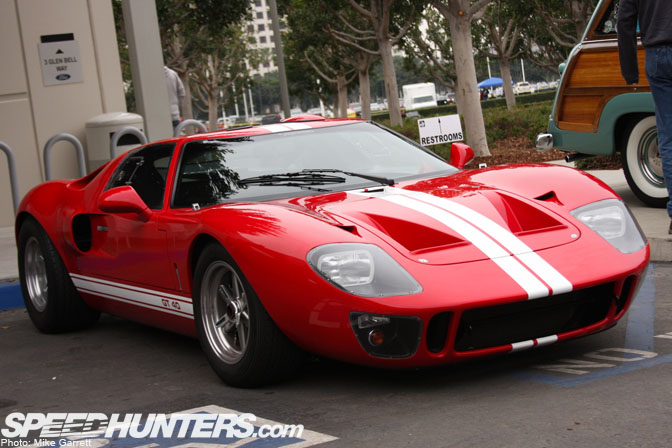 Speaking of Christmas, I'll have to add a Superformance GT40 replica to my list. A perfect reproduction of one of the world's greatest cars….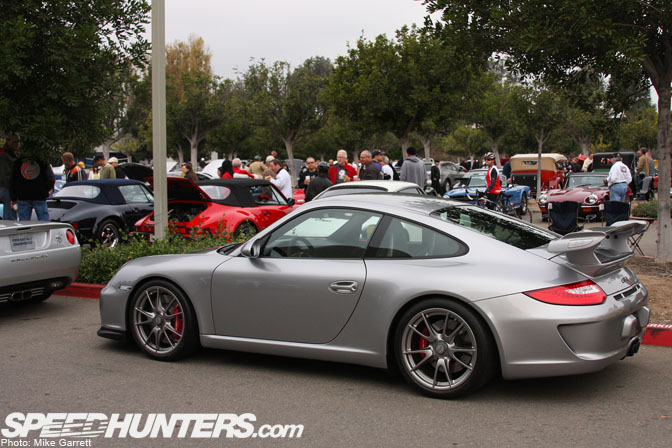 Another one of Stuttgart's finest. There seemed to be quite a few Porsches spread amongst the lot, but I'm guessing its a regular thing.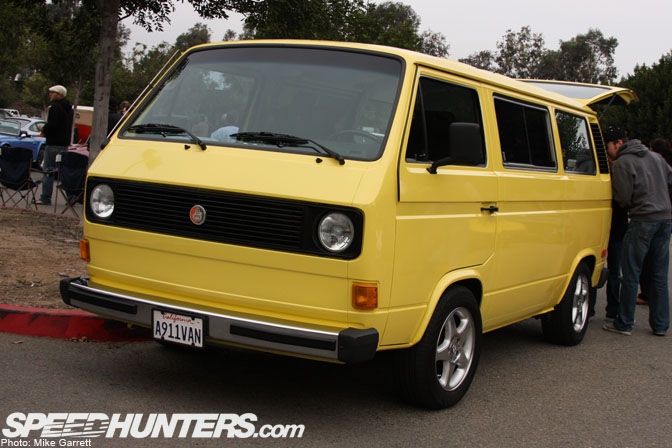 When I saw a crowd of people around the rear of this VW Vanagon I figured there might be turbo Subaru power back there, but then I saw the license plate…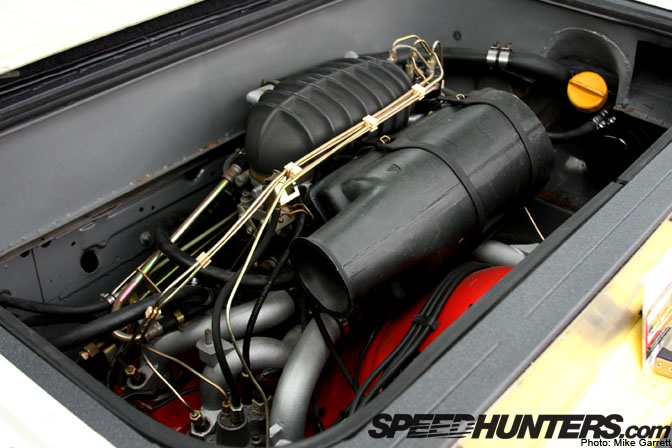 Yep, that's a Porsche flat six swap, looking almost like a factory job.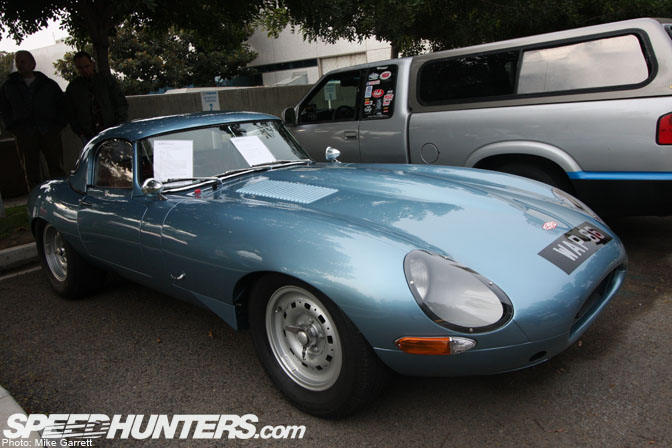 Spread amongst the Cars and Coffee crowd, you'll find genuine pieces of history like this original competition spec E-Type Jag.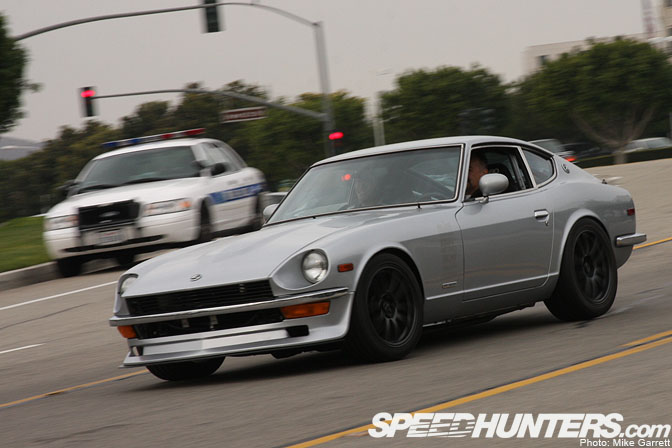 Gathering on the sidewalk to watch the cars roll in and out is a Cars and Coffee tradition. Irvine PD is also there to make sure that nobody gets too rowdy…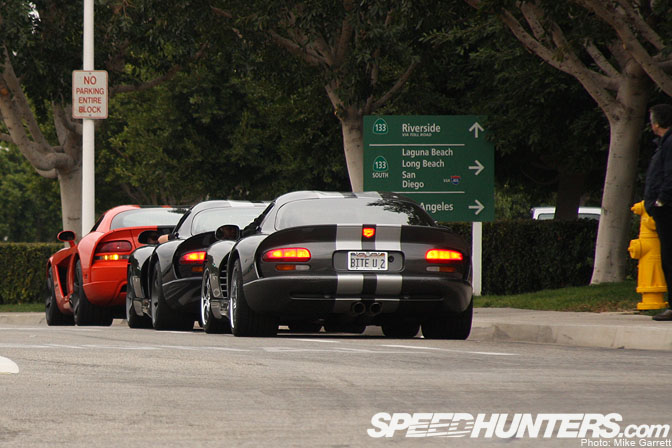 Seeing how the event wraps up at 9am, it's the perfect meeting spot before heading on a drive to the nearby mountains or coast. I'm guessing that's what this group of Viper owners was doing.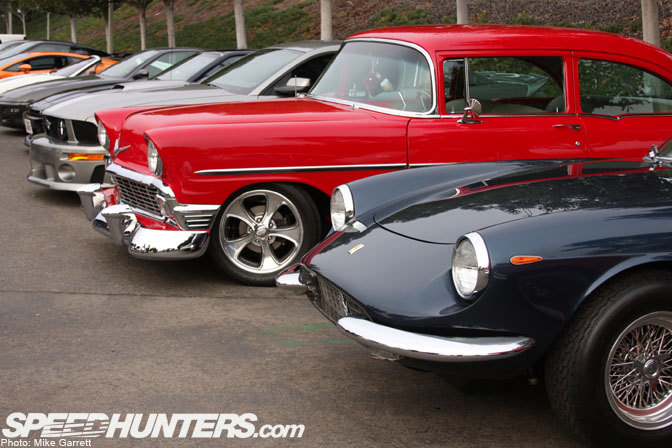 I need to start getting up early on Saturdays more often.
Stay tuned for more from the automotive mecca that is Cars and Coffee…
-Mike Garrett