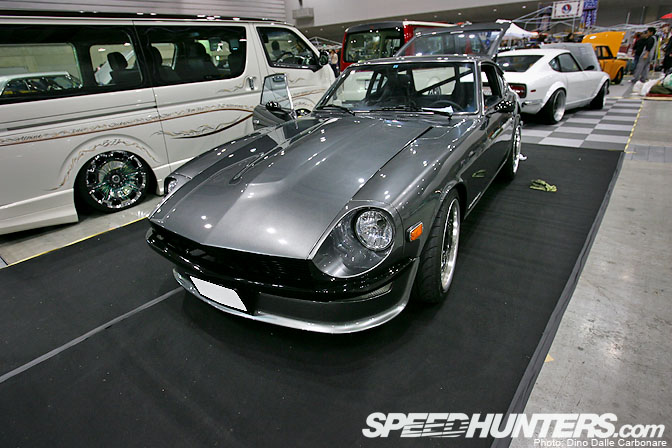 I have to admit, since driving that amazing 240ZG at Sodegaura the other week I haven't been able to stop thinking about S30s, which is pretty much exactly why I couldn't keep my eyes off these two cars at the Mooneyes show. There is a very evident difference in style compared to the more authentic feel of the car from TA-Auto, but the Z's shape is pretty much ageless not to mention versatile, making any kind of style look amazing.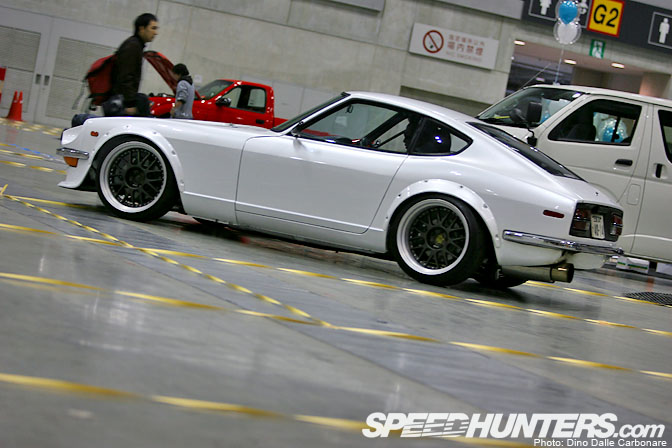 It was weird seeing color-coded overfenders on such a light colored car at first, but there is no denying it worked great on this highly modified monster.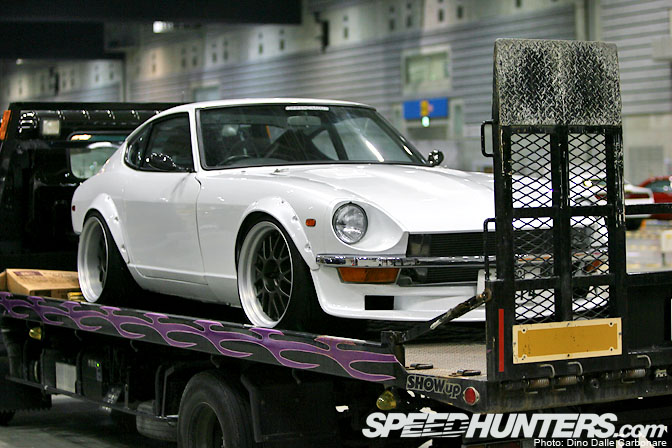 I waited until the owner unloaded it from the transporter to take a closer look, which is when I heard that unmistakable engine note.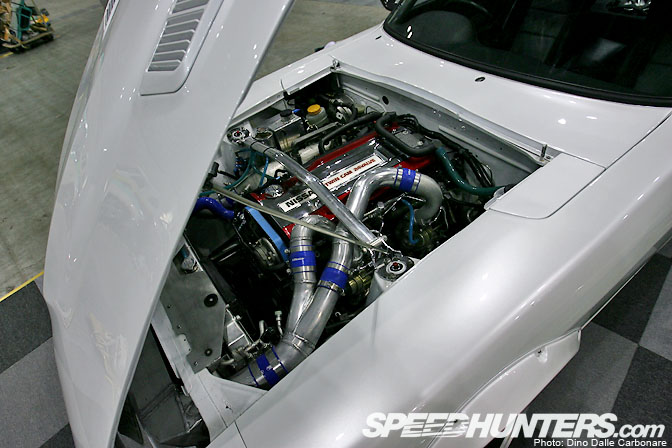 And there it is, the modified RB26 that replaces the original L-series engine. It looks like there was no issue with space, the S30's engine bay more than big enough to accommodate any kind of motor that may take your fancy. A massive racing radiator takes care of cooling while the intercooler had to be custom made to fit in the tight confines of the nose. Piping is kept very short which I'm sure makes the engine responsive while the N1 turbos hint at a probable power of about 500 HP.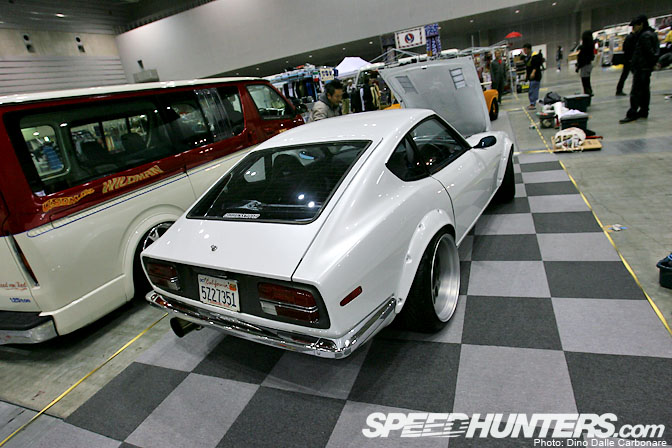 If you look closely enough you can notice that the door handles were shaved and that very modern carbon mirrors, which look like they were borrowed from a sports bike, are fitted as well. Stance and wheel fitment is pretty much perfect. The interior was fitted with what looked like an S14 dashboard, something I was unable to get a picture of unfortunately as I couldn't get a hold of the owner. I would have tried to open the door myself, but the lack of door handles made it hard!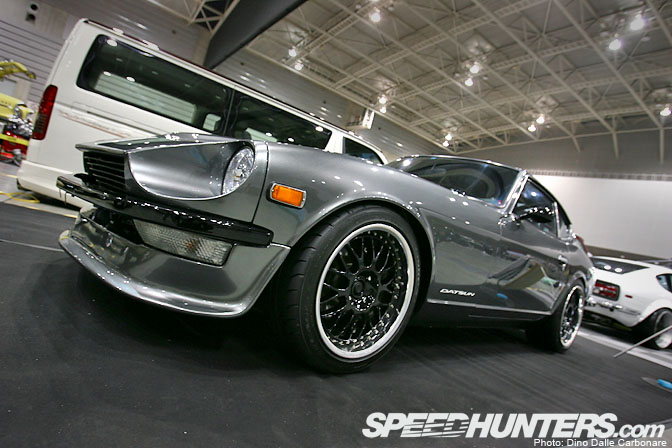 But if I had to choose one to take home from the show it has to be this Speed Shop Web built left hand drive Datsun 240Z. This car was oozing style, from its amazingly finished metallic silver paint to the excellent wheel fitment.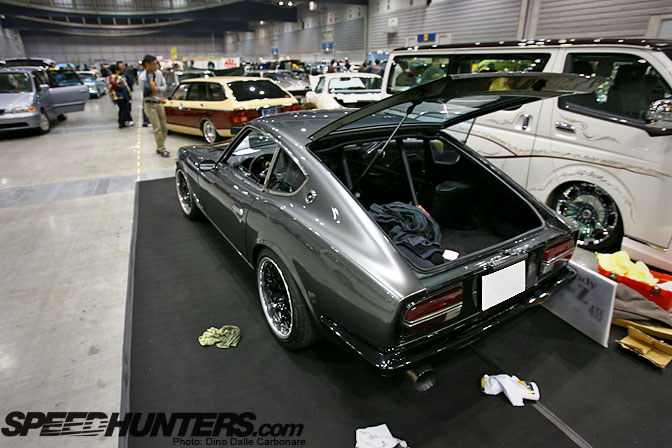 The interior was unmolested, had every original part in place but was modernized and stiffened up by a very cleanly installed roll-cage.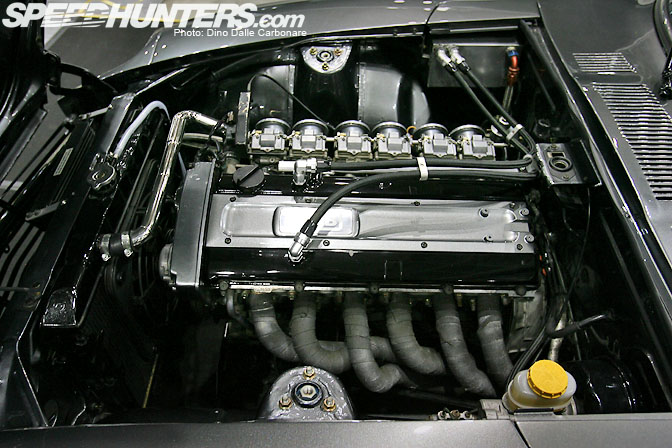 Under the hood I found this…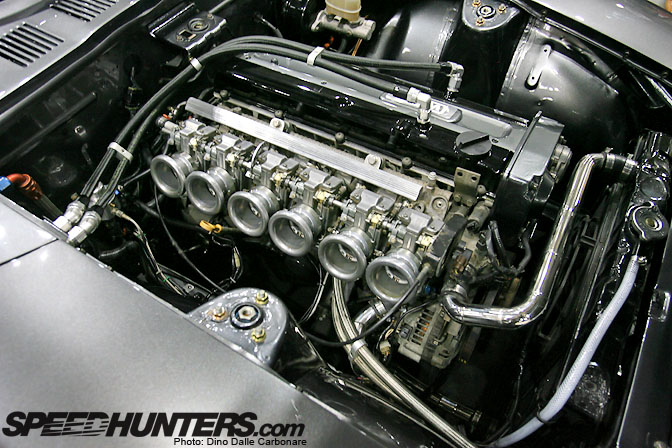 …an RB25DE, a very cool engine choice in my opinion. It follows the old recipe of a naturally aspirated straight-six with all the benefits of a modern motor, but does things differently by taking a step back and ditching fuel injection for a more authentic carb set-up. I'm sure this car sounds absolutely amazing!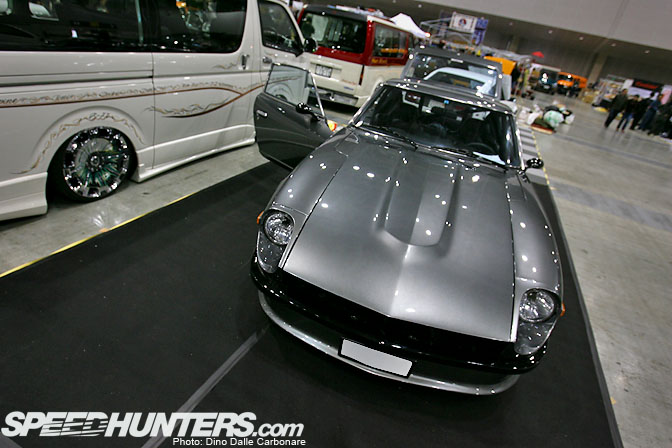 So there you go, two more examples that show what a great canvas the S30 can be.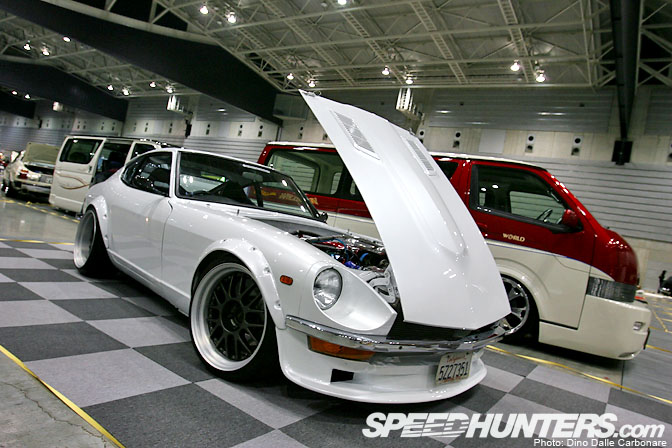 I've got to dig around more to see what other S30s I can find to shoot next, maybe something powered by an S20? More on this next year!
-Dino Dalle Carbonare