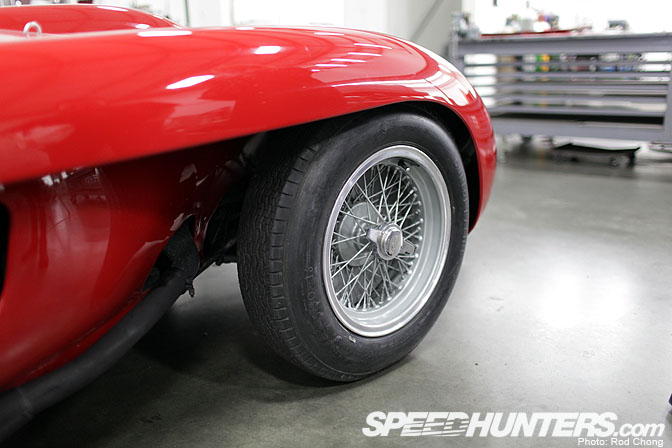 We all like to dream about cars don't we? I'm sure every single person who reads this blog site has regular thoughts about what cars they want to own. I personally take time every day to think about my automotive plans! There is nothing wrong with dreaming, as it's the act of visualizing that's the first step to building your future.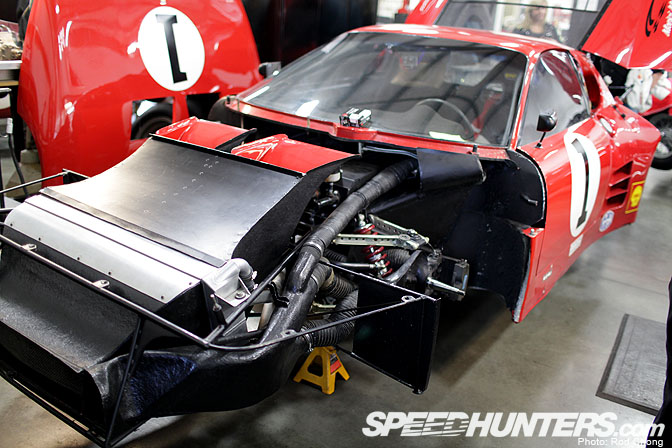 Your ability to realize your automotive dreams will of course depend on your circumstances, the opportunities that present themselves and how you navigate your pathway through life. Some of us will work our whole lives in order to own a single dream car. Others will find themselves surrounded by aspirational machines of every type and description possible. It's this later group that is the subject of this story.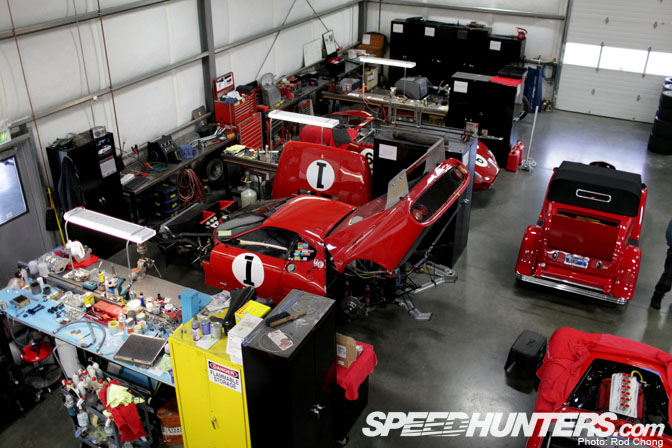 Earlier this month I had a brush with the collections of a few Seattle based, master automotive dreamers. These people had taken their dreams and wishes to a whole other level and were experiencing cars that most of us wouldn't even dare to desire. I'm talking about ultra rare, priceless gems from the history of the automobile; some of the most expensive and rare cars on the planet.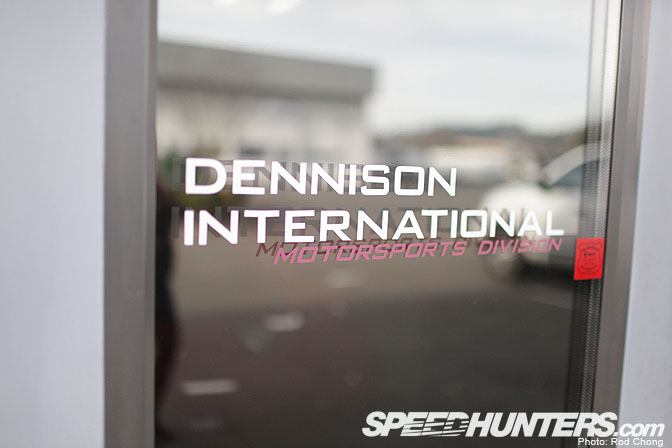 I've been meaning to shoot more Speedhunting stories in the Seattle-Tacoma area for a while now. We've become friendly with the crew at Art Morrison chassis and they've been inviting us to come shoot this vibrant automotive scene. One name that kept getting mentioned was the restoration and vintage race car shop, Dennison International.
As this month's theme on Speedhunters has an element of Retro to it, I thought that it would be a good time to take a day trip from Vancouver to Seattle-Tacoma to see what this company was about. I certainly wasn't disappointed!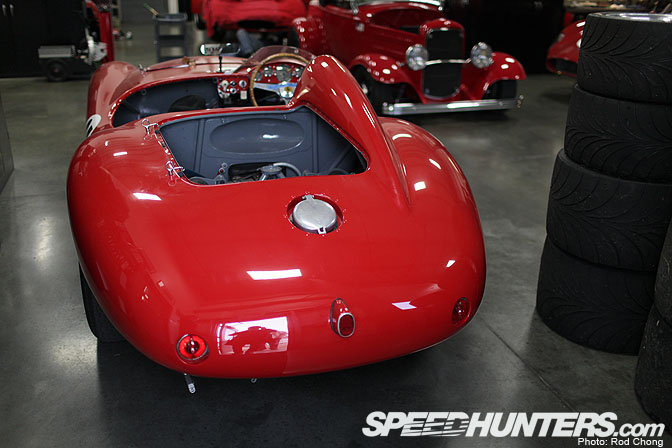 If you look at the reflection in this 1954 Ferrari Mondial race car you'll see that I've just walked through the front door into the shop. It's quite the start to this story!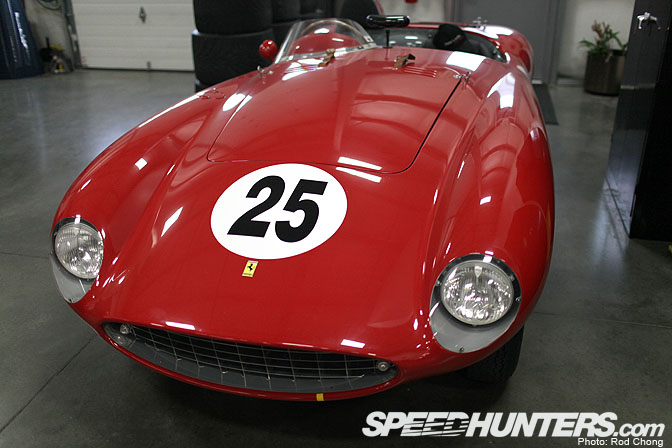 Wow this is really the stuff of dreams.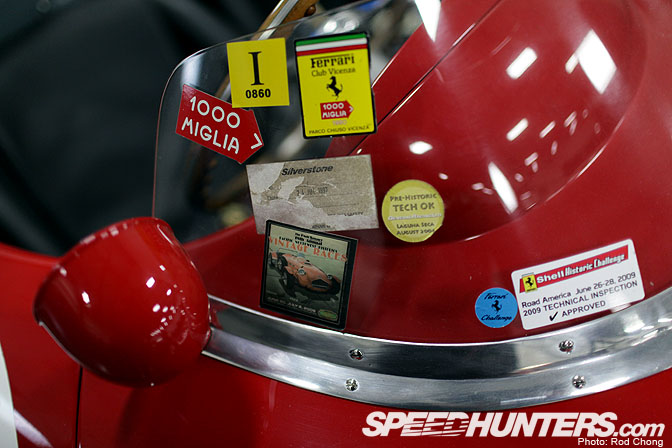 You can see by the scrutineering stickers on the machine that it's regularly used for vintage racing duties. Not only that, but this Ferrari has raced at events all across the US and Europe.
This is one of the services that Dennison International offers to its clients: They'll restore, maintain and prepare, transport and crew your vintage race car or show machine. It doesn't even matter where the vintage event is… they'll take care of everything… all you need to do is show up and drive.
Must be nice huh? Hahaha…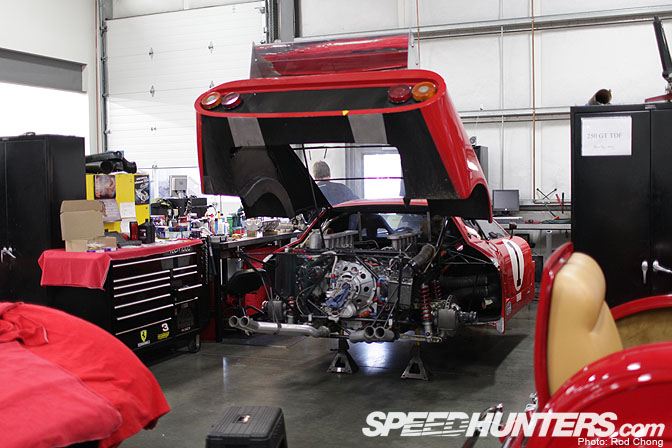 I just about fell over when I saw this Ferrari 512BB LM (Chassis 38181). You know how much I love Group 5 cars and as fate would have it, I keep getting to photograph them in the flesh.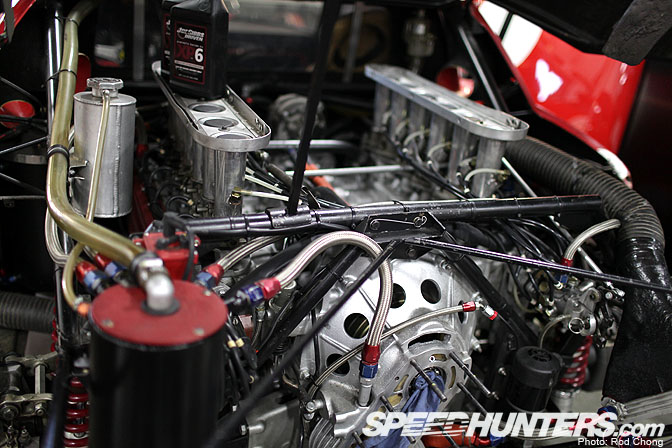 This is my own slice of pure heaven! The heart of the beast: a 500 bhp Type F102 BB LM 180º 5L V 12 Boxer engine.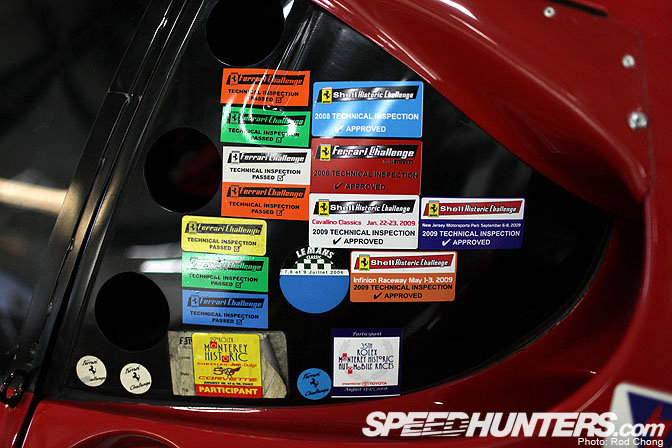 Like all the vintage race cars at Dennison International, this flying red dream machine is regularly driven in anger.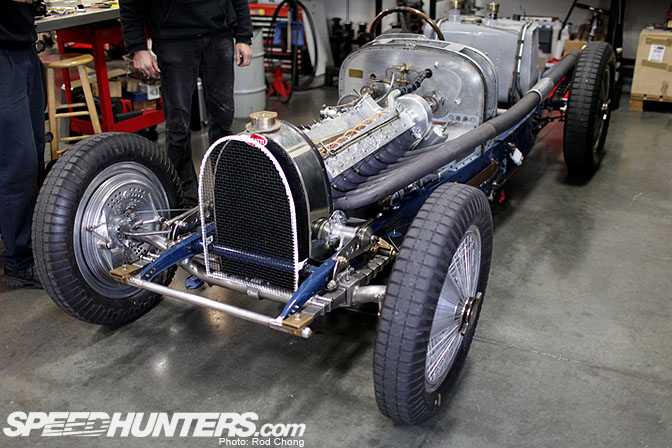 And another priceless gem: a 1933/34 Type 59 Bugatti Grand Prix racer.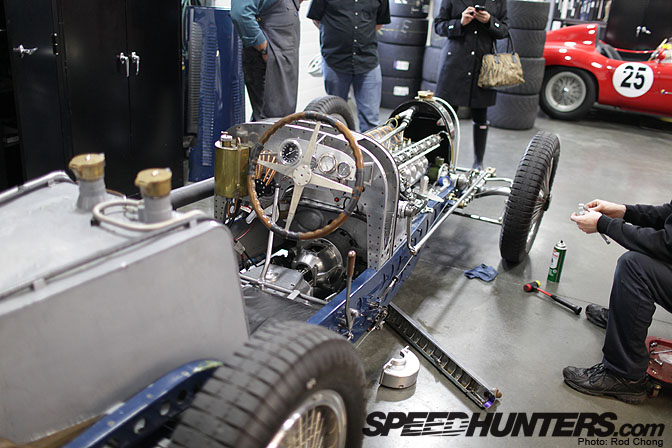 This was one of the last proper Bugatti Grand Prix racers ever.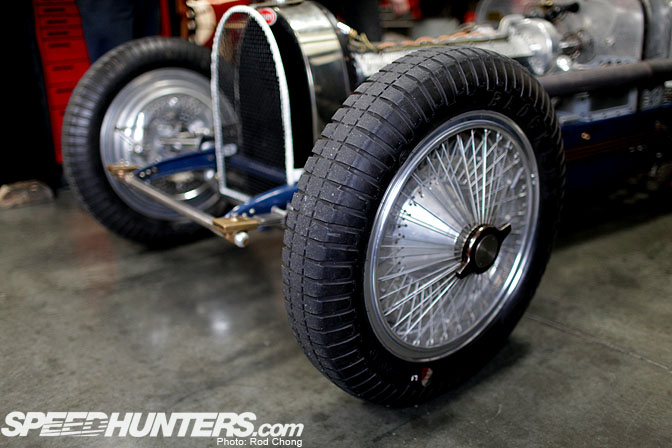 I see a lot in common between this car and the traditional style hot rods we feature on Speedhunters from time to time.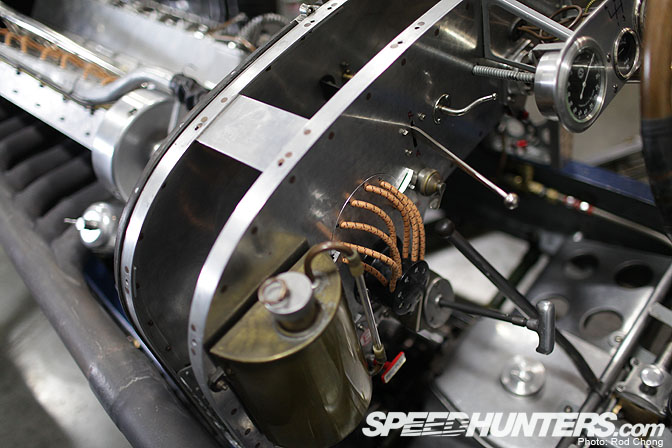 Just look at the mechanical nature of this work of art. Interestingly the Magneto is positioned inside the cockpit. This allowed the driver to adjust the timing of the engine on the fly.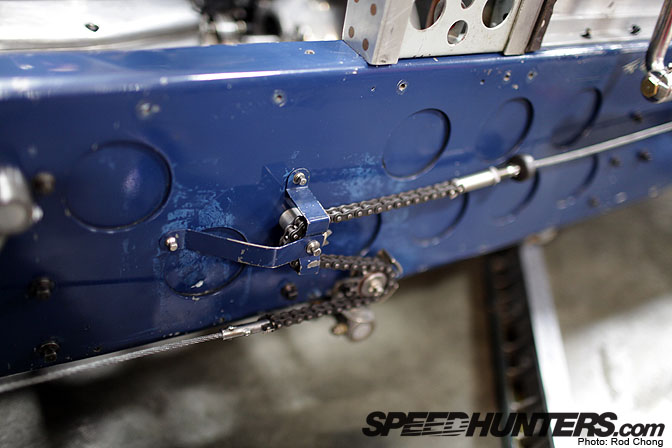 The car features a complex system of cables and differentials to run the brakes. The Bugatti's technician told me that in the event that one of the cables breaks, then the driver loses ALL four brakes!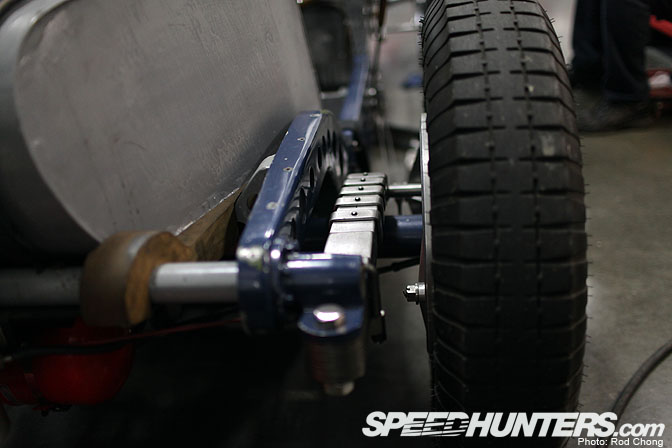 I see a little bit of Jimmy Shine in the design details of this old GP racer.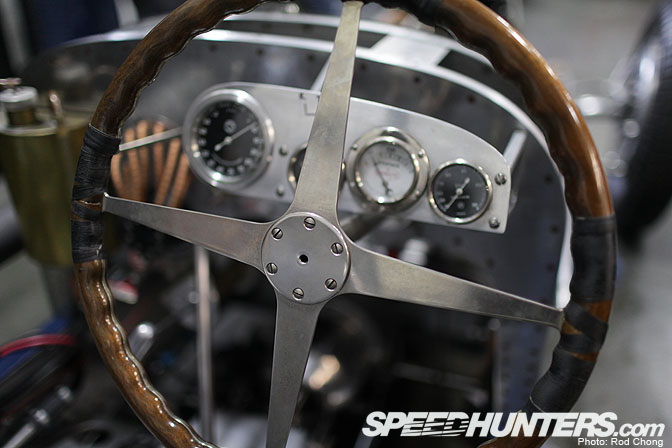 I just love how every piece of this machine expresses the style of the age of machines. It's an aesthetic sensibility that today's hot rod builders are still carrying the torch for.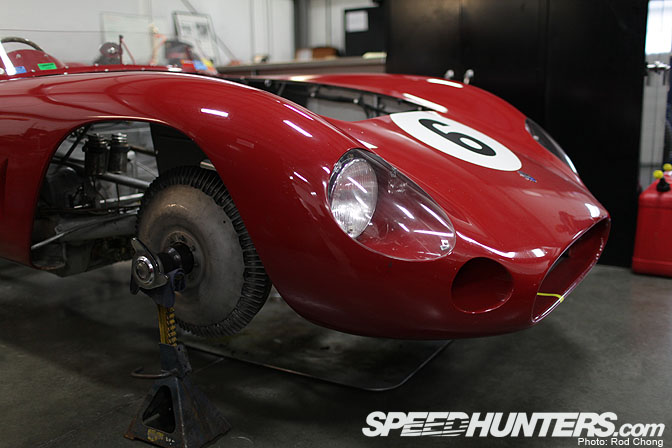 In the next bay over I found a 1956 Maserati sports car.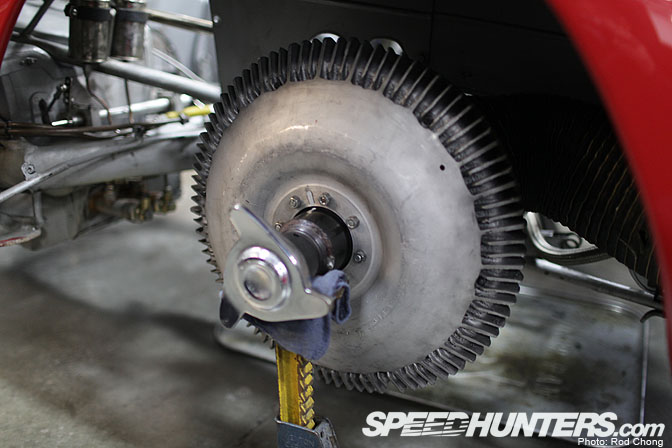 Of particular interest to me were the rather large drum brakes. This was probably one of the final years that drum brakes were used in international racing, so it was intriguing to see one of the last motorsports applications of this technology…. well at least to me anyway…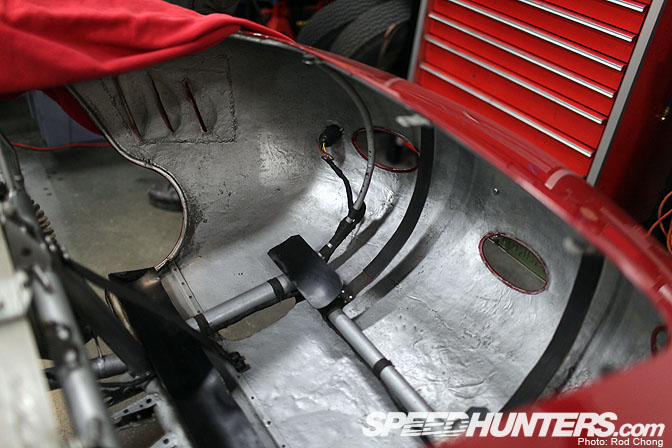 Looking inside the back of the car you get more of a sense that it's a hand formed aluminium shell hung on a light weight tube chassis.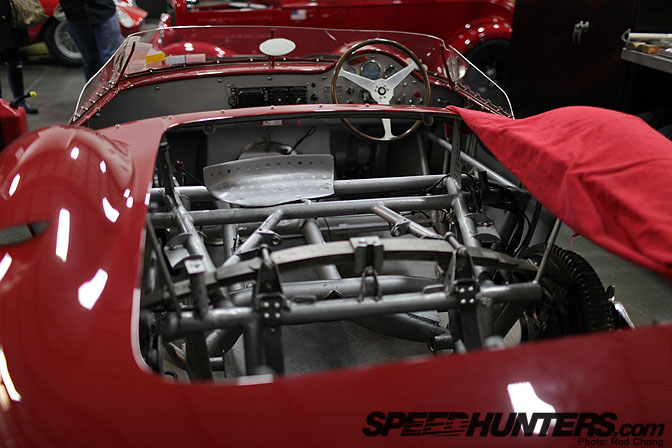 It all looks rather delicate!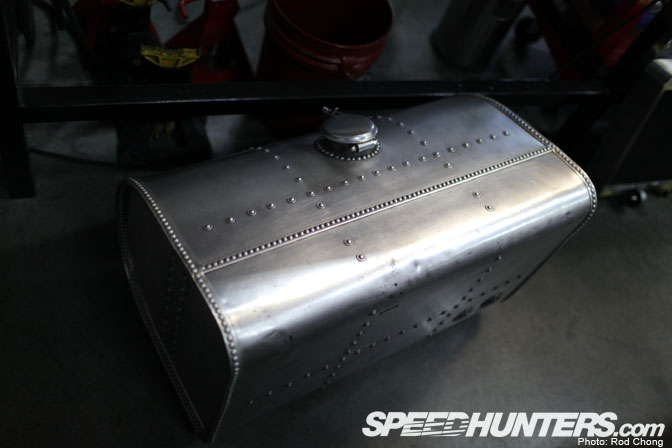 A shot of the gas tank. Bellissimo!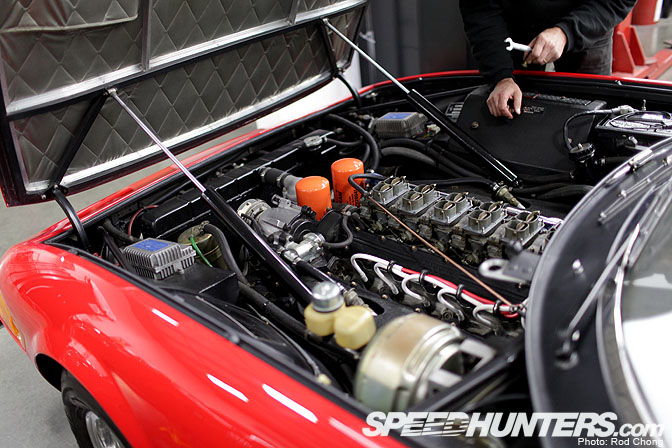 Dennison International also handles maintenance for vintage exotic street cars. This Ferrari Daytona was in for some routine servicing.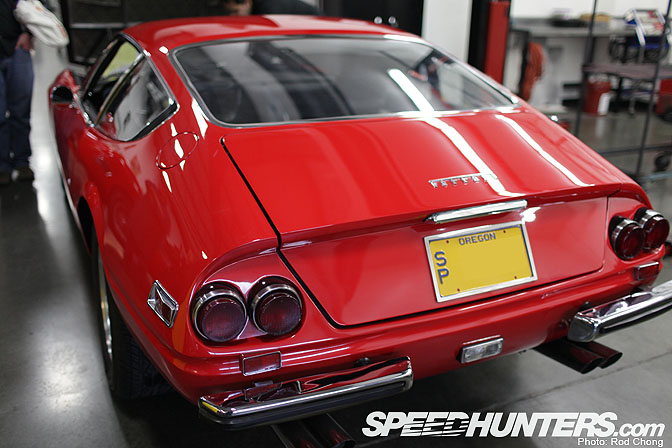 For me, this is one of THE most desirable Ferraris ever…. It's a perfect mix of classic style with 1970s cool.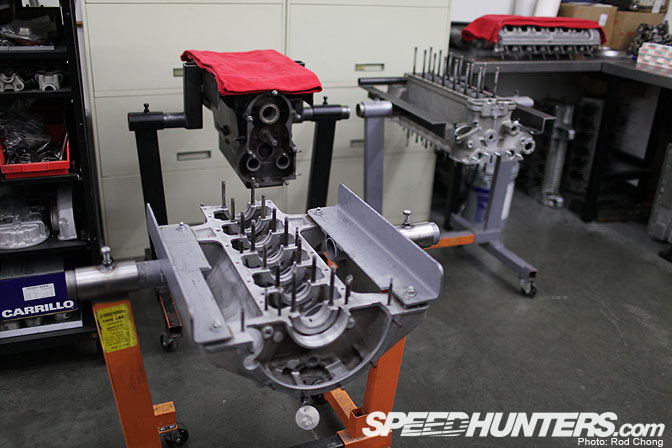 The engine room at Dennison International is filled with all manner of blocks and projects in various states of rebuild.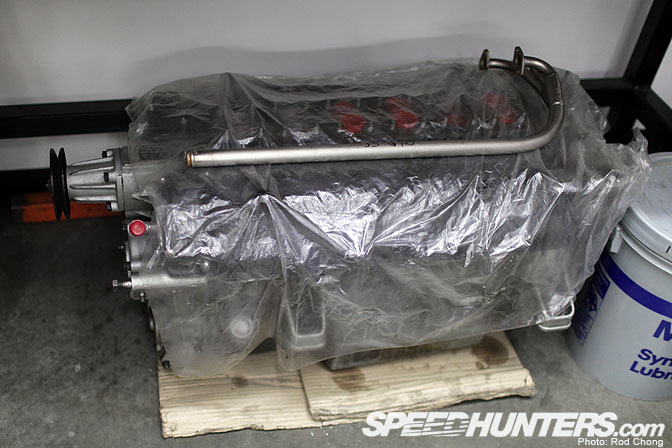 Several spare engines dot the floor.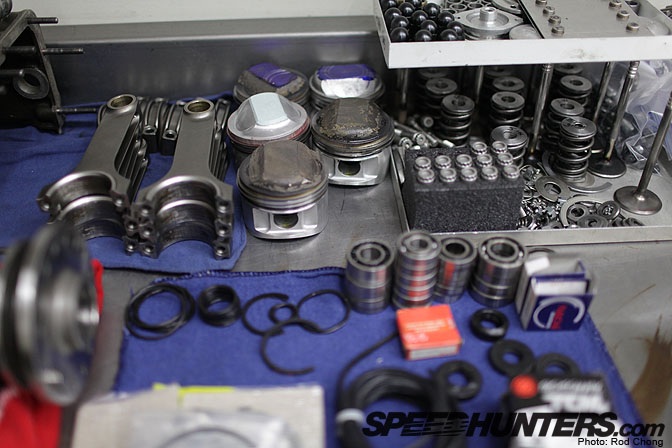 A shot of one of the work benches… I'm sure parts for these engines come at a massive premium…. this playground is only for the world's elite huh… I can only imagine what it costs to do a full restoration of such classic exotic machines.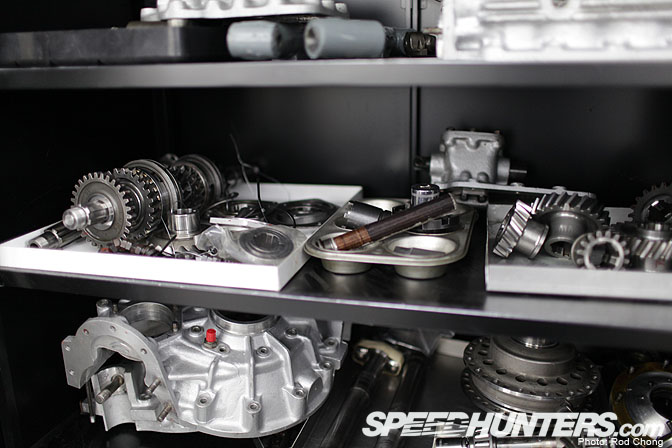 Each car at the shop gets its own cabinet to store parts and spares. It allows quick access to the bits, but keeps parts from going missing.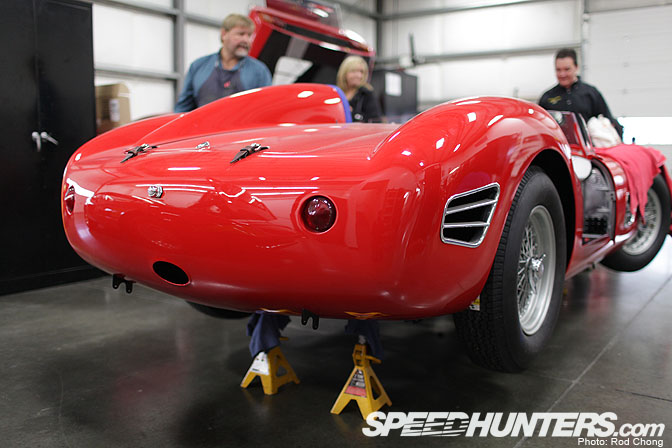 This 1959 Ferrari TR is a hand built reproduction car.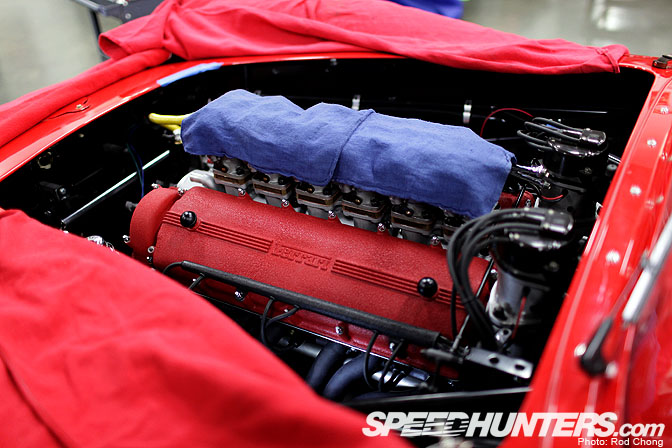 It's powered by a brand new Ferrari block. I didn't know this, but it's possible to buy "crate" engines from Ferrari for this type of application.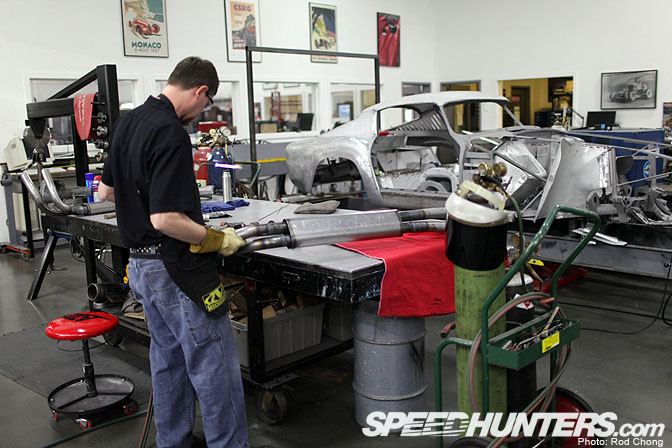 Moving on to the next room, we find one of the 17 craftsmen working on a very special project.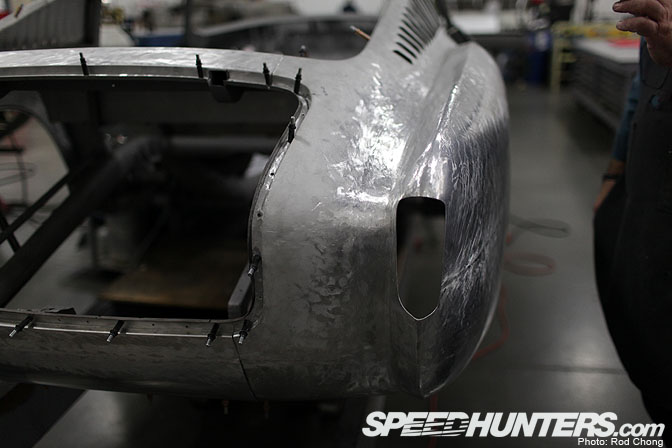 This is a ground up restoration of a 1957 250 GT Berlinetta "Tour de France" racer. It's one of only 88 of its kind in the world.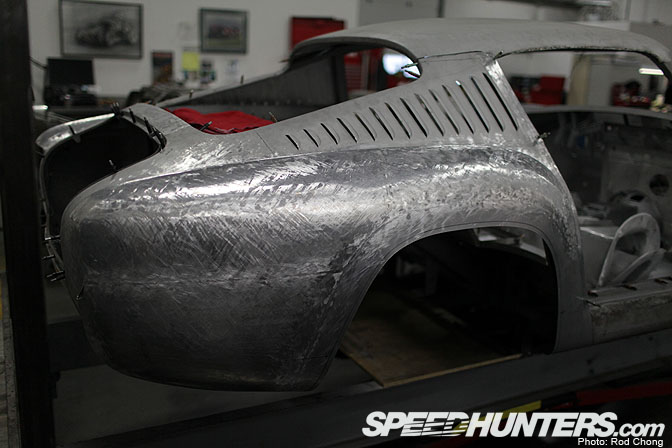 If you look carefully at this shot you can see where new sections of the body have been grafted on to the original shell.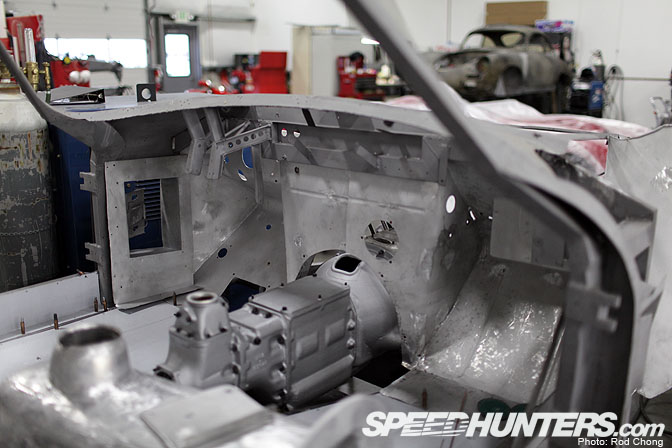 This ex Mille Miglia race car is being built up for Pebble Beach. Dennison has taken the spoils at this show a few times previously so you might be looking at a future winner here.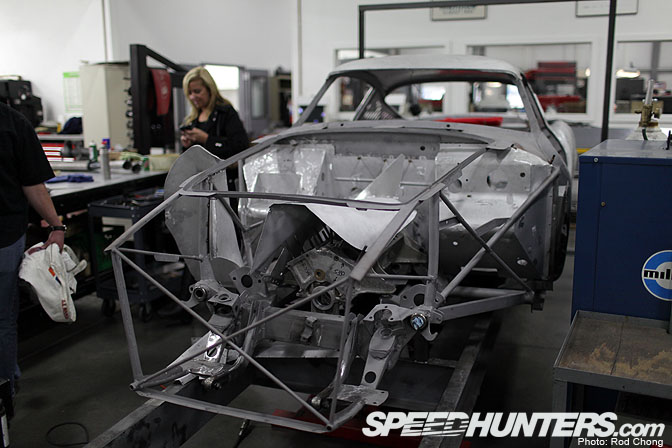 As much as possible on the car is being rebuilt using the original parts, but some reconstruction will be necessary here and there. Around three to four thousand hours will be put into this car by the time it's completed, around 1.5 years from now.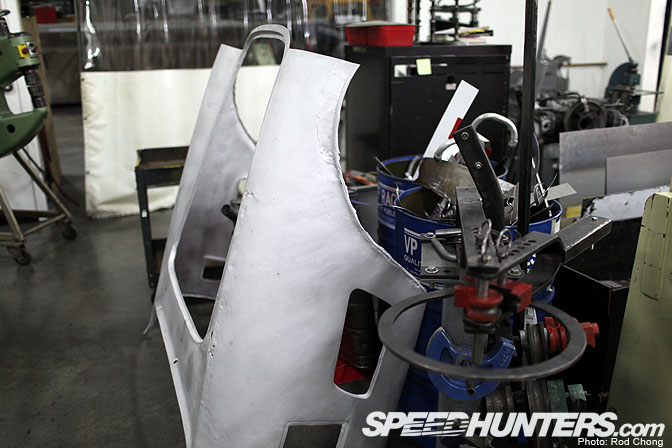 Here's the original front bodywork. As you can see, a whole new nose section will need to be formed.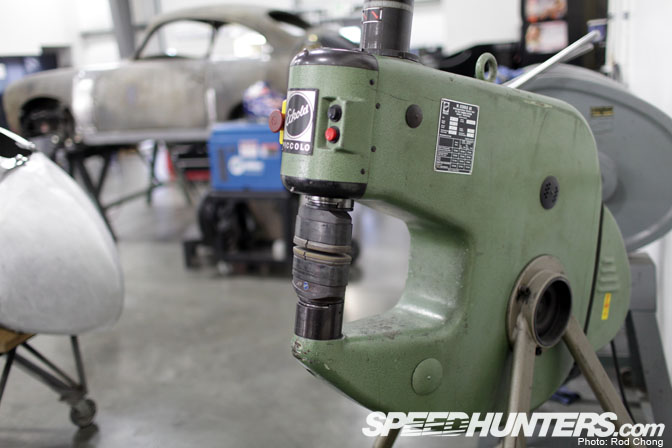 … Mind you Dennison International has every tool needed to bring these old exotics back to life.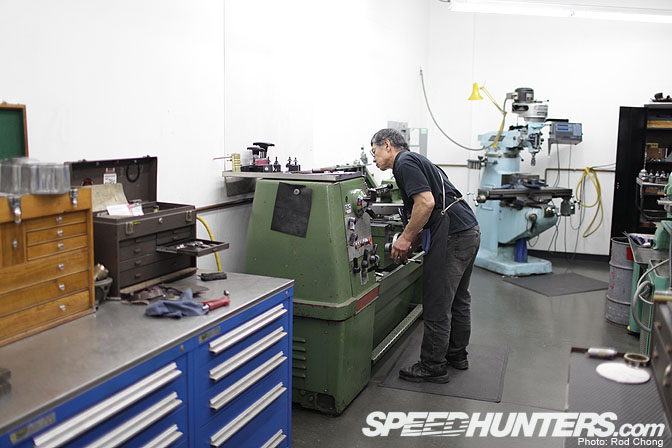 They have a whole section of the shop ready to machine and fabricate just about any car part imaginable.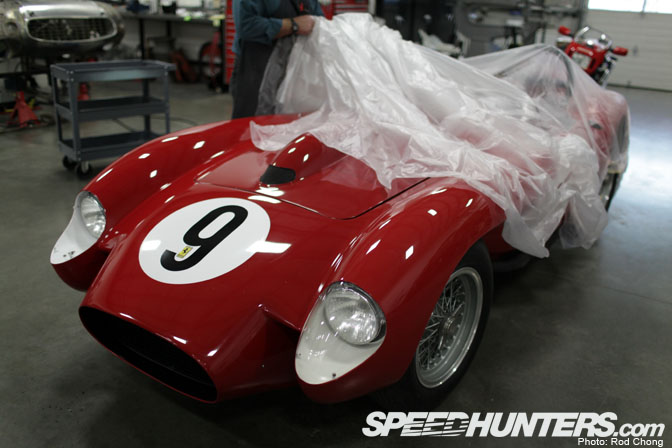 My goodness look at this machine… It's one of the most valuable Ferraris in the history of the marque: a 250 Testa Rossa.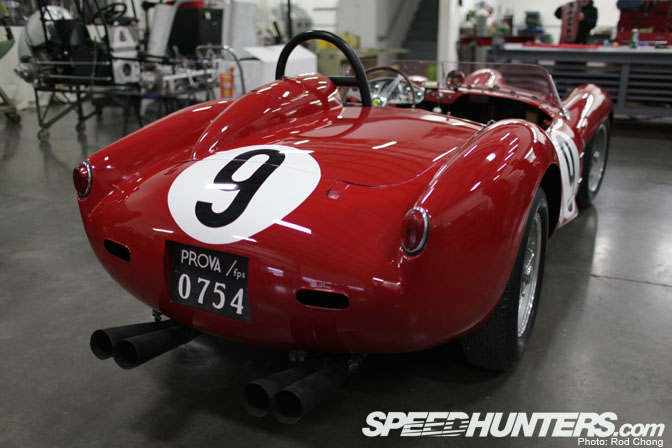 Would you even dare to dream about owning a car like this? It's certainly too much for my brain to contemplate.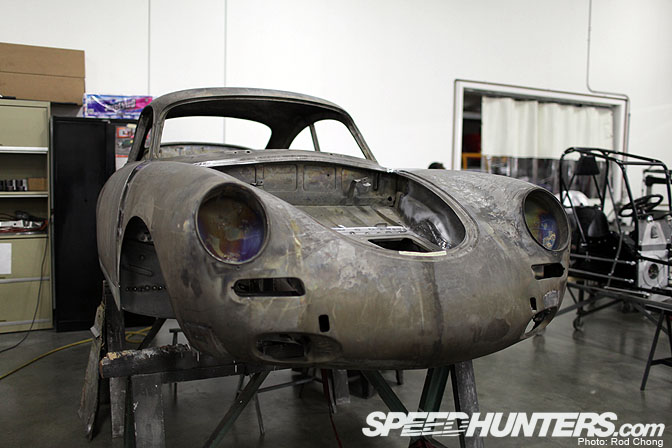 Here's another car about to get a ground up restoration: a Porsche 356.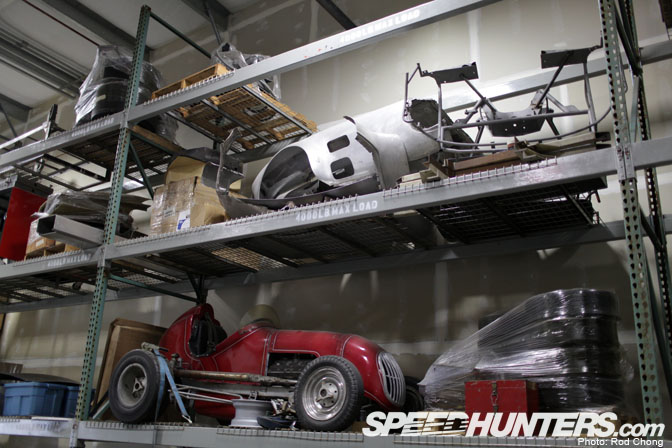 I often enjoy seeing the bits and pieces on the margins of automotive facilities like Dennison International. On the shelf is the remains of an original Shelby Cobra race car. It was heavily damaged in a race accident many moons ago and is patiently awaiting reconstruction.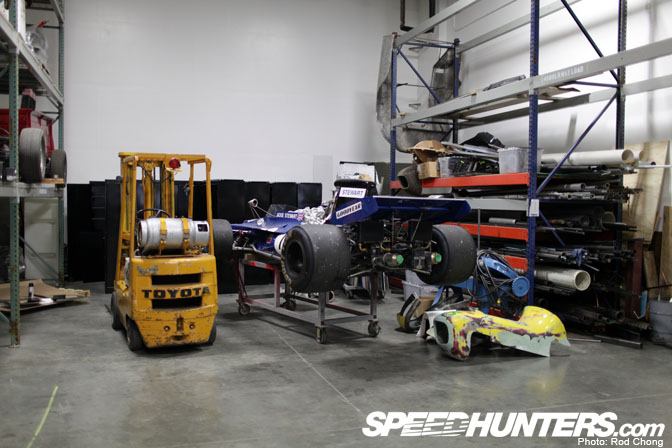 In another corner sits an ex-Jacky Stewart Tyrrell.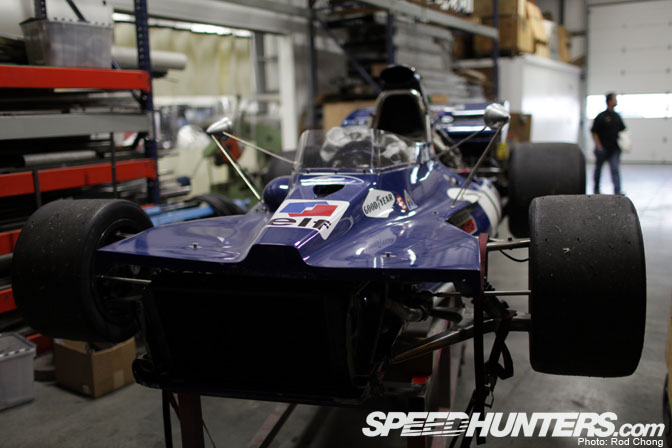 It's a machine of 1972 Formula One vintage.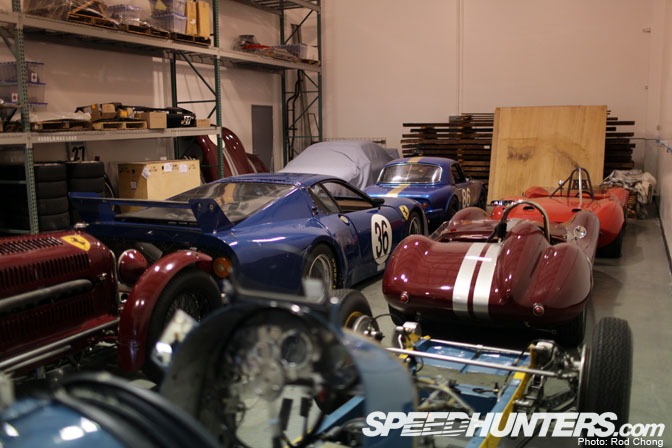 Moving on to yet another space we have more customer cars of various shapes and sizes.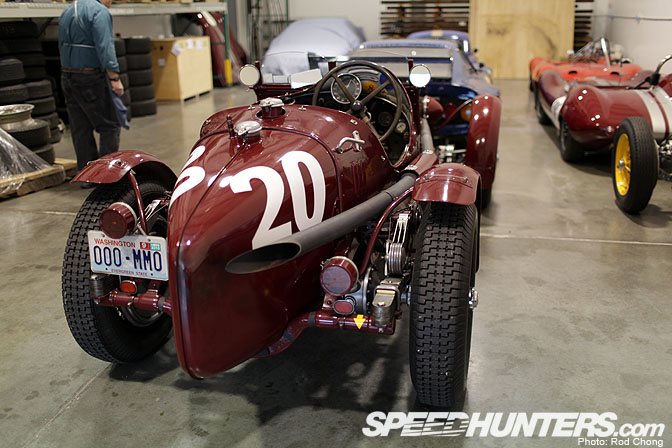 This Alfa Romeo P3 Grand Prix racer has a particularly interesting history.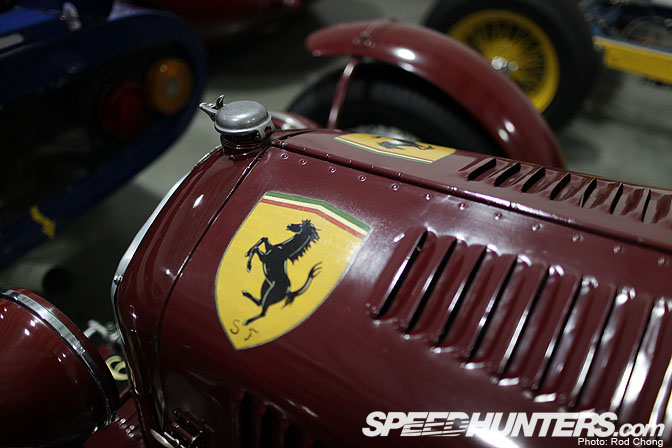 You'll notice the Ferrari insignia. This indicates the car is from the period of time when Enzo Ferrari ran the works racing team for Alfa Romeo.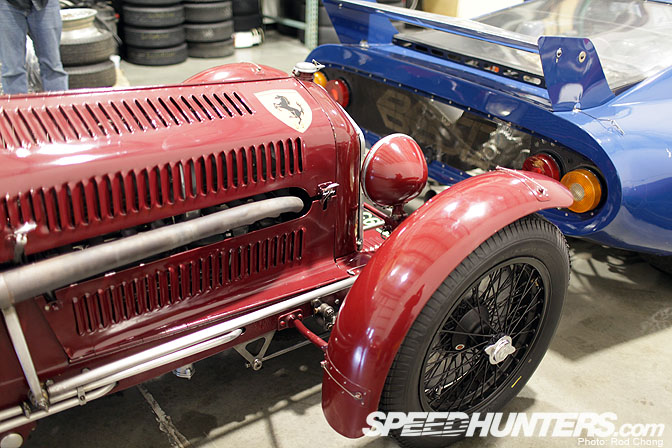 This particular chassis actually won the Monaco Grand Prix in 1934…. but the owner now likes to drive it on the street occasionally!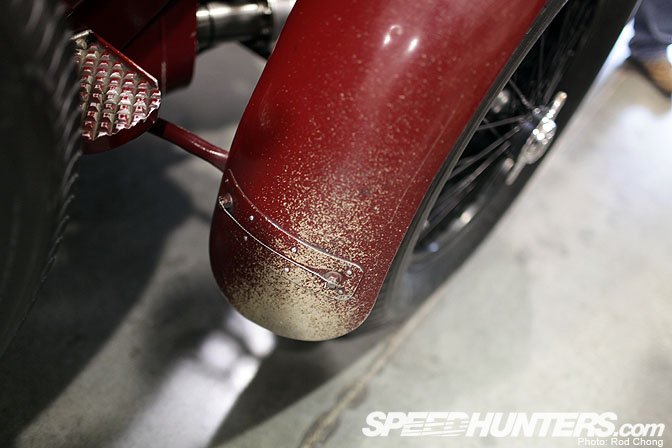 The owner doesn't want the car to lose its slightly weathered character, so the P3 remains as unrestored as possible.  I can see the point of this, as the car is awash with motorsports history. A ground up cleanse would remove the direct timeline back to the period when Enzo Ferrari was the caretaker of this machine.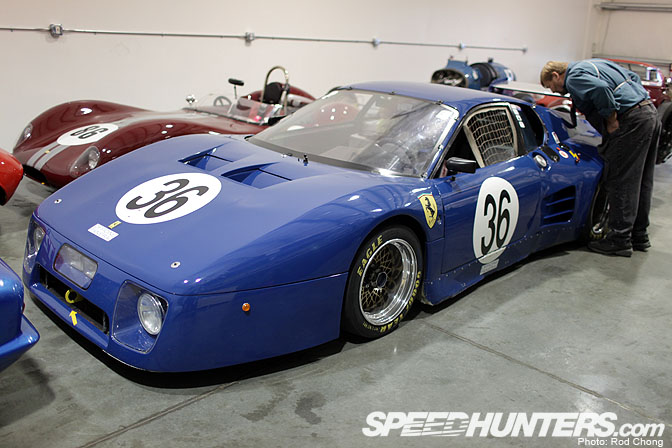 Mmmm… yet more Group 5 goodness: another 512BB LM. I wouldn't mind coming back to Dennison International one day to do a full car feature with one of these chassis! That's Butch Dennison BTW looking to spot the chassis number for me… I like to know these things haha…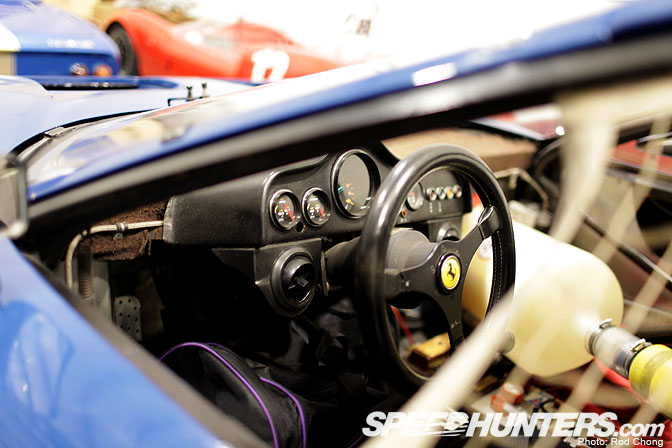 Like the Alfa P3, this car remains as original as possible. The only upgrade has been a modern racing seat. The rest of the car is completely original.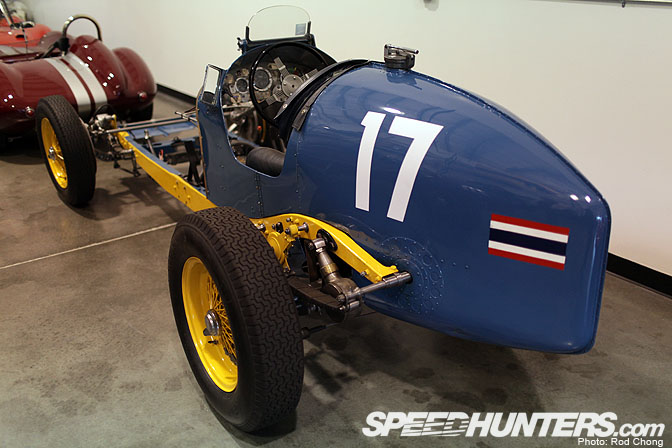 This ERA was once owned and raced by the Prince of Siam -a country name which no longer exists.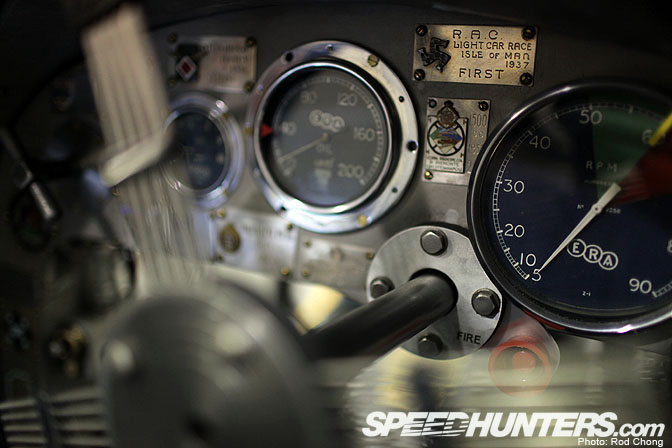 Check out all the race plaques on the dashboard.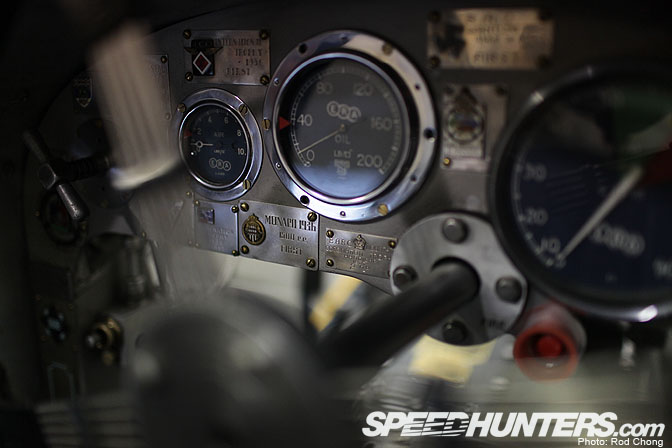 It's gives a sense of the machine's racing history.. pretty cool.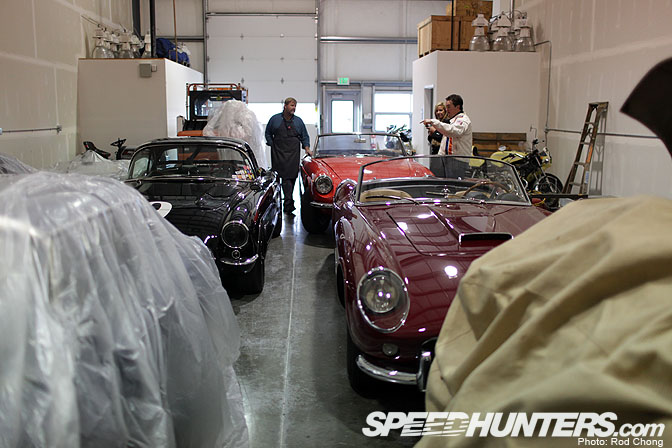 Here is the last of the car storage rooms. As you can see it's filled with yet more priceless machines. The burgundy 1957 250 GT California Spyder is a former Pebble Beach winner BTW. It won the show in 1997.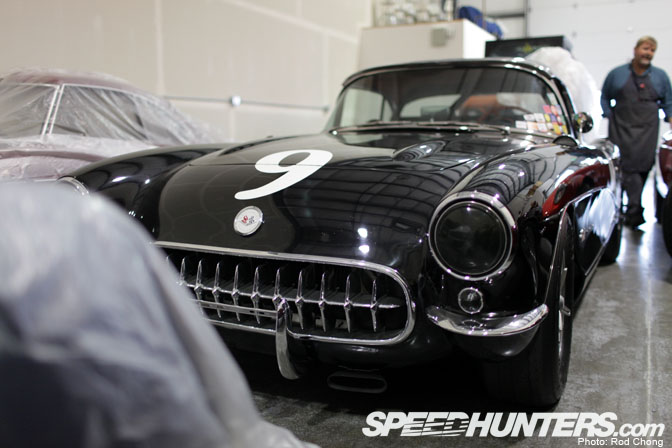 This '57 Vette has been a race car its whole life and is as period perfect as when it first started racing.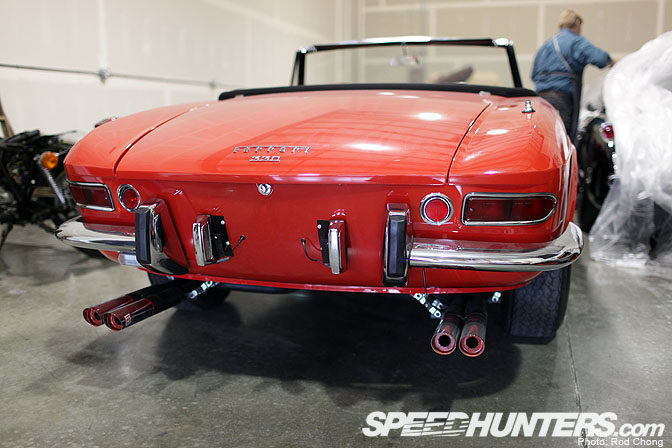 A Ferrari 330 in case you were wondering.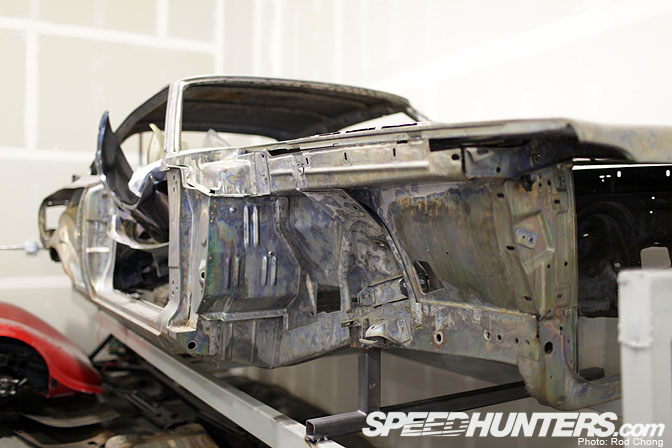 And here's one of Butch Dennison's personal projects. It's a Roadrunner GTX that he's been hanging onto for the past 20 years. That's a interesting thought isn't it…. the notion of hanging on to a car. I think if I were to want to preserve a car it would be a 1990 Honda CRX Si… Sigh… well I can always keep dreaming about this notion!
Thanks to Butch Dennison for being a great host and to Craig Morrison for arranging the visit!
Happy holidays everyone!
:Rod