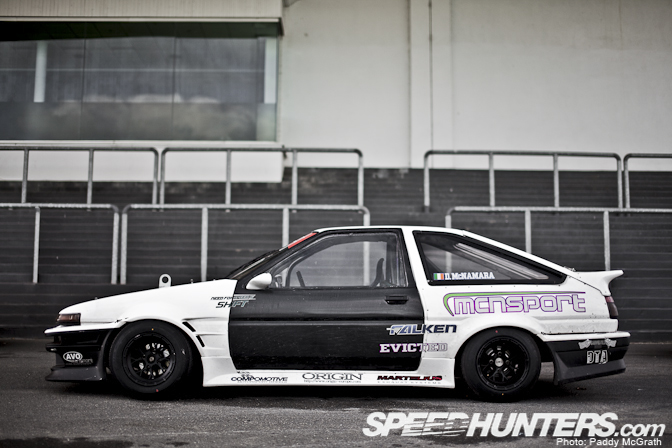 When I met Darren for his headshots for the DMac retrospective, he had only just put the finishing touches to the latest incarnation of the MCNSport AE86.  It's been several months since I last saw the car tucked away at the MCNSport shop; before that it was at an AE86 trackday at Mondello Park. I'd heard a few rumours circulating around for a while that the guys were planning all sorts of different engine conversions for the lightweight Trueno. 20V's and Formula Atlantic 4AGE's were top of the rumour mill but I don't think many people expected Darren to unveil a 13B conversion ..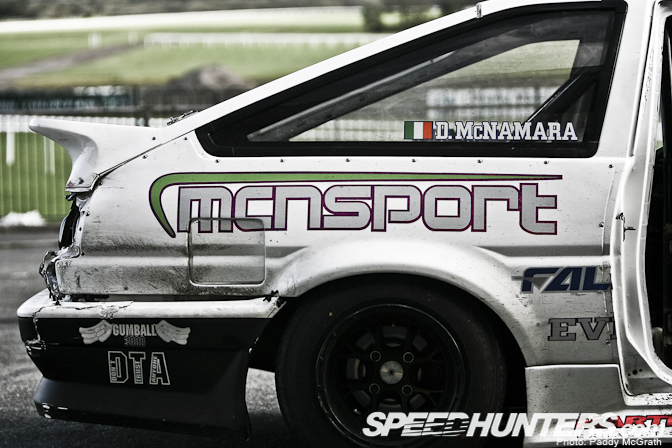 Before I go into the details, I need to point out that this car could not possibly been at any worse of a state when it was photographed. You see, this wasn't a planned shoot, we didn't have the luxury of waiting for the right light or spend time looking for a cool location. Hell, we didn't even have time to wash it. The car was photographed halfway through a team drift event. It's bumpers were working themselves loose, the car was covered in a fine layer of grime and dirt, the rear drivers side quarter panel was sporting some 'love marks' from the Punchestown steel barriers that lined the outside of the course. But for all of this, the car still retained its own sort of beauty, in what is it's natural habitat. A car built to be driven and driven hard.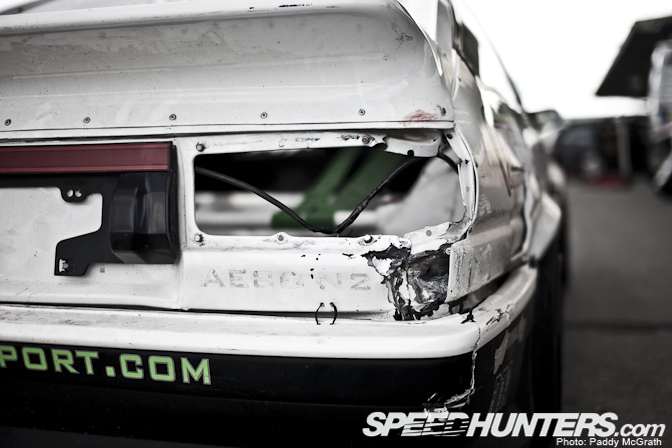 The track was wet in some places and dry in others for the morning practice session, resulting in these little marks on the DMAX fibreglass rear quarters and Origin rear bumper.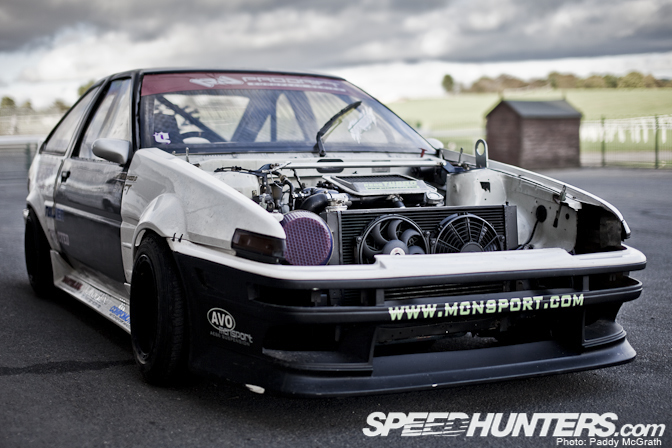 The decision to run with a Trueno front end is a clever one. Obviously the pop lights and motors weigh more than the Levin headlights, but one can remove the Trueno lights and motors and still retain the looks of the car without leaving two unsightly holes at the front of the car.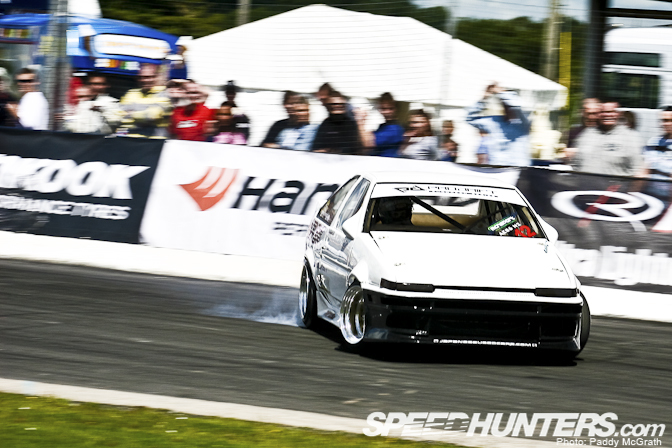 Darren achieved this by creating his own MCNSport fibreglass bonnet and Trueno headlight covers (Here pictured when the car was still 4AGE powered and rolling on Work Meisters)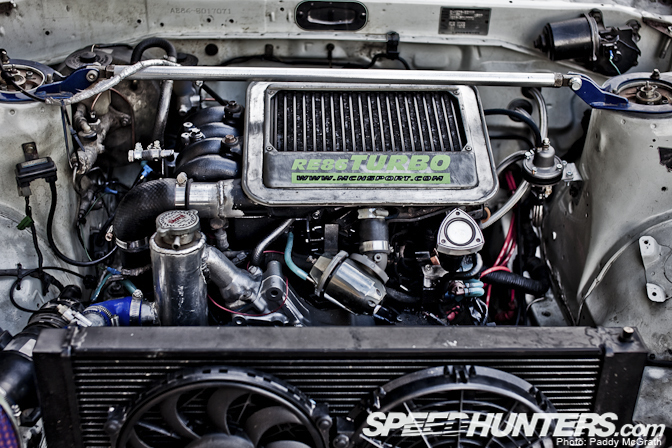 The car is powered by a turbocharged 13B twin-rotor engine, with an MCNSport custom exhaust and RE Amemiya intake. It's running approximately 220BHP, which is put through an MCNSport ultralight flywheel to an Exedy racing clutch.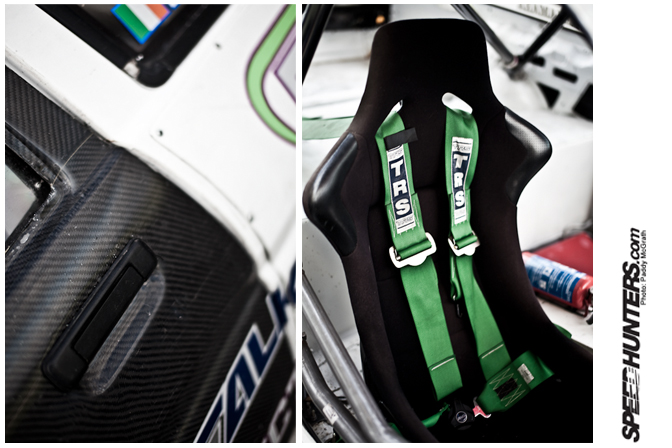 A lot of hachi owners will agree that one of the '86s greatest assests is its low weight. However, the standard weight wasn't low enough for our DMac. This car currently sits at 766KG (1688lbs)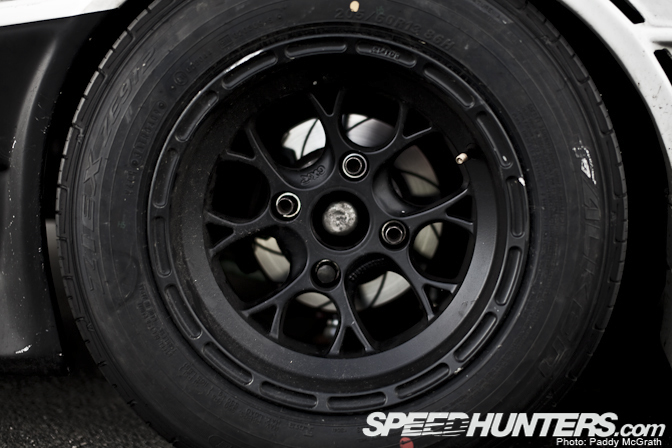 The wheels are Compomotives CXR 13×8 -8 on the front and 13×10 -7 on the rear, all wrapped in Falken Ziex ZE912 rubber. The stopping power is provided by black diamond discs with mintex pads and Earl's lines.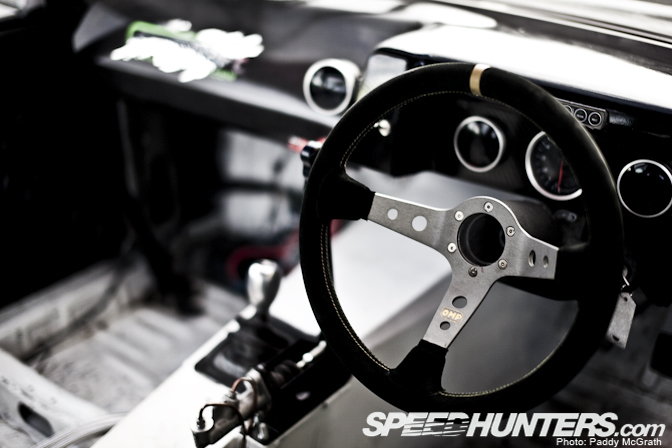 Inside is the usual drift office affair, only the bare essentials to be found. The passenger seat has also been removed to cut down on weight.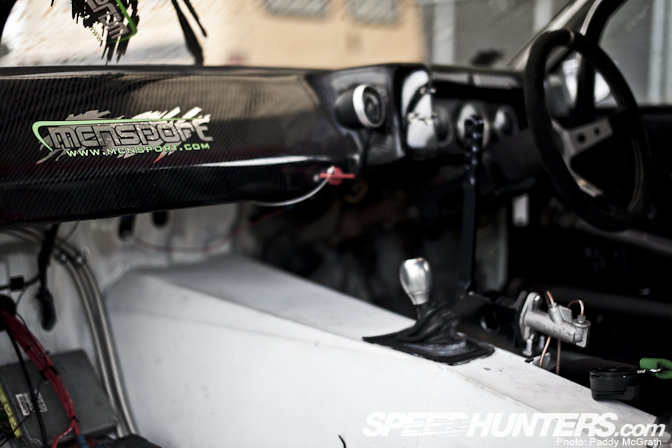 The MCNSport carbon fibre dash looks the part in here and saves weight over the standard Toyota item.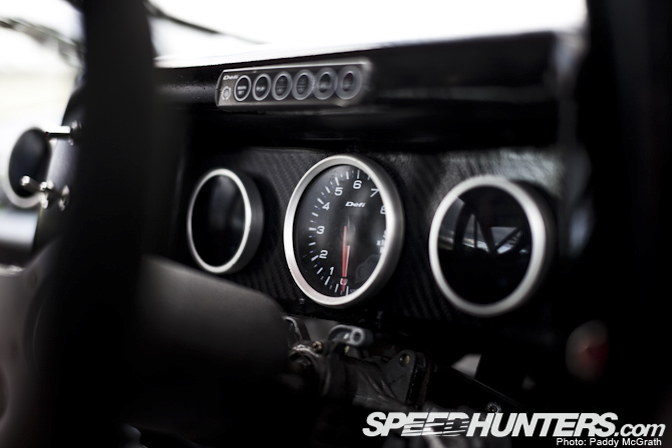 Defi gauges keep Darren in contact with whats going on in the engine bay.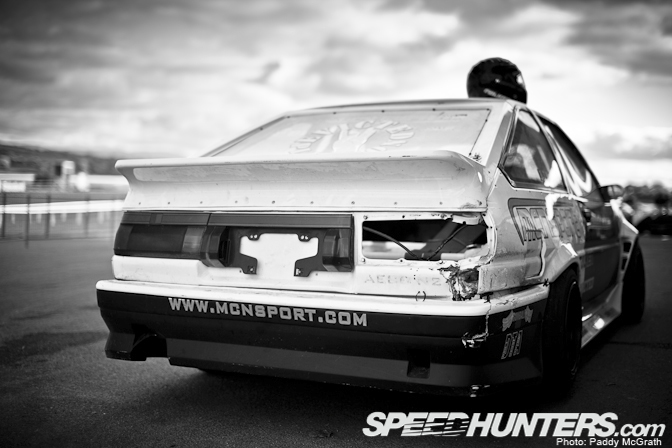 Back on the outside, we have DMAX front fenders with Origin bumpers and sideskirts. MCNSport supplied their own carbon doors and fibreglass bootlid. A TRD spoiler may not provide the most amount of downforce but I've always felt that the AE86 looks incomplete without one. Further weight has been saved by using Lexan glass all round.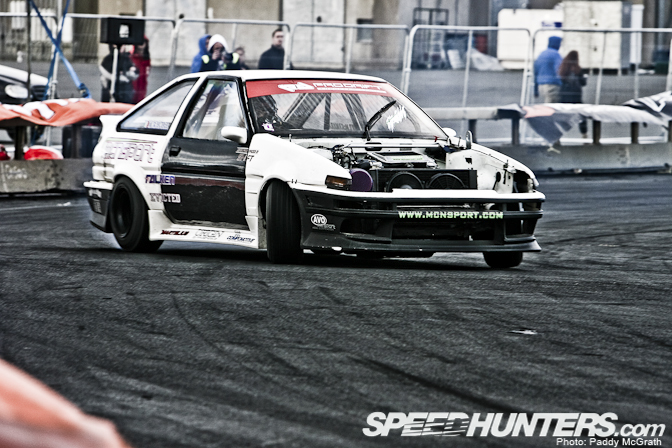 To get the 287BHP per tonne weight to ground, the car is running KW bump and rebound adjustable coilovers at the front with KW 8KG springs and Tein camber tops. The ever popular Ueo Style (Nagisa Auto) products have been used for the front lower arms and both inner and outer tie rods. Antiroll is provided by Whiteline. At the rear, Darrens using a set of AVO / MCNSport rear coilovers with MCNSPORT 5KG springs.
On its first outing, Darren took top of the podium alongside his team mates Mike and James Deane. It's great to see Darren still driving over here, with more and more Irish drivers flocking to Formula D, it's always enjoyable to watch those who've made it come back and drive in front of their fans once again.
Darren would like thank Falken tire, Origin Europe, Martelius Exhausts, Compomotive Wheels, AVO Suspension, Evicted, Gumball 3000 and DTA for their help and assistance in 2009.
- Paddy