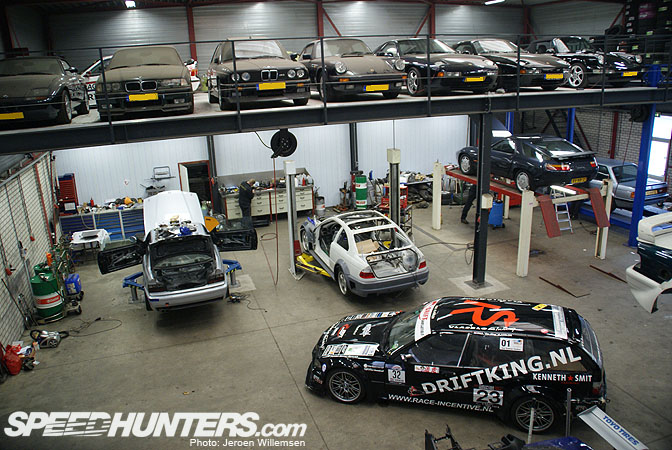 While researching this blog post, I didn't want to make a standard Driver Profile of Paul Vlasblom like what we've been doing with the Formula D drifters. I wanted to turn it into a Q&A type of feature with lots of pictures of his cars, build projects and driving skills instead.
Paul's career got started in 1998 when he was working for a Porsche dealership and and was racing a E30. He already loved to slide the little BMW but it never occurred to him it was a real sport. He won the BMW E30-Cup in 2001 and 2002. After that he became more and more interested in drifting and won the Dutch Driftchampionship in 2004 with a BMW E36 M3 Coupe. He also started to he attend his first drift competitions in the UK and Ireland too.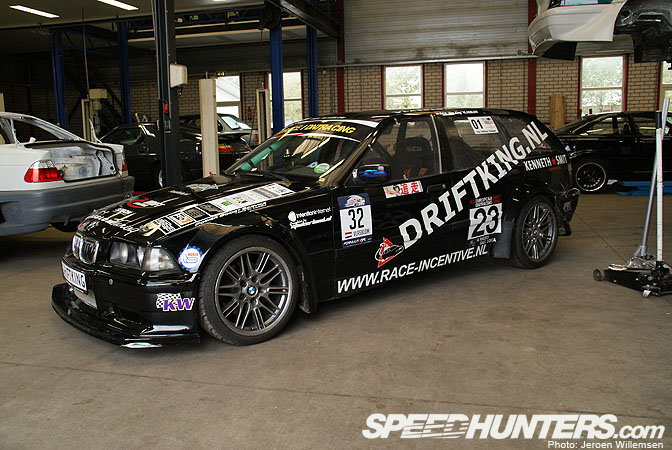 Let's take a closer look at his current drift machine: his E36 Touring.
The car started out as his personal daily driver but over the years it's evolved to a full blown drift machine. In 2005 he went to the D1 driver search in the UK at the Silverstone circuit. He qualified with 5 other drivers from UK and Ireland. At that time, the car had to meet the D1GP standards so it needed a rollcage. But because it was Paul's daily driver he didn't had one, luckily he was able to borrow one from a friend  who was driving in the BMW-E36 cup.
Instead of bolting the rollcage into the car he used industrial adhesive because he didn't want to drill holes into his street car. During the scrutinizing of the car by the D1GP officials they checked the rollcage but the adhesive looked like perfect welds, so it passed. At the time it seemed OK, but thinking about it now it seems a bit reckless!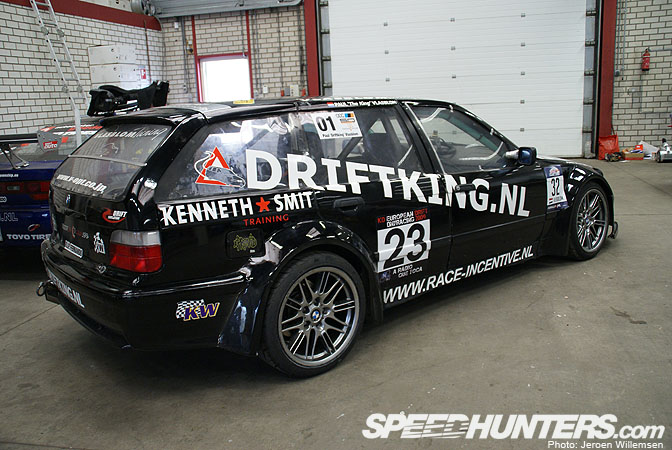 The car had been his daily driver for a year when he exchanged the standard 2 liter engine with a S50 M3 Evo engine. After drifting it in 2005 he fully rebuilt it as a professional spec driftcar. The exterior went from standard to widebody with a modified GTR-Coupe bodykit because there wasn't anything available for a touring.
The windows have been replaced with lighter lexan versions. Other weight savings have been achieved thanks to FRP doors, bonnet, fenders and bootlid.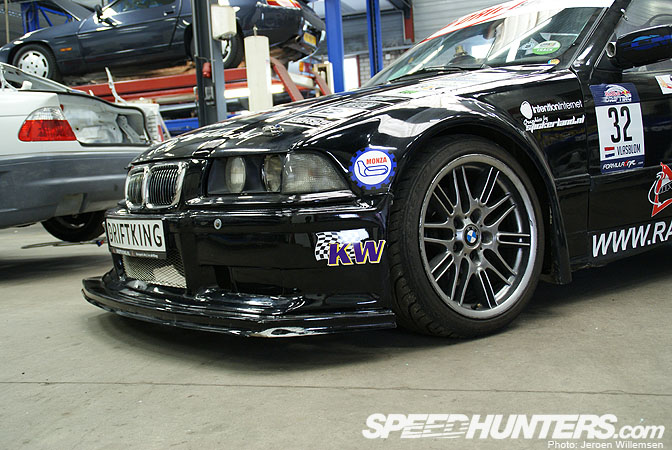 The most important thing on a drift car has to be the suspension. The car has been fitted with a KW suspension, aluminum E46 wishbones and special tie rods for more lock. All these modifications and his amazing driving skill has earned him a place as one of the world's greatest drifters That's why was invited to compete in the…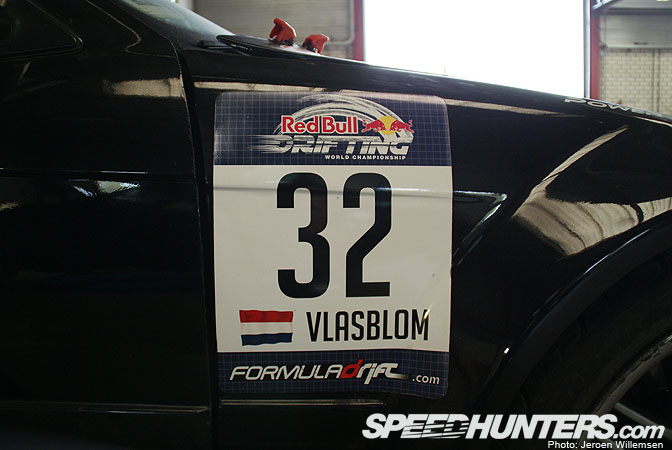 …Red Bull drifting World Championship.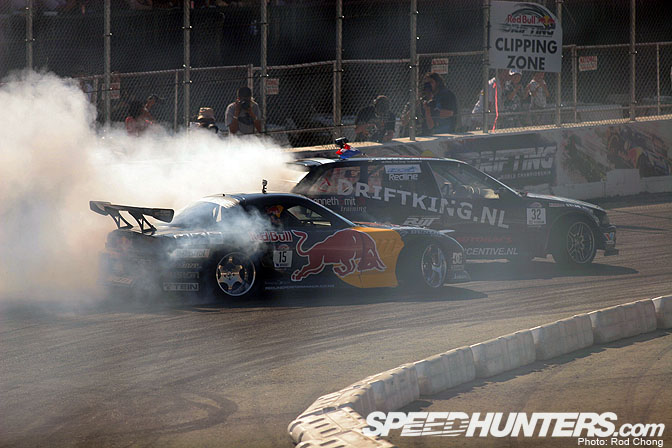 He qualified in third and he told me he was very thrilled with the result. Paul even had a feeling he was finished after that, but off course he had to battle it out in the top 32. His fellow competitors were very impressed with his results and drifting skills, but he suffered from his relatively low powered car because of the track layout. He drew against 'Mad Mike' Whiddet with his crazy rotary-machine, Mike advanced to the top 16 when Paul lost his drift mid-corner. Paul had earned respect amongst the other drivers and he went home with a good feeling.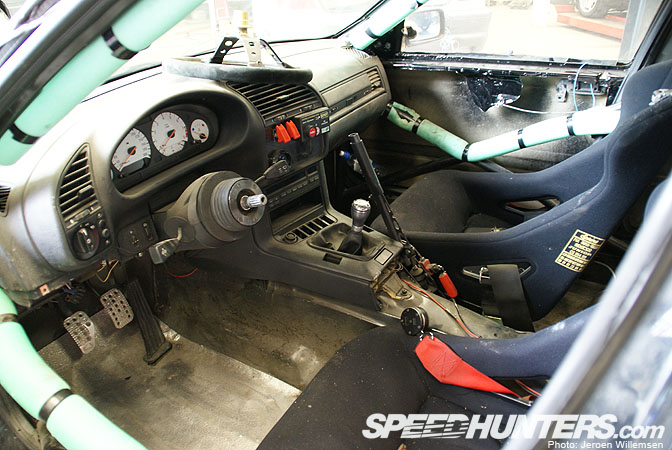 Back to his E36 wagon, inside this Spartan interior we only find the bare essentials a drift car needs. This time the D1-spec roll cage has been welded in place. The shifter connects to a five speed gearbox with a Tilton twin plate clutch and aluminum flywheel. The hydraulic handbrake with a brake bias adjuster makes sure Paul can use it whenever he wants and how he wants. The Sparco seats and steering wheel complement the interior.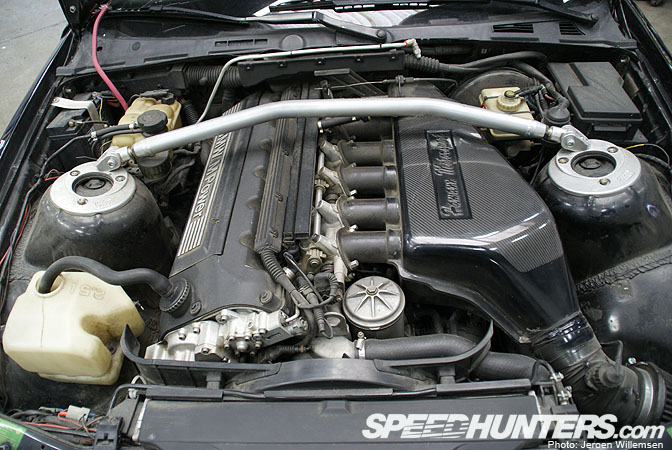 The engine doesn't look like much but it has more than enough grunt to get it sideways. Like I mentioned before, the car now runs a S50 B32 6 cylinder M3 Evo engine. It uses more aggressive Schrick camshafts and Hamann-Motorsport carbon airbox. With all the modifications and a reworked ECU it puts out 380hp.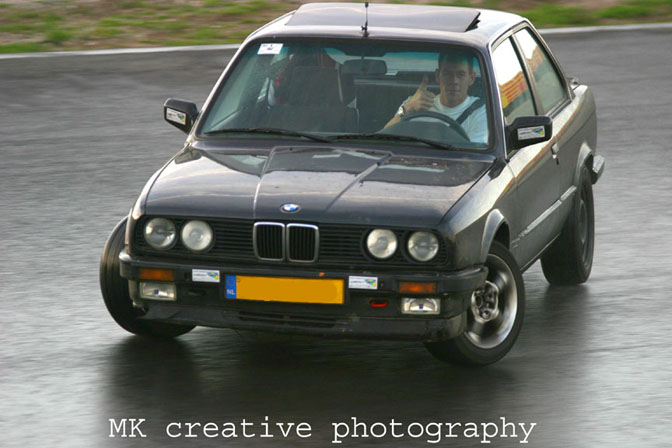 This is Paul drifting in his early days in his trusted BMW E30. It's back in 2000,when he was attending a race day, he bought two E30s that day, he explained to me that's because you had to pay for track access. In the case of a mechanical failure, You didn't want to be stranded, so with a back up you can always continue and make the most of it.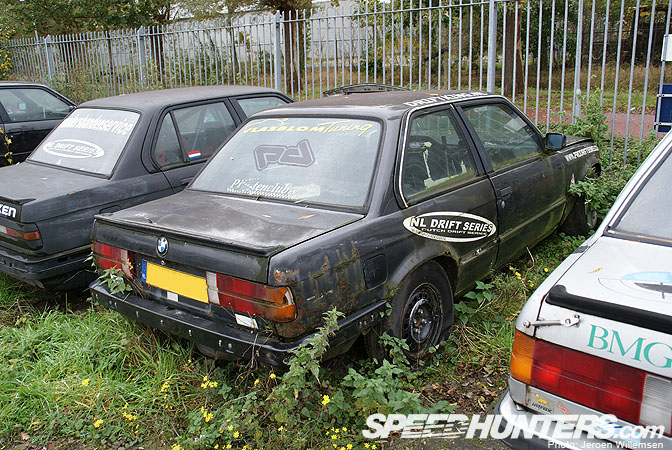 I was amazed to find the exact same car parked outside in the parking lot behind his company. Maybe Paul is thinking to restore the car in its former glory?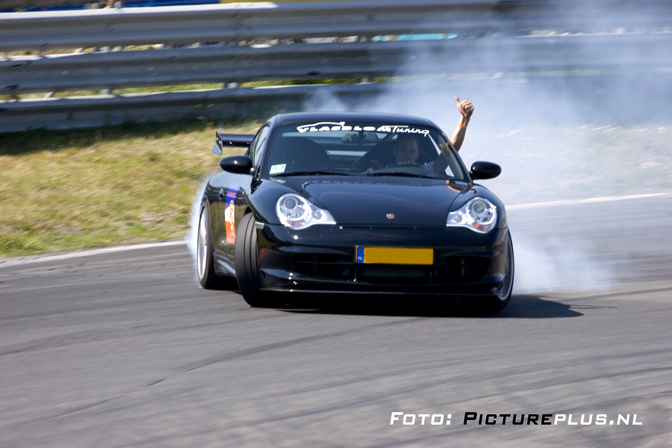 Paul also send me some other pictures of cars that he drifted in his career. This picture with Paul drifting a Porsche 911 GT3 impressed me the most.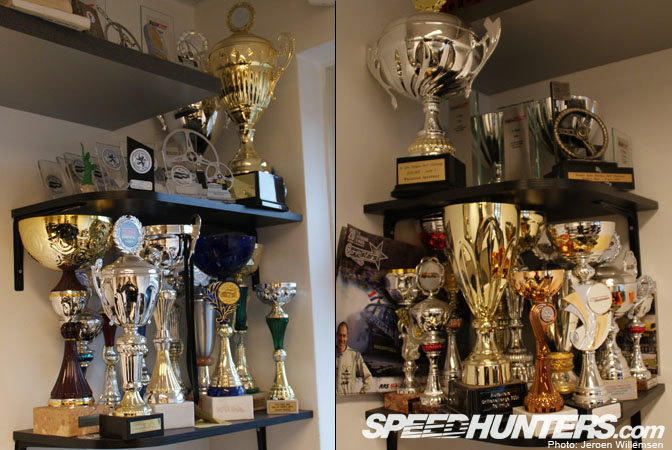 Paul showed me around the office where he keeps his trophies. I asked him which trophy gave him the best memories. In 2005 he attended the D1 driver search at Silverstone, bear in mind that he drove his touring all the way there from Holland, he stuffed al his tires into the car. After he succeeded in getting his D1 license he returned back home. On the way back, still driving his drift car, he attended the King of Europe drift event in Warneton in Belgium. You might have guessed the outcome already because he won that event in his touring and went home after that still driving the same car. Can you imagine something like that happening now-a-days?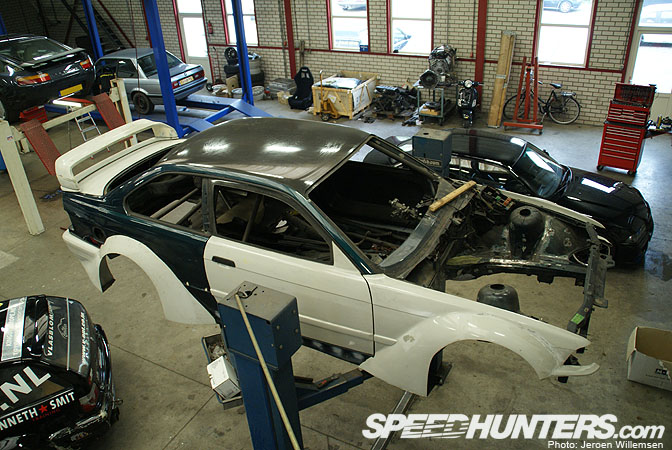 In 2008 I worked in the summer for Paul to earn some extra cash, this was one of the cars I worked on. It will be build as a drift car, powered by a Chevy LS3 but due to other projects involving his time, Paul had to put the build on hold.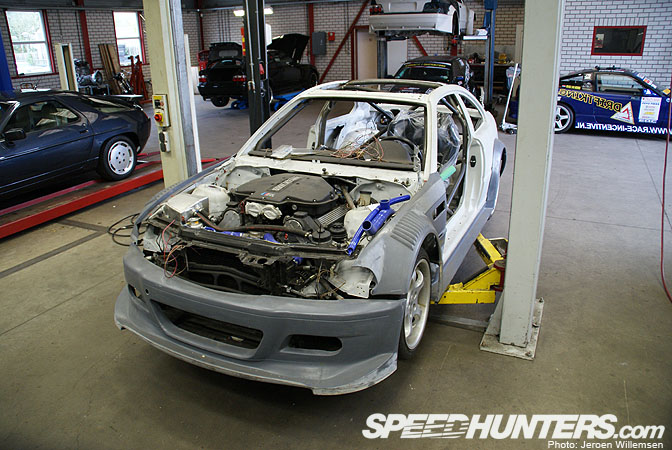 This car belongs to a Belgium owner who gave Paul a blank check to build a mean machine. I hope I can come back to photograph this car in more detail when it's almost finished.
Cars like this just show that Paul is more than a great drifter who has drifted on almost every continent. He is also able to build amazing cars.
Outside I came across this Porsche Cayenne with a very special bodykit. But that wasn't everything, under the hood it has a fully 9ff tuned engine, more on this car in another post.
I wanted to thank Paul for his time in his busy schedule, I will keep in touch with Paul to bring you the latest info on some of the cars he is building. When I visited him he told me he was going to Japan to drift on Ebisu during the Drift Matsuri, part of a prize he won at the Driftstars event in Italy last month. I guess at that time he will be the first person who has drifted in Europe, the US, Australia, Dubai, Moscow and Japan.
-Jeroen Willemsen