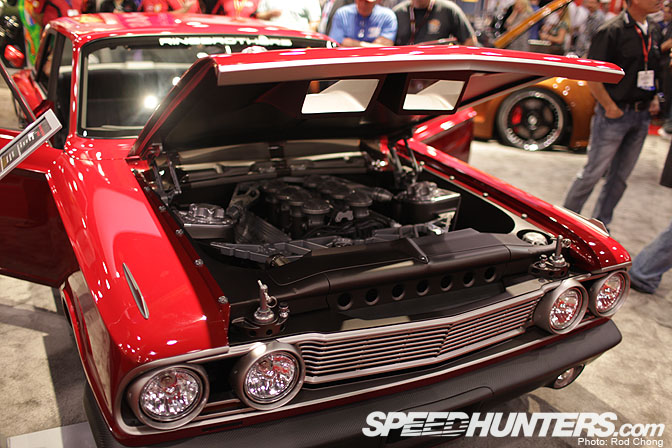 Man I'm tired… I just feel asleep while sitting here working on these
photographs. It appears I'm still recovering from a wild week in Las Vegas last week. Oh well… best to crack on and get this
story written up before I fall asleep again!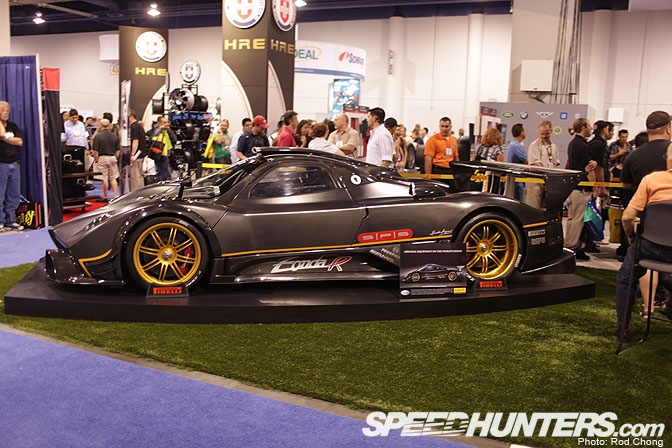 It was a pleasant surprise to see Pagani brought over one of the Zonda R chassis from Italy. This was probably one of the most striking cars at SEMA and was the centerpiece of the Pirelli booth.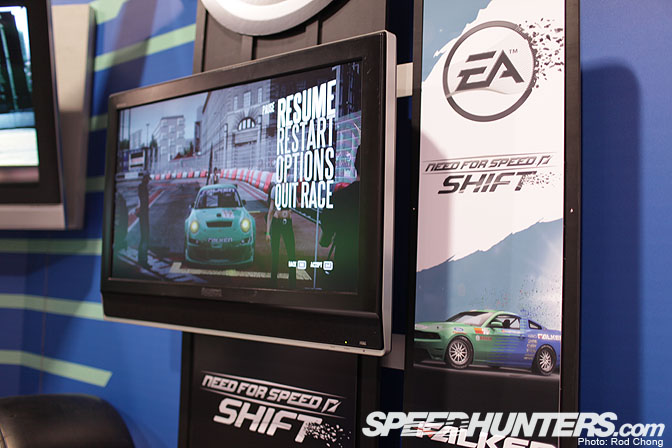 The Zonda was set up right beside the Falken booth where we had some gaming kiosks setup up. Check out the in-game Falken 911 GT3 RSR.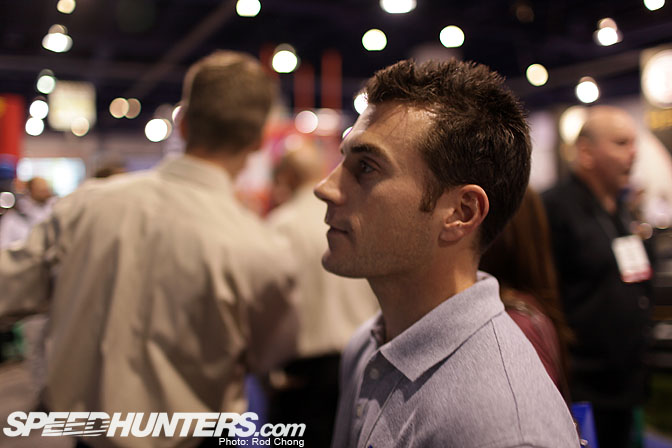 This caught the attention of one of the drivers of the real life car: Brian Sellers…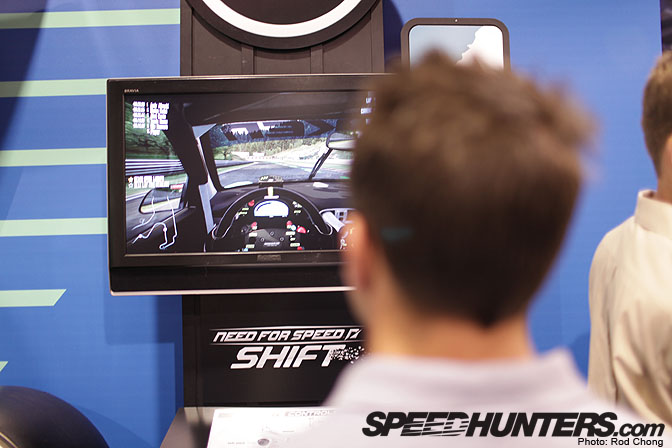 ,,, Here he's legging the car around Spa-Francorchamps. He wasn't totally used to using a game pad controller but I'm sure would have got the hang of it with a bit more practice.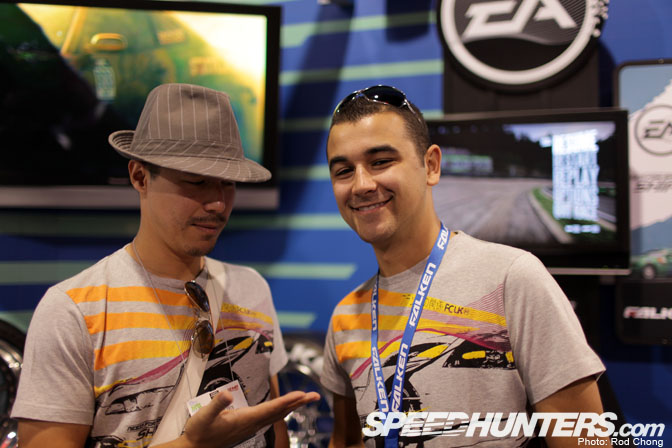 On the right, that's Stefan from the NFS office who was manning the kiosks over the course of the week… we seemed to have a problem with wearing identical versions of the new FC-UK NFS SHIFT t-shirts… very embarrassing as it happened twice….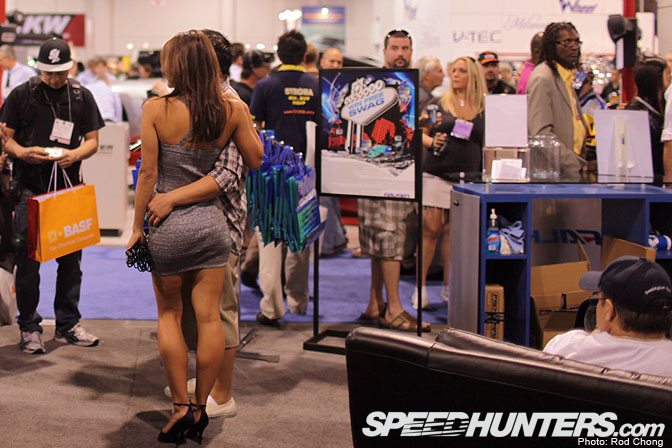 Over the course of SEMA week, Stefan became the unofficial bodyguard of the Falken girls… any time someone creepy was hanging around he'd sweep in and whisk them away… apparently they had a set of hand signals going after a few days!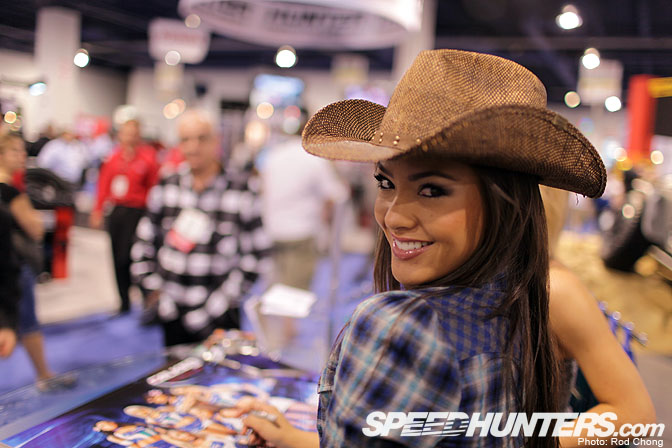 Falken Girl, Randyl Dawn had a Daisy Duke theme going on… love the hat!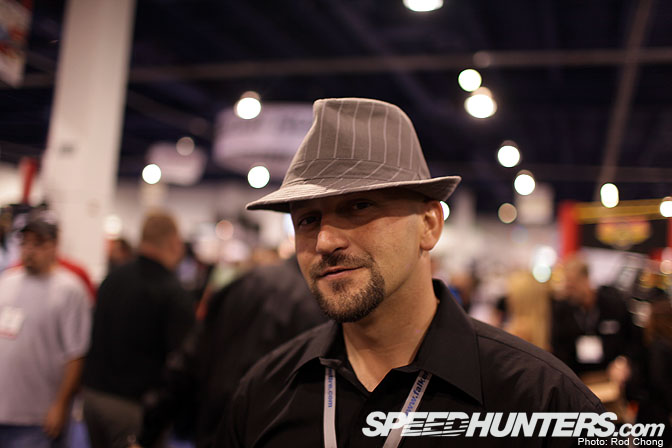 Perhaps Nick Fousekis, the boss of the Falken Motorsports programs also wanted to get a fancy hat too?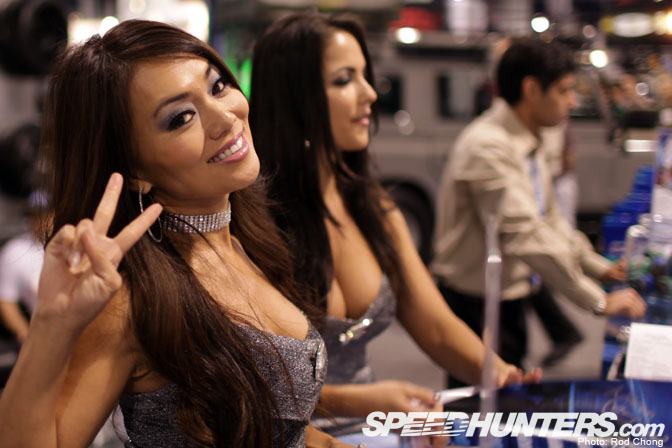 Hey Eri!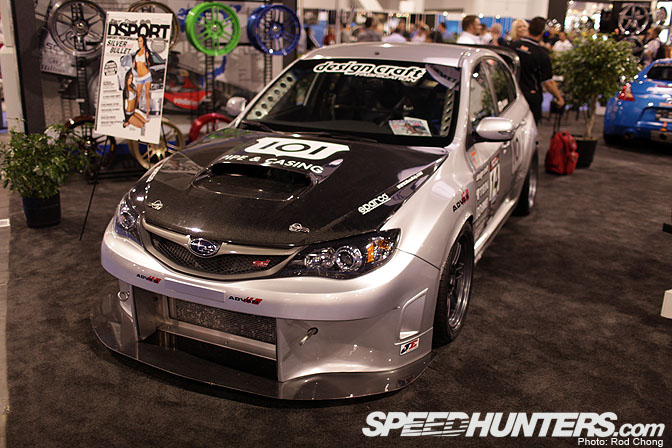 Near to the Falken Booth, was the Enkei setup with the Design Craft Subaru Impreza as its center piece.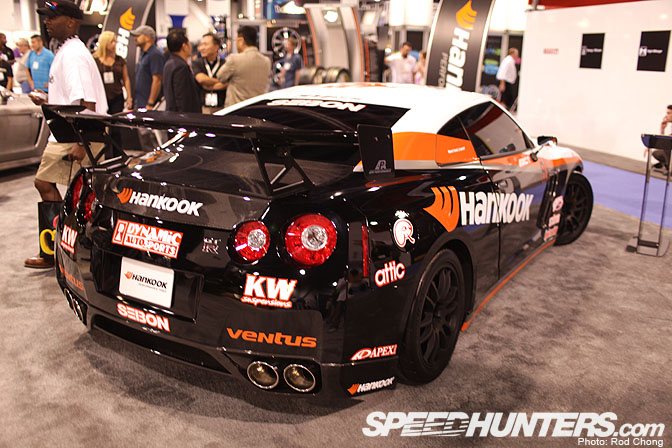 Moving further into the South Hall I spotted the new R35 Formula D drift machine… a car that a few people in the scene were referring to as a "Skyline R35 GT-R". (ack!).. I'm sure that many will weep the first time this car tags the wall at Irwindale!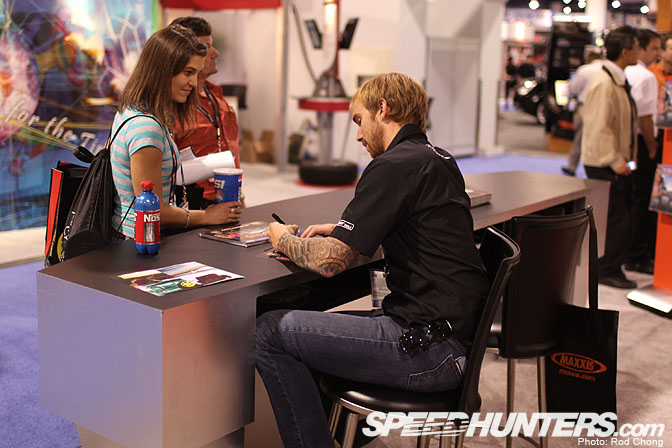 Next up from the Hankook booth was the Maxxis setup where Chris Forsberg was on duty signing autographs.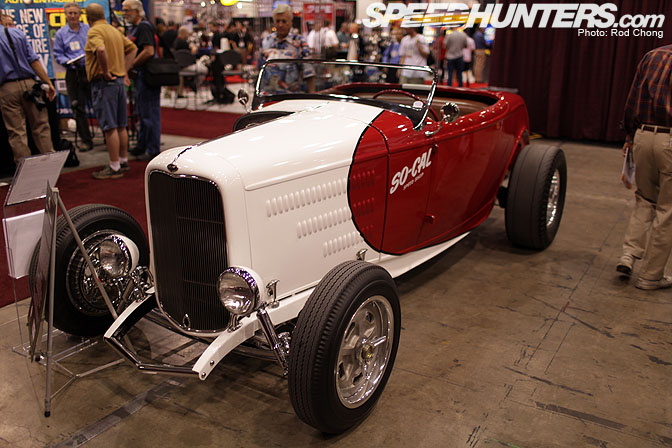 Our friends at the So-Cal Speedshop were repped by this high boy. It's as traditional as it gets for a street rod.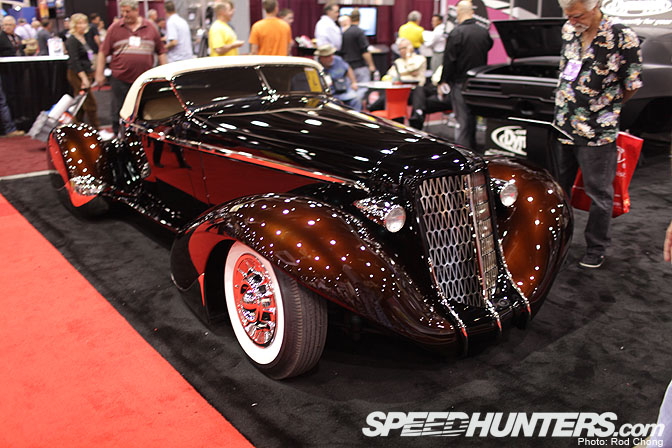 This 1936 Auburn custom looked incredibly stunning in the flesh. It's a mobile monument to the art deco movement. Wow….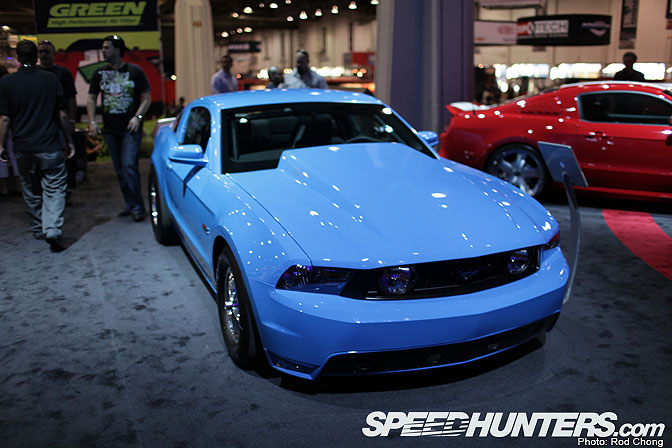 There were all manner of modified 2010 Mustangs on display at SEMA. Most of them didn't do very much for me but I really liked this all-blue drag car.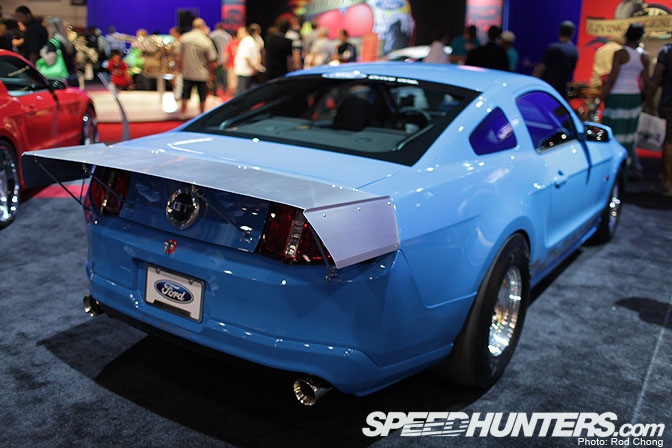 This is a REAL machine and could be considered to be the spiritual successor to the '69 Pro Stock 'Stang I showcased yesterday. NHRA get rid of the bubble machines!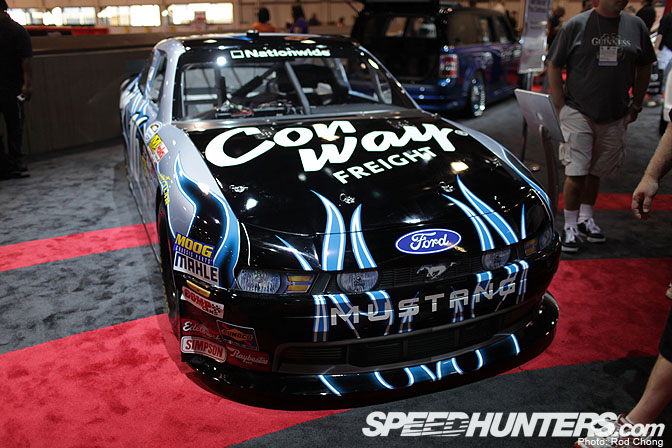 This is the new "Mustang" themed Nationwide stock car…. NASCAR get rid of the bubble machines!.. Think they will listen?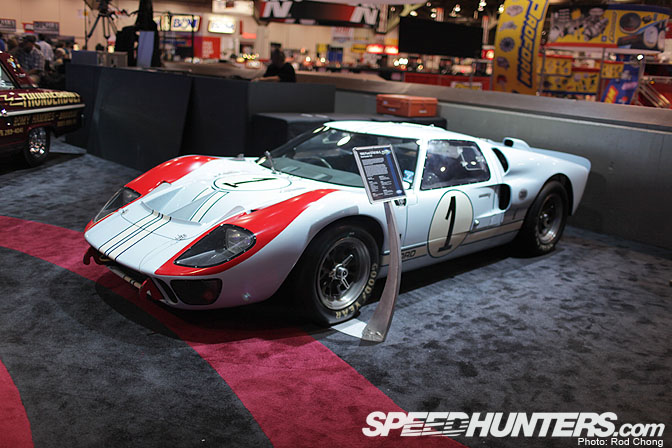 Now this is more like it: harkening back to the golden era of motorsports, Ford was proudly displaying this reminder of its Le Mans racing heritage. GT40 Chassis number 1015 was first across the line at Le Mans in 1966 but was deemed to have finished second overall as another GT40 technically covered slightly more distance in the same time period… odd… At any rate it's a fantastic piece of history. If only race cars these days were as elegant.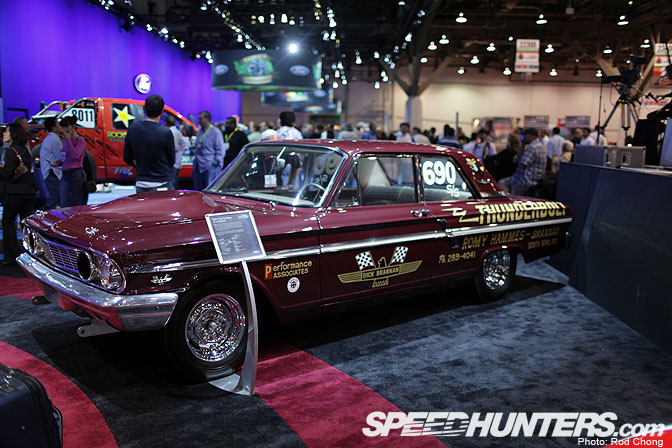 Here's another piece of motorsports history, this time drag racing: a 1964 Ford Fairlane Thunderbolt Super Stocker.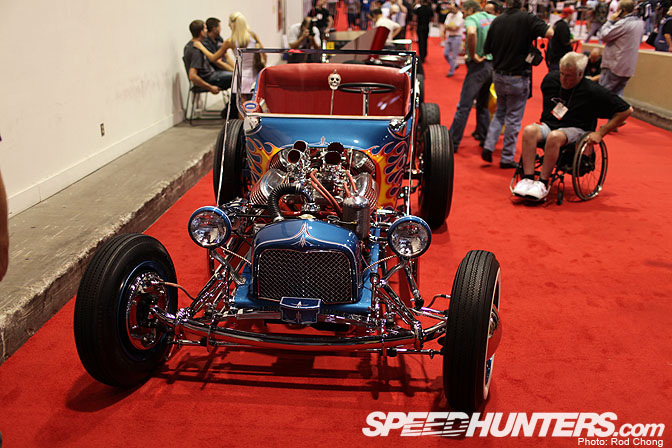 Here's a beautiful piece of hot rodding history.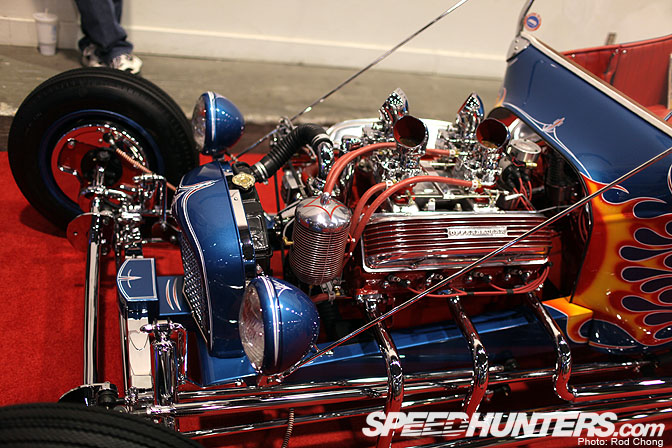 Old show rods like this are the anti-thesis of the modern rat rod. It's funny… I don't mind old blinged out show rods, but have a bit of distaste for the modern smoothster style machines. Must be some kind of strange bias there.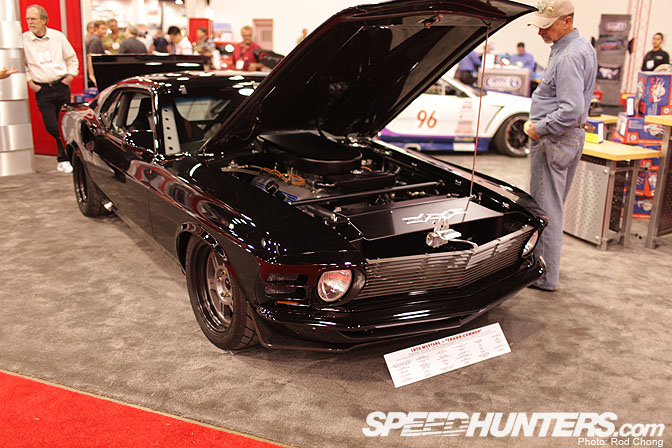 Phillip Koenen's Transcammer 1970 Mustang won Best of Show and Best Hot Rod at SEMA this year. I personally love the style of this car much more than the now tired Pro Touring muscle car genre. I've heard the term "Street Warrior" used in reference to muscle car builds which are inspired by old Trans Am racers.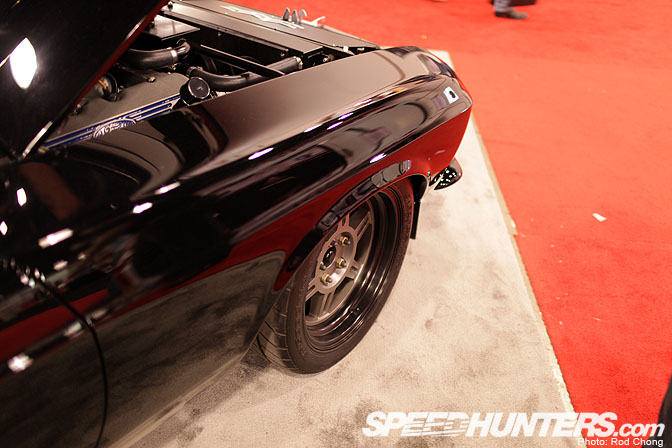 To my eye the smaller wheels are working nicely, especially as they aren't pushed too far inside the wheel wells.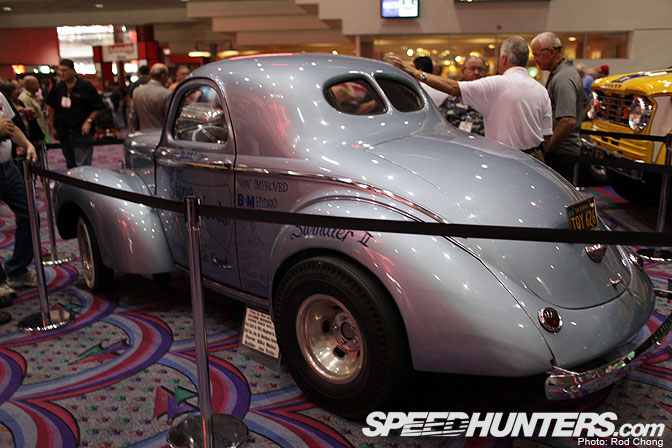 I was freaking out to see the Swindler II in the flesh… this is one of the most important Gassers to ever hit the drag strips in the 1960s. It's pure legend.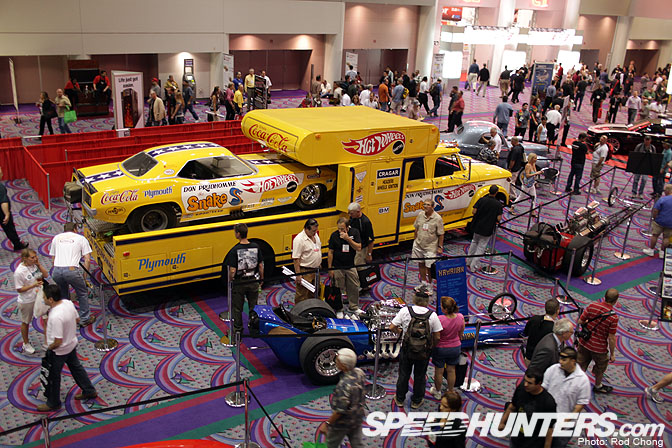 The Willys gasser was surrounded by a fantastic display of old drag machines… Isn't SEMA incredible?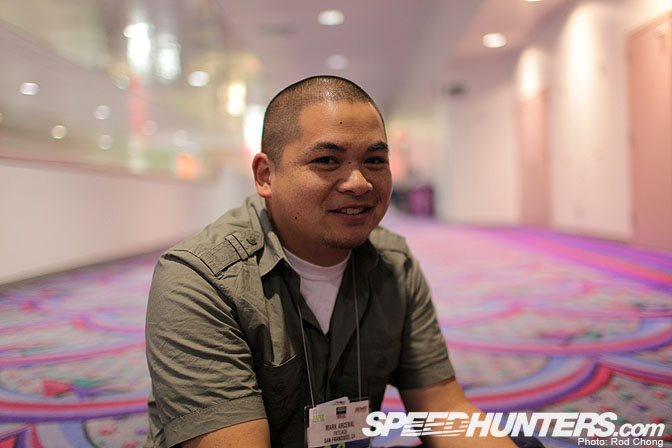 Let's now look at a few of the people we were chatting with at SEMA: This is Mark Arcenal of Fatlace/Hellaflush fame… He's also the designer of the Speedhunters logo.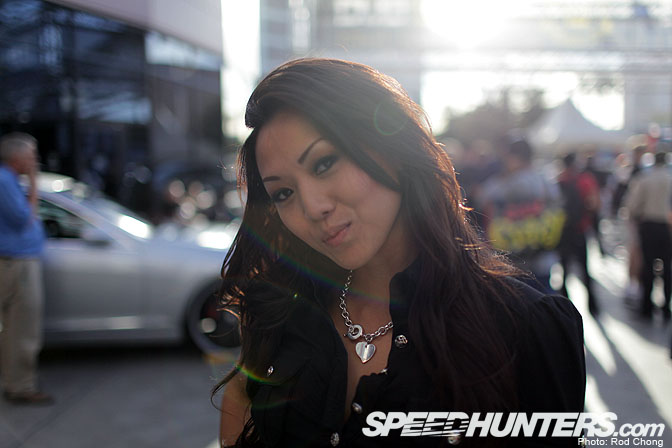 And this is Kim Loan, the owner of the Prestigious Models Agency. Kim is a former model herself, but now spends most of her time managing a group of fine young ladies.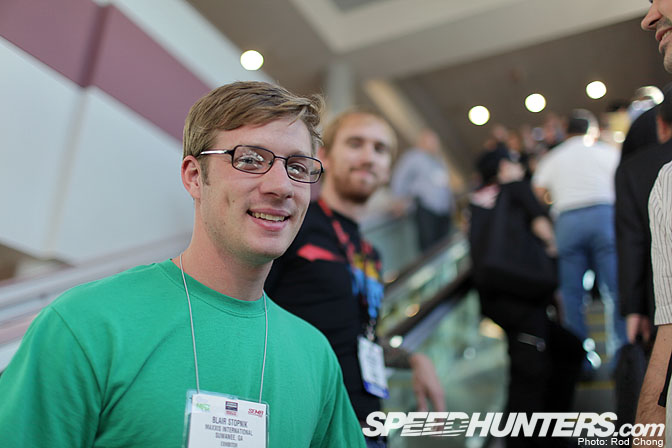 Here's the winner of Irwindale 2009, Ryan Tuerck on the way to the Formula D press conference.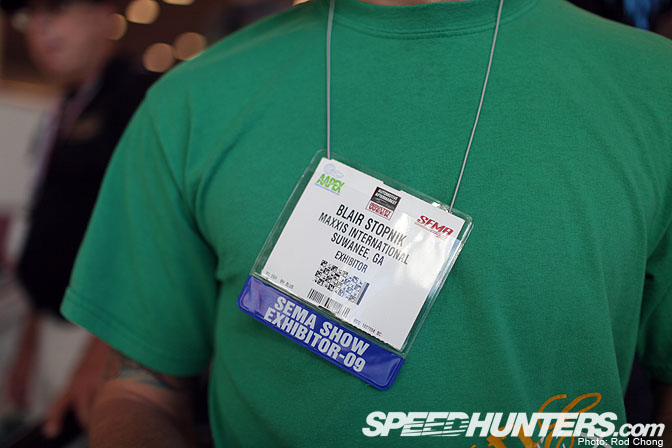 Hmmm… looks like someone was borrowing a pass…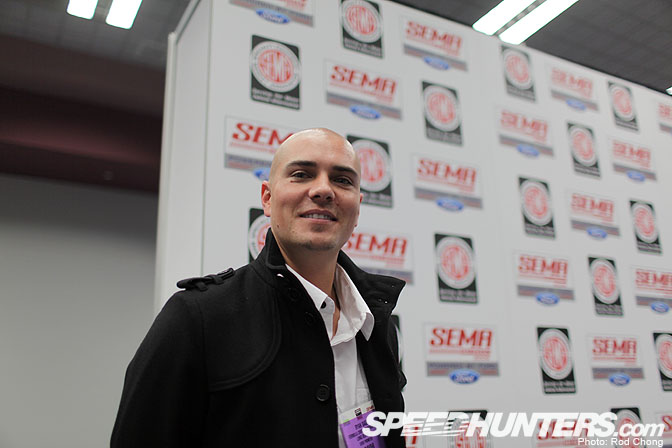 I captured a snapshop of Formula D co-founder, Ryan Sage a moment before the start of their SEMA press conference…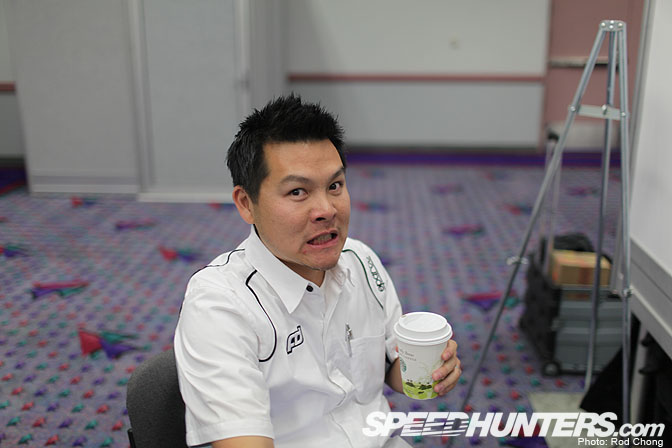 … And his business partner Jim Liaw. Both of them seemed pretty relaxed and in good spirits.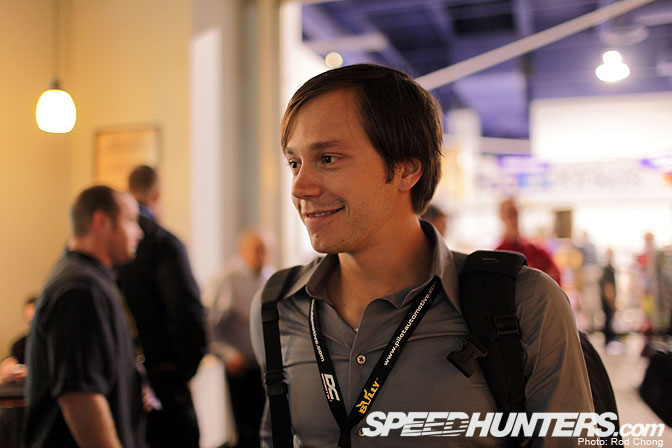 This is Peter Tarach, the Editor-in-Chief of Modified Magazine. He doesn't really look old enough to be running a magazine!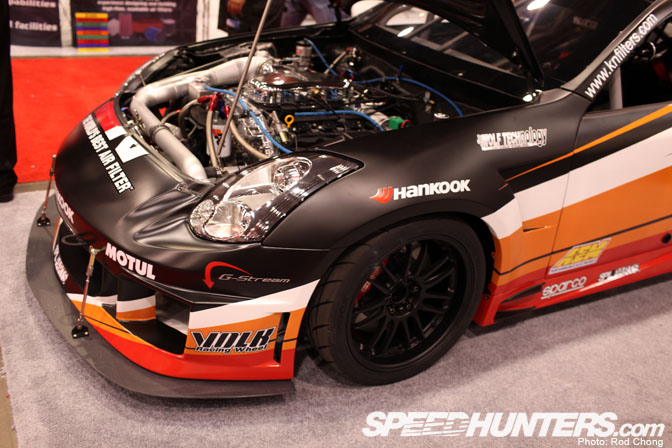 He will no doubt be busy at Willow Springs today, but this is one car that won't be there.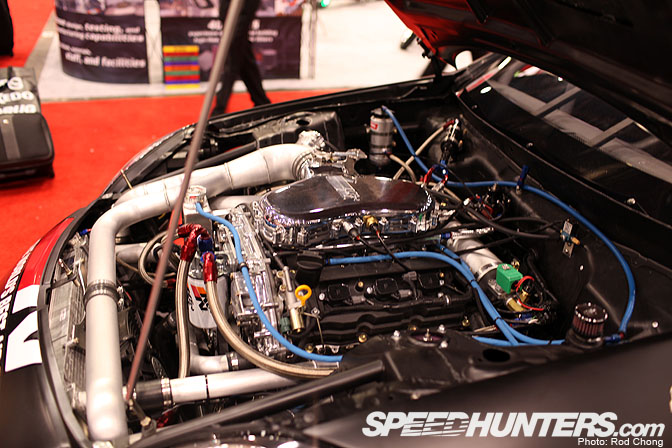 The new K&N G35 Time Attack machine has been four years in the making, but has yet to turn a wheel in anger. Some more testing is needed before this car makes its competition debut.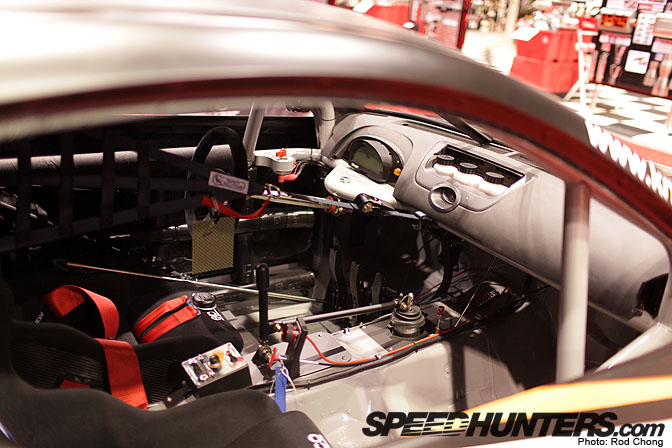 A quick shot of the cockpit. Seems like a quality build.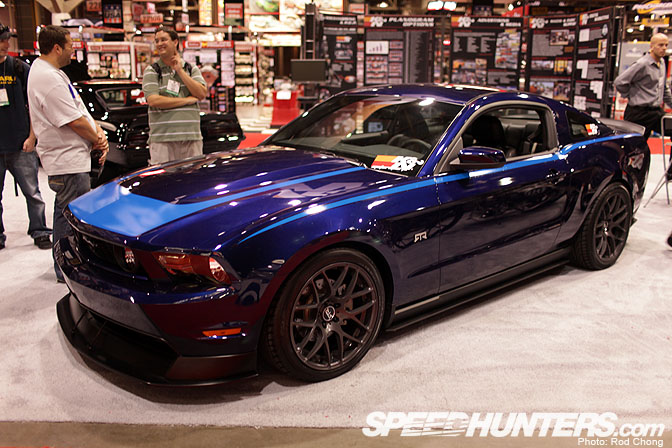 The G35 was sharing the K&N booth with Vaughn Gittin JR's RTR Mustang. Man I'd love to have one of these cars…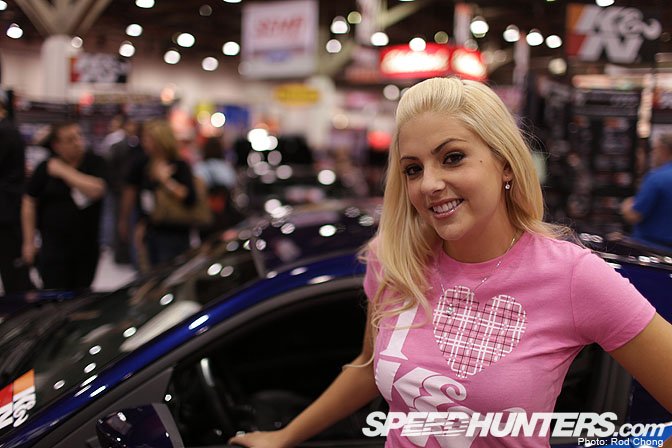 Courtney Day was adding a bit of glamour to the mix. She's been doing promo work for the RTR brand recently.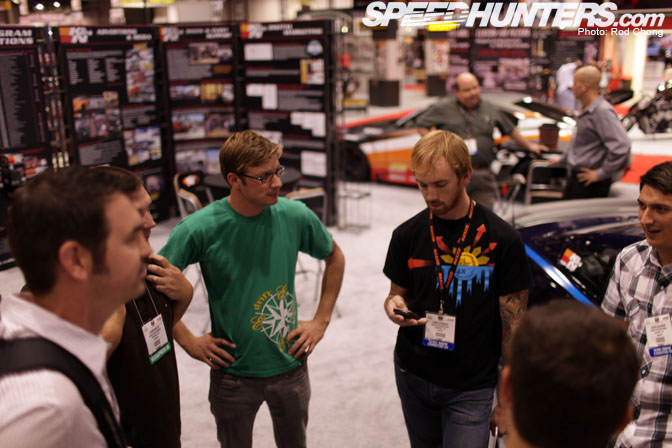 A few of the American drift scene inner sanctum were also hanging out at the K&N booth… Note the two Drift Alliance icons and their group of managers and friends.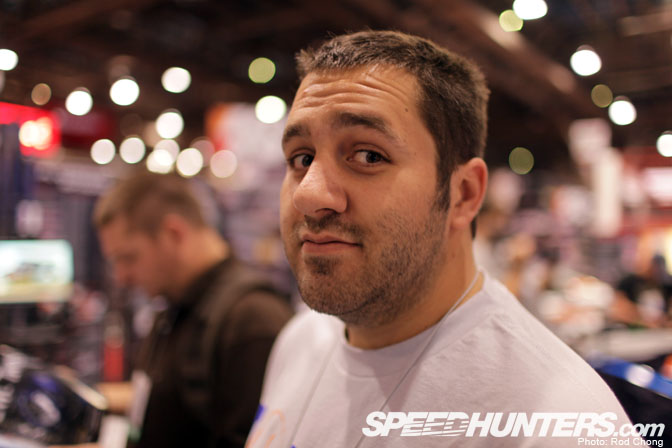 Joey from Wrecked Magazine… it seems where ever I go I run into this guy :>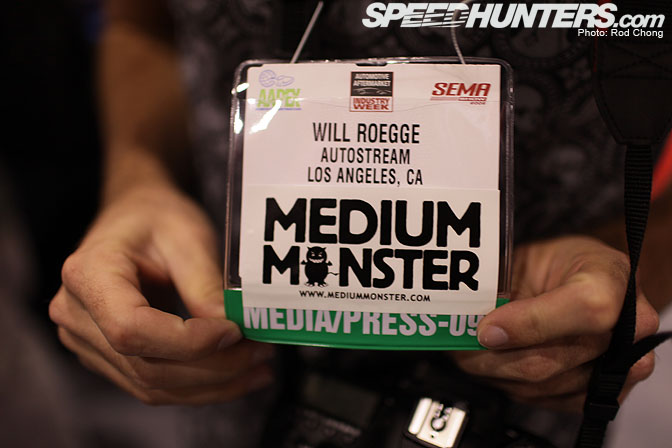 Will Roegge and Josh Heron were sporting matching Medium Monster stickers on their SEMA passes. It's a new company Will's starting for his various film production projects.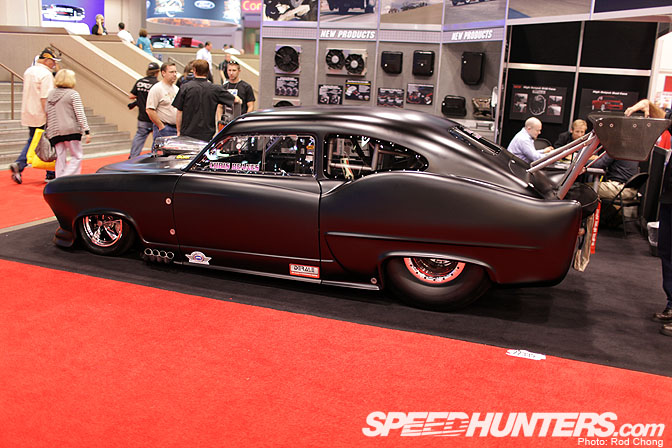 A Henry J FTW! So cool!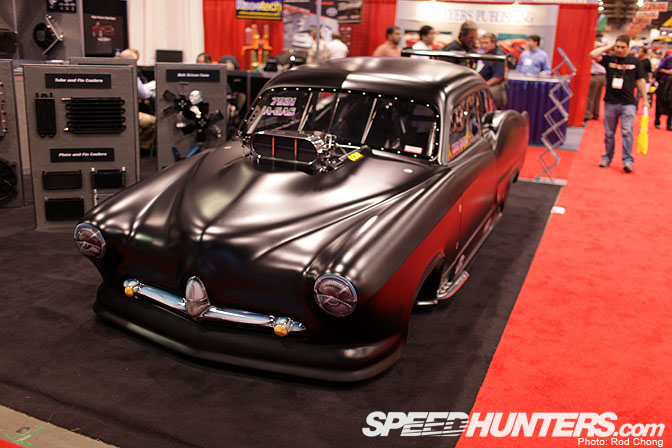 I used to have a Revell Gasser model of a Henry J when I was a wee
lad… it was a jacked up straight axle gasser, but this modern machine
has opted for a super low slung stance. It certainly looks the business!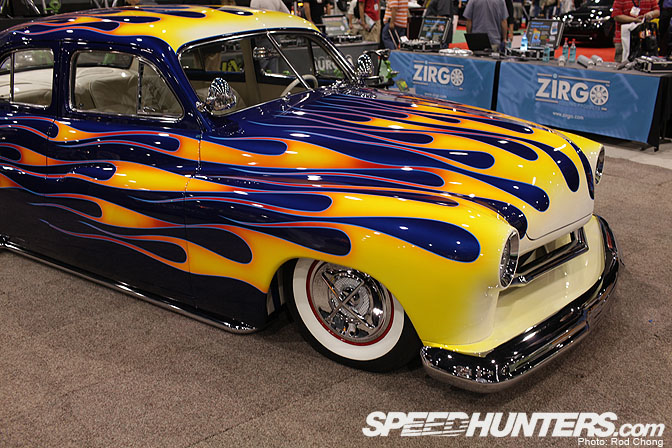 In my books, one of the most desirable cars in the world is the much customized 1949-51 Mercury. This four door example combined a glistening flame job with a super low stance, lake pipes, frenched headlights and full dechroming. Interestingly, the builders elected not to chop the top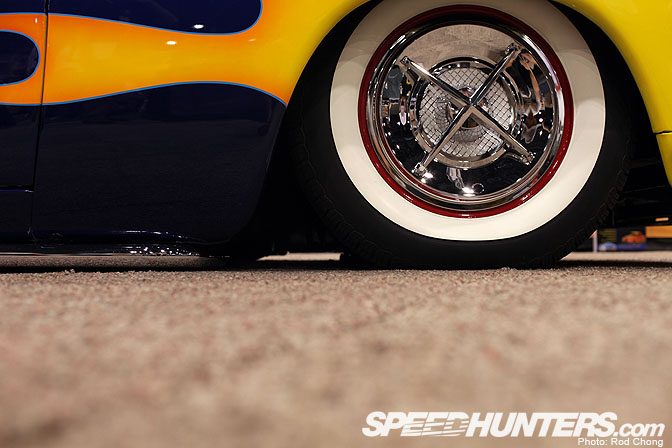 This shot just goes to show that you can never be too low…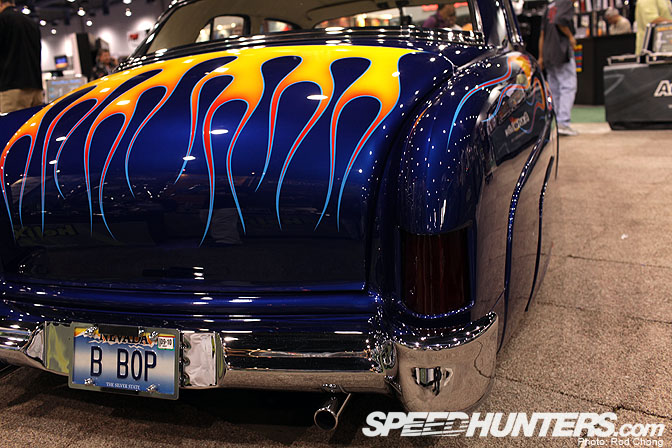 One day…
OK I'll move on now to do some quick spotlights on my favourite cars from the show… talk soon!
:R