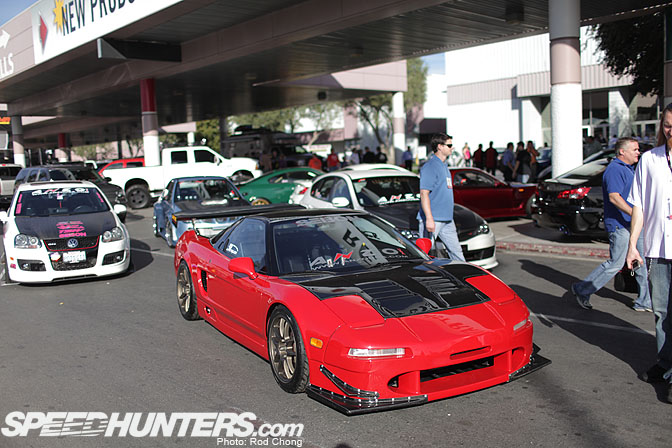 Last year at SEMA , I spent a lot of time walking the floor, processing photos and preparing stories for Speedhunters.com. However this year, we had Mike Garrett taking care of these duties, so I was free to focus on securing some exciting new Speedhunters business partnerships and collaborations for 2010.
My partner in crime, Rachel Kelly and I were so busy doing back to back meetings, that I didn't get to shoot the whole show. Oh well… I still have some Speedhunters reports coming out this week, none-the-less.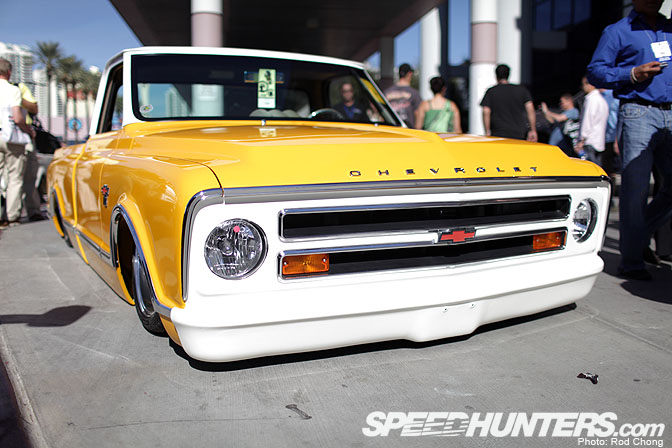 So I thought I'd start my SEMA coverage out, with a tour of the rather large and
diverse car display which stretches out in front of the Las Vegas
Convention center.
Walking this line of cars gives you a picture of all the different camps of modified and customized car scenes, styles and cultures in America. If you have narrow automotive tastes (ie only like cars with stretch tires and offset) then this perhaps won't be that interesting but for an automotive agnostic like me, it's a good way to get a feel for the American scene in all its glory.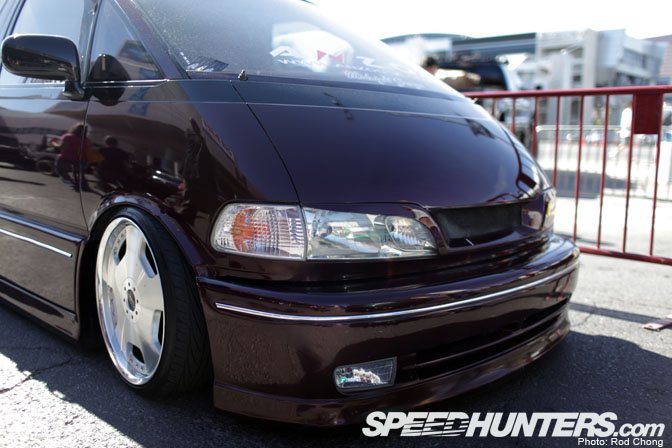 So in this article I'll showcase for you the cars which caught my eye in this line up.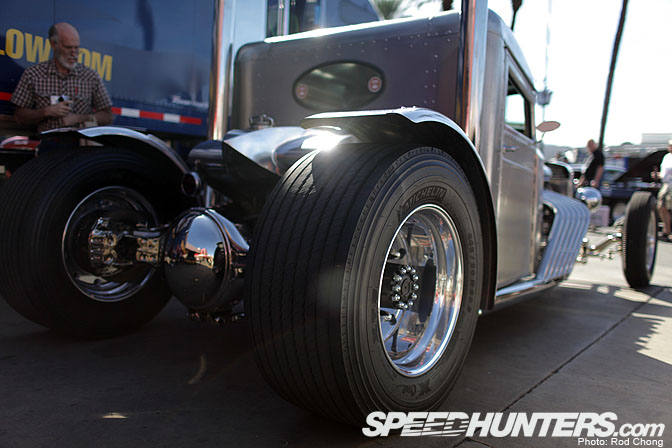 Some cars, like this giant aluminum Peterbuilt Rig Rod, deserve to be broken out into separate car spotlights.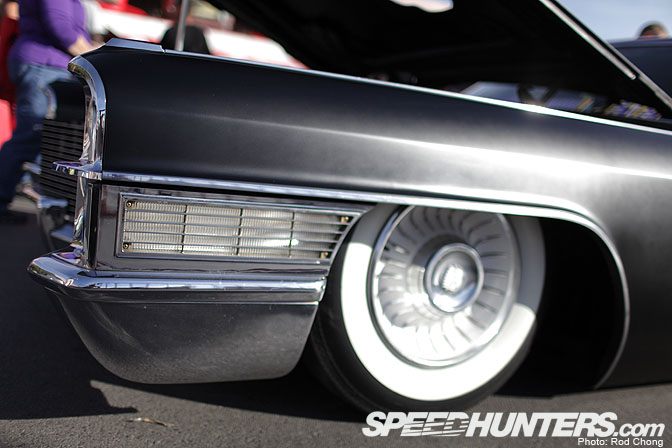 Same goes for this dropped and turbocharged Caddy… I'll show this car in more detail in a separate post.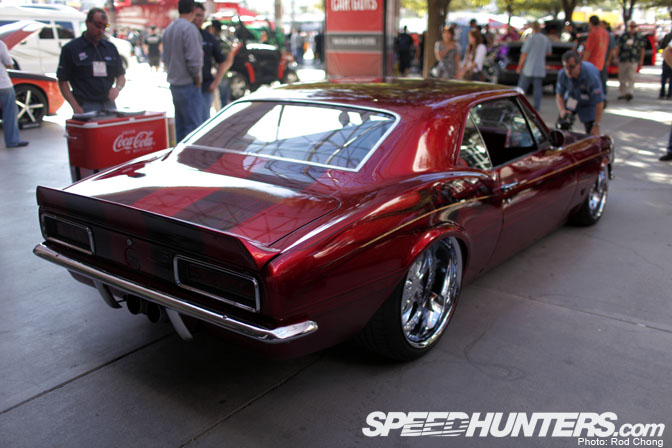 Yes those are Work rims…  This Japanese built "Akira" Camaro stopped Mike Garrett and I in our tracks for quite a while as it's an original take on the notion of a high end Muscle Car build. It seamlessly blends together 1960s custom car, Pro Street and Pro Touring styles together to end up with something quite original. Mike will look at the car in more detail soon.
We'll also see if we can get Dino to visit the Japanese Hot Rod shop that built it!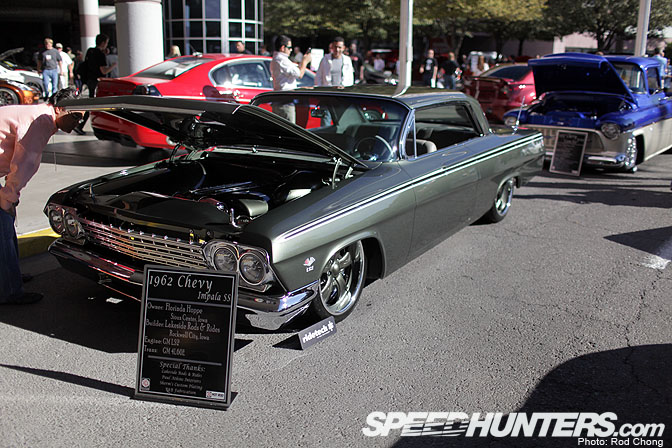 Mike and I saw this Chevy and said to each other… wow the Chicayne is here! But after looking at the car for a minute we realized it was an Impala and not a Biscayne… oh well!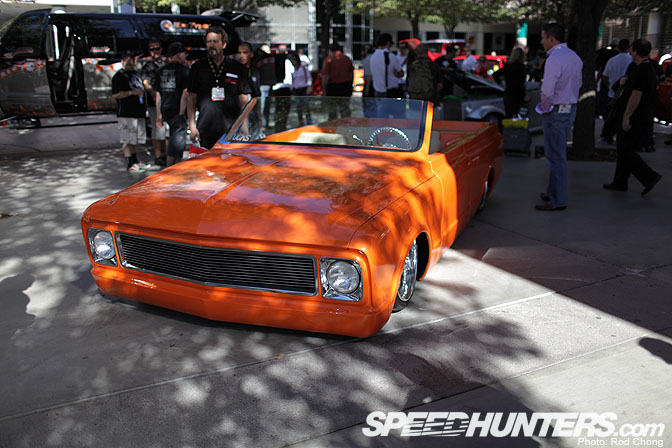 The trend of custom style pickup truck builds continues to gain momentum.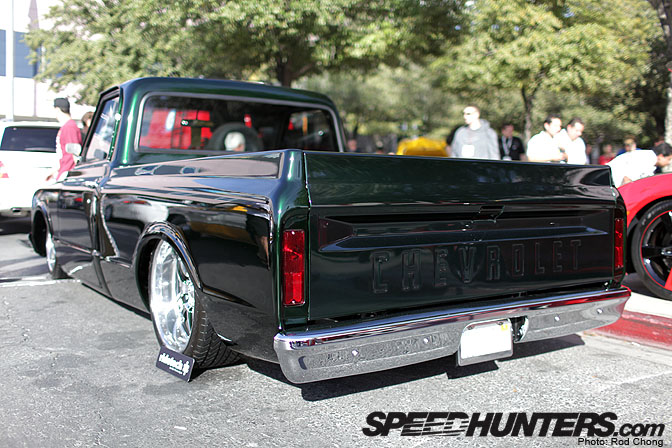 There were several examples on display at the show. There's something quite cool about custom pickups IMO!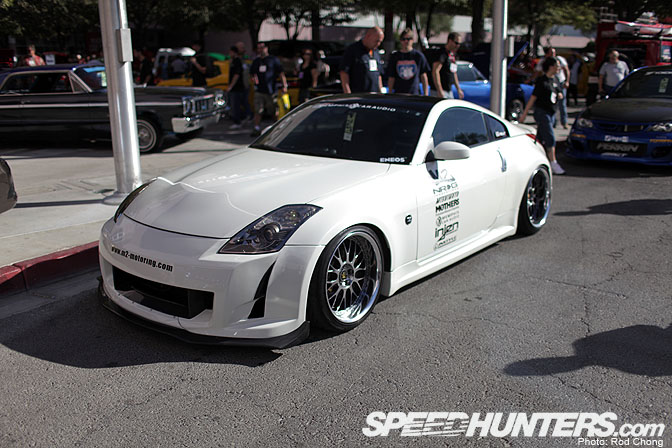 There were all manner of modified Japanese cars on display in front of the convention center. Many of them were SpoCom style wide-body PR show cars, which is something we tend to avoid on this website. I didn't mind the look of this clean 350Z though.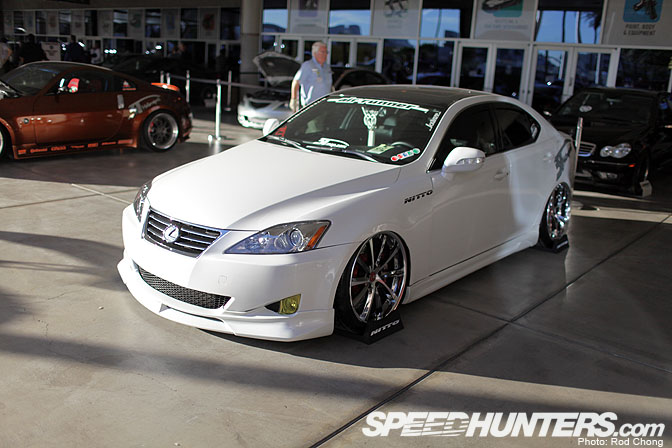 This bagged Lexus was also working for me.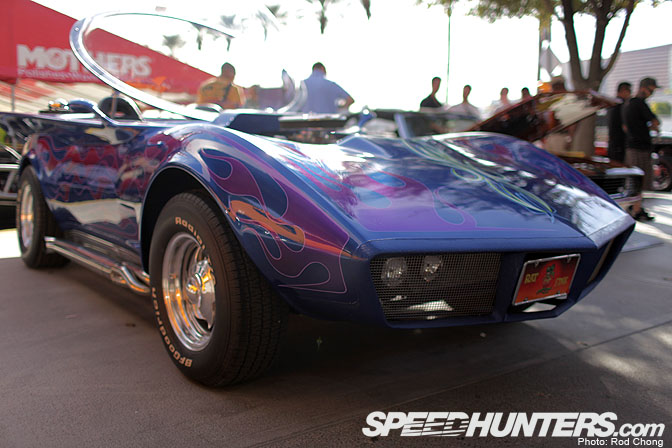 Anyone in here into Ed Roth? This is a tribute car based on a 1975 Corvette chassis called "Bubble Ray".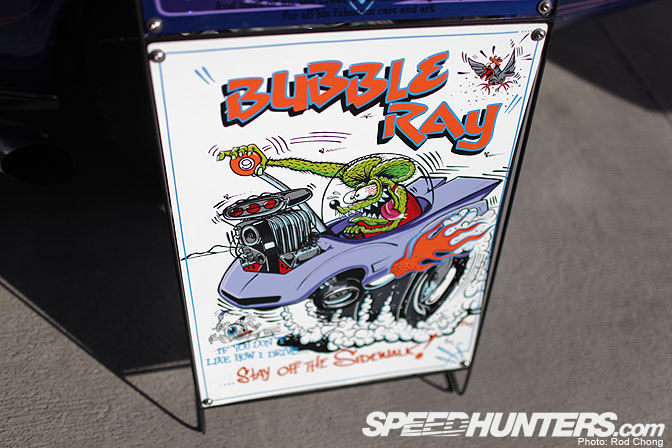 From what I can tell it's a Roth rendering come to life.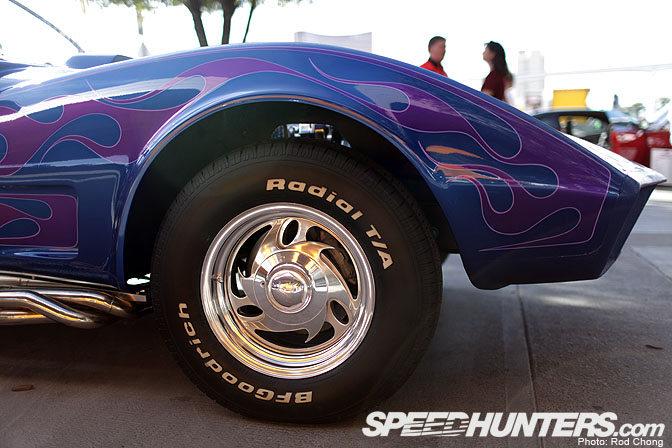 Check out the pure 1970s style wheels… This is pushing the envelope of style… love it!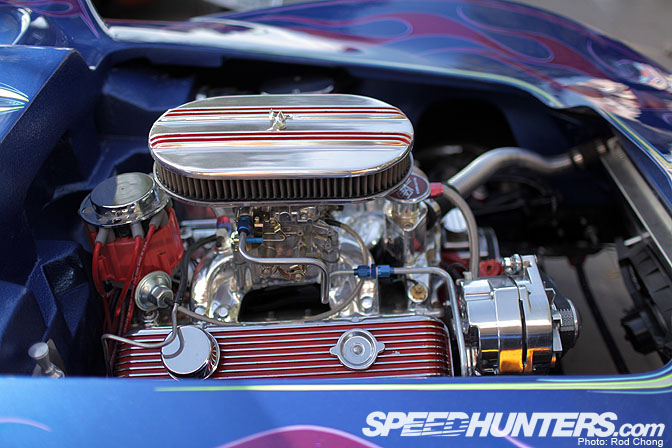 The engine has been left exposed.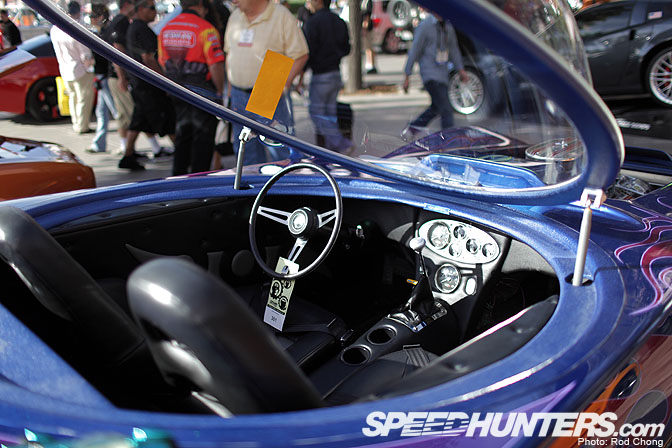 Here's a closer look at the cockpit.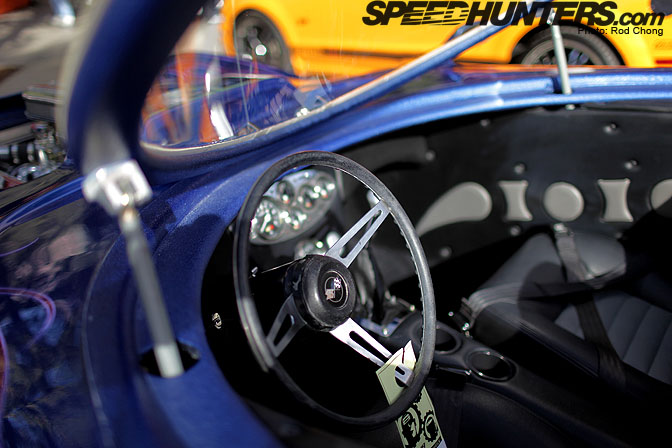 The original Corvette wheel has been left in place… You don't see steering wheels this large any more on production cars. I wonder what the thinking was back then.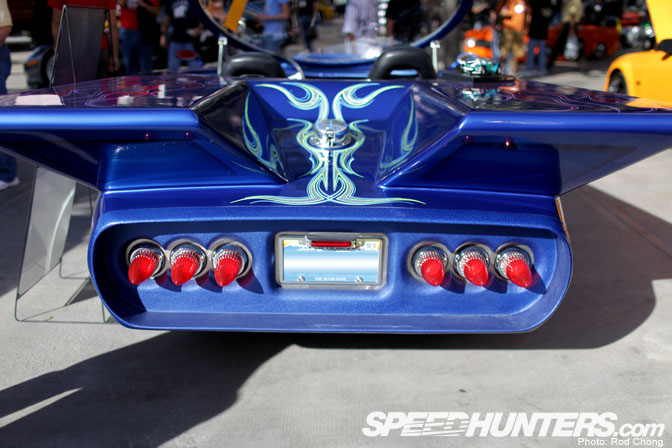 Out back the car has more of an early 60's show car vibe. It's an unexpected and wild set of elements.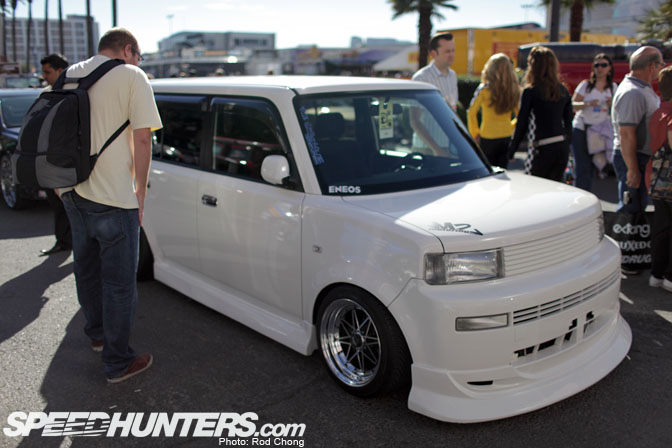 Here's Mike Garrett checking out a dropped Scion xB. I know a lot of you will disagree with me, but personally speaking, I love the combo of old school style Japanese wheels on newer cars.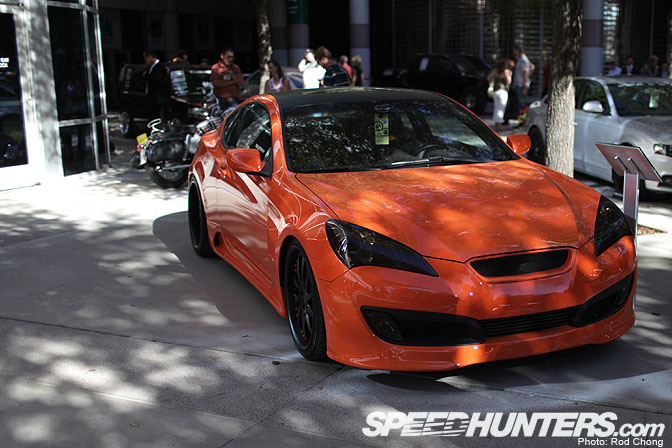 There's something about the shape of the headlights on this Hyundai that says "Batman" to me. IIRC there were only two Genesis Coupes on display last year, but there were plenty of examples at SEMA 2009.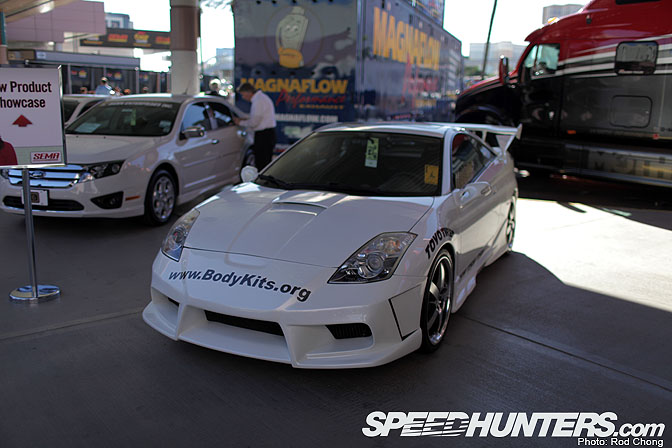 I'm including this photo just to you can see the range of cars on display at SEMA, as there were plenty of this type of thing at the show…. BTW I was telling the Source Interlink magazine crew about how Speedhunters is trying to reclaim and reclassify the word "Rice". They weren't buying it though. I suppose I don't blame them!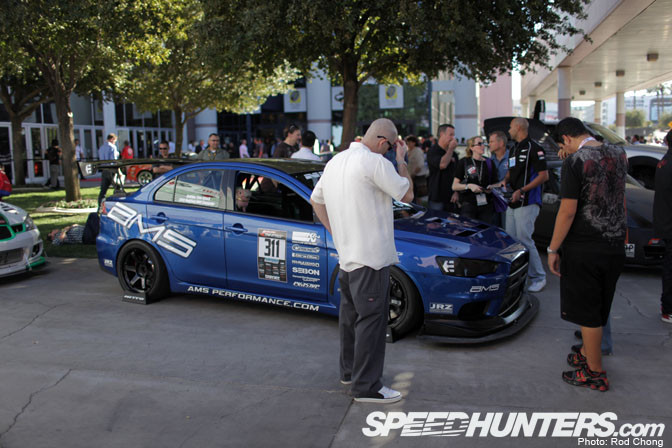 SEMA is so full of people you often to have to wait a minute or two to get a clean shot of a car.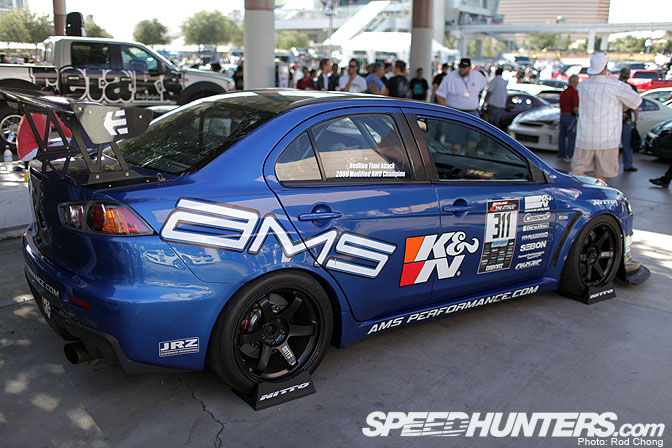 There we go… IMHO Ryan Gate's AMS Evo is one of the nicest built up "X" chassis anywhere on the planet. I'm hearing he's an amazing video game player and was giving Vaugh Gittin JR a hard time, at the NFS SHIFT gaming kiosk we had set up in the K&N Booth.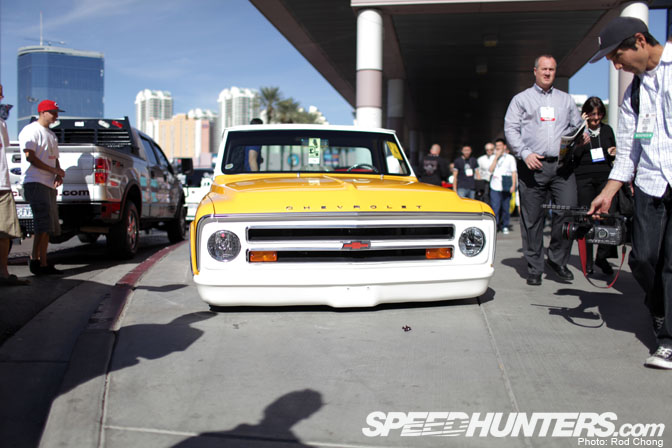 Here's one of my top cars (err trucks!) from the show….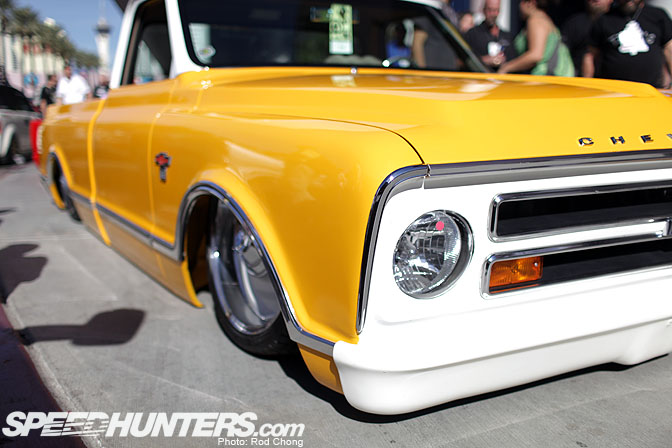 While so many of the cars at SEMA are well into the OTT (Over The Top) side of things, this Chevrolet pickup manages to balance out the wild with the restrained.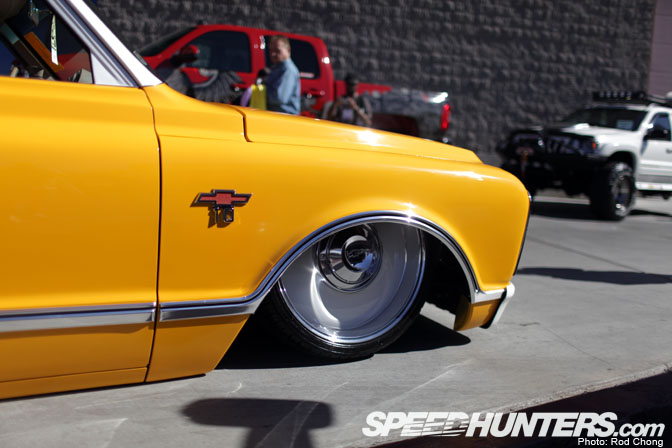 The builders have left enough factory elements in the car to keep some of the original machine's character.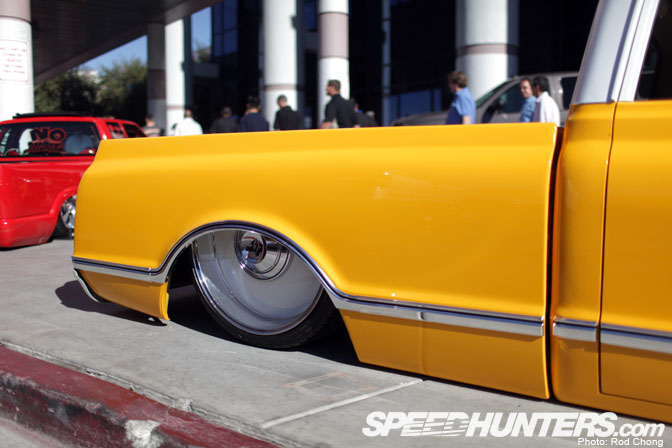 I also think the wheel choice is an excellent one. While still very large, they aren't so blinged out to make the truck look like an oversized toy.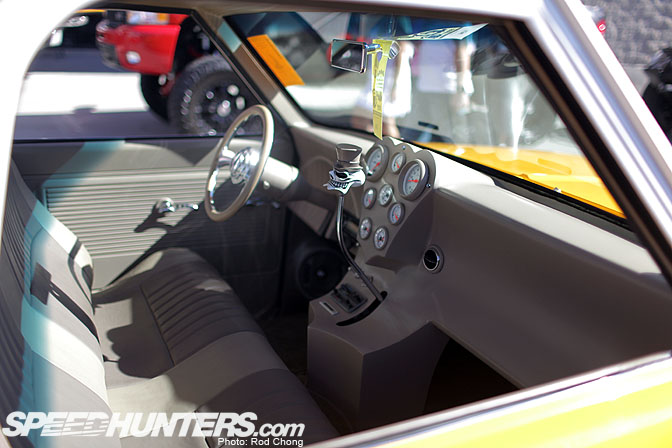 The cockpit manages to be retro, futuristic and stylish all at the same time!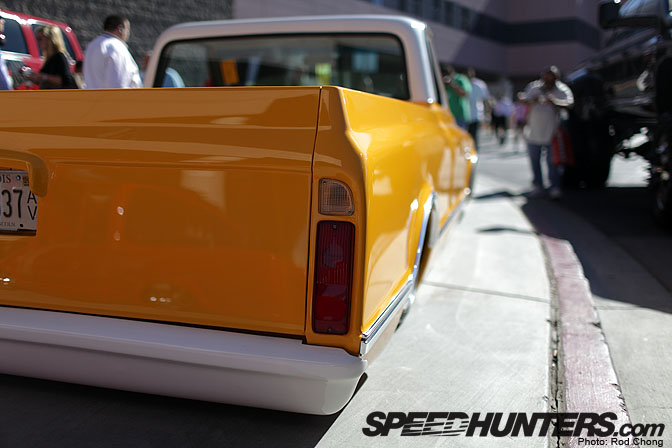 It's a different side to slammed car culture… you could also say: Hella Dumped!… Well if you are from Nor-Cal….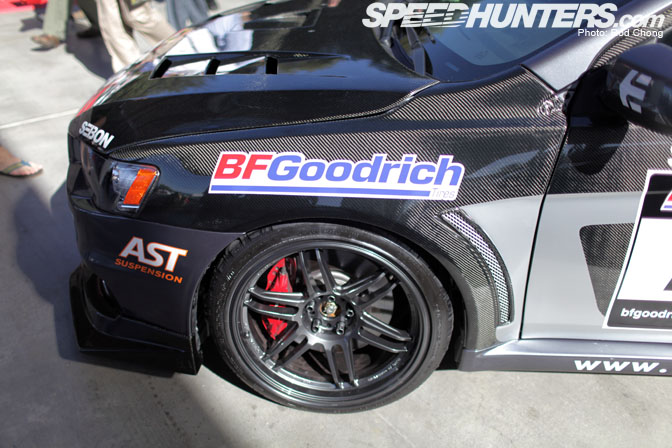 Sonoma California based Mitsubishi tuning house had this carbon EvoX on display. It's likely on the way to Button Willow for the Superlap Battle as I type this.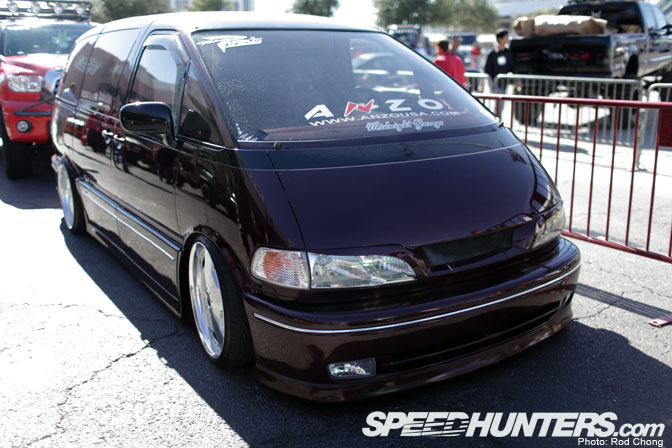 I was well pleased to see this VIP style Estima in the line up.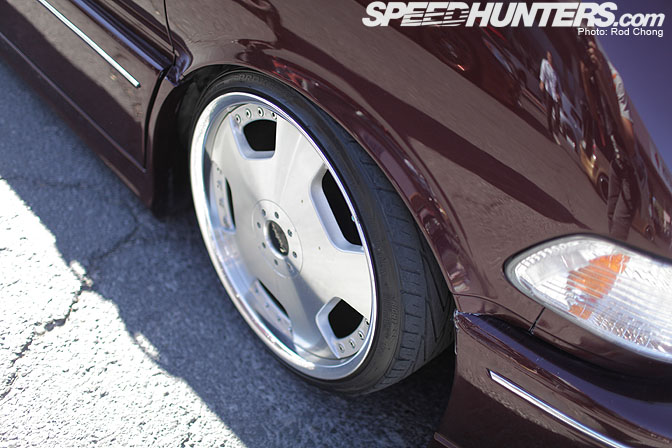 It was sitting pretty on a set of Work Eurolines.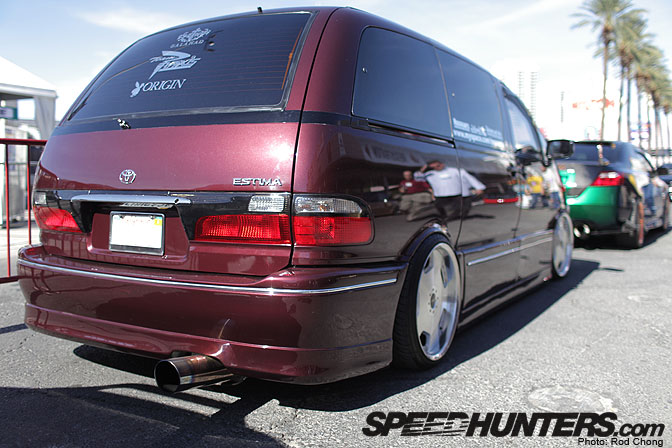 Outside of Japan, VIP vans are a bit of a sub-genre of a subculture…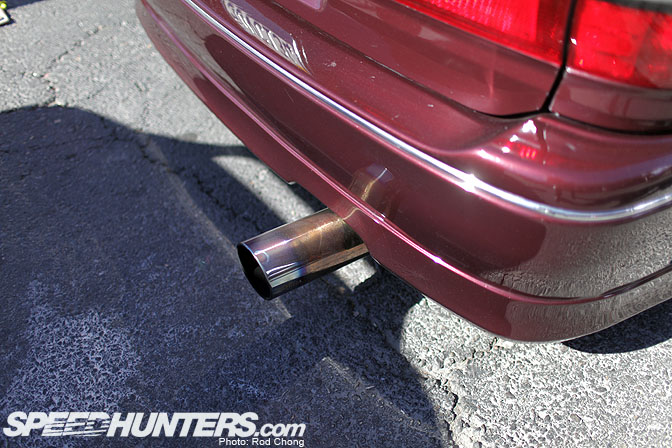 … so it's great to see the SEMA organizers had enough sense to put this van into the line-up.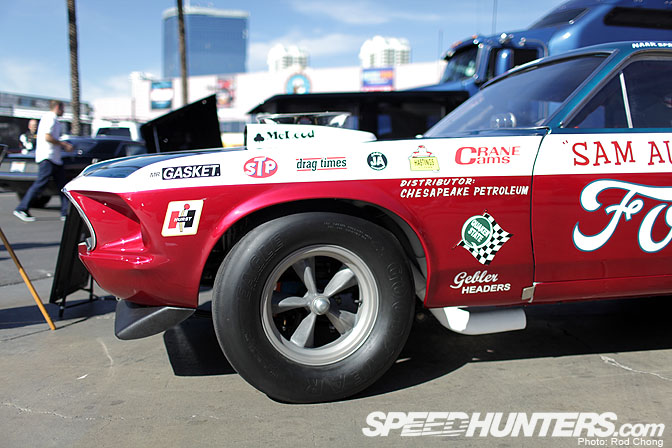 And lastly I want to highlight this old Pro Stock Mustang.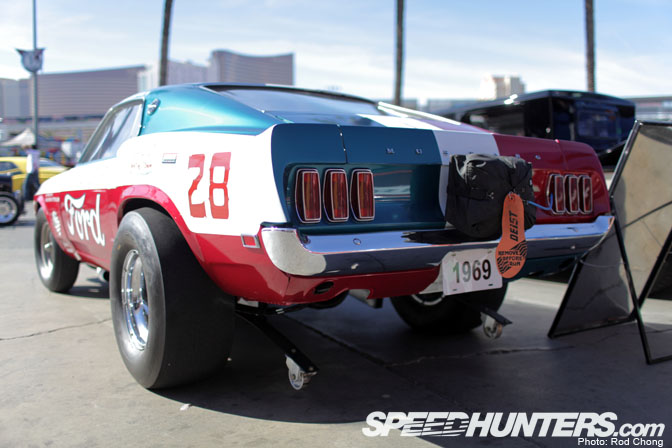 This must be one of the original Pro Stock cars from the first years of this drag racing class. If you compare this Mustang to a modern Pro Stock drag racer, it's amazing how far divorced they are from production cars.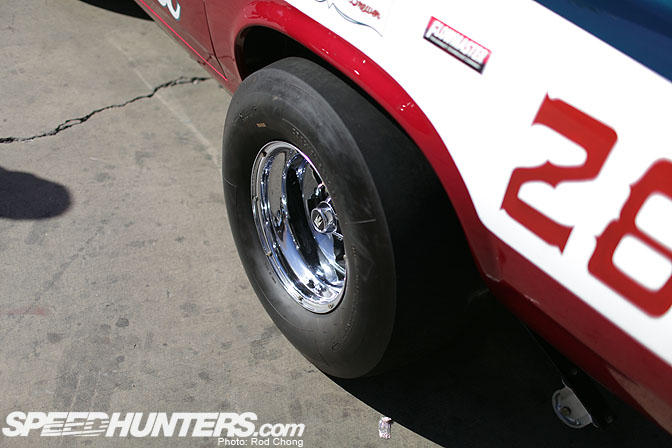 There's just something special about old race cars… I love 'em!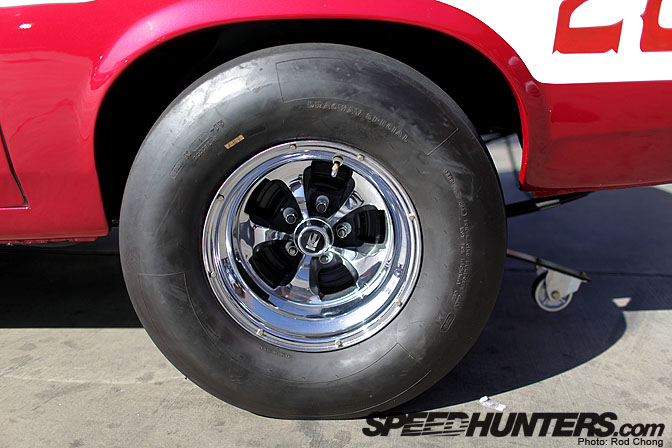 And another shot of the drag race meats…
Ok that's it for today… I'll give you a quick sweep of the show floor from my eyes next, before I start to look at my own personal fav cars from the show.
Best,
:Rod