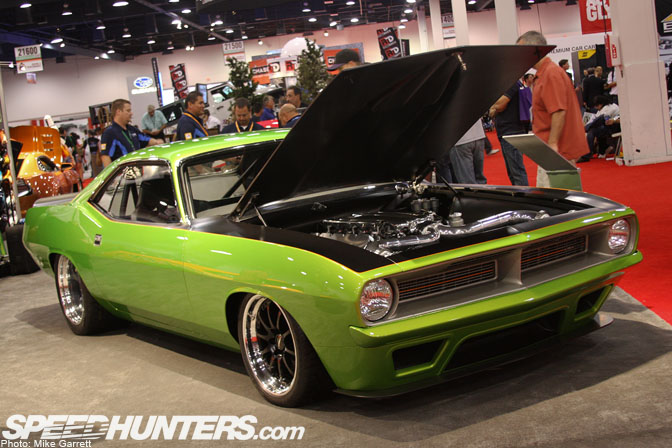 I'm back home in Los Angeles now, still feeling the pain from three days of traversing the Las Vegas Convention Center, and glad to be done with the crowds and madness of Vegas. Now that I'm settled in at home, it's time to dig in for some more coverage from the show. One trend that's seemed to stand the test of time is pro-touring muscle cars. Even though you can buy brand new retro muscle cars from these days, I guess you can't beat the real thing. The 'Cuda above was one of my favorites. Under the gleaming bodywork is a twin turbo Viper V10.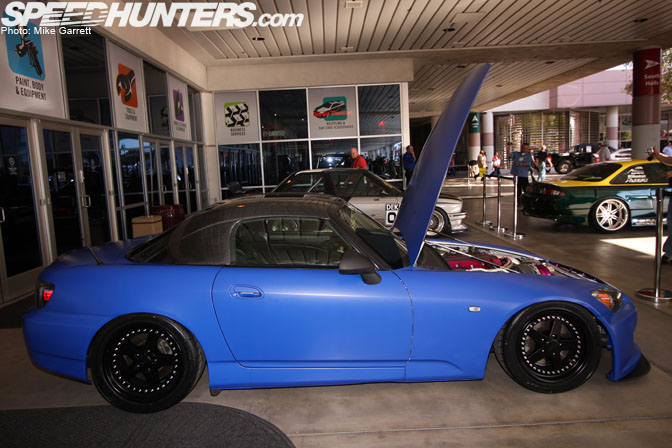 I quite liked this satin blue S2000 sitting low on a set of blacked-out Work Equips. Note the surprising lack of stickers and vinyl for a SEMA car…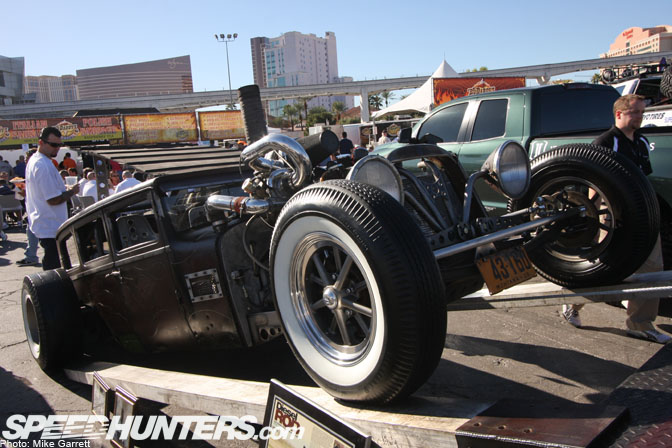 This wild turbodiesel-powered rat rod has been featured in a number of magazines this year. It's always nice to see homebuilt projects like this holding their own against the high dollar shop cars at SEMA.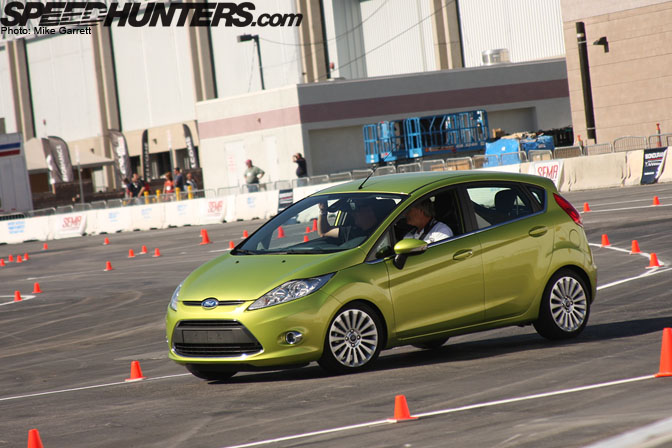 Ford's "Fiesta Movement" was in full swing at SEMA. I had the chance to take one of these for a spin around the course, and was very impressed with the little car. This is going to be a huge model for Ford, and I can't wait to spend more time in one when they go on sale in the USA next year.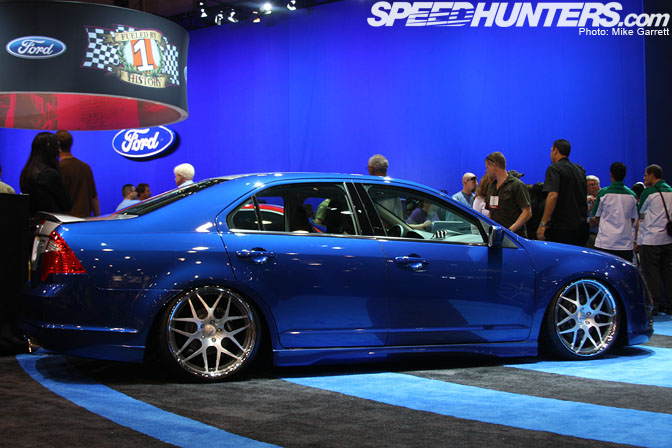 Sticking with the Blue Oval, this sexy-looking Fusion was part of Ford's huge display in the central hall.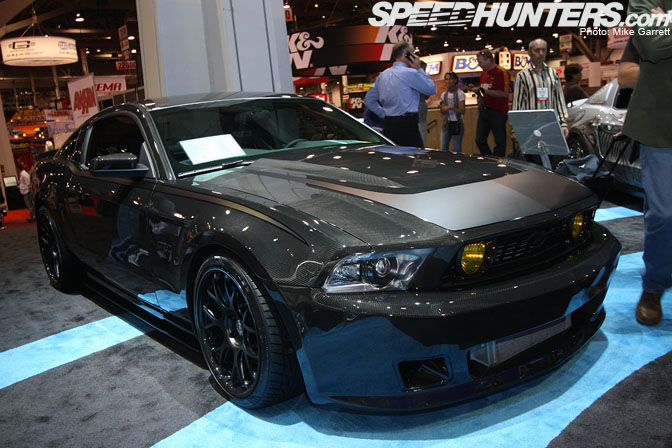 Vaughn Gittin Jr's. Mustang RTR-C. After all his teasing I was pumped to see this car in the flesh. Now to arrange a test drive….what do you say, JR?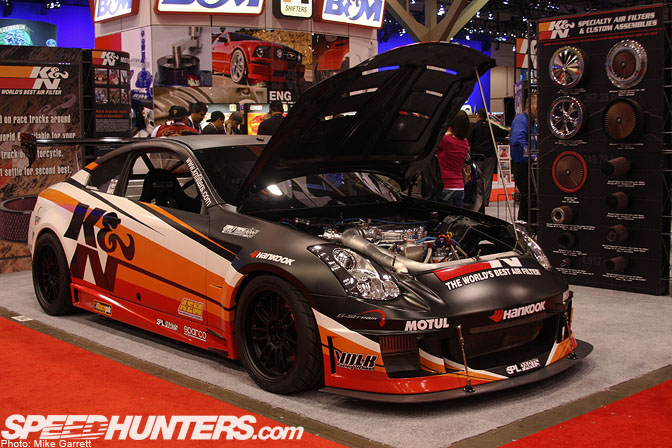 K&N's G35 Coupe time attack car looks ready for the track. Will this car pop up at the Super Lap finals next week?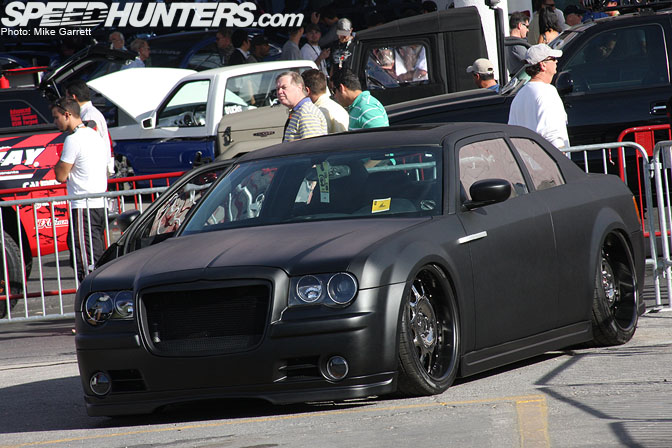 Flat black might be "sooo four years ago", but it helped make this two door-converted Chrysler 300C look mean as hell.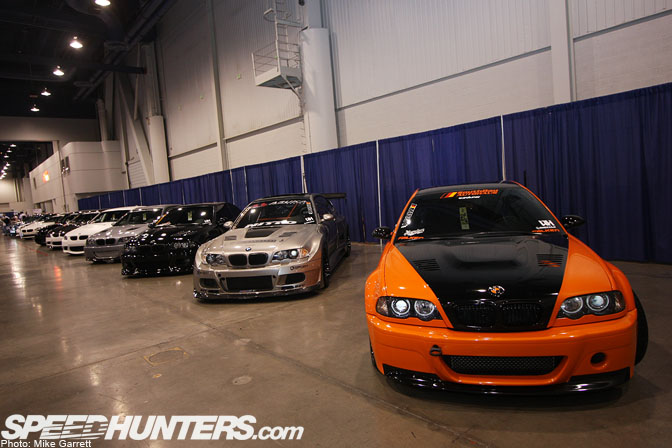 Just as I wondering where all the European cars were, I stumbled across this huge line of BMW's stowed away in the corner of the North Hall.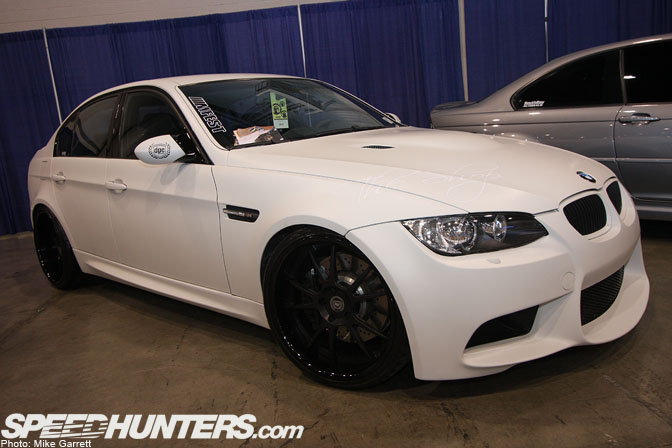 The "MFest" included cars like this E90 M3 sedan sporting satin white bodywork…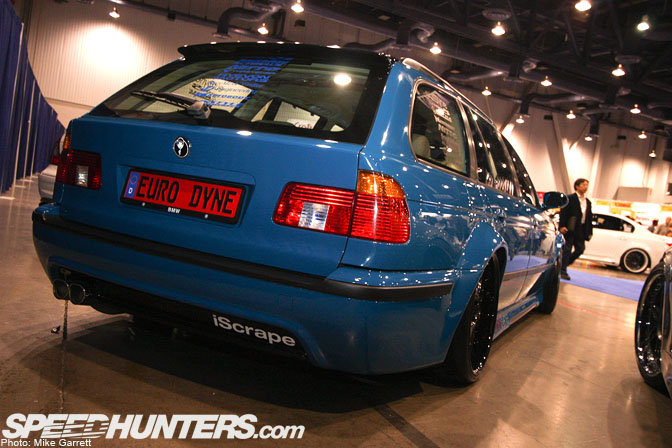 …and this Laguna Seca Blue 5-series wagon. iScrape…haha.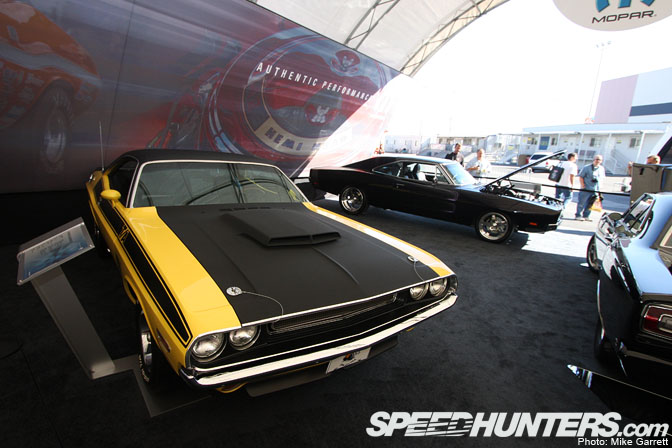 Challengers and Chargers galore in the "Mopar Alley" display. This has been a part of the SEMA Show for years now.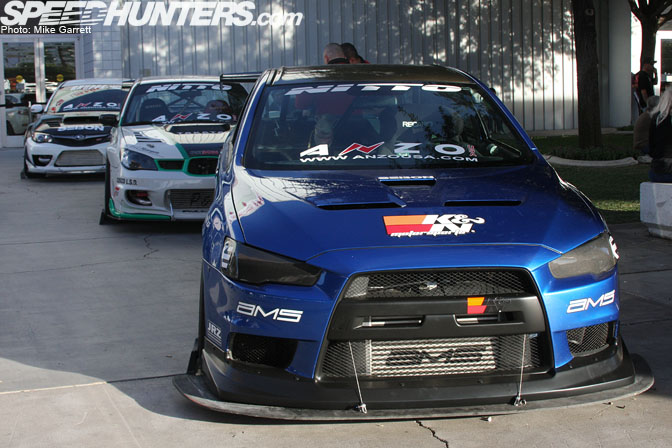 A group of time attack cars gathered in the outdoor area, led by Ryan Gates Evo X.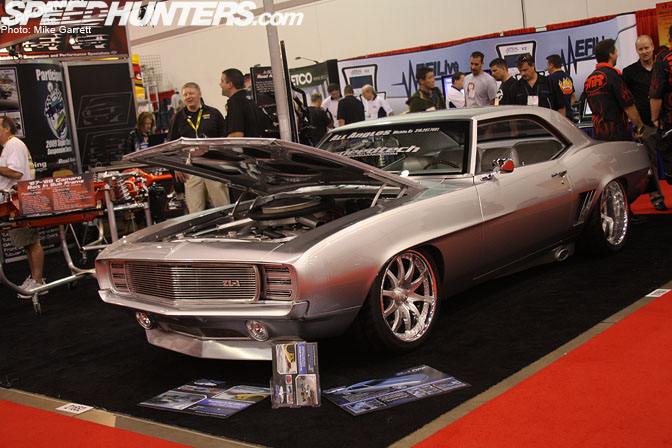 Yep, just another dreamy '69 Camaro that likely cost more to build than a small house. Check the bitchin' sidepipes!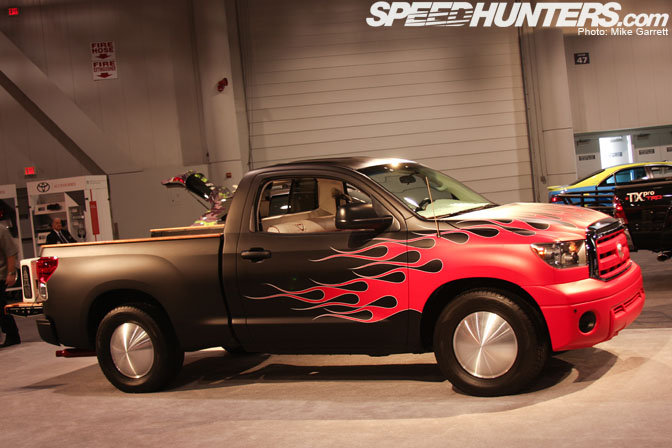 Toyota had this interesting hot rod-themed Tundra in their booth. I actually almost skpped over the Toyota display as it was pushed way back in the offroad section of the show.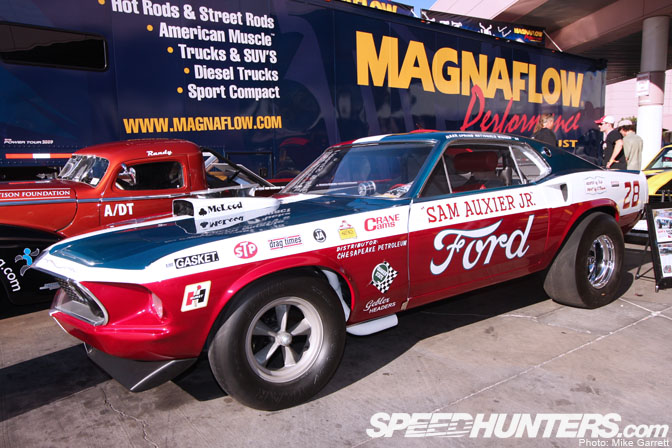 High tech pro-touring muscle cars are great and all, but you can't go wrong with original fat-tired drag cars like this Mustang fastback. To me this type of "stance" is just as important as the slammed and stretched rides we've been featuring this month.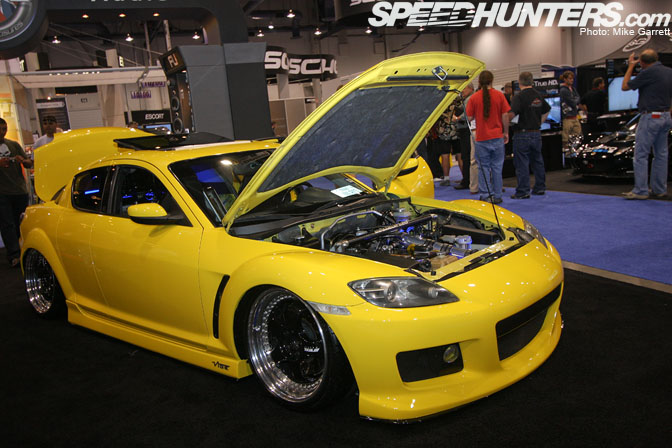 And speaking of stance, here's an RX8 tucking a set of Work Meisters.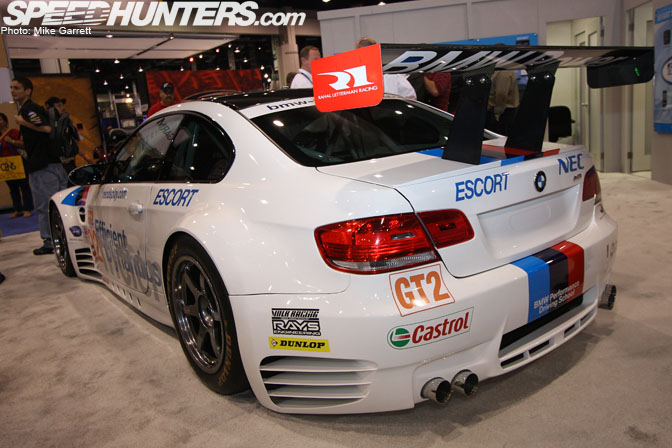 The ALMS M3 GT2 was the centerpeice of the Escort booth this year. It feels strange seeing a race car like this all shined up on the carpet.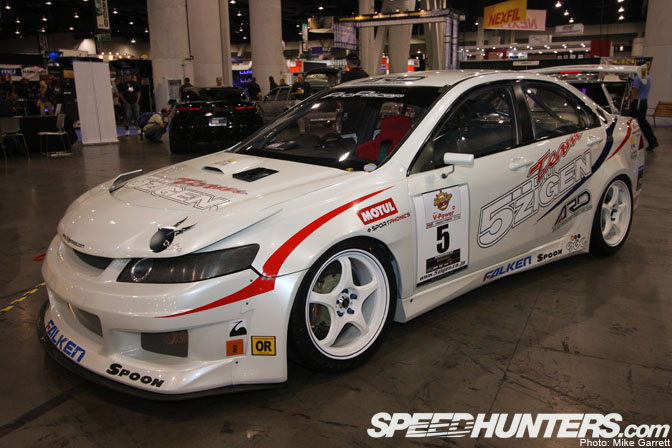 5Zigen's Accord has been a familiar machine at time attack events over the past couple years, and it looks ready to go again next week at Buttonwillow.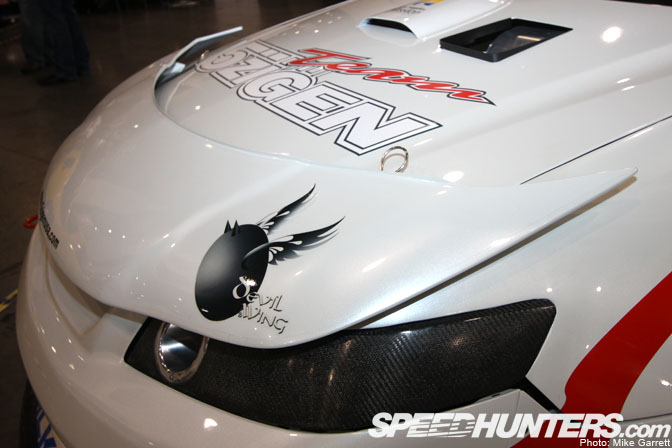 I thought the hood-mounted spoiler was an interesting touch. Inspired by Chris Rado perhaps?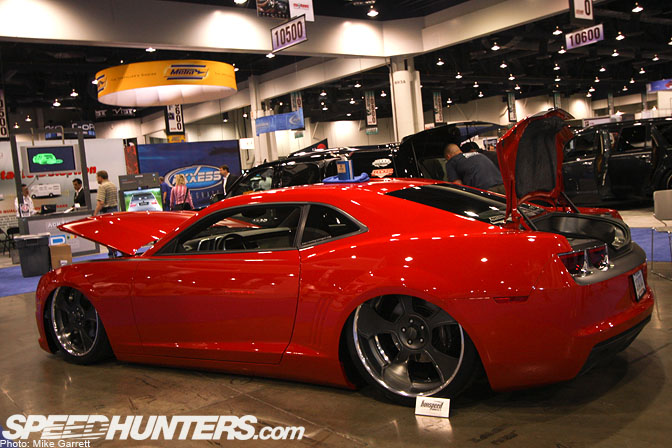 The award for "most slammed Camaro" (i think such an award exists) goes to this red car tucking some giant rollers.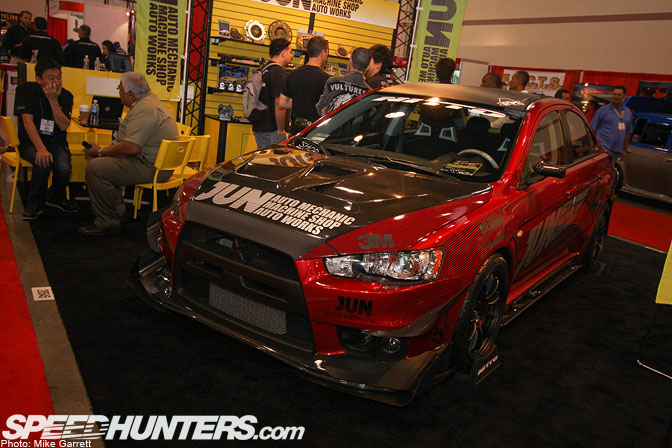 JUN Auto had a small booth with this Evo X demo car, but Japanese tuners didn't seem to have big presence at SEMA this year.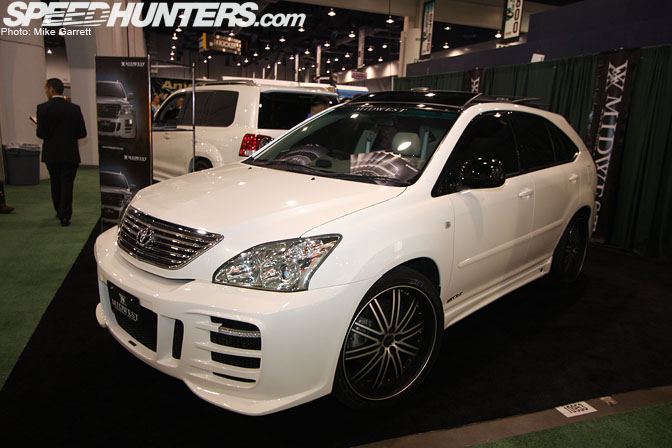 On the other hand, JDM luxury and dress up companies seem very keen on expanding to the US market. These Lexus SUV's were brought over from a Japanese company called Midwest.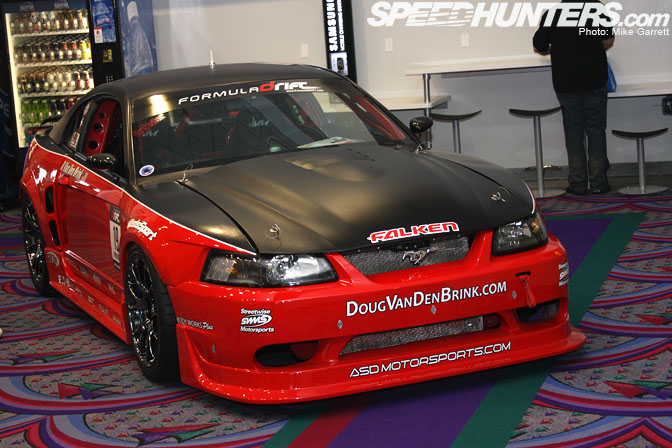 Doug VanDenBrink's Mustang drift car was out with some new changes to the exterior, including a set of WedsSport Wheels.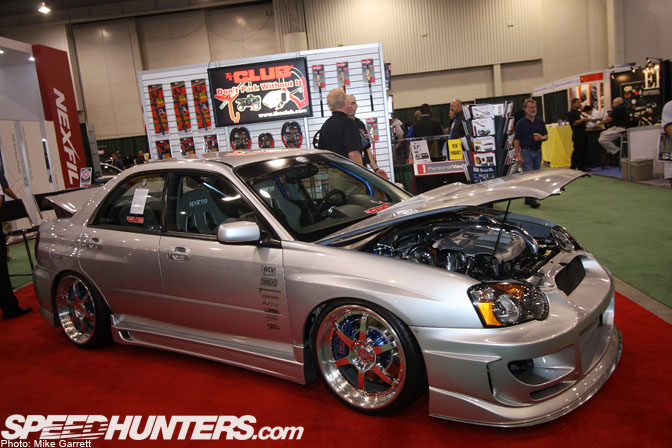 And finally, a WRX sitting nice on some HRE's. This was in the "The Club" booth of all places…
OK that's all for now. Much more from SEMA on the way!
-Mike Garrett