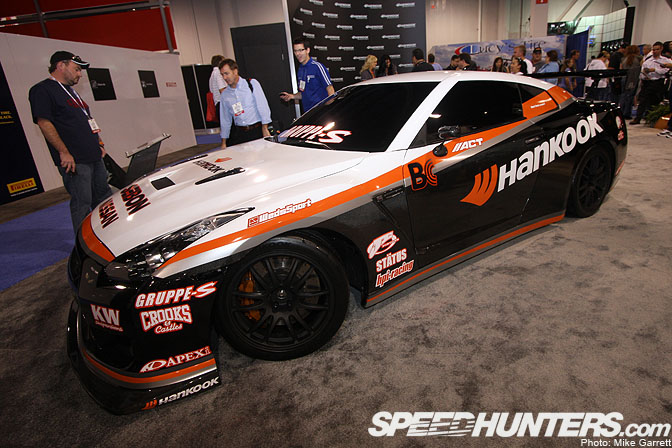 Ah yes, the chaos of SEMA.
After a an early flight from LAX I rushed to the Las Vegas Convention Center this morning for the first day of the 2009 SEMA Show. Although my legs are already numb from walking so much, I've only been able to get through a small portion of SEMA's exhibit halls.
Here are some highlights and observations from what I've managed to take in so far -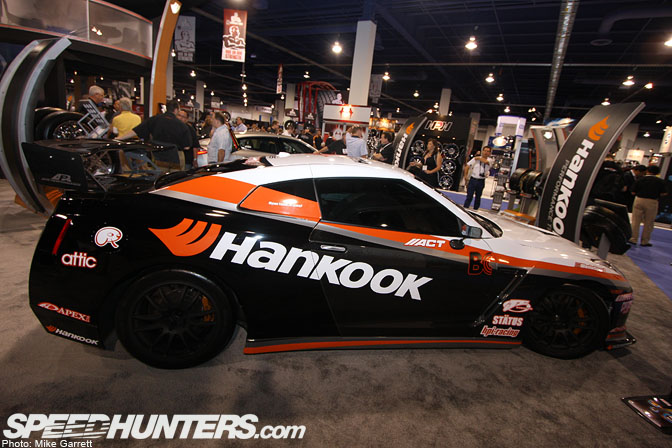 This should shake up things in Formula Drift next season. You are looking at an R35 Nissan GT-R that will be driven in 2010 by Robbie Nishida. Although Blitz has been teasing their drift R35 for a couple years now, it looks like this car might be the first GT-R to lay (or smoke) tire at a pro drift event.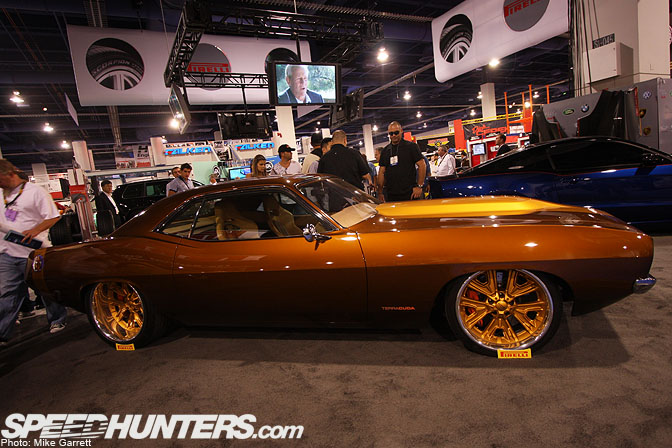 One of the greatest things about SEMA is the variety of the cars shown. Everything from Japanese compacts to Italian exotics to classic muscle cars can be found sitting alongside each other in the halls. Check out this badass 'Cuda found in the Pirelli booth.
The debut of the new Five Axis Scion project seems to coincide perfectly with our theme this month on Speedhunters. More on this later.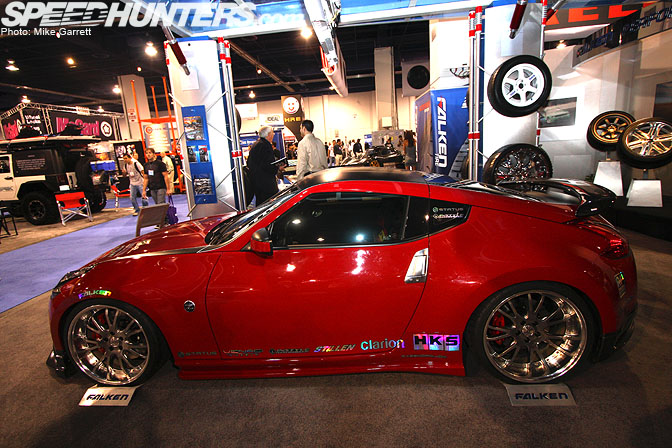 Falken's booth is sporting a nice mix of both street and race cars this year. This 370Z looks to be done very well.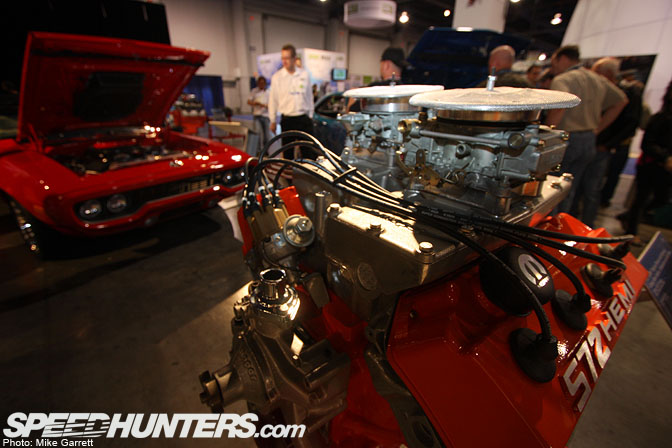 Everyone from giant car companies to small family-owned businesses bring out their toys for SEMA. As you'd expect, Mopar's booth is full of muscle cars of both the classic and the modern variety.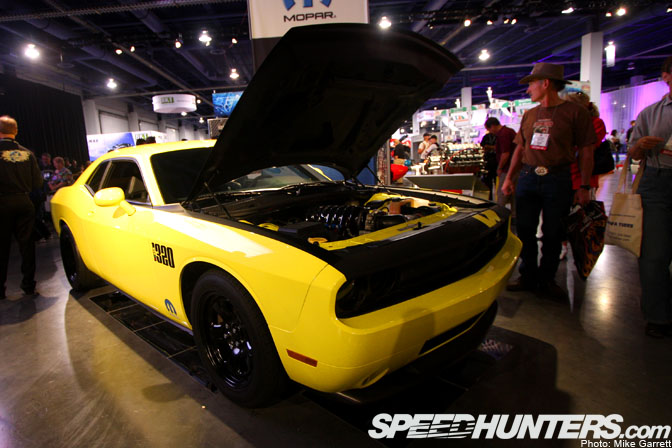 I like the raw looks of this "1320" Dodge Challenger, especially the small diameter black steelies. Is classic drag style gonna make a comeback?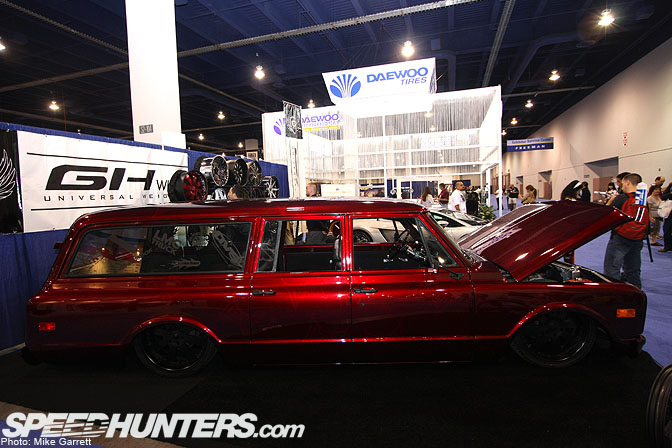 I don't typically get excited but custom trucks and SUV's, but there's no denying the coolness of this slammed old school Suburban.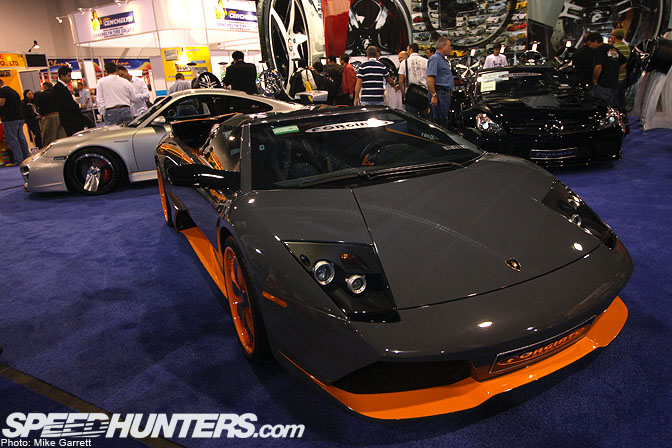 SEMA wouldn't be SEMA without blinged out exotics sporting questionable styling. Hmmm….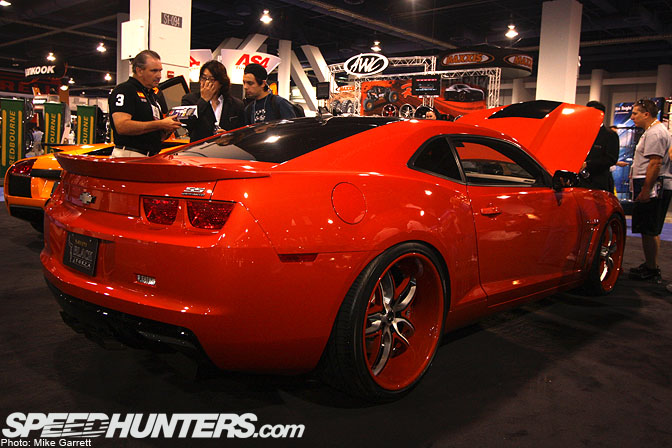 As expected, the show is full of 2010 Camaros customized in every possible way. Nice job on the wheel fitment there!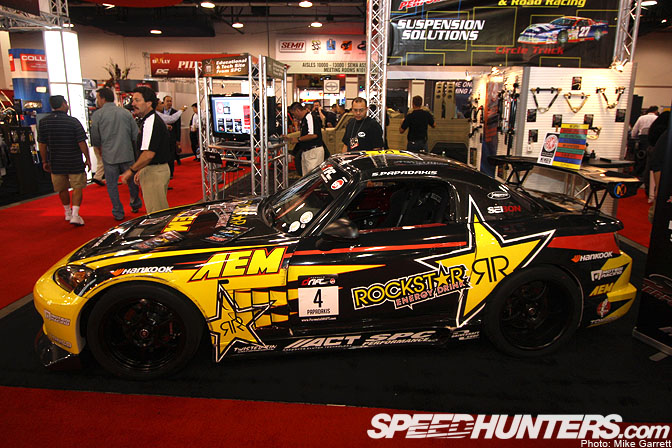 The Papadakis S2000 drift car returns with new livery.We'll have to find out exactly what the story behind this one is…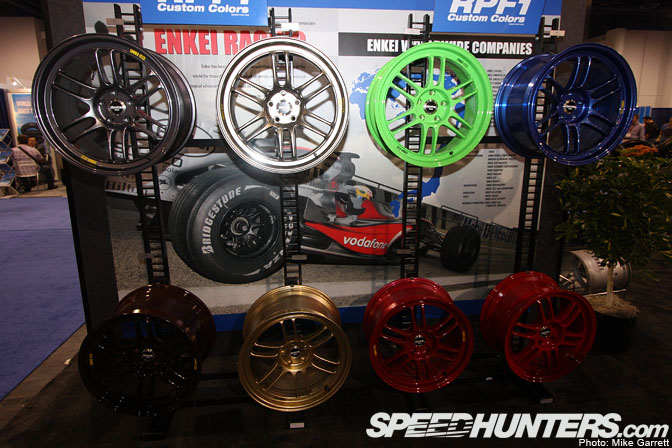 Multi-colored wheels seem to be pretty big at SEMA this year. Here's Enkei's selection of custom-colored RPF1's. Cool!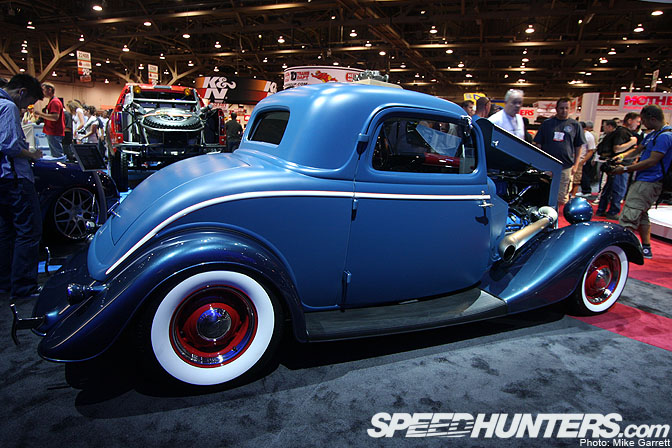 Ford's booth is HUGE this year, seeing as they are the featured automaker. The Ecoboost V6-powered '34 coupe was getting a lot of well-deserved attention.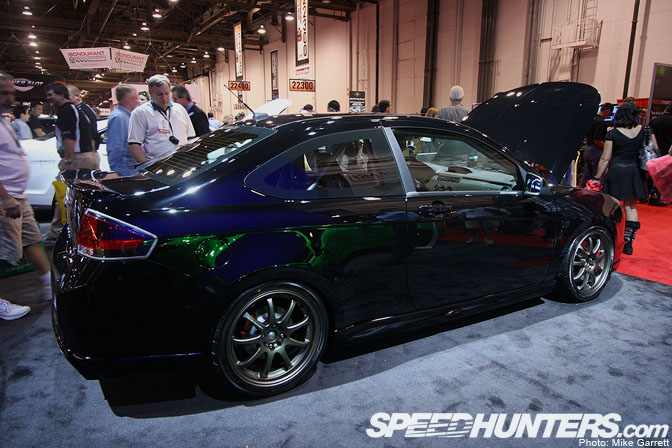 The current model USDM Ford Focus isn't known for being a particularly good tuning platform, but I'll be damned if this turbocharged Focus Coupe by FSWerks isn't sexy. Do nice Japanese wheels make any car automatically cool?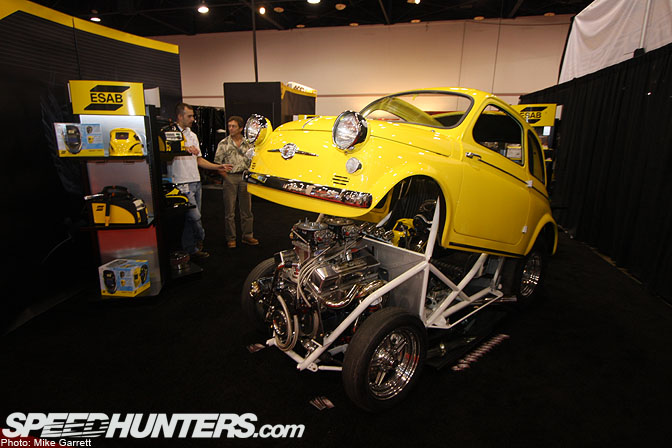 Sometimes the cars at SEMA are insane in a not good way, and sometimes they are insane in a very good way. This 427-powered Fiat 500 funny car falls under the latter category…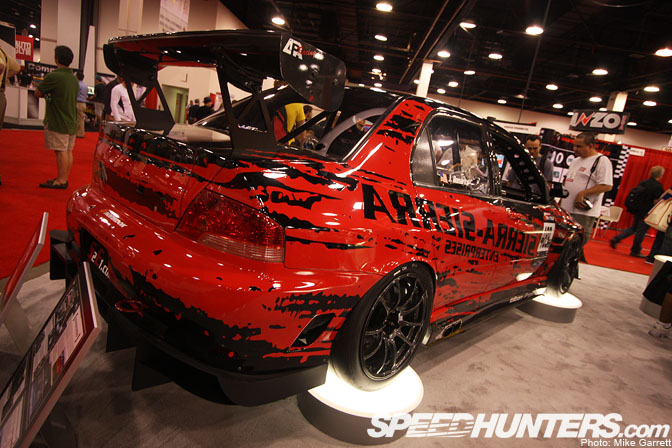 Sierra Sierra's Evo time attack car is the centerpiece of the Cosworth booth. Hopefully we'll see this sucker in action next week at the Buttonwillow Super Lap.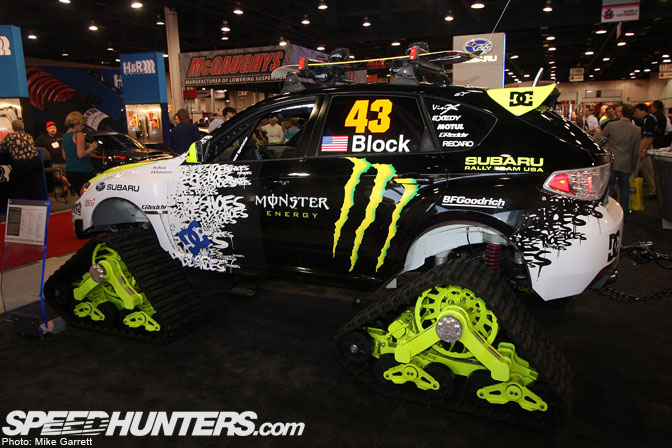 When your internet videos get a billion views, you too can have a rally car with tank treads.. Ken Block's latest toy was the talk of the Subaru booth.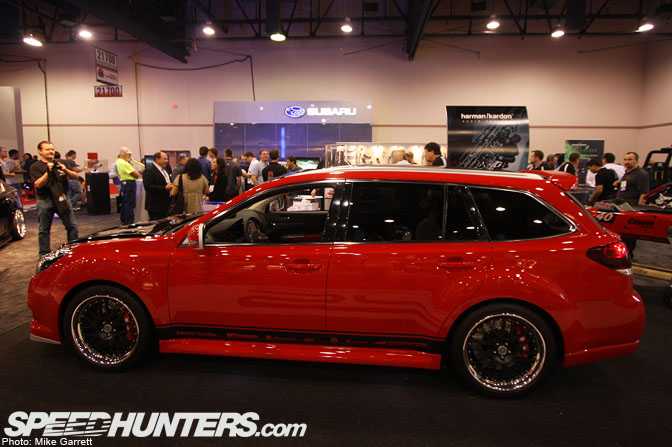 The good: Subaru shows a nicely fixed up Legacy Wagon in their booth. The bad: Subaru does not offer the new Legacy Wagon in North America. Let's hope this is a teaser to build interest for a future release.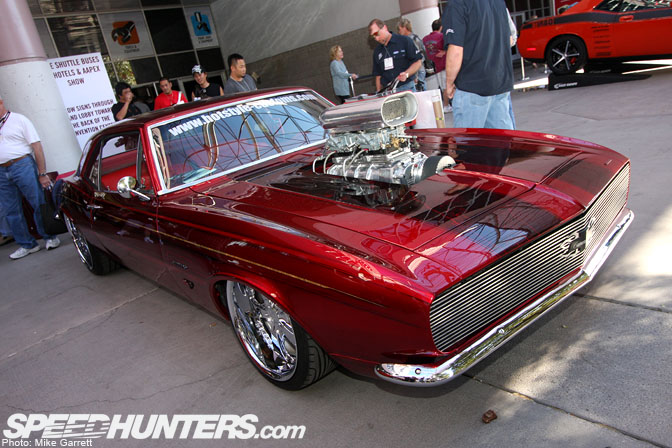 When I walked past this Camaro I knew I had seen it somewhere before. But not in the United States – in Japan. Indeed Akira's Camaro was built in by Hot Style Customs in Kyoto, Japan and sent to the US for SEMA. How cool is that?  More on this unique machine later.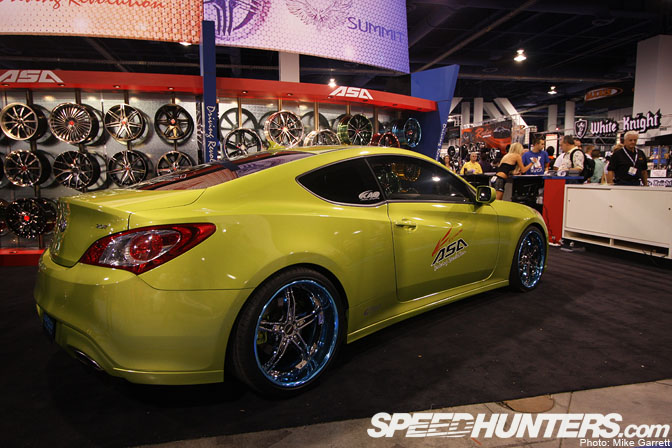 Just one of many Hyundai Genesis Coupes I saw today.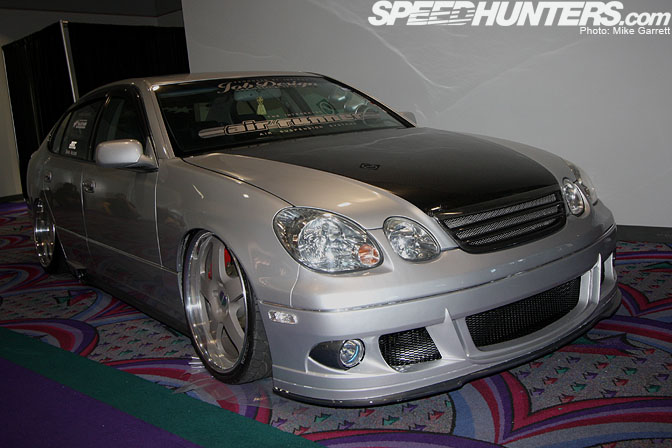 Japanese VIP builders seem to take a particularly big interest in SEMA and the US scene. This Job Design JZS161 was parked in one of the lobbies.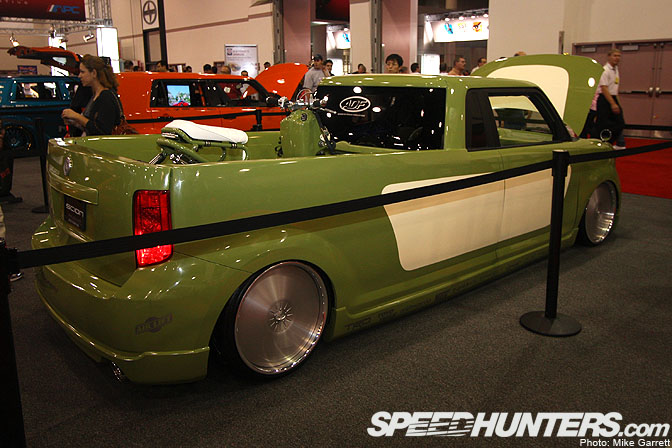 The Bowls Scion xB pickup turned out great, in fact it was one of my favorite cars I saw all day. Nice job guys!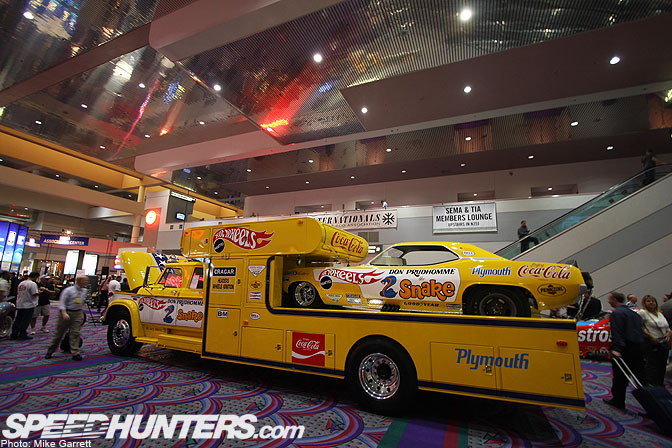 The NHRA has a huge display this year – dominated by Don "the Snake" Prudhomme's funny car 'Cuda and matching transporter.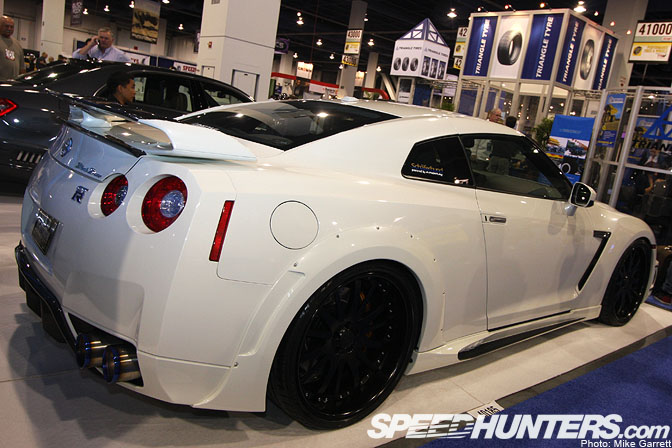 I noticed a lot more Nissan GT-R's being shown than I expected. Here's one with some big rims and a Wald Black Bison kit.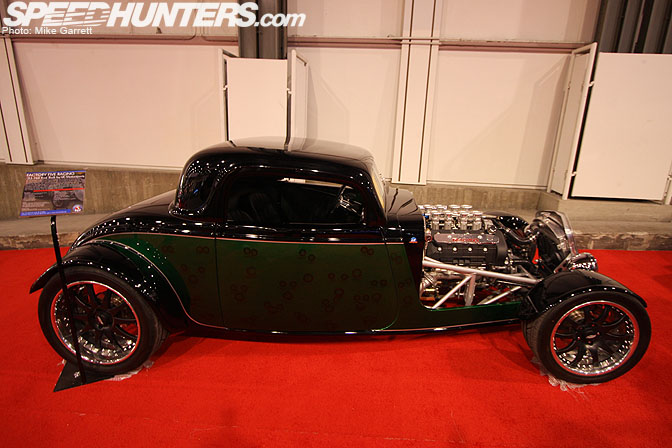 And finally, a Factory Five Racing '33 Hot Rod kit, powered by a mean-looking Ford V8.
This hardly scratches the tip of the SEMA iceberg. For now though, it's time for some dinner and a visit to the premiere of the new Speedhunters/NOS Energy Drink film about Chris Forsberg.
Let us know what you guys want to see more of, and we'll make sure to keep an eye out as we wander the halls of SEMA.
-Mike Garrett