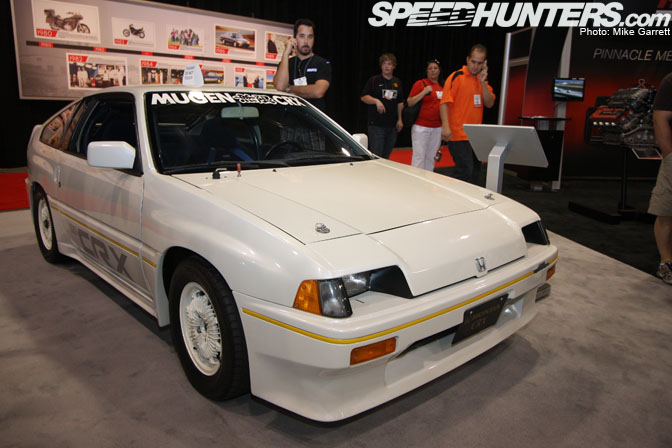 Okay, let's continue right on with more coverage from the 2009 SEMA Show. I'll start with this 1984 CRX Mugen Prototype that Honda brought out. A 1980's Honda might not be the first thing you associate with the SEMA Show, but who doesn't like vintage Japanese tuner cars? It was cool to see Honda pulling old cars out of it's collection for the SEMA display.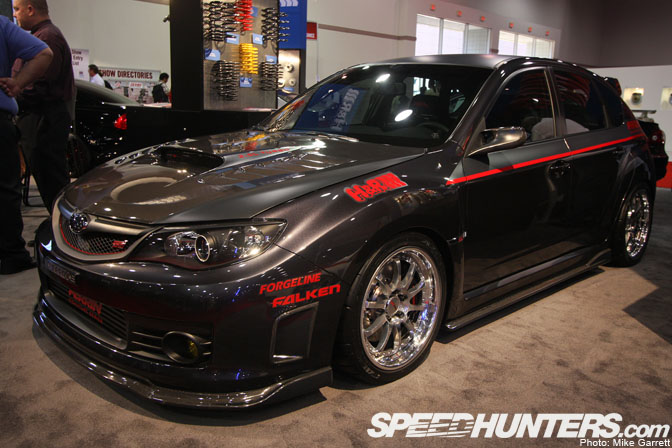 This STI was another car in H&R Suspension's booth. It's not quite your typical "JDM Style" tuner car, but it looks damn good.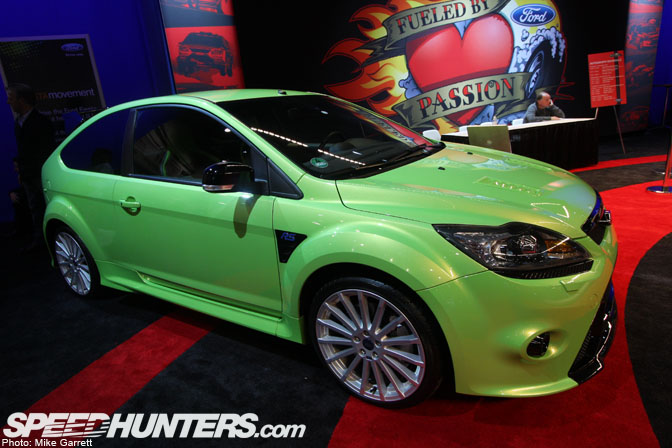 Ford had this Euro-spec Focus RS in their booth – a bit of a tease since we never got the RS in the USA. Hopefully the next generation model will make it over here.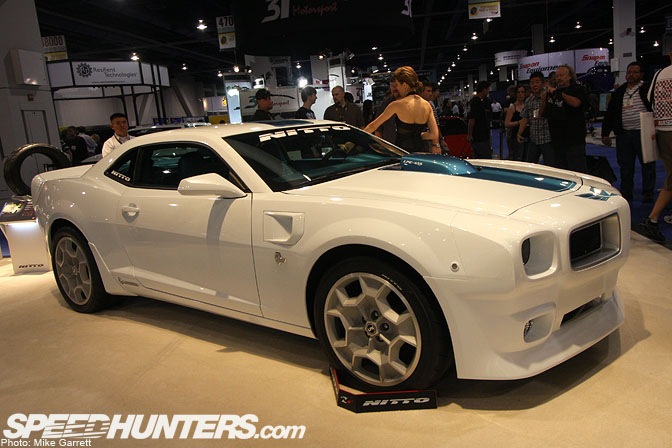 I wasn't sure how a second generation Trans Am conversion would work on a 2010 Camaro, but this is the finished product.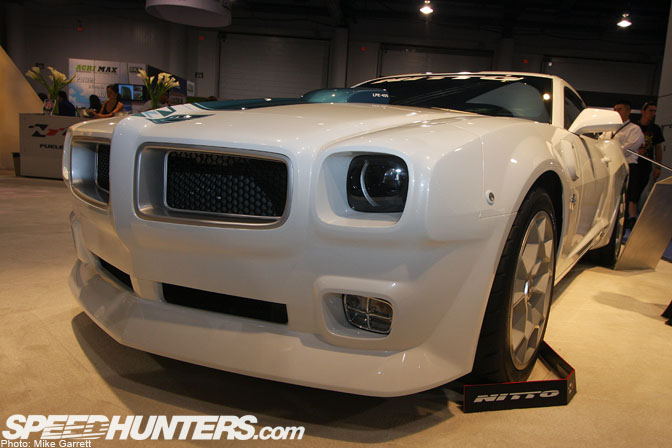 The car isn't everyone's cup of tea, but it's a pretty authentic conversion – down to the Honeycomb style wheels, turn signals, and "shaker" hood scoop.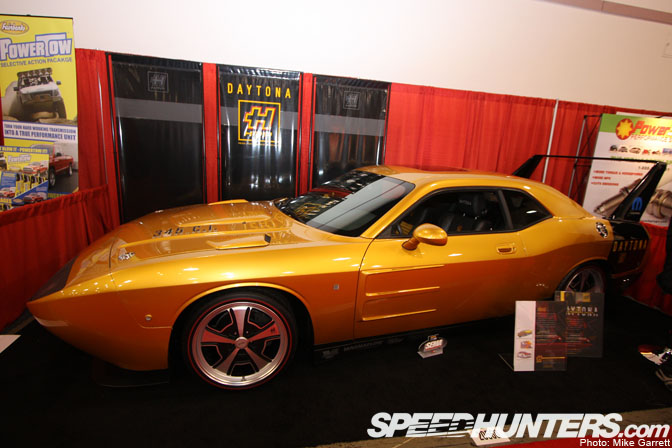 Another retro muscle car conversion, a winged Dodge Daytona replica built out of a new Challenger. Hmmm…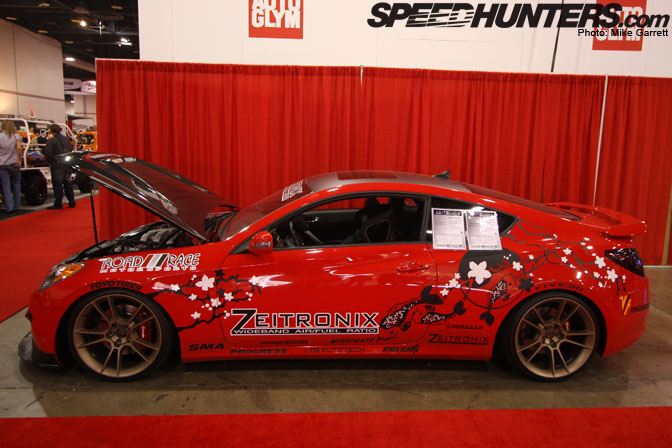 This Genesis Coupe looks pretty nice with the new Five-Axis split spoke wheels, but the graphics I'm not so sure about.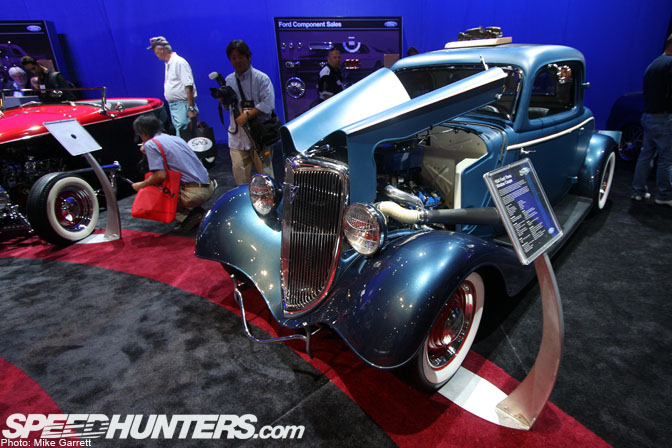 Another view of the Ecoboost-powered '34 Ford Coupe.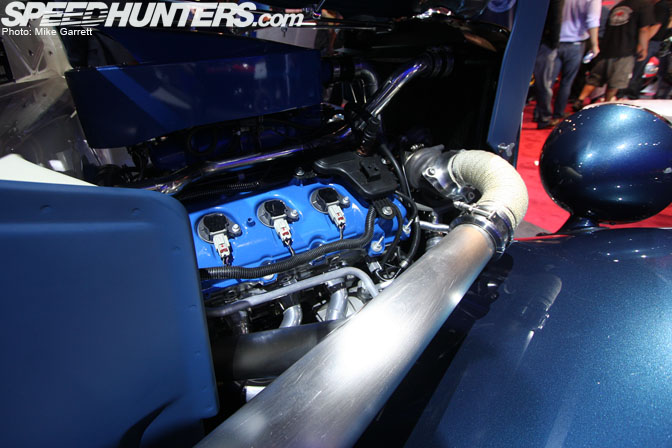 They did a nice job of mating the high tech V6 with the classic Ford, especially on the exhaust design.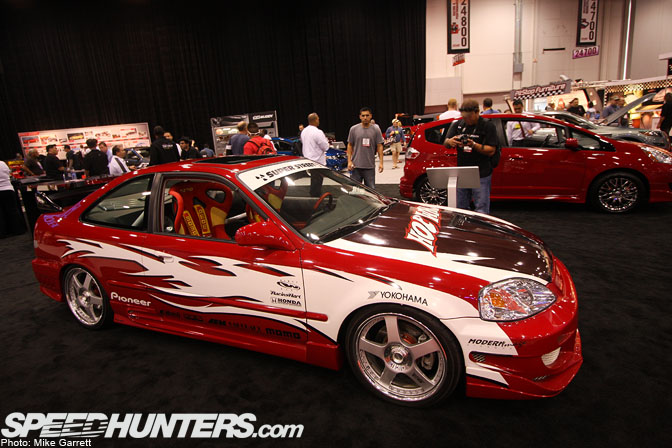 A little Spocom throwback action with the Hot Wheels/Super Street Civic Coupe built about 10 years ago. It's hard not to feel a bit nostalgic seeing this car…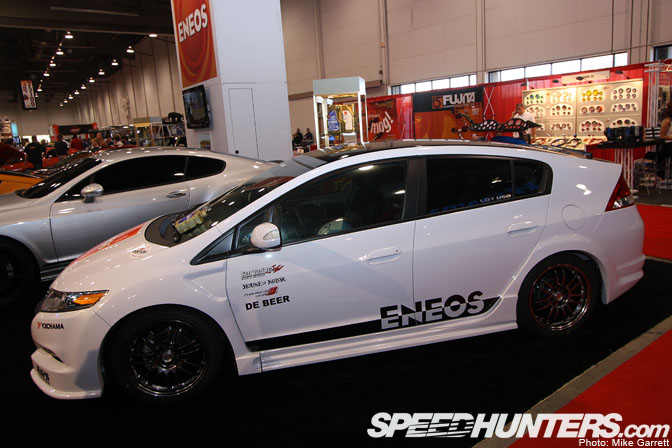 I don't think hybrid customization is going to catch on in the US like in Japan, but there were a couple custom hybrids at SEMA – like this Honda Insight in the Eneos booth.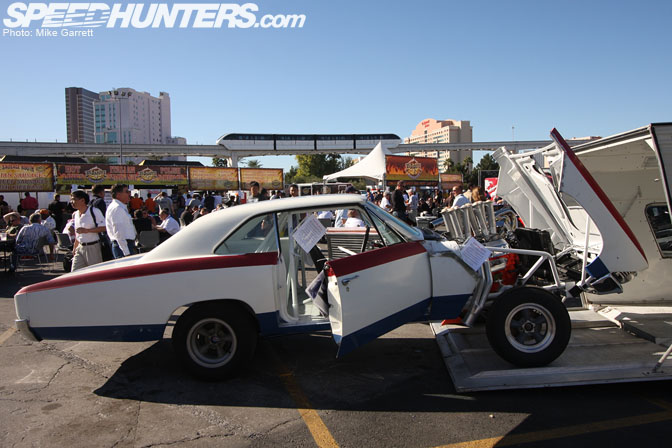 Only at SEMA will you see a customized Honda Insight and a '66 Chevelle altered wheel base drag car at the same event…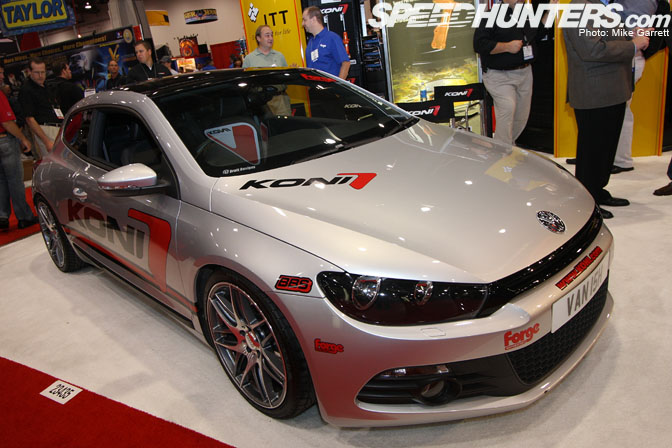 The imported VW Scirocco in the Koni booth was getting a lot of attention. Another forbidden fruit for us yanks…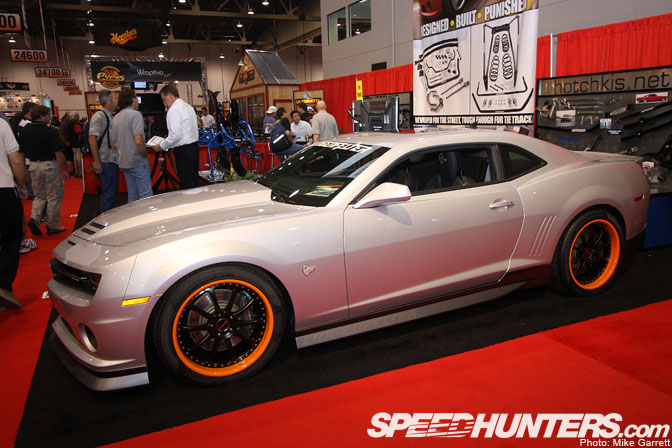 Again, there were Camaros of every type at SEMA – from race cars to out and out show cars. This version was in the Hotchkis Suspension booth.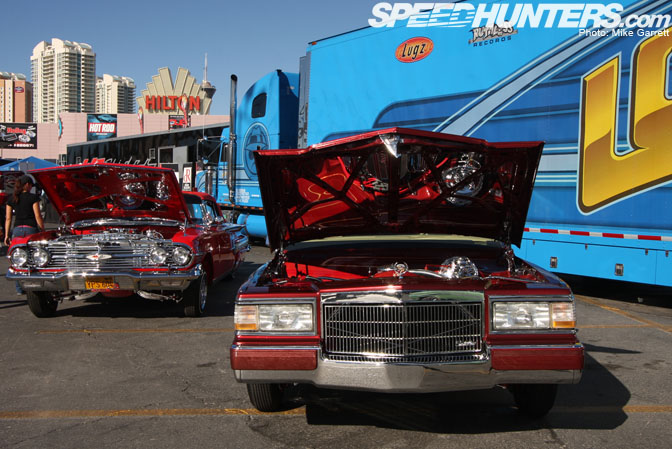 Low…ride…er.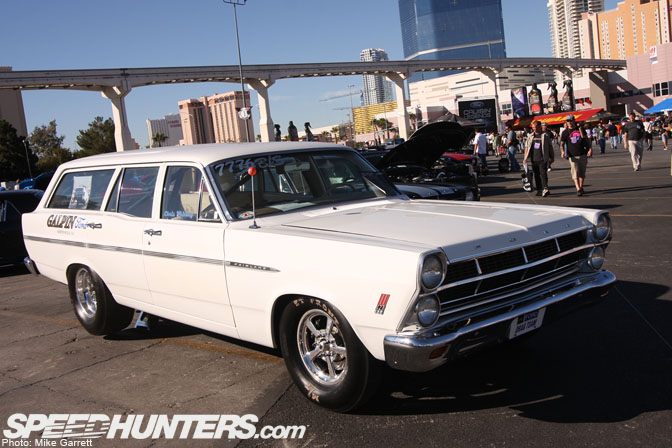 Another one for fans of the longroof – a Ford Fairlane Wagon drag car.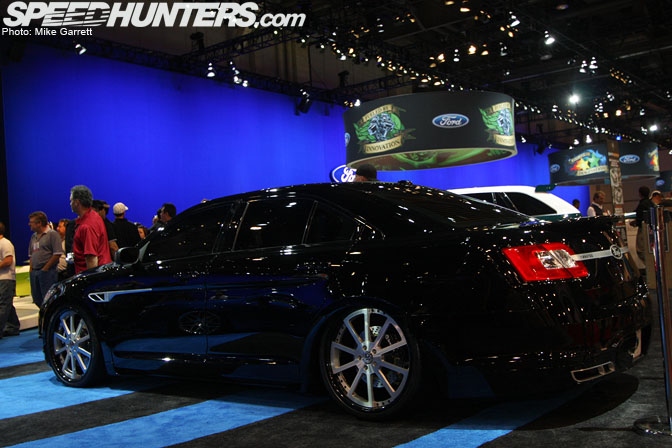 The big body of the new Ford Taurus lends itself well to the lowdown treatment, as seen on the Mobsteel SHO project.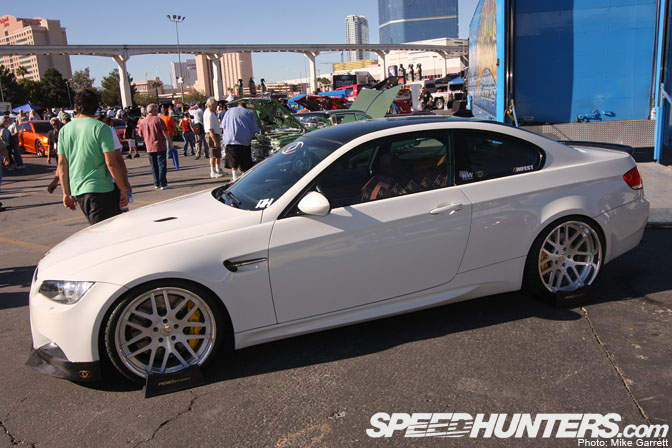 E92 M3's don't need much to drop jaws, as seen here.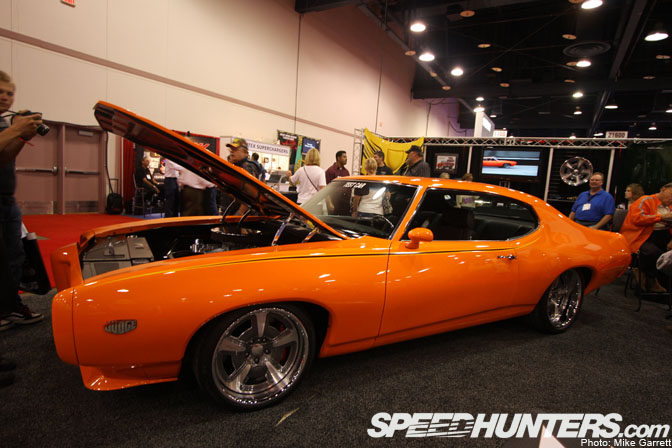 I grew up around old Pontiacs, so naturally I'm a big fan of the Jim Wangers Signature Edition '69 GTO. Jim is considered the "Godfather of the GTO" and is still very active in the scene today.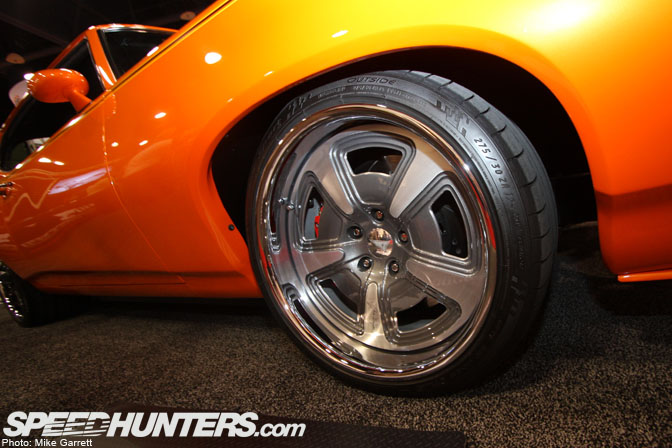 The Goat is packed with things like a fuel injected 505 cubic inch Pontiac motor, a Viper trans, 'Vette suspension, Recaro seats, and these custom 19" HRE wheels styled to look like the original Pontiac Rallye II's.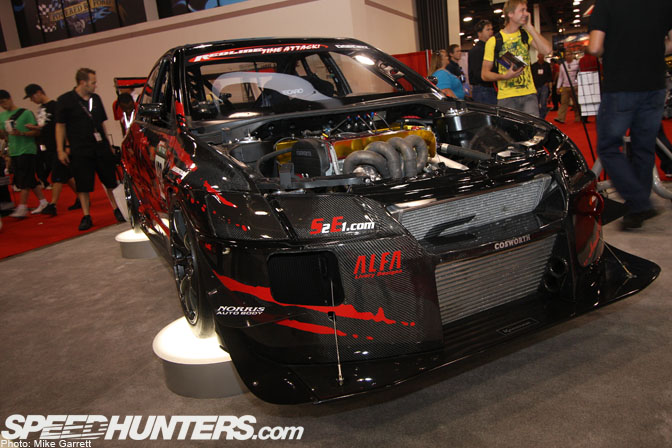 Another view of the Sierra Sierra Evo. This car is mental!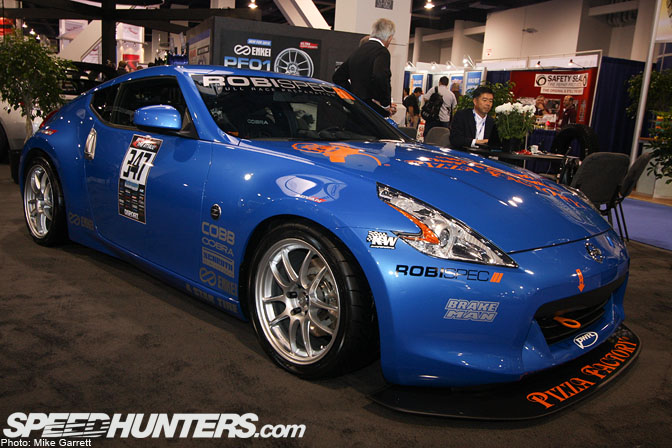 This 370Z time attack car was found in the Enkei Wheels booth.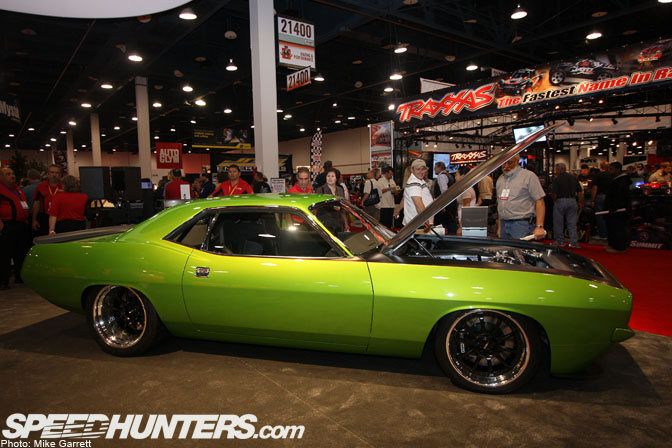 Another view of the badass 'Cuda I posted yesterday.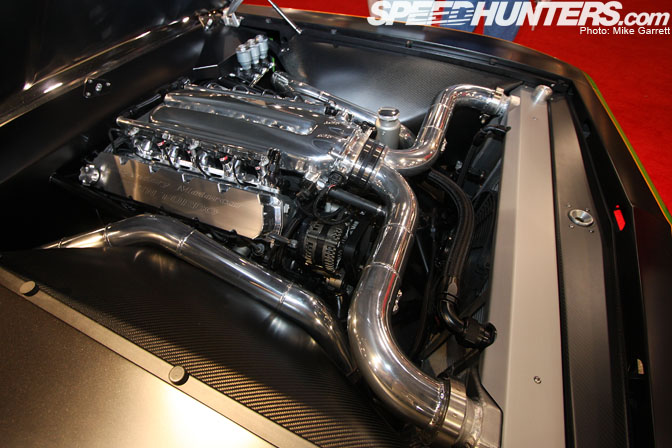 And an underhood shot showing the twin turbo Viper mill.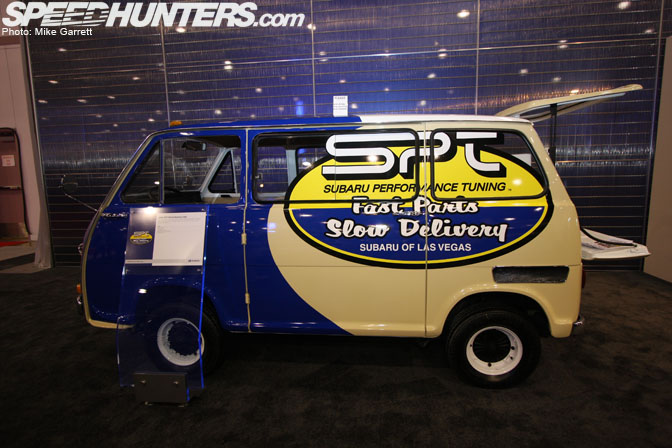 I'll finish with the '69 SPT delivery van in the SEMA booth. I think I'd need to cut a hole in the roof for my head if I wanted to drive this thing!
More from SEMA on the way, including some spotlights of our favorite cars.
-Mike Garrett