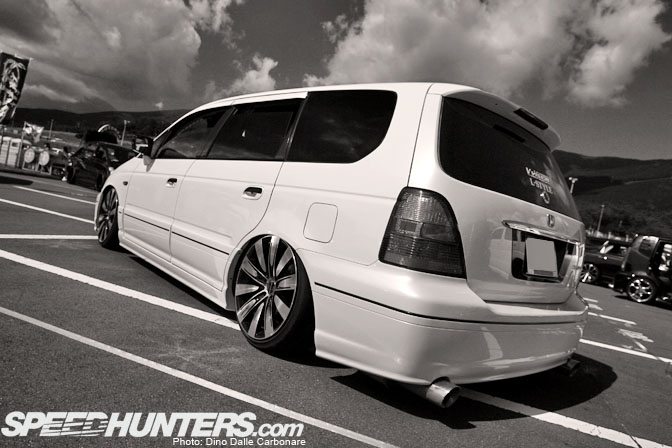 While most people probably think that everyone in Japan drives around in Skylines, Supras and AE86's the reality is that a great slice of the population is pretty crazy about minivans. Manufacturers have been churning them out in all shapes and sizes giving way to an ever-increasing presence on the crowded roads of the country. They do make sense as a practical means of transportation, they are big and in most cases pretty economical and as you can see from these pictures lend themselves rather well to some personalization.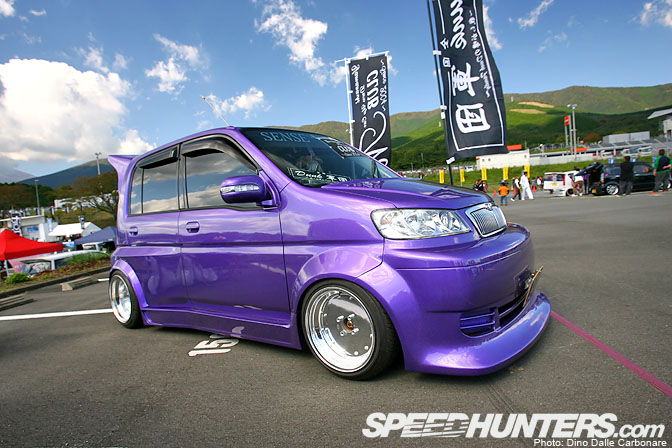 Knowing this month's theme was going to be about all things lowered, slammed, decked, however you want to refer to it, I have been holding on to these pictures since last month.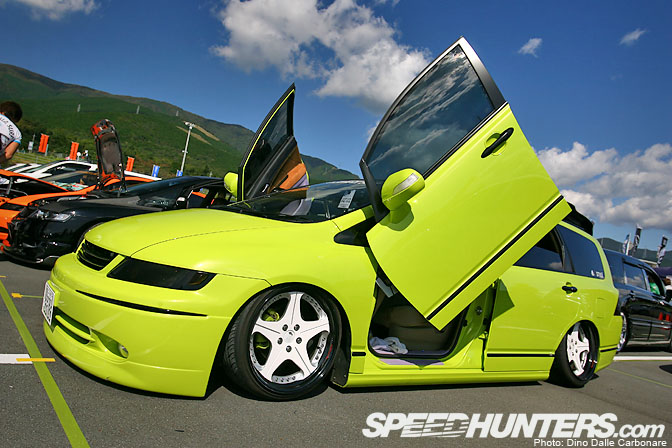 On the Sunday of the D1 final in Fuji Speedway I heard a custom show was going to be held in a cornered off section of the VIP parking area so as the action on track took a pause for lunch, I made my way over to check out these crazy slammed minivans.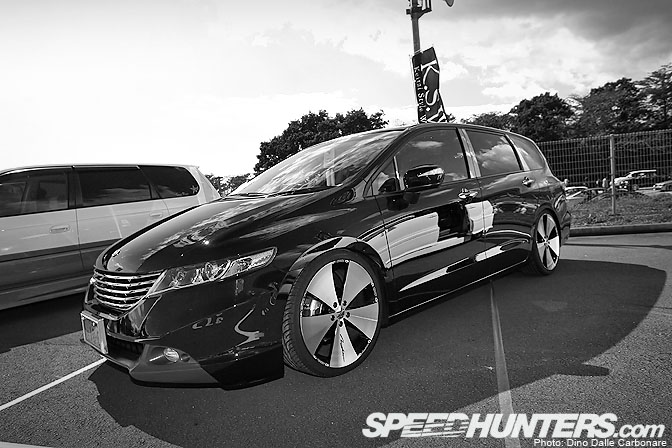 The Honda Odyssey is by far one of the most popular van in Japan, this is the kouki version of the JDM model that has been on sale in Japan since 2003. The 20-inch D.A.D. wheels fitted to this particular one were definitely different making it look like some kind of concept car.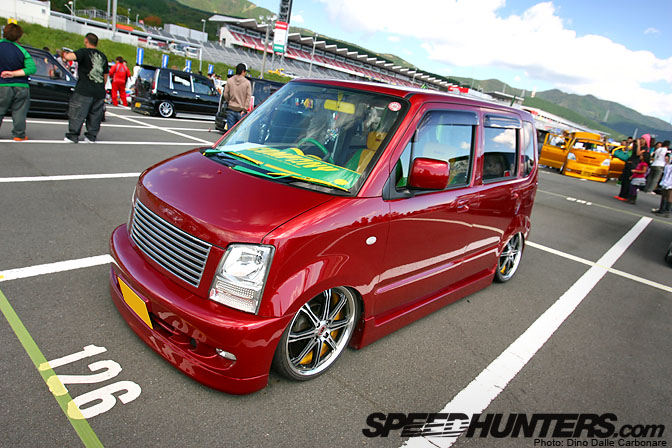 This little Suzuki Wagon R "Kei" van was slammed right to the ground riding on some nice 17-inch Work Schwert SC1's…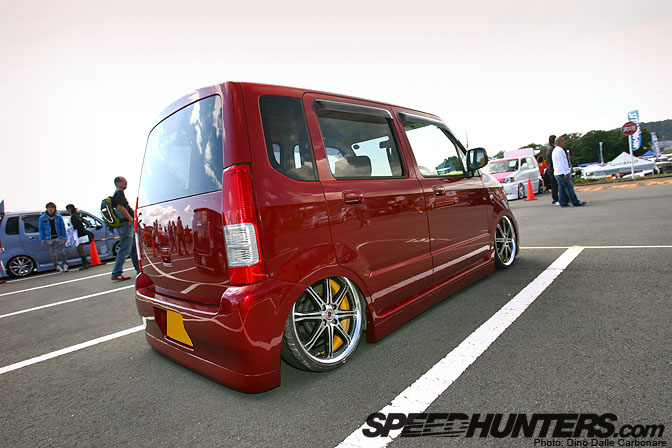 …and if you check out the rear you can see how the bodywork was cleaned up by removing the rear wiper and all the badges.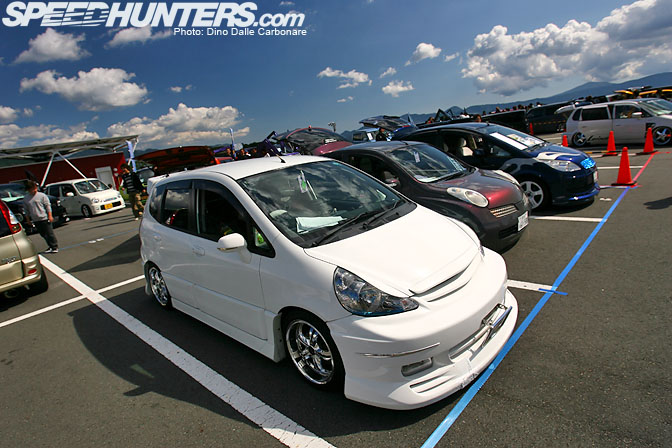 Spotted this previous generation Honda Fit which was nice and low, but there was some obvious work needed to rectify the offset situation.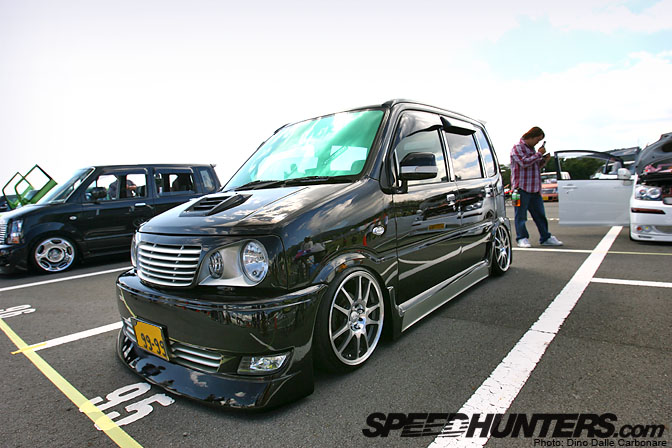 Small is the way to go!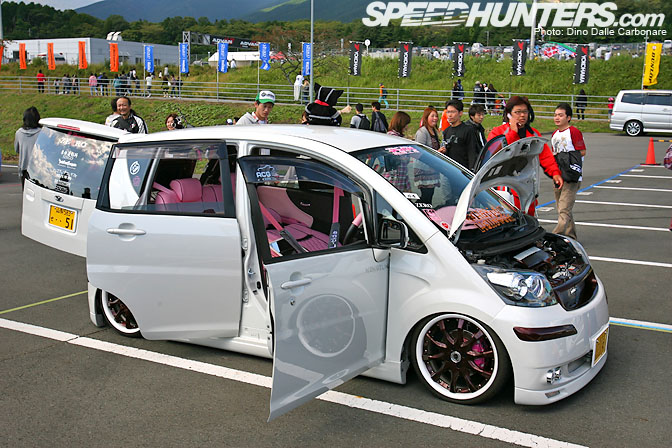 A lowered stance often means extravagant interiors and enough audio and video equipment to power a nightclub. Yes, those are pink seats!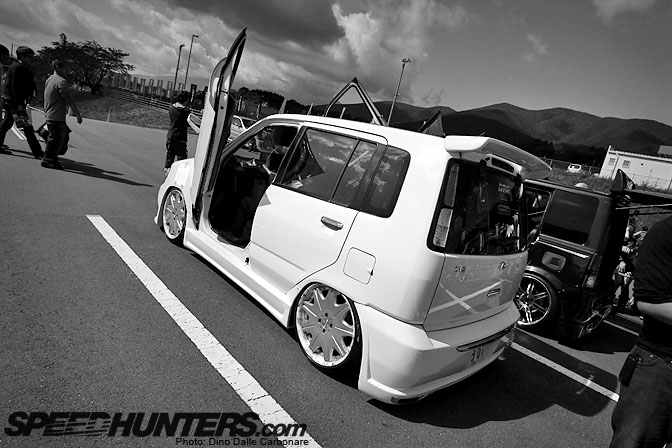 People take the whole custom thing to crazy levels like fitting vertical doors to first-gen Nissan Cubes!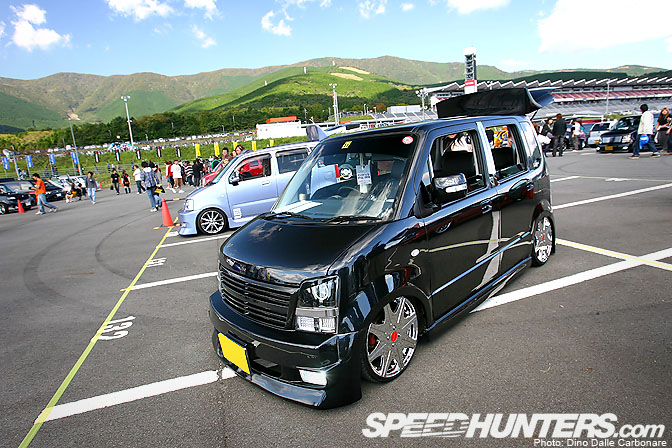 Hard looking Wagon R!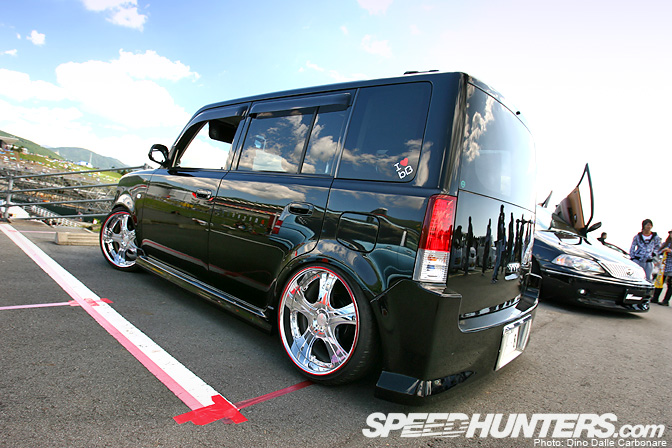 How could the Toyota (Scion) bB miss from this line up of course, this particular one sporting a pretty spot-on stance.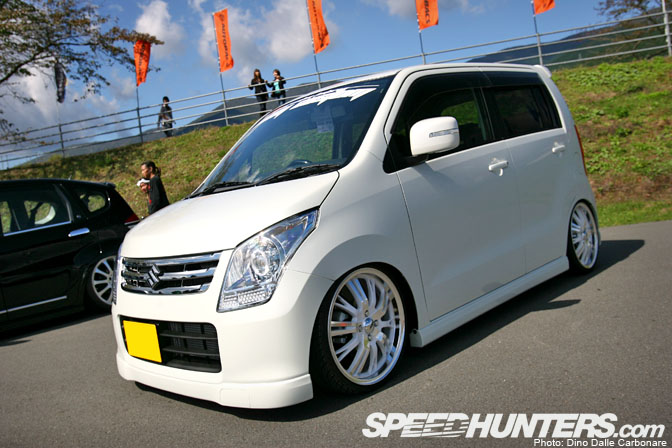 Thought this white on white theme worked well on this brand new Suzuki Wagon R.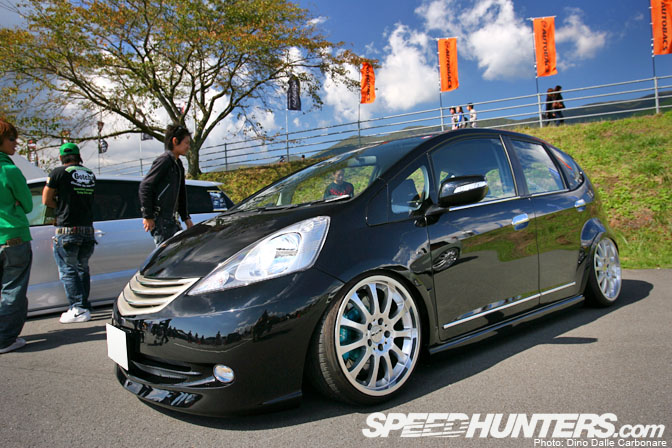 But for me the best of the whole show was this latest generation Honda Fit dropped to the ground on massive 19-inch Carlsson wheels.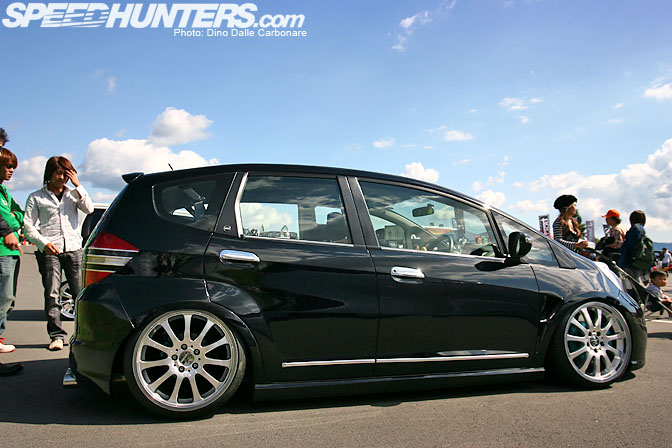 It was even running a huge Project µ front brake upgrade. Very smooth!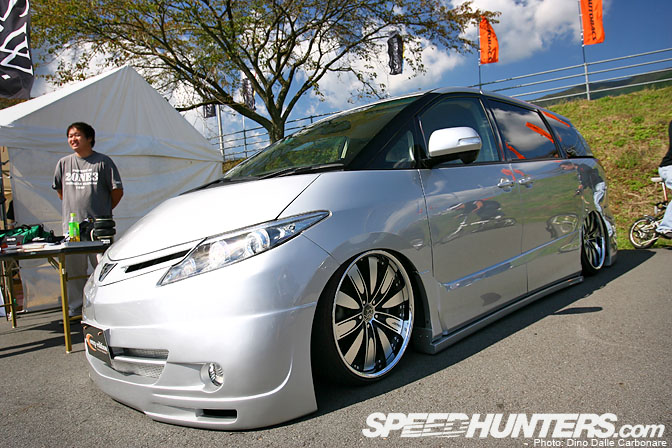 Slammed Toyota Estima Hybrid on airbags and AME Modelart Gracer 20-inch wheels.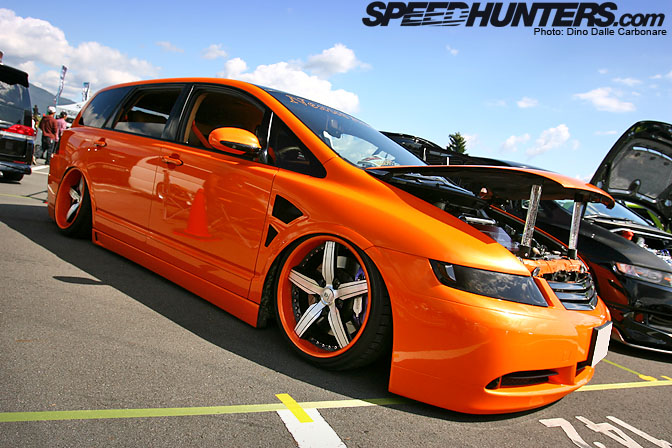 Color coordination anyone?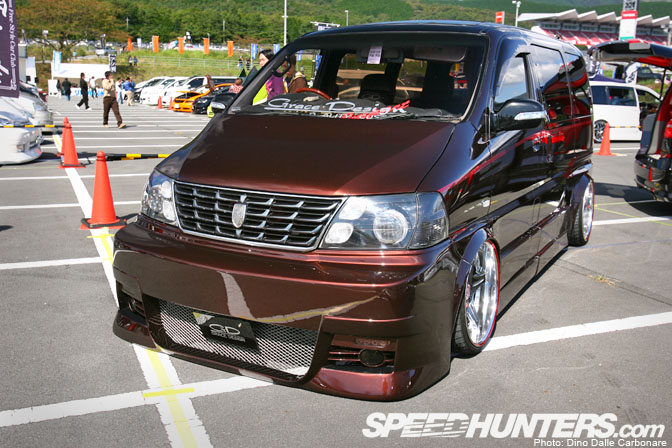 Bigger vans allow for more interesting modifications…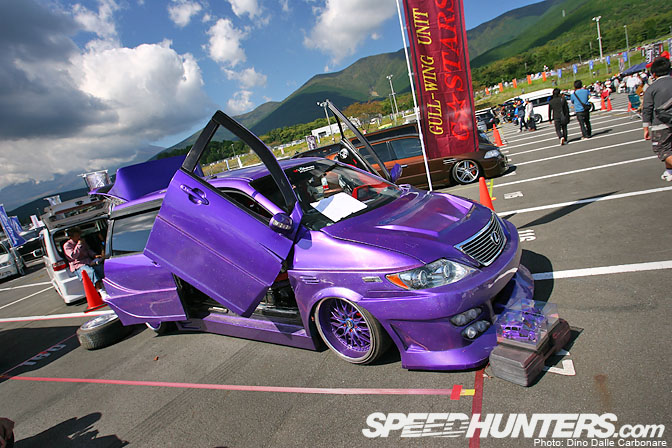 …shown to us here by this crazy creation sporting a Lexus LS front headlight and grille conversion. The base is a Mazda MPV believe it or not!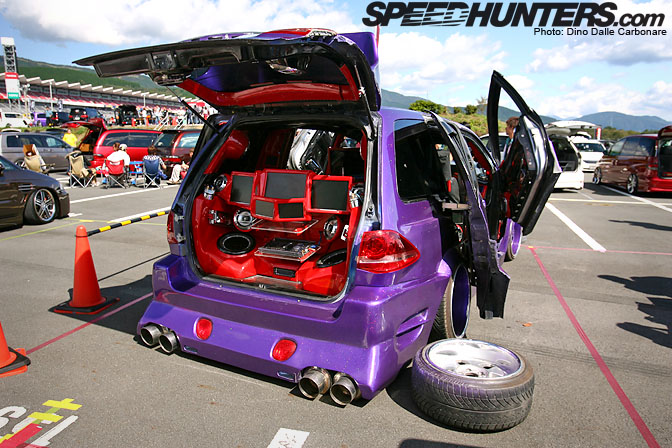 Not surprising, with the amount of equipment on board it rides very low…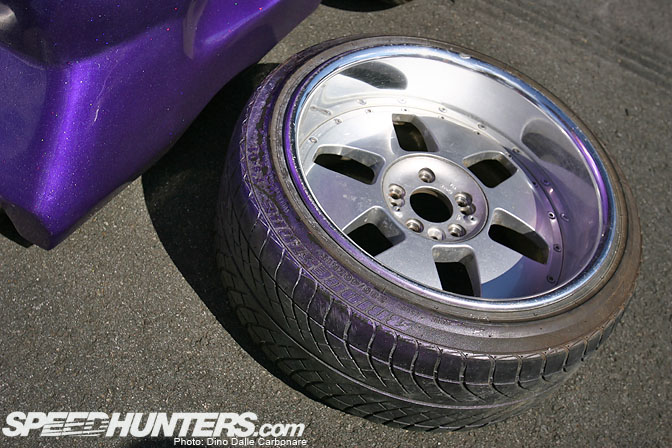 …and yes that is paint transfer on the side walls from rubbing the inside of the fenders!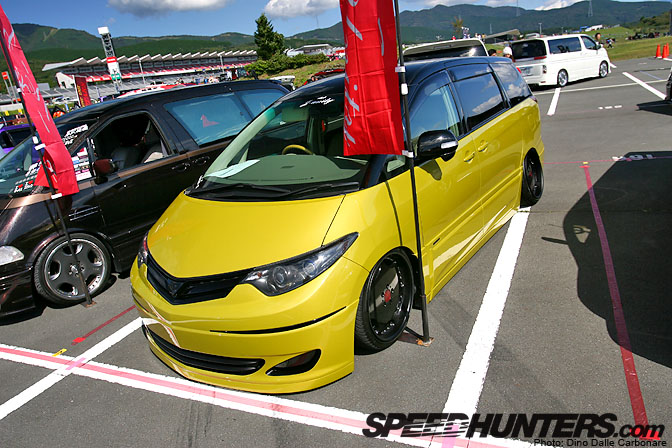 The Toyota Estima is one of the most well designed JDM minivans currently on sale an with some smooth customization its looks can be further enhanced…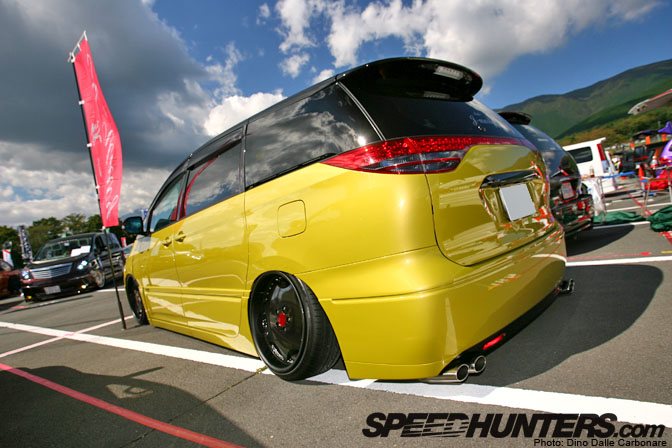 …as is shown by this mustard-yellow example riding on mean looking black Lowenharts. Check out that rear camber!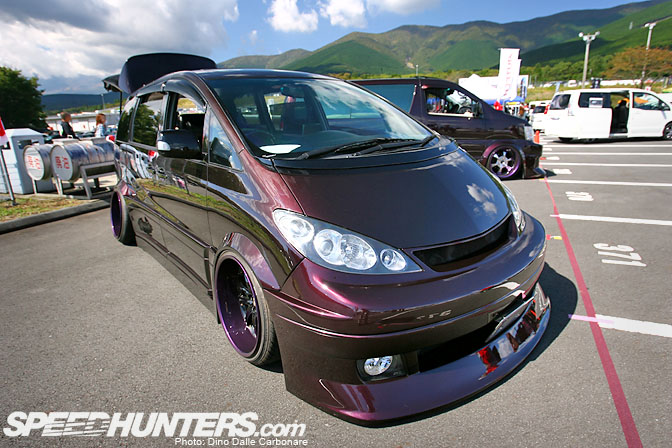 Here is another Estima, previous generation, dropped on 20-inch wheels and sporting massive overfenders.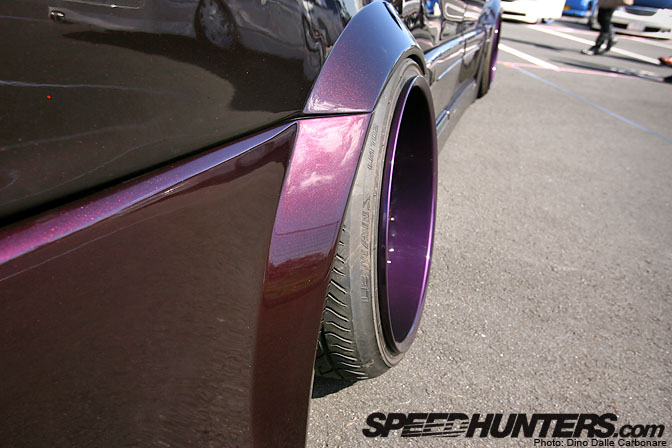 Yes they rubbed!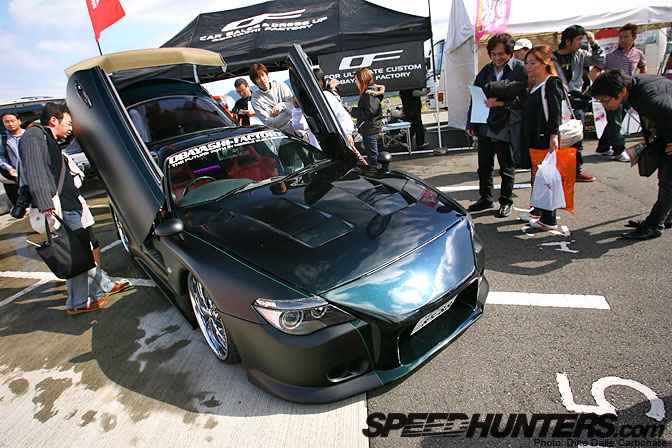 A lot of people were asking questions on the Drift Tengoku GT-R post, regarding this car (which was visible in the background). Well despite all the guesses it is actually a Toyota Supra…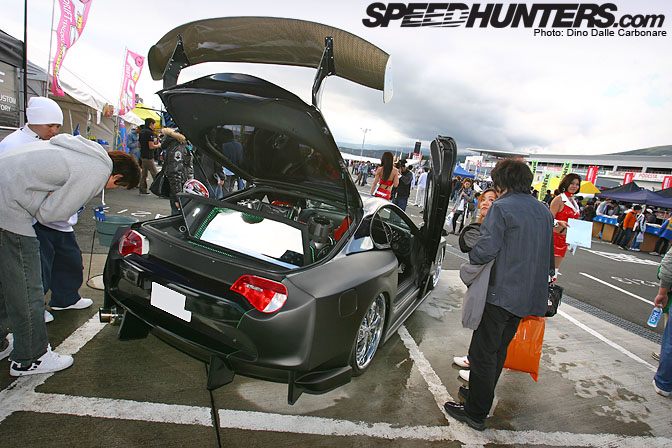 …built by Obayashi Factory, a company specializing in custom audio/video installations.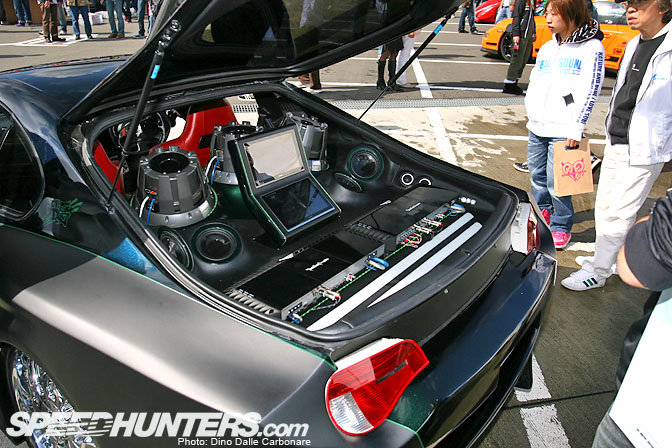 The car has been transformed with BMW 6-series headlights and BMW Z4 tail lights, and packed with tons of ear-drum bursting speakers.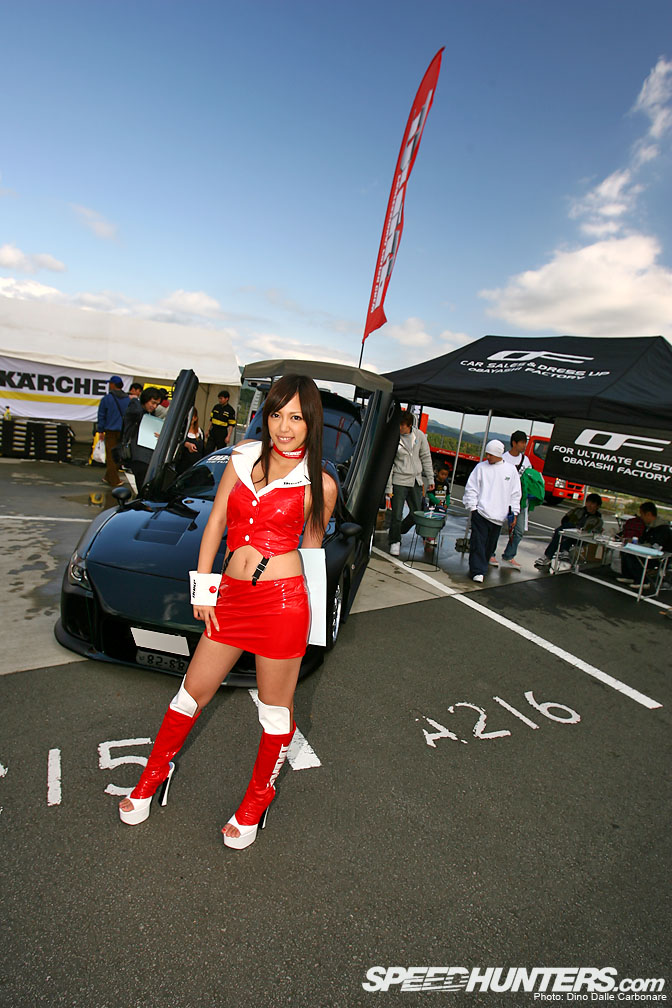 I though this was the most pleasant angle from which to view the car, and I'm sure I'm not the only one in thinking so! Hope you guys enjoyed seeing all the slammed JDM minivans!
-Dino Dalle Carbonare