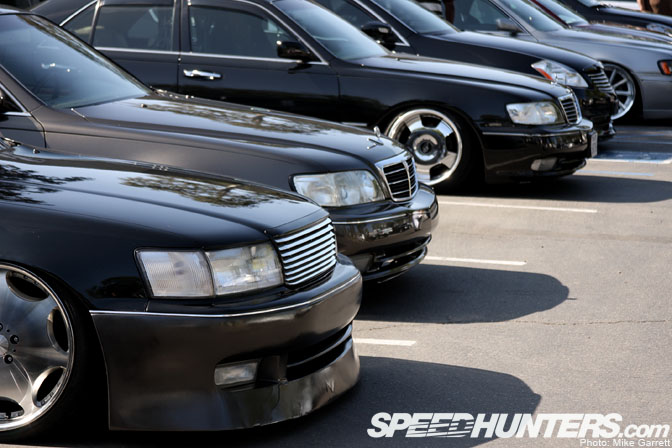 I'm going to be honest here, four or five years ago when the first VIP style cars started popping up in the USA, I doubted that the style would be able to catch on here. The key to having a legit VIP car is attention to detail, and I just wasn't sure us Americans were capable of it. I guess you can blame several Fast and Furious movies and years of over the top Spocom rides for that. In 2009 the US VIP movement still isn't quite "mainstream", but the following continues to grow, and the quality of cars is getting higher and higher. Nowhere was this more evident than at Autofashion USA's 3rd annual "VIP Festival" held this weekend in San Diego.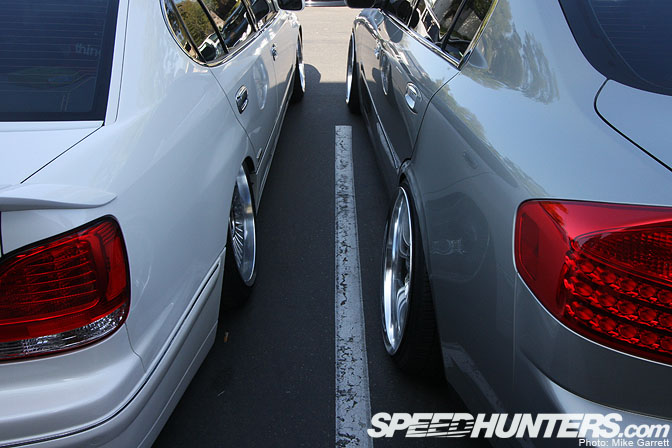 Since it's "Slammed Month" on Speedhunters, this was a must-see event. Whether you are fan of the "bagged 'n tucked" look or the "fender sitting on the rim" look, there was plenty to be found at the VIP Festival.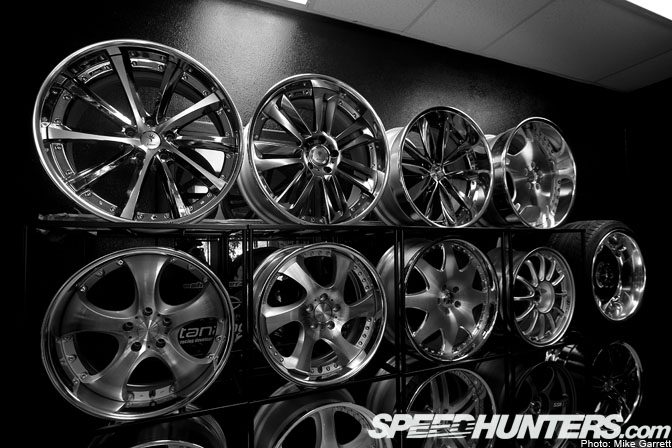 As part of the event Autofashion opened up their showroom so people could drool over all the high end parts on display. From small interior accessories, to wheels and air suspension kits, if it's VIP they can get it.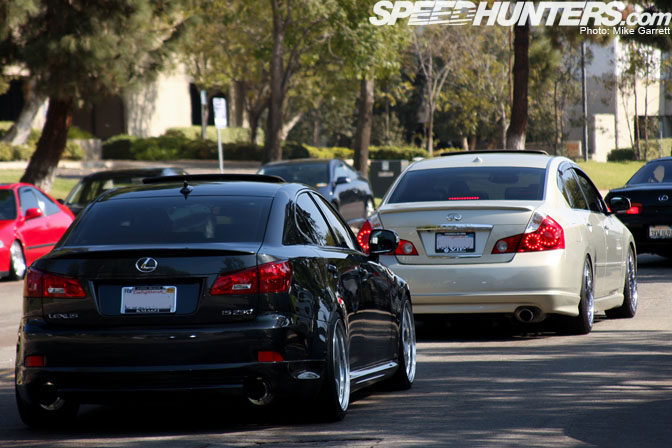 When I first arrived at Autofashion there weren't a whole lot of cars there, but slowly they started to roll in. There's no denying the sinister vibe of a bunch of slammed luxury sedans rolling up in a group. My wife said something like "uh oh, the yakuza is here".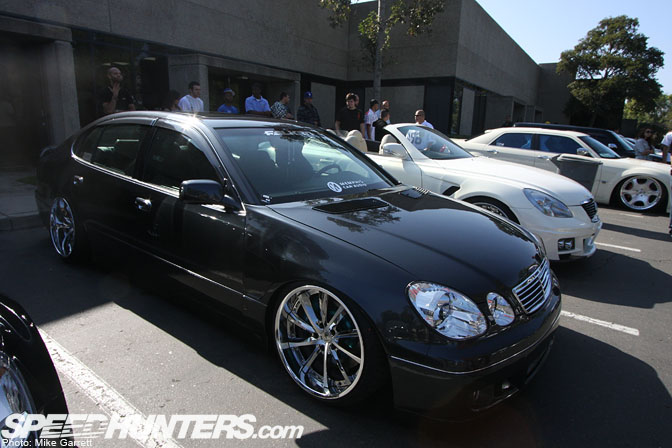 This dark gray Lexus GS was one of my favorite cars of the day. Modern VIP style at its best.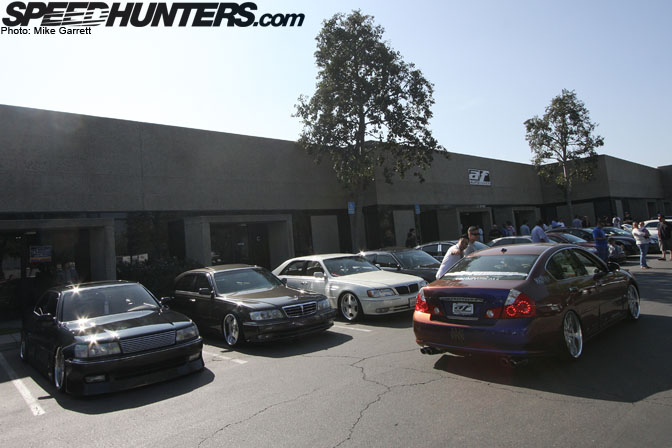 It wasn't a huge meet, but the quality of the cars more than made up
for it. Would you rather look at 200 so-so cars, or 60 really nice
ones?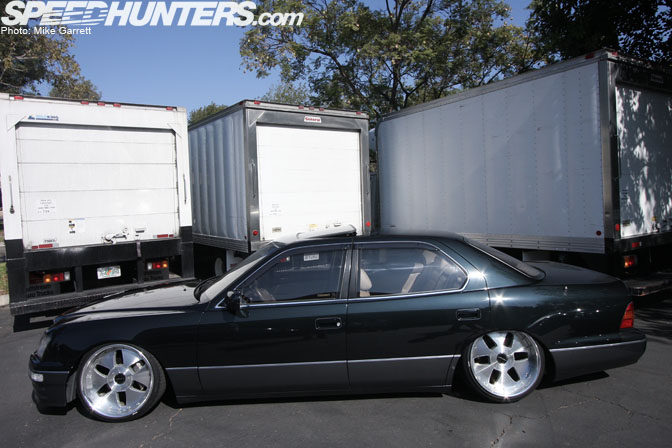 This is the same OC-based LS400 that Linh posted earlier today. You don't see many too many VIP cars rocking OEM two-tone paint, but this car pulls it off so well.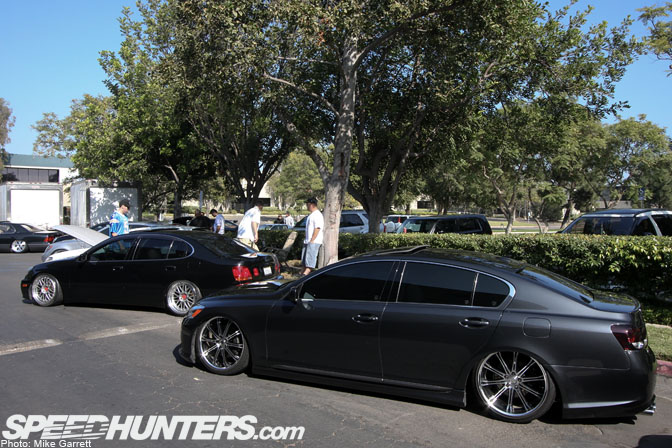 Besides this bagged GS on Work Schwert wheels, there weren't too many late model Lexus cars at the event. Overwhelmingly the favorites are still older models like the JZS161 and UCF10,20, and 30.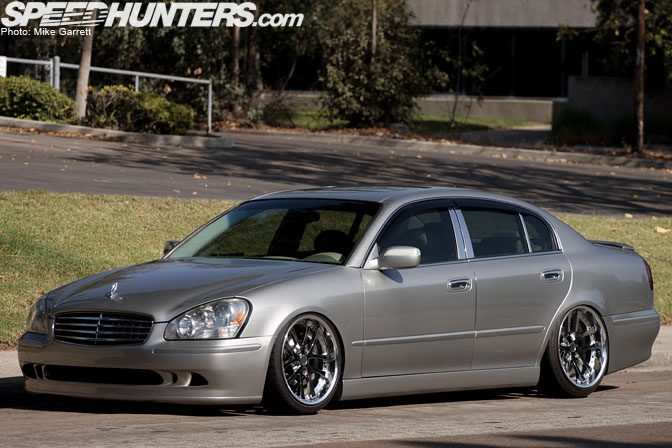 Lexus models dominated the meet, but the Nissans were represented with cars like this F50 Infiniti Q45, or Cima as it's known in Japan.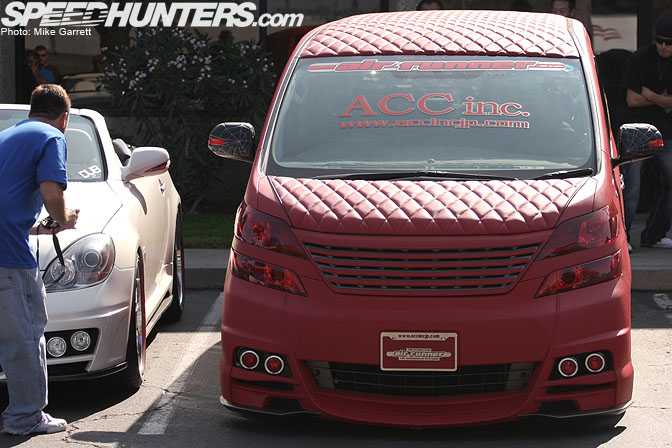 Since the VIP Festival was held just a couple days after SEMA, there were a lot of industry and media people from Japan that came out. A few of the RHD demo cars from SEMA also made it out, including Air Runner's leather-wrapped Toyota Vellfire. Everyone at the meet gravitated towards it when it pulled up.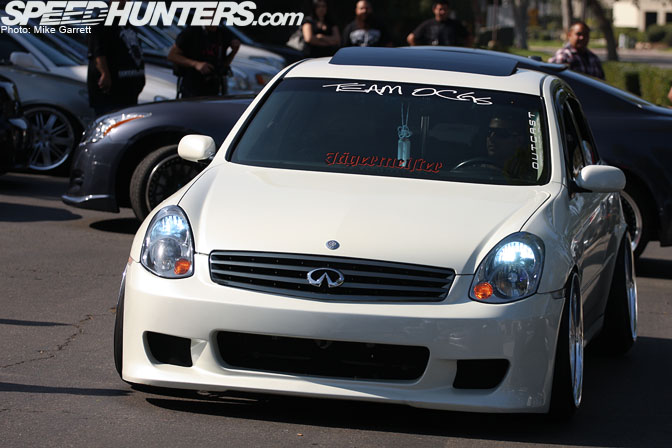 I'll be doing separate spotlights on a couple of the cars that caught my eye at the meet, including this super flush G35 sedan….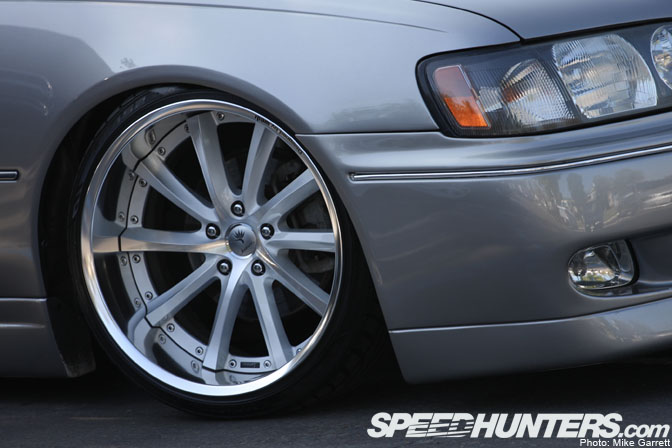 …and this immaculate Y33 Q45.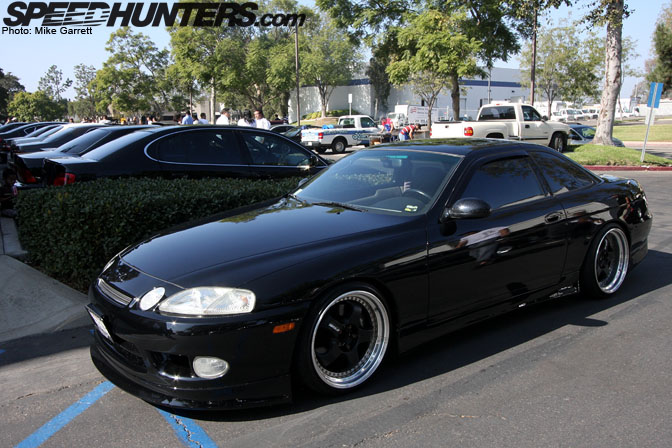 Not all of the cars at were traditional VIP sedans. There were also cars like this black Lexus SC on matching Work Meisters.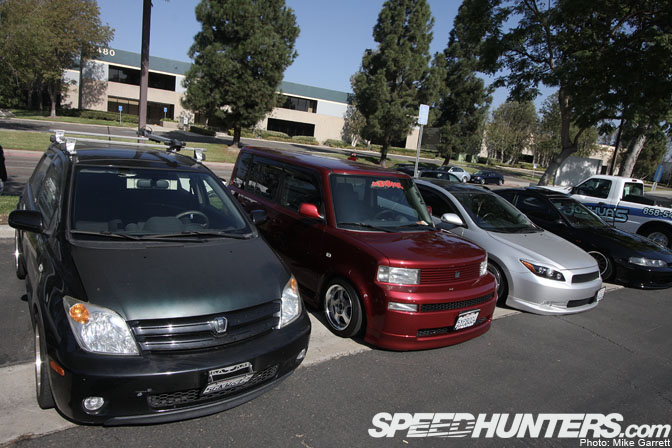 Plus a few Scions holding it down for the wagon and compact side of the scene.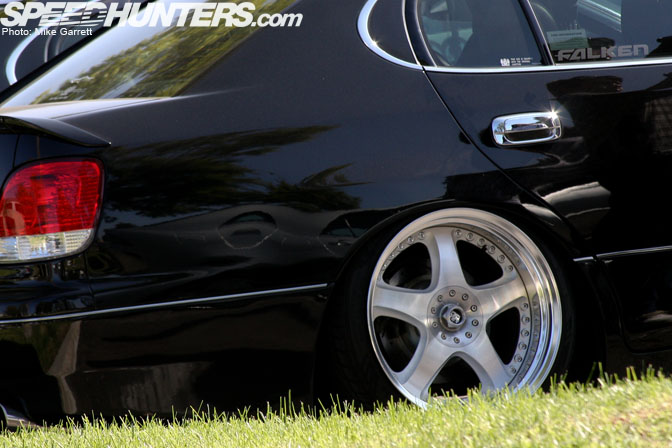 If there were a "VIP parts" hall of fame, the Junction Produce Scara wheel would be one of the first inductees.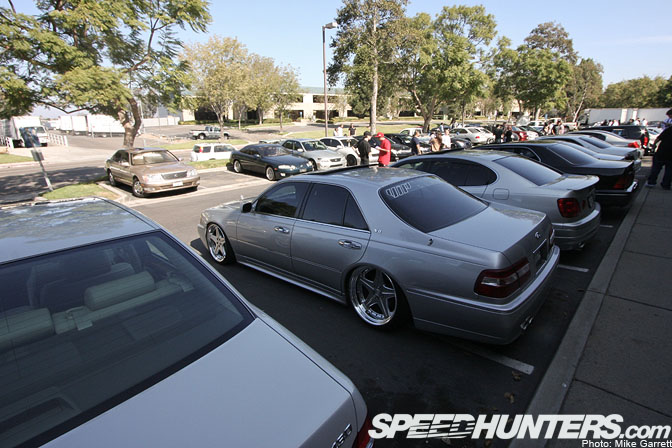 A wide shot showing an overview of the gathering. Again, quality not quantity.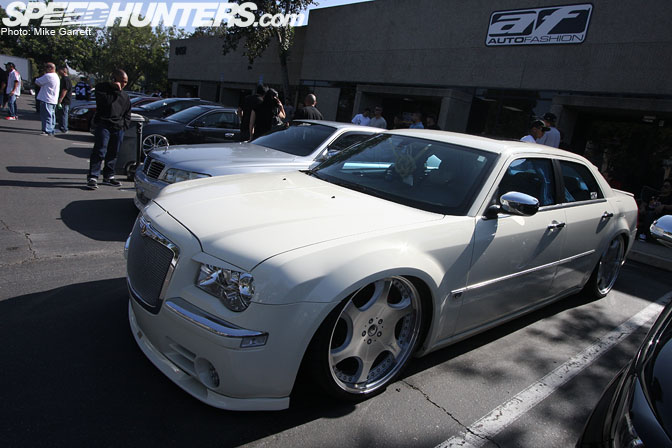 The Chrysler 300C looks damn good as VIP car, and has a ton of presence compared to the more common Toyotas and Nissans.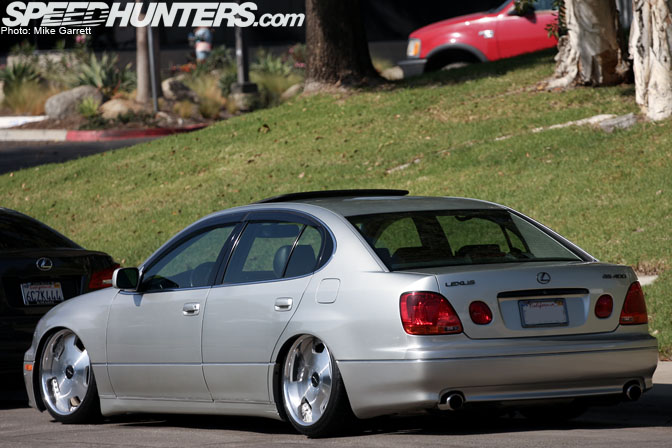 Sometimes a set of wheels and a proper drop is all you need, as demonstrated by this stock-bodied Lexus GS.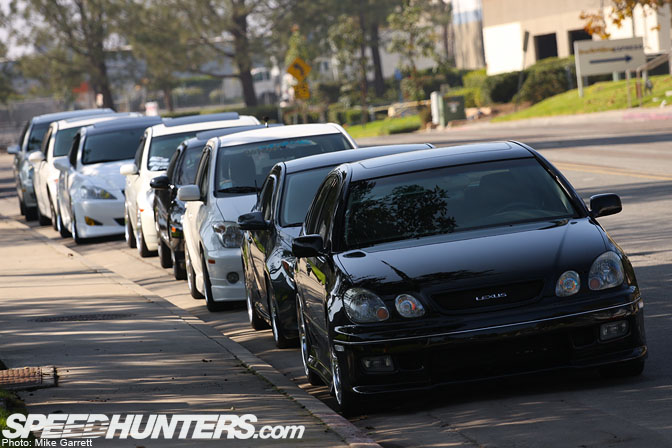 OK, that's all for now. I have a super busy week ahead of me with the Buttonwillow Super Lap on Wednesday, plus more SEMA material to post.
Stay tuned for more coverage from the Autofashion VIP Festival.
-Mike Garrett