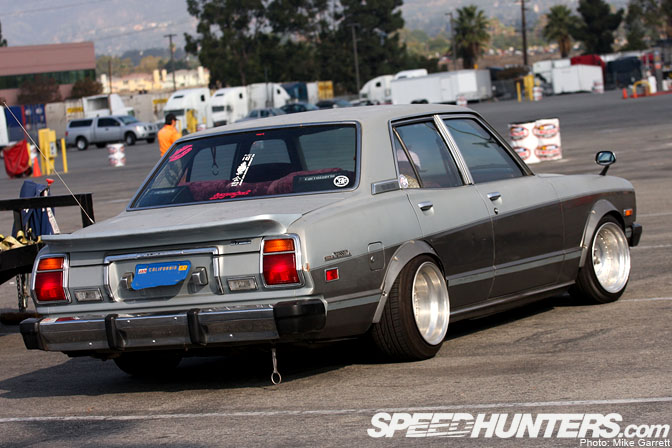 While walking through the paddock at Irwindale on Saturday, there was one car that immediately drew my eye. It wasn't a car competing in the drift event, or even an entry in the car show. Nope, this first generation Toyota Cressida was simply parked in the paddock amongst the heavy duty Chevy and Dodge support trucks. With our focus on all things low and wide this month, I knew this would be a great car to spotlight, and a perfect example of an authentic Japanese style kyusha in the USA.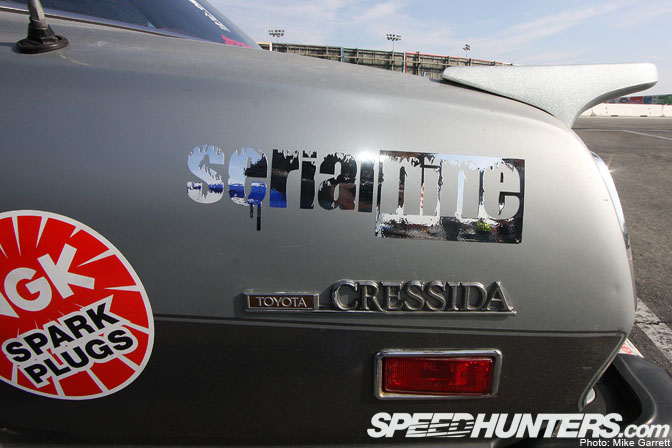 While Japan has all sorts of Mark II's, Crestas, Laurels, Cedrics, and Crowns ripe for the picking, us Americans have a much more limited selection of old school Japanese sedans to choose from. Luckily, the first generation Toyota Cressida sold between 1977 and 1980 is nearly identical to the Mark II sold in Japan. As you can see, the car is representing Serial Nine , a small company that specializes in parts for the Cressida.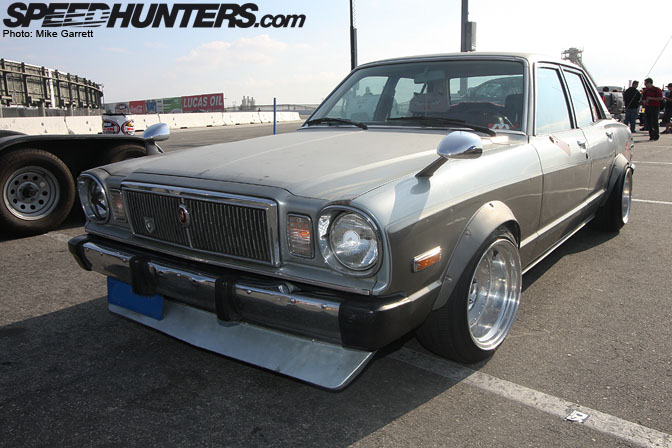 For a car like this, you can't just order the parts you want off of Ebay. Even in Japan, it can be very difficult sourcing parts for a car like this. Keeping that in mind, the owner has done a fantastic job outfitting the car with period style parts. For example, the chin spoiler mounted under the front bumper.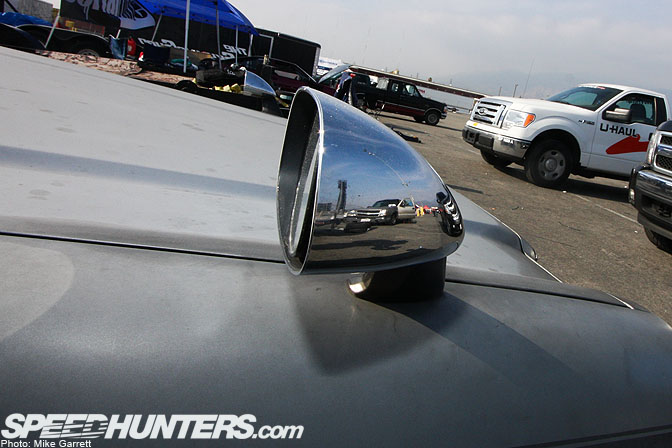 Of course it wouldn't be complete without a pair of fender mirrors…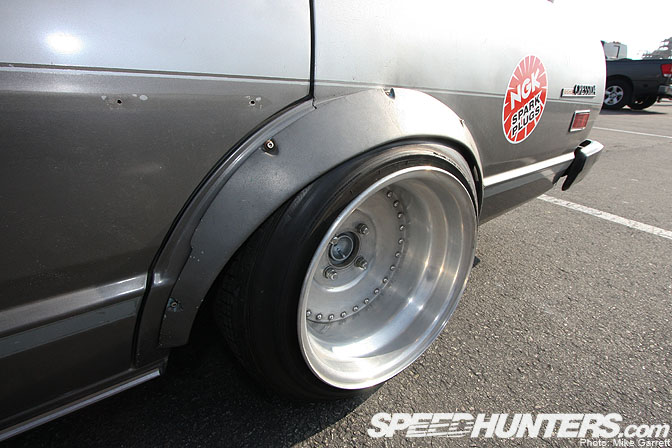 The bolt-on fender flares are what transform the soft luxury sedan into a badass cruiser. Of course you also have fill them with a proper set of wheels and tires with lots of stretch.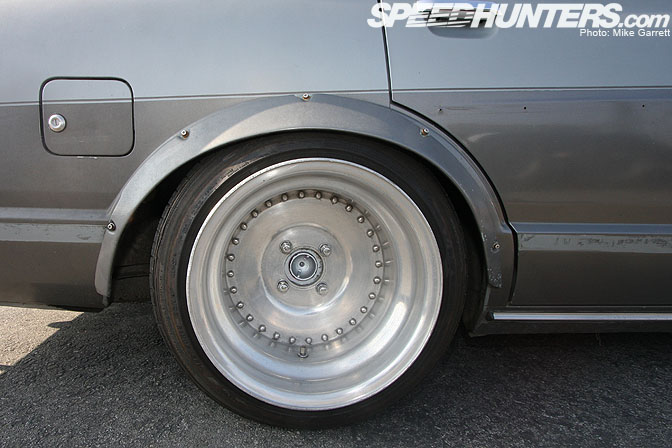 Although from a distance the wheels look like SSR MK 1's, they actually look to be some very wide 15" Centerlines, with an offset well below zero. Also note the two-tone paint, something I'm not sure is original or not.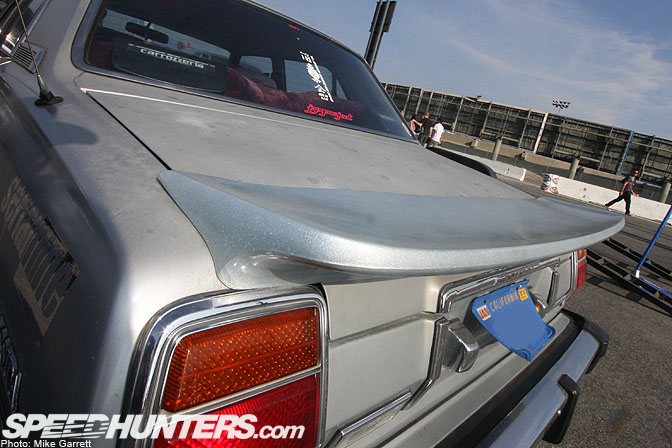 I'm not 100% sure, but I'm guessing this rear spoiler is something adapted from another car. Again, this something you see often in Japan.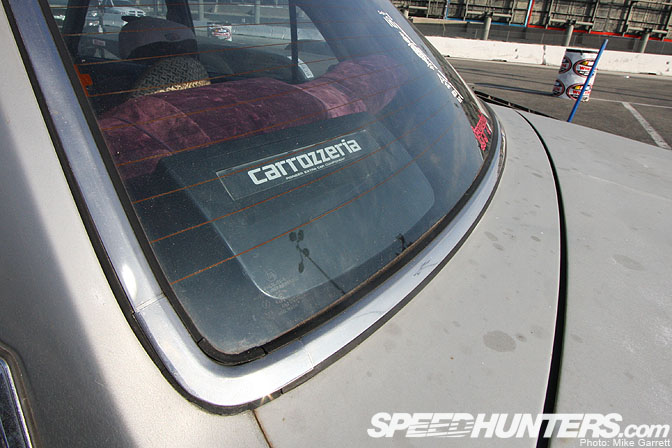 Another authentic Japanese touch is the retro style Pioneer Carrozzeria speakers mounted behind the back seat.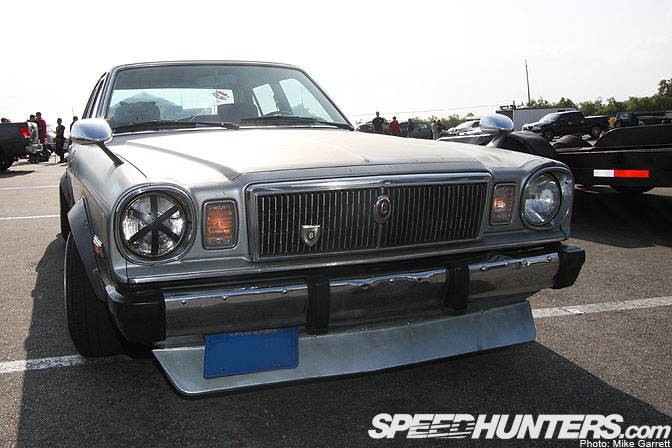 The car is just full of little details, like the tape on the passenger side headlight.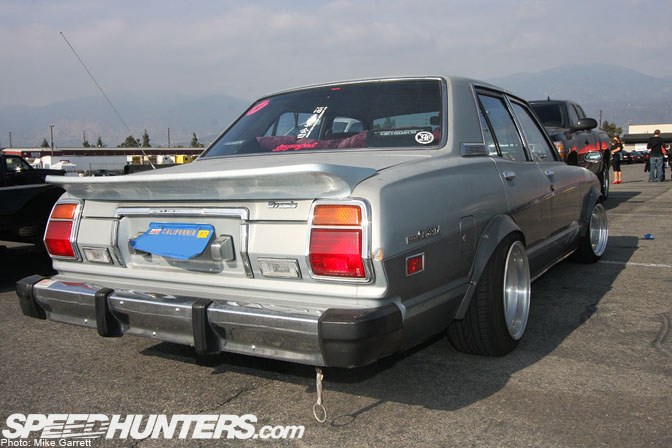 It's been a while since I've seen a car that captures the spirit of retro Japanese street style like this one, and I can only imagine how sweet this thing looks while cruising on the freeways here in SoCal.
-Mike Garrett