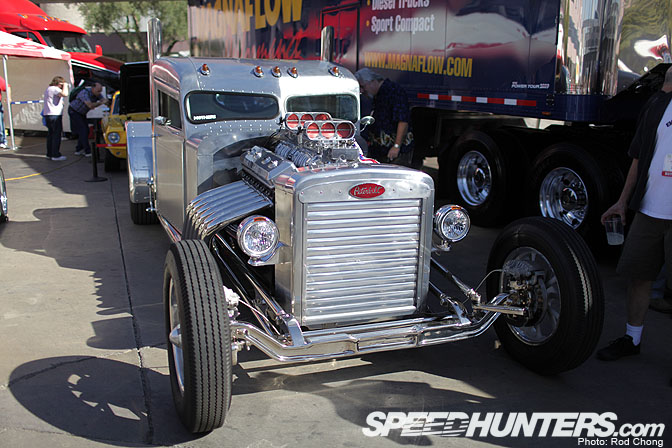 This giant scaled up Hot Rod is the latest creation from the Southern Oregon based Blastolene shop. These are the same crazy minds responsible for Jay Leno's tank car…. It's a connection which immediately makes a lot of sense!
Designed by Randy Grubb, the Blastolene design philosophy is based around finding unusual large displacement engines and building up drivable "sculptures" around them.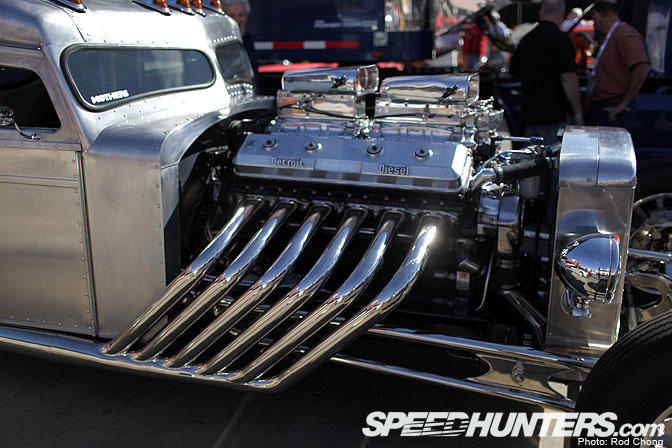 The 12v71 Detroit Diesel with twin 671 superchargers is an industrial application engine normally found in generators. Each of the twelve cylinders displace a whopping 71 cubic inches!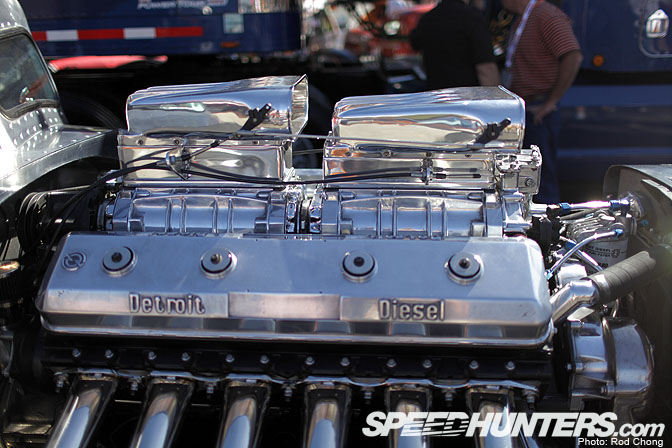 It's completely stock but still manages to generate 500 bhp and a staggering 1000 foot pound of torque.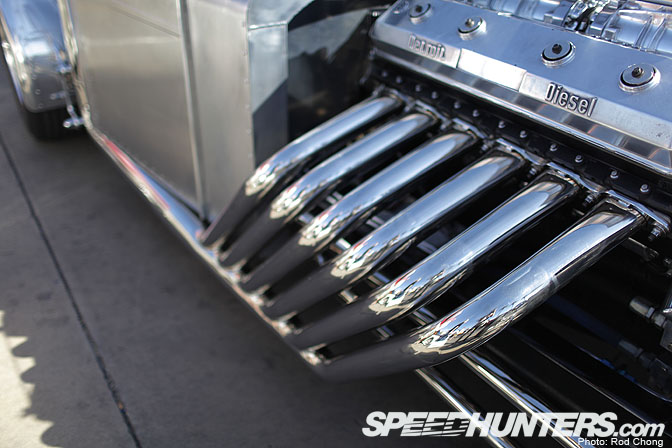 The truck/car/rod initially featured zoomie exhausts but perhaps the diesel fumes were entering the cab. The headers now collect into vertical exhaust stacks.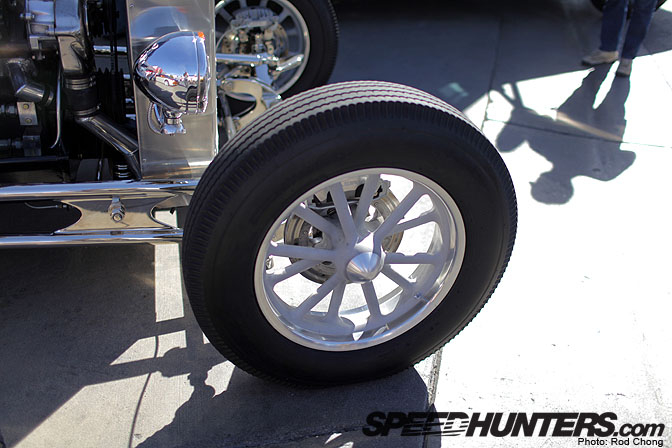 The look of the car is based on vintage Altered drag cars and features many one-off scaled up drag inspired features like these one-off giant spoked rims.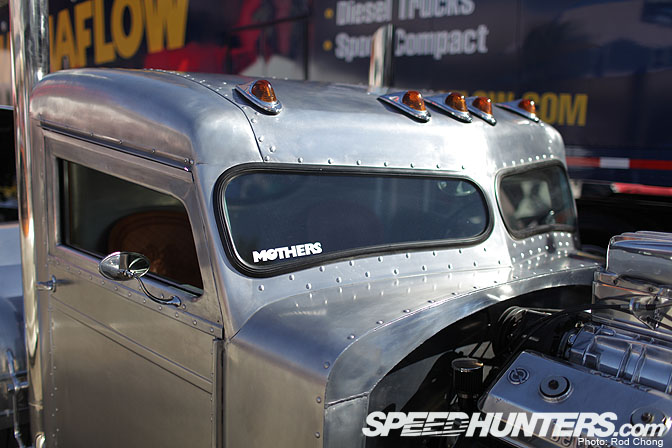 The official name of the car is "Piss'd Off Pete" which refers to the Peterbuilt semi trailer/lorry cab and its aggressive looks. The back of the roof has been chopped five inches with eight being taken out of the front to get a strong rake effect.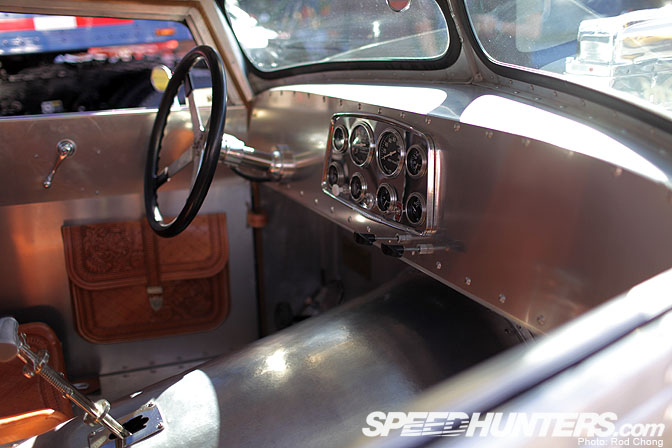 The bare aluminum look is carried through to the interior of the car and features leatherwork from a local Oregon saddle maker. The four speed automatic gearbox has been lifted out of a Greyhound bus!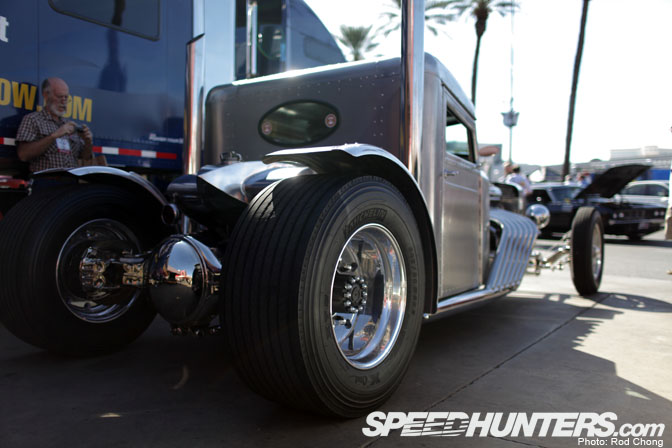 Here's a shot of the back of Rig Rod. You can see many semi trailer-like details here.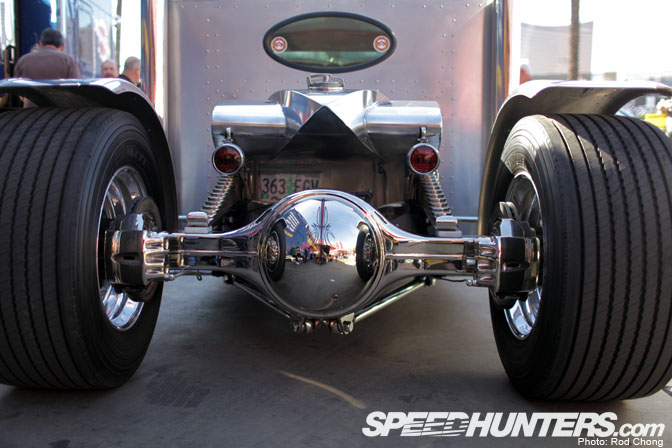 The rear diff is nickel plated.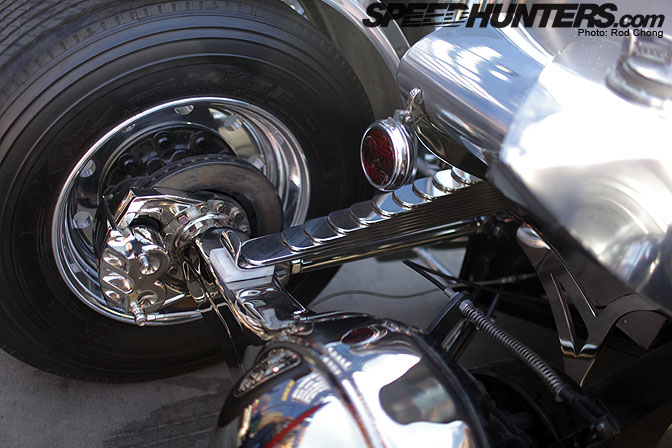 The brakes are stock big rig items.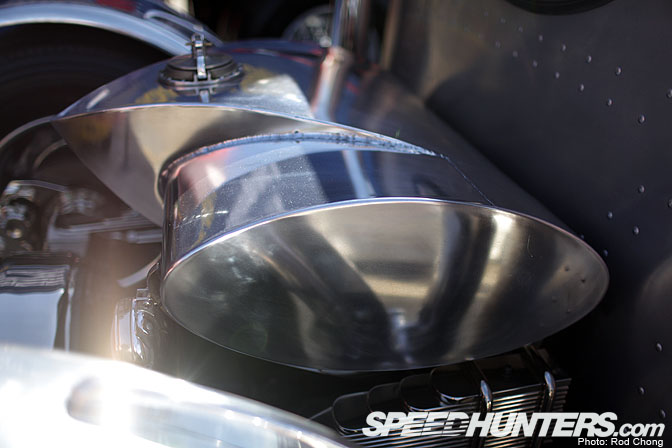 The sculpted gas tank holds a mere 35 gallons. You wouldn't get very far on that!
Ok next up I'll be looking at JR's new toy in more detail: the all carbon fiber RTR-C.
:Rod