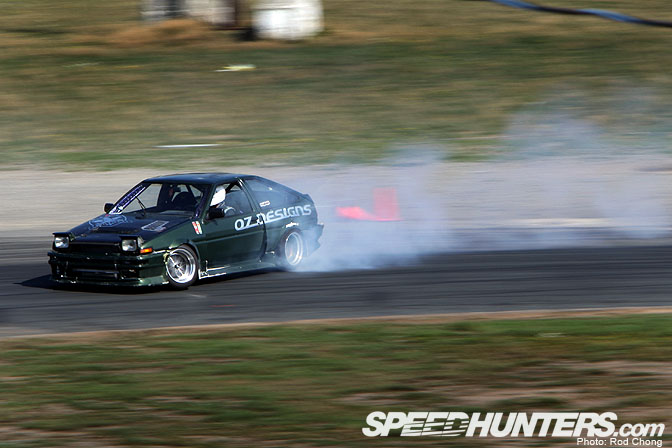 This past August, I was invited to be a guest judge at a local drift Drift Mania West event, held at Western Speedway in Victoria BC, Canada. As you can expect at typical North American grass roots drift event, the majority of the cars competing were S chassis of various types. But one drifter chose to break the mold with his choice of car and went in a more old school direction: his name is Chris Scremin and this is his 1985 SR-86.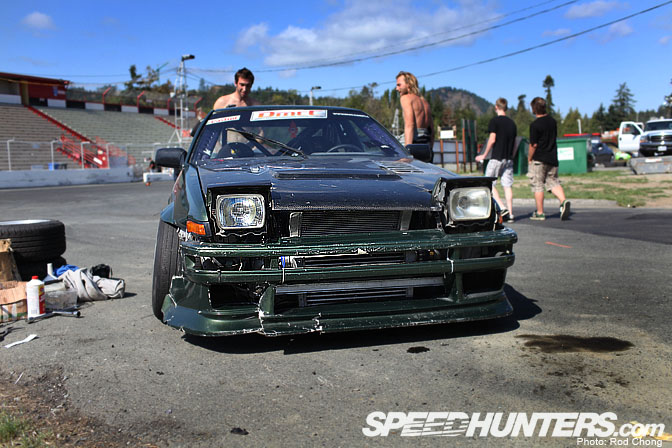 Chris is one of the top drifters in the west coast Canadian scene and ended up third in the 2009 Drift Mania West Canadian series. This qualified him to for entry into this weekend's Pro Am Finals at Irwindale Speedway, but unfortunately Chris doesn't quite have the cash to make to the event. It's too bad as I'm sure he would have put in a good showing at the House of Drift.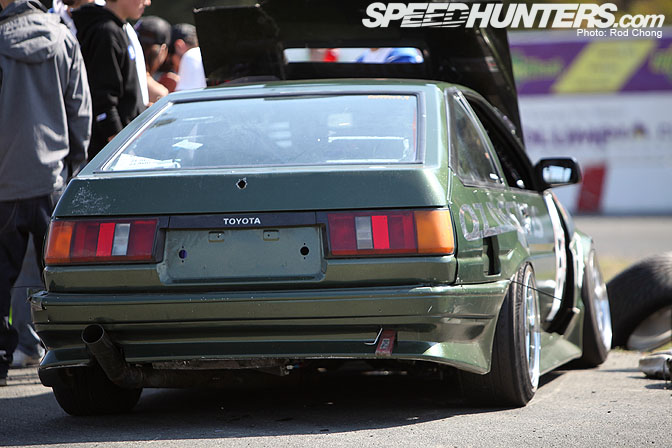 Anyway let's have a quick look at his car as it appeared at Western Speedway this past August. The first thing you'll notice about the Hatchi is that although battered and bruised, it has some pretty good style happening and is widened out 150mm at both the front and the rear.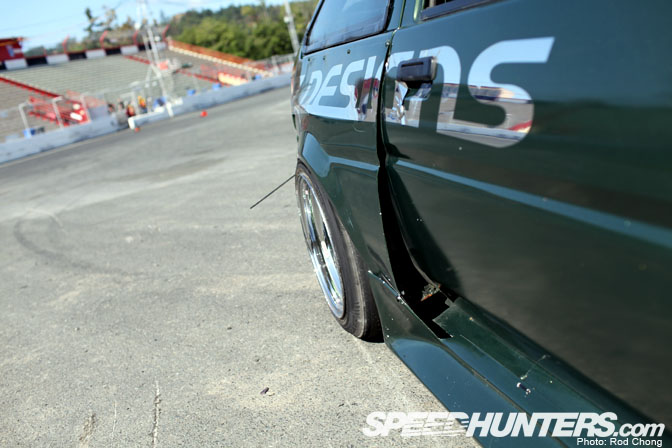 The car is full of custom fabrication from Chris' shop Fortress Fabrication. He's running a Mk1 Supra solid axle (for the extra width) along with rear links, a panhard rod, and traction brackets of his own design.
You can also see in this shot, he's pulled out the Origin 45mm rear over-fenders for an extreme wide-body effect. The side skirts have also been mounted outboard to line up to the fenders.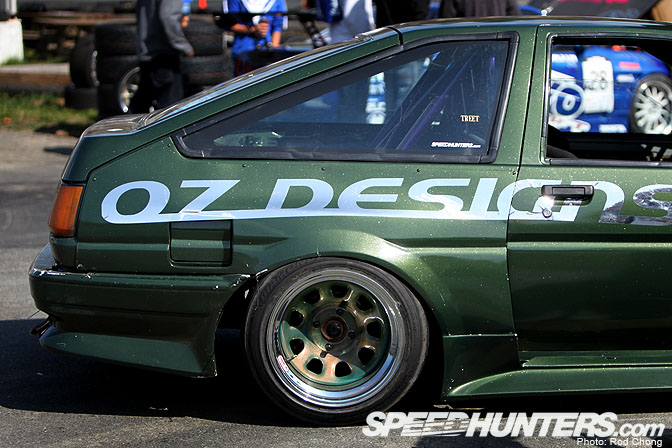 For rear rollers, Chris is running some 15×10 -40 Diamond Racing wheels although he also uses 15×10 -20 Work Equip 03s sometimes too.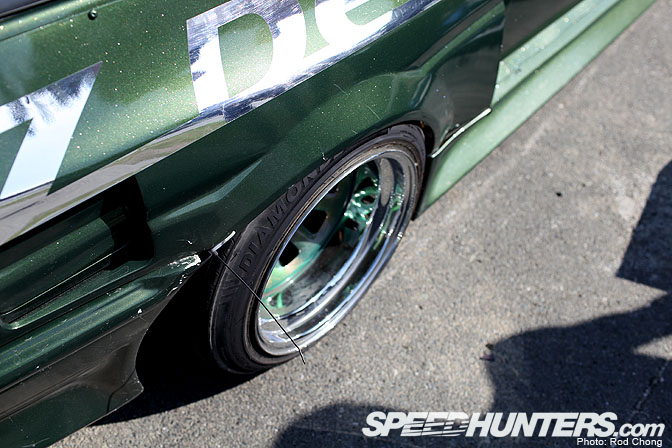 Tires are 205/50 Diamonds front and rear.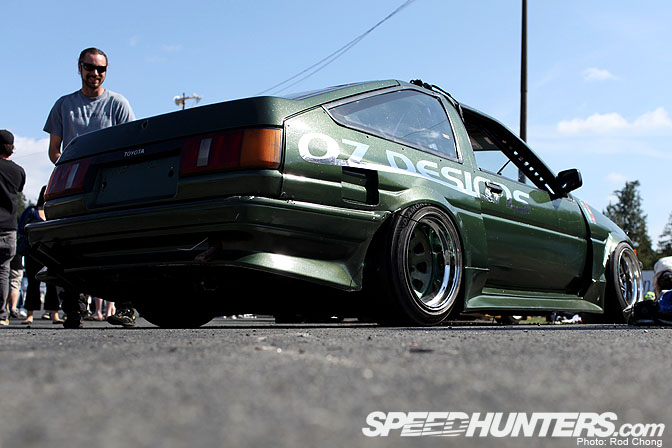 You can see in this shot, how the stock front fenders been pulled out to make a wide body setup.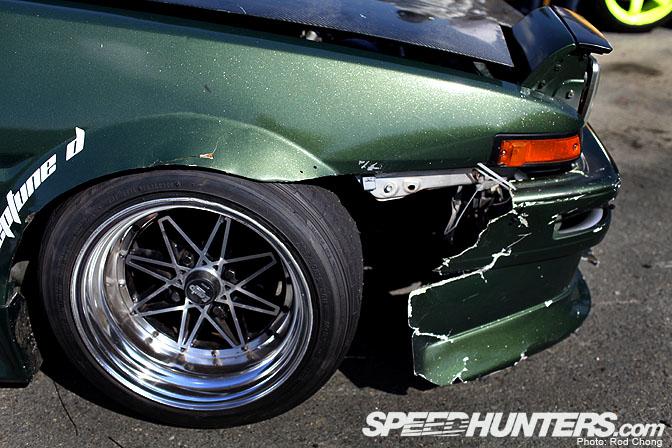 The bodykit is a Vertex imitation setup which has been hammered on pretty hard over the course of the 2009 season. For wheels Chris' got some beautiful 15×9 -4 Work Equip 03's going.
The front suspension is full of one-off custom items from Chris' Fortress Fabrication concern including wide lower control arms, tie rod spacers and a machined high-travel steering rack. Chris says: "in the front, the lower control arms are lengthened 50mm, along with the tie rods; this lets me run regular roll center adjusters, and gain alot of clearance at full lock between the tire and frame rail."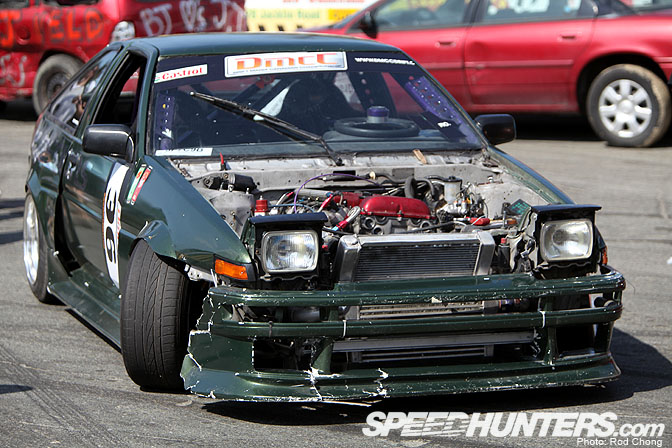 You know, I would have loved to have shot this car at the beginning of the racing
season before it got all mashed up from a season of sideways abuse.
 At any rate it sure looks aggressive!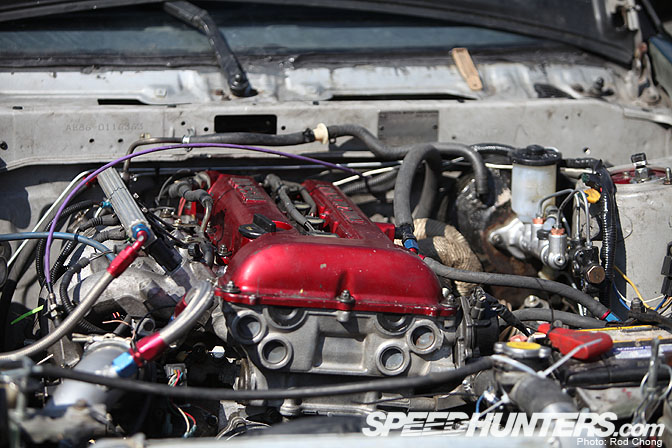 So what's under the hood? I did mention this is a SR86 yes? Chris did all the custom fabrication of the SR20DET himself.
The spec list looks like so:
Install and fab work by Fortress Fabrication
rebuilt w/ 5 angle valve grind,
metal head gasket
brian crower springs and ti retainers
BC stage 2 cams
ORC super single clutch and flywheel
custom short shift
microtech ltx-8 ECU
580CC injectors
Fortress top feed fuel rail
Aeromotive FPR
RCI 10 gal fuel cell
MSD 255 lph in line fuel pump
front mount I/C
Greddy type RS BOV
Garrett gt28rs turbo
Megan Racing SS manifold
ceramic coated turbine housing
38mm external wastegate
Fortress ceramic coated 2.5″ downpipe
Custom aluminum radiator
18″ electric fan
magnaflow catalytic converter
3″ exhaust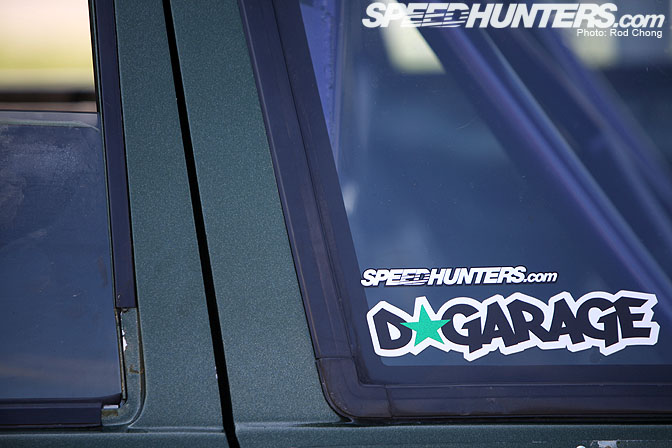 Chris also did his own custom Formula D spec roll cage and even went as far as stitch welding the chassis up.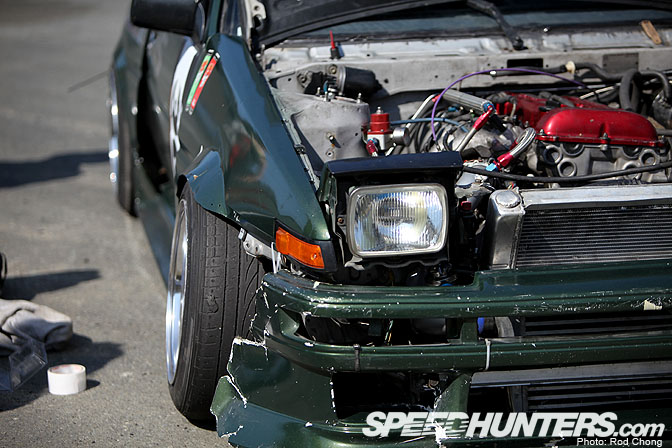 Can you say Demon Camber kiddies? Unfortunately we won't be seeing a refreshed version of the car next year. It's about to be replaced by an all new  S13 Convertible drift machine which will make its Canadian competition debut in 2010.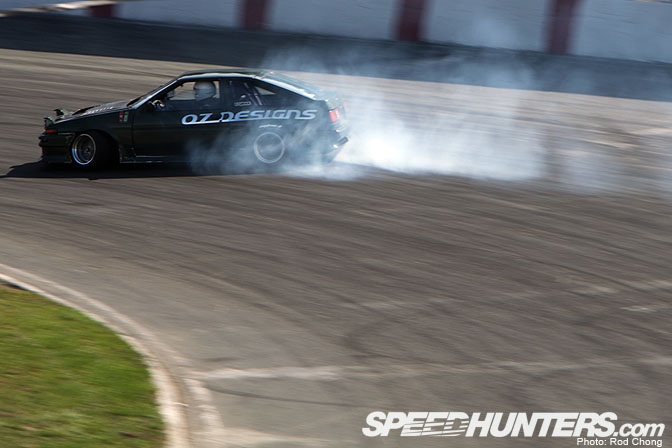 We'll make sure to check in with Chris again as this new car gets built up and follow his campaign in the Drift Mania West 2010 season. I'm already looking forward to it!
:R