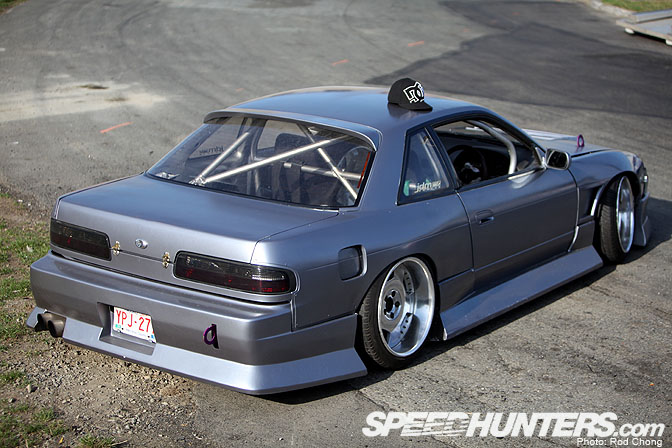 Those of you who've been following our coverage from the recent Pro-Am Nationals at Irwindale Speedway will have noticed that Canadian Ian Fournier took the overall spoils at the wheel of his four door ER32 Skyline. Although this type of car is a fairly common site at drifting events in Japan, it's rarely seen in North America. And this points to an element which differenciates the Canadian Japanese car scene from its American equivalent. Fresh-off-the-boat imported machines are quite plentiful in Canada, as any 15 year old Japanese car can be easily imported into the country.
So it wasn't too much of a surprise when I spotted this clean RHD 1991 drift spec Onevia,
at the Drift Mania West Event this past August in Victoria. For
those of you who don't know the term: Onevia is a mash-up of the
words One-Eighty and Silvia. It refers to S13s which started life as Silvias but been converted to 180SX front ends.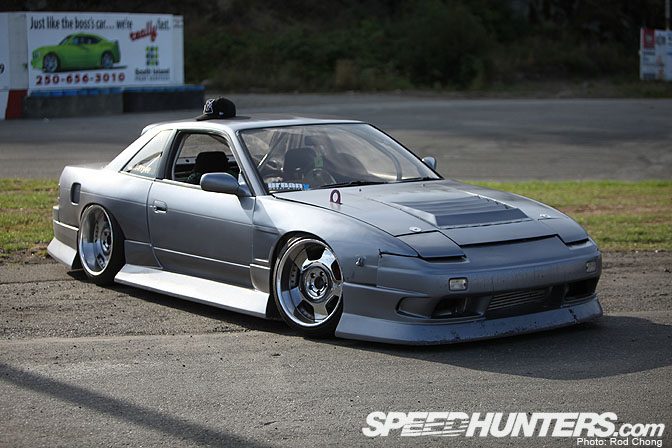 Calgary, Alberta resident, Kurtis Goat picked up this JDM import Silvia in 2006. It was in a pretty sorry state at the time but after several years of nurturing he's made a nicely done up street style drift machine.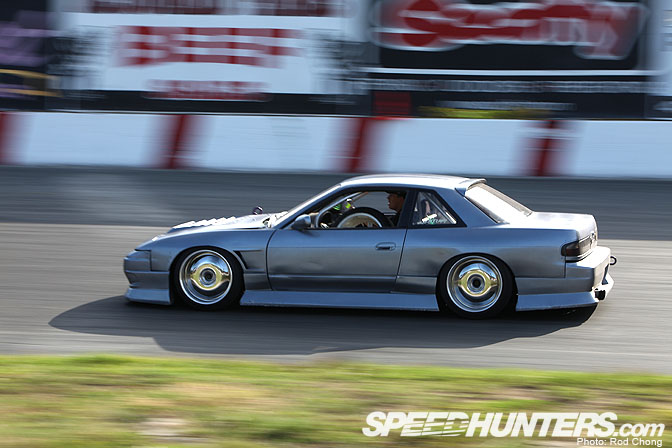 I took this photo just as Kurtis rolled in to Western Speedway and immediately knew that I had to find out more about this car!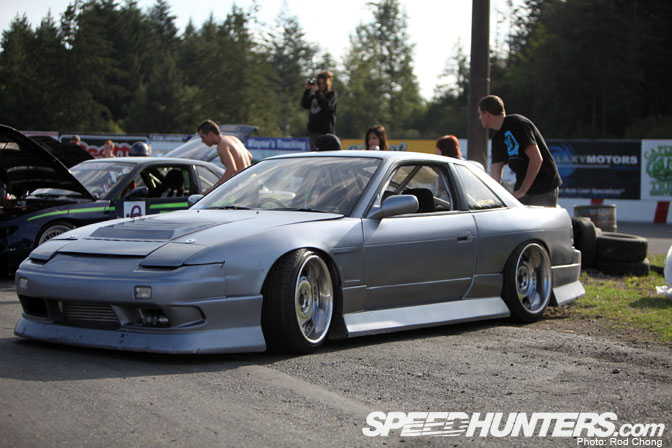 As Kurtis parked up, I introduced myself to commend him on his car-style.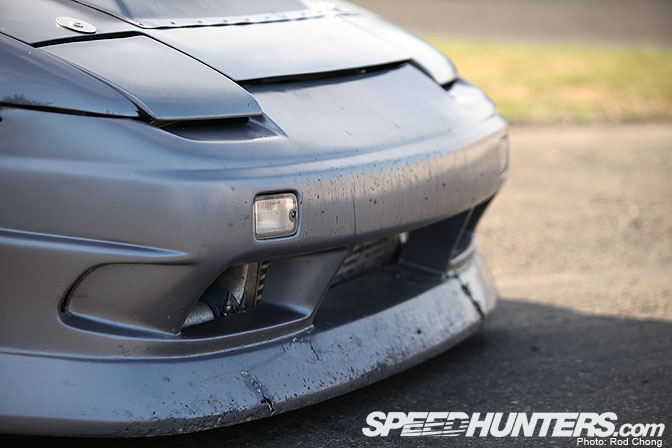 He had just completed the 13 hour drive from Calgary Alberta out to the West Coast so the front of the car was looking a bit weathered!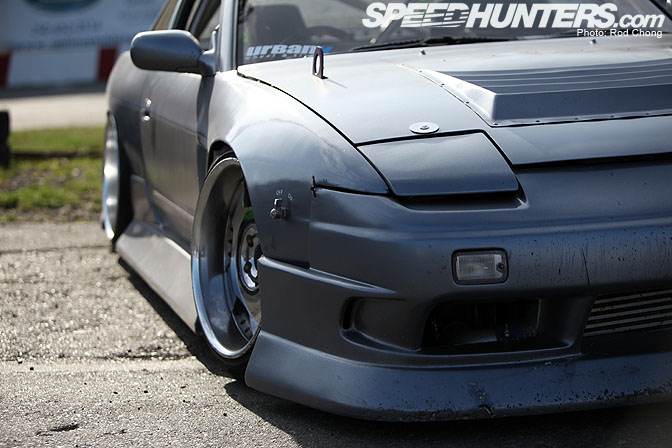 While the front piece is a BN replica, the rest of the car is sporting Origin items including 20mm front and 30mm pulled rear overfenders. Kurtis did the Onevia conversion himself… I assume he used USM parts so perhaps we should call this a Twovia?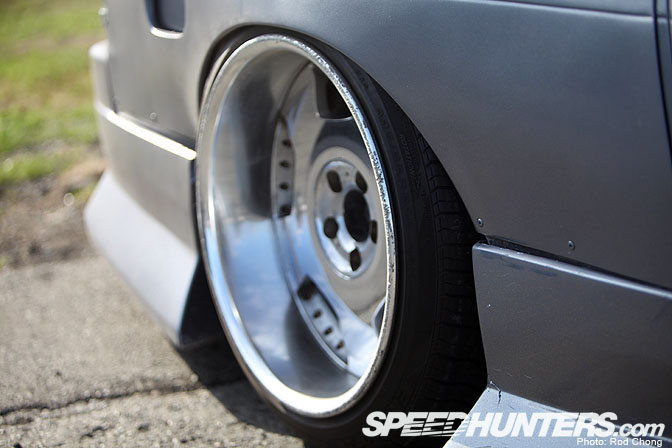 Check out those glistening SSR Viennas. There's nothing like a hunk of chrome to lighting up your day! The rears are 18×12 +7  wrapped in 275/35/18 Kuhmo Estcas.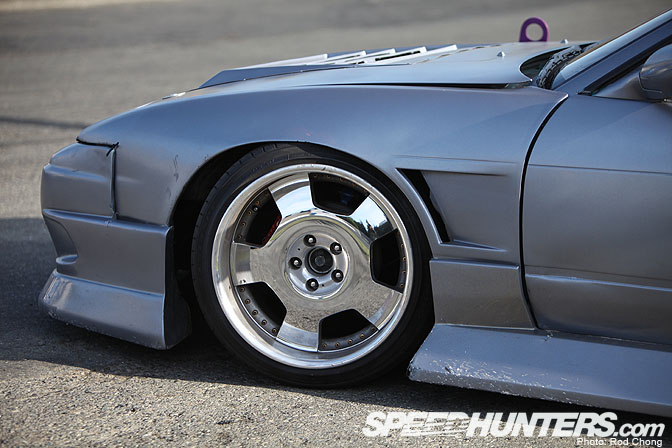 Up front the wheels are sized at 18×10 +4 on 225/40/18s.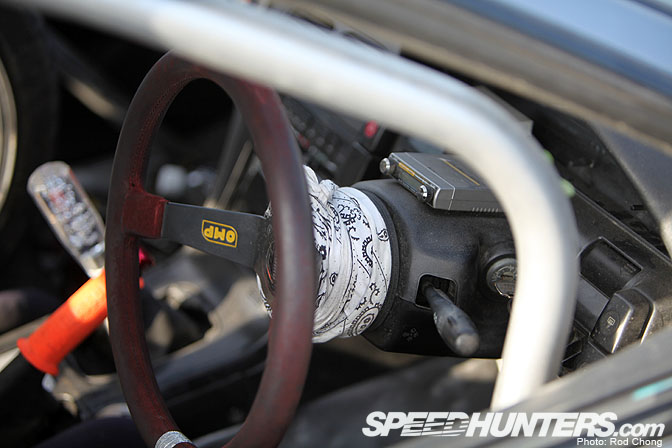 The car is fully prepped for drifting competition and is fully stripped out and caged up. I like the bandana on the steering column.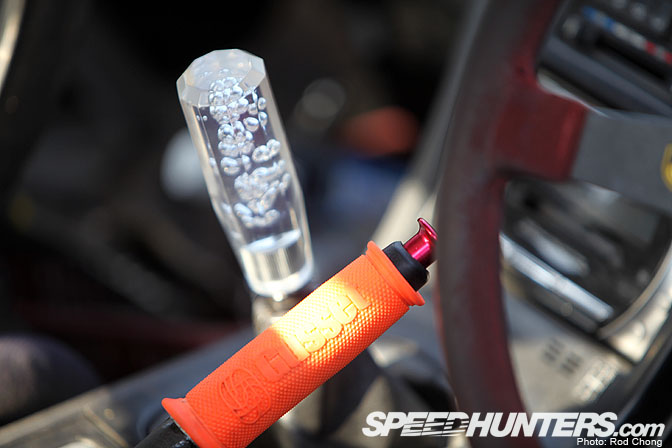 I'm pretty sure that these playful elements on drift cars like the Bubble shift knob have their origins in some kind of Japanese re-interpretation of American custom culture. I bet there's a story there to uncover.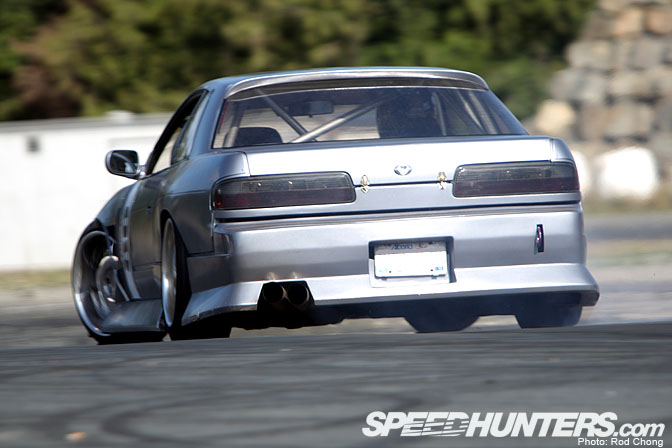 Here's a shot of the car in action. For competition duty, Kurtis has a variety of other wheels he fits to the car.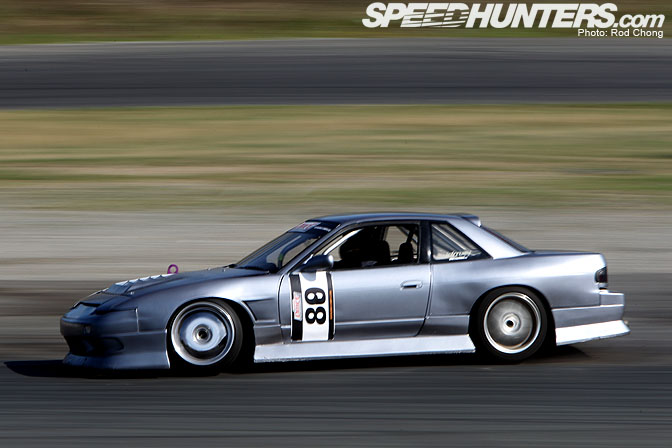 Let's give props to Kurtis for repping some proper style on his machine!
:R
Suspension/Brakes:

Rear:
GP Sports Coilovers
Bings Traction Rods
Megan RUCAs
Cusco toe arms
Aluminum subframe bushings
Non Hicas Subframe
Z32 Rear Hubs
Cusco Rear Strut Bar
Cusco Rear Sway
Front:
PBM Knuckle kit
Oem outers/kazama inners
Bings Tension Rods
Ichiba Hubs
Brakes:
GTR Front Calipers
Project Mu pads
Stainless lines
Cusco Front Strut Bar
GTR front sway bar
Wheels:
SSR Vienna
18×10 +4 225/40/18 Kuhmo Estca 711
18×12 +7 275/35/18 Kuhmo Estca 711
18 x 9.5 +12 Gullflames (spares)
17 x 9 +35 Blitz (spares)
17 x 8.5 +10 Truck Wheels (spares)
Tonnes of spacers for spares
Engine/Drivetrain
S14 Blacktop SR20
GT2871r .86
Megan Manifold/Elbow/Downpipe
3" Straight to dual 3.5" tips
Ebay FMIC
Mishimoto Rad
Rocker arm stoppers
Deatschwerks 740cc injectors
Apexi PowerFC D-Jetro
Greddy EBC
Sard BOV
Nismo Clutch
Unknown 1.5way Diff
Aero:
Bn Replica Front
Origin agressive sides
Origin agressive rear
Origin Roof spoiler
Hood Vent
Origin 20mm fronts
Origin 30mm rears pulled
Custom Front and rear tow hooks
Interior:
Bride mismatched seats
OMP 2 spoke wheel
Bubble knob
Custom Roll Cage (thanks to my welder Bryan!)
Still have power windows and full door panels
Takata 5 Point/RCI 5 Point
2 lb fire extinguisher