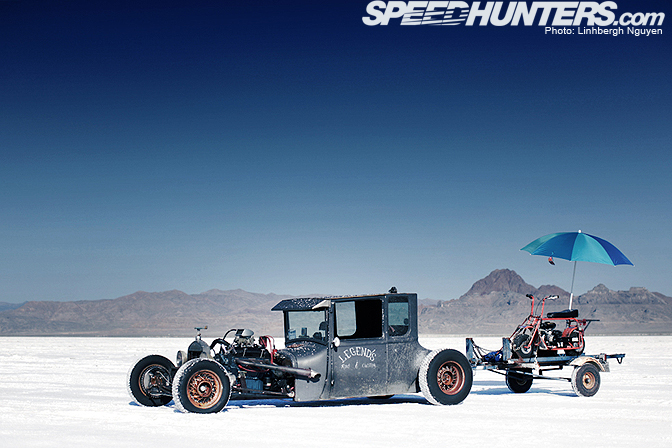 What has always fascinated me is that a hunk of metal can make a person do the most irrational or illogical things. Why is it that many of us would get up at the most ungodly of hours only to climb in to a car and spend a day's festivities surrounding none other than cars? Or what is it that makes us wake up so eagerly for a car, yet we have to literally pry ourselves out of bed on most other mornings? Or to even drive a car with literally zero creature comforts across the country, just to spend a few days on a white hot desert with a plethora of people who are equally nuts? Perhaps the owner of this 1927 Ford Model T can tell us, because he did just that.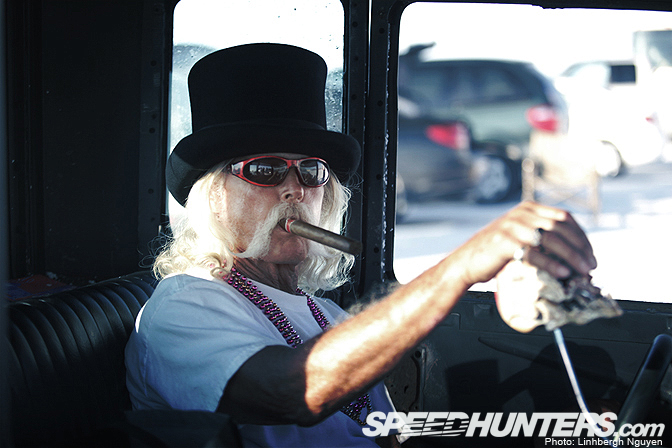 This is the man who drove from the Pacific Northwest, in said Model T, to spend a week at the Bonneville Salt Flats' annual "Speed Week" in Utah.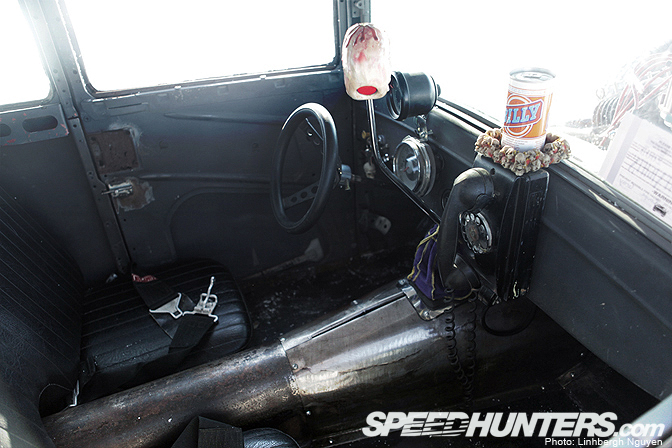 Let me mention again that this car has zero luxuries–there is no air conditioning, carpet, radio, sound deadening, heat shielding, or comfortable suspension. There isn't much underneath your bottom, either; just seat, steel, and rolling road.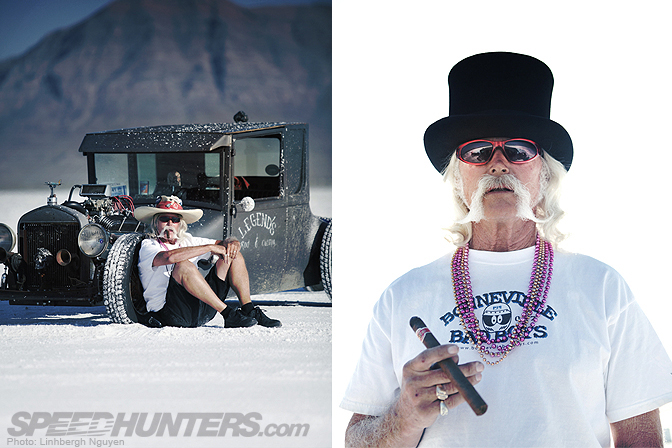 As you spend more time at Bonneville, you start to realize there's more to to the salt than just high speed blasts down a 6 mile corridor. Bonneviille is about the individual characters that come out year after year to support it, and I say characters because each person you meet is quite the individual. They are proud of who they are and what they represent.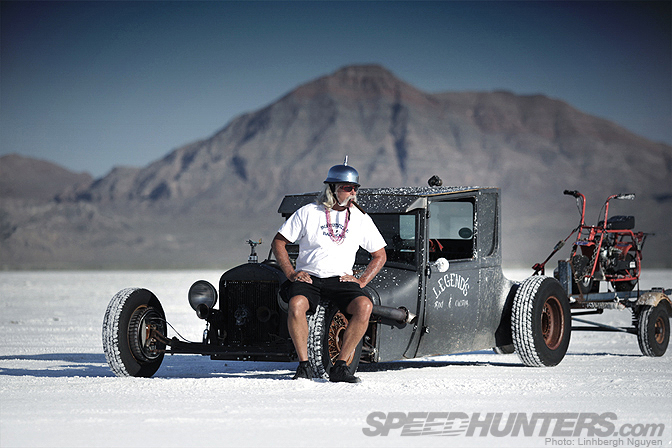 The owner of this zombie rod is a man who's a real character. This man is literally a man of many hats; he kept pulling them out as I was shooting him and his car!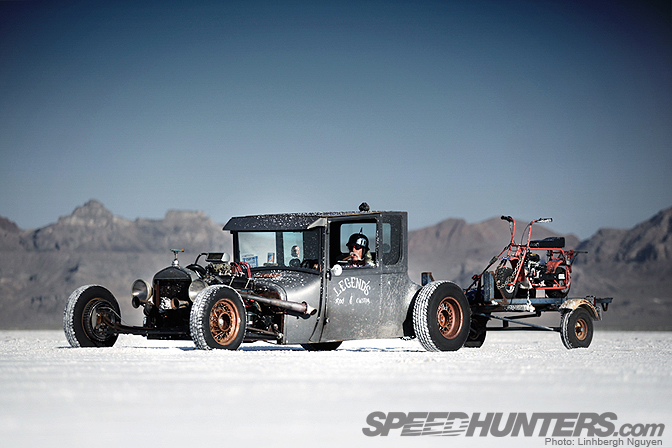 This is far from a humble Model T. It's a hot rod, turned rat rod, turned zombie rod. They definitely did not look like this back in the day! Slammed hot rods are a relatively new style and has been prevalent for only the past five years or so.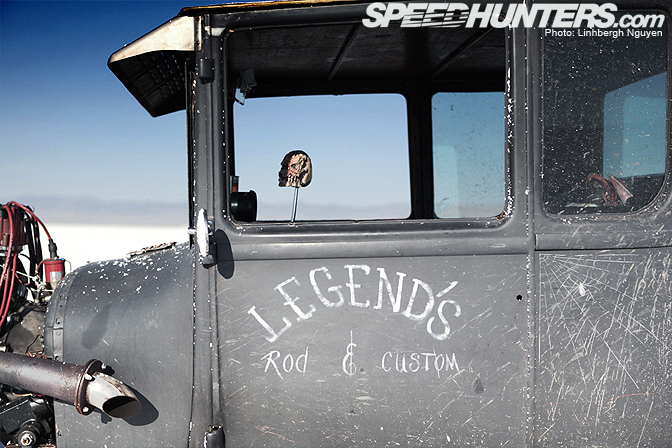 The term 'zombie rod' is a sub-genre of hot rodding with its B-movie, somewhat gothic imagery. You can just hear The Cramps playing in the background!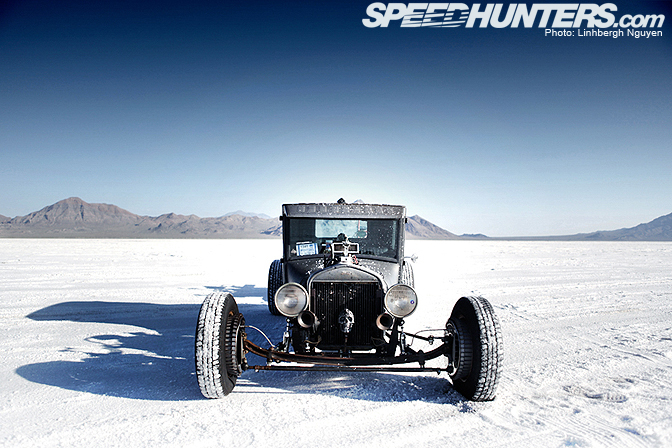 Can you imagine driving this car through the American countryside across hundreds, if not thousands, of miles to Bonneville? A journey like that, with a car like this, is a story in itself!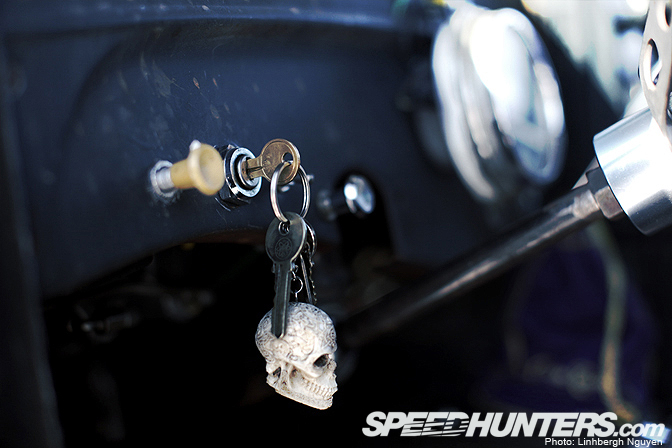 Gothic imagery is present throughout all aspects of the car.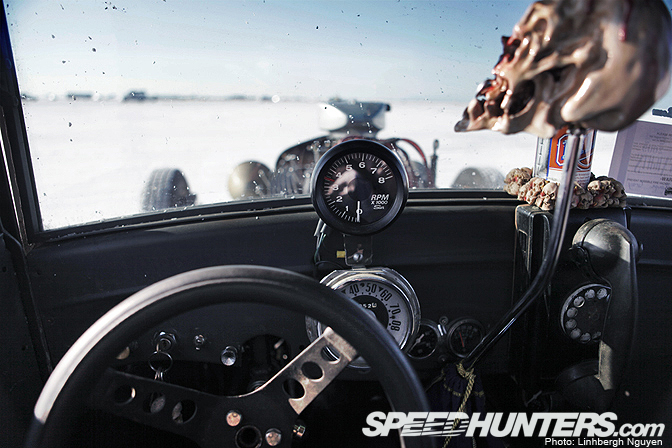 Here's the view from the office…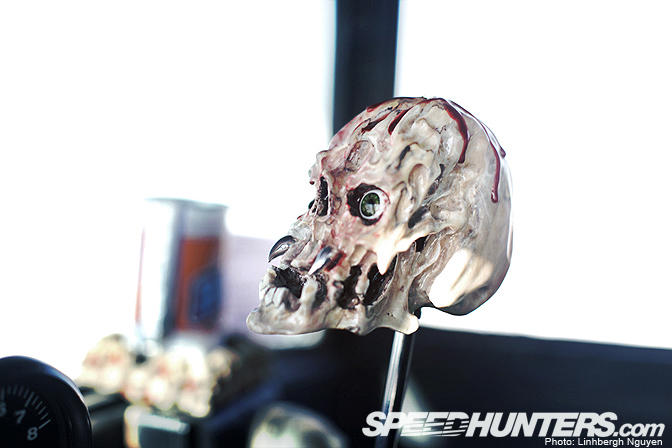 … with a detailed view of the shift knob.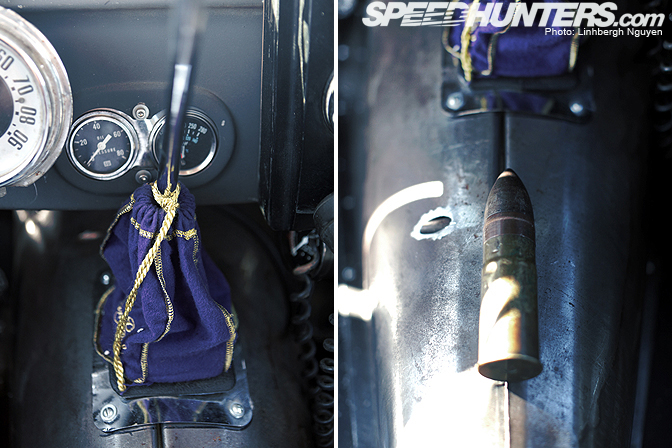 The Crown Royal shift boot cover is very clever and unique, as is the gigantic 50 caliber bullet sitting on top of the transmission tunnel….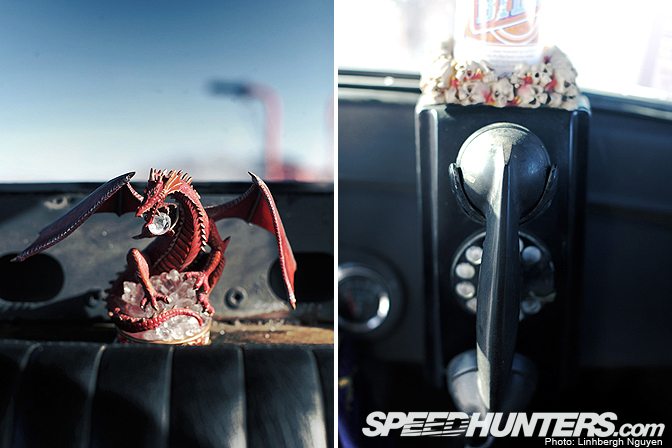 It's amazing to see every facet of interest that defines the personality of this car. A dragon sculpture? So awesome. An old rotary telephone? Completely useless, but the visual aesthetic of having one is simply amazing.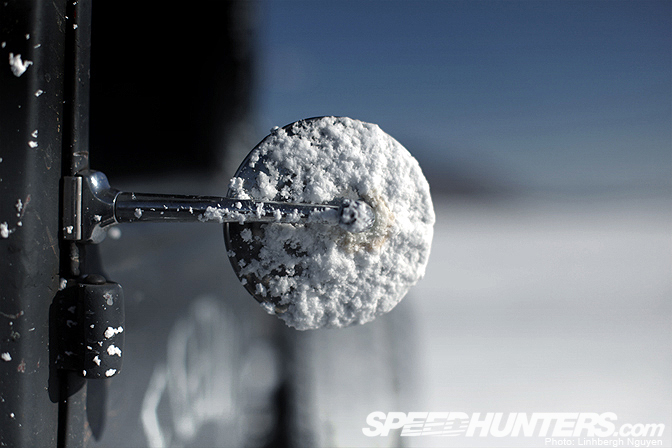 They always say that the salt gets everywhere… they weren't lying.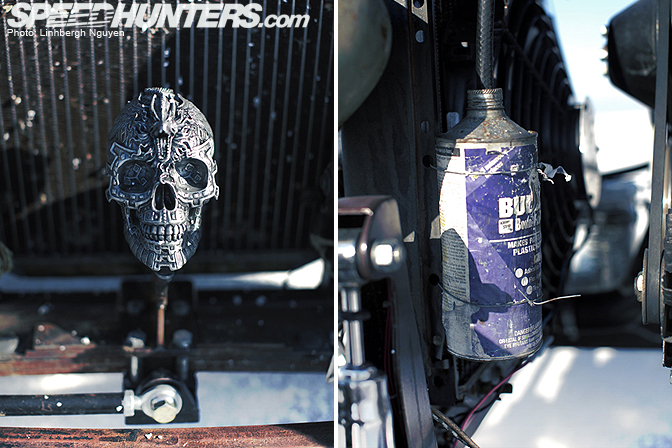 Check out the detail on this skull motif and the radiator overflow bottle!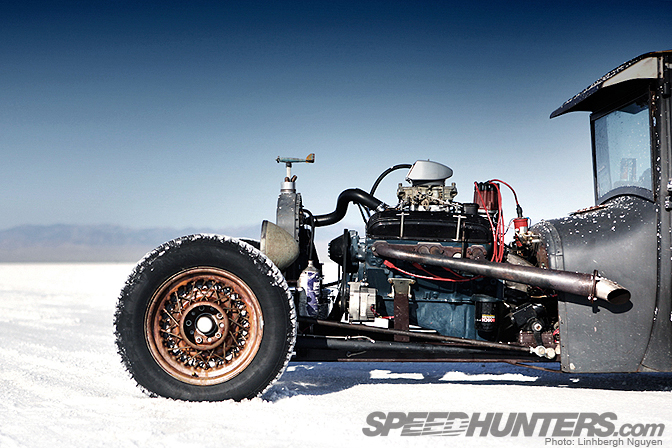 You can see here that the body has been "channelled" onto the frame, which means that the body is sitting below the bottom of the frame.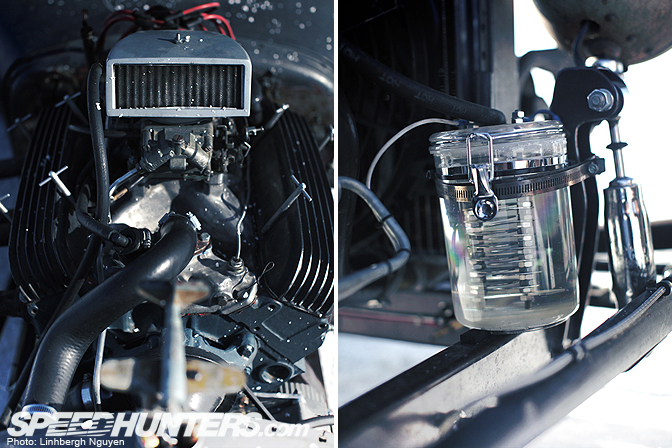 The power plant for this zombie rod is a Chevy small block V8, as you can tell by the way the exhaust ports are spaced in the previous picture. The owner told me that the glass jar with the water is a work-in-progress hybrid system to help gain back some miles per gallon. Would a hybrid hot rod be considered sacrilegious to the soul of hot rodding? Or is having this home-brew hydrogen power plant a step in the right direction, since the essence of hot rodding was to break rules in the first place?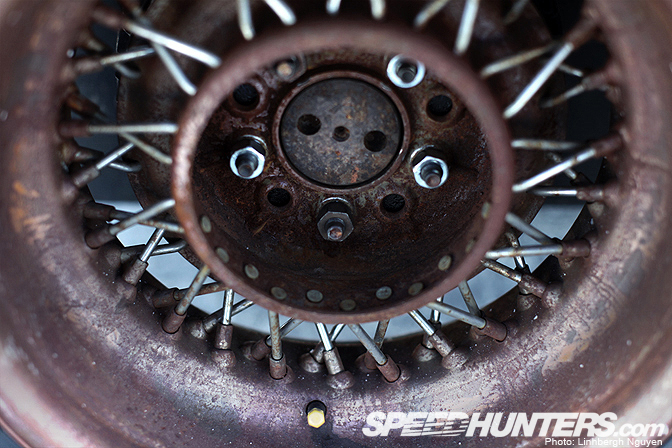 The wheels are likely as old as the body itself!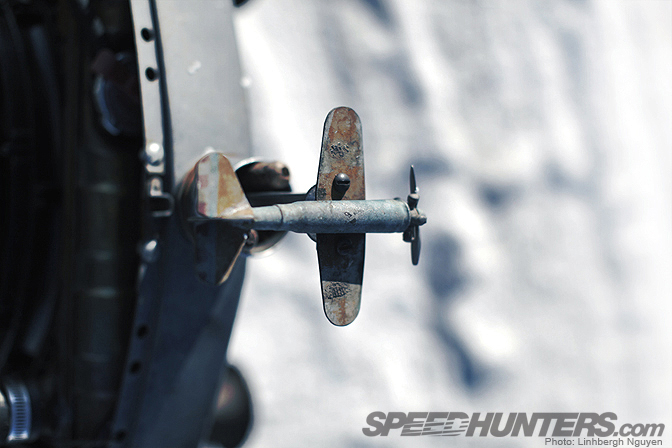 The owner told me that the hood ornament on the car is an actual boy's toy from the Second World War. He found it at a garage sale many years ago… imagine the history and story of such an object.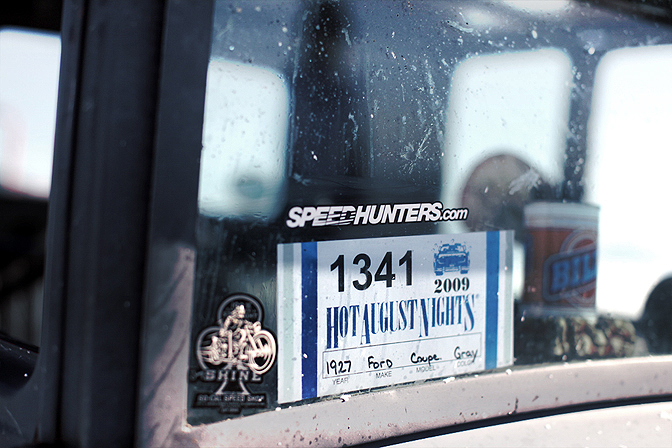 After seeing the Speedhunters sticker on so many late model imports and high dollar build drift and race cars, it's strange to see one on what many people perceive to be a rust bucket like this zombie rod.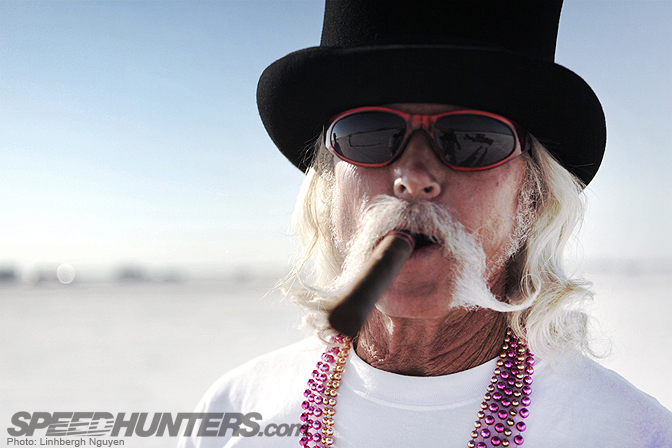 The more you take the time to talk to the people at Bonneville, the more you realize that most of these people out here aren't out on the salt to get their speed fix. Rather, they plop their behinds on the salt flat for a week to be a part of a historic piece of American automotive culture. Everyone always says that once you get on the salt flats of Bonneville, it seeps in to every fiber of your being, and you can never get it out of your system. This man in particular is a living, breathing, and talking self-made salt flat culture museum. He mentioned coming out to Speed Week every year to spread the word about the culture he grew up with and loves so dearly. Every bit of his being has been baptized with the salt, and every bit of his soul has been immortalized in this car.
Let's also not forget to mention that epic mustache is epic!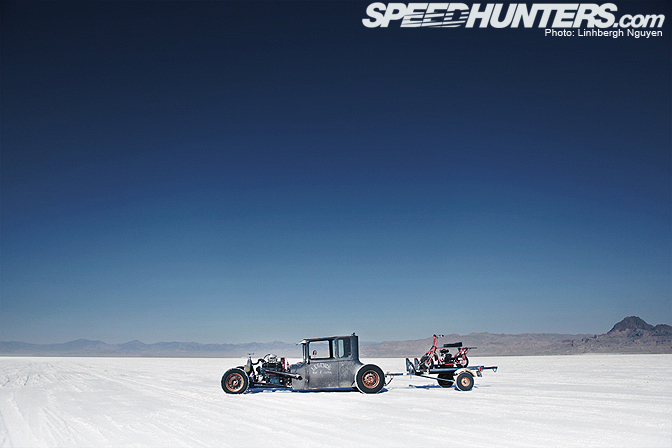 A car and its owner; neither would make much sense without the other. You take any one away, and both elements lose their soul completely. This zombie rod is as close to a mechanical representation of its owner as the owner is a skin-and-bones embodiment of the car. It takes true dedication to be able to drive hundreds of miles alone in a car that is about as comfortable as your grade school desk chair. It takes even more dedication to drive this car all the way from the Pacific Northwest to Bonneville just to hang out all week while spreading the gospel of The Salt.
But you know what? His journey to spread the good word was not in vain. Here I am, spreading the essence of American hot rodding culture, the soul of this zombie rod, and its owner, to you.
 -Linhbergh Nguyen