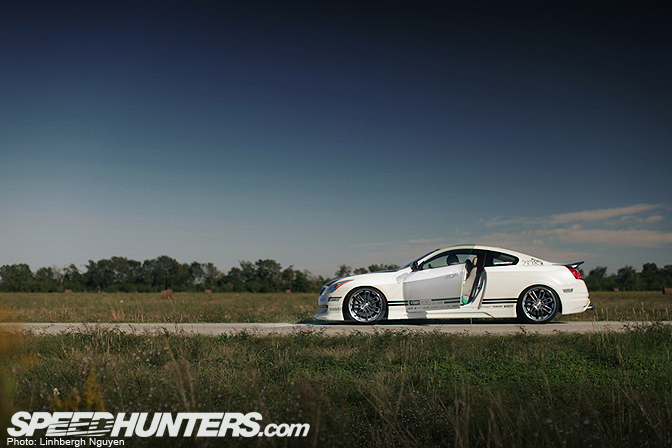 From the moment, I pulled up to the Houston George Bush Intercontinental Airport in a Z11 Nissan Cube and met Rod Chong in a stripped Jacket followed by a 'dude-awesome-rice' comment by Linhbergh, I knew an adventure had begun.
I grew up in London and moved to Houston nine years ago. For the past 4 years, my wife Deneice and I have owned a Japanese Arcade here called Planet Zero Anime Center; a place where video games, cars, anime and Japanese pop culture come together. I love what I do, it gives me the excuses I need to travel to Japan a few times a year and meet cool people like Smokey Nagata, the owner of Top Secret. I first met Smokey back in 2003, after watching his London A4 run in the RB-powered supra a few hundred times. This man was (and still is) my hero.
I contacted Rod about doing a feature on this vehicle when it got back from Japan and after a few weeks of planning, I find myself picking them up from the airport, not just to shoot this car, but to give them a taste of what goes on in Houston.
Both chaps were in Houston to shoot this, and 8 other cars. And to attend Access Zero 42, Houston's largest and longest running car meet, hosted by my company, Planet Zero. Although this vehicle is more like Japanese Yakiniku with only a dash of slammed and a hint of stance, they thought it would go well with the November theme. They were right.
So everything was off to a great start, Rod's pants were as fancy as ever, Linhbergh was inspired by the hibachi dinner we had earlier and I was preparing myself for the outrageous plan that awaited us the next morning.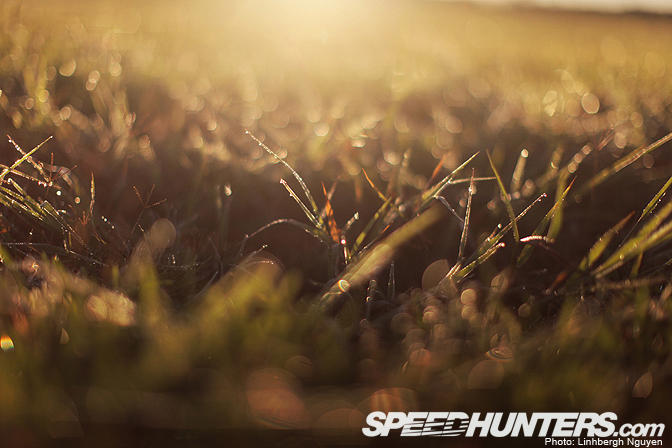 It was now 4am and I asked myself, what am I doing here? I was freezing my *** off in the middle of nowhere, with only the sound of cows, roosters and Linhberg for company.
Rewind to just a few moments ago we came to a fork in the road in Katy (a suburb to the west of Houston), to the right was a small decently paved road and to the left was a dirt road with huge rocks that stuck out like small mountains, a road that looked like it led to nowhere. Lindbergh pointed left.
We drove for a bit. The only light in the complete darkness was generated from the Bell of HIDs in the headlights of the car. The smell of hot coffee had found its way out of the flask in the back when Linhbergh yelled, STOP!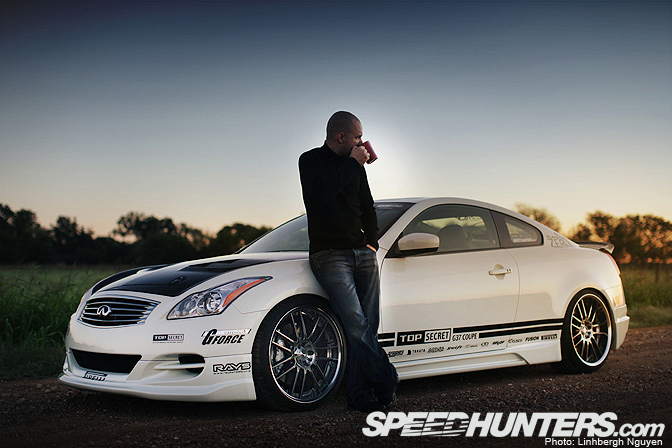 In the darkness, all we had was a mention of sunrise, so as Linhbergh setup his camera gear, we talked about the story behind this car.
The build was nothing short of a present day miracle. I am sure a lot of people have great stories about how their cars came to life, stories which are always a pleasure to listen to or read. Smokey came up with an idea of modifying a G37 one day over coffee, what was crazy was he wanted an American model (Something to do with checking for differences between the JDM and USDM models and displaying an Infiniti in a country of only Nissans). He asked me if I wanted to collaborate with them on this project.
After arriving back in Houston, I started to research. I established communications with Infiniti and after a few weeks of trying to pull a car off the assembly line in Japan (I thought it would be silly to ship a car made in Japan to USA just to ship it back there to Top Secret), we realized we were running out of time.
The Tokyo Auto Salon was fast approaching, we had no car (which had to be white and manual), and everyone was getting impatient. But behold, I get a call from Infiniti and apparently a white, manual vehicle was being delivered with my name on it to a local dealership.
Conveniently, Infiniti was giving me a break on the price in exchange for not taking off their precious emblems. I picked up the car and raced to my shipping agent. The Tokyo Auto Salon was 6 weeks away; the shipping company estimated the vehicle getting to Yokohama port a week before the show. Not even Smokey was enough of a magician to pull off custom parts in seven days.
Enter China Air Cargo, Boeing 747.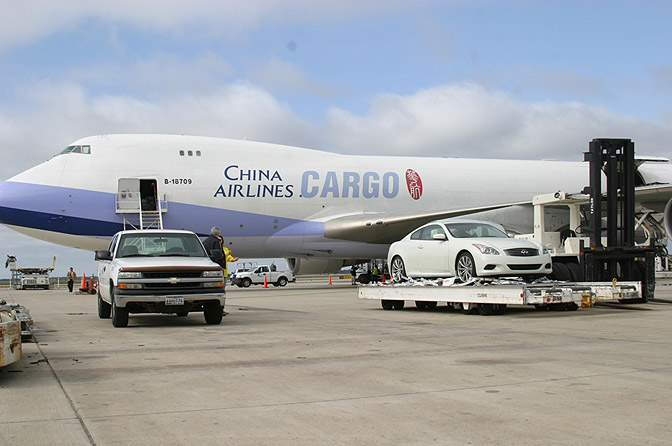 The car arrived at Top Secret via air cargo the next day, exactly 5 weeks before the Tokyo Auto Salon. Perhaps overnighting a car to Japan could be Jesse's new line in Fast and Furious 5.
Shibuki-san, Top Secret's shop manager sent me a picture and an email confirming they have received the vehicle and work had commenced. Back in the states, I started working on my 1995 Toyota Supra with my good friend, Henry. I did everything I could to take my mind off the next few weeks and what kind of tricks Top Secret was going to pull out of their hat to have this vehicle ready for the Tokyo Auto Salon.
Three weeks had passed; I had no communication from anyone at Top Secret and I was afraid to contact them. Shibuki sent me an email saying "we are making great progress. See you at the Auto Salon!" with a photograph of what looked liked a frame with a white roof, doors…and that was it.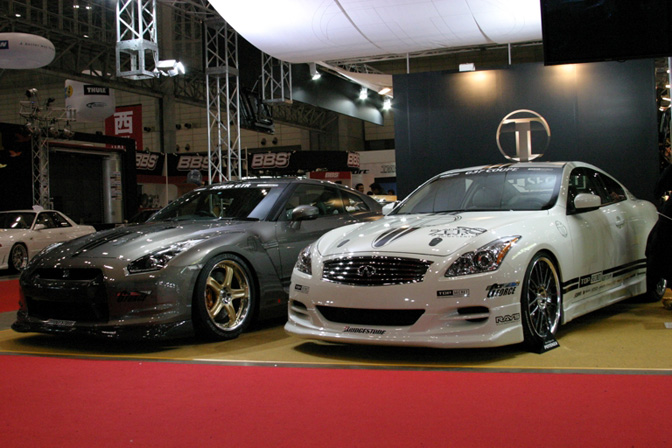 I left for Japan and the Tokyo Auto Salon with my fiancée and a few friends. I was as nervous as a soon-to-be father waiting in the maternity ward. We took care of some business before the show and headed there on the first day of the event. I walked towards the booth not knowing what to expect. I was as antsy as any guy would be on his first blind date. The Tokyo Auto Salon is a crowded place, and as I made my way to the booth, behold there she was in the front of the booth next to their new GTR. They had managed to develop the complete suspension, wheels, front bumper, sideskirts and carbon fiber diffuser in 35 days! Shibuki-san welcomes Deneice with a warm hug as I was in complete amazement of what was parked before my eyes.
It turned out to be a great weekend and after the show, the car went back to Top Secret for further research and development on the carbon fiber hood, spoiler, ECU, rear bumper and exhaust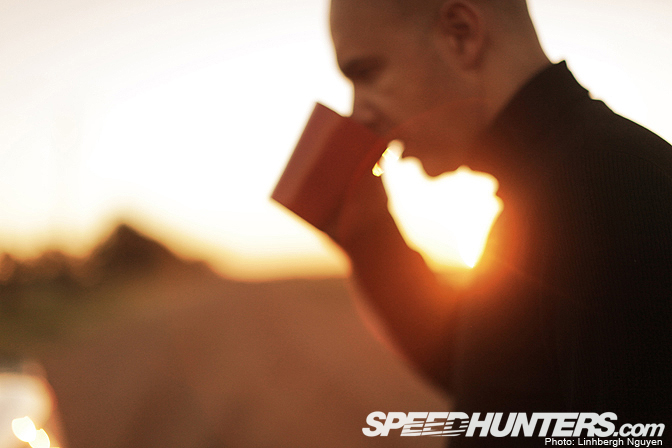 Back to present day in Houston. The beautiful sun had just started rising as I remembered Linhbergh asking me the night before: "Do you have a sexy turtleneck, maybe a nice looking coffee mug, perhaps a flask…" I had to stop at Walmart at 3am to shop for that red mug made of the finest china, in Taiwan. Luckily I found a black turtleneck in my closet which I had not worn in months. I ironed a pair of jeans and I was ready to go. None of this made sense at the time, but after seeing the final pictures, I had to admit: underneath the cover of the asian looking, always-taking-about-rice man, lies a genius.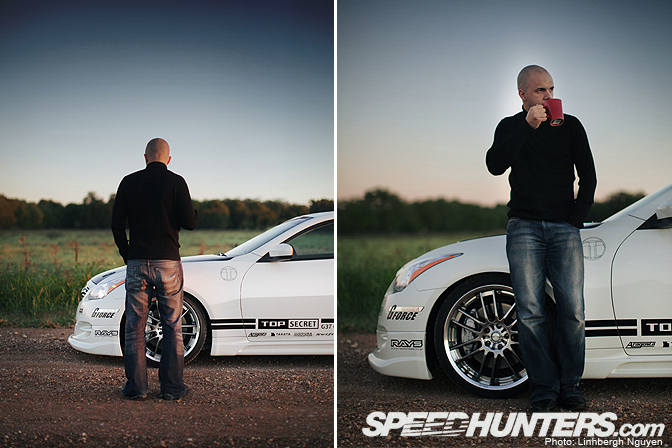 I've had various companies contact me with all kinds of proposals to get
in on the action. The dollar is the driving force behind most of the
companies here in America. In Japan, it is passion. The parts on this
car were not created as part of a get-rich-quick scheme, nor did they
want to mass produce them in the cheapest way possible to generate the
greatest profit. They were designed for the few people who want to take
the road less traveled–at least, that's what I think.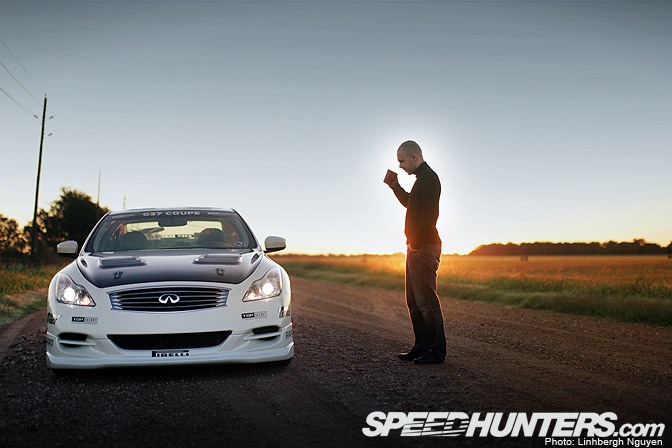 So how do you get to your destination on the road less traveled? You go
with Linhbergh. You also need Volk Racing wheels. In this case, 20''
GT30's fitted with Bridgestone Potenzas RE-010, some pretty impressive
tires.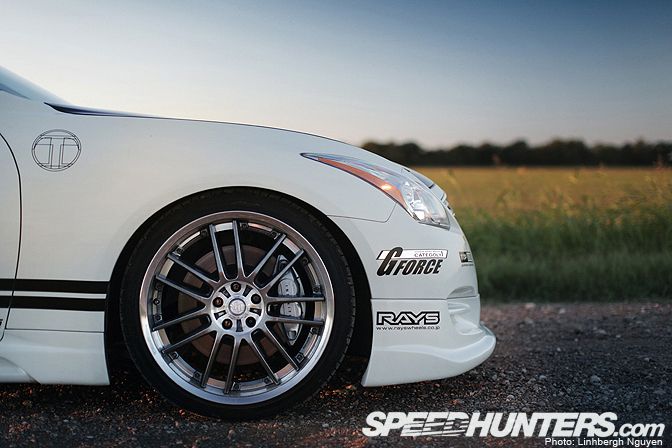 The suspension comprises of Top Secret Super Dampers; Swift springs mounted on Aragosta Shocks fitted with Roberta Cups on all four sides. The result: one of the smoothest rides I have experienced and the ability to raise or lower the car (front and back independently) from inside or outside the car by the touch of a button with no compromise in performance. You can race low to the ground and still load up your car into a trailer without getting your hands dirty taking off the front bumper. I love it.
I choose to preserve this car as Top Secret put it together. The only things I changed were the tires, for sponsorship reasons. I am sponsored by Pirelli so I had to swap the Potenzas for a set of P-Zeros.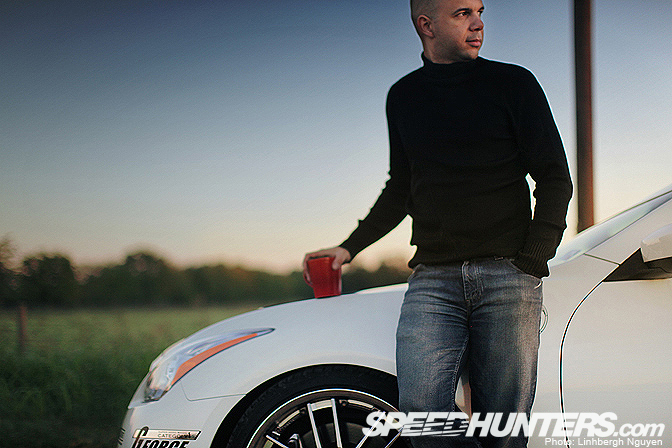 The stock G37 handles great, it is steps above the predecessor. What Top Secret has done is made the handling even better. They made this vehicle to maneuver around the mountains in Okinawa, to go down the hills in Osaka, even down scenic routes in Milan. That sometimes is a little aggravating, because turns and roundabouts are as popular in Texas as humans were in the movie, I am Legend.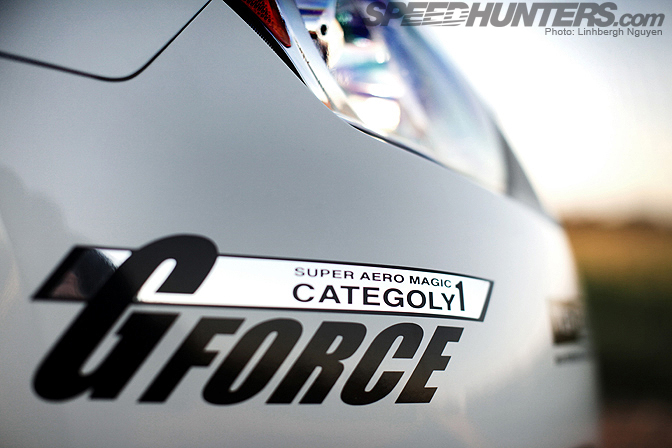 If your car doesn't have JDM Engrish on it, it is not really JDM. At least that's what Linhbergh says. And he should know this, having stared in two Fast and Furious movies as the desperado, Han. Top Secret Aero Kits are called GForce. In this case Categoly 1 represents what you see on the car: a half front and rear bumper and side skirts. There are talks about making a full front and rear bumper which probably will be called…categoly 2.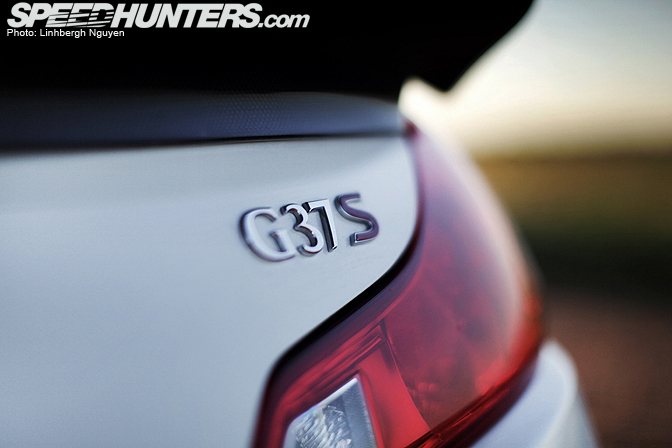 Top Secret made a huge statement with their 720hp twin-turbo V8 G35, a car that went over 341km/h on the autobahn in Germany a couple of years ago. The skylines hold a special place in Smokey's heart, so it was only natural to work on the G37. But unlike the G35, their approach to the G37 was more subtle. It is a more civilized approach with more sane and less rocket. They decided to keep the engine as stock as possible with modifications done only to the intake, ECU and exhaust. They also fitted it with an ORC clutch.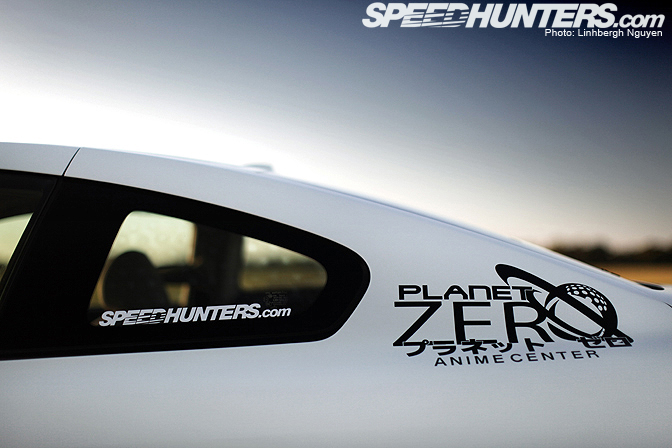 The bottom line is a very practical machine with enough power to keep you in your seat, aerodynamics to keep you on the road, a unique soundtrack to keep your neighbors entertained and steer to keep every driver happy. You can also step out of it in a tuxedo or perhaps take your wife in it to a musical…all without looking ridiculous.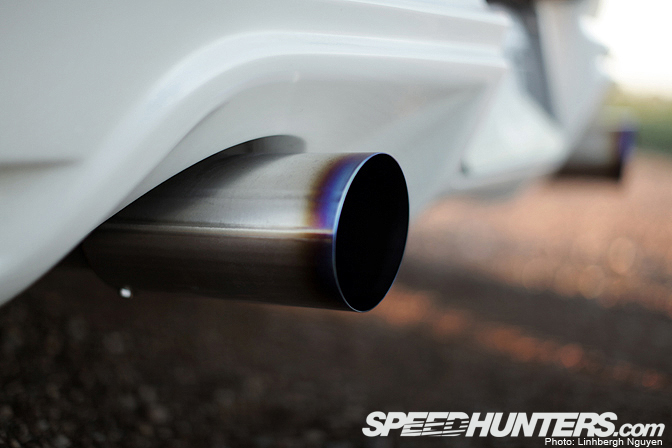 Smokey asked me what type of exhaust I preferred. What should it sound like or what it should be made off. Michelangelo might as well have asked me what type of paintbrush to use, or what to paint with it. I just simply left it in the master's hands.
The sound of the finished product is astonishing. It suits the car perfectly; it is a great mix between classical music and opera. At low RPMs, it is quite civilized and just gives a hint of the punch it packs. At high RPMs, you have a full blown opera. I'm not sure exactly what it weights but if the weight of the Top Secret Ti Exhaust for the 350z is any indication, it is very light.
The visual design is also stunning. The diameter and angle of the tips are perfect for the design of the read half bumper or carbon fiber diffuser.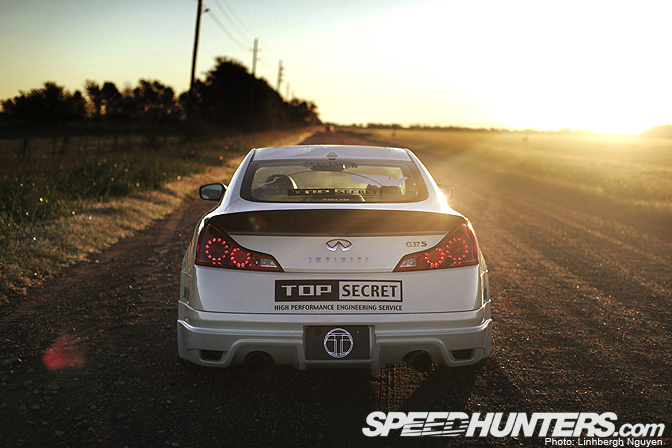 In 2008, Top Secret added a new image to its collection. With this came a new, more executive looking logo. A new graphic design on the cars featured double stripes on the sides and focused around a new color, white. No, white is not the new gold which still remains signature to the company. It still does, however make its point in a more subtle context.
Top Secret's approach to this car was to make something simple, yet unique. I find this interesting coming from a company that goes absolutely crazy with design. It shows the skill and talent behind the name. The Categoly 1(ahem) bodykit compliments every curve on the car. It actually makes the car look better that its original form. The fitment is also spot on.
This kit is made from fiberglass but a carbon fiber version has just been completed. If I hang out with Linhbergh more often, I will need it.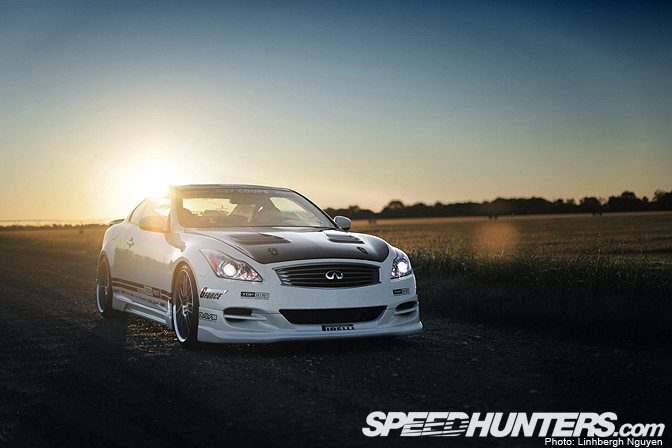 This month of November is shaping pretty nicely on Speedhunters.com. From the looks of it, they are having a record number of viewers, comments and The Fast and the Furious quotes. It was also Rod Chong's birthday.
Some people complain about the theme and the practicality of the
vehicles, or the fact that any of this is on Speedhunters. But I have
enjoyed every article, feature and photograph this month. As a car
enthusiast I appreciate all the various aspects of the industry. The
ability of this site to cover such a wide range of cars, and
motorsports in different parts of the world is what I compliment them
for. We might all differ in taste but we can all agree their coverage
is exquisite.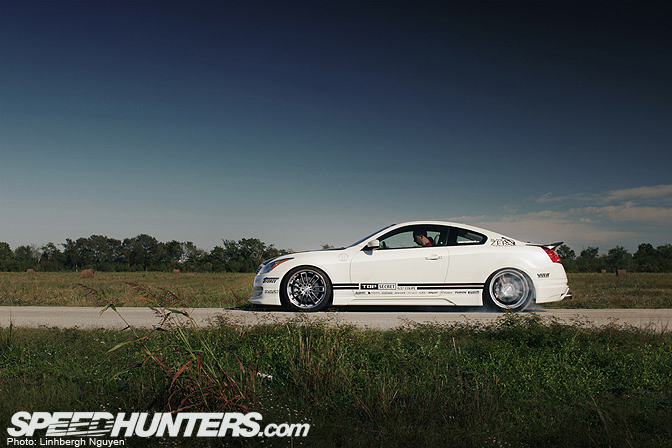 Since Smokey isn't here, I feel I have to represent him in this car. This means doing long burnouts and getting chased by the cops doing over 200mph on the beltway. OK, I'll leave the fast runs to him, but I'll take on the burnouts with pleasure.  This car is very fun to drive, the response is astonishing. Even Rod Chong approves.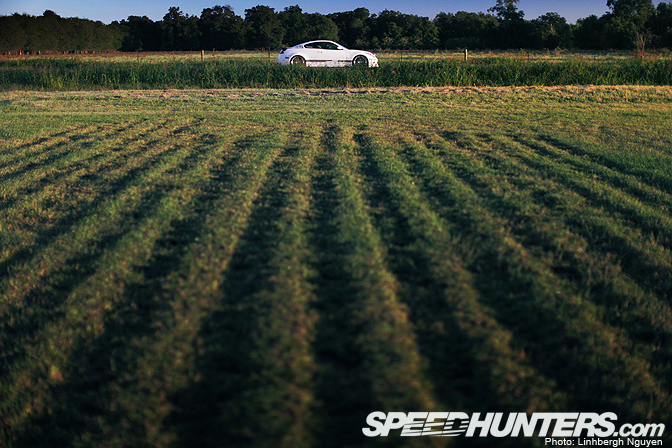 Speaking of Rod Chong, I tried to get him to be Smokey for a day. After all they look alike. Sadly we did not have enough equipment or hidden cameras to capture a 'Smokey Run'. We'll just have to wait for Smokey to come here and do it himself. I'm sure Linhbergh will make him wear a Mexican Poncho, drink tequila and race alongside horses.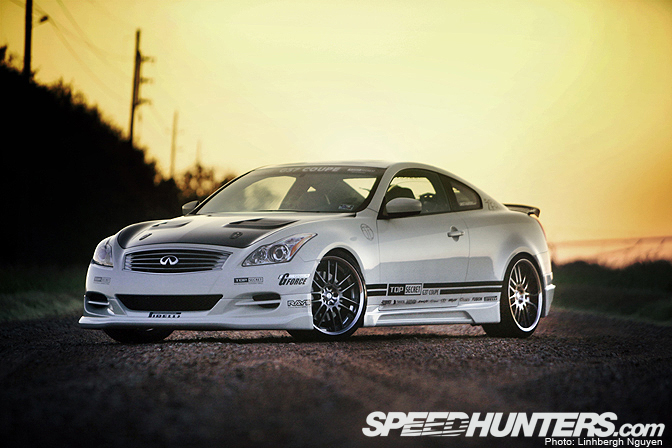 I have always been fascinated with the Japanese culture. I respect their dedication to various disciplines and colorful way of life. These people progress through hard work and dedication, something we rarely see on this side of the world. I have traveled around the world and done a lot of speedhunting in Europe but something always draws me back to Japan. I believe every car enthusiast should visit Japan at least once in his/her lifetime. The first D1 event I experienced in 2004 at Tsukuba Circuit was a life changing experience for me.
It is no surprise we chose to open a company like Planet Zero. In many ways, it constantly draws us closer to something we love. We use every opportunity to connect what we have here to Japan; this gives us the ability to work with our friends over there. This car is special to me for that reason. It is a serving of fresh sushi with imported salmon in McDonalds, a piece of Smokey Nagata in the Wild West.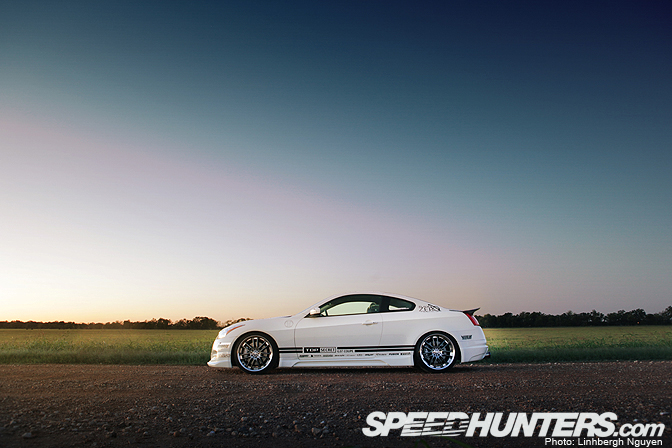 My wife drives a Z11 Nissan Cube fitted with a baby seat for our 10 month old son, Jetson. We work together so the Cube has become our daily car. However this never stops me from firing up the G37 for a burst of excitement, with a side order of drift. I drive it as often as I can to work. Unlike my 1995 Toyota Supra, this car is very drivable. It does not require an aeronautic engineer to start it up. It does not have multiple complex gauges measuring every variable, and you don't have to be an athlete to push down the clutch pedal. It is user friendly and very practical.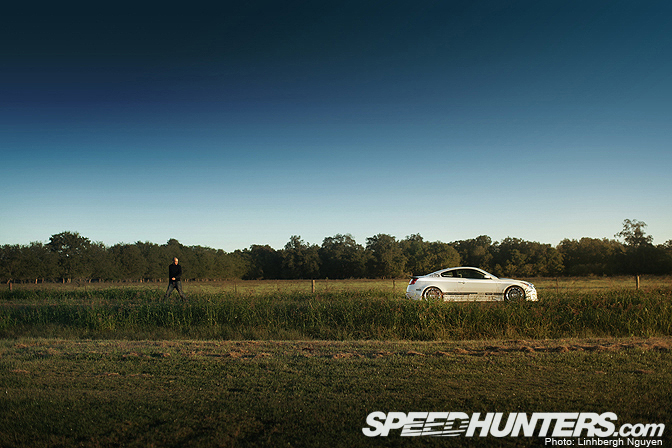 At this time, the sun had risen and the roosters in the distance had begun their concerto. It was a great end to a great sunrise. This suns yellow rays were reflecting off the white shape that stood between the dirt and blue sky. I watched as the final shots were taken. This escape from refinement was worth it.
Thank you Linhbergh, you deserve that fan club on facebook
:John Leigh