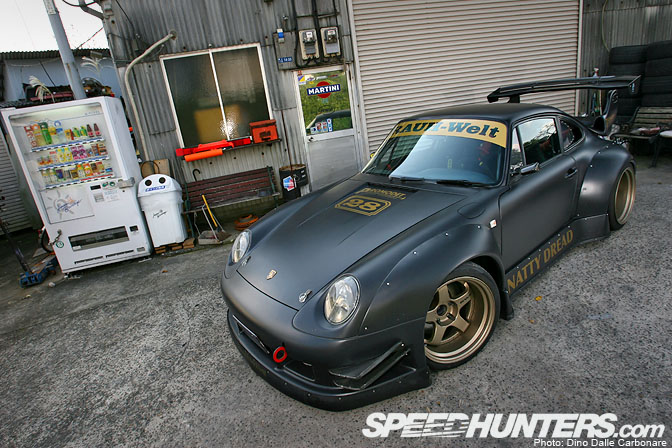 We are all great admirers of Nakai-san and Rauh Welt here at Speedhunters. The cars that have rolled out of this small countryside body-shop in Chiba-ken have pretty much all assumed cult status. Nakai's creations are all about raw style, a vision into what he thinks a Porsche should look, sound and even smell like! There are no compromises here, the cars that bare the Rauh Welt touch have been built for one simple thing, driving.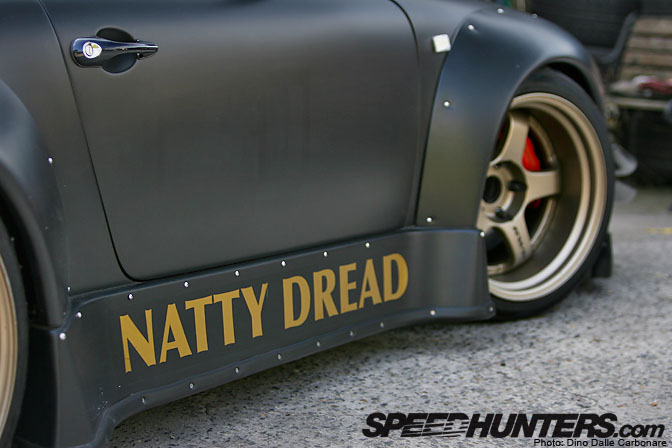 I though it would be cool to take a nice and detailed look into one of the last cars Nakai-san has built, a customer car that has already done the rounds on the internet, the 993-based Natty Dread. This, like all Rauh Welt cars, is a prime example of stance…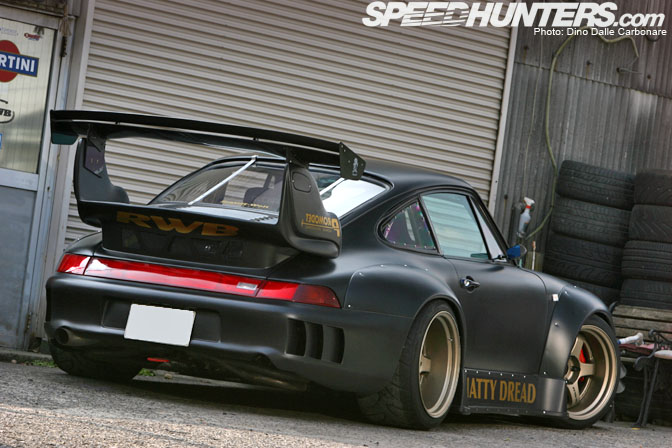 …it sits so well on its deeply-dished SSRs, sporting the most aggressively widened fenders this side of a fully-fledged race car.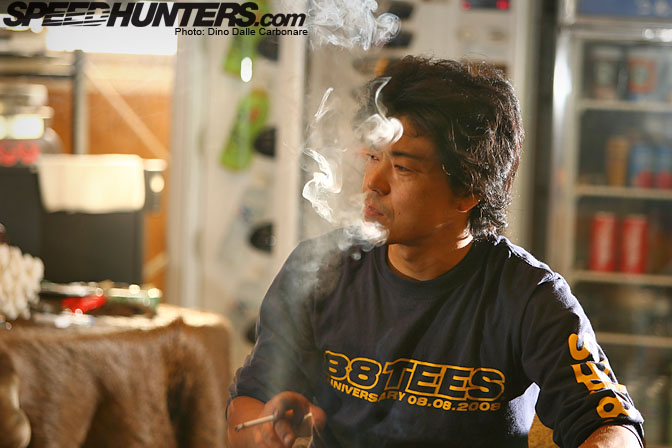 Nakai-san is without a doubt a man of insight, he sees things clearly, and it's precisely this that has allowed him to create an unmistakable style. His customers trust him; they allow him to go wild on their pride and joy like a painter would on a bare canvas.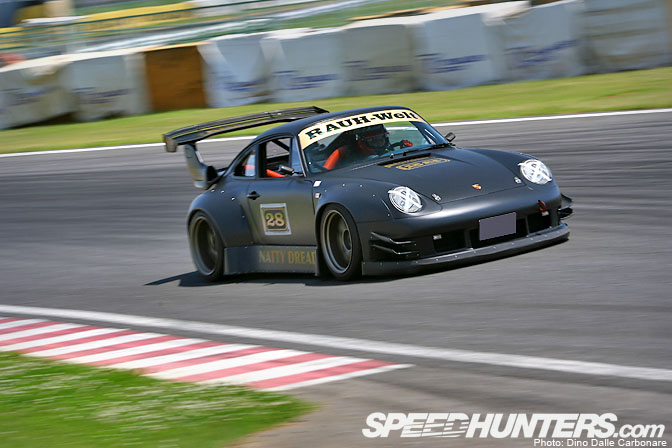 The result may shock purists, but for many others it calls for tons of respect. And rightly so, just look at the Natty Dread in its natural environment, the race track.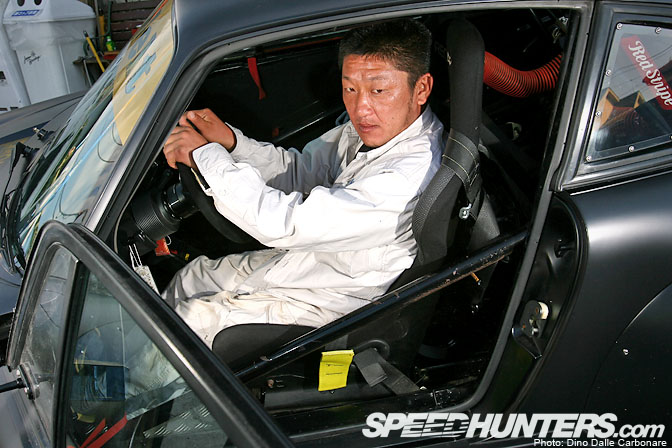 When Keiji-san, the owner of the Natty Dread, approached Nakai he wanted his 993 turned into a more focused track weapon. With the mechanical side of things already being worked on it was the exterior that needed to be given that unmistakable Rauh Welt touch.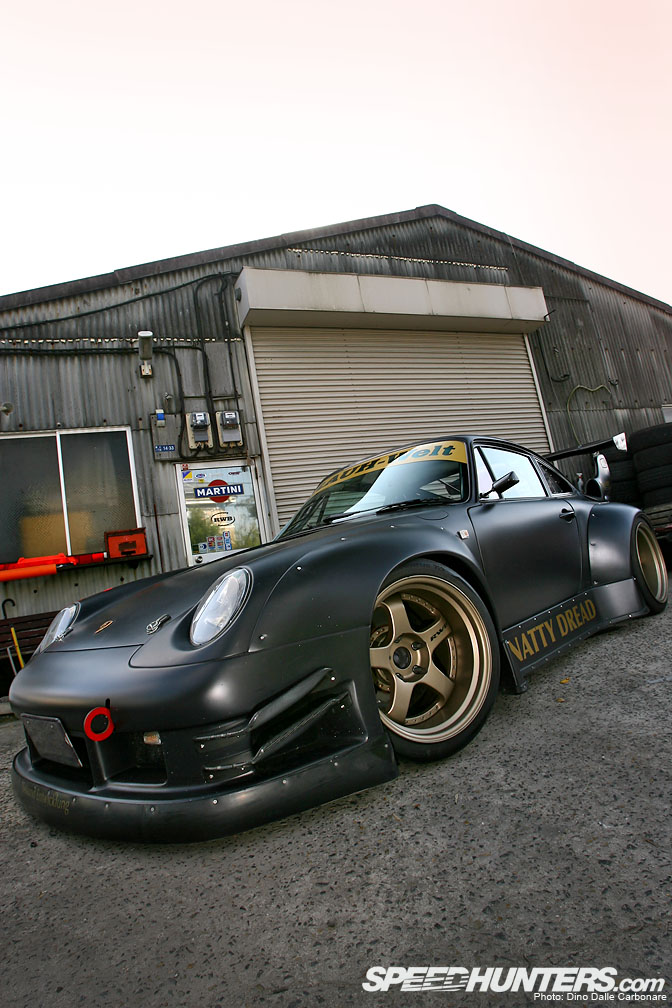 The Carrera 2 was already wearing some nice parts like the Sunburst front bumper, but it was in dire need of a serious dose of widening. Nakai made up some GT-2-style front and rear overfenders, fixed into position via a series of rivets that have been left exposed for that raw touch. The same goes for the custom chunky skirts but it was the front spoiler that really impressed me the most. It is actually a thick strip of durable rubber held in place around the lower section of the front bumper with a series of self-tapping screws. It literally scrapes the ground on any incline, but thanks to its flexibility never actually chips or brakes! Genius! Twin carbon front canards are there to increase front-end bite when at speed, as much of the weight is hanging off the rear axle!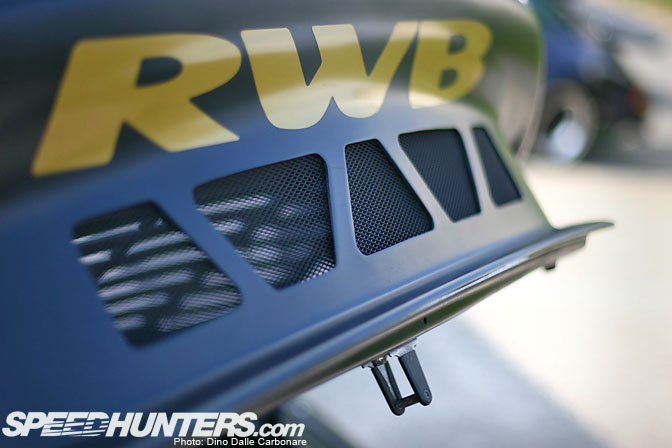 The Sunburst rear hood/tail is cut out to allow the air-cooled flat-six to breathe.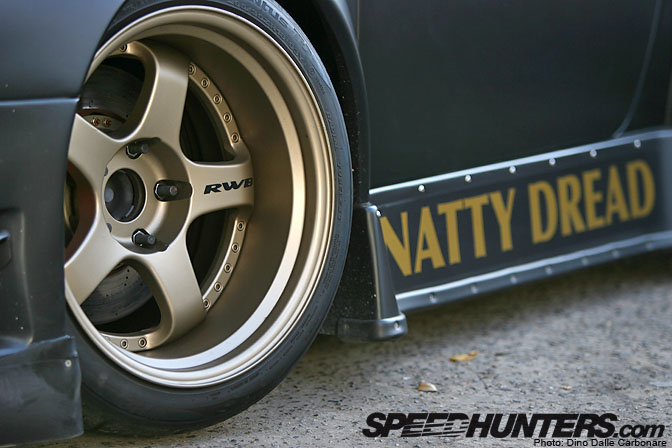 The front 10Jx18″ SSR SP1 are custom painted at Rauh Welt by Nojima-san, the owner of the matte black AE86 Trueno we have seen before on Speedhunters. I really liked the satin bronze finish, kind of made them look anodized from a distance.  These are joined by wider 12Jx18″ at the rears and are all wrapped in Hankook Ventus TD semi-slick rubber, a brand that is becoming ever so popular in Japan.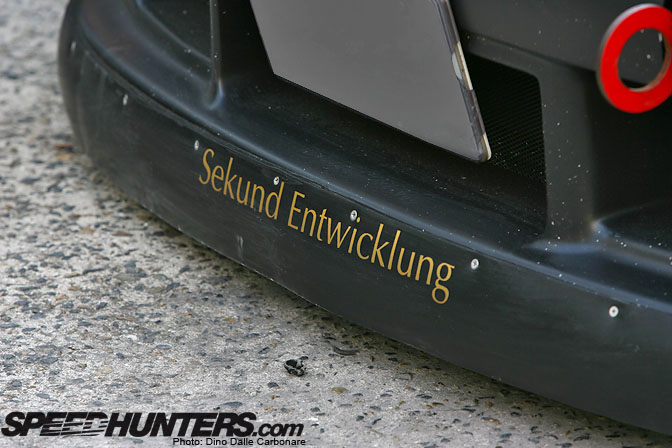 Second Development? A fitting choice of words seeing how this once yellow 993 has been transformed!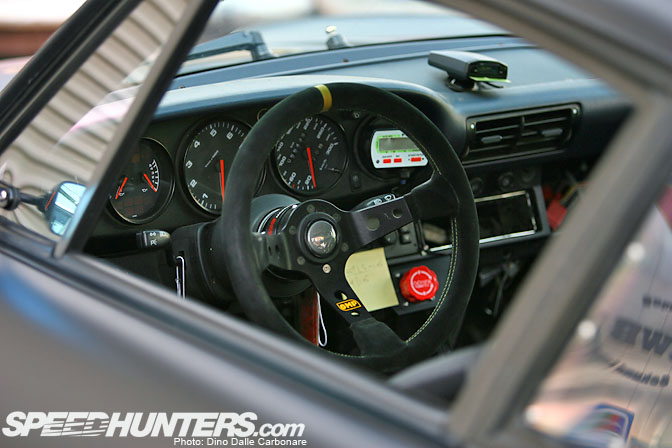 The Rauh Welt feel is carried over in the interior which can best be described as spartan. Notice how the clocks have been slightly rotated counterclockwise, a style that I used to see on modified JDM machinery like drag cars back in the day. The deeply cupped OMP steering wheel is fitted on a snap-off Works Bell boss.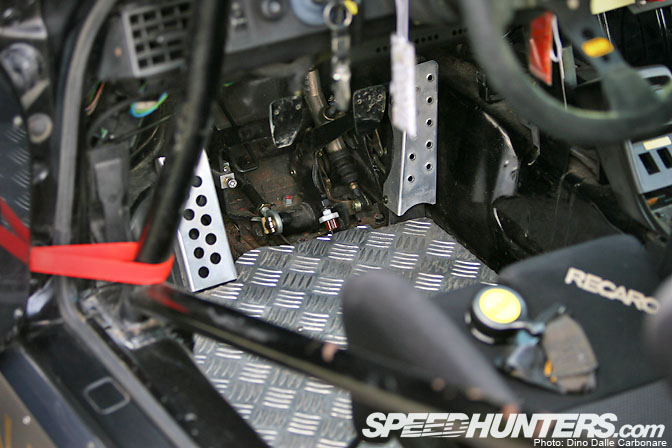 To boost torsional rigidity the chassis was spot welded and fitted with a custom roll-cage. Here is a view down at the pedal area where you can once again see how everything has been done to make Keiji-san feel more comfortable while driving on track.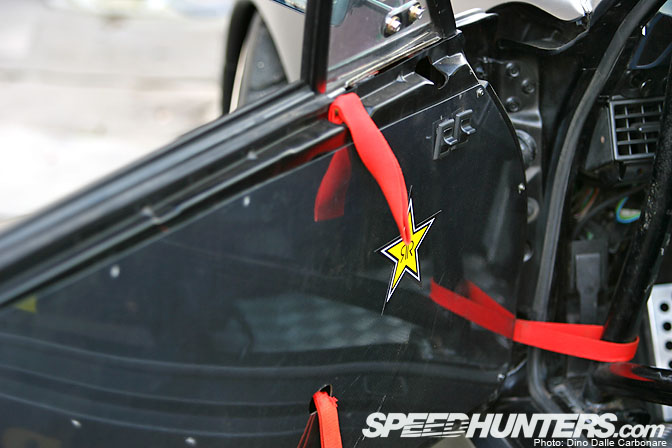 Everything that was surplus to requirement was simply ripped off and thrown out, like the door cards replaced by far rawer looking carbon fiber panels. And notice the makeshift door handles made from bits of red nylon straps! Simplicity rules.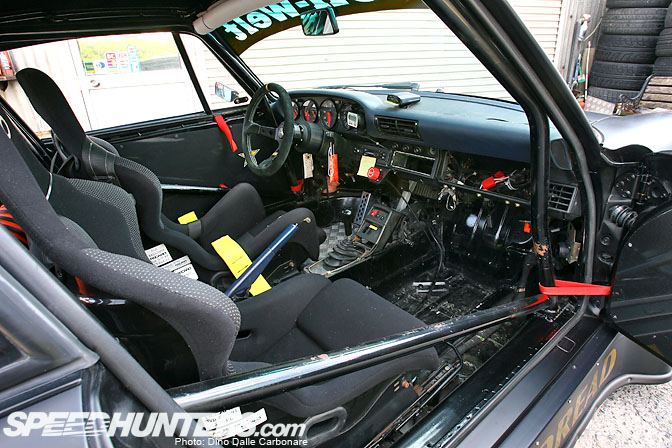 Check out how only the top part of the stock dashboard remains, there is no glove box, most of the center console is gone, much like the rest of the trim. The two Recaro seats, the driver one a more deeply cupped bucket, are joined by Sablet harnesses.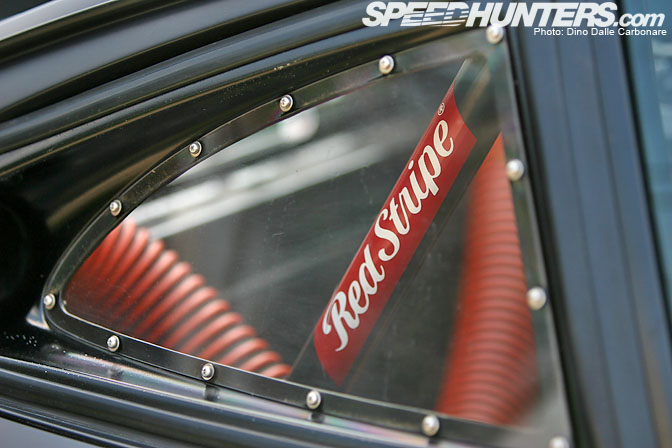 This is a nice detail, the stock side window has been replaced by an acrylic sheet bent inwards to form a perfect intake helping feed the engine. The air is taken from each side into the engine bay via those big red flexible pipes you see in the background. Also I'm guessing either Nakai-san or Keiji-san are fans of Jamaican beer!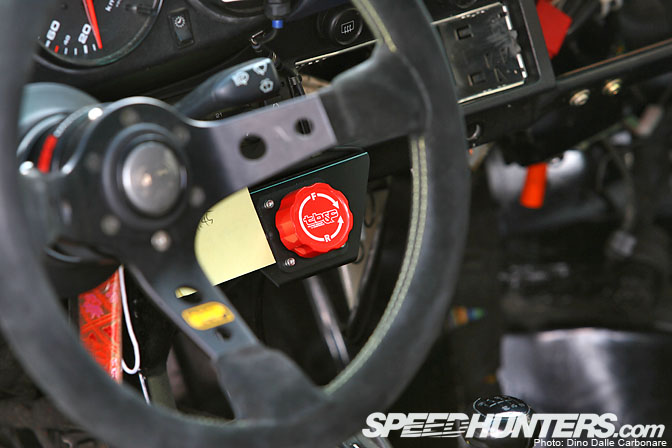 View of the brake-balance-adjuster.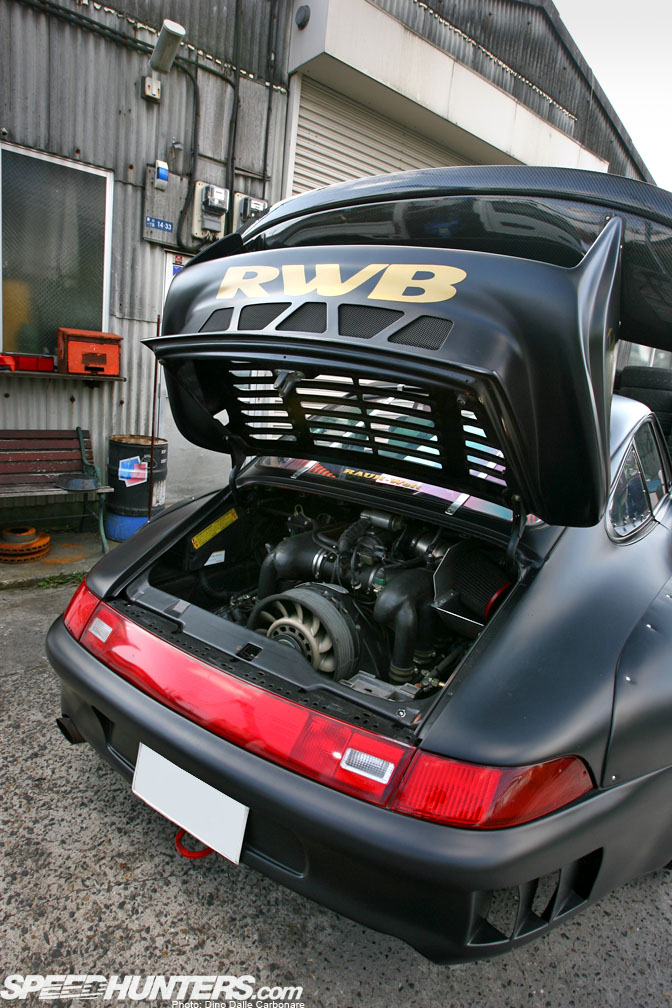 Keiji-san had Promodet, a well known Japanese Porsche tuner, take care of all the engine work on his 993, work that has been kept simple as he just loves how balanced his car feels.  You can get a nice view of the Sunburst rear bumper from the above shot, with those shark-like gills on each side.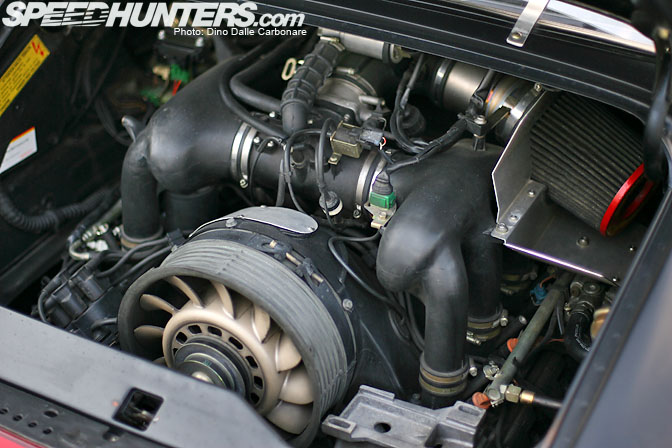 The air-cooled 3.6L flat-6 has been slightly tuned thanks to a full Promodet exhaust system and custom titanium intake pipe…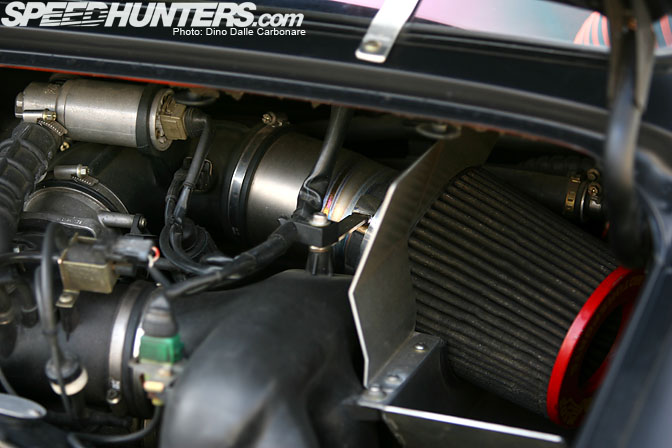 …onto which the cone filter is attached. Engine management is taken care by a Motec M48 stand-alone ECU mapped by the guys at Promodet.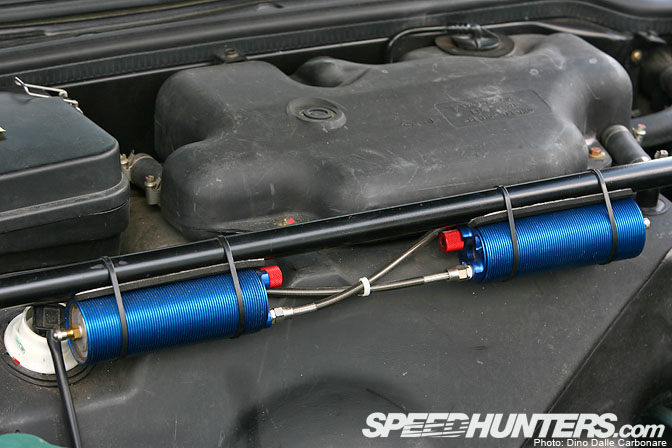 Keiji-san runs some very serious Zeal dampers with remotely located piggy-back tanks, fixed onto the front strut brace.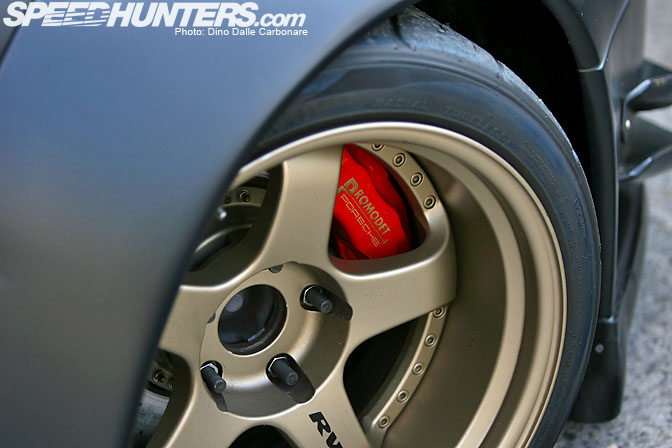 While the 993 was in at Promodet the stock brakes were swapped out for a front and rear set of 993 RS calipers along with 2-piece drilled rotors. Clearance with the SSRs is pretty tight!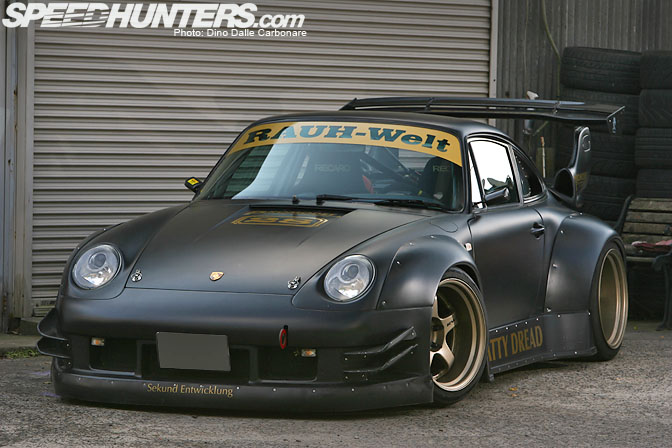 Nakai-san explained how he always experiments when painting cars, for example the Natty Dread has some red mixed into the matt black and the base coat is actually a silver if I recall correctly. It's hard to tell but each one of the cars really does look different under the light.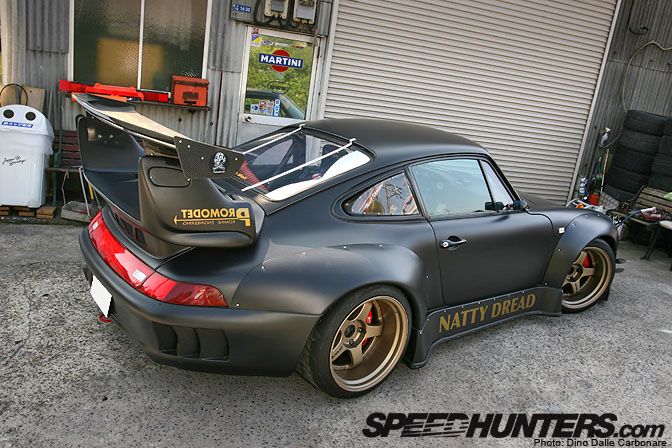 The rear end is so tough with that massive stacked Promodet spoiler!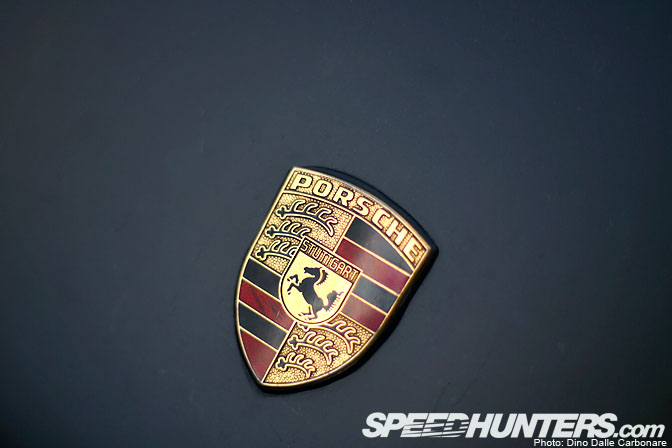 I asked a German-speaking friend of mine if Rauh Welt (rough world) actually made sense, and it seems that "Rauh" or "rough" is more related to texture which could explain why Nakai-san paints most of his cars a matte color. Will have to ask him next time I see him.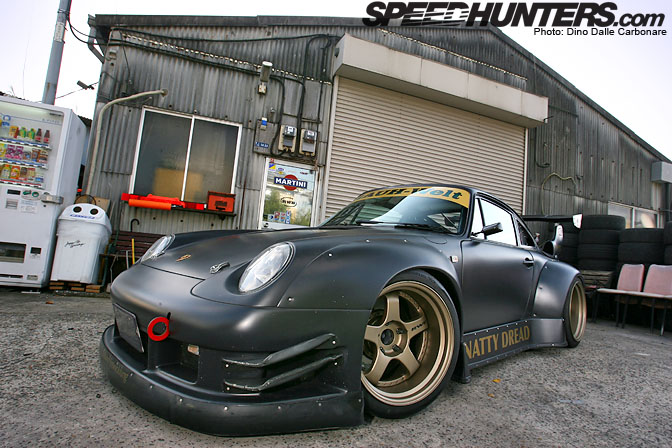 I've been lucky enough to shoot tons of cool cars over the years but none have come close to matching the presence of a Rauh Welt Porsche. I'd like to thank Nakai-san for welcoming Speedhunters back to his shop once again and Keiji-san for letting me get close and personal with the Natty Dread. Trust me, this is not the last we will see from Rauh Welt!
-Dino Dalle Carbonare