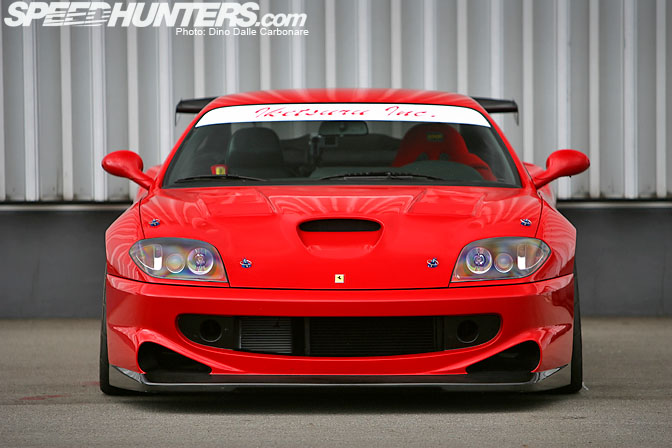 If it wasn't for Jeroen I would have almost forgotten about this Ferrari 550 Maranello. The picture he posted up a few weeks back reminded me of this unique creation that Hayashi-san of Garage Saurus put together a few years back. Most people however don't actually know that there are two cars, two 550s that wear the same all-carbon fiber Garage Saurus body kit.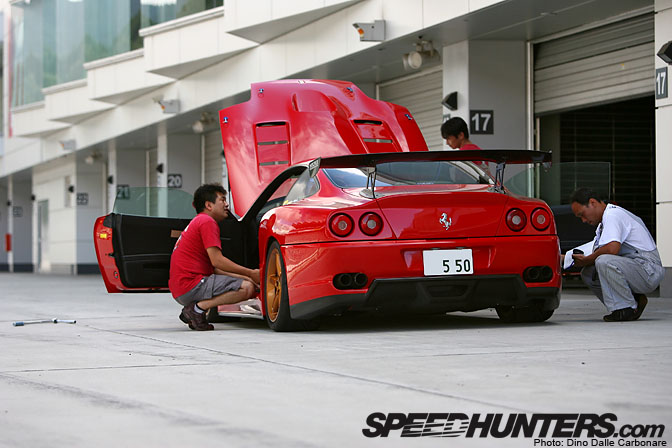 I went to check out one of them at Fuji Speedway during a set up session that was meant to test the new components the car had been fitted with. The owner, who resides in Kyoto, sent up his Maranello to Garage Saurus to have the car transformed into a more extreme track machine. Like most Ferrari's the 550 is quite a delicate supercar and even if it can take the abuse an owner may subject it to on the street, it needs some work to prepare it for circuit use.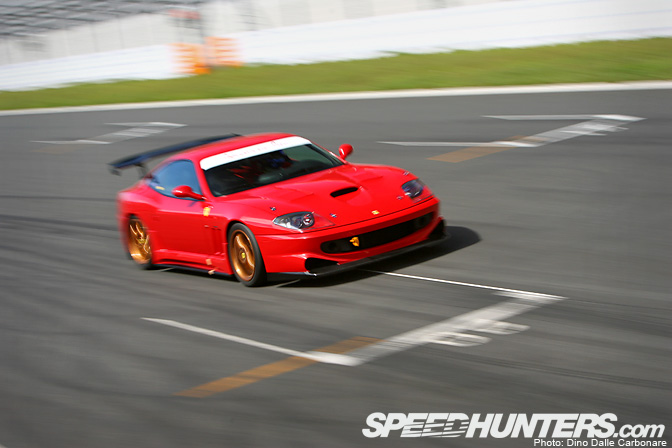 The first thing that Saurus did was to get some adjustable custom suspension designed and made up, allowing the car to sit a lot lower and make full use of its stiff chassis.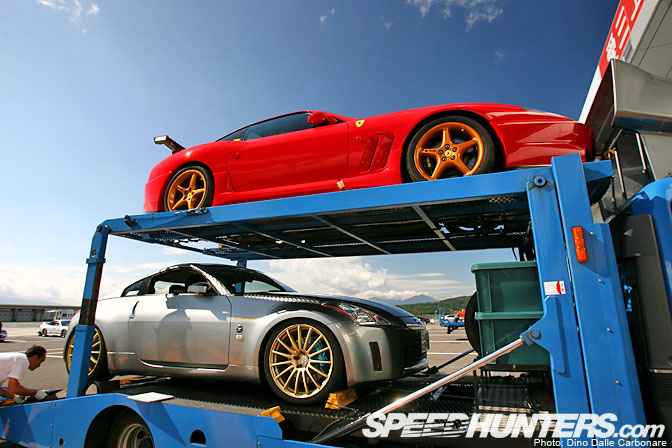 Hayashi-san also took his Z33 demo car to Fuji for some hot laps and to see how the massive 20-inch wheels (remember this was a few years back, 20s were still assumed to be rather big) were like when driving seriously.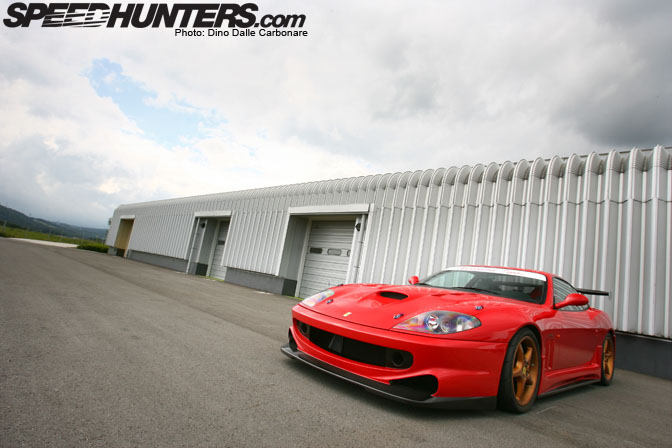 While they were busy with the 350Z I sneaked the 550 away behind the paddock for a few quick shots. I am a great fan of pretty much everything that Hayashi-san at Garage Saurus does, he is a respected figure in the tuning world and rightly so, as every car that has ever rolled out of his workshop is nothing short of a masterpiece. The Maranello is much the same, the body kit alone is a work of art, so simple yet functional not to mention very exotic thanks to its carbon fiber construction.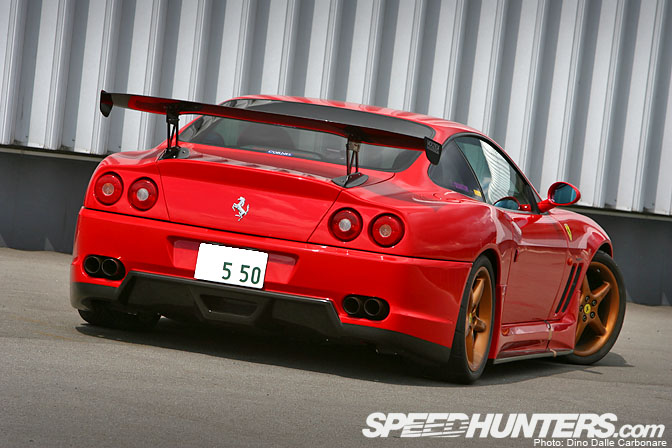 Carbon underskirts help give a lower stance to the car's profile while the rear bumper adds a GT-look courtesy of that mean diffuser.  And how about the rear carbon GT-wing, what better way to inject some JDM style into an Italian exotic. Of course the big spoiler is functional, keeping that big rear end planted on the faster corners of Fuji Speedway.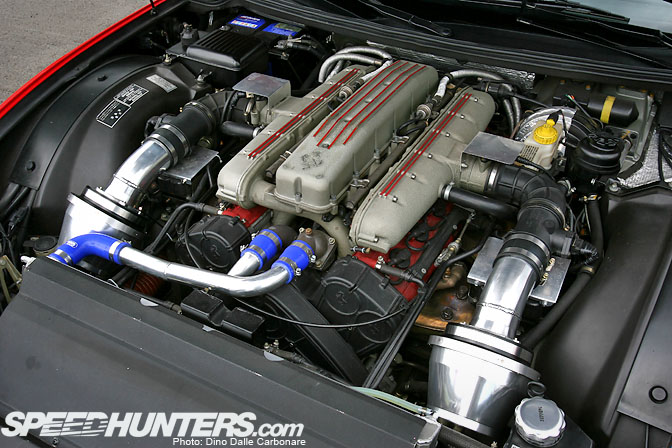 Under the hood, the 5.4L V12 has been slightly upgraded with custom cone filters, a larger radiator and the addition of a large oil cooler.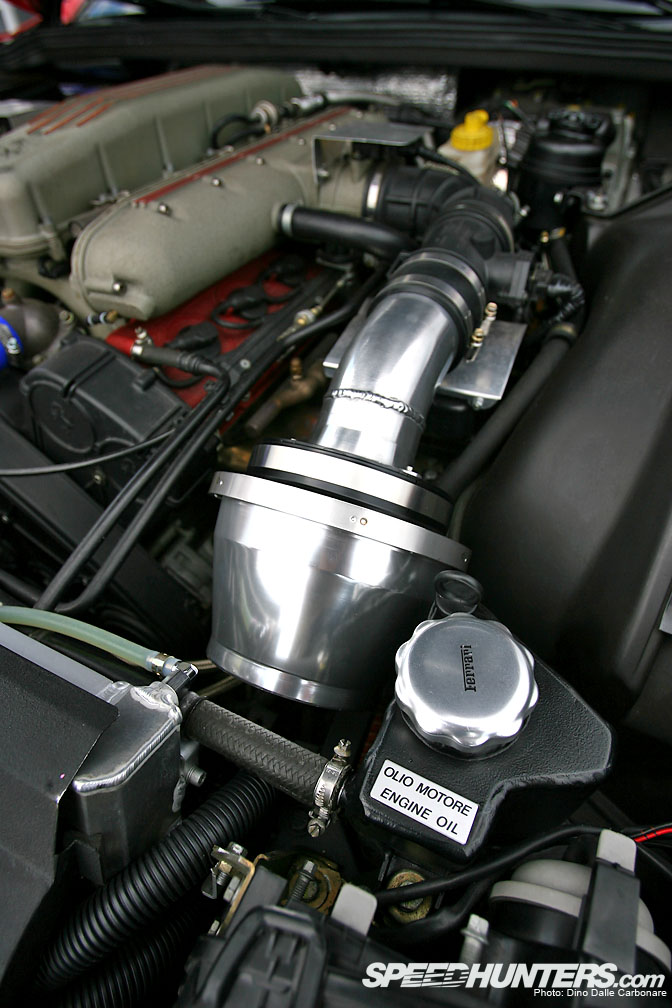 These cone filters and intake pipes join the custom exhaust system, which really makes that V12 sing!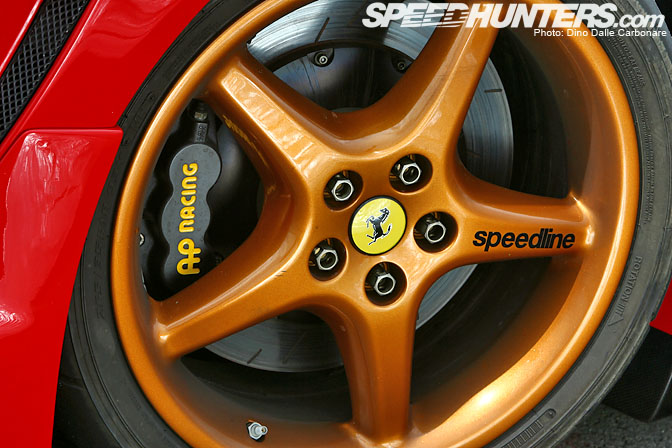 Braking has been improved with AP Racing 6-pot calipers and large 2-piece floating discs. The 5-spoke Speedline wheels wear sticky Yokohama Advan A048 semi-slick tires for ultimate grip.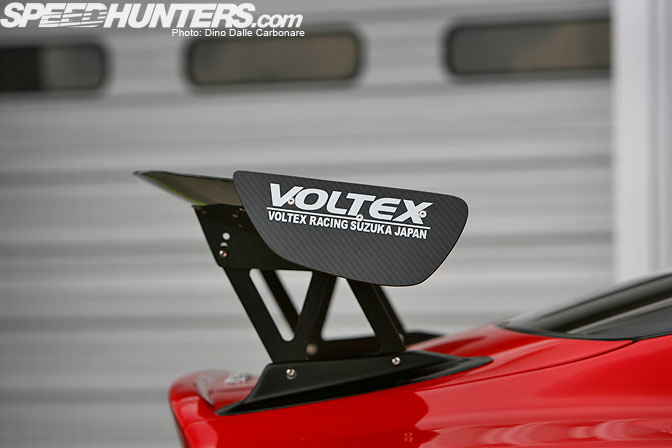 The Voltex wing was angled to its most aggressive setting for the test session.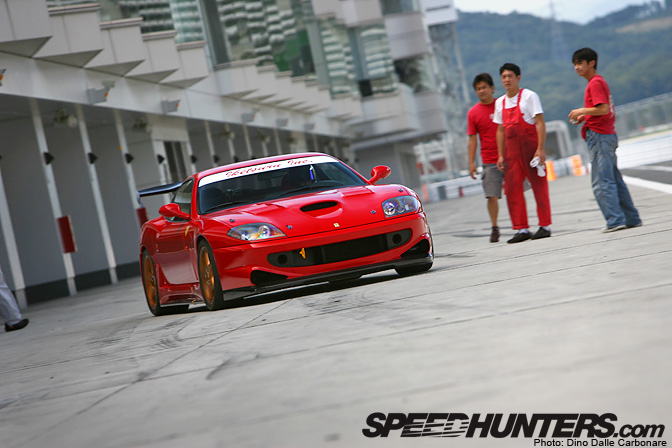 Here is Hayashi-san with two of his mechanics standing back and admiring the 550 as the pro-driver hired for the day takes her off for a spin.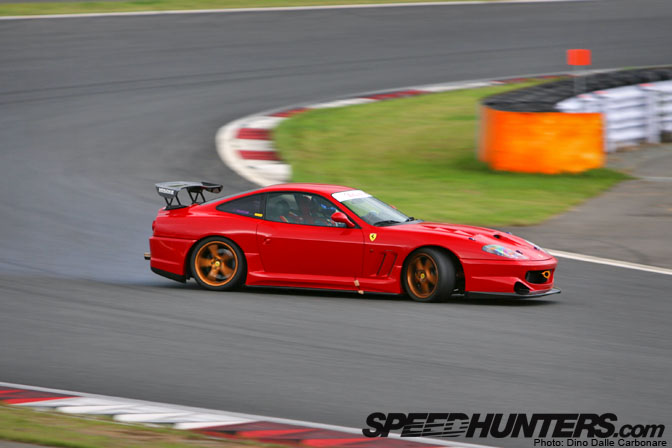 So much for the A048's being sticky! The 550 runs a custom OS Giken LSD that was also one of the parts that was being tested on the day. Looks like it did a good job of locking at the right moment.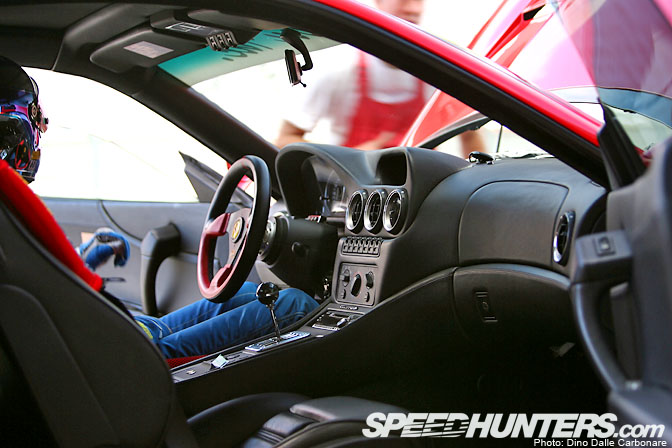 The Maranello spent the whole day testing and the only thing that needed adjustment were the suspension settings as all the other mechanical additions, like the OS Giken multi-plate clutch and LSD, worked flawlessly.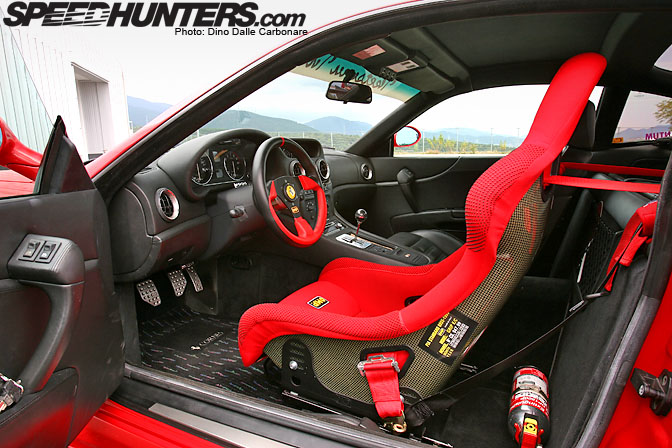 The driver gets treated to an OMP carbon-Kevlar bucket seat and a leather clad steering wheel of the same brand.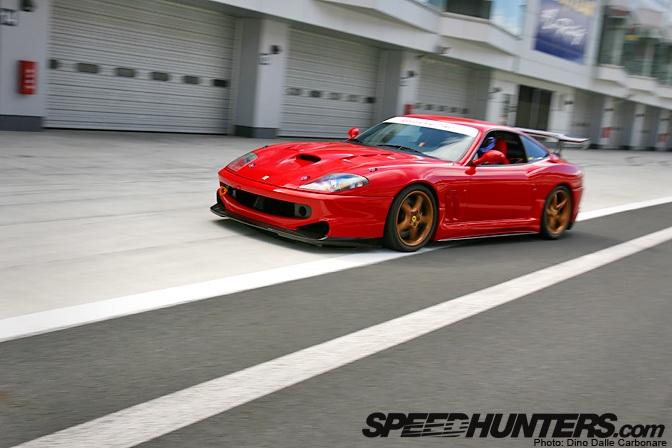 Now, at this point you may probably be thinking that this 550 is very nice and all, but where the hell is the twin-turbo version that Saurus also built!!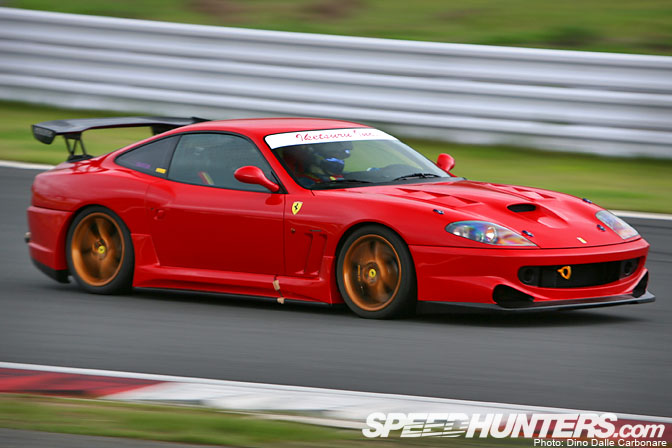 Well, originally I was supposed to shoot that car but it ended up being shipped back to its owner in Indonesia before I could immortalize it with my trusty Canon lenses.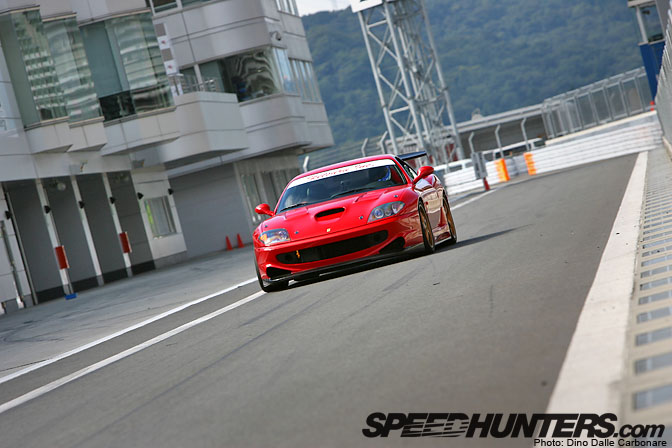 It was a real pity but at least I got to see this naturally aspirated version in action at Fuji.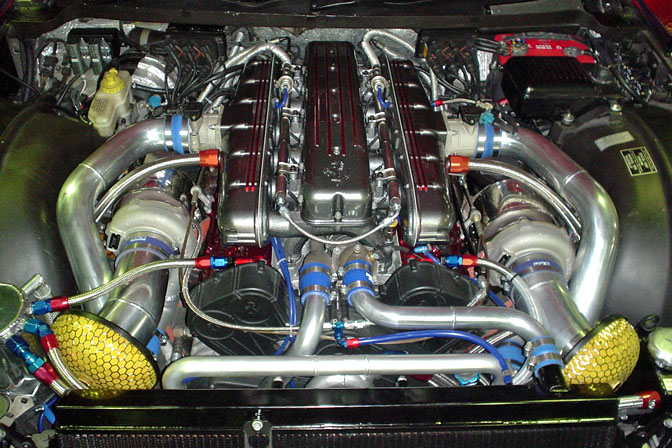 Hayashi-san was kind enough to send me some pictures of the build of the custom engine, which looked something like this when it was done. If you need to drool all over your keyboard now is the time! To toughen up the bottom end OS Giken created custom cylinder liners and forged pistons, ready to take the boost the twin HKS turbines deliver. The result was a motor capable of 800-900 HP, something that required other custom parts like gears of the dry-sump oil pump, a triple plate clutch and LSD, again all taken care of by OS Giken.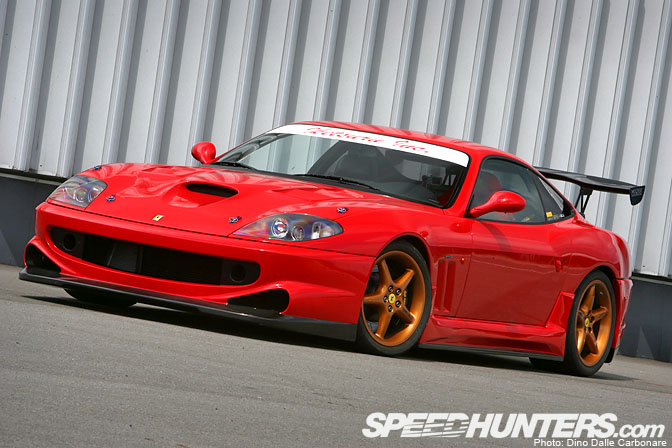 These two 550s are the most unique projects Garage Saurus has created, it's just too bad we never got to see the turbocharged car in action. Imagine that thing around Fuji or Tsukuba with a pro driver like Taniguchi at the wheel!
-Dino Dalle Carbonare