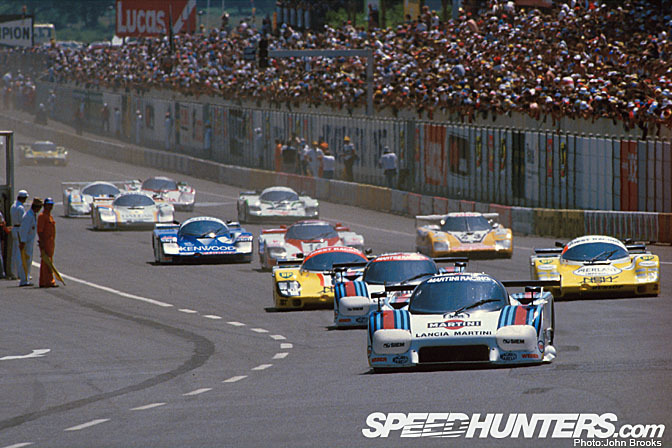 Ok, let's pick up the story of Klaus Ludwig and see what he's been up to from 1984 until present. At the end of Part1, his fortunes were starting to flat line just a little bit. Klaus had chosen to race for Zakspeed Ford racing team instead of Porsche a few years previously, and it was becoming apparent that this perhaps was not the best long term decision for a 1980s sports car driver. As the Group C and IMSA GTP eras entered their third year in '84, Porsche was the sports car to have, and if you weren't in one, it meant you were likely going to be an also-ran.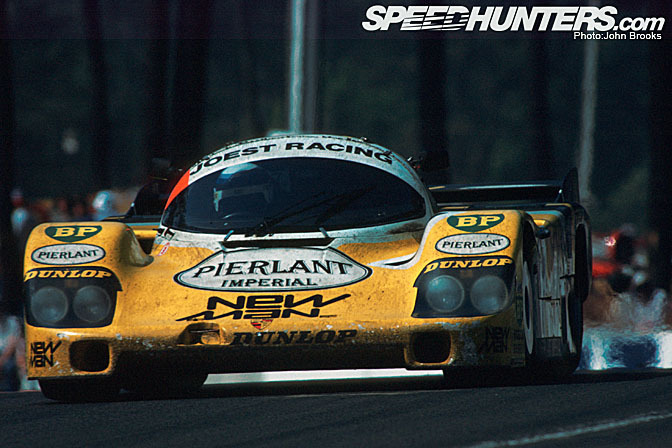 It's pretty clear that Klaus has a knack for finding good race seats and, in1984, he got a place at Joest Racing. He was scheduled to partner Henri Pescarolo in the yellow New Man Porsche 956 at three races: Monza, Silverstone and the big one: Le Mans.
The team failed to finish at Monza, earned second at Silverstone and did one better by winning Le Mans.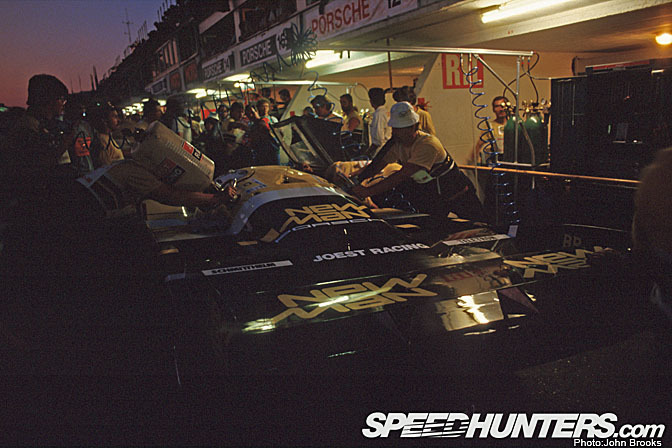 Their cause was no doubt aided by the withdrawal of the factory Rothmans Porsche team from Le Mans, but the1984 win was a popular one.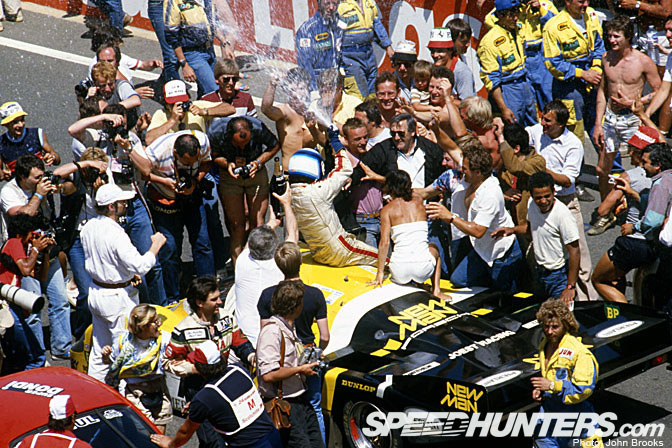 And, with this victory, Klaus started a new chapter in his already epic career.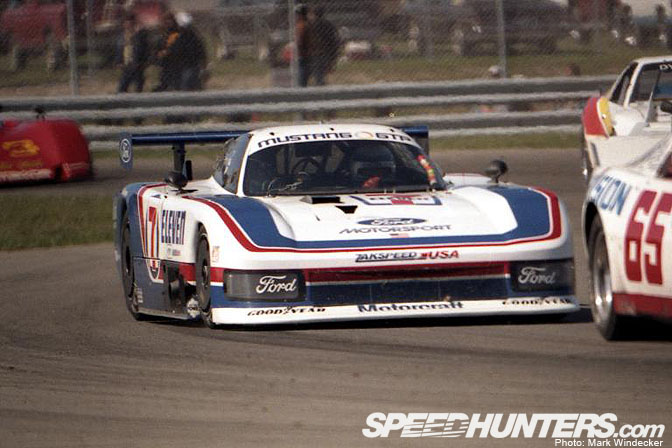 Meanwhile, in America, the Mustang GTP was further developed with a new American built 2.1 Liter turbo four engine which was good for 600 hp.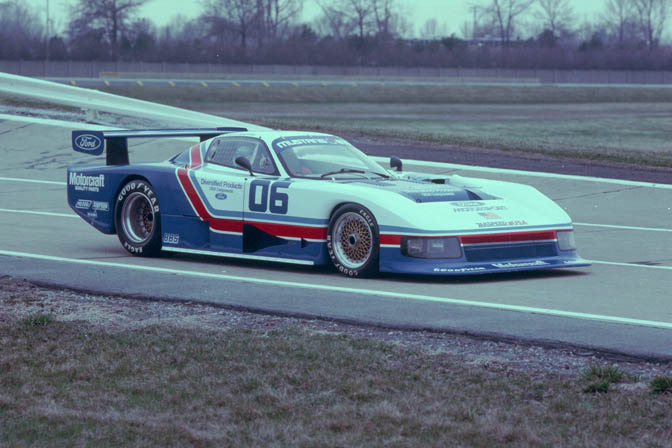 Reliability was not a strong point though, as the car only managed 2 finishes in 10 starts in '84.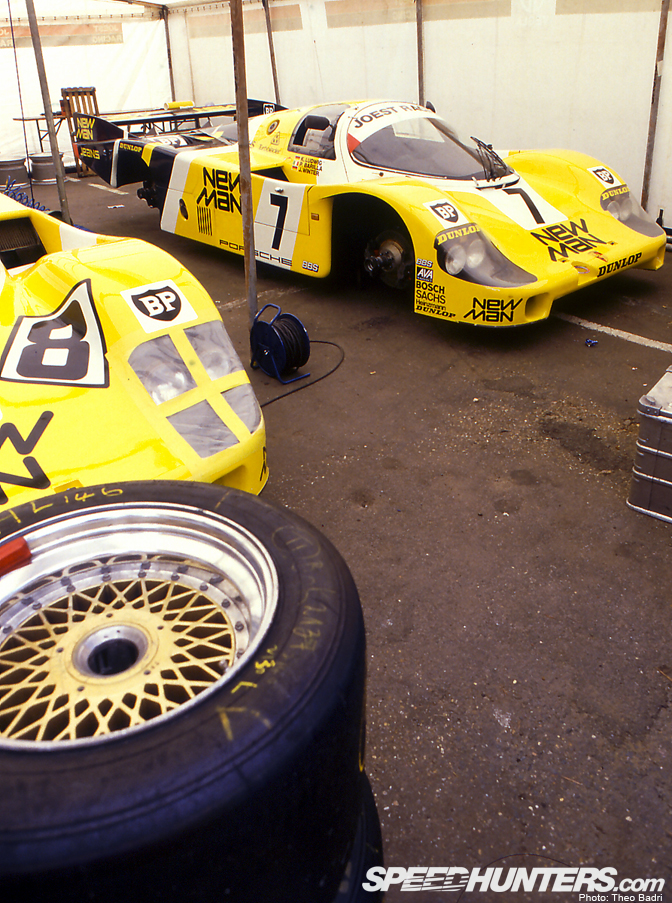 For the 1985 season, Herr Ludwig signed up to pilot Joest's special 956 chassis number 117 for the full season of the World Endurance Championships, as well as a couple of one-off appearances at local German races.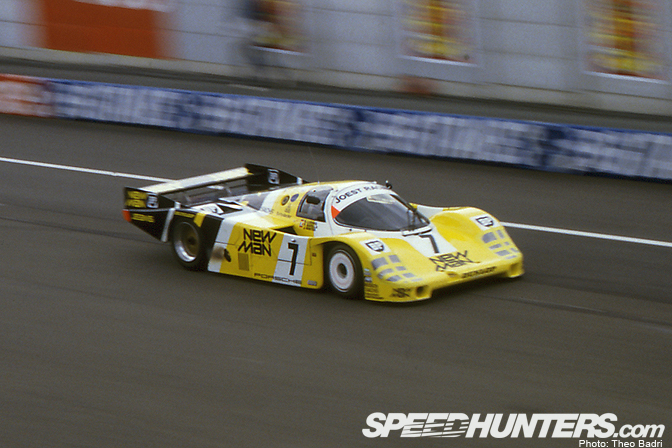 Unlike the previous year, the Joest team would be up against the factory Rothmans Porsche 962s at Le Mans '85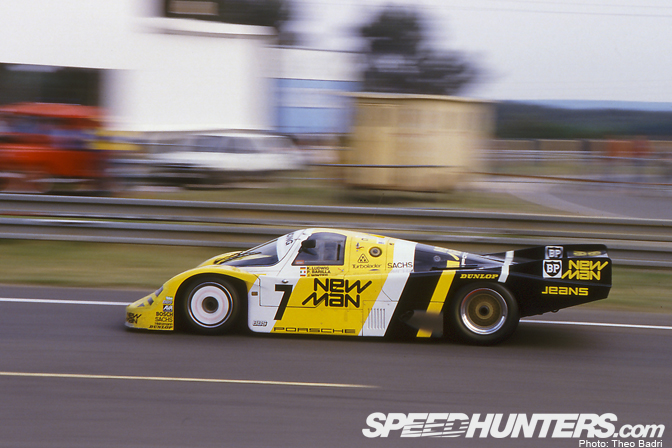 Somehow, though, Joest outsmarted the competition, and tuned their 956 to record superior fuel efficiency.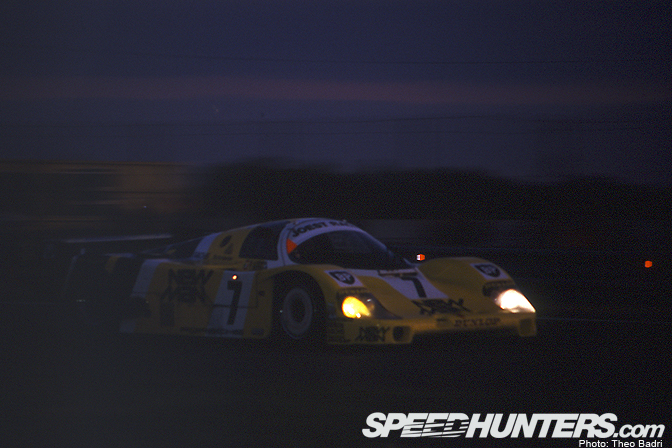 Remember Group C back then was a fuel efficiency formula, so the team that could maintain the highest speed, according to their fuel allotment would have the advantage.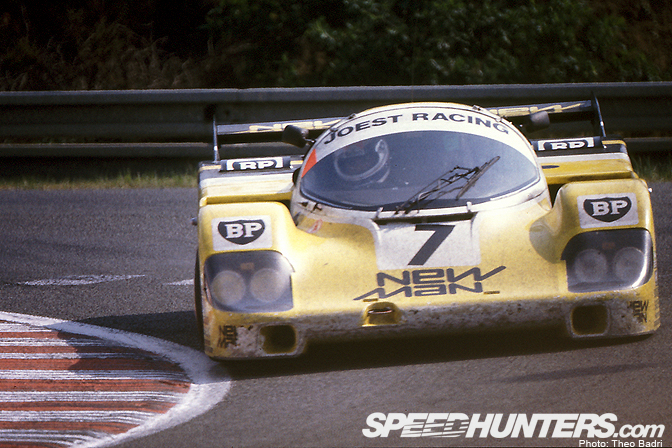 This left the number 7 New Man Porsche able to keep a faster race past over the rest of the field. As their opponents fell away with reliability issues, it was Klaus Ludwig, John Winter and Paolo Barilla who took the win. It was a perfect David and Goliath story as one of Porsche's own customers vanquished the factory team at the toughest race of all.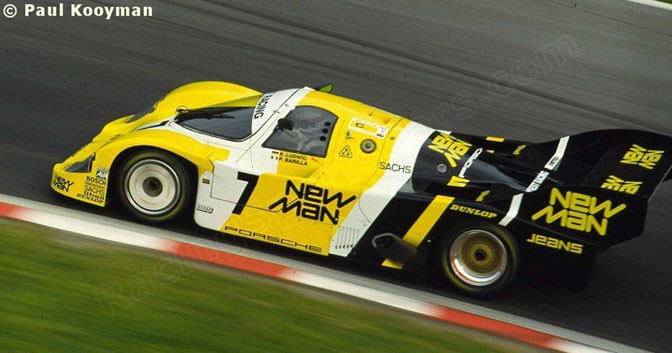 The New Man Porsche also contested most rounds of the often tragic 1985 WEC season. Here's a shot of Ludwig on his way to 3rd place at the 1000 kms of Spa.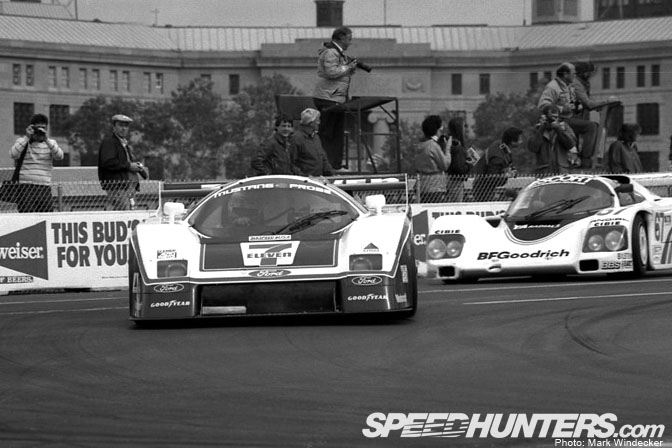 Ludwig also had a full time ride in the 1985 Camel GT IMSA Championship with Zakspeed Ford in this all new GTP prototype: the Ford Mustang Probe.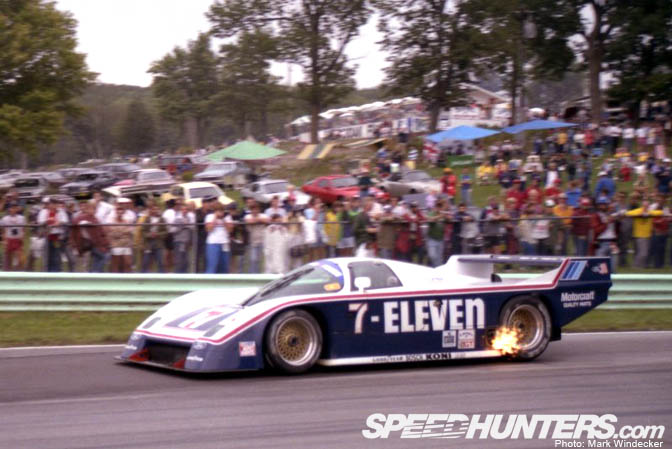 The program was headed up by the German Zakspeed team and was a thoroughly modern design. It sported a full carbon fiber monocoque and Klaus had nothing but good things to say about the handling of the chassis. Power was supplied from the same 2.1L turbo four banger from the Mustang GTP, but the engine was considered to be a bit of a handicap when compared to the 3.0L engines which powered the Porsche 962s.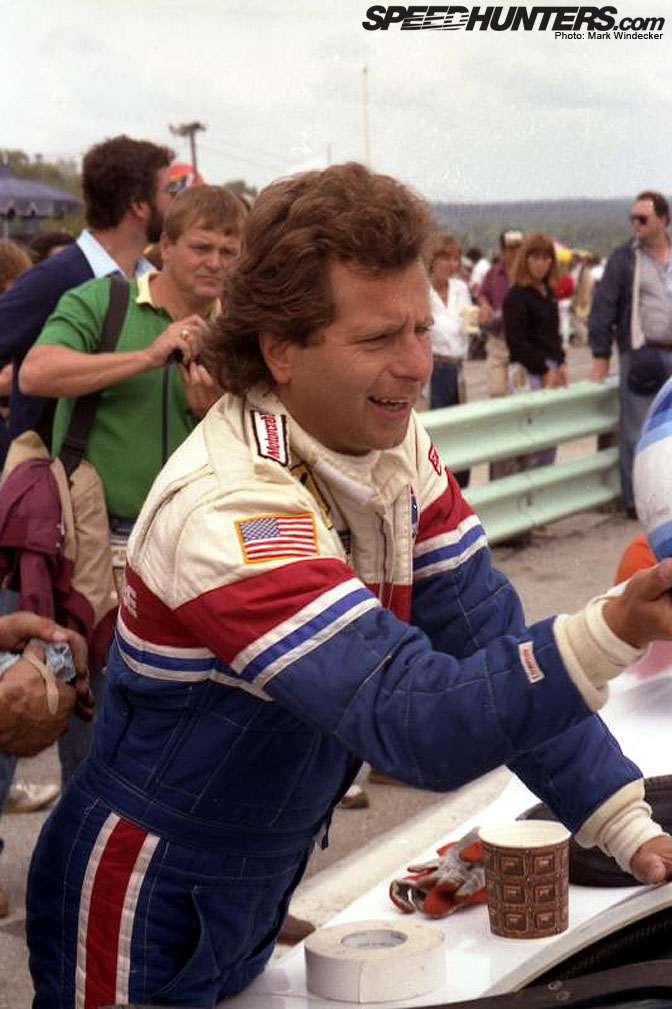 During the 2 years that Ludwig was with the program he only managed to take 1 victory: a solo drive at Laguna Seca on May 4th, 1986.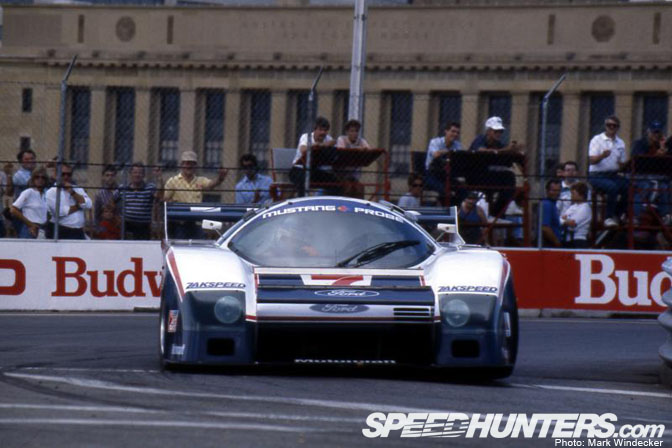 The car appears a few times in Mark Windecker's photo archive. Here's a shot of it from the 1986 Columbus, Ohio street race.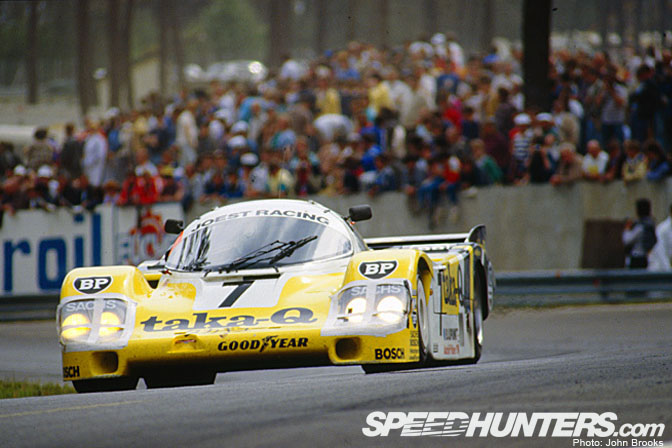 Ludwig and Joest were unsuccessful in their bid to win Le Mans three years in a row in 1986. Their hat trick was interrupted when an extended running behind the safety car caused some irreparable engine damage. Overall though, 1986 was a very busy year for Ludwig and Joest but he only managed 14th in the Driver's Championship that year.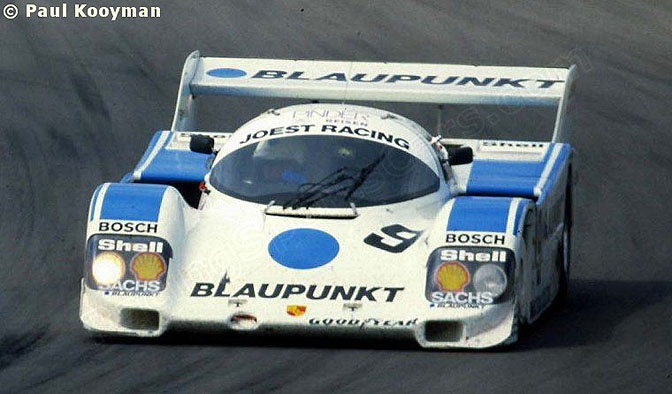 For 1987, Klaus Ludwig continued to race for Joest in a selection of WEC, Supercup and Interseries races, with their new 962C now sporting Blaupunkt sponsorship. He also showed up at a handful of IMSA races in the Bayside Disposal Porsche and took an unexpected race win at Laguna Seca that year.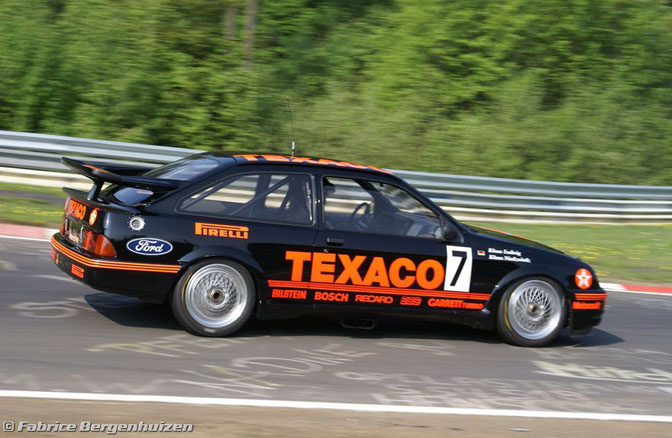 The Ford connection also continued but this time the program was with the factory Ford Motorsport Eggenberger ETCC race team in a Ford Sierra. Klaus was instantly on the pace and would have won the championship in 1987 had it not been for two technical disqualifications. This was the start of a new direction for Klaus and he promptly won the 1988 DTM season championship (also in a Ford Sierra). His star was on the ascent yet again.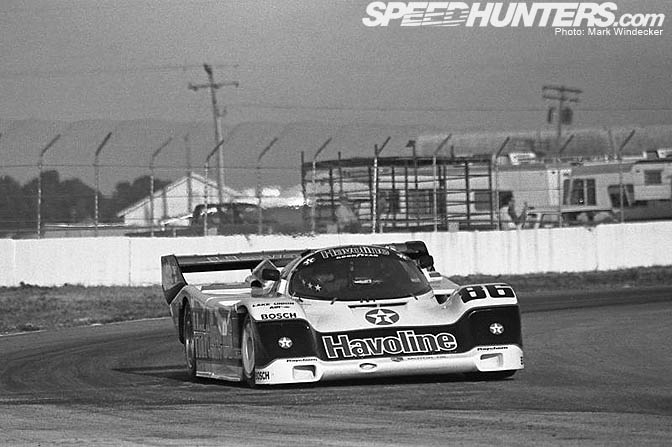 1988 also saw Klaus team up with fellow German racing legend, Hans Stuck, to take a prestigious win at the 12 hours of Sebring.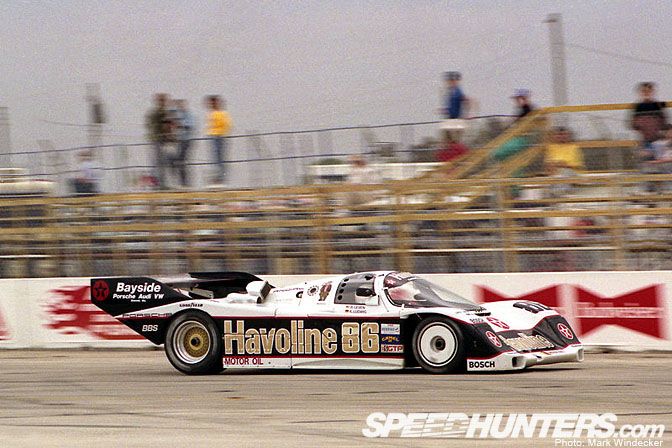 Mark Windecker was there to witness this victory as the two German aces beat the opposition in the number 86 Basyside Disposal Racing Porsche 962.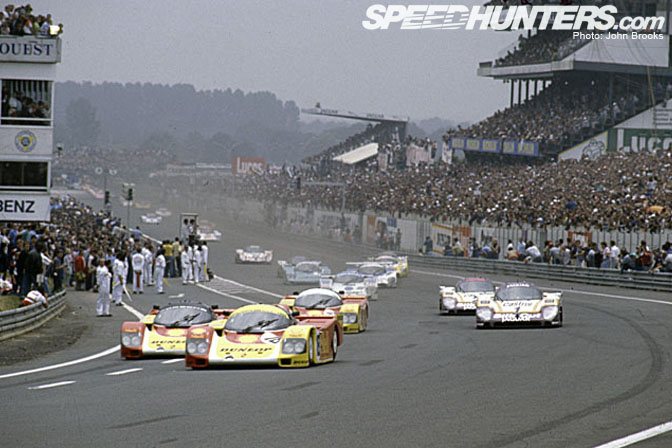 Klaus Ludwig also played his part in one of the most famous Le Mans battles in history. The epic Jaguar vs Porsche war of 1988.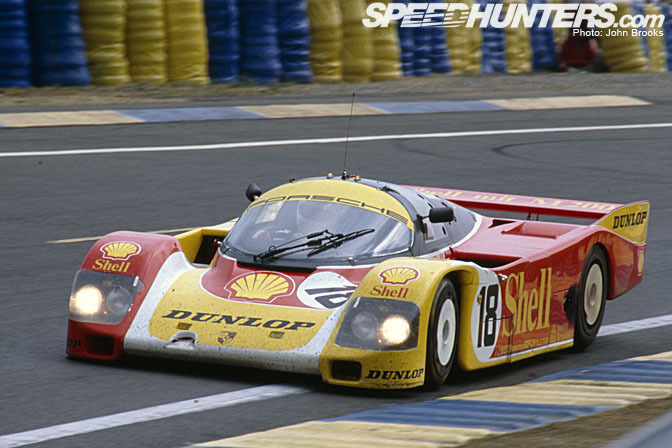 Unfortunately Ludwig was on the losing side, as Jaguar finally triumphed over their German rivals. It's said that he was the one who lost the race for Porsche as he ran out of fuel and lost time returning to the pits… oh well.. win some lose some…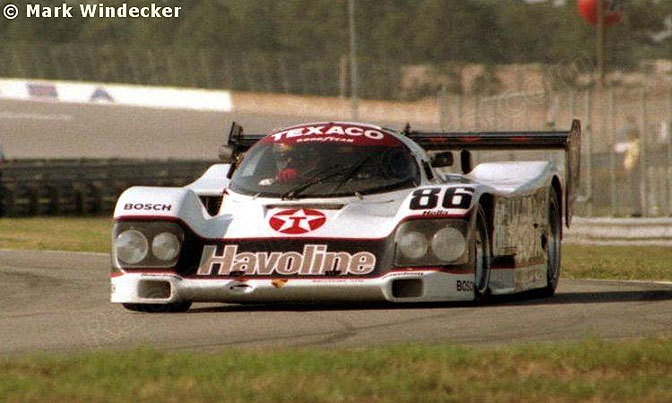 In 1989, Ludwig only appeared two times in sports cars: at Daytona and Miami where he took 4th and 8th respectively. It was the end of the line for his career in sports cars for the time being…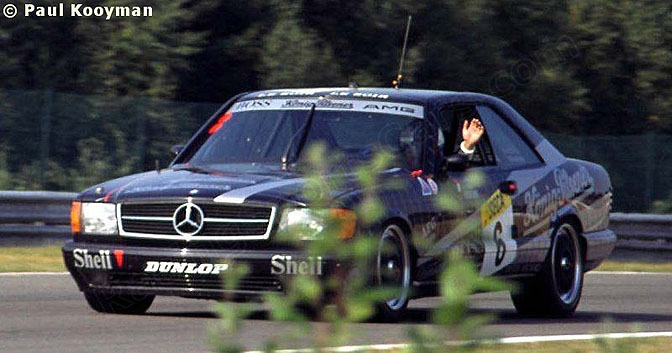 … But a new relationship had its genesis in 1989. This photo from the racingsportscars website shows that Ludwig was now driving for the AMG Mercedes team… and this was the start of a very special and fruitful link-up.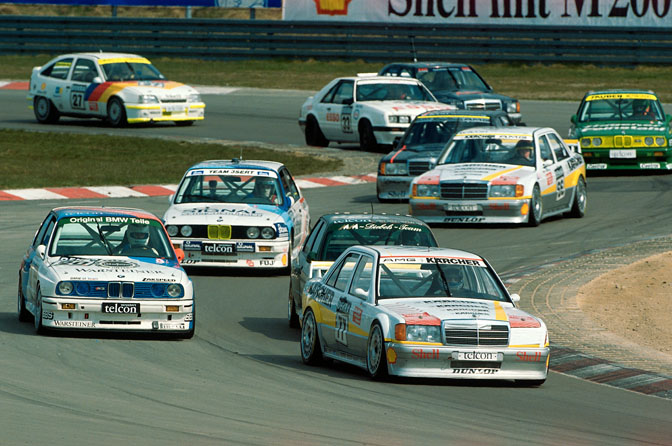 Although the ETCC had collapsed for 1988, the DTM was in rude health and Ludwig quickly became a core member of the AMG racing team.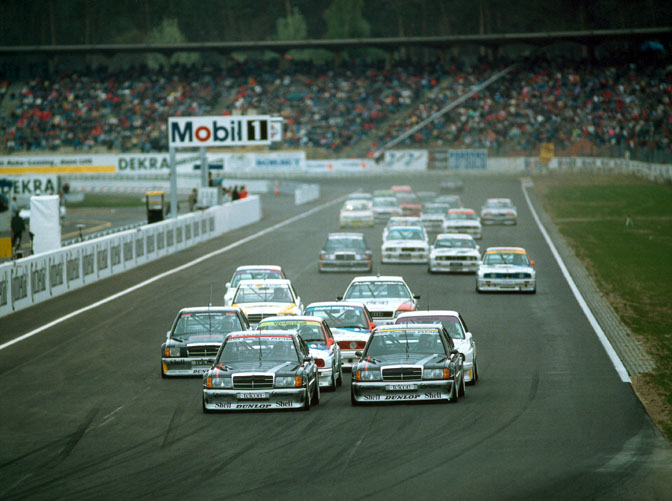 It was an amazing time in DTM racing with factory Mercedes, BMWs and Audis going at it hammer and tongs at Germany's many great racing circuits.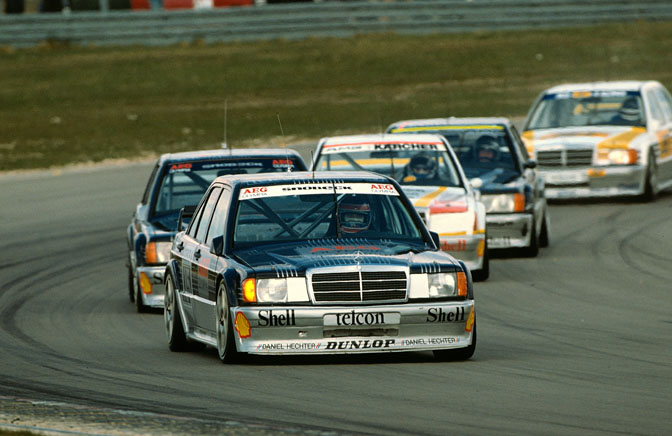 In this highly competitive environment, Ludwig took 2nd in the 1991 DTM Championship.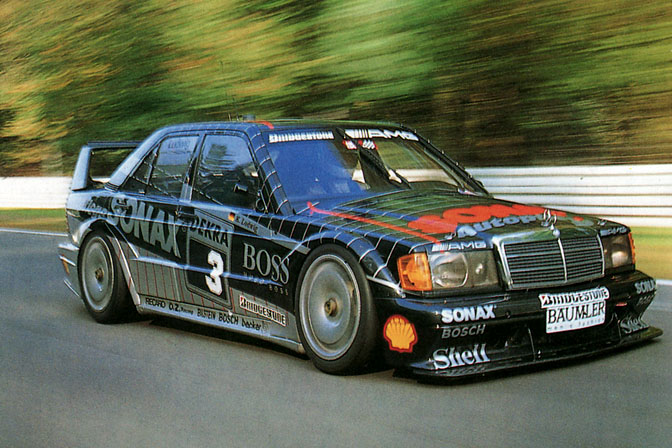 And in 1992 he did one better and took the overall Championship in this car: the AMG Racing Mercedes-Benz 190E.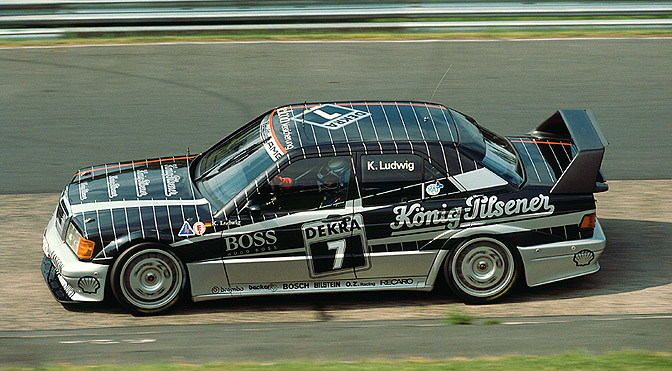 It was this success with AMG in racing that caused Mercedes to buy the privately owned company in 1991 and incorporate it as the factory's in-house tuning shop.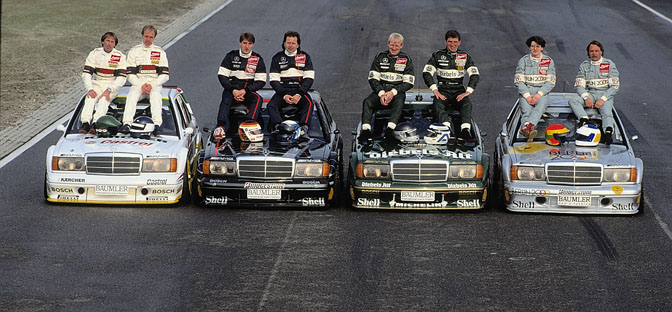 Here's a look at the complete 1992 factory Mercedes driving line-up: from left to right: Jacques Laffite, Jörg van Ommen, (a young) Bernd Schneider, Klaus Ludwig, Kurt Thiim, Roland Asch, Ellen Lohr and Keke Rosberg.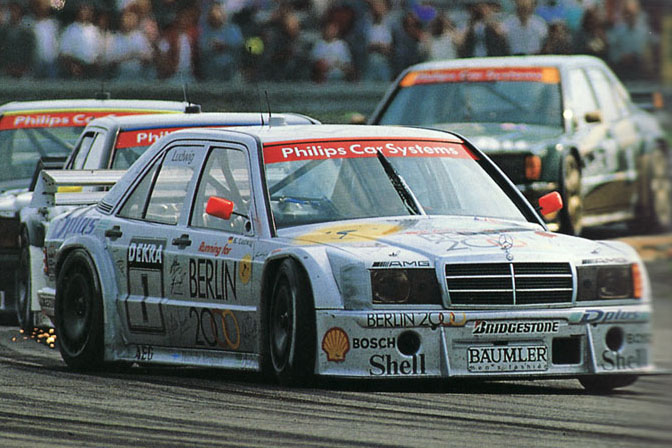 For 1993, the DTM re-invented itself with the new Class 1 rules and the 190E was reworked as a more unlimited style race car.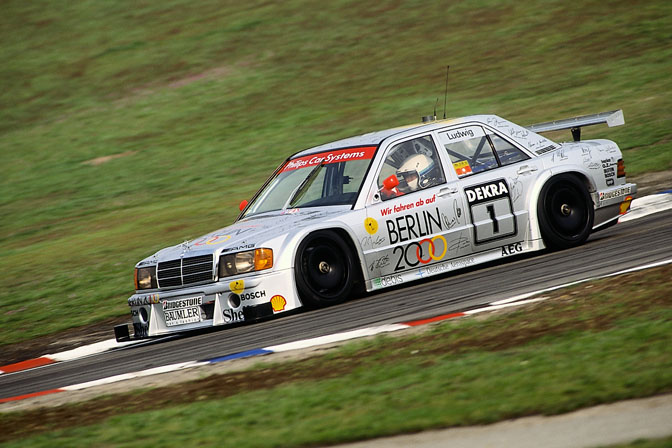 This was the start of the DTM as we now know it as the cars took a separate path from Super Touring style touring car racing.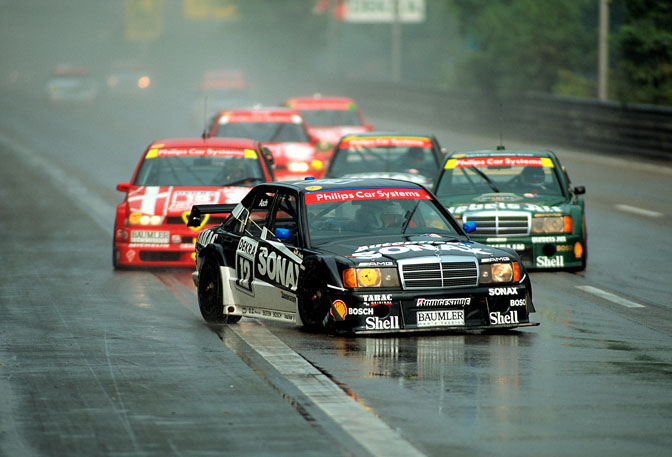 The sight of these powerful and fast touring cars must have reminded German race fans of DRM races of old, as the race formula proved to be very popular. Here we see the start of the ADAC Avus race in Berlin, September 9, 1993.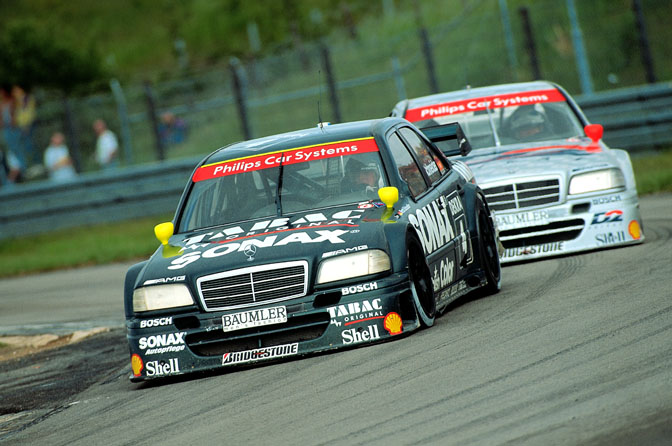 For the 1994 season, the 190E was replaced by the new C Class DTM racer.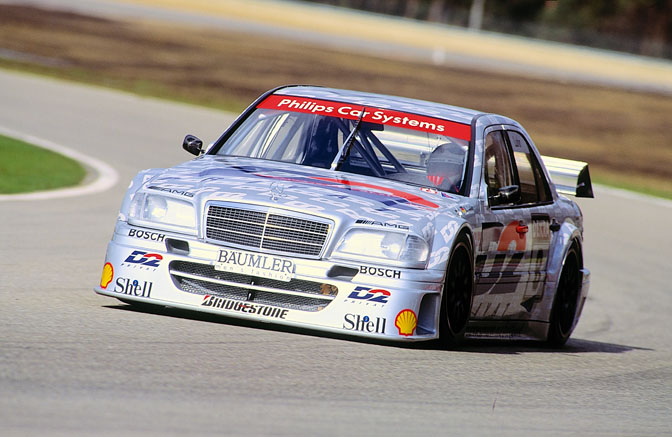 Klaus used this new machine to good effect and pulled out yet another DTM championship. This is his team-mate Ellen Lohr testing the C Class at Zolder in 1994.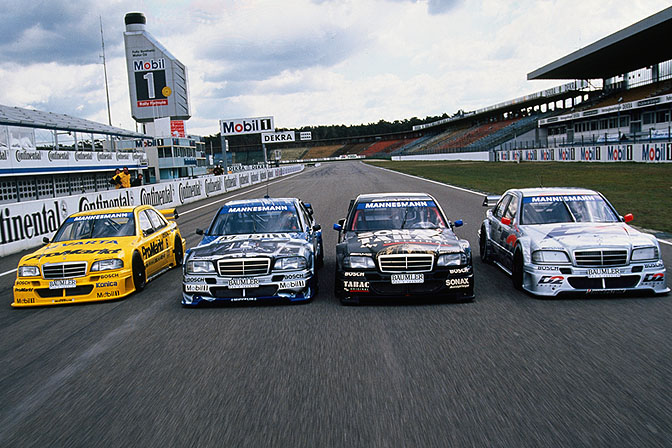 Amazingly enough, when the various Mercedes DTM teams were announced for the 1995 season, Ludwig was absent from the roster.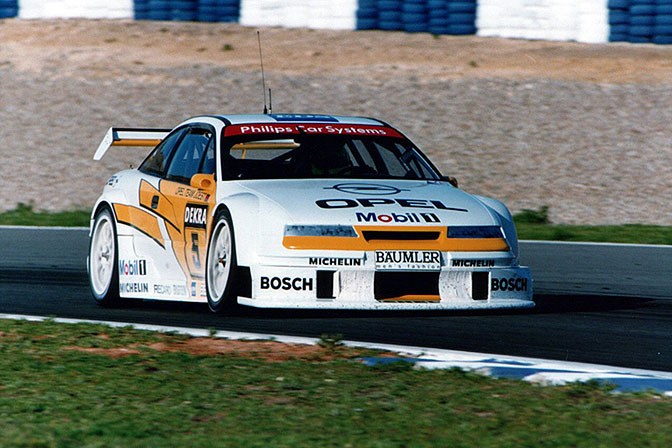 Instead, he jumped ship to Team Kosberg who were running an Opel factory supported DTM team (Joest car pictured).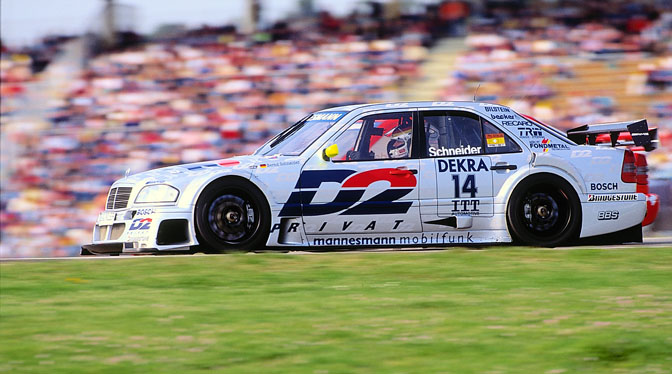 The champion for that year was AMG regular Schneider, but Ludwig did take two wins at Hockenheim at the end of the 1995.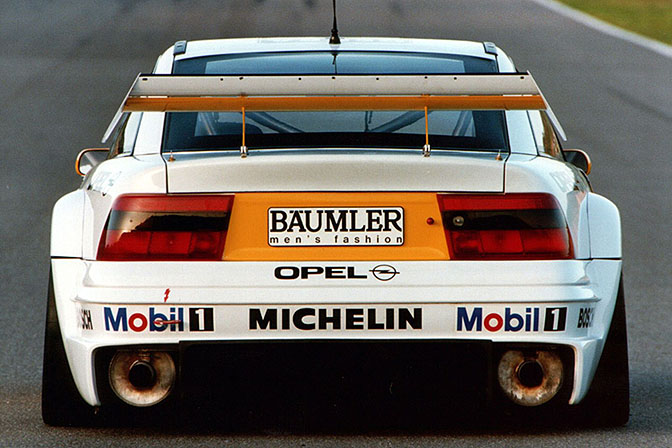 The 1996 ITC season saw Ludwig continue to race with Opel, but this time with the Zakspeed DTM team and he won three races that year with a final tally of 7th in the championship. The winds of change were blowing yet again though and the ITC collapsed at the end of the year.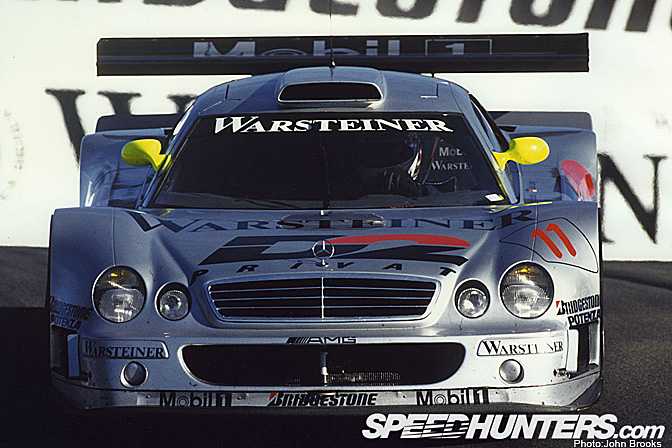 In1997, Ludwig returned to AMG Mercedes as they jumped over to the FIA GT championship with their hastily constructed (and homologated!) CLK-GTR.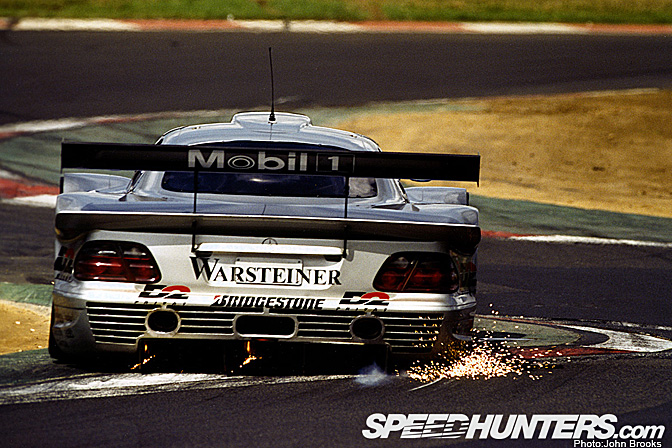 I saw this car race at Donington in 1997 and I have to say the memory will stay with me forever!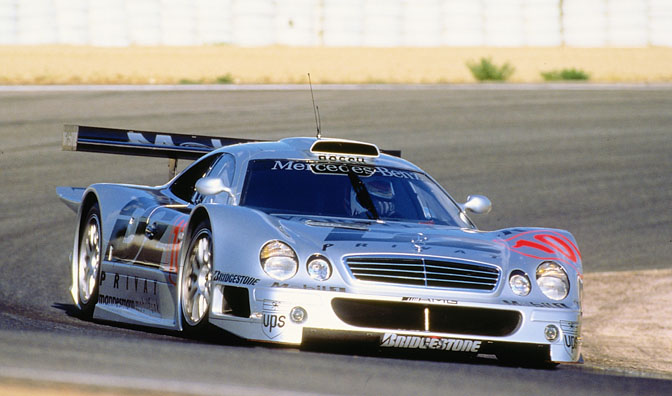 Klaus won 4 times that year: Nurburgring, Zeltweg, Sebring and Laguna Seca but it was his old teammate, Bernd Schneider, who was crowned champion at the end of the season. Ludwig was the second ranked AMG Mercedes driver with 4th in the 1997 FIA GT Championship.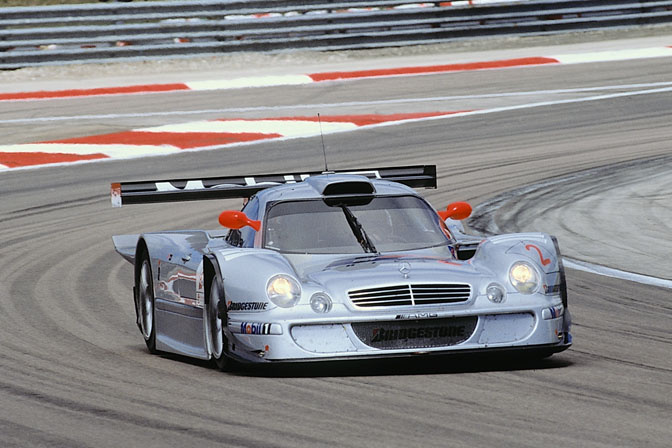 Mercedes pretty well walked the 1998 FIA GT Championship and won every single round of the Championship. It was also a good year for Klaus as he won the Championship together with his young team mate Ricardo Zonta.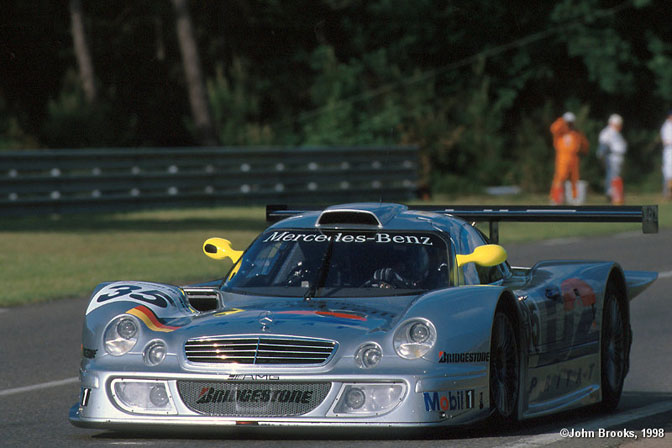 The updated V8 powered car was christened the CLK-LM and signaled Mercedes' intention to win Le Mans that year.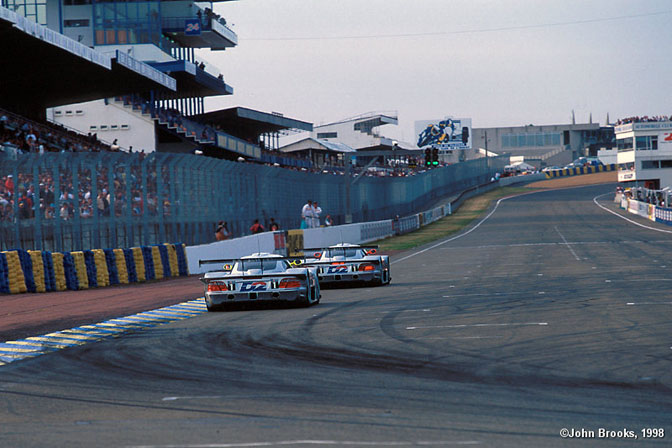 The cars look good, but were lacking in pace compared to the new Toyota GT-One.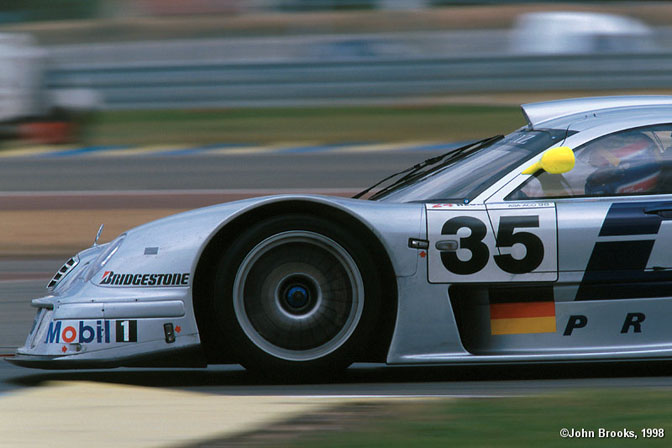 Race day was a total disaster though, with both cars going out early….
That's racing I suppose… Anyway, as the 1998 FIA GT Champion, Klaus decided it was a good time to retire at the end of the year.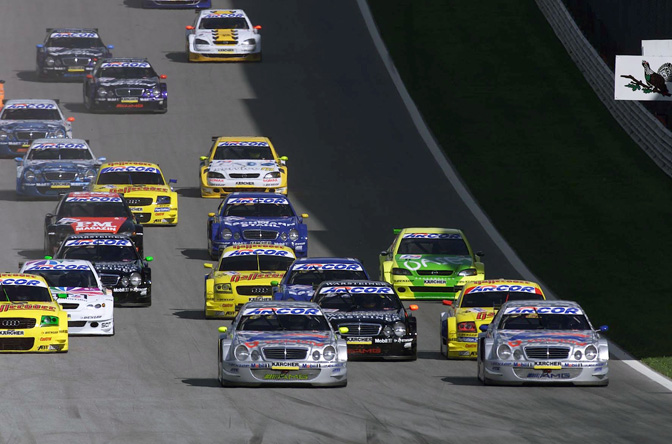 However this retirement didn't last long.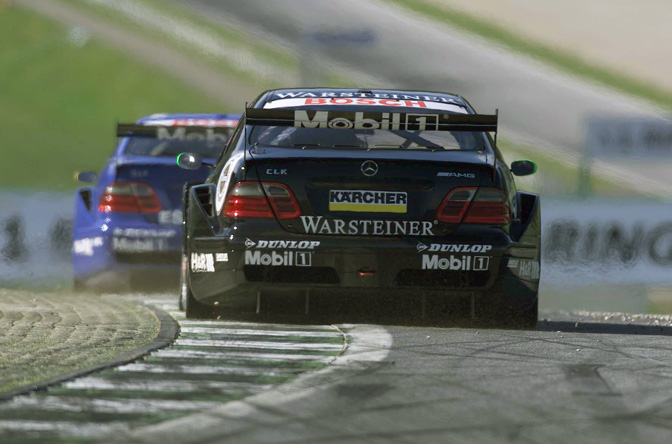 The DTM was being reborn for 2000 and he was given a race seat in the black Warsteiner sponsored Mercedes.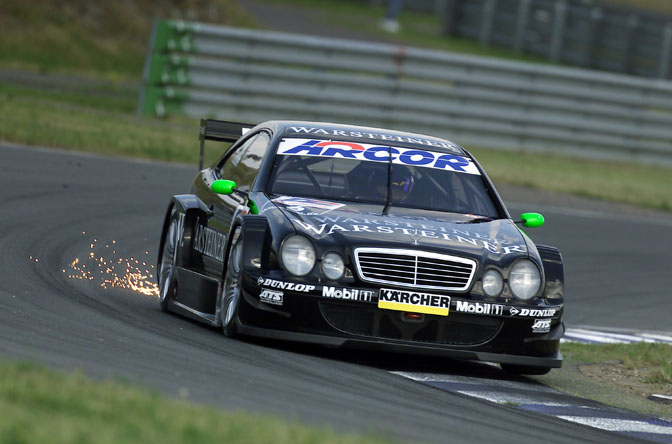 With this car (pictured in 2001 being driven by Marcel Fässler) he won 2 rounds at the Sachenring and was 3rd in the standings at season's end. At the ripe age of 50, he retired again.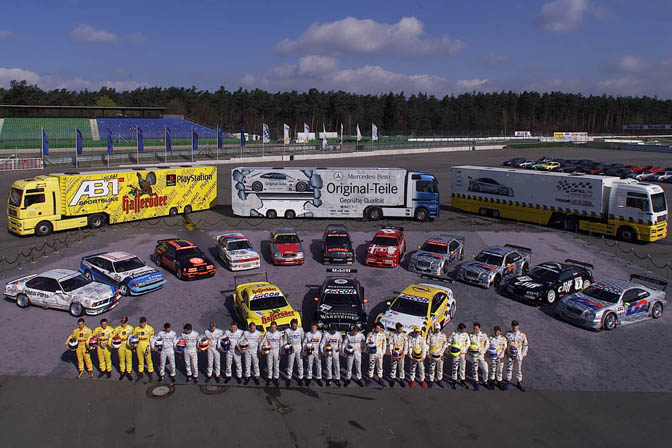 This picture was taken at the start of the 2001 season and features all the championship winning DTM cars up to that point. Three of these cars were driven by Klaus Ludwig. That's quite the achievement.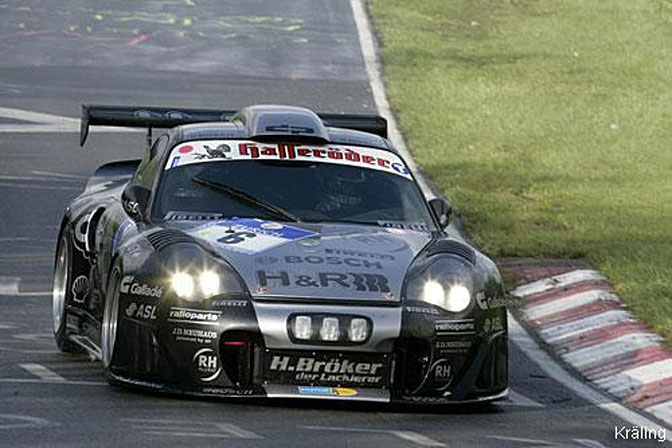 Retirement and Ludwig don't seem to work too well though. In 2004 and 2005 he teamed up with Uwe Alzen to race the Jürgen Alzen Porsche 996 GT2 Bi-Turbo at the Nurburgring 24 Hours – a race that he won in 1999 with Zakspeed.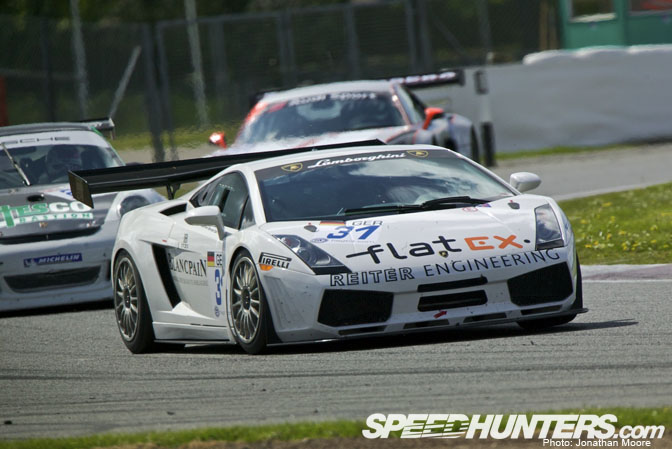 More recently, he's been racing in the FIA GT3 series. Jonathan Moore shot him racing in Silverstone earlier this year.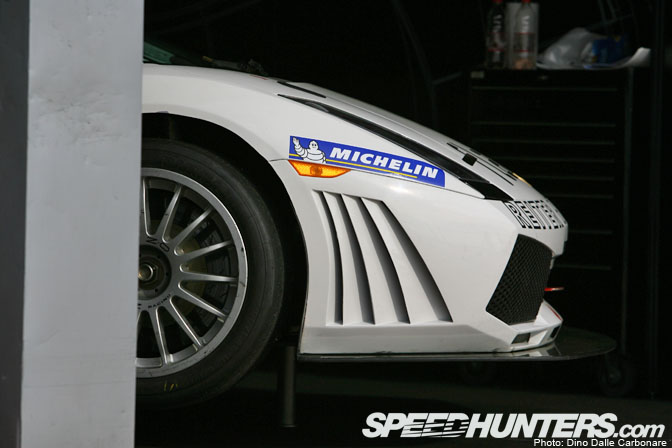 And, amazingly enough, he was racing at Adria when Dino and I were there shooting this past May! If only I had clocked that…
Well I hope you've enjoyed this rather epic journey through the decades with Klaus Ludwig… I hope that when I reach his age I have enough beans inside me to keep going!
:R
Tx to Paul Kooyman, Racingsportscars, John Brooks, Theo Badri, Ford and Mercedes for the photos.
 (updated the 1995/96 DTM/ITC info.. tx to Ed for the correction)
Klaus Ludwig photos at Racing Sports Cars
October Driver's Month Features on Speedhunters