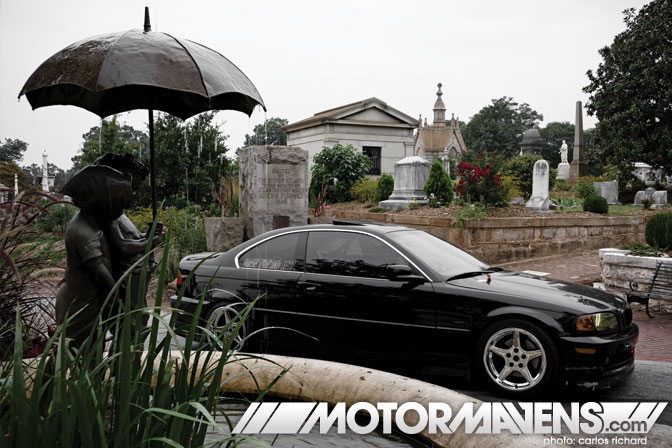 Buried in the heart of the Dirty South, my battle-scarred E46 creeps through a confederate graveyard sharing rank with the soldiers that lie beneath it. Battle takes a  toll on everything in it's path, and like each headstone in this cemetary… every scratch, scrape and dent has a story to tell. This war-hardened machine has been to hell and back, and still lives to tell her tales.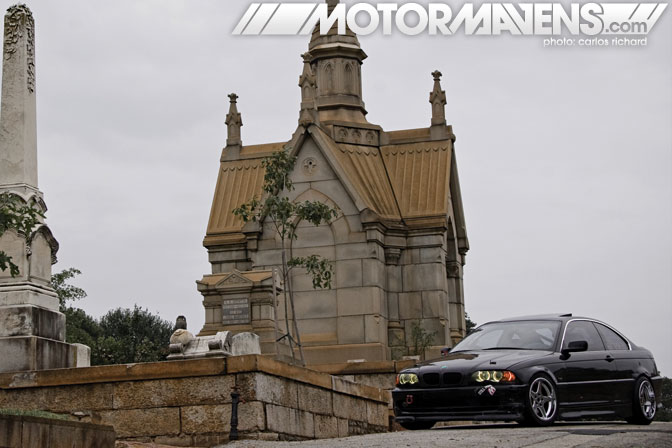 My name is Andy Sapp. This is my drift car. Although commonly mistaken for an E46 M3, the car is actually a 2001 325Ci. It does not have a big turbo, fancy supercharger, or little blue bottle in the trunk. The car is not lightweight, cheap to work on, or easy to fix. It has more electronic systems woven into it than I can keep track of, most of which  always work against me. Despite all of these things, I can tell you… for me there is no better drift car on the planet.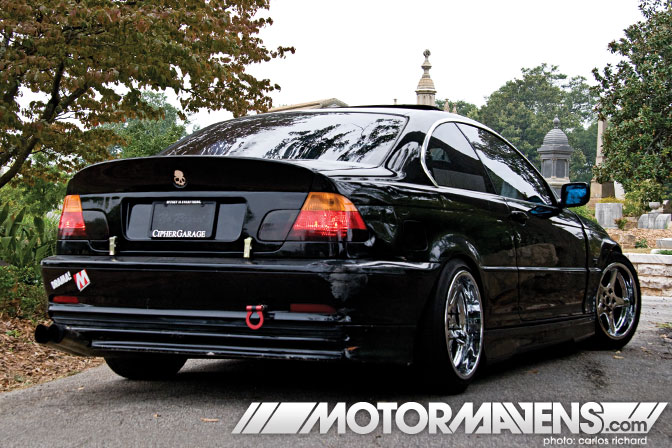 I got this car new in 2001 with 7 miles on it. I started drifting it in 2003, and by 2005 it became my dedicated track machine to compete in Formula Drift. At that time, the car had around 40K on the clock. This past weekend she rolled past 123,000 miles.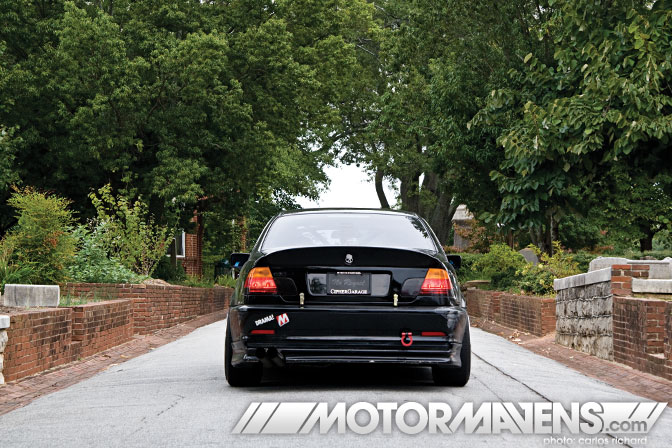 If ever there were doubts to the quality of German engineering… throw them out now. This car has seen over 83,000 miles of absolutely obliterating the rev-limiter, yet still retains it's turn-key reliability it had when I first got it. Aside from general maintenance items, the only major replacements have been sensors (all of them), clutches (many), and a transmission. I suppose I can't forget corner lenses and taillights… but those are my fault!  Simply stated… this car is built for war.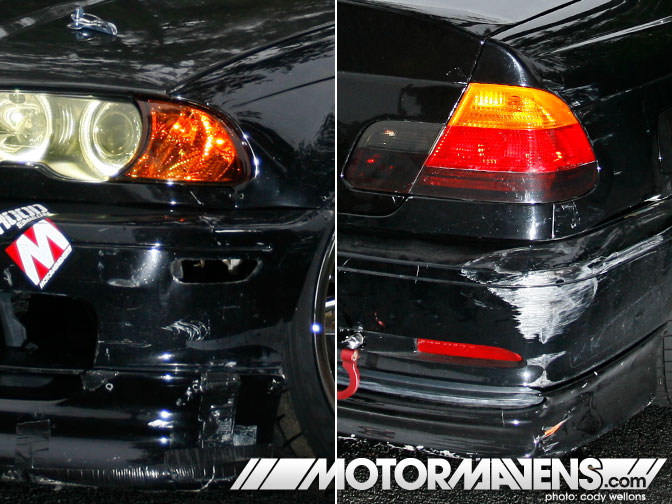 And like a good soldier, she follows orders… which sometimes inflicts bodily harm. But with each scar, comes a tale of great battle. The front fog-light missing from a demo in 2006, bumper lens shattered and missing from a tandem collision with another BMW, and rear bumper-scrape after rear bumper-scrape from walls across the country.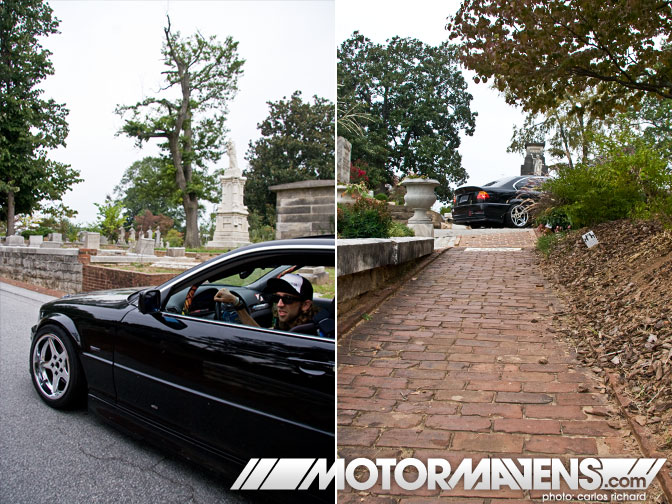 I have had more fun in the driver-seat of this car than I ever could have imagined.  Let's take a closer look at what makes this car tick.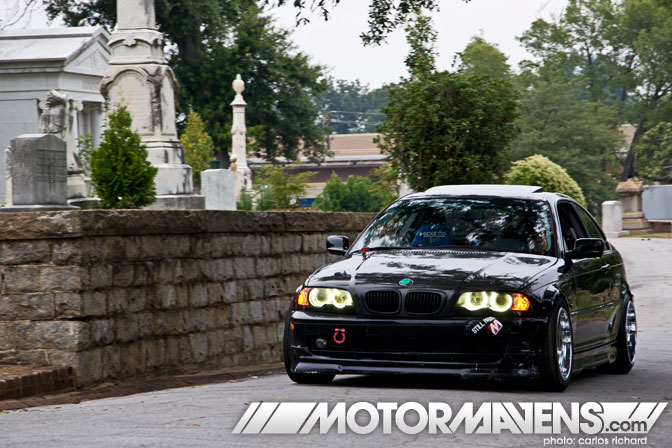 An immediate attention-getter, the Um•Nitza Predator Orion V2 LED Angel Eyes give the car a sinister 'evil' glare. The ViS Racing Sports lip kit helps to give the car it's bulldog stance… although after 3 years of plowing cones, snapping zipties and being dragged around course – it has seen better days.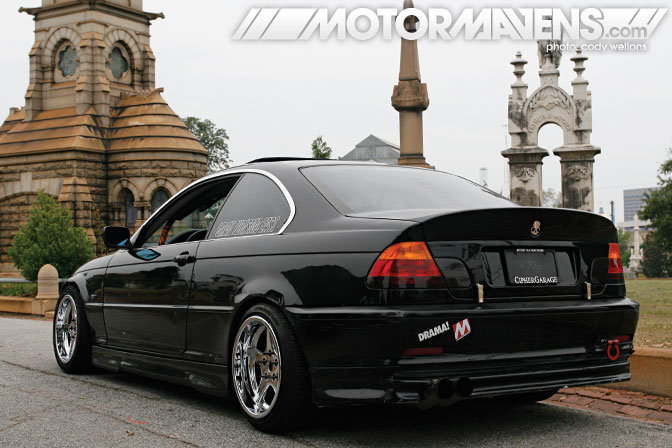 Around back we see a Turner Motorsport CSL fiberglass trunk held down with Protex fasteners. I think this trunk was a prototype, because it is only a bare shell with nowhere to bolt the factory trunk latch. A pair of Aspec tips protrude from the bumper  c/o Foerst Motorwerks.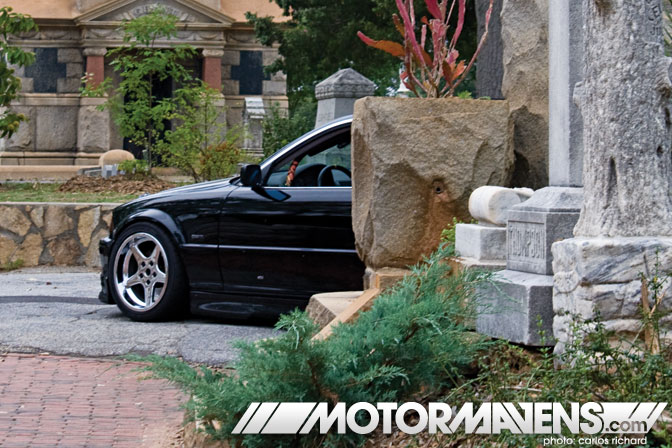 Up front I have a pair of Racing Dynamics RGP's… 17×8.5ET13 wrapped 235.40.17 in Advan Neova AD07's. Gran Turismo East keeps the alignment dialed on the car, and work their magic to stretch the rear tires.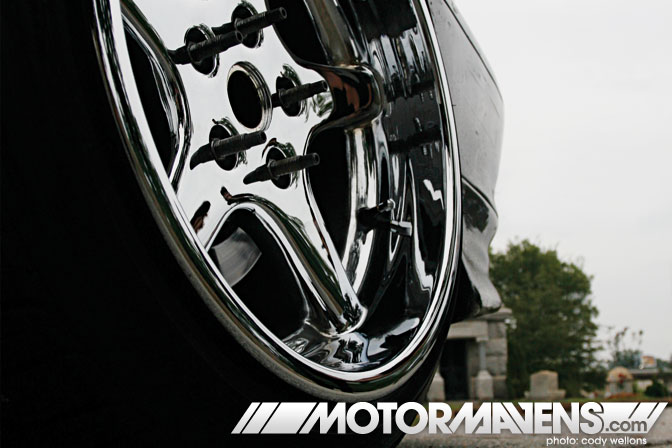 For the rear I run a pair of matching RGP's, but 17×9.5ET20.5 wrapped 215.45.17. These wheels are out-of-production and very hard to find. Over the years I have acquired a large collection of them. I am always looking for more… especially these rears.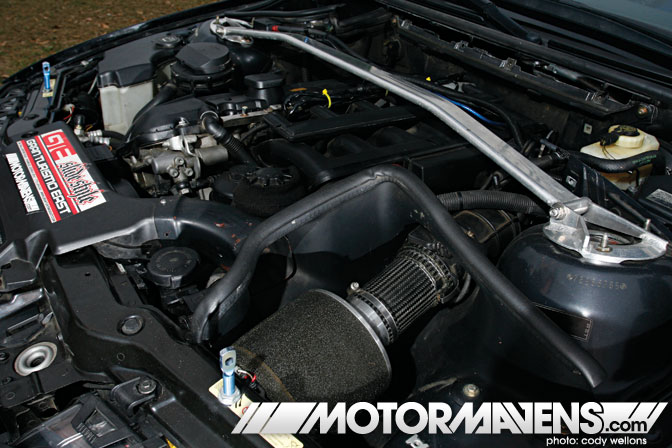 Under the hood looks about the same as it looked when I got the car. The Conforti intake is about the only noticeable difference. I removed the factory plastic engine cover for easier spark-plug access at the track. The car has a set of used TMS World Challenge headers, a Conforti ECU reflash (Shark Injector), and a set of TMS underdrive pulleys. It puts down about 180HP/170TQ last time it was on the dyno.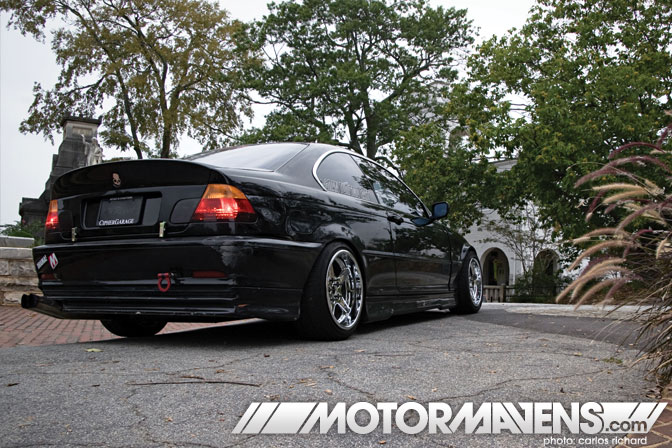 The car has fully adjustable arms and plates from TMS, along with every billet aluminum bushing they offer. All of the aluminum bushings make the car very predictable. The UUC Motorwerks 1.0" sway bars combined with Bilstein PSS9 coilovers could be a bit stiffer for my liking. The car still has a lot of body-roll at times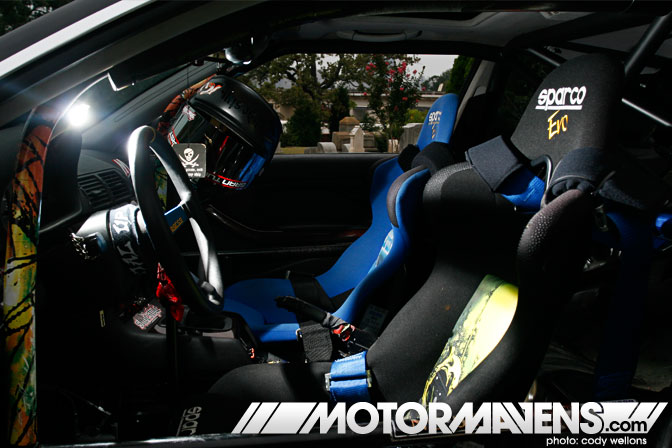 This is where the music gets turned up, and the thrashing begins. The custom 6-pt rollcage was built to spec in 2005 with full interior. The air conditioning and stereo are still in the car.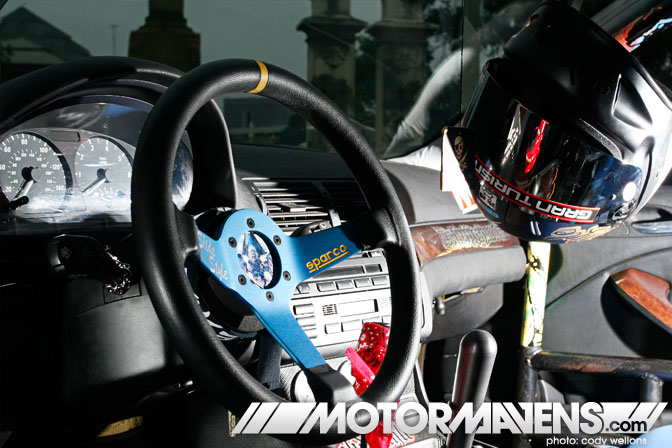 A close-up of the cockpit controls. The delrin shifter and Powered by Max hydro e-brake are the newest additions. The e-brake remains useless until I can fully disable ABS without the ECU tripping into limp-mode. Wood grain?  Oh yes.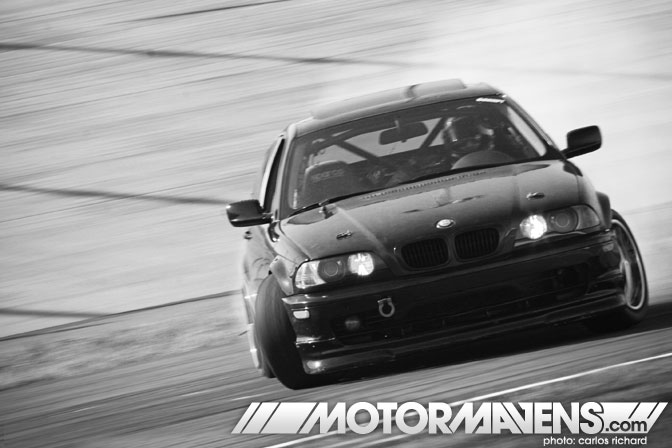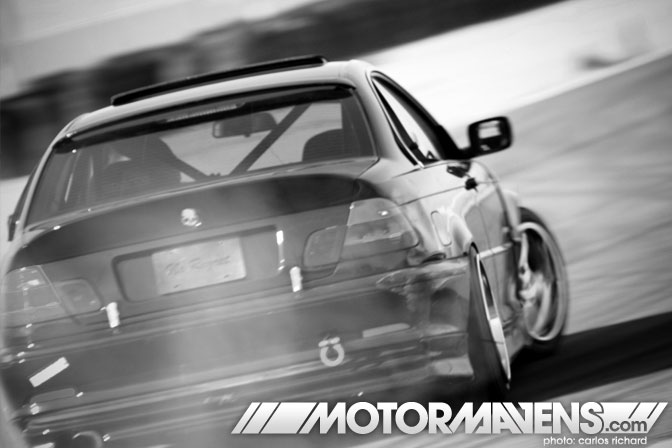 I'll wrap things up with the car in it's element. There is nothing more I love than moments like these. Full tilt, foot through the firewall, and charging into battle. I never intended for this car to become an all-out drift machine… or for the car to be a war-hardened veteran. Looking back, though… I wouldn't change a thing.
Keep drifting fun.  Or else.
-Andy Sapp