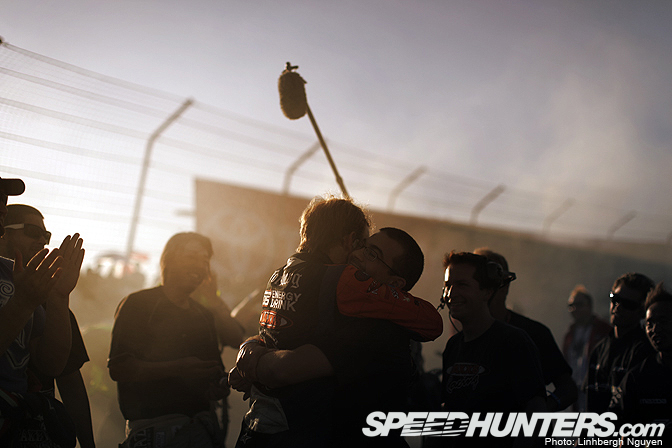 With the passing of the last round of the 2009 Formula D season, Irwindale will go down into the history books as an event of many great memories. Moments of great jubilee, celebration, quiet reflection, and, of course, moments of disappointment.
But this was the moment. The moment when Chris Forsberg rolled back into the pit area with his team mates, drivers, and media personel running towards his car to congratuate him on the ultimate intangible. He got out of his car, quickly removed his helmet, then the balaclava, which revealed a smile that brimmed from ear to ear, and embraced the first person he could find. This was the moment that a grassroots drifter, who rose up the ranks with zero professional racing experience, won a Formula D drivers championship. And at this very moment, Chris embraced his victory.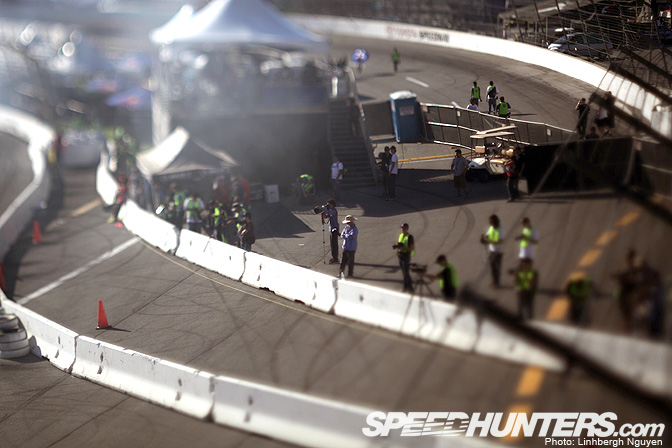 In contrast to the loud celebratory event with the new champion, there also were moments of quiet anticipation. Between every run, each media personality would look back at their LCDs, review their shots, give a quiet nod of approval (or disapproval), and turn around and chat with the nearest person around them.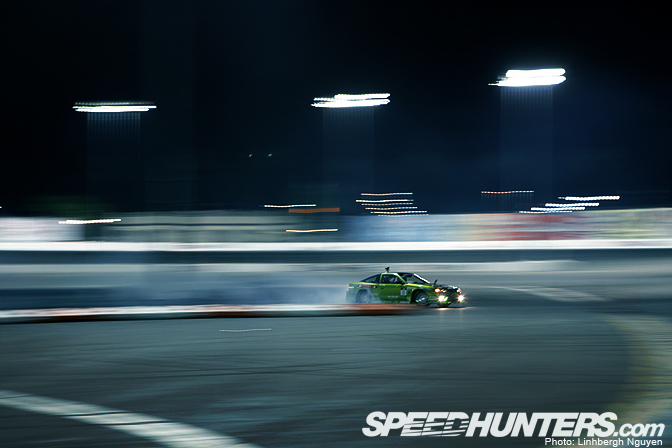 Then there were moments of absolute badass showmenship. Joon Maeng, in his privately owned, tuned, and maintained S13, showed the crowd at Irwindale that he could definitely drive balls-out to stay above the likes of the big league teams.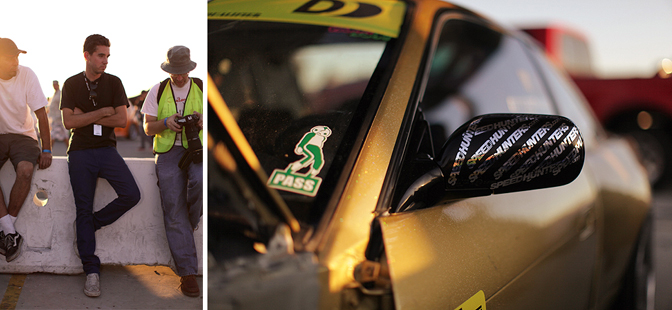 Let's not forget to mention the moments of great sadness, especially the moment of silence in honor of the passing of Shaun Carlson. But there was also the moment when a very iconic gold rice-13 slammed into a wall and ended its long and prestigious life in the limelight.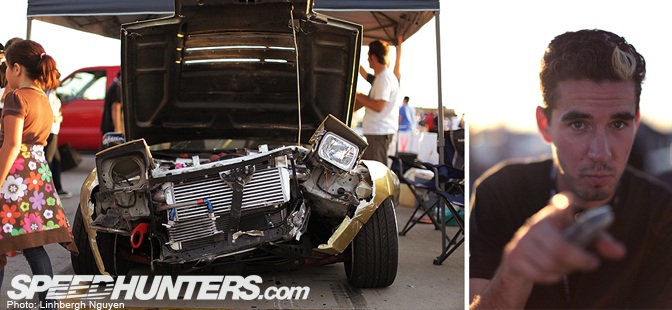 It was saddening to walk up to the mangled shell of Tommy Roberts' gold Nissan 240sx knowing that we will never see it again. But when chatting it up with Tommy, he mentioned that there was already another car in the works. We'll see what this man of fine rice taste has up his sleeve soon enough…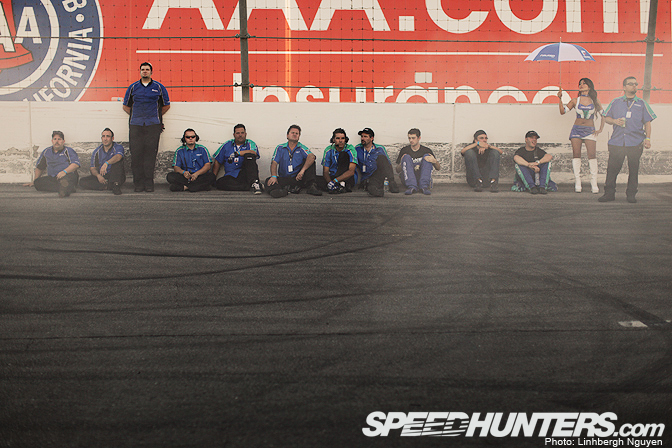 This was a quiet and calm moment before the storm –the storm of the top 32.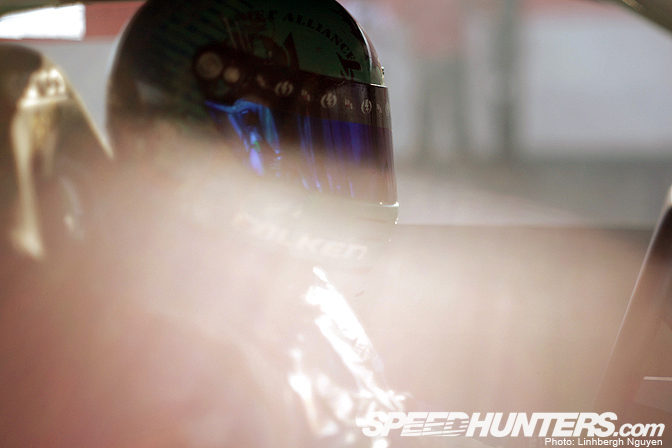 There were moments of personal disappointment. Vaughn Gittin Jr. was set to finish the season with a bang, but failed to beat Alex Pfeiffer during the top 32.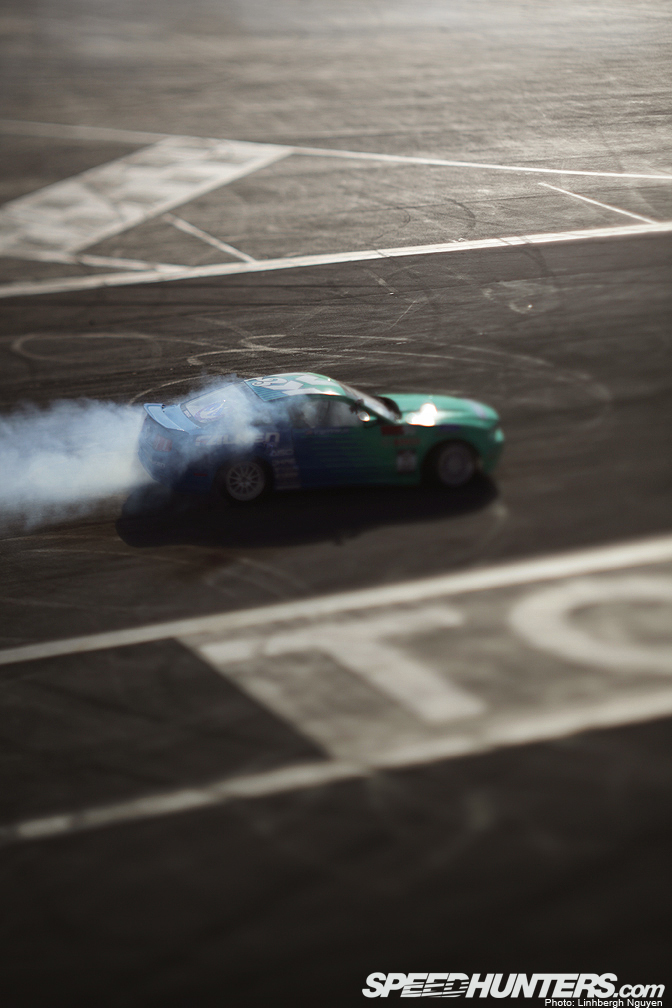 But, that did not stop him from putting on a fantastic smoke show in the process… If you're going to go out, then go out with a bang!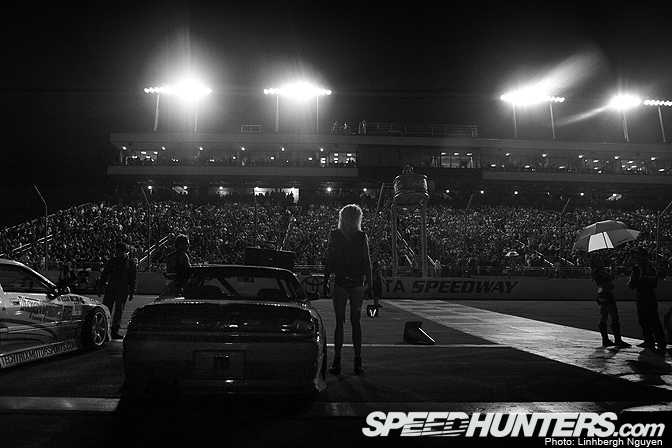 Finally, there the David and Goliath moment. This was the moment when the most underfunded, and riciest privateer on the whole of the FD grid triumphed over the deep pocketed works teams with their high budget race car builds. Matt Powers, under all the circumstances, stood tall, put his foot down and drove his heart out all the way to the top 4.
Formula D Irwindale 2009 will be remembered as a day that the guard changed hands. The big boys of the past were replaced by new and invigorated blood. And in the moment of the course of the day, we saw a crowning of a new champion, and the rise of a new star. Twenty-Ten definitely looks like it will be a year to look forward to, and its not coming soon enough…
-Linhbergh Nguyen