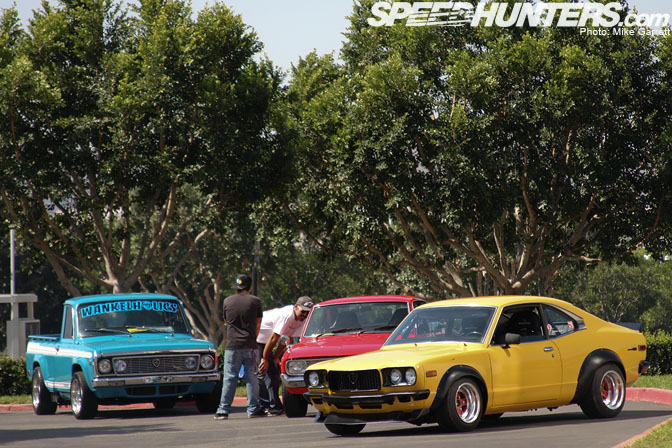 Well, it's October already. Tomorrow I'll be kicking off the month with a trip down to Orange County for the fifth annual Japanese Classic Car Show – something I've been looking forward to for a while. Before that though, I need to finish up my coverage from last weekend's big event in Orange County, Sevenstock. I posted a lot of sexy RX7's and RX8's in my first Sevenstock post, so this time I'm going to give some love to the more unique cars (and trucks) found at Sevenstock 12.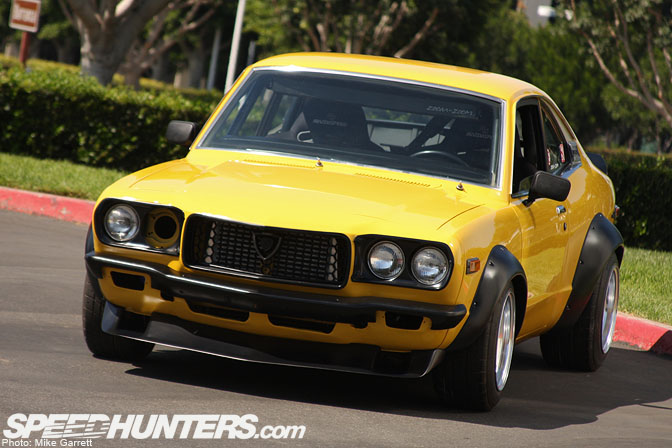 I'll start with this RX3 done in perfect retro Japanese style. Fat fender flares and SSR Mk.II's may be most common on Z's and Hakosukas, but they look right at home on this Mazda. Looks like there's a intercooler peaking out from the front grill too!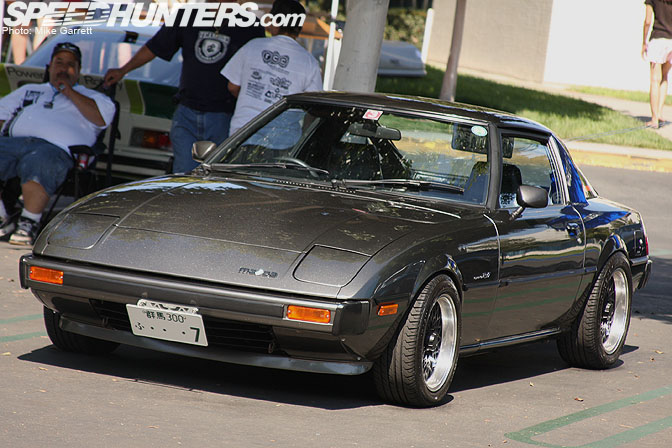 A beautiful RHD SA22C RX7 looking like it just rolled off the boat from Japan. I especially like the number plate with the "…7", just as you see on RX7's in Japan.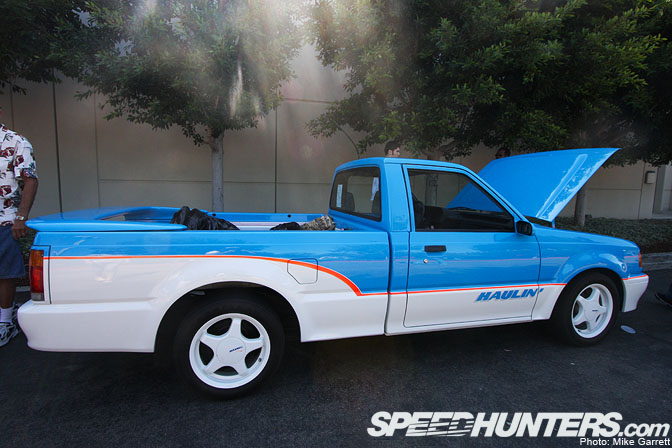 As it's exterior suggests, this Mazda pickup is a project from the 1990's done by Racing Beat.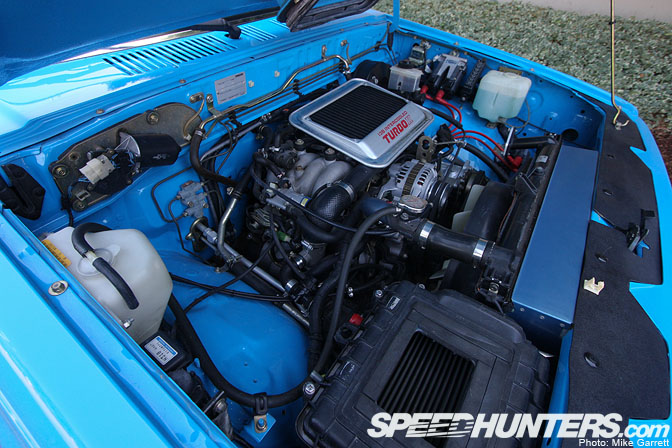 Under the hood is a factory-appearing FC Turbo II swap, complete with the stock top-mount intercooler. Oh how I love swapped mini trucks.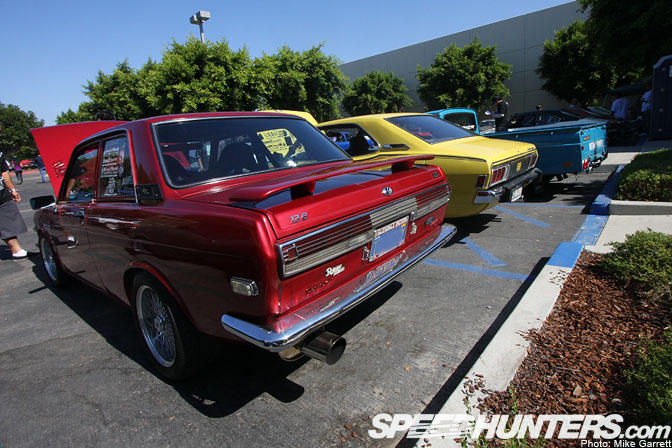 Sevenstock is open only to rotary-powered vehicles, but that doesn't mean they have to be Mazdas. This Datsun 510 was one of several rotary hybrids that made it out…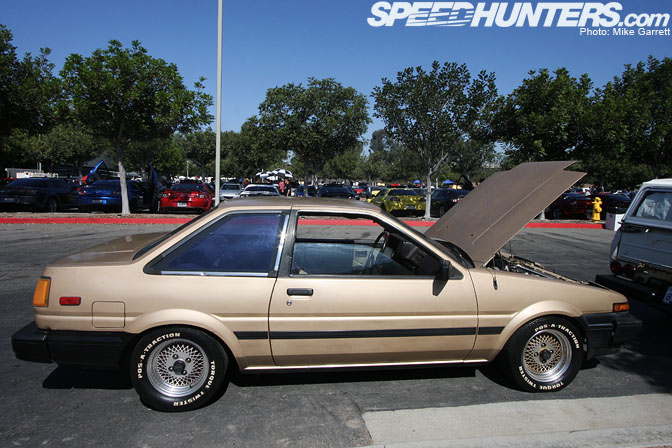 … as was this stock-looking SR-5 AE86 Corolla sporting NA rotary power under the bonnet.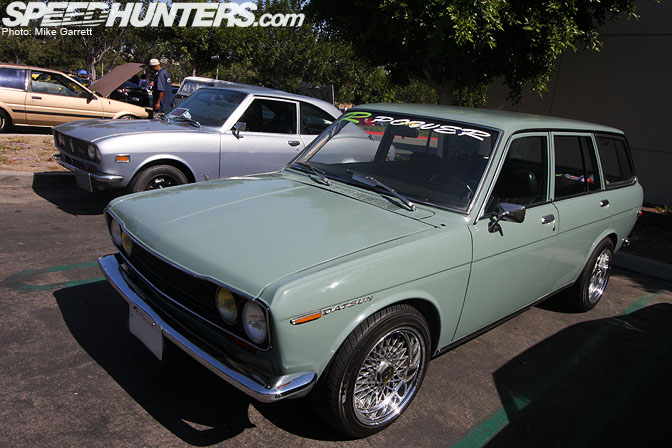 Another rotary-powered 510, this one a wagon.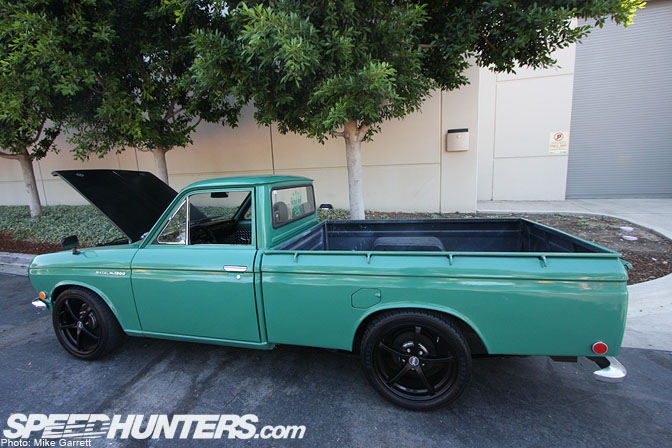 And one more rotary powered Datsun – a super clean 521 pickup.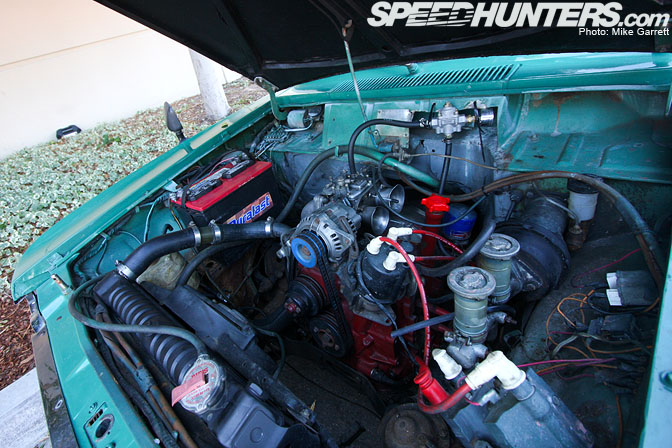 Hmmm…you never hear purists crying out about swaps like this.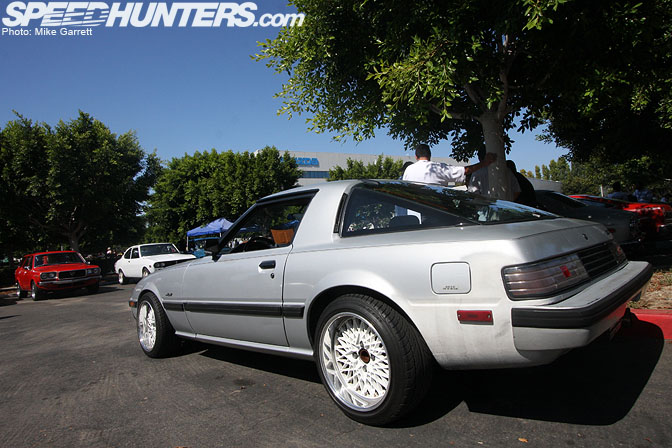 It was nice to see a healthy turnout of first gen RX7s, like this one parked amongst its classic Mazda siblings.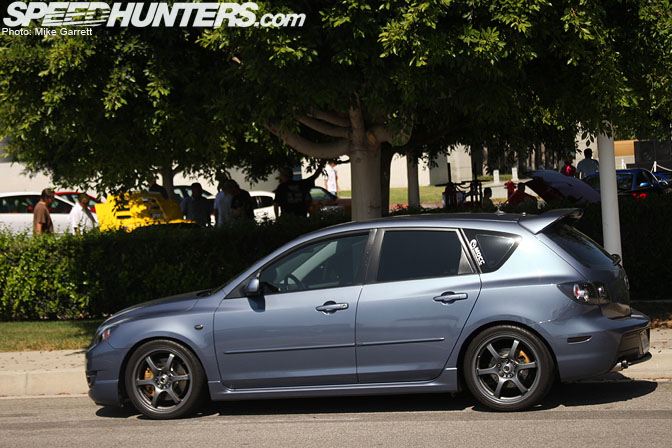 No it's not a rotary, but I thought this Mazdaspeed3 parked outside of the show looked pretty cool on Gramlights 57 Maximums.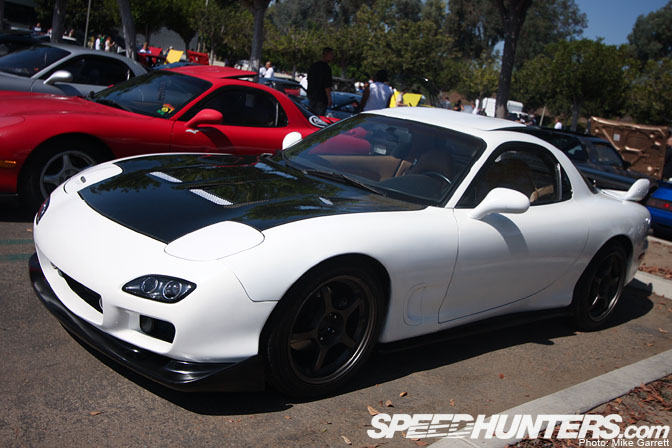 More evidence for the "sexiest Japanese car of all time" argument?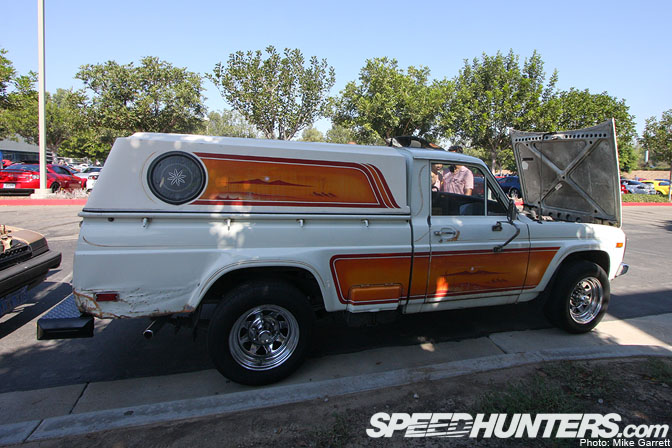 When I saw this rotary pickup complete with murals and a camper shell, I felt like I was in an episode of Starsky & Hutch or CHiPs. Shhh…you can hear the disco music playing.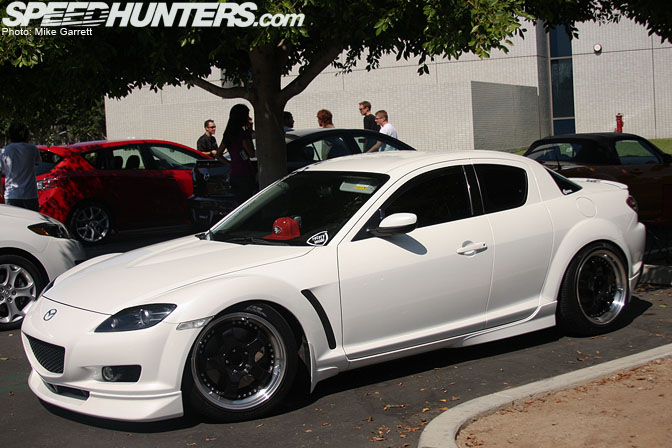 Another example of an RX8 done right. Perfect ride height and wheel fitment without going over the edge.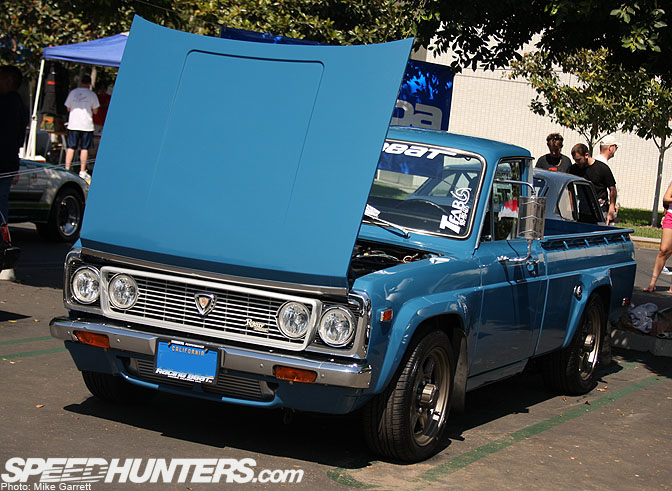 This classic Mazda rotary pickup was also representing Racing Beat.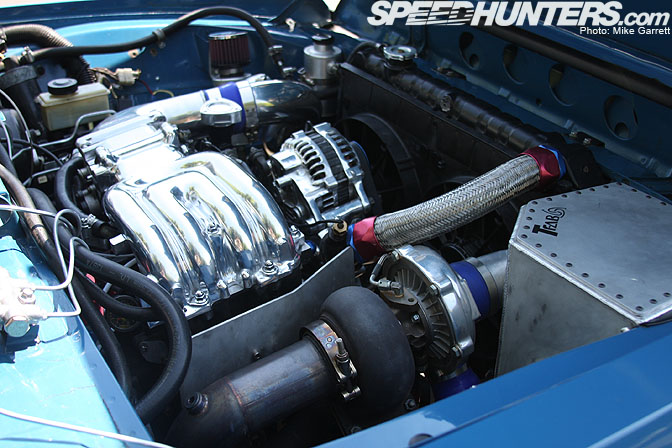 The stock rotary has been removed in favor of this modern boosted unit with a good-sized turbine.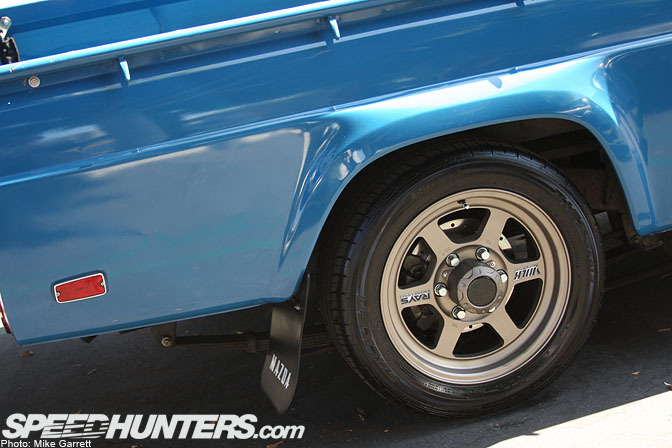 Another cool touch are the six-lug Ray's TE37's and rear disc brake conversion. This would have been an awesome feature back during Mazda month!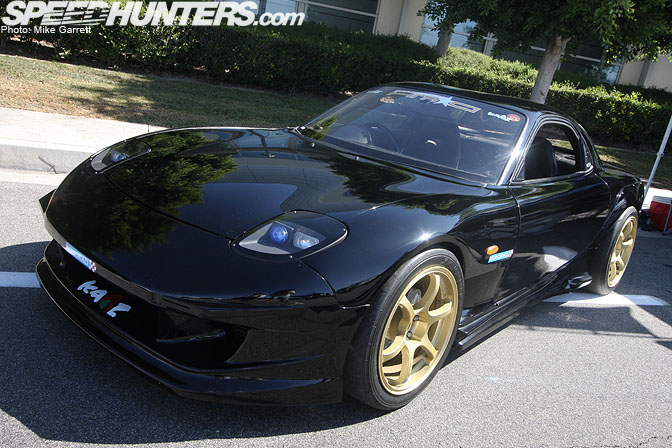 This slick-tired FD3S in the Koyo Radiators booth is another JDM import. How are people managing to get these sweet RHD cars over here?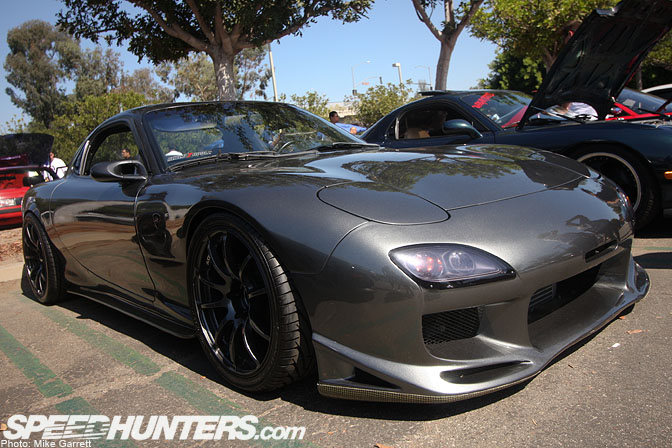 And I'll finish with one more FD3S dropped low with full aero and Advan RS wheels. If you have even the slightest appreciation for rotaries, make plans to be in LA for Sevenstock next year!
OK time to get ready for JCCS tomorrow. Be sure to ask for a Speedhunters sticker if you see me at the show!
-Mike Garrett