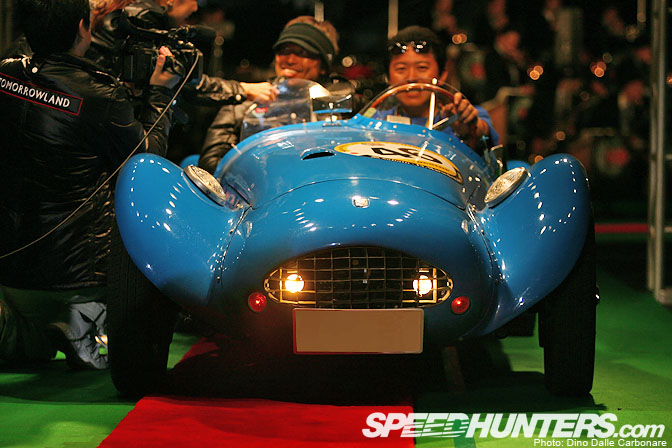 This past weekend when I was in Fuji Speedway for the D1-GP there was another event back in central Tokyo that I really wanted to check out, the yearly Mille Miglia Japan classic car race. 103 cars set-off from Harajuku, right in front of the Meiji shrine on Saturday afternoon and headed on a 3-day, 1000-mile drive that would take them all the way up to Fukushima-ken and back down towards Tokyo, passing Honda's Twin Ring Motegi race track in Tochigi-ken and the famous Umihotaru Parking Area in the middle of the Aqua Line expressway. Their return to Harajuku was scheduled to begin on Tuesday evening so I jumped on the train and headed to what has to be one of Tokyo's most fashionable areas.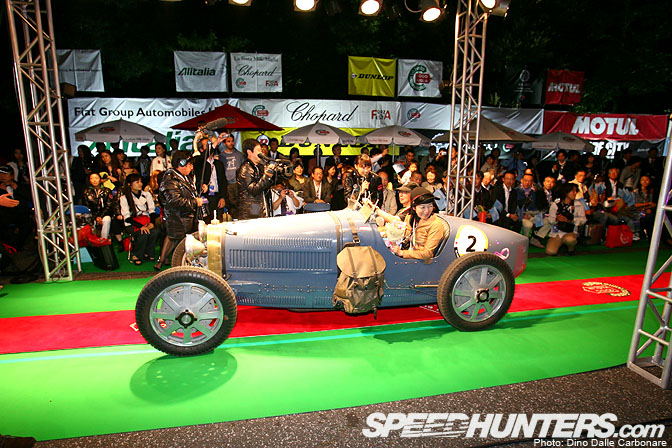 The Mille Miglia Japan is a celebration of the original Italian classic car race that was held 24 times between 1927 and 1957. It has been organized since 2000 but I hadn't covered it since 2003, when I made my way to a very wet Harajuku to see Sir. Stirling Moss set off with his 1953 Aston Martin DB3. In the picture above you can see the 1926 Bugatti T37A, the winner of the 2009 edition.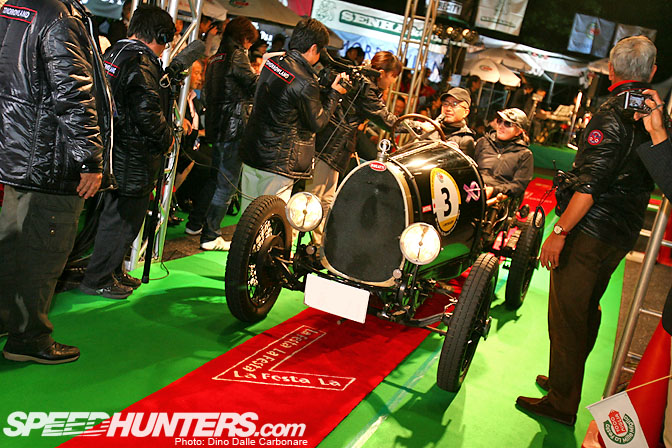 In second place another Bugatti, a Brescia T22/13R from 1925.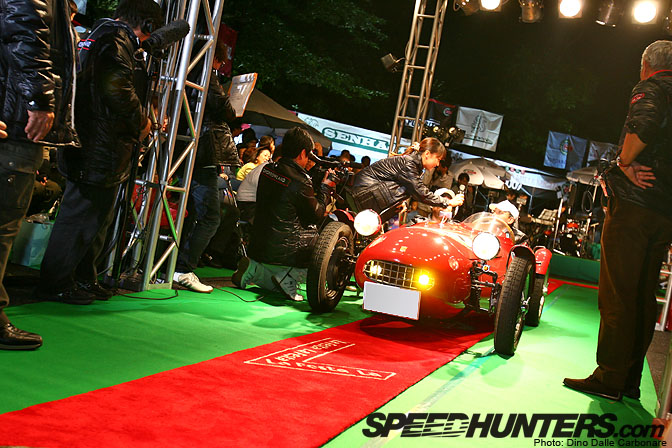 Here is a 1951 Bandini 750 Sport Siluro, which as the name suggests (siluro in Italian means torpedo) has a more simple missile-like shape compared to the flowing lines of the regular 750 Sport in the opening picture (notice the headlight position on that, kind of defeats the point of having any illumination!)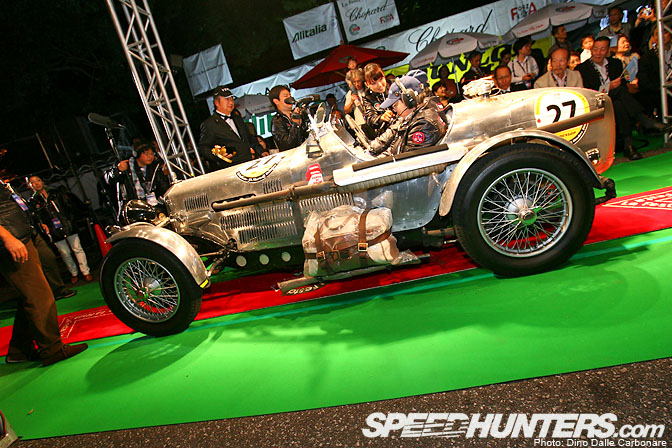 This Riley 12/4 Special was a nightmare to shoot due to it's polished body!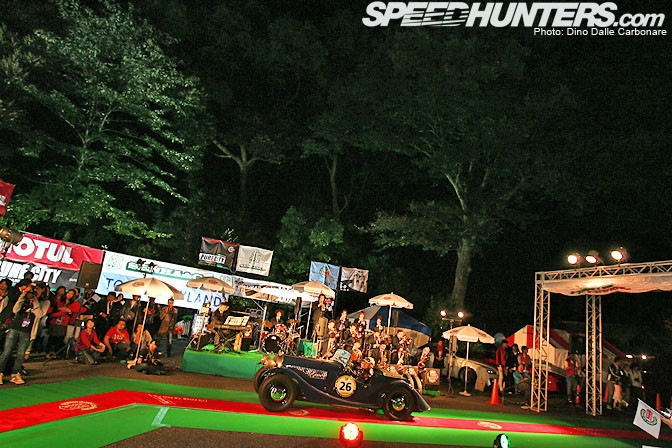 The organizers had created a nice event with a live band playing period-correct music as the cars slowly made their way in.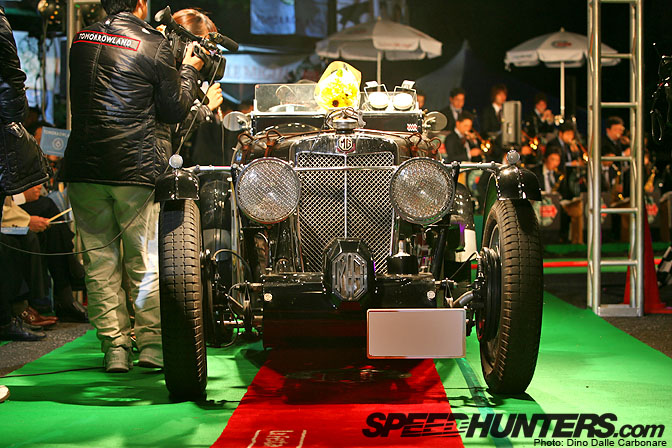 Driving cars like this MG L Type Magna Special around must have been quite the experience back in the day…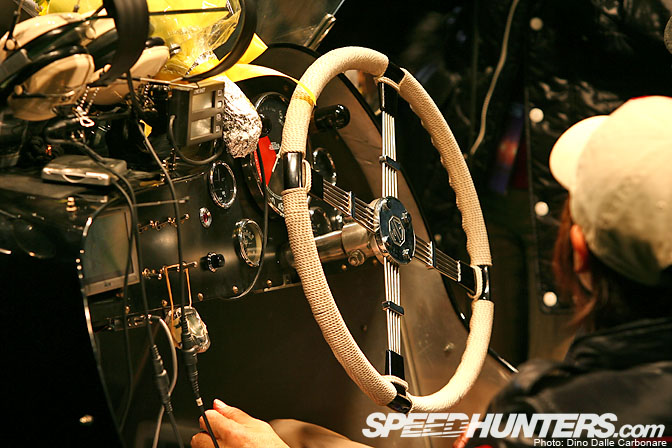 …starting with the controls! Just look at the size of that steering wheel!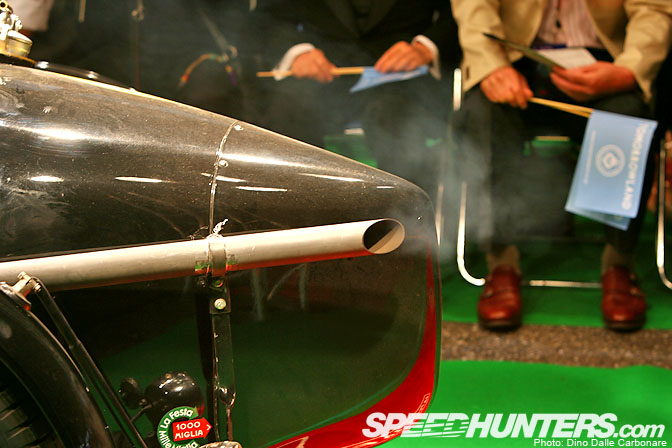 I have finally found something more hazardous to ones health than drifting! Classic cars may be beautiful to look at and hear, but the fumes that come out of their exhausts are seriously nasty! I still have a sore throat after that night.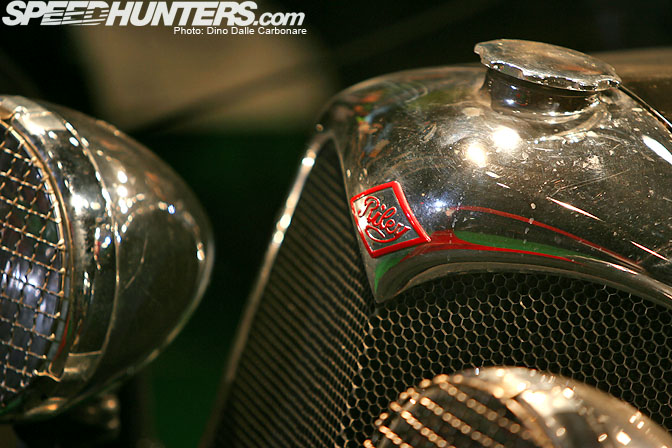 The craftsmanship in the details of these cars is simply stunning.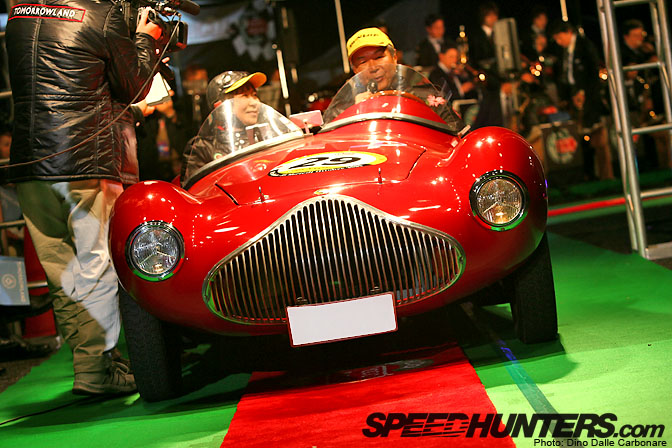 Here is a rare car, a Stanguellini S 1100, the first I have seen myself.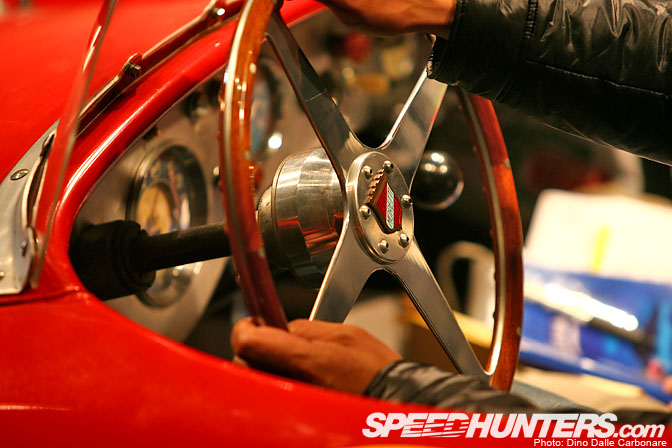 The wood rimmed steering wheel of a rare 1954 Moretti 750 Sport. See what I mean about the details?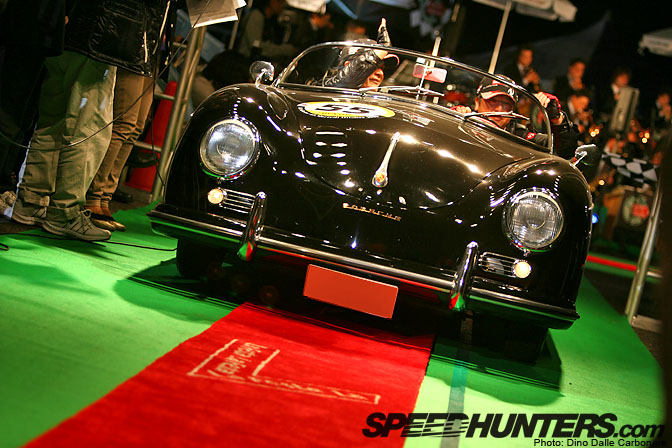 There was a fare share of Porsches too like this immaculate black 365 Speedster from 1954.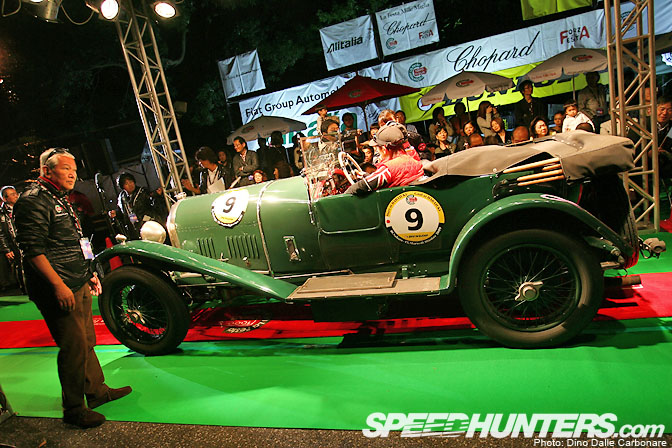 After many compact Italian cars from the 50's, seeing this 1926 Bentley 3-4.5 Litre roll in was quite a shock. It's hard to tell from the picture but this thing was massive! I guess modern day Bentleys have stuck to this original formula!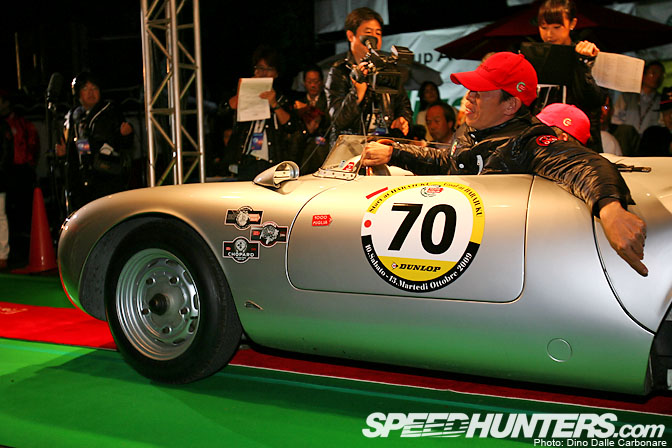 This Porsche owner was pointing to the grease leaking out of his rear wheel hubs. I think he may have been afraid to get the carpeting dirty.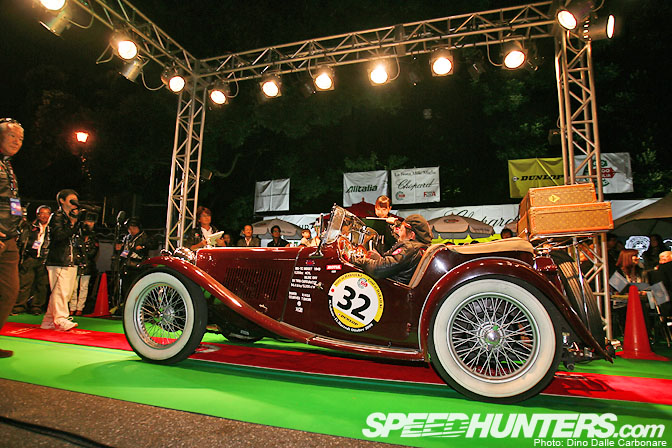 I don't know what it was, but this MG TC Midget with a couple of Luis Vuitton classic suitcases on the luggage rack looked so elegant. I think the maroon color had something to do with it.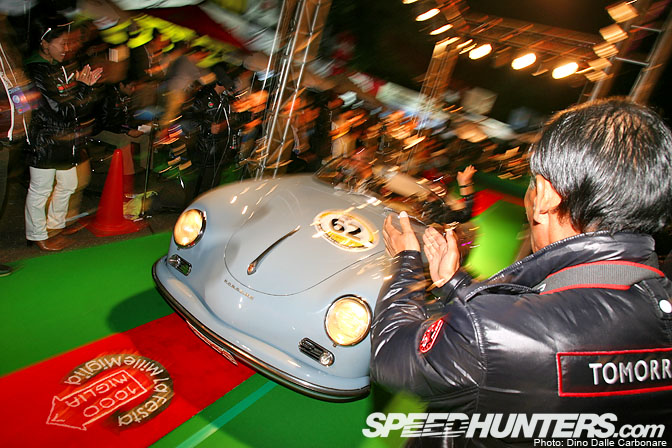 Yet another Speedster rolling in…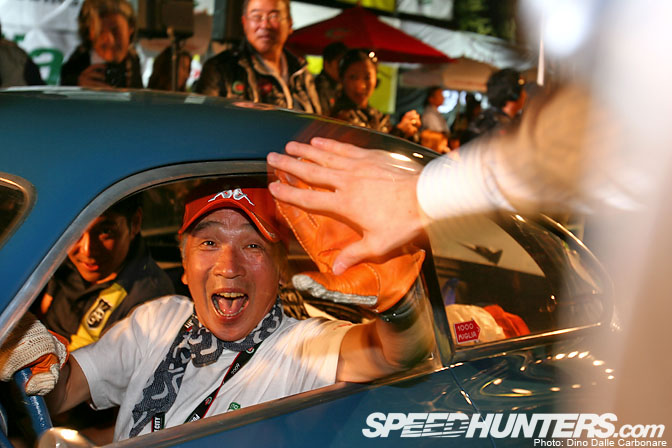 Famous Japanese comedian and TV presenter Masaaki Sakai is known for being a classic car enthusiast and at this year's Mille Miglia was driving a Fiat 8V. Tons of TV cameras showed up to film his arrival.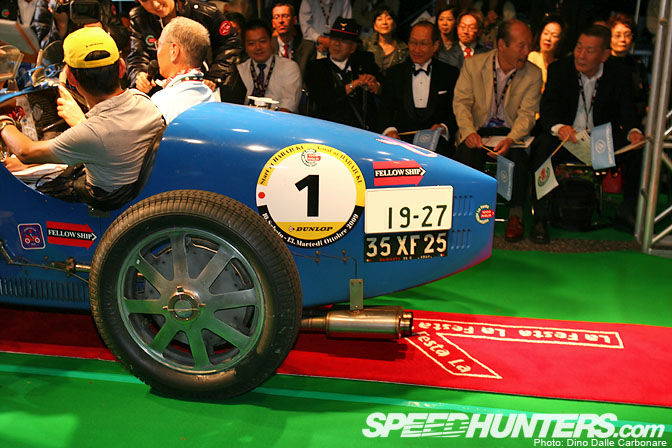 Found the positioning of the number plate on this 1927 Bugatti T35C rather interesting.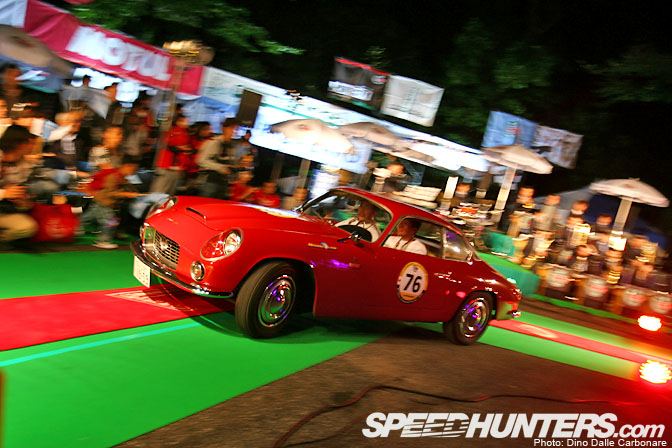 If I had to choose my favorite car of the show it would have to be a tie between this Lancia Flaminia Sport Zagato from 1959…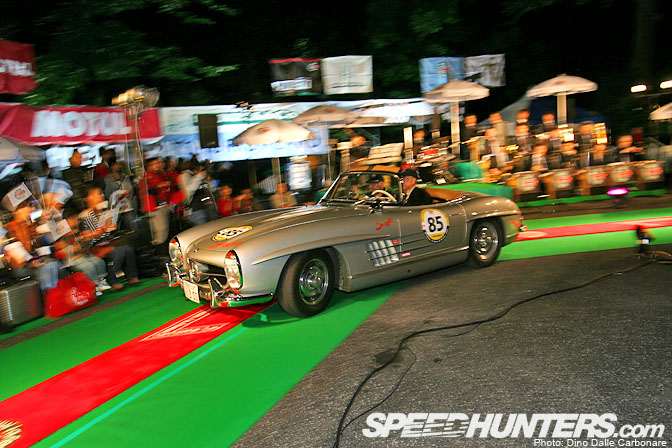 …the incredibly beautiful '57 300SLS…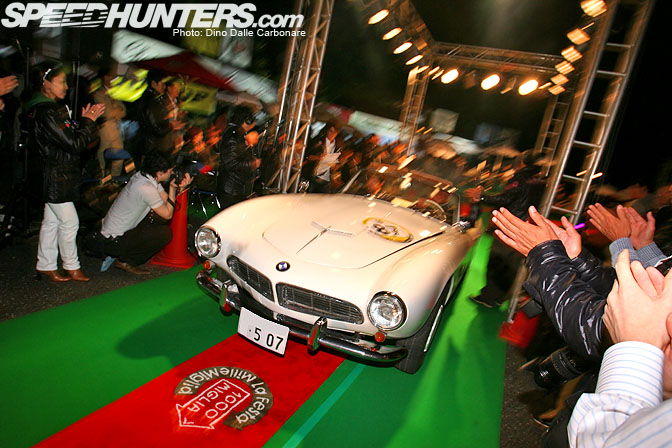 …and the BMW 507, a very rare car with only 252 examples having built between 1956 and 1959.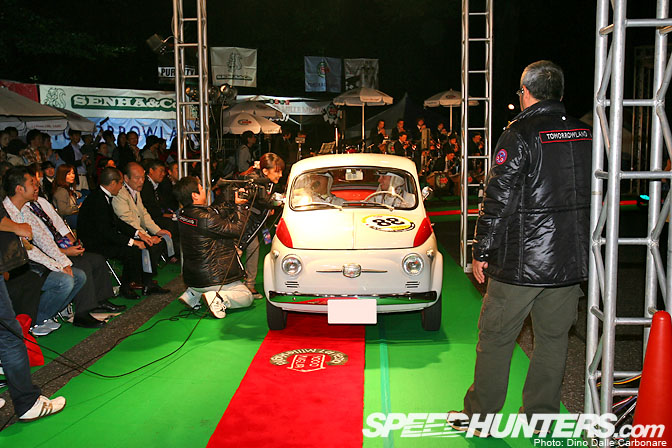 The driver of this Fiat 500 Sport was Andrea Carattoli, Fiat and Abarth Product Manager for Japan who was looking particularly tired after spending three days in the little 500.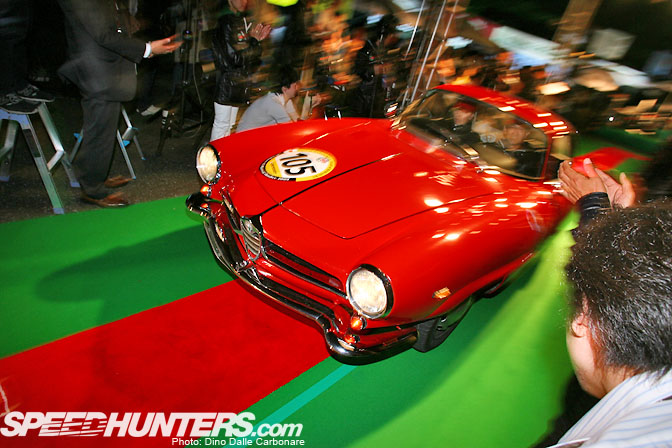 There were also plenty of Alfa Romeos like this '64 Giulia SS…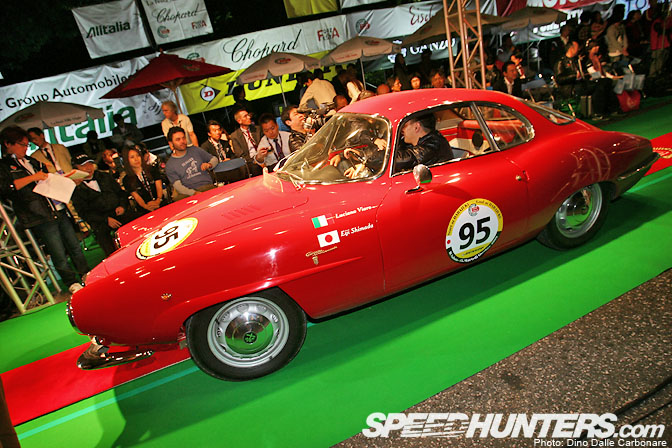 …and Giulietta SS. Just look at those lines!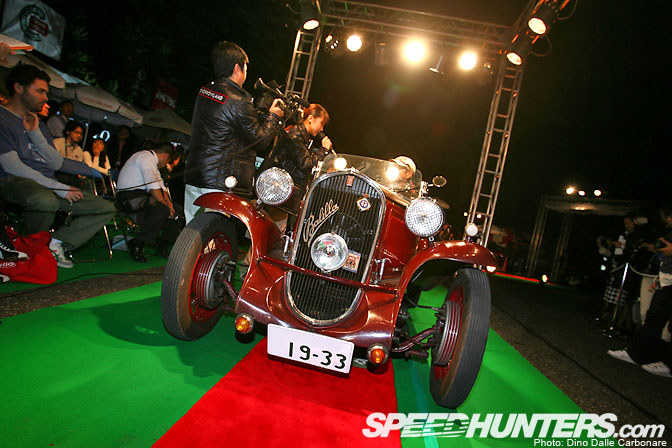 As the number plate suggests this Fiat 508 Balilla was produced in 1933.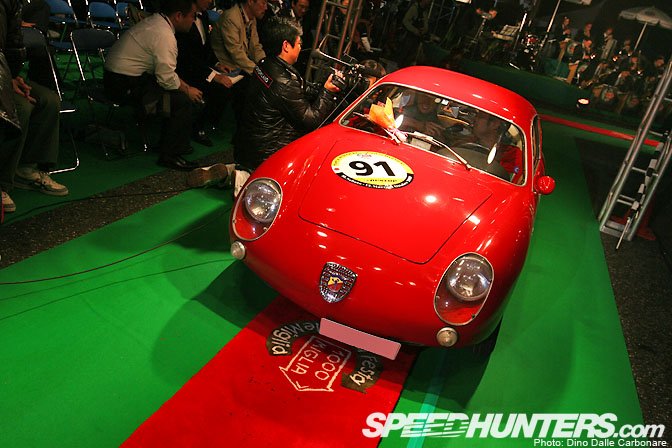 This little Abarth 750 Record Monza, styled by Zagato, was probably smaller than the 500 Sport! Gotta love all of these tiny Italian sports cars.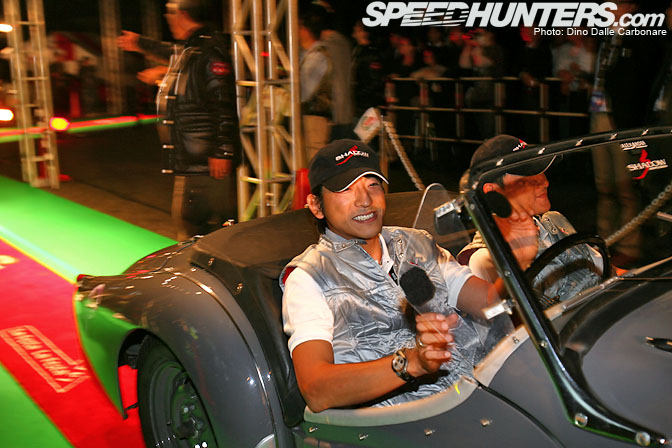 Masami Kageyama Super GT GT300 driver and owner of Shadow also participated in the passenger seat of a Triumph TR3.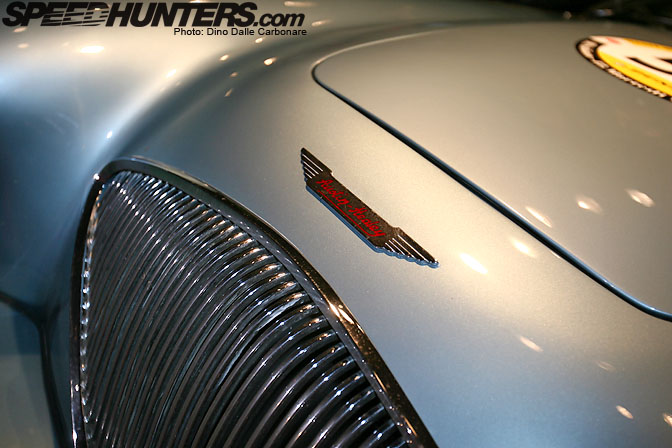 By the 7:30 pm all the cars had arrived, marking the end of the 10th Mille Milglia Japan…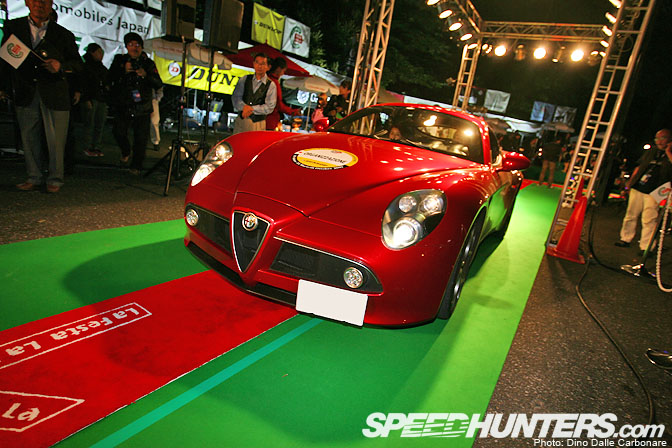 …not before getting a little treat in the from of a modern day Alfa Romeo 8C. We don't really feature many classic cars here on Speedhunters but it would be a pity not to show these beautiful creations from past eras. Hope you enjoyed the coverage.
Dino Dalle Carbonare