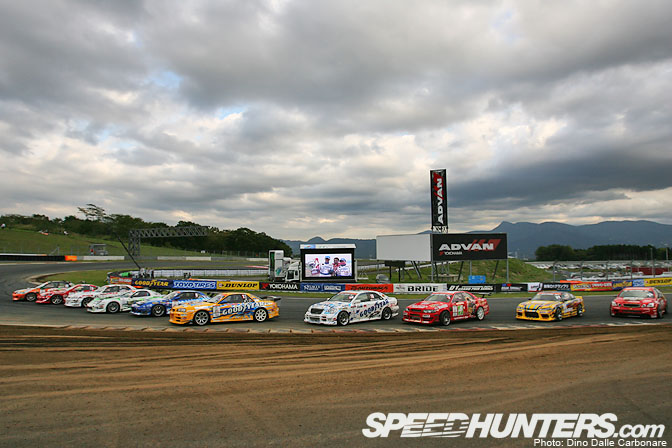 Time to check out some more action from Round 7 of the D1-GP at Fuji Speedway, and what better way to open this post than with a nice shot of the 10 top-seeded cars, neatly lined up on the judged corner.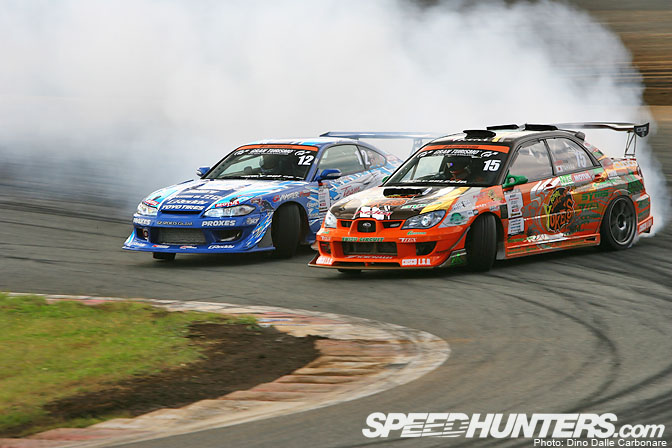 Here is Sakuma and Tanaka during their first Best 16 outing. Sakuma managed to beat the Team Orange driver allowing him to progress to the next stage against Tezuka.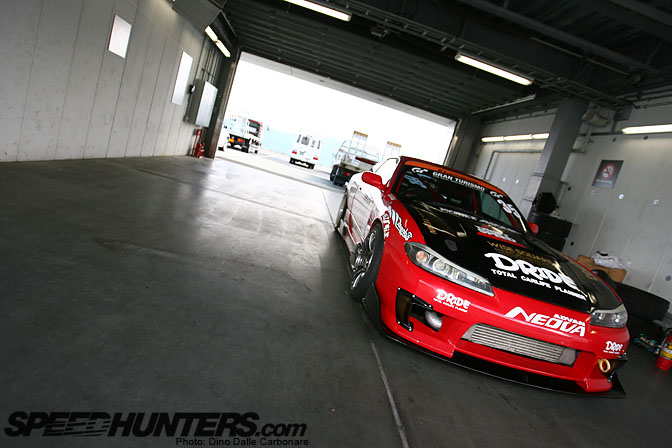 Nagasawa's S15, sitting alone in the garage.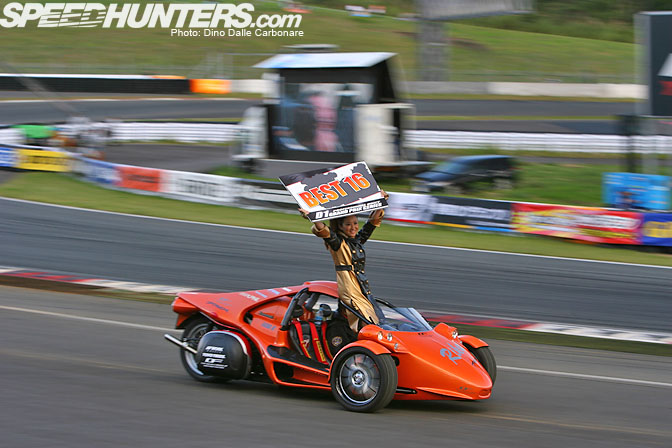 One of the D1 image girls had to do a balancing act while being driven around in this weird "reverse trike." I wonder if it can drift?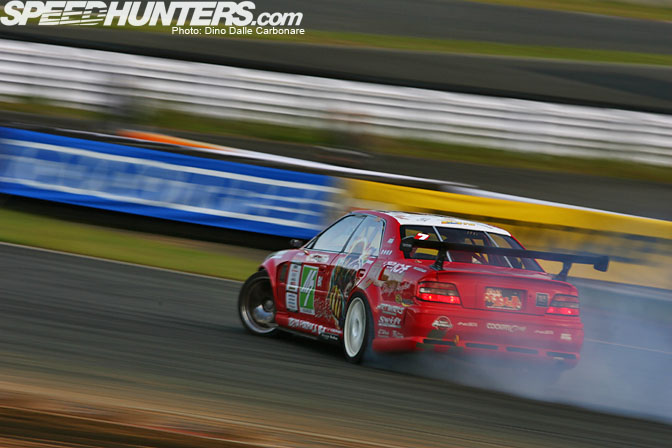 Daigo Saito during a warm up run.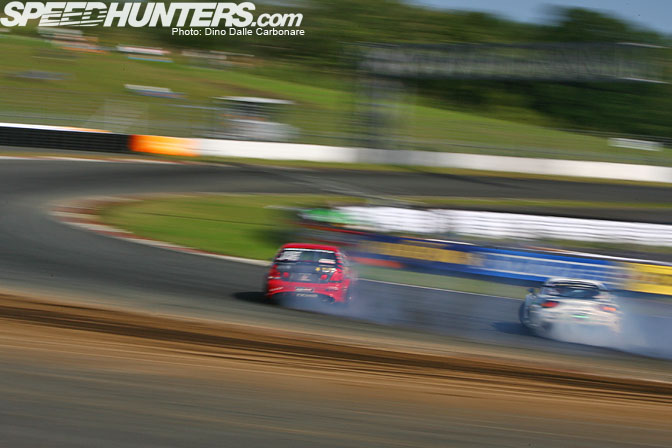 Orido up against Suenaga. This shot was taken from right next to the judge's stand so it gives a pretty good idea what they are all seeing.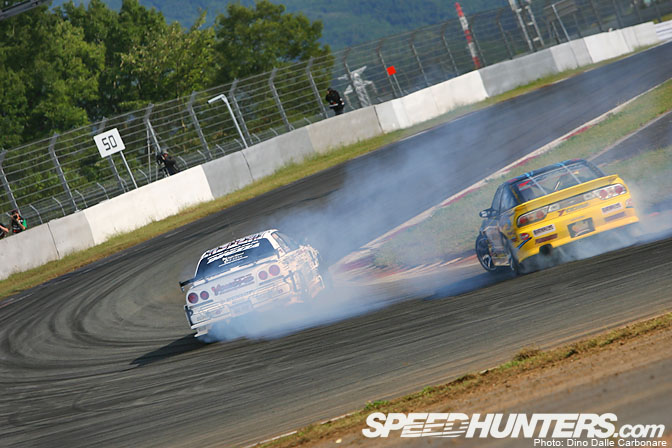 Nomuken in his ER34 had no problem dealing with Matsui and his RPS13 with an S15 front end, but ultimately lost out to Kawabata who in turn progressed to the semi finals where he confronted Orido.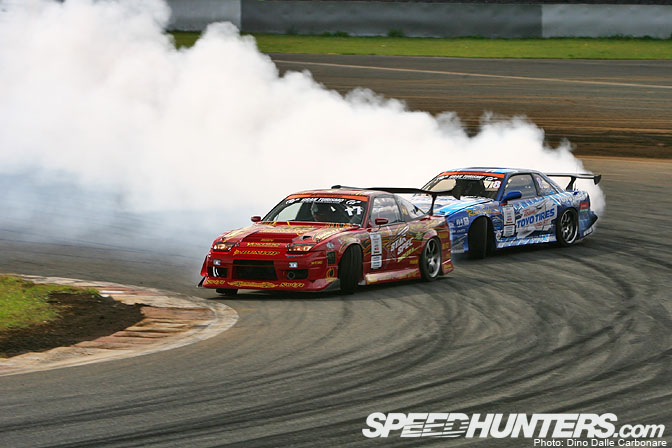 This was a pretty insane move from Koguchi, keeping his line very tight around the apex he was able to overtake Kuroi's S13. The crowds went wild.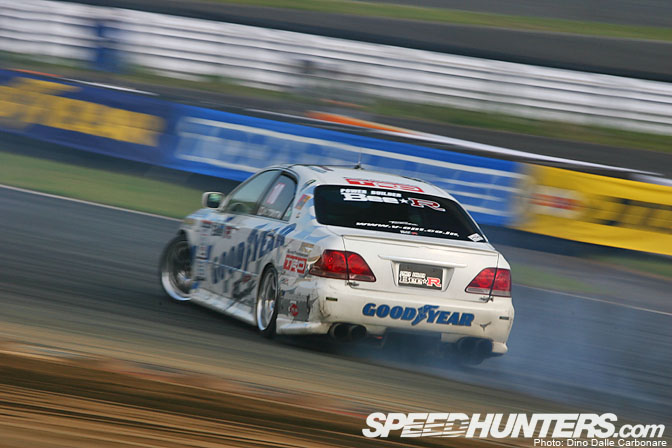 The rear end of Tokita's Bee-R built, 2JZ-powered Crown Athlete.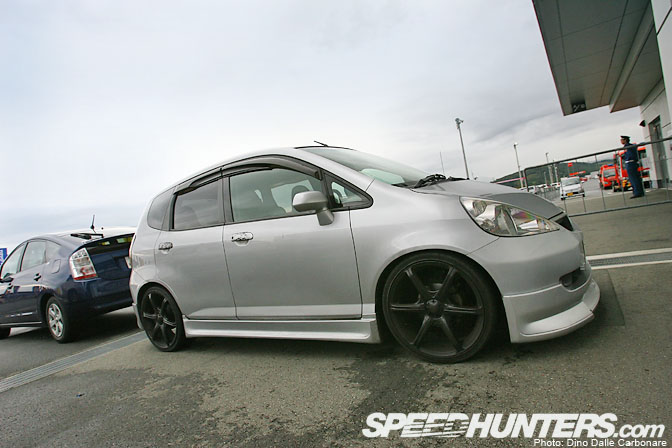 Back in the paddock area I spotted some more interesting rides starting with this lowered Honda Fit riding on some big 18-inch 6-spoke wheels. Top prize goes to whoever can figure out what these wheels are.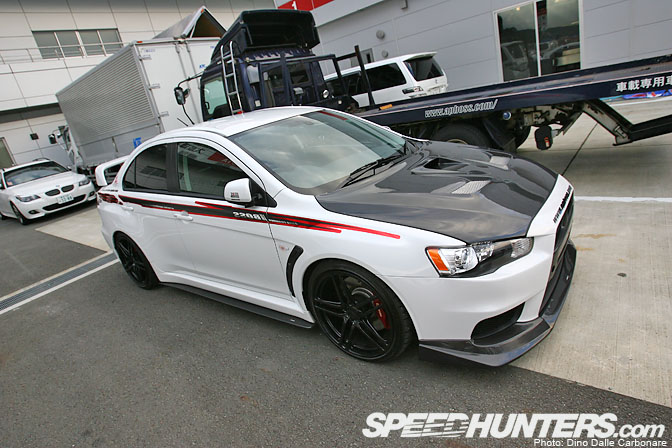 Since the last time I saw the Auto Produce Boss Evo X it looks like it has gained some cool new products like the full carbon hood and front spoiler. The black Prodrive GC-05K work very well against the white body.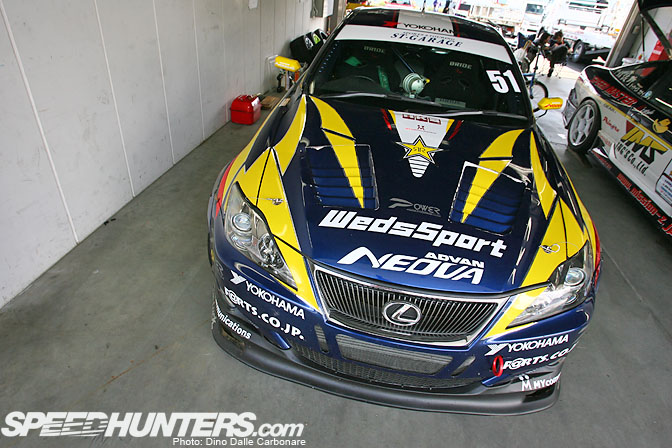 I had to go in the pits and take another look at the ST Garage IS!! Love the look of this thing!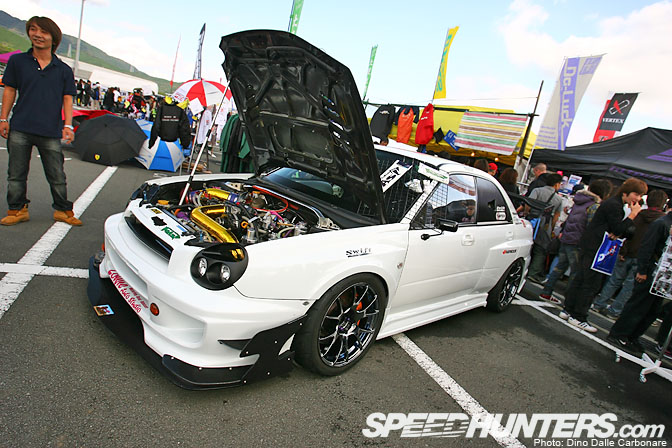 This, like the JUN Akira Supra, is one car we will have to watch at this year's Super Lap Battle in Tsukuba.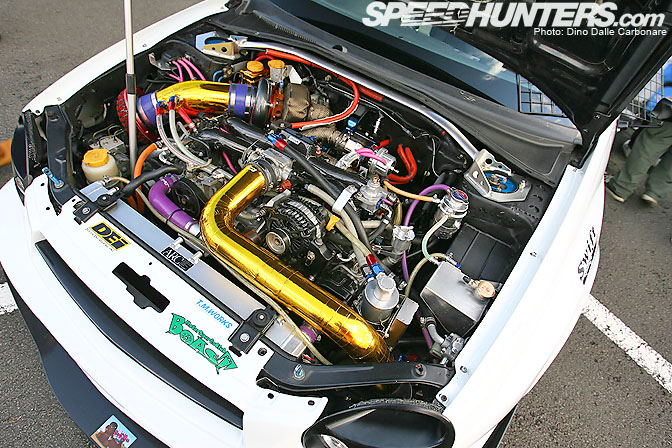 Built by Do-Luck and Power Enterprise it packs come serious performance, well over 500 HP I'm told. A possible sub 58-second car? We shall see!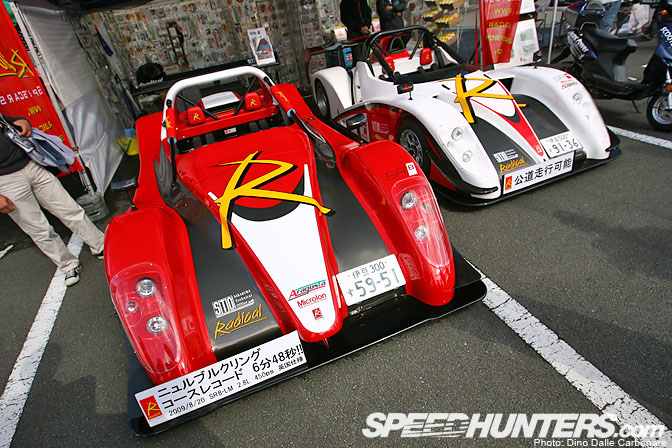 I wonder what these Radicals could lap Tsukuba in! There is a lot of potential especially considering it managed a 6 min 48 sec lap at the Nordschleife in the hands of a pro,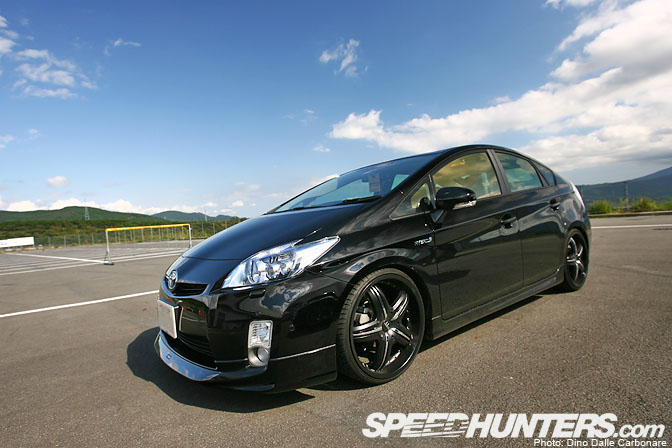 More hybrids….nooooo! Black on black for this new-gen Prius.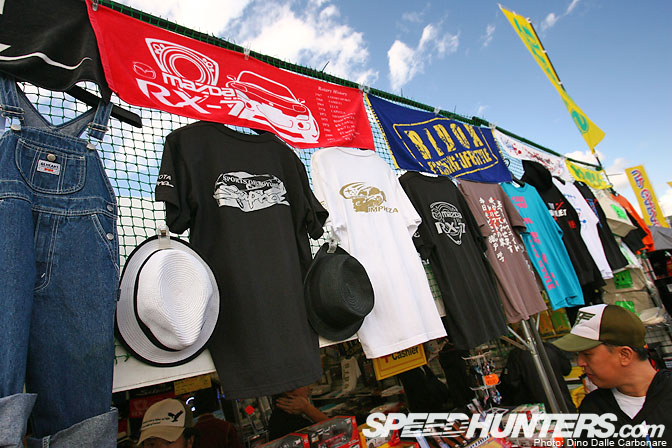 Of course merchandizing was on offer at every stall and make-shift-shop in the paddock selling anything from T-shirts to…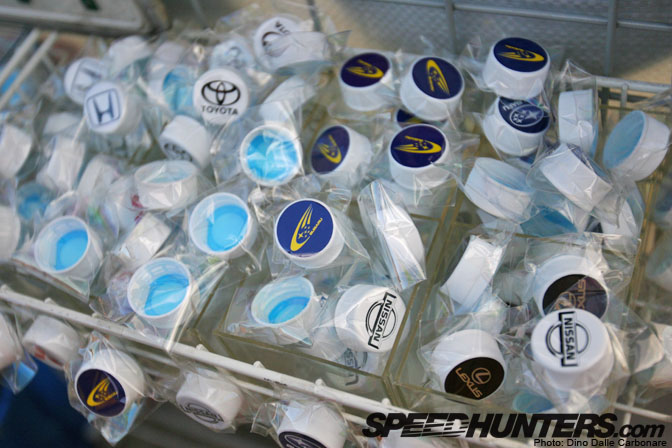 …branded bottle caps, used in Japan to cover the Ministry of Transportation seal on the rear license plates.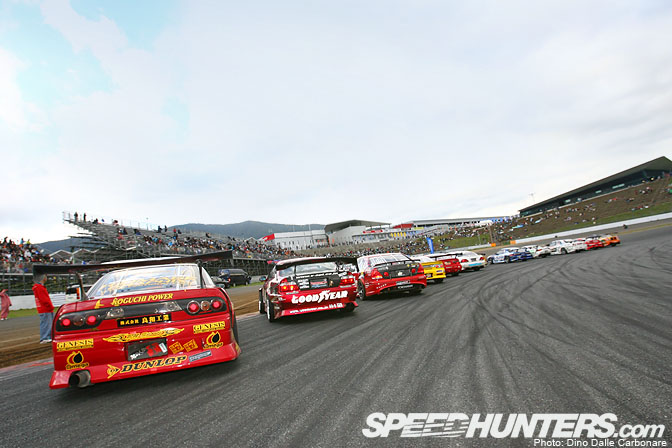 Here is a final shot of the line up top cars for 2009. The action finished early in the day in order to allow drivers to rest and teams to sort out the cars for Sunday's round, the final of the season. Stay tuned for more on that tomorrow!
-Dino Dalle Carbonare