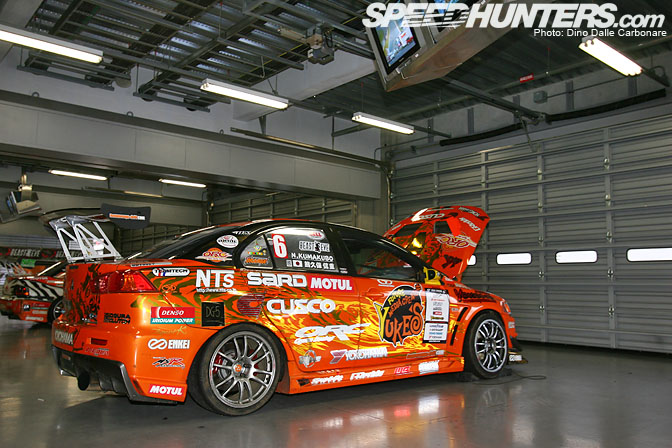 I have to say, I'm quite glad I got to cover some drifting today, I was getting withdrawal symptoms after two months of no sideways action! I always love shooting at Fuji Speedway, the D1 guys really take it to the extreme in both speed and angle even with the rain that accompanied much of today's round. Following the new format, this week-end we'll see both Round 7, held today, and the 2009 Season finale tomorrow with Round 8.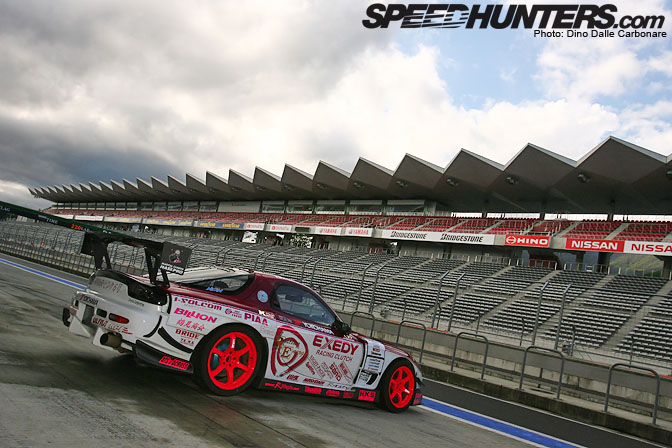 I really got trigger happy today so I hope you enjoy this picture-oriented post in which I try to show you a broader view than usual with lots of behind-the-scenes images on top of the regular drifting footage.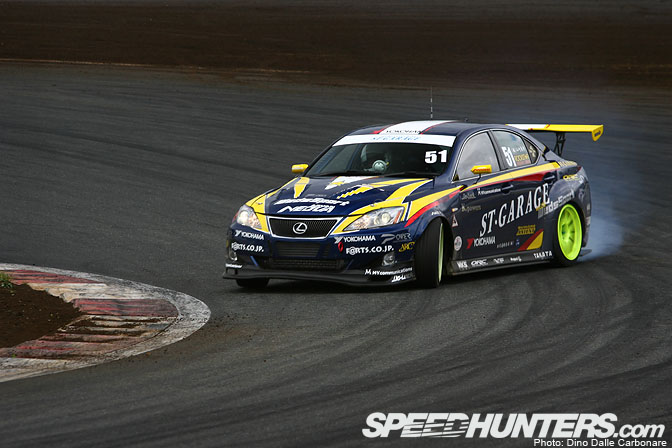 I have been waiting a long time to see the ST-Garage 2JZ IS, and Yoshikawa-san was really going for it today. Sounded very nice!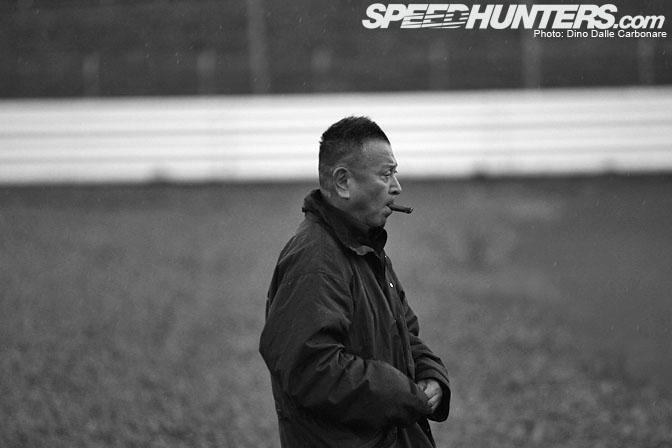 The boss!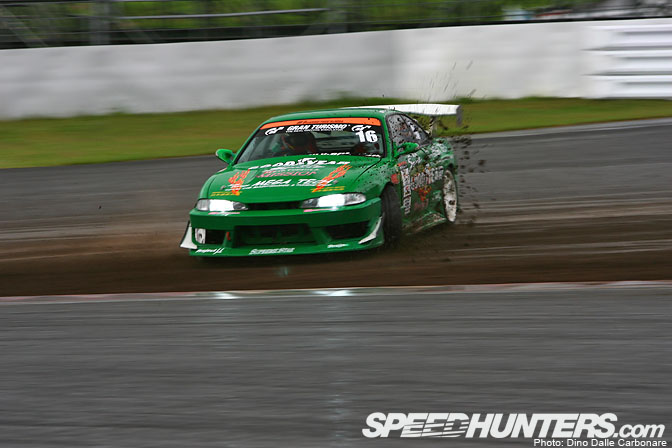 Persistent rain made most of the morning sessions rather slippery…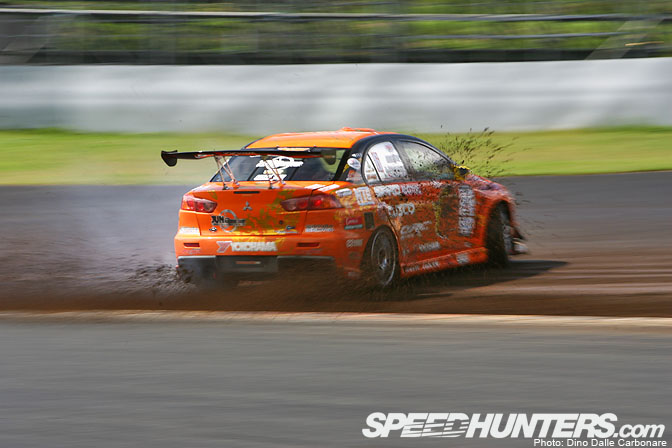 …catching out even some of the top seeds like Kumakubo (above) demonstrating his pirouetting skills.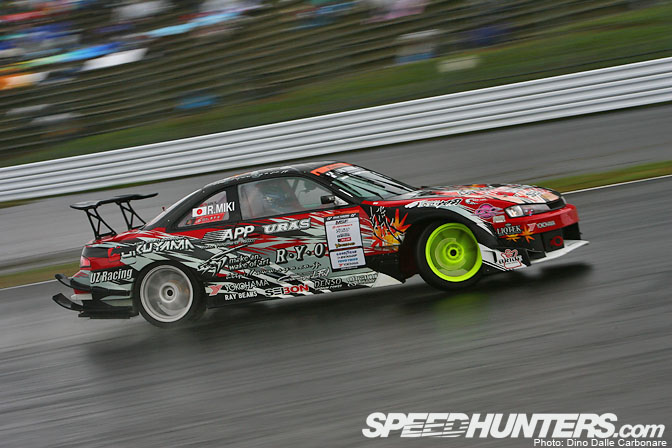 The big surprise for this last week-end of the season was Miki Ryuji's D1 comeback with the RYO S14, a car we first saw at the Nagoya Exciting Car Showdown earlier in the year. Considering this was the first outing for both car and driver Miki did great proving the potential this car will have in the 2010 season. One to watch for sure!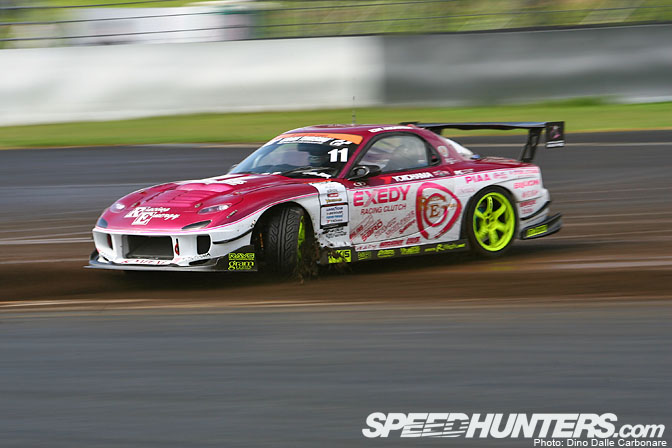 Takayama's FD was proving tricky to keep sideways in the wet. Notice how well you can see the tread pattern of the new Yokohama Neova on the locked front wheel.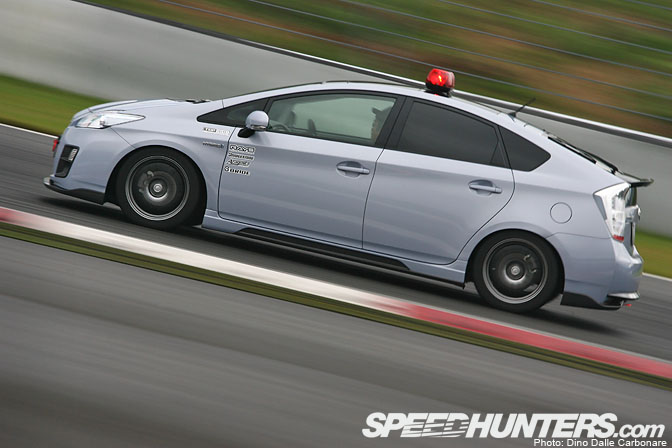 This may well be the coolest hybrid in existence!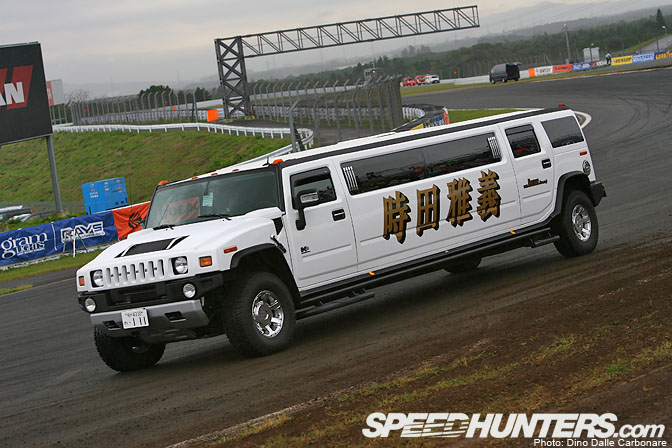 In order to brake from the normal opening ceremony routine a stretched Hummer H2 was used to ferry the drivers to the main judged corner…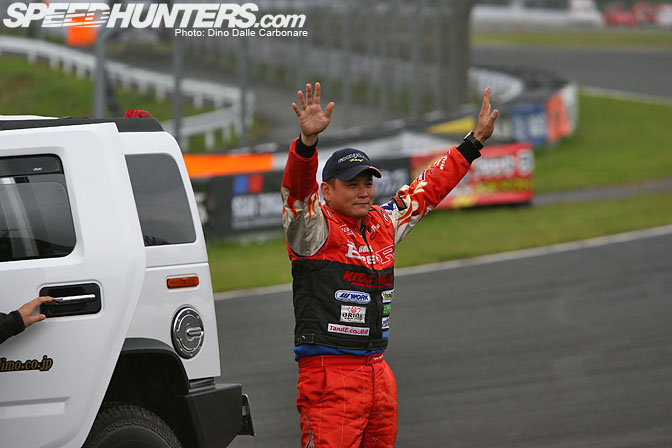 …first to get out was top-seed Tezuka….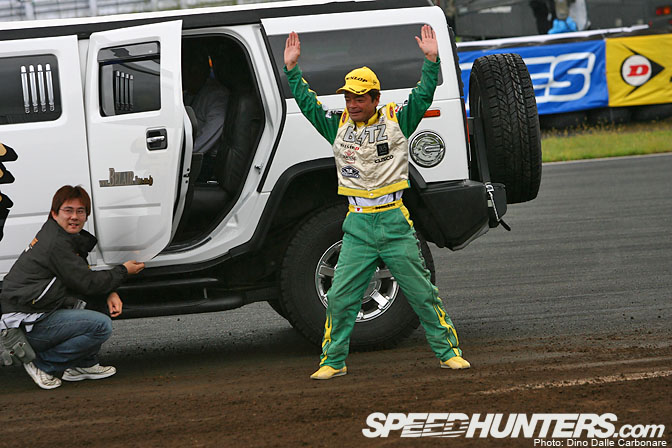 …followed by "poketto-sized-man" number 1…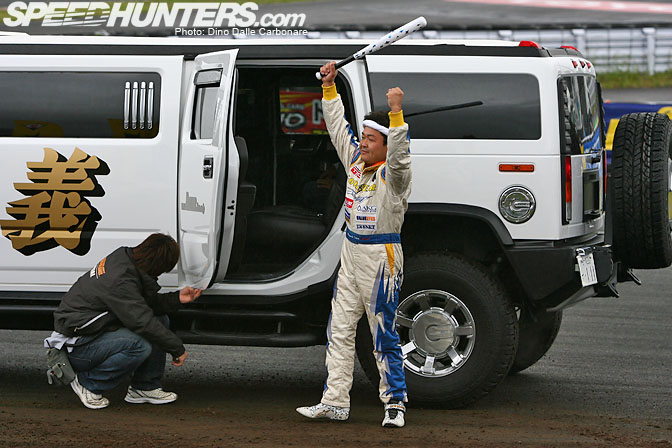 …and number-two! I hope I don't get whacked 'round the head with Tokita's baseball bat for saying that!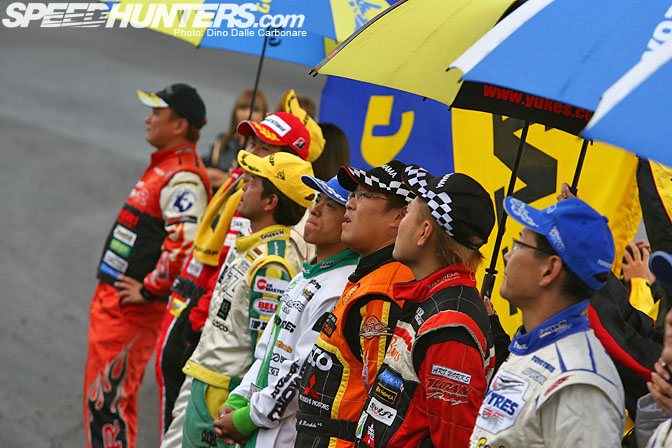 The driver presentation followed…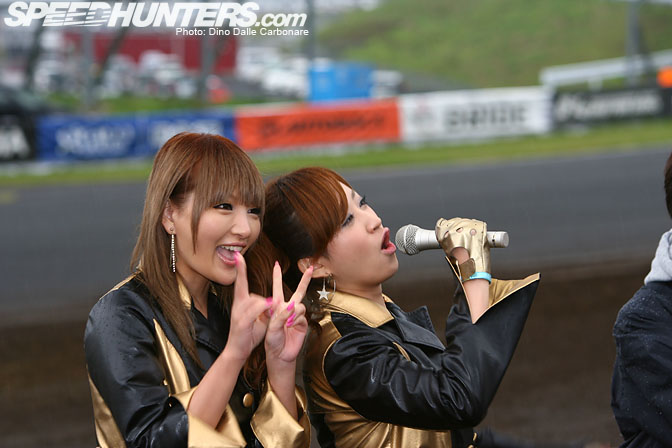 …with the D1-image-girls doing their original poses for the video cameras.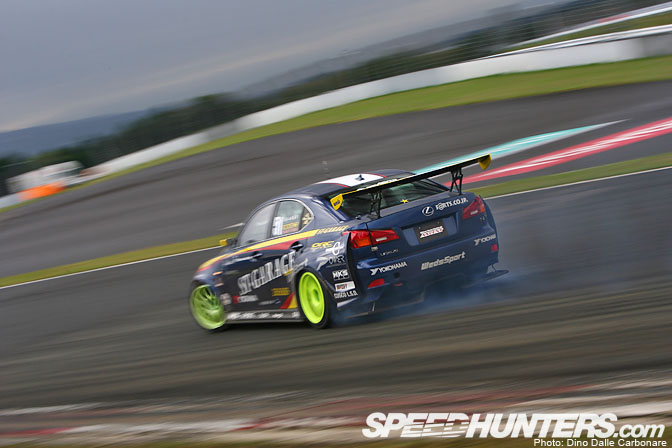 As the qualifying got under way the track had pretty much dried, finally allowing for some nice smoke trails…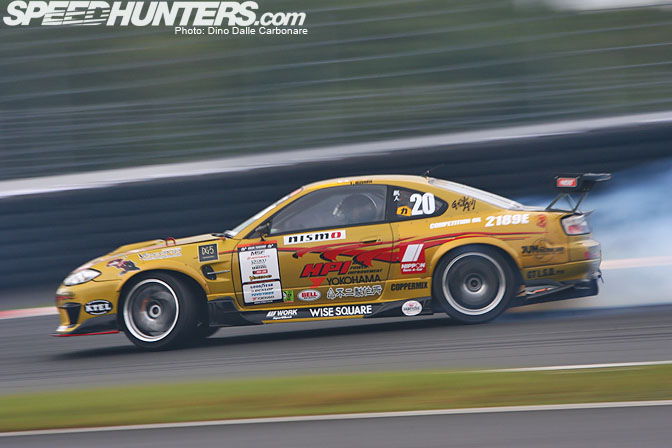 …demonstrated here by Mizuhata in the gold HPI S15.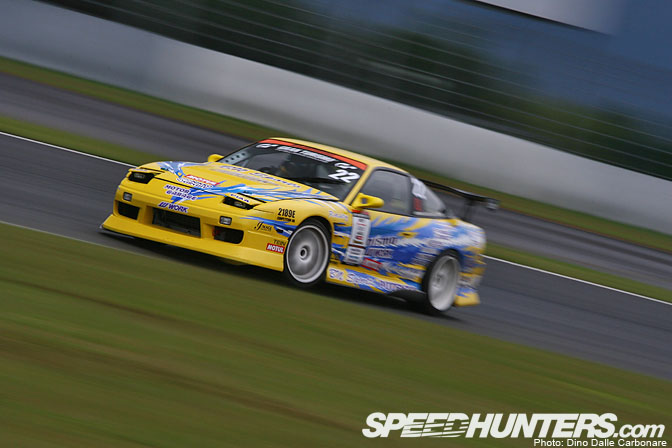 This was by far my favorite angle, with the cars coming up over the slight crest at full speed before being flicked in the opposite direction to set up for the judged hair-pin.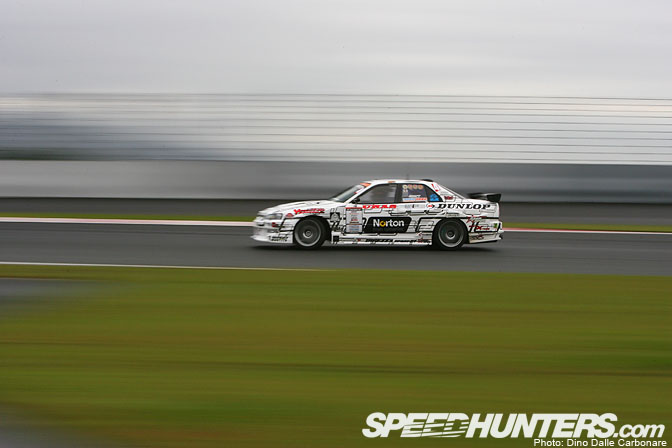 Nomuken might have been the smoothest driver today, the only one I didn't see spin.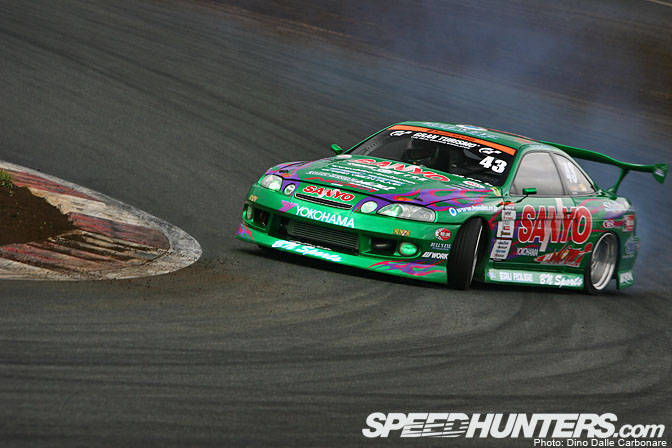 Jinushi's JZZ30 is still one of my favorite cars in D1, and his driving style is getting more and more aggressive. Thumbs up to him.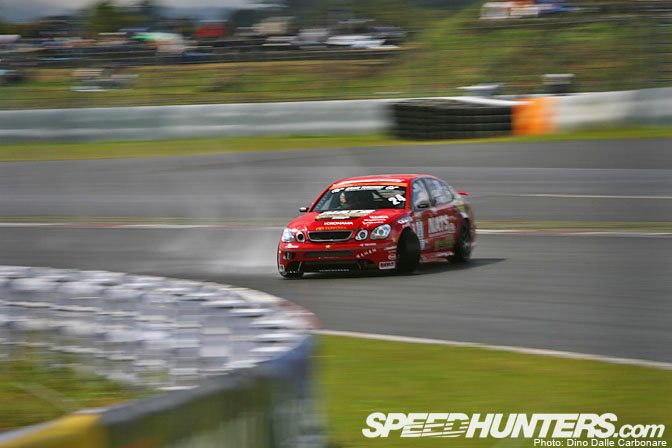 Today Orido was really in top form throwing the NATS Aristo around like it was a car half its weight. His transitions were incredible but he ended up spinning a few times getting caught out by soapy asphalt.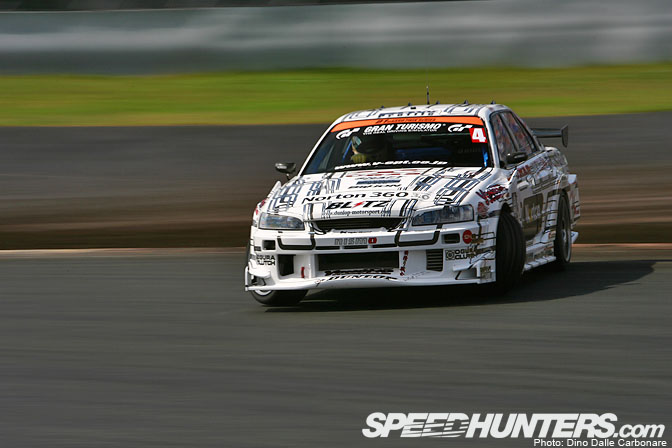 Nomuken managed to advance up to the Best 8, but ended up losing against the unstoppable Kawabata.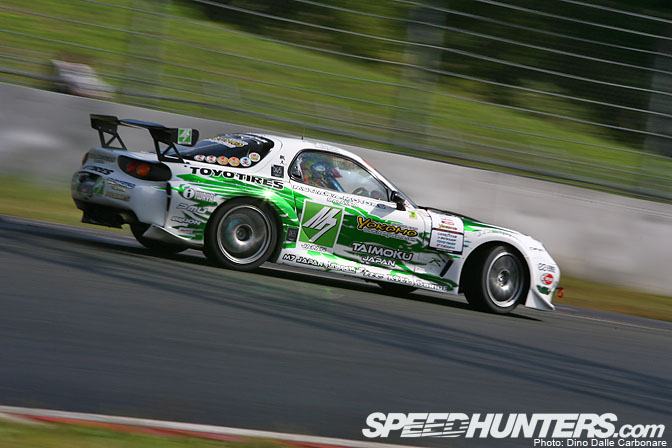 Suenaga lost the Best 16 battle against Orido, so it was a rather uneventful Saturday for him.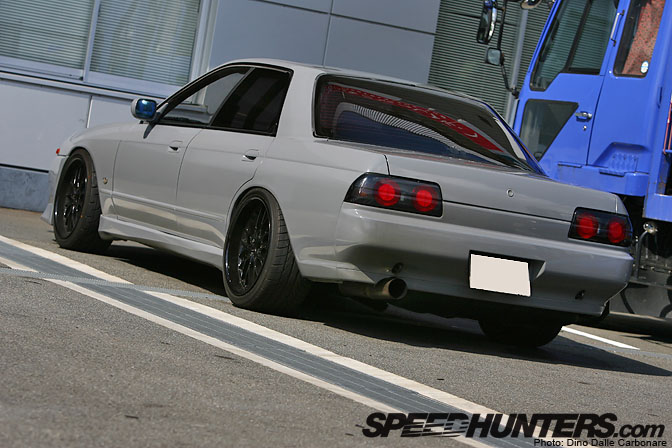 One of the things I like most about D1 drift events is walking around in the paddock and pits, checking out the cars and general atmosphere. Spotted this slammed 4-door R32 on very nice 18-inch black wheels. Couldn't figure out what model/brand they were however.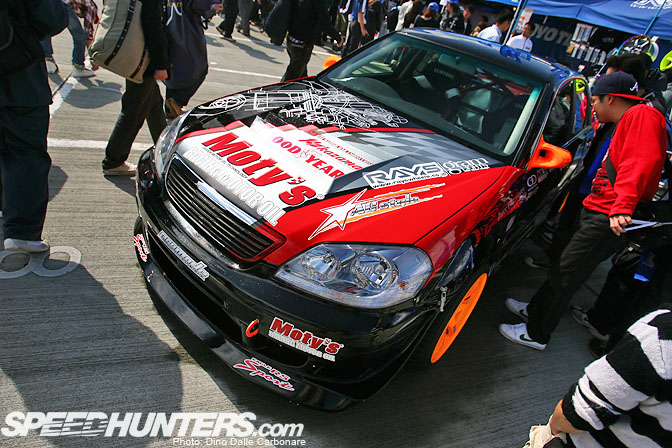 Kazama Auto's D1-SL was attracting tons of attention in the paddock…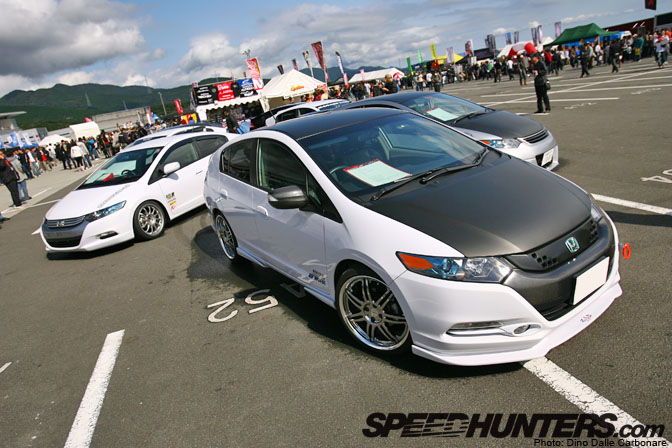 …definitely more than these tuned-up Honda Inisghts!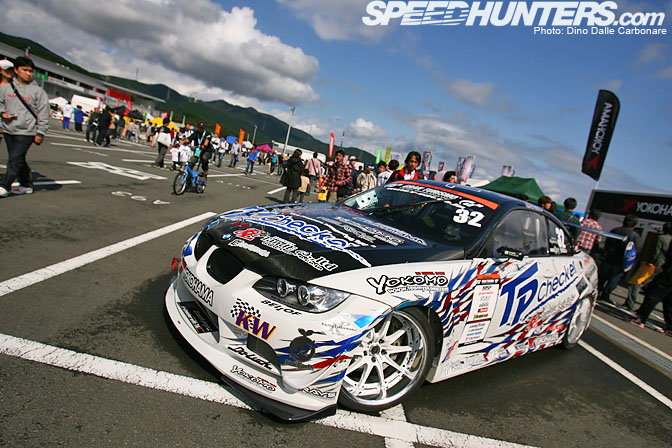 Ueno had a bit of a disaster on Friday, blowing the transmission and rendering his car unusable for the entire week-end. Let's hope their luck improves for next year. It's not easy building a car like this and making it competitive straight away.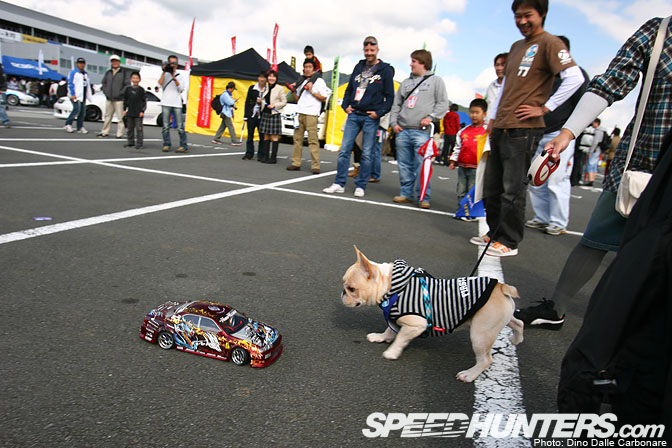 This little French bulldog was terrorized by the little Yokomo RC car sliding around on the ground. Hilarious!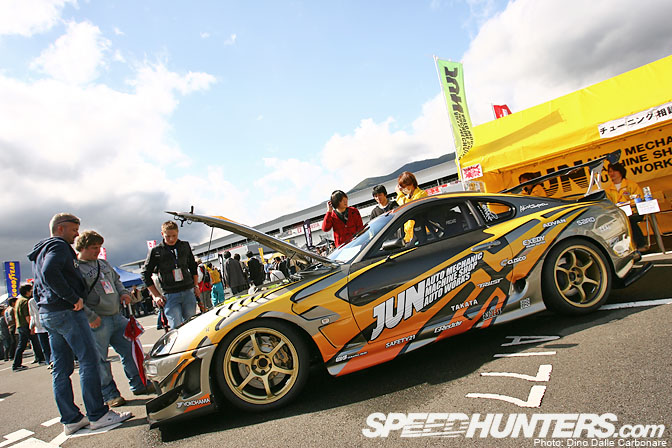 JUN showed up with this crazy "Akira" Supra, built for famous GT driver Akira Iida. I hope to see this monster at Tsukuba for the Super Lap Battle in December!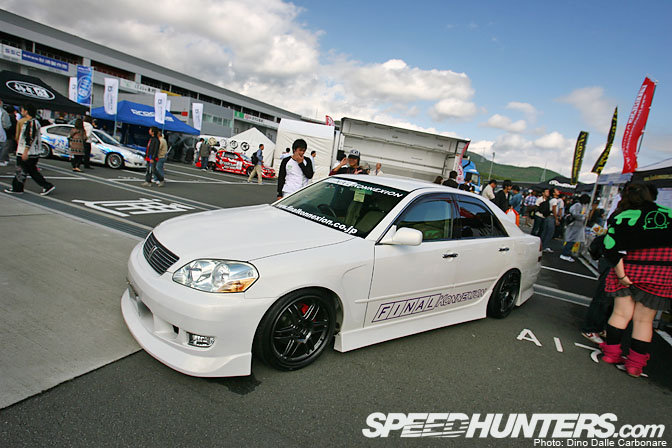 This JZX110 from Final Konnexion was looking great but could have definitely used a more aggressive offset!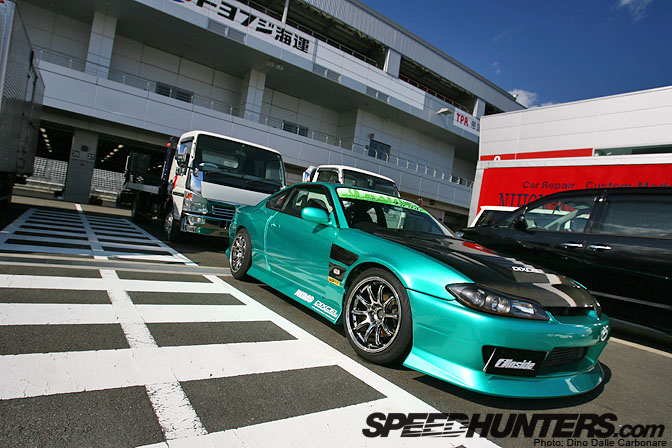 That's more like it!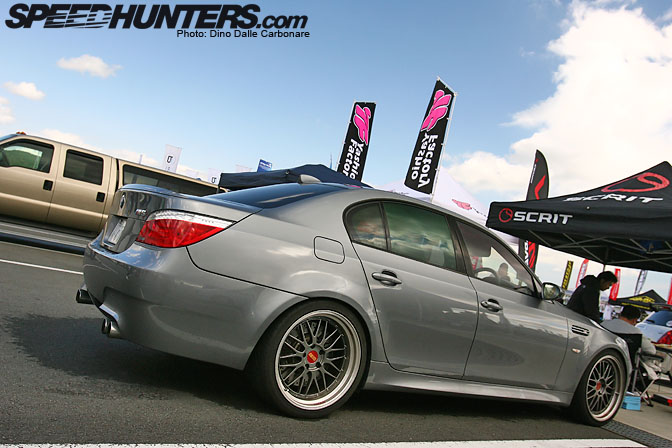 I know BMW month is over but I'm missing that M5 I had in Germany! I always say European cars look much better in Japan than they do in Europe and this car is no exception especially with a lowered stance and gunmetal BBS LM wheels.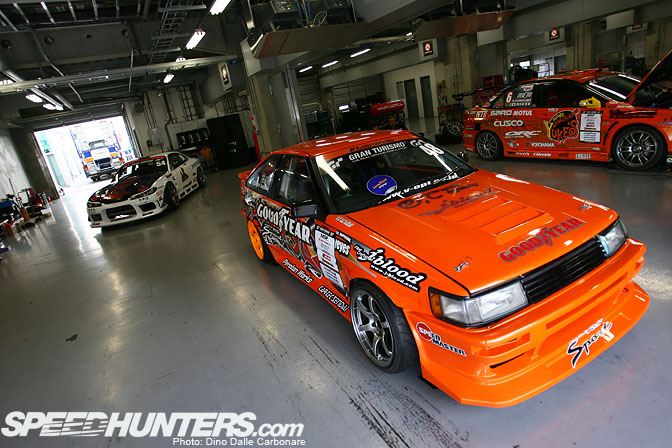 Found Sagisaka's J-blood kitted Levin in the Team Orange pit looking rather photogenic…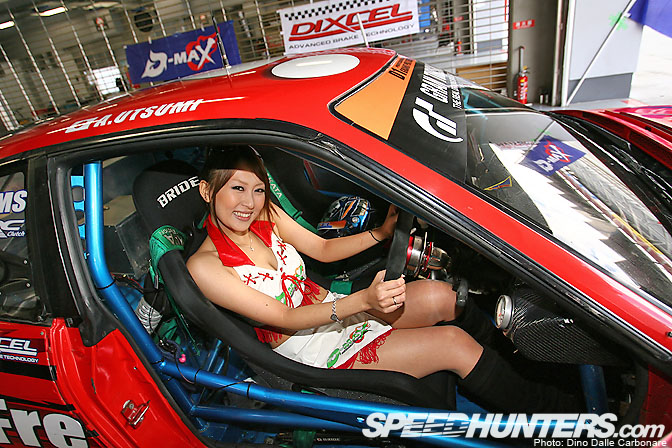 …but not as much as this new driver!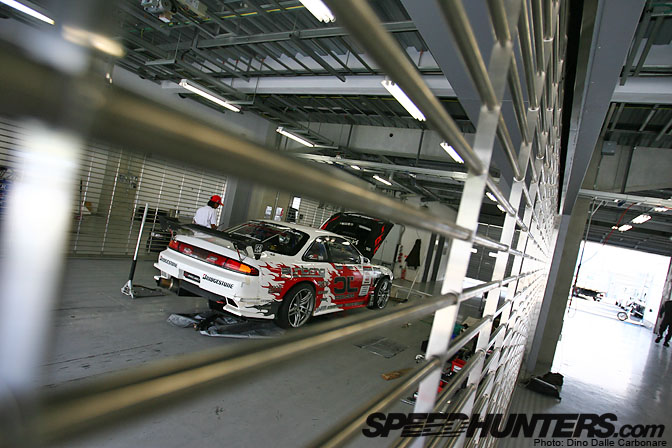 There is always lots of work going on in the pits during the lunch break so it's better to stay out of the mechanic's way.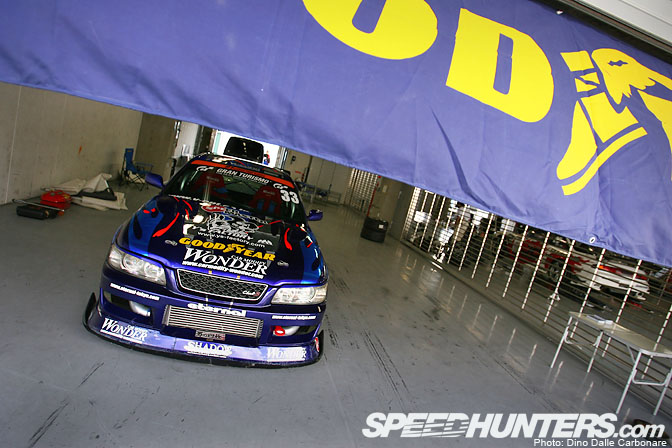 The lowest car in D1?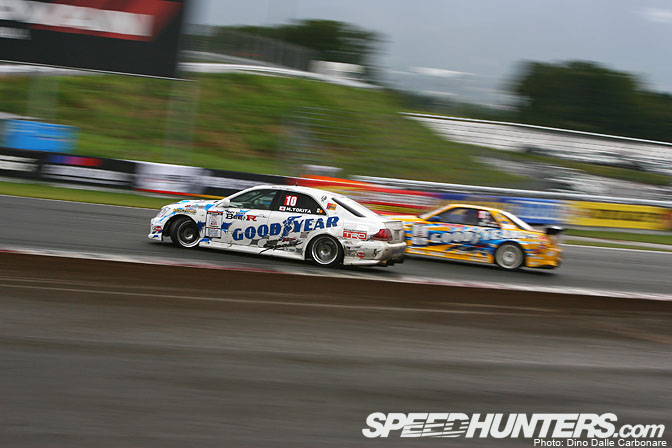 Here is Tokita and Tezuka doing a quick practice tsuiso run at the beginning of the day when it was still damp.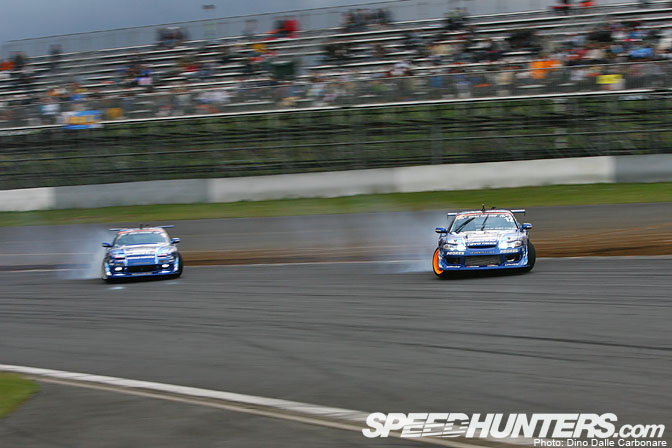 We'll look at the Best 16 battles in more detail tomorrow. Here is the final battle of the day between the two Team Toyo cars of Kawabata and Sakuma.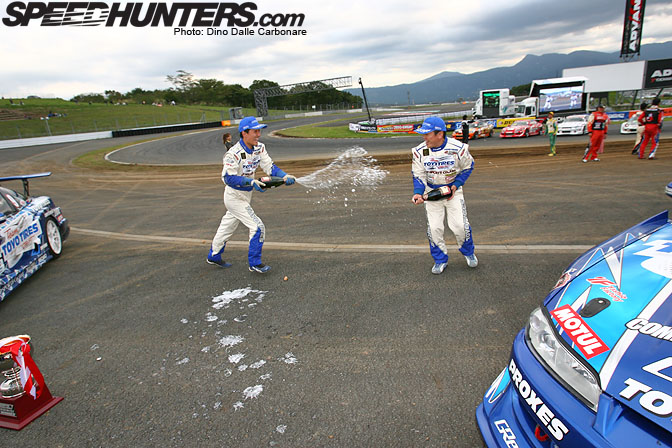 Kawabata grabbed first place which moved him up one position to 8th overall in the championship. Stay tuned for more action from Round 7.
Dino Dalle Carbonare