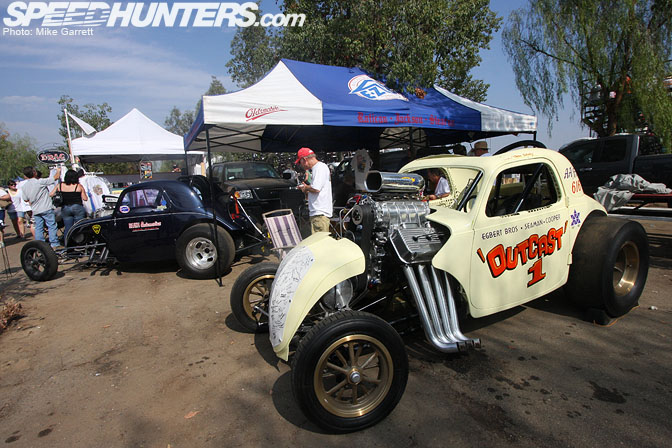 Over the past couple days we've been hard at work prepping our special driver blogs from Irwindale, but for a moment let's jump back into some coverage of the 18th Annual California Hot Rod Reunion held last weekend at Famoso Raceway. In this opening shot you can see two more examples of altered drag cars, including the blown AA/FA class "Outcast 1" – complete with period correct (and mega pricey) mag wheels.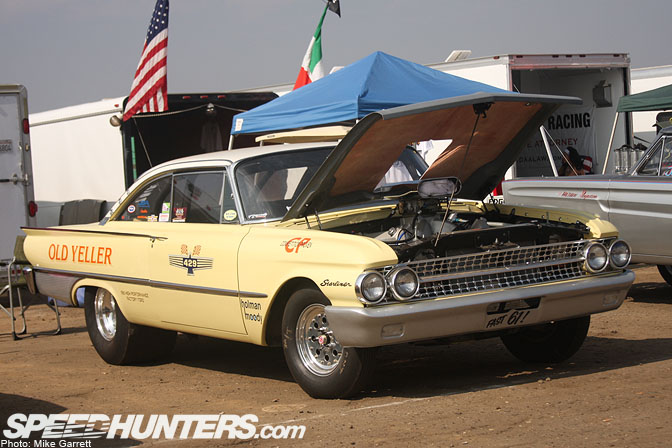 I've always liked oddball stuff, so naturally I dug this 429-powered Ford Starliner hardtop. Big, fast, and cool.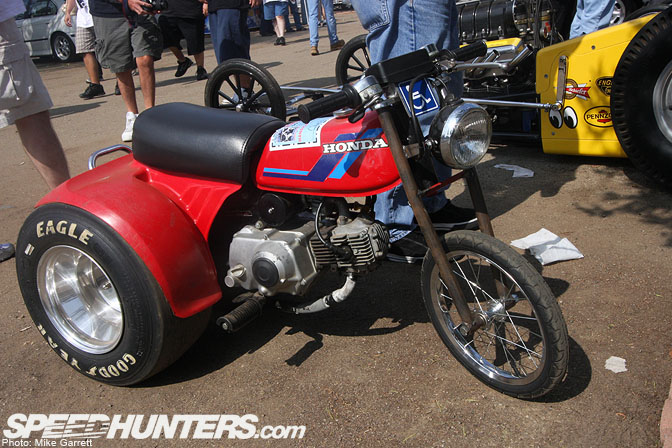 One of the coolest things I found at the Hot Rod Reunion wasn't even a car, but this crazy Honda mini-bike. Your Ruckus has nothing on this!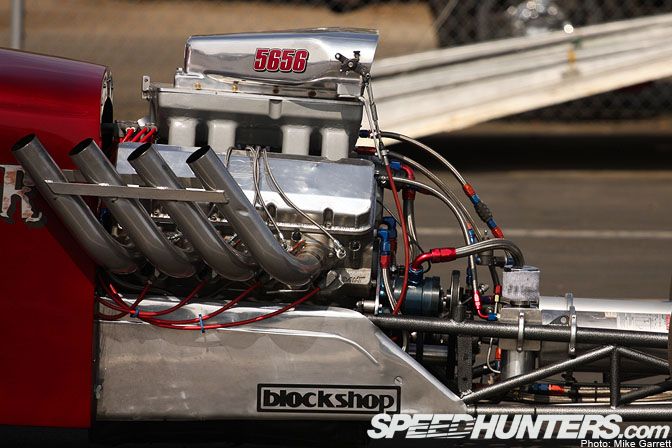 Race-tuned V8's with open headers do sound quite awesome, but they can wreak havoc on your ear drums if you forget to bring earplugs like I did. Whoops.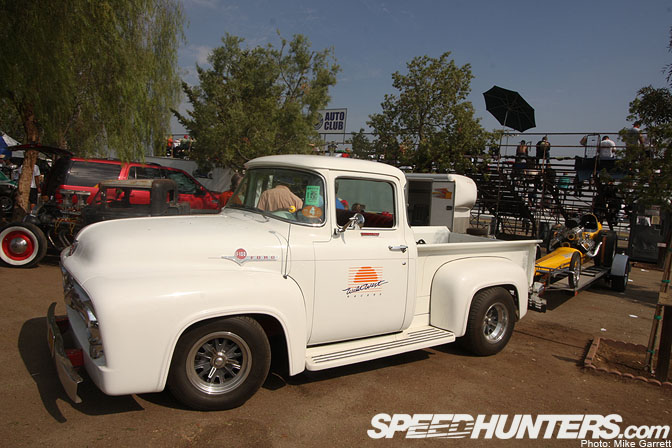 This is what the Hot Rod Reunion is all about – a vintage rail dragster being towed by a Ford F100 pickup. I even saw this guy cruising down the highway doing 70mph on my way home!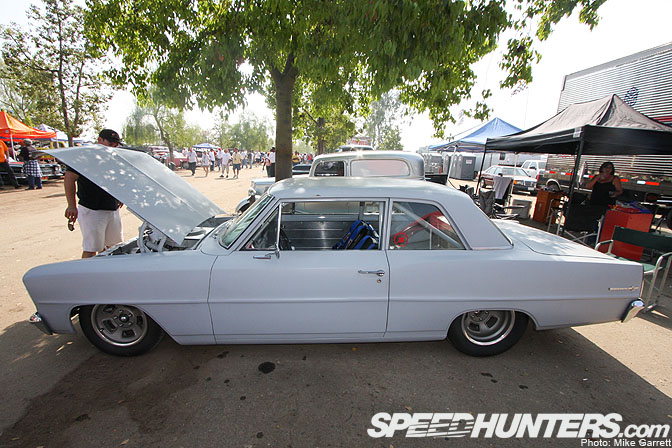 It doesn't look like the owner of this Nova was going for a period look, but a more modern combination of NASCAR and drag race elements. It wasn't running on the track, but looked very fast.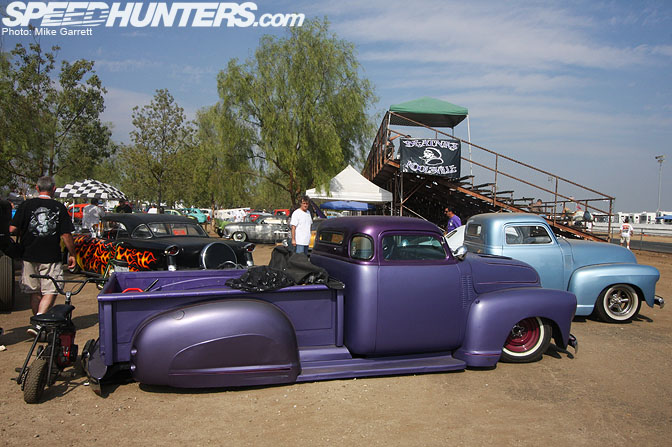 Some of the other customs parked along the grandstands included these two chopped and skirted Chevy pickups.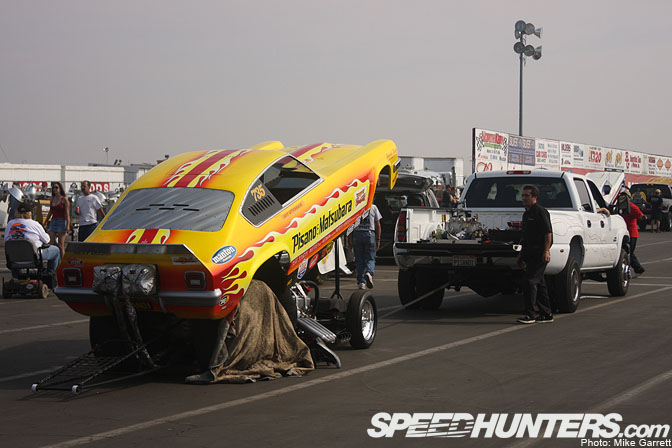 Another one of the funny cars waiting in the staging lanes for its turn to light up the quarter mile. Most of the teams were using modern vehicles like that dually pickup to tow or push their drag cars…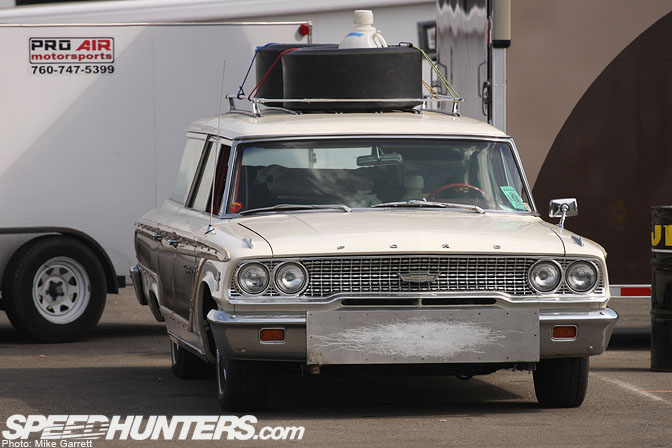 …but some used period correct support vehicles like this Ford wagon complete with woodgrain paneling. Check the drag slicks mounted on the roof rack.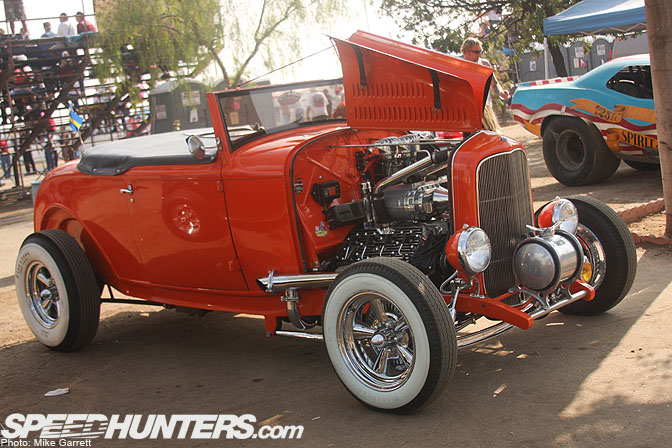 It wouldn't be a "Hot Rod" reunion without cars like this supercharged Ford roadster. No rust or patina here, just timeless beauty.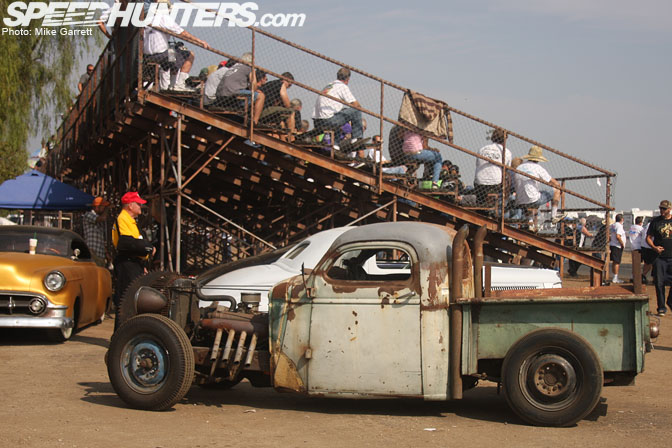 Not that we have anything against rust or patina. Loving the ultra complex exhaust headers on this pickup, not to mention the sawblade sticking out of the front grill.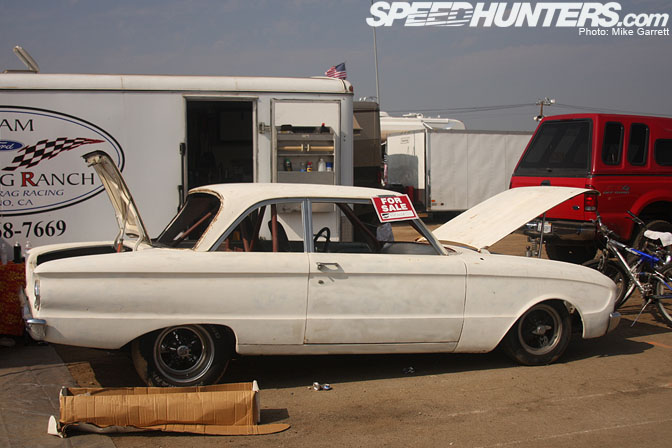 Here's another awesome project car up for grabs in the swap meet area – an early Ford Falcon all caged up and ready to finish.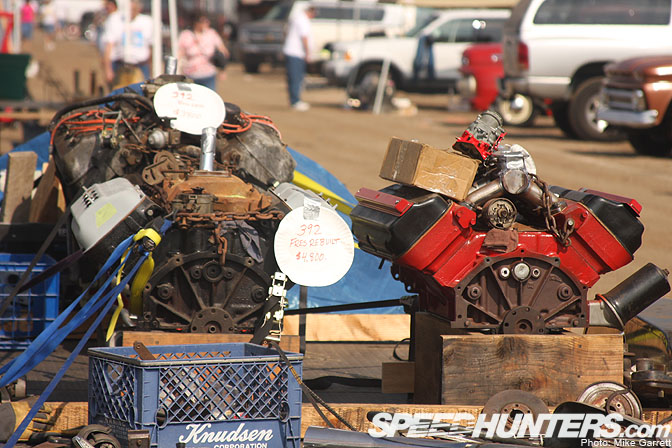 Just a few of the engines available in the swap meet, including a rare 392 cubic inch Chrysler Hemi.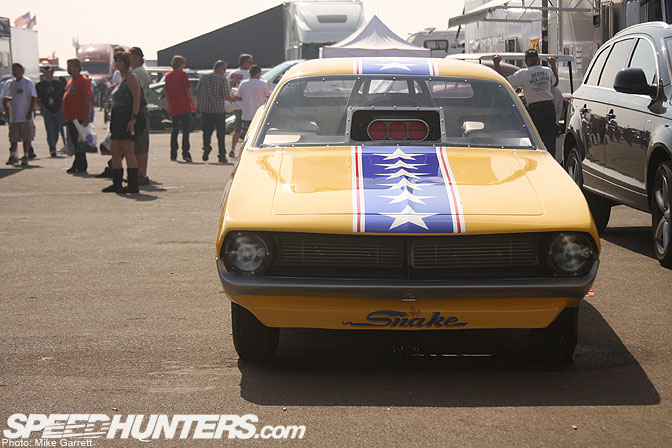 When it comes to retro funny cars, I don't think any of them are as well known as this one…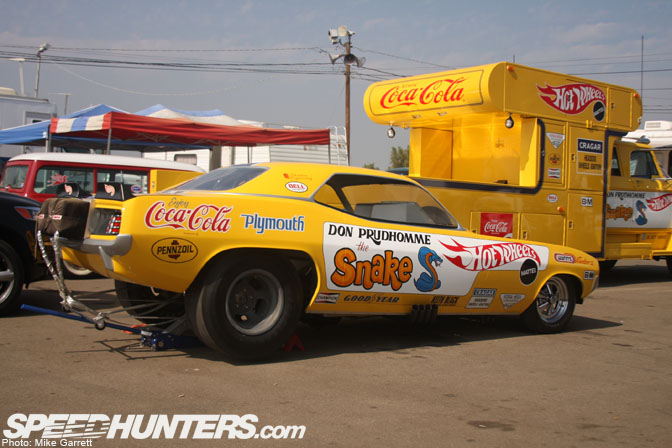 Yep, the famous Cuda driven by the Don "The Snake" Prudhomme. Even though I grew up in the  '90s, I still remember having the Hot Wheels version of this car. Don is still active in the NHRA to this day as a team owner.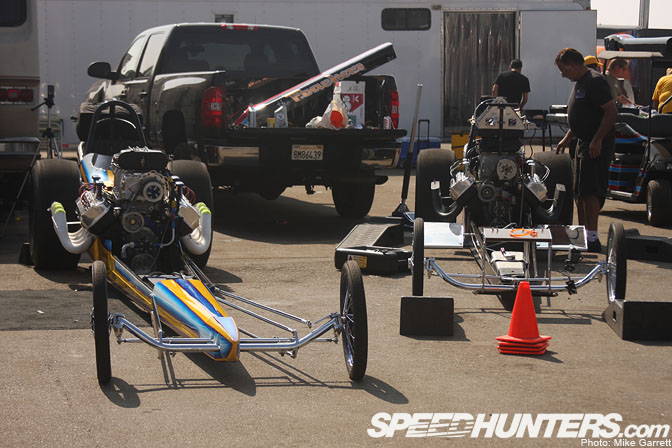 A couple of "rail jobs" in the pits. Is it strange that I feel a little extra manly being around cars like these?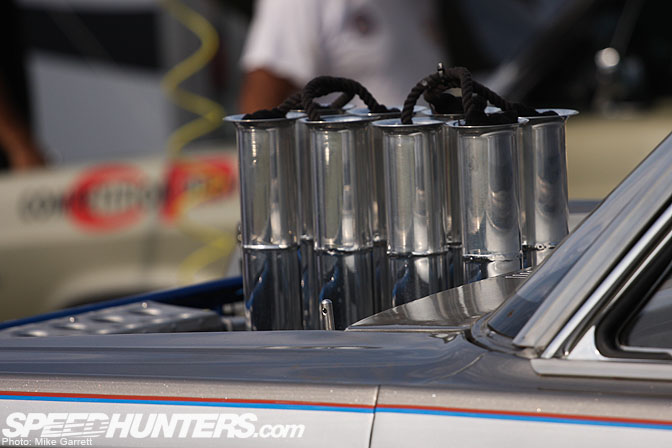 The beauty of Hilborn injection, popping through the hood of an A/FX Mercury.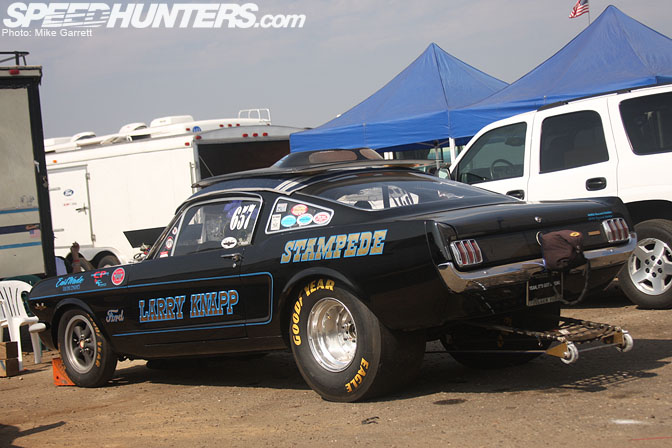 Most of the '60s era drag cars were built off midsize sedans, but there are a few "sporty" cars like Mustangs or Corvettes that can be found at events like the Hot Rod Reunion.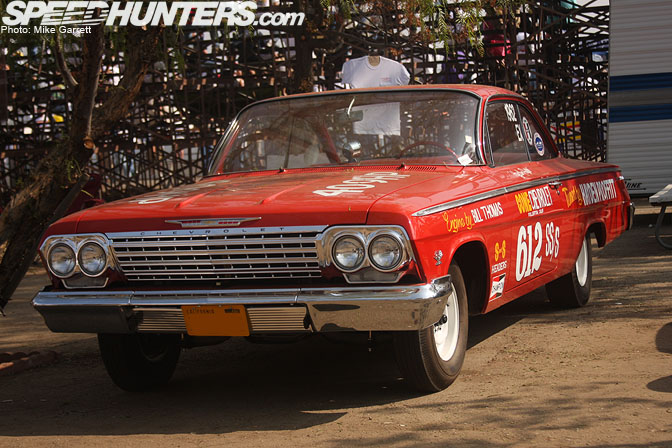 Before the muscle cars came in the mid '60s, there were factory specials like the 409 Chevy – seen here in Super Stock form.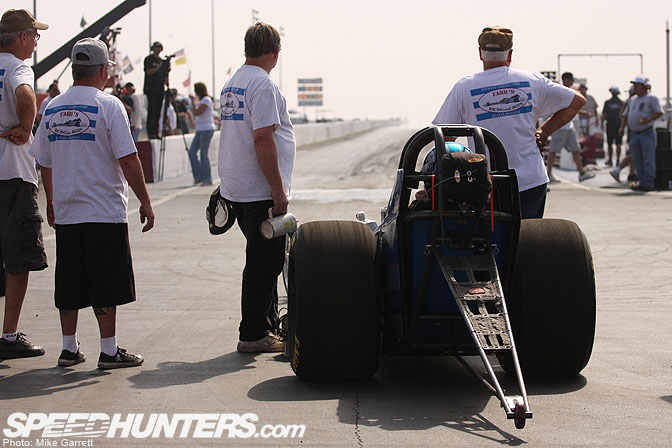 I'll be back soon with one more batch of photos from the Hot Rod Reunion at Famoso.
-Mike Garrett