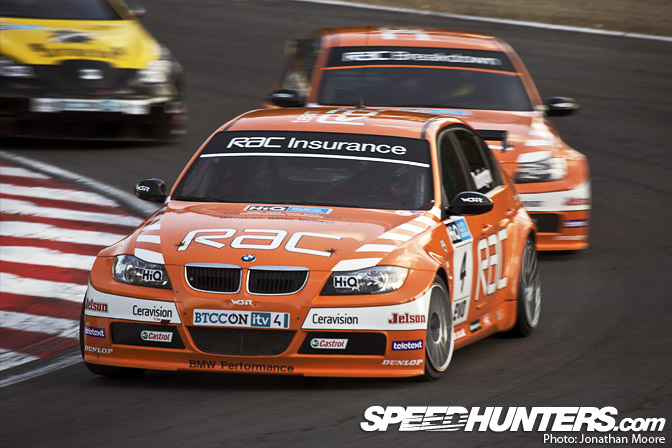 The last round of the British Touring Car Championship is all about the title fight: three races and three men in a fight to be the 2009 champion. First up is the points leader, Colin Turkington in the West Surrey Racing-run BMW 320.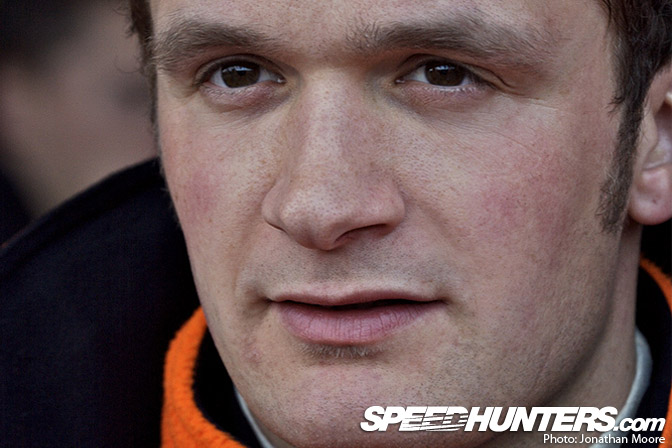 The Northern Irishman has been racing in the BTCC since 2002 and has already won the Independents' title for the last two years, but now he's leading overall with 249 points.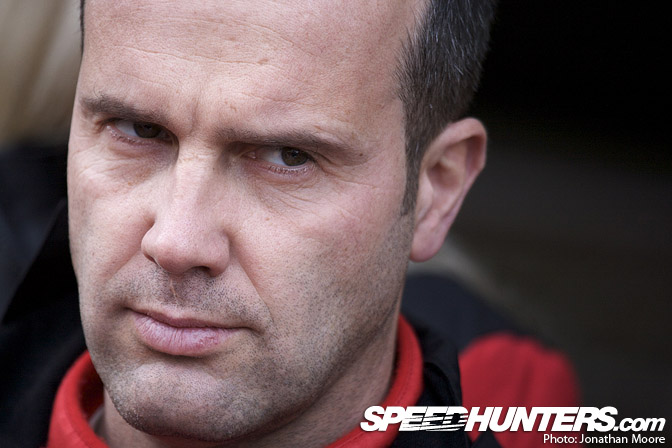 Next up is Italian Fabrizio Giovanardi. He's won the British series for manufacturer team Vauxhall for the last two years. He won the ETCC in 2002; European Super Touring in 2000 and 2001; Italian Superturismo in 1989-99; and the Spanish Touring Car title in 1997. Basically, he's pretty good. Giovanardi has 236 points.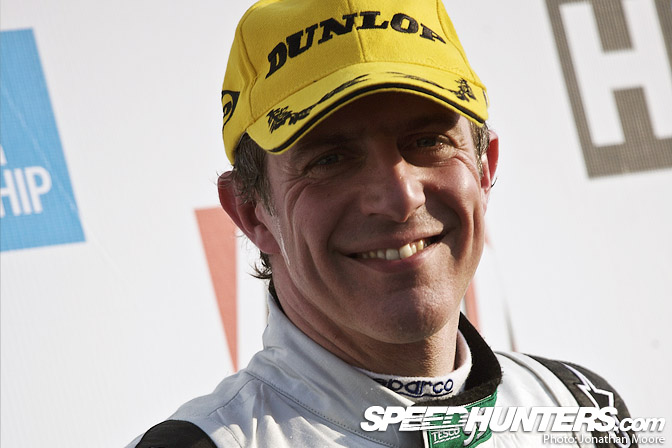 Finally, there's Jason Plato. He's been racing in the BTCC since 1997 and took the title in 2001. Plato has, well, a 'reputation'. If you're in-between Plato and a win, it's fair to say it's quite likely you'll be making friends with the gravel. But it makes for action-packed, old school touring car racing and the crowd love him for it.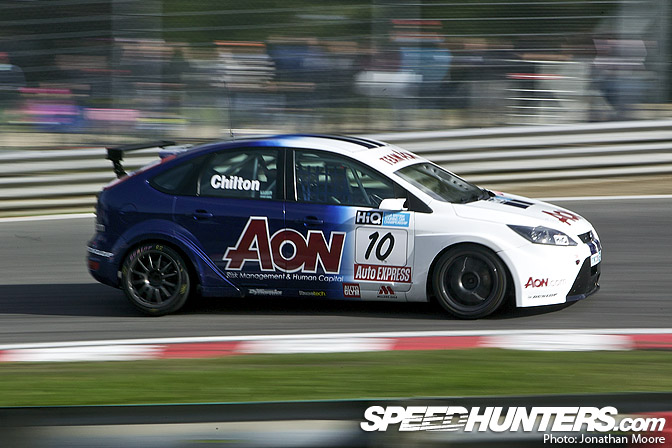 But this weekend there's someone else to watch: Tom Chilton. He's put the stunningly improved Arena-run Ford Focus on pole, and will be trying hard to be right in the mix.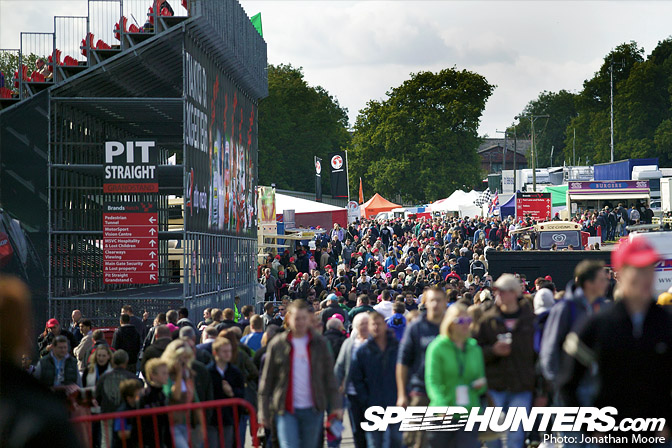 There's a big crowd of over 35,000 at Brands Hatch for the finale, and I'm pleased to see that the weather looks like it'll hold off; there's cloud, but blue sky above it and a little bit of wind to keep the rain away. Rain and racing is never fun for spectators behind the fences.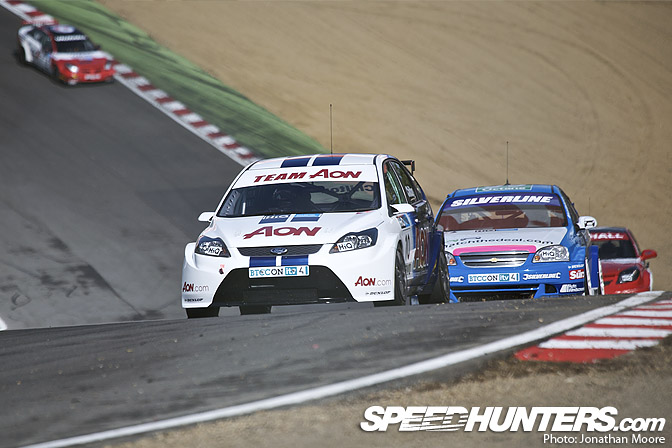 From the moment the lights go out at the start of the opening race, Tom Chilton does everything he can to keep veteran Jason Plato behind. Plato is never one to be shy in using his bumpers, as witnessed at Rockingham last time out. Chilton has to resist the pressure for another 17 racing laps… I've settled in at the Druids hairpin, where you can watch the cars drop down Paddock, climb up towards you and then fire back down the other side of the hill. At the first corner two privateers come together into Paddock, leaving Matt Hamilton's old-style Civic stranded in the gravel and triggering an immediate safety car to drag him out of the way.
Giovanardi has the luxury of being backed up by both his Vauxhall team mates. He shadows the leading pair whilst his wing-men guard his back. At the restart on lap three Chilton makes a good getaway, getting a bit of distance between himself, Plato and the pack of Vauxhalls. Four BMWs are right behind: Turkington and Stephen Jelley in the WSR cars and the Motorbase BMWs of Rob Collard and Jonathan Adam.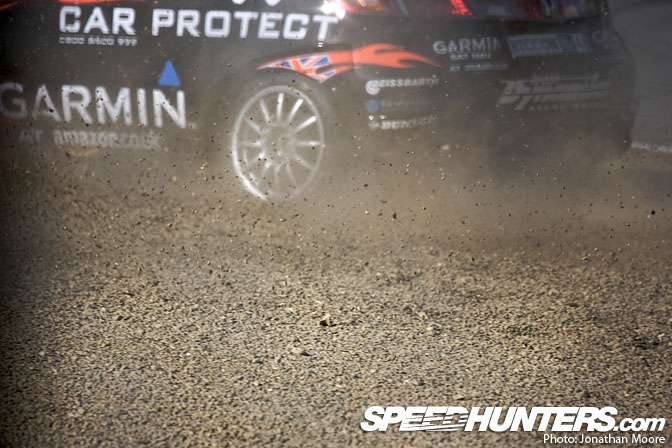 Lap 10 and ex-F1 driver Johnny Herbert in the Team Dynamics Honda Civic locks up into Druids and heads straight into the gravel trap, causing a second safety car period. This is his first visit to Brands Hatch since his terrible F3000 accident in 1988. Gordon Shedden in a petrol-powered SEAT Leon also crashes out on the same lap from ninth place.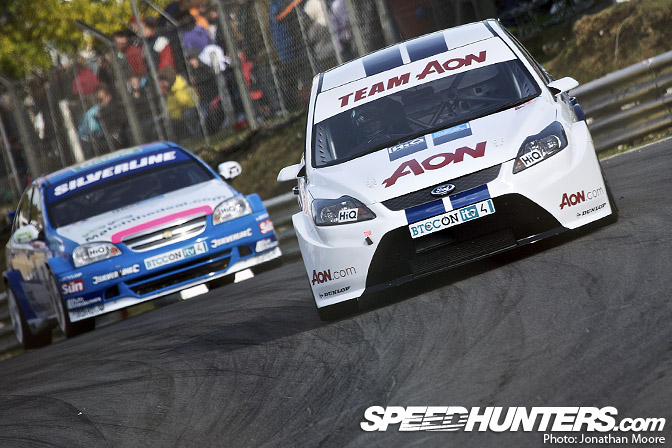 On the restart the crowd are behind Chilton all the way, willing him on, and once again he manages to keep ahead. Four laps left. But with one corner to go on the very last lap – disaster! Chilton understeers wide by a fraction – Plato floors the throttle on his Chevy and takes advantage under acceleration, beating Chilton to the line by just 0.015 seconds!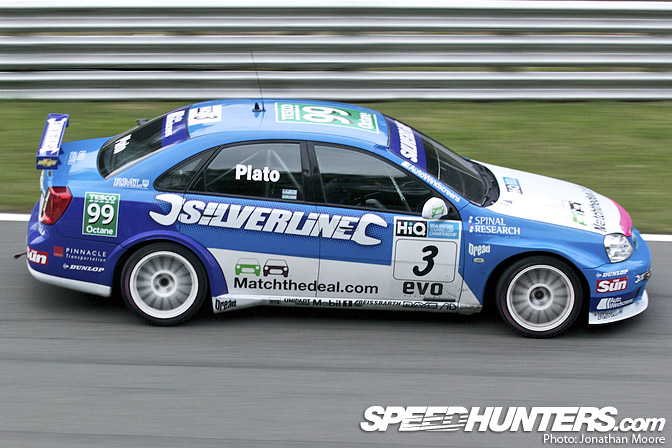 Turkington, carrying around 45kg of weight, manages eighth and three points. Plato's win cuts his points deficit from 28 to 14. Giovanardi is now only 6 behind. There is a maximum of 34 points left to win in the remaining races. It's getting tighter and tighter…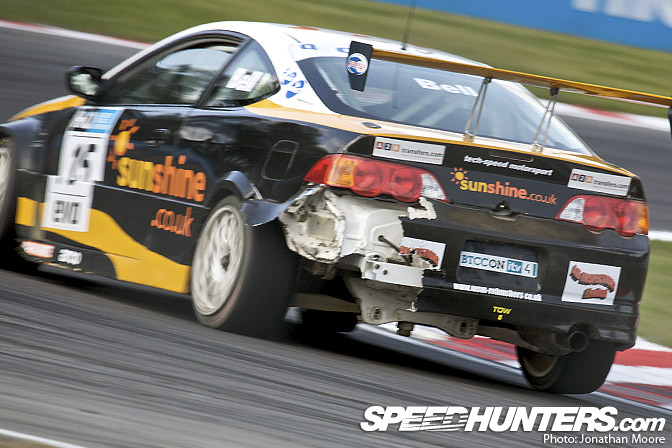 It's been another good result for the Independent Honda Integra of Paul O'Neill: he keeps near the front all race and manages ninth. His team-mate doesn't fare so well: the back of Martin Bell's Integra is hanging off by the end.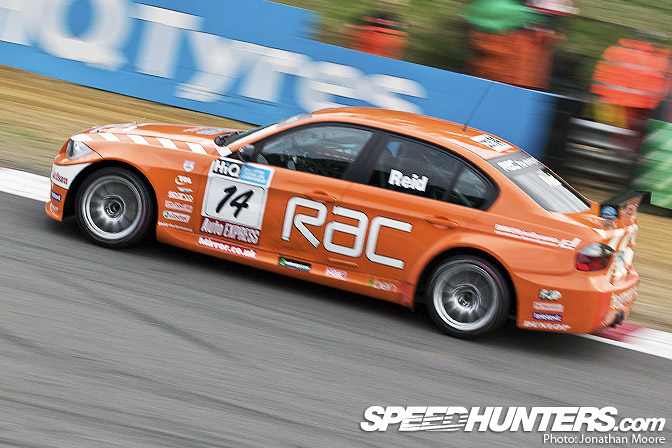 Touring car veteran Anthony Reid has been brought in to boost the WSR team's title run: he had a pretty bad time of it in the last two rounds, but here at Brands he's in the points for the first time, and being near the front gives him more chance of supporting team-mate Turkington.
Race 1 result (sets grid for Race 2):
1: Jason Plato (Chevrolet Lacetti) 31m03.701s
2: Tom Chilton (Ford Focus) +0.015s
3: Fabrizio Giovanardi (Vauxhall Vectra) +1.873s
4: Andrew Jordan (Vauxhall Vectra) +3.103s
5:  Matt Neal (Vauxhall Vectra) +3.9s
8: Rob Collard (BMW 320) +4.458s
7: Jonathan Adam (BMW 320) +4.956s
8: Colin Turkington (BMW 320) +5.986s
9: Paul O'Neill (Honda Integra) +6.537s
10: Anthony Reid (BMW 320) +6.916s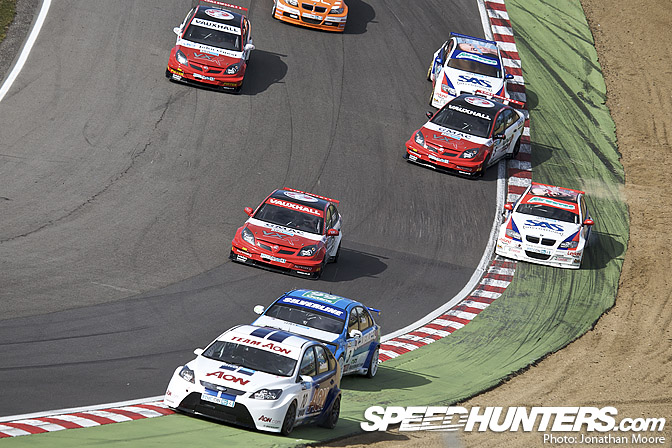 Now both the chasing drivers are within a win of taking the lead in the championship. The lights go out for race two and Chilton's Focus sprints off the line, beating Plato on the break. Plato sticks to the bumper of the Focus whilst the Motorbase BMWs go head to head with the Vectras.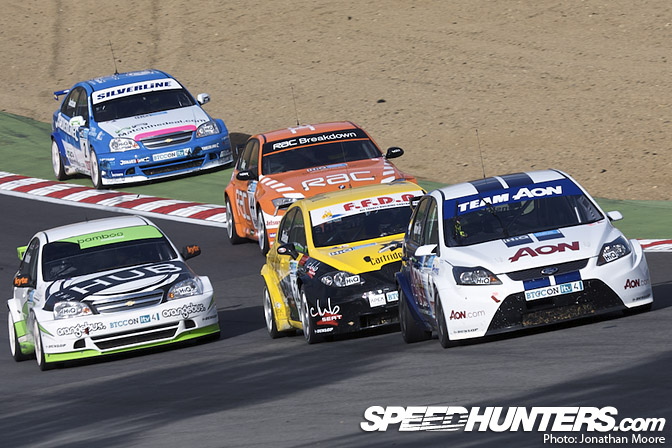 There's a huge battle for fifth on the first lap, with eight cars nose to tail, but once again there's a safety car early on as Hamilton goes off again, followed by Martin Bell further round the track. After the restart Plato continues to harass the Focus.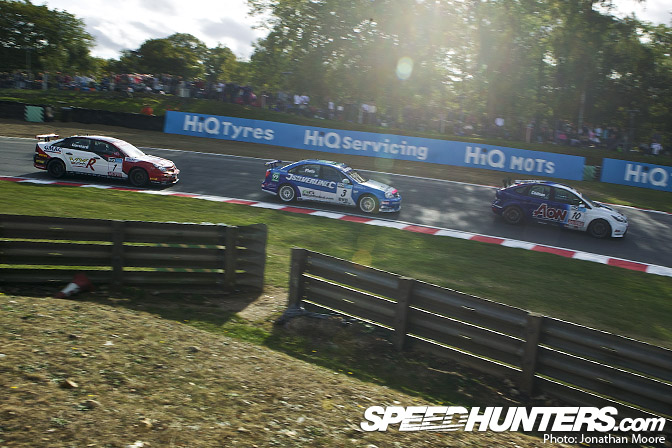 With two laps to go Plato drives his Lacetti into the back of Chilton at Druids and forces him wide. Chilton loses momentum, and as often happens in touring cars he goes backwards at a rapid rate. At every following corner he's attacked from behind and he ends up sixth at the flag.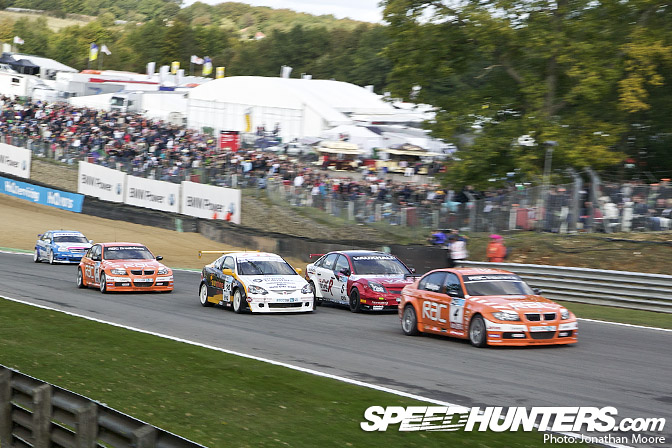 Turkington has an aggressive race, picking off car after car with great opportunistic moves to catch up with the leading group of cars on lap 12. On the way he has to barge past both Giovarnardi's team-mates, Neal and Jordan – dangerous stuff. Turkington is another to take advantage of Chilton's misfortune: he takes Collard and Chilton in the same lap and is into third place with Giovanardi directly ahead. This time discretion is the better part of valour, and he tails him to the chequer.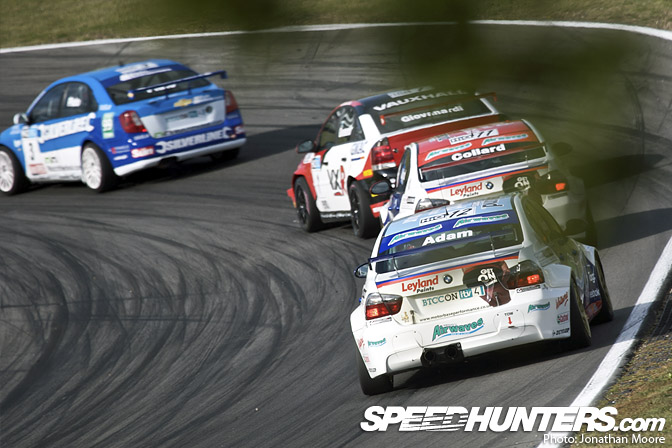 The Motorbase pair of Collard an Adam make it to fourth and fifth from the start and despite all the shuffling around them end up in the same positions at the end.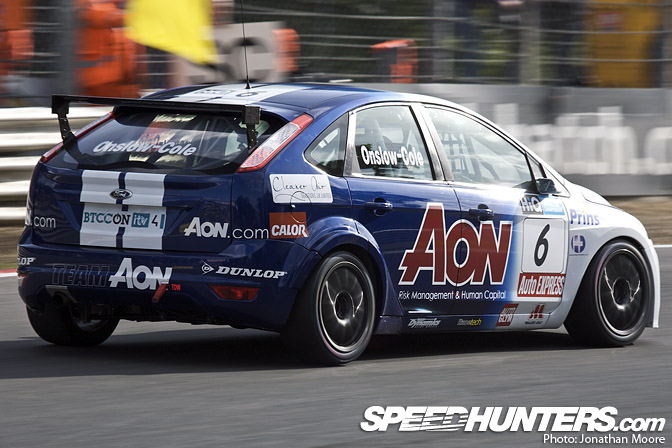 The Ford Focus of Tom Onslow-Cole makes it a double points haul for Arena: he's had a tough season so far, so it's great to see him get a good result.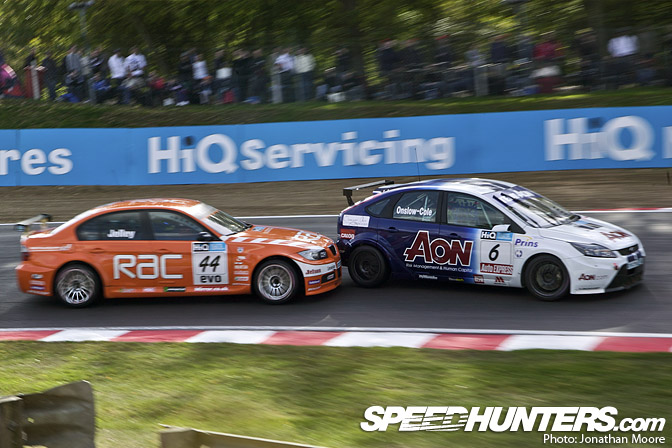 He finishes ninth, despite this tap from the WSR BMW of Stephen Jelly towards the end of the race.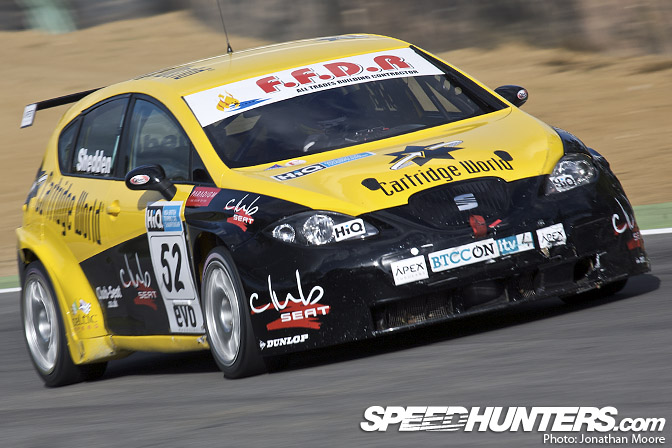 Another returnee, Gordon Shedden, is also back on form with 10th. After losing his Team Dynamics drive earlier in the year, and then having his SEAT team fold underneath him, Shedden managed to pull together his previous sponsors to run a solo Leon.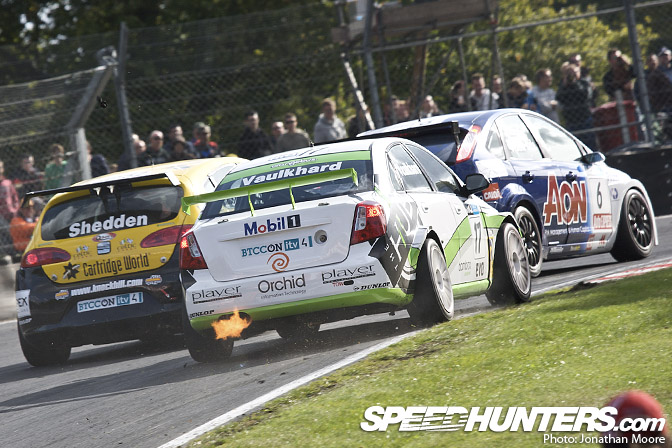 Again Paul O'Neill managed a points result, winning out in a fight with Vauxhall's Matt Neal. Neal recovers to seventh, which also gets pole position for the final race in the grid draw. Harry Vaulkhard, another driver who's swapped teams this year, is only just out of the points in his Chevy Lacetti.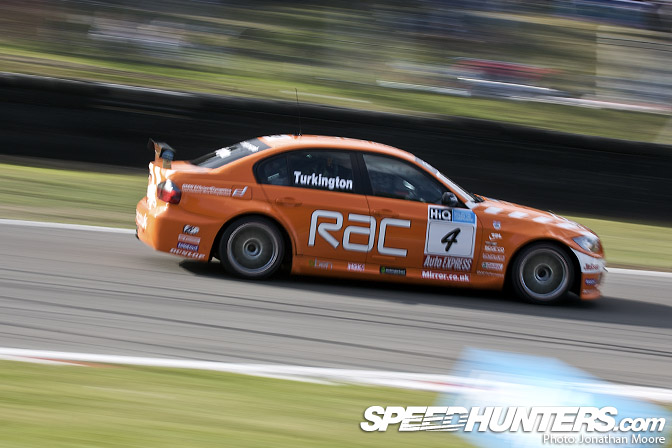 Turkington now has only four points on Giovanardi and eight points over race-winner Plato. One race to rule them all?
Race 2 result:
1: Jason Plato (Chevrolet Lacetti) 30m24.717s
2: Fabrizio Giovanardi (Vauxhall Vectra) +1.317s
3: Colin Turkington (BMW 320) +1.486s
4: Rob Collard (BMW 320) +1.981s
5: Jonathan Adam (BMW 320) +2.338s
6 Tom Chilton (Ford Focus) +4.828s
7: Paul O'Neill (Honda Integra) +5.516s
8:  Matt Neal (Vauxhall Vectra) +6.004s
9 Tom Onslow-Cole (Ford Focus) +15.305s
10: Gordon Shedden (SEAT Leon) +15.525s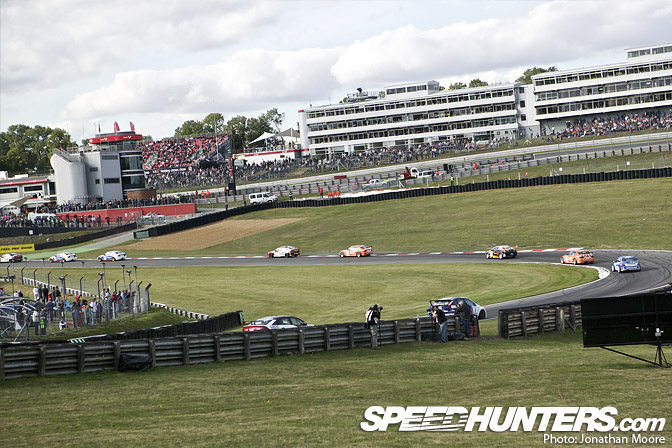 The perfect end to a great season of touring car racing: one race, three contenders. Anyone of them slips up, and it's as good as over. Turkington starts the race with his rivals directly behind him on the grid. He must keep them behind at all costs.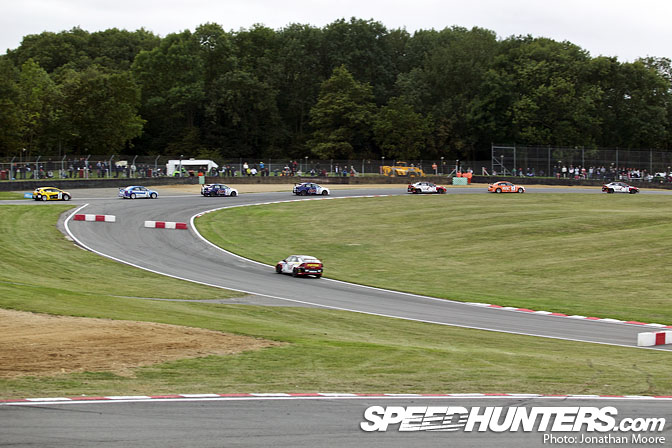 The first lap explodes into action from the off and sets the tone for the whole race. I've positioned myself by the big video screen to catch the start, but on the spectator side of the catch fencing. This turned out to be a good decision. The three BMWs near the front have great traction off the line and swamp those in front: Collard and Adam fly past pole-sitter Neal. Cars stream everywhere on the run to Druids, battling for position, but somehow everyone makes it round. But then as the pack streams through Graham Hill bend Collard tangles with Chilton and is fired off into the inside barriers: it's a big impact. That's when a fence is a nice thing to have in the way – not something a photographer will often say. Jordan's Vectra is another casualty and stops off the track outside Surtees corner, whilst Neal pushes Adam's BMW off at the same place.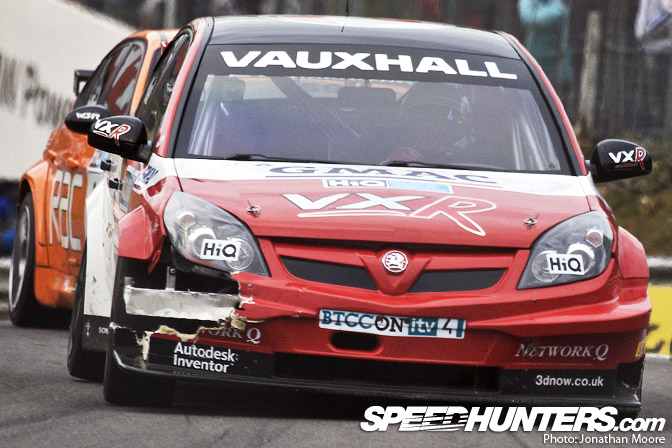 Chilton keeps his foot in and emerges in second, even briefly taking the lead from Neal's now-damaged Vectra on the long straight to Hawthorn – the shrill Focus engine really does have proper power now. But he brakes too late for the corner and both Turkington and Giovanardi force their way through. With Collard's damaged car needing to be recovered, it means yet another first-lap safety car, which thankfully only lasts a lap.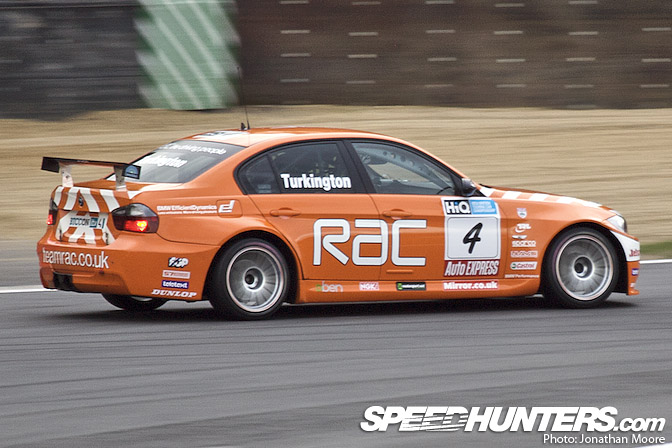 From the restart Turkington is under constant pressure from behind. The only good news is that every time Giovanardi lunges he leaves himself open to attack by the two Arena Focuses which are on his bumper. Chilton even forces his way past on lap 7, but Giovanardi is back past on the following lap.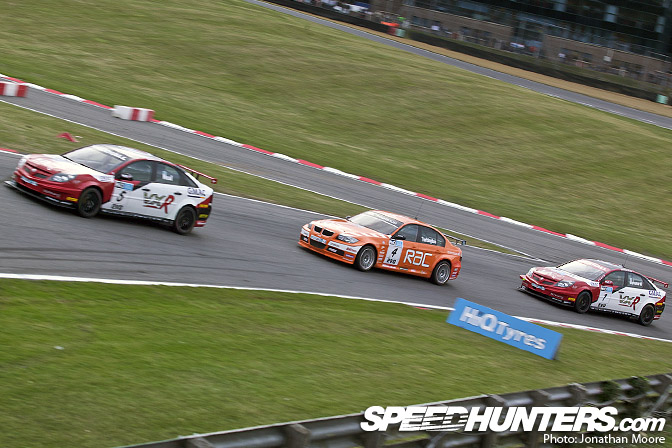 This all helps Turkington: knowing that out front will be better than being in a Vauxhall sandwich, Turkington risks putting his BMW up the inside of the Vectra at Druids on lap 9 and pushes him wide on the exit. He leads! Of course, Neal immediately makes way for Giovanardi.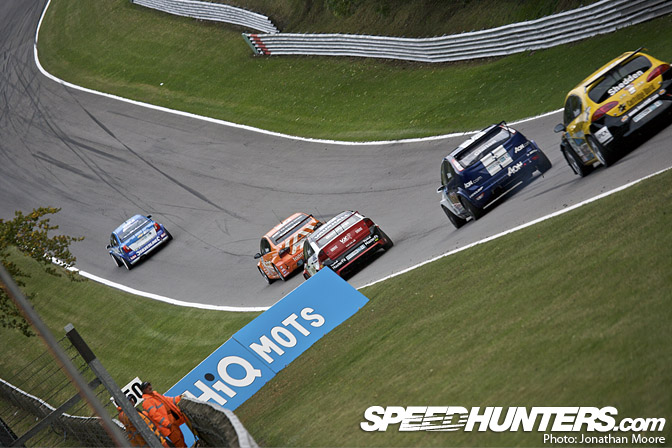 And Plato? He'd started eighth on the reverse grid, but has been absolutely on fire all day. He moves up inexorably through the field, and is also past Neal later that lap. Title rivals one, two and three! Then what could have been the deciding moment: Giovanardi lunges at Turkington at Clark: but both lose momentum and somehow Plato sweeps through down the start straight!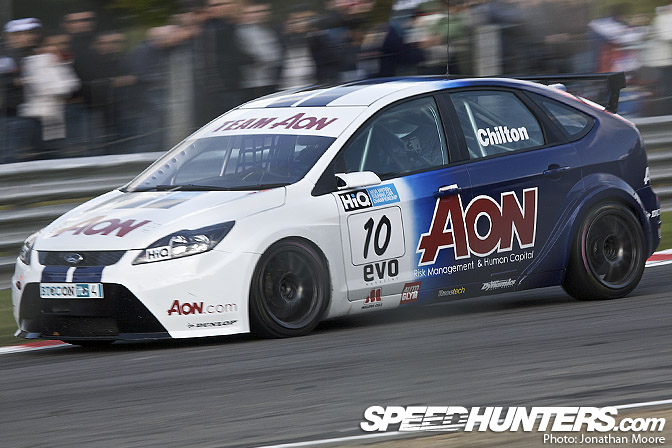 Plato won't lose the lead, as Turkington is now having to drive with his mirrors to keep Giovanardi behind. They come together again at the same place a few laps later and this time Chilton is there to take advantage: he gets Giovanardi, but Turkington manages to hold onto second. It's all he needs for the championship. He just needs to hold it to the end.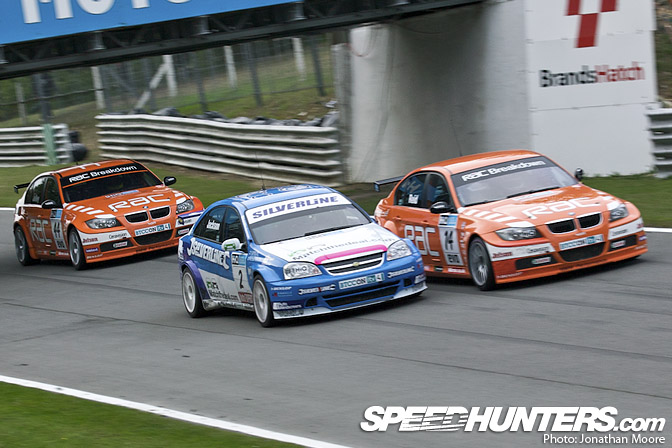 Behind the Vauxhall pair is a trio of BMWs. Turkington's WSR team-mates have been circulating in close formation after fighting off a challenge from Mat Jackson's Lacetti.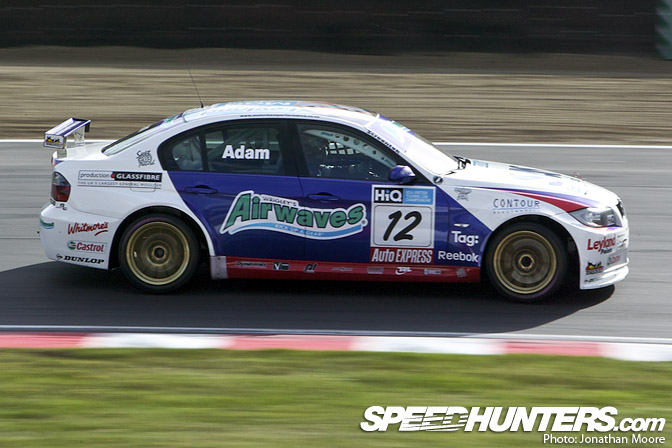 Motorbase's recovering Jonathan Adam in the similar 320 is right behind the WSR cars at the flag.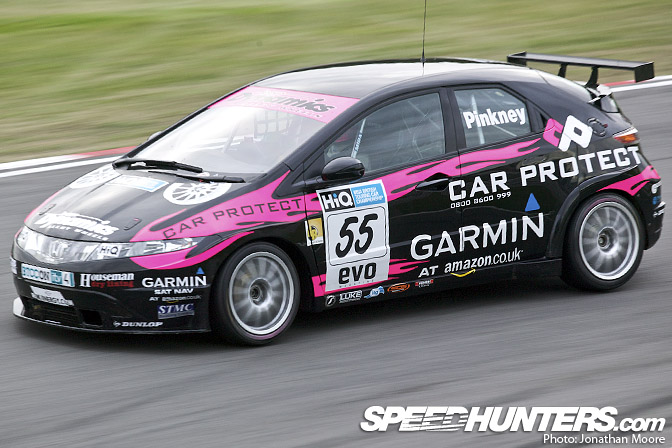 Once again Shedden scores (despite coming together with Mat Jackson's Chevy on lap 14), and Dave Pinkney in the second Dynamics Honda finishes the season with another point. With a field this strong you can't underestimate how difficult it is for the mid-field to score at all.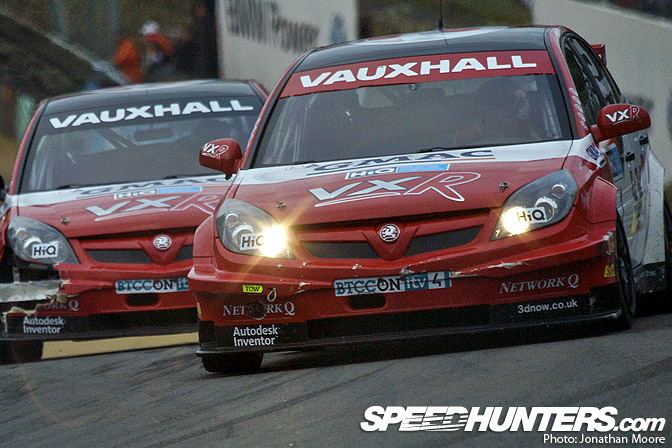 Giovanardi can't close the gap, and is a second back from Chilton at the end of the race.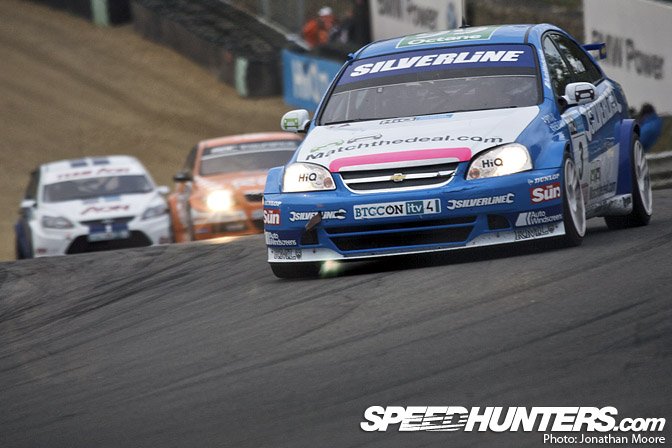 As the cars sweep across the line the crowd are ecstatic. Great racing, and a pretty much perfect result. Second place secures a popular first BTCC championship for Colin Turkington and the independent WSR team, Plato manages only the second ever clean-sweep of three wins in a weekend and it's been a fantastic performance from the Fords. 2010? Bring it on!
Race 3 result:
1: Jason Plato (Chevrolet Lacetti) 28m48.039
2: Colin Turkington (BMW 320) +1.465s
3: Tom Chilton (Ford Focus) +1.739ss
4: Fabrizio Giovanardi (Vauxhall Vectra) +2.984s
5:  Matt Neal (Vauxhall Vectra) +3.575s
6: Stephen Jelley (BMW 320) +11.102s
7: Anthony Reid (BMW 320) +12.534s
8: Jonathan Adam (BMW 320) +13.840s
9: Gordon Shedden (SEAT Leon) +13.944s
10: Dave Pinkney (Honda Civic) +14.137s
Jonathan Moore