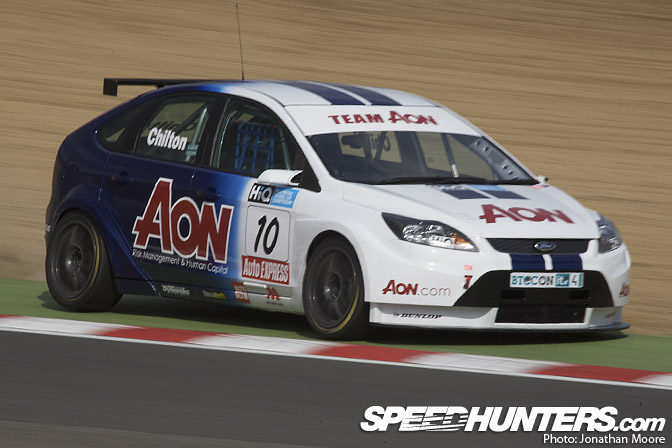 Six months ago the Arena Ford Focus team barely made the opening round of the 2009 British Touring Car Championship and qualified near the back. They rarely bothered the front-runners over the first half of the championship and a first points-paying position – 10th, back at the Croft circuit – was celebrated like a win. Fast forward to this weekend's final three races and we're back at Brands Hatch, this time on the long Grand Prix configuration. But now the Focus is not only faster, but it's Arena's Tom Chilton who's qualified the Focus on a shock pole. A change of engine tuner and further chassis development has pushed car up the grid over the last couple of races, but at Brands the work has really paid off: Chilton was fast all through the practice sessions and out-qualified championship long-shot Jason Plato (on 221 points) in the RML Chevy Lacetti to claim pole position.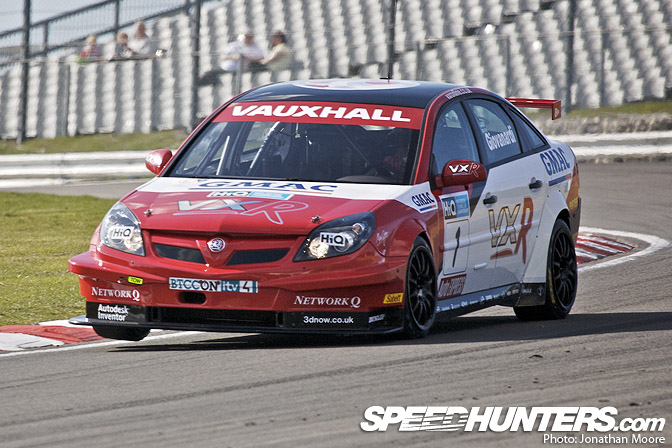 The two main title rivals (Colin Turkington in the WSR BMW 320 with 249 points and multiple-champion Fabrizio Giovanardi in the Triple8 Vauxhall Vectra on 236 points) needed good results from qualifying but only Giovanardi has managed it with third position on the race one grid, only 0.024s off pole. He's also got his two team-mates right behind as wingmen.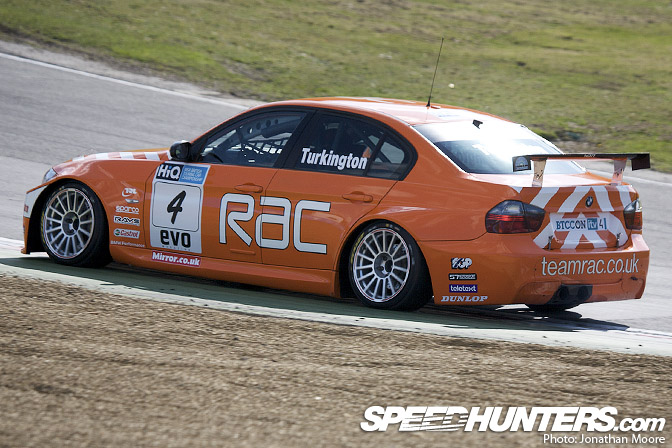 Turkington is stuck down in 10th place, carrying around 45kg of success ballast and 6/10ths off the pace. Three races: race one's grid set by qualifying; race two from the result of the first and the final a lottery reverse grid. 15 points for a win, one for fastest lap and one for leading a lap… It's all to do tomorrow: win or bust for the three drivers. Speedhunters will be there to cover it!
Qualifying results for round 10 of the 2009 British Touring Car championship:
1: Tom Chilton (Ford Focus) 1m33.159s
2: Jason Plato (Chevrolet Lacetti) +0.021s
3: Fabrizio Giovanardi (Vauxhall Vectra) +0.024s
4:  Matt Neal (Vauxhall Vectra) +0.208s
5: Andrew Jordan (Vauxhall Vectra) +0.256s
6: Mat Jackson (Chevrolet Lacetti) +0.459s
7: Jonathan Adam (BMW 320) +0.486s
8: Rob Collard (BMW 320) +0.572s
9: Paul O'Neill (Honda Integra) +0.593s
10: Colin Turkington (BMW 320) +0.646s
Jonathan Moore